It is no surprise that Amazon knows what they're doing. With Amazon sales delivering a record performance of $386 billion in 2020 (Forbes), AMZ's net profits have only been skyrocketing since the COVID-19 pandemic.
And, with this new year, new Amazon trends and market customs arise. In order to make sure your business stays on top, it is important to study the market transition and alter your practices to match the recent AMZ market trends.
Down below, we go over the top 8 Amazon trends predictions sellers should know to stay ahead of the game. Read on to find out!
Amazon Trend #1: Social Commerce
The first and arguably the most prominent Amazon trend — Social Commerce, or social media selling —has been on the rise, with paid social advertisements spending soaring 25% in the last quarter of 2021 (Emplifi). It was just recently that Instagram joined Facebook in adding shopping options through its platform, making it easier than ever for buyers to give in to social commerce.

With social networks becoming an integral aspect of our daily life, it is evident that they would greatly affect consumers' purchasing decisions. A Statista survey recorded that 75% of Gen Z respondents are receptive to social media ads — making it one of the most effective Amazon trends.
Engaging in social commerce has numerous benefits for brands, including but not limited to improved customer engagement, consistent audience growth, higher search engine rankings, and improved customer insights.
Networks such as Instagram, Facebook, and Twitter have a large user base, so it seems like a no-brainer that brands and business owners need to have a solid presence on those platforms to even stay relevant in 2022.
Our Pro Tip: Utilize Micro-Influencer Partnerships
The bigger the influencer doesn't mean the higher the engagement. An article by Marketing Dive shows that Instagram influencers with 1,000 – 50,000 followers have significantly higher levels of engagement in comparison to larger creators. Along with that, according to the Association of National Advertisers, 92% of consumers trust micro-influencers endorsements more than traditional or celebrity advertisements.
So, once you discover the digital area that your target audience spends the most time in, utilize influencer marketing by partner with an influencer who has a responsive and active community that trusts them in that niche.
Amazon Trend #2: Personalization
Customers greatly appreciate it when businesses demonstrate that they know their clientele. Whether it's through targeted emails, messages, or products, personalization is a must this year and has the potential to be more effective than any type of Amazon advertising. With 80% of consumers more likely to purchase from a brand that offers personalized content and promotions (Business Wire), businesses must be on their A-game in obtaining and utilizing relevant customer data to jump on this Amazon trend.
There are various ways companies can reach current and prospective clients, such as social media, email, and mail marketing. We go over basic personalized marketing below.
Emails
With recent technology, it is easier than ever for businesses to personalize the emails they send to clients. Whether it's through birthday, welcome, or cart abandonment emails, marketers can engage with buyers and build brand loyalty.
Content
Content—whether on social media or the brand's website—can be personalized according to a consumer's age range, gender, industry, geographic location, and more. Marketers can also utilize customers' interests and known preferences to dictate what content they receive.
Product Recommendations
By recording customer purchases and history, businesses can give personalized and accurate product recommendations to boost their Amazon sales. For instance, by showing a customer a similar item to the one they recently purchased through ads or emails, they will be more likely to buy additional products.
Our Pro Tip: Exercise Lower-Funnel Marketing
To increase conversions, it is best to target consumers with a lower-funnel marketing message using customer trends and lingo. You can also include discounts or coupons to increase the conversion rate.
Amazon Trend #3: AI/AR/VR Technology
As the years go on, technology has advanced more and more. Based on how things are progressing, we believe the newest Amazon trend is going to be software regarding artificial intelligence (AI), augmented reality (AR), and virtual reality (VR).
With AMZ already launching Prime Air's new drone delivery service for faster, contactless delivery, it is evident that we'll be seeing more of this advanced technology throughout the year.
While your business may not have any cool robots or drones, there is a multitude of other AI-powered tools that you can take advantage of to keep up—such as automated chatbots, photo editors, and even graphic designers.
Our Pro Tip: Offer Virtual Try-On Features
With 71% of consumers willing to shop more often from brands that use AR (ThreeKit), AR helps buyers try the item in a virtual environment before making the final purchasing decision. Traditional photos just are not able to convey the look and feel of a product like AR can. By increasing consumer confidence in their purchasing decisions, brands can see an increase in customer loyalty and satisfaction.
Amazon Trend #4: Diversity, Equity, and Inclusivity
With AMZ's goal to be the most customer-centric company on the planet, it is important for sellers on the platform to embody that mindset as well.
As new generations enter the buying perspectives, so do their core values. For Millennials and Gen Zs, social issues are paramount when choosing brands to purchase from. According to Facebook for Business, 77% of Gen Z report they feel more positively towards brands that promote gender equality while 68% expect brands to contribute to society.
Thus, if businesses wish to scale and build their companies, it is a priority for their branding and social networks to support issues close to their audiences' hearts to partake in this Amazon trend. Specifically, issues related to diversity, equality, and inclusivity in racial minorities and LGBTQIA+ communities.
Our Pro Tip: Prioritize Representation
Having your marketers use their creativity and content to enhance representation on all your brand's social media outlets and websites will remain a priority for 2022 and beyond. Whether it's through informational graphics, heartfelt messages, or promoting creators' affiliates with affected communities, your customer base will greatly appreciate any support you give. 
Amazon Trend #5: Sustainability
Social justice issues aren't the only thing consumers care about. They also care about the planet.
Ever since the pandemic, many households' purchasing attitudes have shifted. Many buyers denounced fast fashion, thinking to themselves "When do I need it?" rather than making purchases on their every whim and desire. People also made supporting local, small businesses that suffered financially during COVID-19 a priority, with "Shop Local" trending all over social media. Along with that, consumers are looking to support companies that have sustainable options, cruelty-free products, and practice environmental sustainability.
According to the Stanford Social Innovation Review, 87% of consumers are concerned about the environment. Along with that, the Harvard Business Review reported that 65% of customers wish to buy purpose-driven brands that support sustainability. With green commerce's massive popularity, it is safe to say that brands practicing and advocating for sustainability will lead the industry in the coming years.
AMZ has already jumped on this trend, intensifying its sustainability efforts with its 61 solar and wind energy global projects as well as implementing 50 solar systems in its warehouses.
So, if a global empire such as AMZ can do it, your business should be able to as well.
Our Pro Tip: Be Clear about How Your Brand Practices Sustainability
Consumers aren't dumb. They understand greenwashing and can see it from a mile away.
Aren't familiar with greenwashing? Greenwashing is when a company provides misleading information or makes false claims about its practices regarding sustainability.
An example of this is using environmental imagery such as green packaging or pictures of leaves even if your products don't do anything to support the planet. Another instance is using misleading labels, such as "100% organic" or "Certified" without providing any information to prove it.
So, if your brand practices sustainability, be clear and direct about your sustainable practices and methods. If possible, answer the following questions:
Are your materials sustainable? Why or why not?
Where are your products made?
What kind of packaging/shipping materials do you use?
How do you handle your brand's production waste?
Are there any initiatives in place to help the environment?
Does your brand have any certificates to show or measure its sustainable practices?
Are your employees paid well?
What will your brand do to improve its sustainability practices?
Many consumers check websites and social media channels for this information when choosing companies to buy from, so make sure to broadcast it there.
Amazon Trend #6: Voice Commerce
If you don't know what voice commerce is, it is basically shopping, using services, or making orders using a hands-free, voice-operated service. You may know this as Apple's Siri, Amazon's Alexa, or Samsung's Bixby. And, with the implementation of home devices such as AMZ Echo or Google Nest, voice commerce is expected to grow in popularity this year like no other.
Whether it's asking Siri to call a friend or telling Alex to turn on the lights, voice commerce is the newest Amazon trend and probably will lead to voice searching being used to make purchases even more frequently in 2022.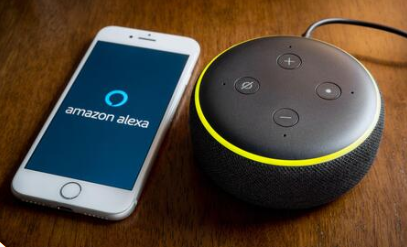 Our Pro Tip: Use of Chatbots
Make sure your business evolves to meet these Amazon trends by switching your customer service representatives with effective, automated chatbots. These bots can perform a variety of tasks—such as answering questions, collecting feedback from surveys, and suggesting products to customers— all while helping you cut costs or utilize your employees more efficiently.
Amazon Trend #7: Online Grocery
Another leading Amazon trend, online groceries sales are estimated to majorly increase this year. Some popular online grocery services you may know about are Amazon Fresh, Whole Foods Market, and Instacart.
According to Insider Intelligence's calculations, AMZ's US grocery digital sales are estimated to grow 12.9% this year, representing 23.8% of all ecommerce grocery sales. It is also predicted that the US grocery ecommerce sales will nearly double over the next few years, growing from $122.39 billion in 2021 to $243.67 billion in 2025, with AMZ and Walmart leading the pack.
Our Pro Tip: Join the Pack
If you have ever thought about what products to sell on Amazon and are interested in selling groceries online, now is the time to do so! This Amazon trend just may be the start of your empire.
Amazon Trend #8: Product Availability
Did you know that products that win the market share don't necessarily have to be the most recognized or highest quality? They just have to be in stock.
This year, product availability is going to be a raging Amazon trend. With around half of Amazon customers buying from a different brand if their usual choice was unavailable (Tinuiti), keeping your popular products in stock is essential to making sure you don't lose any business to your competitors.
Our Pro Tip: Forecast Your Product Sales
By estimating your Amazon product sales, sellers can figure out how much stock they should be holding for their items at any given point. This is a hard task that is particularly difficult when launching a new business, as you have no history to review.
In order to accurately predict your sales, sellers should start by researching the size of the market for their product and the sales results that have been achieved by other companies the size of theirs.
If you want to easily see your competitors' sales stats, you should use ZonBase's Chrome Extension feature, which makes viewing relevant data about products as easy as clicking a button. All you have to do is search the products up on Amazon's search engine, and then you can view all the information at a glance. 

Another great ZonBase tool you can use to predict your product sales is the Sales Estimator, which instantly calculates how many units a product is able to sell in a month based on the information above.
Conclusion
Considering the global changes that we have been experiencing in the last couple of years, buyers' attitudes have undergone a significant change. While Amazon trends come and go, it is apparent that these 8 will be staying—at least for a little bit.
Is your ecommerce business prepared for this new customer-centric, pandemic-driven movement, or do you have some work to do?
If you answered yes, then check out ZonBase's array of tools to streamline your AMZ business and maximize your sales.