Product research is one of the most important aspects of every Amazon business. You can't just sell any product you like. You must also sell products that the majority of your customers will buy. Essentially, these are profitable products that will earn you money.
But how do you find profitable products? How do you build a product database and discover product keywords that you can use to promote your products? The best way to do this is to use an Amazon product finder and research tool.
Amazon's website does not offer much information about building a product database. This is because the site focuses more on the customer's shopping experience. Amazon does provide a list of popular products, called the Best Seller's List. But it is not the most reliable resource for product research. Also, what is popular today may not be popular next week. So you need to find products that drive sales consistently.
Scouring search result pages to mine some information would take hours and hours. That's where a product finder tool comes into play.
What is a Product Finder Tool?
Amazon product research tools give you access to data about products in AMZN's database. These tools allow you to search AMZN's database for profitable products. These tools also provide information you can use to gauge a product's potential for profit. This information includes sales history, monthly revenue, and so on.
By analyzing data from these tools, you get to make informed decisions. You also gain access to great suggestions for increasing sales and bringing in profit. This is helpful for private labels, dropshipping, wholesale selling, or retail arbitrage.
There are thousands of product finder tools available on the market right now. Some of them are specific software tools, while others are all-inclusive tools that not only come in handy for product research but also offer a wide range of tools for other business processes. A few of the most popular Amazon product finder and research tools are listed below.
Top 5 Amazon Product Finder and Research Tools for 2023
ZonBase
ZonBase is an all-inclusive Amazon software tool that offers up to four product research tools as well as a complete suite of seller tools to help you manage all other areas of your business. ZonBase's suite consists of keyword research, listing optimization, and inventory management tools.
The software offers three paid plans – standard, legendary, and diamond which cost $37, $67, and $132 respectively.
Amazon Best Seller List
The Amazon Bestseller List, as the name implies, is an extensive list of bestselling products on Amazon. This list is curated by Amazon and it contains all the products listed on the platform; these products are ranked based on their sales volume, so the higher the rank of a product, the higher its sales potential.
The Bestseller list is not a paid resource, it can be easily accessed on the marketplace, so it is considered one of the best Amazon product finder and research tools for new and existing sellers. However, considering the tough competition in the marketplace, the bestseller list may not be a sufficient product research tool.
Amazon Movers and Shakers
If you are trying to find new products for your store, this is one section you should not take your eyes off. This section features products that have made the biggest sales (measured by percentage increase and sales rank) over the last 24 hours. This page is updated every hour, so the products displayed vary from time to time. But if a product shows up there, then there is a good chance that it is a profitable product option.
AMZ Scout
AMZ Scout claims to be one of the best product research tools on the internet right now. Although the tool also offers some other features, its major strength lies in product research. The tool offers two yearly plans and one monthly plan. The yearly plans cost $259/year and $359/year while the monthly plan costs $49.99/month.
ZonGuru
ZonGuru is a simple product research tool that allows you to search through Amazon's database of over 350 million products and provides you with enough information to make a decision. The software offers a free plan and two paid plans that cost $39/month and $49/month respectively.
What is The Best Product Finder Tool For My Business?
You don't need many Amazon product finder and research tools for your business. You only need one that provides accurate data and is simple to use. But if your goal is to build a successful Amazon business, you will need more than a product finder tool. Scaling your business involves tons of keyword research and frequent listing optimization that can only be done using software.
Hence, it's best to invest in a tool that not only offers product research tools but also offers keyword and listing optimization tools. On these grounds, it is safe to say that ZonBase is the best Amazon product finder tool for your business. Zonbase has several features designed to help with finding the best-selling products on AMZ. In this next segment, we'll talk about these features and how they work.

Overview of the ZonBase Suite
Product Finder or Research Tools
Not sure where to start your product research? ZonResearch is perfect for discovering products and niche opportunities. With ZonResearch, you can search through millions of products in Amazon's database. You can find profitable products according to your specification by using filters. ZonResearch filters include:
You also get to search using advanced filters such as BSR rank and rating.
How to Use ZonResearch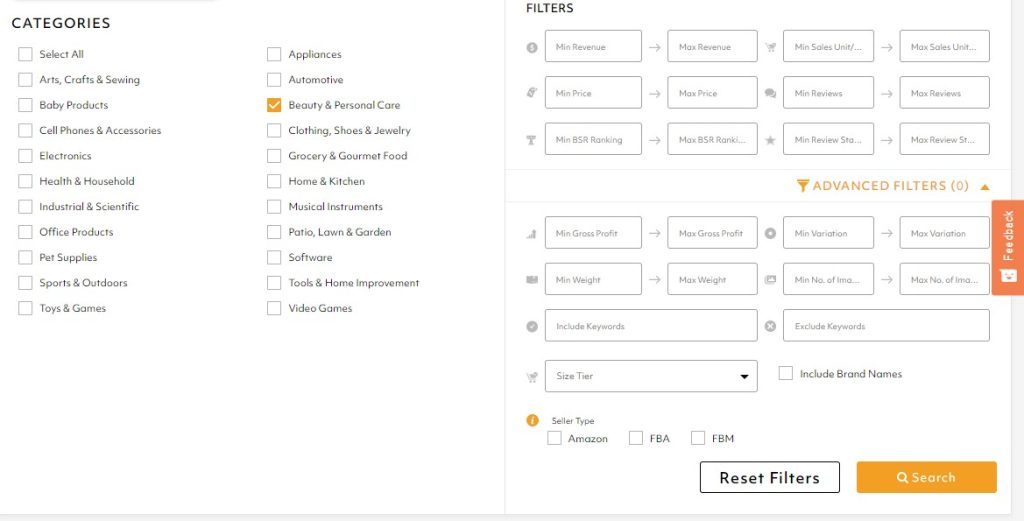 Select the Marketplace you sell in. ZonResearch works in the US, UK, and Canada Marketplaces.
Select the product categories you're interested in. You can select one if you want to find profitable niches within that category.
Set your filters. Each filter has a minimum and maximum limit that helps you narrow down your search.
After setting your filters, click the 'Search' button.
ZonResearch generates results that match the criteria you set
You can look through the results to find products that interest you
You can save your search as a preset so that you don't have to set the same filters another time
ZonResearch works best with the Zonbase Chrome Extension which we'll look at next.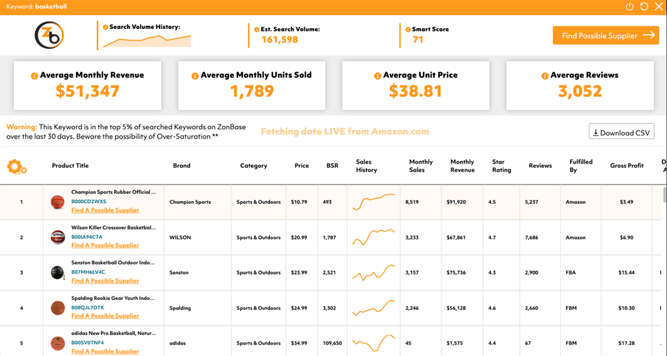 The Zonbase Chrome Extension is a powerful software that displays data about products. The tool often focuses on products that appear in Amazon search results. After getting ZonResearch's suggestions, enter a general keyword in the Amazon search box.
The Chrome Extension will show you relevant product data. This information includes price, best seller's rank, sales history, and monthly sales. It also shows data for estimated monthly revenue and the number of reviews.
It also provides a breakdown of other important data.
How to Use Chrome Extension
Install the Zonbase Chrome Extension
Run your search on Amazon.com
When the results appear, click the ZB icon on the extension toolbar
The extension shows you relevant data about the products.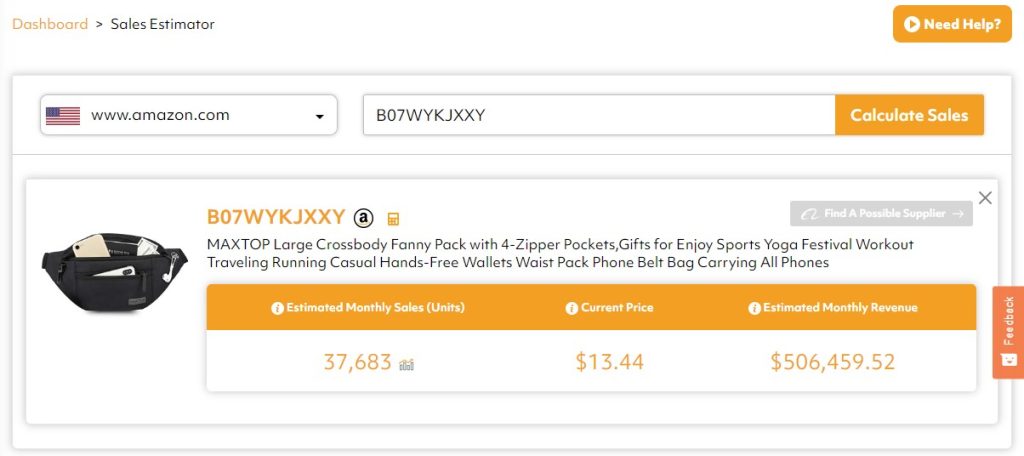 One of the best online estimator tools is this one. If you already have product ideas in mind, you need the Sales Estimator feature. It will help you assess their profitability. The Sales Estimator shows you how many sales a specific item gets in a month. Information about a product's monthly unit sales shows you the product's demand level. It also guides you on how much inventory you should be storing.
How to Use the Sales Estimator Tool
Get the ASIN or URL of the product you're interested in
Paste in the Search box and click Next
The online estimator tool calculates the estimated number of sales it makes in a month
Related: Best Sales Estimator For 2023
Remember we said AMZ's BSR is not the most reliable resource for product research? That's because many of the products on that list are certainly sold by many competing sellers. And if you want to make it big on Amazon, you're better off selling products with high demand but low competition. And one of the quickest ways to find that is on the Hot Products list on Zonbase.
This tool is a unique tool that shows products that belong to the Amazon Top 100 Most Gifted Products of the Day. The products on this list usually have increasing sales trends and less than 30 reviews. This list is updated on an hourly basis.
You can also find a possible supplier for any item on this list as the tool redirects you to Alibaba.com.
How to Use Hot Products
This online estimator tool will create a list of the top 100 most gifted products on AMZN that you can simply look through
But, like ZonResearch, you can also filter through to find profitable products.
To do this, click the 'Advanced Filter' on the top right.
Next, select your desired categories and set your filters. Filters include price, reviews, average monthly units sold, and monthly revenue.
The tool generates results that match your criteria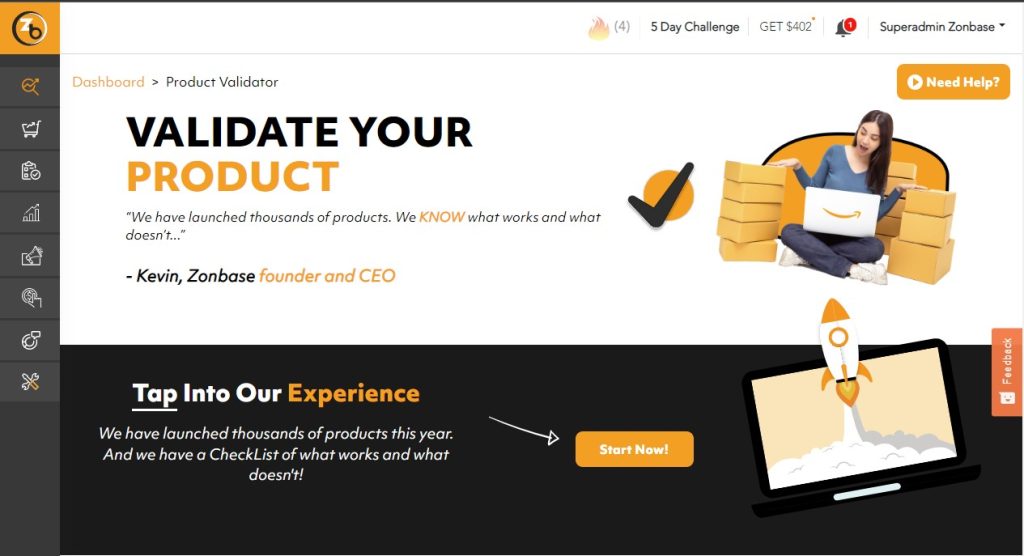 ZonBase not only suggests profitable products for your store. It also contains a product validator tool. This tool helps you confirm the profitability of your product choices or ideas. Using this tool, you can validate your product options and reduce risks.
This tool does not work solely on artificial intelligence. It uses the help of a team of AMZ experts. These professionals will review your product choices. They will also help you narrow them down based on previous sales information.
The tool provides you with a reliable method to select products for your store. The tool offers value for its price with unbeatable simplicity.
How To Use The Product Validator Tool
Sign up at Zonbase.com (include a link)
On the dashboard, click 'Product Validator'
Upload a picture of your item or input your suppliers' link
Your item will be reviewed by our Launch managers
The item is scored on a scale of 1-20 and you are given a detailed scorecard. You will save time and money by running your products through this tool.
ZonBase is the best Amazon product finder tool for 2023. But what is product research without an effective keyword and listing optimization strategy? ZonBase is not just a product research tool. It is an all-inclusive AMZ seller tool. In other words, it houses a well-distributed set of tools to cater to your business needs.
If you find the right products but do not optimize your listings, your visibility will suffer. Low visibility results in little to no sales. How then do you optimize your listings? By using relevant, high-converting keywords. Although this is not the only way to optimize your listings, it is the most important.
Keyword Research Tools

Keywords are crucial in determining how visible your listings are. This keyword tool brings you the best keywords for your listings. The tool reveals important hidden information about keywords. It also uses search trends to show you estimated monthly searches and volume.
You also gain access to unlimited keyword suggestions. The suggestions are usually based on Amazon search results or competitors' keywords. Using these keywords allows you to earn more money while incurring fewer costs.
How To Use The Keyword Tool
In the dashboard, click on 'Keywords'
Type in any keyword you want
Within seconds, you will have access to similar keyword recommendations

One thing you should avoid doing is filling up your listings with keywords that do not convert. ZonTracker is a keyword-tracking tool that helps you track your keywords' performance. This keyword tracker keeps you up-to-date about any changes in your keywords.
Additionally, it displays competitor keyword information and keyword information for different products. All you have to do is pick a keyword that you'd like to track, then leave the tool to do the rest.
How To Use ZonTracker
Find the ASIN of any competitor on Amazon and copy the URL
Select 'Add new product' in ZonTracker
Choose the keyword(s) you would like to track and enter them
Select the product variations to track, click the Save button, and the product will be added.
Listing Tools

This tool allows you to create product listings using your preferred specifications. But it also allows you to do this by checking out your competitors' listings. You can use their keywords in your listings for increased conversions.
You should track your sales growth, and optimize your listings to increase sales. Research relevant keywords and include them in your listings for optimization.
With this tool, you can find the perfect combination of keywords for your listings. You can use these keywords in your titles, description, and bullet points. Using branded keywords in your listings puts you at risk of losing your account. Listify can help you identify and avoid blacklisted keywords.
How To Use Listify
Visit Amazon and copy the ASIN or URL of the product that is closest to yours
In the Listify search bar, paste the Url and click "retrieve keywords"
We will provide instant keyword information for the product.
We will provide you with the keywords, bullet points, and titles of competitors. Then you can create your listing based on these terms.
The best way to ensure sales is to have an optimized product listing. It can't be easier than this.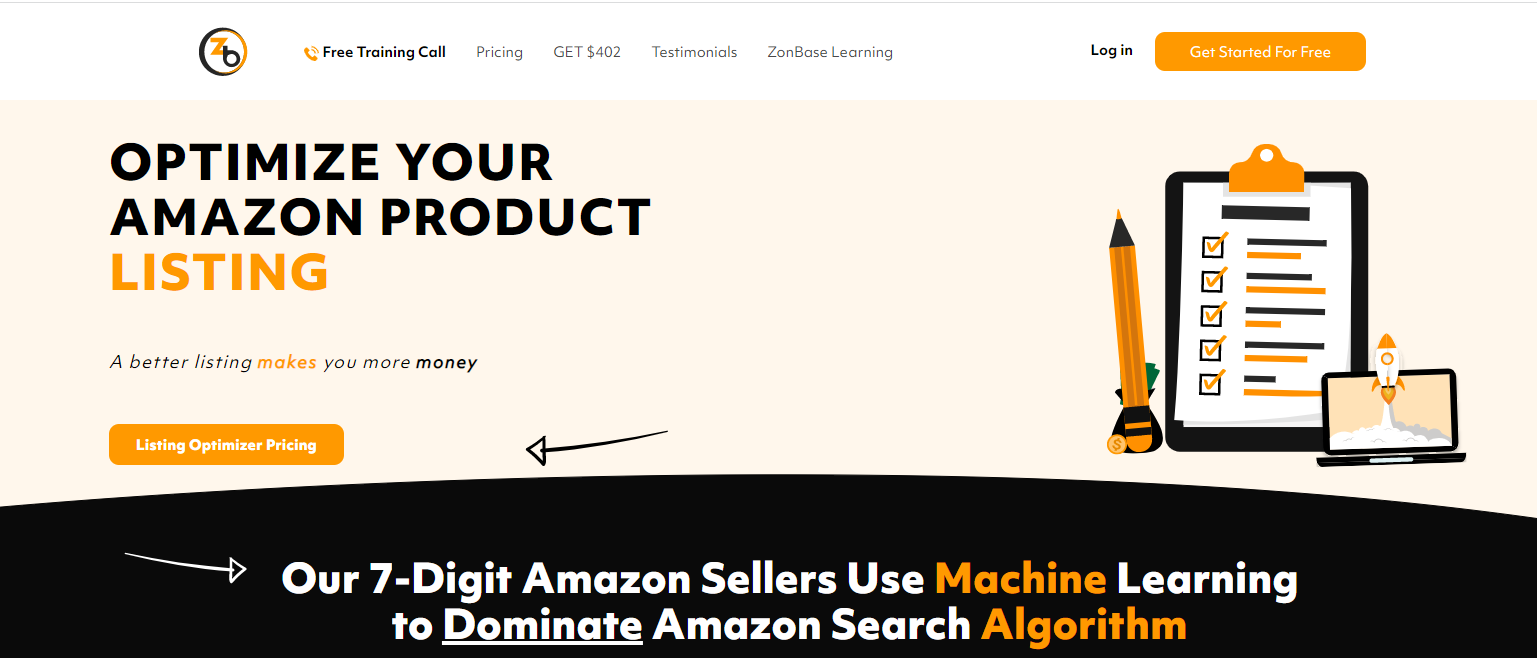 Using Listing Optimizer, sellers can bypass Amazon's algorithm. Need an easy way to hack the algorithm and improve your product ranking? Use Listing optimizer.
With this tool, you can organically show up on page one of search results. As a result, you spent less on promotions and sponsored ads. You also gain access to expert guidance. Your keywords will be researched, and your listings optimized by a team of experts.
How Does Listing Optimizer Work
To win over Amazon's search algorithm, we create high-quality product listings. Your listings need to convince your buyers as well as the search engine algorithm.
To convert visitors into buyers, we make your listings as effective as possible. Optimizing your listings using relevant keywords, bullet points, and descriptions works the magic.
What To Look Out For When Choosing An Amazon Product Finder and Research Tool
To be profitable, products must meet certain criteria. An ideal Amazon product finder and research tool must also meet certain criteria. Hence, when choosing a product research tool, you should choose tools that pay attention to the following:
Market demand and competition
Ease of sourcing the products
ZonBase takes all these factors into consideration. So when we say ZonBase is the best Amazon product finder and research tool, you know what we're talking about. This tool is a worthy investment for sellers who are looking to scale their businesses.

How Much Does the Best Amazon Product Finder and Research Tool Cost?
Zonbase has two plans, and you are charged either monthly or annually. We recommend the annual plan so that you can save some money. Here's a breakdown:
Standard Plan – $37 per month/ $444 per year
Legendary Plan – $67 per month / $804 per year
Diamond Plan – $132 per month / $1594 per year
You can only use the Chrome Extension tool if you subscribe to the Legendary Plan. So you're better off choosing that.
Apart from the paid plans, ZonBase also offers a 7-day free trial, which is certainly enough time for you to explore the tool suite and come to a conclusion.
Conclusion
Without the right products, scaling your business is almost impossible. A product research tool is the best way to find the most profitable products for your store. Want to build a sustainable Amazon business with the best Amazon product finder and research tool? Start here.