As a result of the ever-growing demand in the online retail space, more entrepreneurs starting Amazon businesses. However, based on the fierce competition in the retail space, sellers who want to thrive on Amazon will have to consistently come up with new strategies to beat the competition, These strategies will typically involve thorough product research, keyword research, listing optimization, PPC optimization, and even profit management.
These business processes are crucial, but also complex and time-consuming. Sellers who want to manage their businesses effortlessly will have to invest in Amazon software — preferably one that provides the complete suite of tools for product research, keyword research, and listing optimization. This is where ZonBase comes in.
ZonBase is an all-inclusive Amazon software that provides a holistic suite of tools that cut across every aspect of an Amazon business — from product research to keyword research, and listing optimization. There are many ZonBase reviews online, but in this post, we'll provide a balanced perspective and provide details to help you decide if the software is worth investing in.

Brief Overview of ZonBase
ZonBase is an all-in-one Amazon software that consists of 16+ powerful tools and done-for-you services designed to help sellers start and scale their online selling business. Unlike other popular seller tools, ZonBase is affordable and caters to sellers on a budget. We'll talk about the software's pricing options soon, but first, let's take a look at the collection of tools.
The software provides tools that cater to all important aspects of an Amazon business, which include:
Product Research
Sales Optimization
Listing Optimization
PPC Optimization
Profits Management
Price Tracking
The tools are easy to use, and sellers who have a tight schedule or multiple commitments and would like to manage their businesses on the go will find the software useful. This ZonBase review will be incomplete without a thorough review of each tool in the software suite.
ZonBase Review: Features
ZonBase offers an extensive set of tools to help sellers start and scale their businesses seamlessly without leaving any stone unturned.
Since this is an honest ZonBase review, we'll tell you about the most exciting thing about ZonBase; something that most ZonBase reviews don't talk about. It's that ZonBase tools are not restricted to FBA sellers or drop shippers, or even private labelers.
The software offers an interesting collection of tools for resellers. Using ZonBase tools, wholesalers and arbitrage sellers can discover the most profitable products and best brands to resell on Amazon.
Here's a thorough review of the complete tool suite.
Zon Research
ZonResearch is the main product research tool in the ZonBase tool suite. This tool gives you complete access to Amazon's catalog containing over 400 million products so you can identify profitable products that meet your preferred criteria from Amazon's best-selling categories. This way, you can discover high-demand, low-competition products that give you a better chance of competing for sales.
Sign up for a free trial to explore ZonResearch for 7 days.
Chrome Extension
This tool allows you to view data about products at one glance and not have to open several product detail pages when you browse Amazon.com to look for product opportunities. All you need to do is install the extension and click the ZB button after you run a search on Amazon.com. With the Chrome Extension, you will be able to access various information, including price, BSR, sales history, monthly sales, and more.
Sign up for a free trial to explore the Chrome Extension tool for 7 days.
Hot Products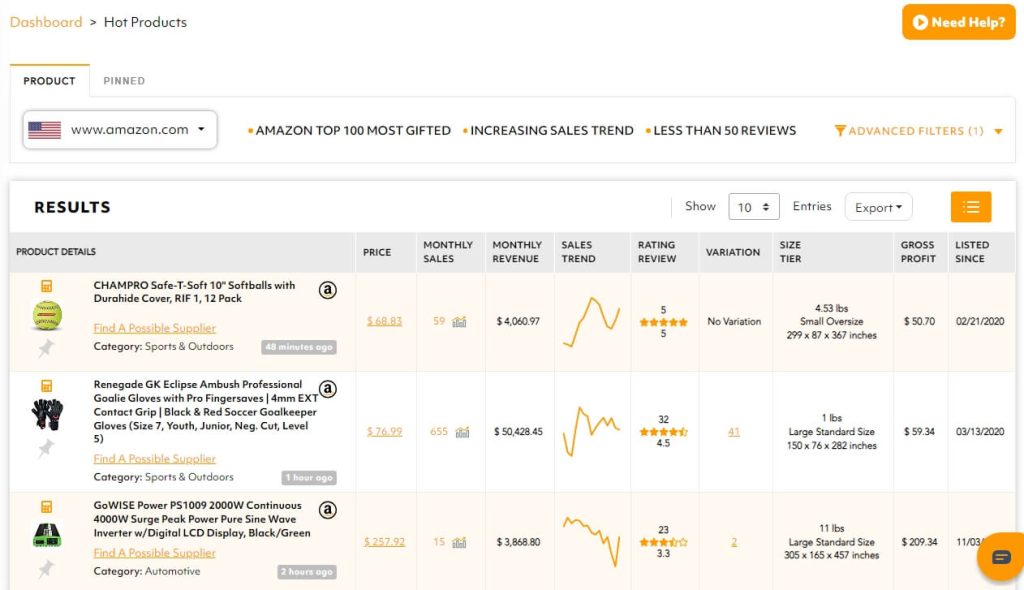 The ZonBase Hot Products tool will come in handy for finding product opportunities with untapped potential. Unlike Amazon's best seller list, this tool enables you to discover profitable products from the Amazon Top 100 Most Gifted Products of the Day, focusing on items that show increasing sales trends and have received less than 30 reviews.
Sign up for a free trial to explore the Hot Products tool for 7 days.
Sales Estimator
If you have some product ideas in mind, you can get the ASINs of those products and use the Sales Estimator tool to check out the monthly sales volume of those items. This tool helps you assess the profitability of an item and guides you on how many units you need to stock up on.
Sign up for a free trial to explore the Sales Estimator for 7 days
Keywords
With this keyword research tool, you can discover hundreds of high-performing keywords related to your product. You can optimize your product listing with these keywords and get to page one. It is crucial for your listing to contain the same keywords that your target customers use in their search so your products are shown on the first page that pops up after they hit enter during their search on Amazon.
Sign up for a free trial to explore the Keywords tool for 7 days
Reverse ASIN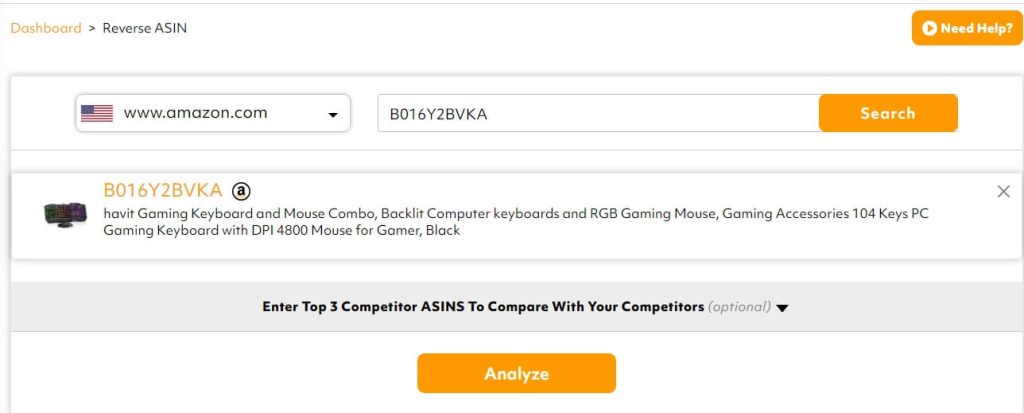 Reverse ASIN lets you find the product that has ranked organically and see the keywords that the item is ranking for so you can use these keywords on your product listing. Using this tool, you will be able to outrank the competition by finding out the keywords they rank for and using these in your product listings and PPC campaign bids.
Sign up for a free trial to explore the Reverse ASIN tool for 7 days
Zon Tracker
Zon Tracker is ZonBase's keyword tracking tool. Keyword research is one of the most important aspects of every business, so if your goal is to boost your conversions and increase your sales, you cannot afford to use random keywords or leave your listings unattended after including keywords in your listings.
A good strategy for organic ranking is to constantly track the performance of your keywords, this way you can review your keyword research strategy, and see which keywords are working and which ones are not.
With this Zon Tracker, you can see what keywords your products are ranking for and also stay updated on any changes. It also shows you details about your competitors' keywords.
Sign up for a free trial to explore the Zon Tracker tool for 7 days
ZonScanner
ZonScanner is a product research tool for resellers. Using this tool, online or retail arbitrage sellers can confirm the profitability of any potential product option before deciding to sell it. All you have to do is scan the product barcode and the tool will pull up essential product information.
If you enter your cost price and intended sales price into the tool, ZonScanner will factor in all your seller fees and provide an accurate estimate of your net profit margin. Using the information and estimate from the tool, you can ascertain a product's profitability before sourcing it.
Sign up for a free trial to explore ZonScanner for 7 days
Zon Grading
This is ZonBase's product validation tool for wholesalers. Using this tool, wholesalers can confirm the profit potential of wholesale product options. To use this tool, all you have to do is upload a list of wholesale product options from your supplier and the tool will provide crucial product information and sales data.
The tool also allows you to obtain an accurate estimate of your profit margin based on your COGS (Cost of Goods Sold). The tool also makes it easy for you to access updated market data like selling price and monthly units sold, using this data you can narrow down your wholesale product options.
Sign up for a free trial to explore the Zon Grading tool for 7 days
Brand Analytics
As a result of the plethora of product options available on Amazon, wholesalers and arbitrage sellers often struggle with choosing products to resell. The struggle becomes even more complicated because there are many popular brands listed on the marketplace and shoppers have preferences.
Using the ZonBase Brand Analytics tool, resellers can discover the top-performing brands to resell based on otherwise inaccessible brand data like in-stock rate, average seller count, total sales, average price, and reviews.
Sign up for a free trial to explore the Brand Analytics tool for 7 days
Seller Insights
This is another reseller tool that helps sellers to uncover an extensive list of seller options to source products. Using the seller insights tool, resellers, and even private labelers can discover the most reliable sellers to partner with. The tool provides a set of filters to help sellers streamline seller options — you can set minimum and maximum values for revenue, reviews, total ASIN count, and brand selling count.
Sign up for a free trial to explore the Seller Insights tool for 7 days
Zon Repricer
With ZonRepricer, you can make price adjustments swiftly and on the go. Amazon product prices are constantly flickering, and one of the best strategies for outranking competitors is to leverage price fluctuations. Sellers who want to maximize even the slightest changes in price will have to reprice their products on a regular basis, and repricing is not entirely a walk in the park. So the easiest way to get around repricing is to use a repricing software, this is where ZonRepricer comes in.
This tool allows sellers to set pricing rules, while the tool automatically implements the pricing rules when necessary. By repricing your products frequently, you can stay on top of the competition and increase your chances of success.
Sign up for a free trial to explore Zon Repricer for 7 days
Listify and AI Listify
ZonBase offers two listing optimization tools — Listify and AI Listify. Both tools make it easy for sellers to create and optimize their listings. However, Listify requires more input from you while AI Listify does not.
With Listify, you will have to do keyword research and discover new, high-converting keywords to include in your listings.
AI Listify, on the other hand, is one of ZonBase's most recent additions. The tool utilizes AI to automatically create brand-new, completely optimized product listings. ZonBase's AI Listify tool can identify the top ten organic keyword rankings in any given niche and then use those keywords to craft a new listing with minimal input.
Sign up for a free trial to explore Listify and AI Listify for 7 days
Profits Tool
ZonBase offers an analytics tool for sellers to measure their business expenses, track marketing campaigns, and observe revenue generation. This tool, known as the Profits Tool, is comparable to Jungle Scout's inventory manager and Sales analytics tools, as it offers inventory forecasting and notifies sellers when their stock is running low. By utilizing this tool, sellers can make informed decisions about their businesses.
Sign up for a free trial to explore the Profits tool for 7 days
ZonPPC
ZonPPC is ZonBase's PPC optimization tool — for launching and managing your PPC campaigns. PPC campaigns and ads are an important part of increasing visibility and boosting sales, but if you launch your ad campaigns wrongly, you may end up losing a lot of money.
With ZonPPC, you can launch, manage, and even track the performance of your campaigns from one dashboard. You can optimize bids, harvest profitable keywords, lower campaign costs, and increase your sales significantly.
Sign up for a free trial to explore ZonPPC for 7 days.
ZonBase Review: Personalized or Exclusive Services
Apart from exciting seller tools, ZonBase also offers some personalized services that allow sellers to access expert help and guidance to help them scale successfully. Here's a detailed overview of the ZonBase personalized services.
Having clear product images is vital in capturing your audience's attention, making a great impression about your products, and driving them to purchase your product. With the ZonBase photo enhancer service, you can partner with experts who will edit your product images professionally and turn your existing product photos into beautiful, professional-quality explainer images.
The ZonBase product validator service allows you to access expert guidance for product research and product validation. You get to work with a team of professionals who will help you choose the most profitable products for your store based on a set of criteria. These experts have years of seller experience under their belts, they will validate your product options to ensure you only choose the best product options for your business.
The listing optimizer service allows you to access expert assistance for listing creation and optimization. By signing up for this service, you can work with professionals who will create well-optimized listings for your products to help you gain visibility, improve your search ranking, and increase your chances of sales in the complicated, ultra-competitive Amazon marketplace.
Zonbase Review: Pricing
ZonBase offers three affordably priced plans; the standard, legendary, and diamond plans. It also offers a top-tier package that sums all the seller tools and personalized services into one. The plans are priced based on the number of features available, as well as the monthly usage limits for each of the tools. Here's what you get on each of the plans.
Standard Plan
This plan costs $30 per month and gives you limited access to all ZB tools except the Chrome Extension and ZonPPC tools. It's perfect for new sellers who are looking for an all-in-one, affordable software package.
Legendary Plan
The Legendary plan costs $67 per month and gives you complete access to ZonBase tools, including the extension and ZonPPC tool. In addition to this, the features come with an extended usage limit. This plan is ideal for experts who have major business needs.
Diamond Plan
The Diamond plan is the most comprehensive plan, and as expected, it is also the most expensive plan at $200 per month. If you opt for this plan, you get access to all ZonBase tools, a detailed Amazon FBA masterclass, and weekly Q&A sessions with top Amazon experts.
You can save money when you sign up for an annual subscription to any of the plans. The plans cost $354, $804, and $2394 annually.
ZonBase Plus
If you want to have access to ZonBase's personalized services (product launch, PPC optimization, photo enhancement, picked-for-you product option), as well as the complete suite of seller tools on the diamond plan, you should sign up for the ZonBase plus package.
Check out ZonBase Pricing Plans.
Zonbase Pros and Cons
Now that you know more about the features, let's discuss the advantages and disadvantages of using ZonBase.
ZonBase Pros
Done-For-You services:
Unlike other Amazon seller software, the suite of tools that comprise the ZonBase software includes services from a team of Amazon experts, who will handle key business processes for you.
Affordable rates:
ZonBase offers 20 amazing tools at very affordable rates. The team does not charge exorbitant fees, unlike other Amazon software. You also have the option to choose the annual plan which will give you greater savings.
Tools that get you ahead of the competition:
As these tools have been developed by successful Amazon sellers themselves, they know what information you need to make the best decisions so you get ahead and stay ahead of the competition.
ZonBase Cons
Some of the tools come with additional fees:
Aside from the subscription fees for the Standard and Legendary plans, there are additional fees if you wish to avail yourself of some of the done-for-you services. Some of these tools are Product Validator, Listify, and Listing Optimizer. This might be a "con" if you have a very limited budget, but if you consider the results that these added services will bring your business, it should be a great investment.

ZonBase Success Stories
Since its inception in 2019, ZonBase Pro has given countless Amazon sellers incredible sales. Here are some of the raving testimonials from their very happy customers:
John F:
Hello everyone, I wanted to share an extremely valuable service that I've used to help me in deciding whether or not the product that I am choosing to invest in is worth it. When doing product research, I've found a couple of potential winning products, but I wanted to be 100% sure before investing thousands. I came across a product validator service from zonbase.com.
This service provides a checklist of estimated sales per month, the green light on launch-ability, keyword traffic, competitive landscape analysis, and whether the product is suitable for FBA. Feel free to check it out! I highly recommend this service to anyone who is trying to start out on Amazon FBA.
Alfonso D:
Hi Ninjas! For all of you that are having a hard time making a final decision on your product, I definitely recommend Product Validator by ZonBase.
I used this service and believe me, it is worth every penny. They provide you with detailed information where you can find tips and other info about the product so you can be totally comfortable at making any decision.
Bakhtiyar S:
i Ninjas! Just wanted to share my experience with ZonBase Photo Enhancer for people looking for that service. In short, very satisfied! Great price! Prompt and professional response! Quality work! Highly recommend it!
Tom R:
Was skeptical about trying the ZonBase Photo Enhancer service but decided to give it a try. I was amazed at how high-quality the photos turned out!
ZonBase made the process so easy with detailed instructions on how to take the pictures myself with an iPhone. In less than five days, ZonBase sent the enhanced images back and you cannot tell that a professional photographer did not take the photos. Would highly recommend this service to save money, save time, and keep the process simple.
Final Verdict
If you have been hesitant to invest in ZonBase, you might want to say yes this time around. With all the tools and professional support that you get from no other than successful Amazon sellers themselves, you simply cannot go wrong with this software.