As an Amazon seller, Amazon software is one of the most important tools you need to scale your business. To successfully build an Amazon business from scratch, you will need a suite of product research tools, keyword research tools, and listing optimization tools, as a result, it is recommended that you make use of all-inclusive Amazon FBA software.
If you have been caught in the web of confusion trying to choose which all-inclusive Amazon FBA software is the best, then you should read this ZonBase vs Helium 10 vs Jungle scout Amazon software comparison to the end. 
There is a plethora of Amazon FBA software available in the market, and each of them claims to be the best, but which one is really the best? Let's help make that conclusion easy.
Of all the Amazon FBA software available, there are three important ones that you're most likely already conversant with, and the focus of this post is to help you decide which of them is best for your business. They are ZonBase, Jungle Scout, and Helium 10.
Although each of these tools has great features, you must fully understand the differences between each tool before deciding which one is best for your business needs.
To begin with, let's explore what the various tools are, how to use them, and whether investing in them is worth it:
Related: Best Amazon Software for Product research
ZonBase vs Helium 10 vs Jungle scout Overview
ZonBase
ZonBase is a fast-growing Amazon seller tool that offers seller tools that cut across all areas of an Amazon business.
The software offers up to 15+ tools for product research, keyword research, and listing optimization. But apart from these, it also offers tools for profit tracking and PPC optimization. The most interesting feature of ZonBase is how the software effectively integrates AI into all its tools. Using ZonBase product research and listing optimization tools, sellers can find profitable product options in minutes and create optimized listings from scratch in split seconds.
The ZonResearch tool is the star of ZonBase's product research suite. It is a deep search tool that enables sellers to find Amazon's most lucrative product choices. Based on their preferences, merchants can locate profitable products using a set of filters provided by ZonResearch.
Sellers can use the tool to limit their search depending on the cost, the number of reviews, the keywords, and the ratings. For sellers who want to save and reuse their search criteria, it also includes basic presets and customized presets.
The software also offers a Chrome extension tool that allows you to uncover hidden insights to help sellers make informed product choices. There's also the Hot Products tool that works like the ZonResearch tool, only that it has an add-on feature that gives sellers access to authentic supplier options for any product.
To crown it all, ZonBase offers an incredible AI-driven listing creation and optimization tool that creates unique, well-optimized listings in seconds from a single keyword and a simple set of instructions. With this tool, sellers will no longer have to worry about creating listing content and optimizing their listings.
Jungle Scout is an Amazon software that offers solutions for Amazon sellers. You can also track competitor data, analyze big data, estimate sales, etc. Jungle Scout brings you the best Amazon seller tools in one place. It is guaranteed to help you discover not only the most profitable products. But also the most relevant keywords to target for your niche and Amazon store.
With the Product Finder, Product Database, Supplier Database, and Chrome Extension. You're sure to find the best products on Amazon.
You can confirm your product ideas and get accurate sales estimates. You can also filter produce options using the extension. You can find a list of trusted suppliers for your products in the supplier database.
Using the Opportunity Finder tool, you can search for relevant keywords and discover profitable niches.
Your product listings can be optimized with relevant keywords found with keyword scout. With the rank tracker, you can track the performance of several keywords at once. Their listing builder allows you to create and optimize your product listings.
Helium 10 offers 17+ seller tools for product research, keyword research, and listing optimization. Using these tools, sellers can uncover profitable product niches, generate relevant keywords, and build optimized listings from scratch.
Helium 10 offers a ton of keyword tools, but the index checker tool is one of the most outstanding tools in the software suite. Index Checker ensures your keywords are included in the search engine results. Receive fraud alerts using Fraud Protection, and stock alerts using Inventory Alerts.
The software also offers a Chrome extension and a review downloader. With a single click, you can browse through a wide range of data. Using Cerebro, you can submit any product ASIN to receive a list of keyword ideas in a few seconds.
Magnet is Helium 10's keyword research tool, you are able to modify the search with filters to find whatever you need whether it be search volume or products, and even sorting through your results by the IQ score.
The IQ score is calculating the exact search phrase volume for amazon keywords and competing products that are also targeting that keyword. Basically the higher the IQ score the better it would be to target that keyword and relevant products. Although keep in mind this is not always straightforward as there are many factors to consider.
With Misspellinator, you can rank on popular misspellings of your keywords. So when visitors mistype your keywords, your products will appear.
In summary, most people might agree that Helium 10 is probably not the best amazon seller tool for people who need simplicity and something that is affordable. There are better options out there for keyword research and product listing optimization.
ZonBase vs Jungle Scout vs Helium 10: What is the best Amazon FBA software?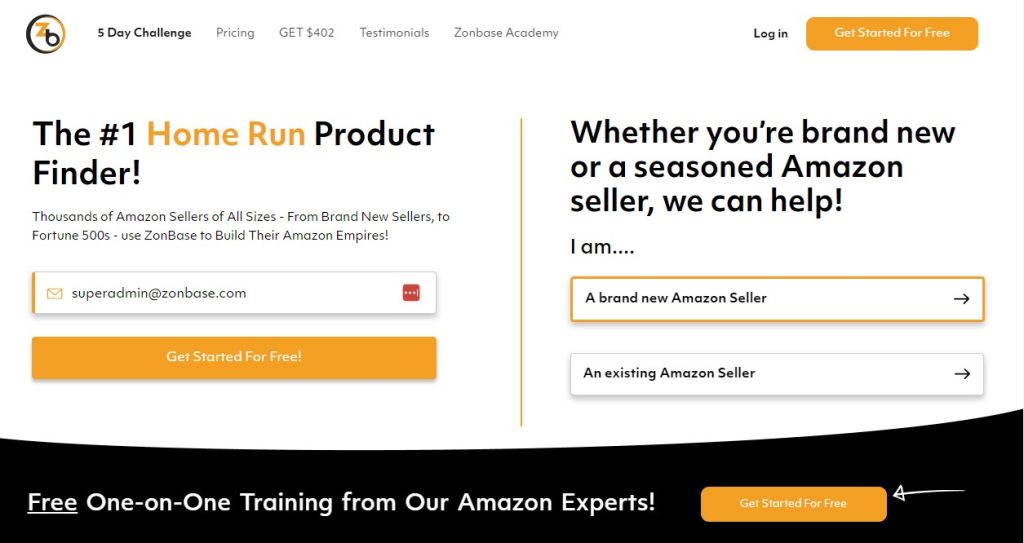 Any software tailored to meet your specific needs may be a good choice. But only if you need Amazon software to solve specific problems.
Alternatively, if you have different needs and need software to address them. Then, ZonBase is the best choice. A single place to access all your Amazon seller tools can save you money. This is because you won't have to pay a monthly subscription for each tool.
ZonBase has many strengths in every area. Unlike other tools, which have their strengths in only one or two. Compared to the other tools, ZonBase stands out as a tool that can deliver in every area.
There is a 30-day money-back guarantee, and you can try out the tool for free for seven days. As a third-party seller on Amazon, you can learn from Amazon experts for free. You can also access mentorship programs.
Scaling an Amazon business can be an arduous task. Especially for beginners who have no prior experience in selling. There are many processes involved in getting your AMZ business off the ground. Here are a few of them:
Discovering authentic suppliers
Generating relevant keywords
Optimizing your listings for conversions
Running PPC ads for visibility
All these processes take time, and you may be unable to manage them simultaneously. If you have many commitments or little experience, there is only little you can do to scale your business.
This is where ZonBase comes in. Thousands of sellers have used this software to scale multimillion-dollar businesses from scratch. The software contains effective seller tools to help you automate these monotonous tasks.
If you want to scale your business, you may have considered several approaches. And there are a ton of ways to scale your Amazon business. But you can only get around them if you have a tool to help you where necessary. Here are some ways to scale your business and how ZonBase can help you.
Find Winning Products
Products are an essential aspect of every AMZ business. But not every seller knows how to find profitable products. Even beyond product research, sellers also struggle with supplier research. ZonBase product research tools can bring you the most profitable products on Amazon and a list of genuine suppliers to source your products. All in the blink of an eye.
Paid Advertising
No sales volume? It would help if you had more visibility. It is almost impossible to make sales on Amazon if you are not visible. Amazon has put a structure to help you get in customers' faces. You can do this through Pay-Per-Click ads.
ZonBase's PPC tools are the most effective you will find at the moment. With these tools, you can automate your PPC ads and show up on page one. Alongside PPC ads, consider using google and Facebook ads. You can even build a following on social media. This way, you can reach a larger audience, and redirect them to your Amazon listings.
Keyword Research
Keywords play a major role in ensuring your listings convert. Having higher rankings for many keywords will allow you to reach more buyers. This is no secret that Amazon is all about keywords. As a result, your product will be more visible, and you will receive more traffic and conversions.
To achieve more conversions and sales. One must optimize their listing by incorporating more and more high-converting keywords. It is possible to rank on the top pages of Amazon by including high-ranking keywords in your listing. To succeed, you must choose relevant keywords.
ZonBase has the perfect combination of keyword research tools to help you. These tools will spy on your competitors' keywords. Then bring you the perfect set of keywords for your store. Including these keywords in your listings increases your visibility and conversions.

Related: Best AMZ Keyword Tools For Sellers
Optimize Your Listings
Listings provide key details about your product to potential customers. But cannot guarantee you a sale. You can make the perfect product listing. But it's not worth anything if it's not visible on the search engine's top pages. You should optimize your products by using high-quality images. Also include titles, bullet points, and descriptions.
ZonBase comes with an effective photo enhancer tool. The tool will help you improve the quality of your images. Its listing optimization tools are also top-notch. With these tools, you can remove or add important features to your listings.
Related: Creating Videos for your Amazon listings
Our Conclusion
With ZonBase, you can scale your business effectively and efficiently. All the tools you need to succeed as an Amazon seller are available in one place. ZonBase offers a wide variety of Amazon tools at a meager price. A budget-friendly solution for sellers.