The dream of every Amazon seller is to get to the top of the website's page 1 search results. And to do that, access to the best Amazon keyword tools is essential. AMZN is the most popular online shopping platform, with over 3 million active users. This means you'll have users constantly visiting your listings every hour. Also, statistics show that most online shoppers bypass Google and start their product searches on Amazon (Source: Statista).
So, the most profitable thing for any seller is for his product to be seen within the website's search results. If you can rank high on AMZ's own search engine results, you'll have a better chance of converting sales.
However, one thing that you'll also have to take note of is the amount of competition you'll have to face. The AMZ marketplace is saturated with millions of other sellers, some of whom sell the same products that you do. This means that you don't have any other unique advantages that other sellers don't also have. There is fierce competition on the platform on who should be on top. As every seller is racing to the top, they'll do anything within the rules to succeed, just like you.
To get ahead of your competition, you need to use the best Amazon keyword tools on the market today. These tools can help you optimize your product listings and increase your conversions faster. Having access to the best Amazon keyword research tools will allow you to find relevant keywords for your listings without much manual effort.
Ready to learn what's on our list of the best Amazon keyword tools out there? Let's dive right in.
What are Amazon search keywords?
Google and Amazon are both search engines, except that they are wired differently. While the Google search engine allows you to search for information, Amazon's search engine only allows you to search for and purchase products that are listed on its platform.
When customers search for a product using keywords, the search engine works on indexing content. AMZ uses the keyword that you typed in order to search its database for the best products that fall under the keywords you used. The most compatible products are placed on the first page. This format is done chronologically to quickly provide relevant results so that customers can have the best shopping experience.
For this, AMZ has developed its own Algorithm known as A9. The A9 Algorithm delivers the most relevant search results by relying on the keywords in your product listings. The algorithm uses keywords to determine what products you sell and who might be interested in them.
There are no hard and fast rules when it comes to determining how to get to the top of the rankings. Even AMZ doesn't really talk about or divulge how to get your listings on top in order to avoid abuse. However, there are accepted factors that ultimately affect and determine the possible ranking of a product listing given a keyword. This includes a number of sales, customer reviews, positive experience, and overall quality of the product listing. Having images that are of high quality also helps a lot.

Why Amazon Sellers Should Do Keyword Research
Product Search Result Improvement
The algorithm finds the customer's search query in relation to the closeness of your keyword match. The closer your keywords are, the higher AMZN places your product listing in the search results. This helps you gain more visibility and generate more sales.
Just think about it-a baking mitten that is all about home and kitchen shouldn't be recommended on a keyword query about games and toys, right? AMZ takes care of these by making the product search results more relevant. Hence, improving the overall customer experience as a result.
Better Seller Ranking
The keywords that you use will be trusted by AMZ when the keywords you use convert more and more customers. This helps to increase your seller ranking, and you will always retain the top position on the first page of the search results.
Amazon has a BSR (best seller ranking) that it updates every hour depending on the number of specific products sold within the said time period. If your products consistently sell using the keywords you are targeting, AMZ will think that your item is one of the most relevant products in its platform.
Competitive Edge
If you have the ability to target unique keywords, it will be easy for you to beat your competitors. Finding keywords that are not too high in competition but have good traffic from searches can lead you to products that are profitable. Actually, the key to finding a winning product is exactly this technique: high demand, but low competition.
Increased Conversions
The ultimate result of all your efforts to sell on AMZ is increased traffic. Yes, the more keywords you integrate into your listings, the more visible your products will be. If your product's keywords match the product search, you will get a huge traffic.
However, traffic doesn't mean a thing if your products aren't related to the keyword search. If a user is searching for kitchen mittens, but baseball mittens were given as results, do you think the baseball mittens will sell? It's highly unlikely, right? Shooting for the right keywords will make your products convert so much better.
Follow Best Practices
Keyword optimization is not a cheap practice. It helps you to optimize the entire business process. When your keywords attract the right traffic and help the customer find the right product, it ultimately helps you perform better on the other marketplaces also.
The Top 10 Best Amazon Keyword Tools
Actually, identifying the right keywords for the product you sell is a difficult task. The words you select must be words that are:
Used by customers in their search queries;
Most relevant to your product niche, and
Competitive in nature.
The best keyword research tools that we are going to discuss in this article will help you to identify what exactly customers are typing into the search engine and will also help you to know other long-tail keyword strategies that can generate a quality lead. Let's dive in and get an insight into how these tools are helpful to you: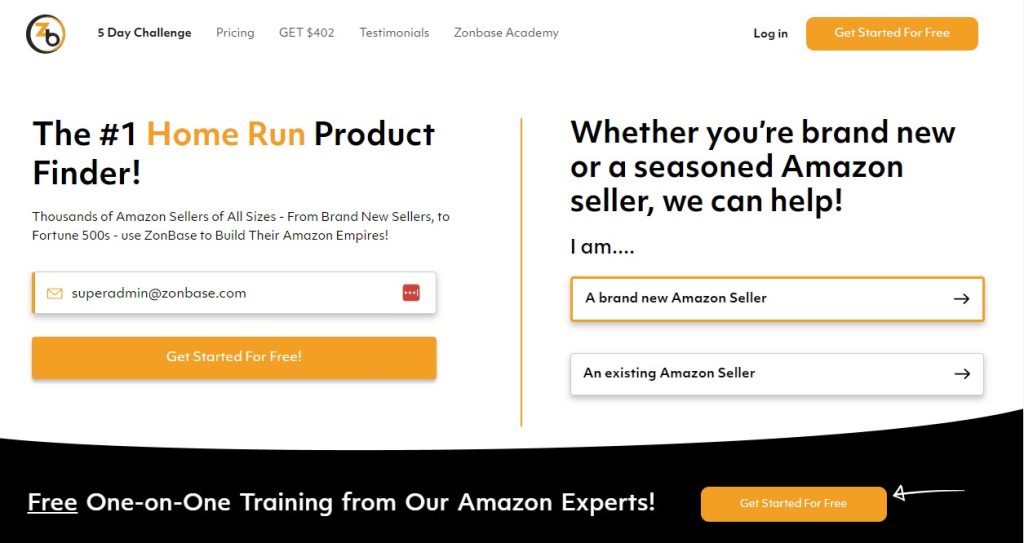 ZonBase is an effective Amazon software tool that offers keyword research tools as well as other Amazon seller tools. The ZonBase Keywords tool shows you the estimated monthly search volume for any general keyword and a history chart indicating the level of interest over time. The Keywords tool also generates tons of related keywords based on their relevance. It is a powerful tool that you can use to discover high-impact and high-traffic keywords that can help boost your potential sales.
ZonBase also has a Reverse ASIN tool with which you can spy on your competitors and discover the top keywords they rank for. With the Reverse ASIN tool, all you need to do is enter the ASIN of a competitor's product that is closely related to your own. The tool will then discover all the keywords that your competitors use in these product listings.
This is very helpful if you are trying to launch a pay-per-click (PPC) or a search engine optimization (SEO) campaign. Knowing the right keywords to use in these marketing campaigns is essential in keeping your costs low. This is one of the best Amazon keyword research tools that you can use for uncovering keyword ideas.
And with ZonTracker, you can check your organic ranking and track it over time. This is an effective Amazon keyword tool that gives you access to information about your keyword ranking and overall keyword performance. With the Zontracker, you'll be able to make more precise, data-driven decisions.
Ahref is one of the oldest and most popular SEO tools that help digital marketers around the world. When it comes to keyword research, it is one of the best Amazon keyword tools out there, especially for search engine optimization and link building.
There are about 100 million keywords stored in its database that can be directly used in your product listings. Some of the key features of Ahref are country-specific results, volume estimators, and the best of all: 'newly discovered' keyword reports. It deserves its place as one of the best Amazon keyword research tools today.
Sonar is another absolutely free keyword research tool that you can use to us the actual data from real visitors on AMZ. Sonar results are highly accurate as it gives you the keywords that are only searched by customers on the AMZ platform. Other functions that it offers are finding what your competitors are using through reverse ASIN, keyword translation, index checks, and PPC searches.
Scientific Seller is another most trusted tool in finding the industry-winning keywords that help sellers to increase their sales by at least 10% per month through keyword research. It is great at providing you with a list of thoroughly researched keywords that are sourced from a variety of real-time sources. It provides multiple, unique long-tail keywords that your customers are likely to use when searching for your products. Although it is a new keyword research tool, it is still one of the best tools for Amazon keyword research.
It is one of the best product research tools that doubles as a keyword research tool, with deeper insights to fuel your keyword strategy and help you improve your listings. It is equipped with different Amazon seller tools for reverse market analysis, analyzing search volume data, and finding historic search trends. This tool will definitely come in handy if you're looking for a great tool for keyword research and product launching.
This Amazon keyword research tool offers you autocomplete search suggestions that help to generate the most relevant keywords for your product titles and descriptions.
In addition, it can give your regional websites and languages too. It is best if you are a rural seller seeking to grow in an international market. Amazon Tools can establish a mechanism that can help buyers to find your products easily. It can be used by anyone whether you are a seller or an Amazon affiliate.
SellerApp is another powerful Amazon keyword research tool that can help you with sales, operations, marketing, and other business processes. It is a chrome extension that helps sellers pick the right keywords for building profitable product listings.
It has a huge database of 135+million keywords that can be used by any third-party seller. It is great to research how specific keywords can be used for hitting high sales and being successful. The prominent features of SellerApp include results to monthly search volume and real-time PPC cost related to your product launch.
Magnet is another powerful Amazon keyword research tool by Helium 10 that has a vast database of actionable keywords and long-tail keywords. All you need to do is enter the desired keywords and it will provide you with all the best relevant keywords. You can give the inputs based on the filters like search volume, word count, number of competing products, and many more.
It claims to be the most comprehensive keyword database on the internet and extends services on SEO that can perform service beyond product research and product identification. Other features include reverse ASIN lookup for keeping an eye on competitors' sales and find profit viability through product search. These features actually help it to give its seller the most comprehensive data to find potential successful products.
10. AMZScout
Optimize every step of your online business. AMZScout is an intuitive keyword teacher that helps to improve product ranking and watch the competitors progress through its reverse ASIN search. Other outstanding features include keyword search by ASIN, track keyword position change over time, and import and export data.
JungleScout
It is one of the most used software seller tools that help you to drive conversions. From search results analysis, product research to product launch, it has everything that any serious seller should have. Also, you can use its exploration and product tracking features to discover keyword insights and product trends to help escalate your sales.

Conclusion
The importance of keyword research cannot be overemphasized. Using relevant keywords in your product listings is one of the best ways to improve your organic search results. The Amazon keyword tools that we have listed above can help you uncover relevant keyword options that are capable of boosting your listings.
Don't use the trial and error approach. Instead, use any of the above-mentioned tools and you can go beyond guesswork and use customer-based competitive keywords to increase search ranking. ZonBase is one of the best Amazon seller tools that you can use.
It offers 14+ Amazon seller tools, including keyword research, listing optimization, and product research tools to help you handle major business tasks and bring you results. With its keyword tool and ASIN reverse tool, it will be easier to discover keywords for your successful product launch.
ZonBase plans are affordable and you can even try out the tool for free for 7 days before signing up for a paid plan.