In the last couple of years, you can say there has been an Amazon boom. The online retailer— which accounts for 45% of the U.S. e-commerce market— is home to over 6 million sellers according to Marketplace Pulse. This number is only growing, with nearly 2,000 new sellers joining each day. Despite the massive amount of competition, selling on Amazon is still a great source of income for those who have the resources and time to navigate the market.
Most sellers on Amazon use FBA to sell their products, and you might even be one of them. However, there is an alternative method that many overlook. That method is called Amazon FBM, and it may be better for your business. In this article, we teach you everything you need to know about selling and how to do FBM on Amazon.
What is Amazon FBM?
Amazon FBM stands for Fulfilled By Merchant and is sometimes referred to as Amazon MFN (Merchant Fulfilled Network). Amazon FBM is where sellers choose to ship their products to buyers themselves. This often involves sellers storing their own stock, packing and shipping orders, and dealing with all customer service inquiries and returns. Essentially, Amazon is just your listing venue, and everything else is done by you. 
What's the Difference between Amazon FBM and Amazon FBA?
The only difference between the two is how the order is fulfilled. FBM orders are fulfilled by the seller while FBA orders are Fulfilled by Amazon. When sellers utilize Amazon FBA, they are able to send their inventory to an Amazon warehouse and have their orders shipped out from there by Amazon's shipping services. 
Amazon sellers, on the other hand, handle their own inventory storage and order fulfillment. They are also in charge of customer service and returns.
Both FBM and FBA have their own advantages and disadvantages. It is really up to the seller to choose which fulfillment services best suit their needs. But since the focus of this post is on FBM, we will discuss the pros and cons below.
Related: Beginners Guide to Amazon FBA

Pros of Fulfillment By Merchant
Despite having to do all the work, selling with Amazon comes with an array of advantages. We detail some for you down below:
Fewer Fees
A major benefit of Amazon Fulfillment by Merchant is having to pay fewer fees. While using FBA can take away many of the tedious tasks of selling on Amazon, the charges are pricey and quickly add up. The FBA costs include monthly storage, order fulfillment, handling fees, and more. Depending on your business, you can also see other costs, such as high-volume listing charges. With FBM, you will still incur some fees, but you won't have to pay most FBA fees. We will discuss the cost of using Amazon FBM shortly.
Greater profit margins
Because of the fewer fees, sellers on Amazon often see wider profit margins per item than those using FBA. However, this is not a given, so make sure you calculate your other costs correctly and negotiate the best prices for stock and shipping. You can easily do this and validate potentially profitable products using ZonBase's Amazon Sales Estimator.
Full control over the business
Fulfilling all your orders yourself gives you complete control over your business and products at all times. When you are involved in the entire selling process, it becomes easier to track your inventory and the progress of each order, leading to fewer mishaps as long as you are on top of everything. Also, you will be able to quickly increase your stock when needed, making it easier to expand your business.
Avoid FBA Strict Regulations
While using FBA would make it easier for you as a seller, you would have to follow its strict policies and requirements. There are rules concerning many aspects of the business, such as product titles, barcodes, and shipping labels. With this, however, you get to bypass all those standards and just focus on item quality and shipment.
Less unexpected expenses
FBA sellers can be affected by increased costs due to Amazon policies or long-term storage charges. Luckily, FBM sellers do not have to deal with those hassles and instead just have to focus on their own stock, storage, and shipping.
Able to build your independent brand
When you're selling using Fulfillment by Merchant, you will have to provide customer service rather than relying on Amazon to do so. While this may sound like more work for you to do, it actually is beneficial in creating your own brand. By talking to customers, you better understand what they want and what you should improve on as a seller. 
Cons of Fulfillment By Merchant
While there are many advantages to using FBM, there are also drawbacks that make using FBA the more appealing option for some.
Time-Consuming
Managing your business is already tedious by itself, but dealing with shipping is another monster. When using FBM, you will have to dedicate many hours a week to picking and packing your orders and just overall be super hands-on in the process. 
Shipping may cost more
While you are definitely saving on your storage fees compared to Amazon FBA, your shipping costs could vary depending on the weight of your items and carrier. You can try to negotiate a good deal; however, sometimes, it may be unavoidable.
Customer Service is your responsibility
With FBA, you have the advantage of using Amazon's trained customer service department, and they will be able to handle any inquiries, returns, and refunds on your behalf. Fulfillment by Merchant does not offer this kind of assistance, so it will be all up to you. 
No Amazon Prime 
By far, the biggest con of Amazon is the missing business from Amazon Prime members. When buyers have a Prime account, the 2-day shipping criteria are a vital factor in a purchase to them. And, with 1 in 3 Americans having an Amazon Prime subscription, that is a lot of business loss. While you can apply for the alternative Seller Fulfilled Prime program, it is challenging to be eligible for it.
It requires nearly perfect selling ratings and other criteria, listed down below:
Have a timely shipment rate of 99%
Have a valid tracking rate of 99%
Offer Premium Shipping to customers
Have a proper collection rate of 0.5% or less
Use Amazon's Buy Shipping for 98.5% of the orders' minimum
Abide by Amazon's return policies
Use of an Amazon-approved carrier for delivering orders
Let Amazon handle all the customer inquiries
When Should You Use Fulfillment By Merchant?
Amazon FBA is generally perceived to be a better option because of the flexibility it offers. With FBA, sellers can save time by outsourcing storage, shipping, and fulfillment to Amazon. However, FBA also comes with its own drawbacks, thus making it difficult for sellers to fully settle for it. Are you unsure about whether or not selling through FBA is a good choice for you? You may want to consider using the FBM fulfillment method instead.
Here are a few situations where it would be best to fulfill your own orders:
You are a new seller and cannot afford to bear the initial costs of selling through FBA.
Your items are unique to your store. If you use FBA, your orders will carry Amazon's brand logo thus making it difficult for buyers to remember your brand or store. Fulfilling orders by yourself will help you build the credibility of your product and online shop and increase your chances of retaining customers.
Your products are difficult to ship – when items require special handling, it would be better to ship them yourself instead of Amazon to avoid mishandling or breakage.
You have a small scale business; you don't have as many items, and storage is easier and cheaper.
Your items make a small margin so you wouldn't want to lose any more of the profit due to FBA fees
You make handmade products and would like to ensure that your items are delivered to the buyer the way you want.
Your products are exclusive or slow-moving and do not sell out quickly. In this case, FBM would be a better option because if your inventory stays too long at an Amazon fulfillment center, you risk incurring additional storage costs.
You already have an affordable and reliable third-party fulfillment service.
If you fit into most of the aforementioned descriptions, then selling on Amazon through FBM would be a great choice.
How to Get Started with Amazon FBM
Decided you wanted to do Fulfillment By Merchant on Amazon? Follow the steps outlined below to get started.
First, you have to set up an Amazon seller account.
To do this, you will need a variety of information, including your business name, address, and contact information, as well as your credit card and Tax ID number.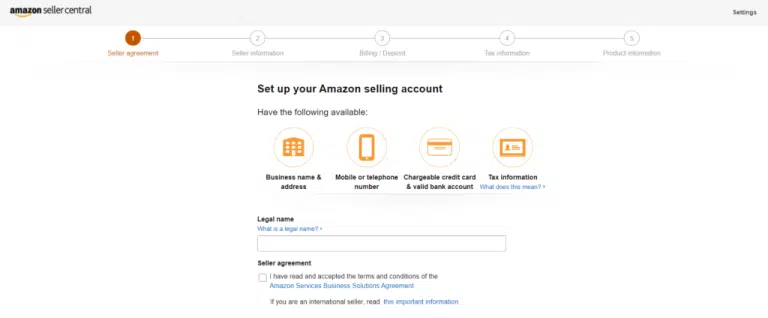 Create and optimize your product listings
The next thing to do after creating your seller account is to create your product listings. But you can't stop at just creating listings, you also have to make sure they are well-optimized. To optimize your listings, ensure you include relevant keywords, use catchy product titles, make your descriptions readable by using bullet points, and also include attractive product images.
ZonBase offers an AI-driven tool — AI Listify, that can help you create and optimize product listings from scratch without putting in much effort. All you have to do is provide a base keyword, then the tool runs through your competitor listings to identify their top-performing keywords. Afterward, it carefully curates a well-optimized listing for you using these high-ranking keywords. If you want to save time on listing creation and optimization, AI Listify is a must-have.
You can try out the AI Listify tool alongside other ZonBase tools for FREE when you sign up for a 7-day free trial of the software.

Source and Fulfill Your Orders
After creating your listings, the next thing is to ensure you have your inventory ready to ship. Since you'll be using FBM, you'll have to sort out storage or warehousing by yourself. But this should not be an issue if you start with a little amount of inventory.
You also need to put measures in place to ensure fast delivery. FBA typically offers fast delivery and you will have to match up to that especially because Amazon gives customers an estimated delivery date and you have to deliver within this time window.
After, you have to integrate your Fulfillment and order management tools with Amazon to handle orders and deliver customer details. Once you update your account information to verify shipping and handling times, you are done and can get selling with Amazon FBM!
How Much Does Amazon FBM Cost?
FBM fees are significantly lower than FBA fees, this is because you will not be using any of Amazon's services and will not have to pay for them. So, you won't be incurring FBA inventory storage fees or fulfillment fees. But that does not mean that you won't incur any fees at all. Here's a simple breakdown of the fees you'll have to pay.
Selling plan fees
Every seller has to pay selling plan fees regardless of the fulfillment option or business model. Amazon offers two selling plans; Individual and Professional and the costs vary.
If you opt for the individual plan, you will have to pay a per-item fee of $0.99 on every sale, but if you opt for the professional plan, you pay a fixed monthly selling fee of $39.99. The individual selling plan is best for sellers who do not intend to sell more than 40 items in a month while the professional plan is best suited for sellers who would like to sell more than 40 items in a month.
Referral Fees
Amazon charges a referral fee for every sale you make. It is a commission-based fee that Amazon charges sellers for selling on the marketplace. It typically varies from 8% – 45% depending on your product category but is mostly between 8% – 15% for most product categories.
Tips for Selling with Amazon Fulfillment by Merchant
Ship out orders on time
Once you receive an order, you should ensure you ship the item based on the delivery date estimated by Amazon. If you are late, your customers may get angry and leave your business bad reviews.
If you aren't exactly sure how to ship your product, the first step is to choose a carrier. In the United States, you have multiple options, such as UPS, FedEx, USPS, and DHL. You can compare the shipping rates using websites such as Online Shipping Calculator and Ship Gooder.
Always provide tracking numbers
Amazon requires all orders to have a tracking number, so make sure you don't forget! If you purchase shipping through Amazon, the tracking number will automatically be sent to the customer. Otherwise, you will have to let them know yourself.
Have a good return policy
According to Amazon's policy, you must accept all returns. So, you should have clear return instructions included in your packaging as well as your item listing. Ensure you have a valid return address so your returns can be sent there. 
Choose where to store your inventory
When choosing a storage or warehouse location, you should try to strategically have it in a place where you can avoid redundant shipping costs. You can rent a room or even use your house for smaller businesses. 

Conclusion: Our Thoughts?
Despite the number of benefits selling on Fulfillment by merchant has, we at ZonBase still believe Amazon FBA is the way to go.
Even though the fees from Amazon eat into your profits, Amazon FBA's efficient, hands-off shipping saves sellers a lot of time they could be spending on improving other aspects of their business. Whether it's marketing their business, researching their competitors, or even adding more products to their catalog, it feels like a waste using multiple hours a week packing your products when Amazon could just do it for you.
Along with that, Amazon FBA makes selling on Amazon much easier and more feasible for beginners looking to increase their income. For those who are experienced, the entire selling process could even be autotomized, making it a great, passive income opportunity that those using it can't even dream of.
However, as we said before, there are many specific scenarios where Fulfillment by Merchant may work better for your products. However, most Amazon sellers who wish to scale their business and maximize their profits, would need a lot of inventory space and time which makes Amazon FBA the better option for them.
Want to learn more about Amazon FBA? Read all about it here.
Selling on Amazon is a lucrative and flexible source of income. Whether you choose to do it as a side hustle or a full-time job, check out ZonBase to make your Amazon business a piece of cake.