So you've heard stories and read blogs talking about people who are making money on Amazon. That's great! And you want a slice of the pie too? That is perfectly understandable. Selling online is a great income stream that you need to add to your portfolio. And learning the best way to sell online in Amazon is the first step toward achieving that goal.
If you think you're ready to take the leap and start selling products on Amazon, you must stop and think first. Figuring out what to sell can be quite difficult, especially if you are starting out. Discovering the best things to sell on Amazon to make money is difficult for newbies. If it were easy to uncover profitable product ideas, everyone would be doing it, right? If you want to try Amazon to sell your stuff, you must do the proper research beforehand.
If you're at a loss about what products to sell, don't be. Knowing what products will bring the most profit isn't something you will learn overnight. To start increasing sales, you have to connect customers with their needs. After all, that's the point of starting an online business, right? To earn a profit, help customers, and make money while learning what works along the way.
In this article, we'll try to solve this dilemma by sharing the easiest ways to discover what to sell on Amazon. By going through different Amazon suggestions, we'll answer the question, "what can I sell on Amazon as a new seller". We'll also check out some of the best Amazon seller tools that can help you accomplish this feat. But first, let's take a look at what you should be aiming for when researching winning products.
What Makes a Product Profitable?
"What should I sell on Amazon" or "what can I sell on Amazon FBA as a new seller" are two of the most common newbie questions that we are asked. And if you are trying Amazon to sell your stuff, following Amazon suggestions from other sellers isn't always the best thing. Not every product sold on Amazon is a winner. Finding the best things to sell on Amazon Marketplace to make money requires a deep understanding of profitability. This will require some time and experience, as well as help from different software tools.
Remember, the goal in any e-commerce store is to sell online products that will earn you a lot of profit. It doesn't matter what kind of product it is. You should be offering it in your store as long as it can generate sales. But what does a profitable product look like? And what is the best way to sell on Amazon? How would you know if a product has the potential to sell well? Is there an easy way to find a popular product to sell? Here, we check out a few elements that you should look out for.
Many people are buying the product
A profitable product should be popular and high in demand. If you sell products that people are not interested in, you're not going to make many sales. Products purchased by customers are products that satisfy a need or solve a problem. So, when researching product opportunities, look for useful products that are always in demand.
After finding products that fit the bill, look for gaps you can fill with your private label products. With a private label, you can source already existing products from a manufacturer, and improve on them, then sell them under your brand.
A good place to start is by reading negative reviews on product detail pages to identify customers' problems. This gives you an idea of possible modifications that can serve as a unique selling point for your product. It may not even be a product feature. Sometimes, it's as simple as finding ways to manufacture the product at a lower cost and offer it at a lower price. Knowing what to sell becomes easier if you can find out what their problems are.

The product can be sold all year long
When asking the question "what should I sell on Amazon", one of the most important factors is that the product isn't seasonal. A product that can be sold throughout the year will always make you more money in the long run. Avoid going for seasonal products that are only trending in a few months.
For example, selling Santa hats and decorative socks can be awesome during Christmas. But what will you do after the season is done? You'll have to wait another year to make some good sales again, which is not great. Aside from that, unsold products will also garner additional storage fees. This is something you want to avoid.
Not many people are selling the product
If you sell popular products that your competitors are selling, you'll be in a saturated market. You will have to compete with them to get a portion of those sales. And the hard truth is you're not likely to get many sales as a newcomer unless you can put a spin on your product. Even if you have better product listings, it's not always guaranteed that your product will sell better.
You need something that differentiates you from competitors. You should look for product market niches that are not saturated with many similar products from competing third party sellers. Deciding which items to sell becomes a lot easier if you can avoid stiff competition and try to find low competition products. There is a way you can do this by looking at average reviews, which can be found in the Chrome extension.
When assessing your competition, another factor to look out for is the number of reviews. If you see a product with over 50 reviews, the seller has an established sales history and would be difficult to compete with. So if you're looking for a quick way to land on page one, you should look for products with fewer than 50 reviews. With a good product and an efficient launch strategy, you will likely generate many sales and reviews quickly, surpassing competing sellers.
The product is priced between $20-$100
If you sell a product below $20, you're not likely to make much profit. Once you factor in seller fees and other costs as well as other expenses, your profits will be minimal. You'll need to generate many sales to turn a decent profit, meaning hundreds of thousands of units sold. This could be difficult in a competitive marketplace like AMZN.
In our experience, the $20-$100 range is that sweet spot where you can leverage people's impulsiveness. Because of the fair selling price, people will not likely think too hard before making a purchase. You're likely to generate many sales in this price range, which means you will get more customer reviews too. In the AMZ platform, getting good reviews can boost your product's rankings. Sometimes, you have to read through customer reviews to get an idea of popular products on AMZN.
But if you sell above $100, you cannot leverage people's impulsiveness. You're already veering into expensive territory where people have to do a lot of thinking and research. However, if your product is great and you know you can create a demand, then go for it. There is no hard-and-fast rule when choosing a product, so always experiment.
Fulfillment Options: FBA or FBM?
Another factor that affects your decision regarding product choice is your fulfillment options. Since there are two ways to fulfill your orders, you must select the products that will fit your fulfillment needs.
There are two main types of fulfillment options on AMZN, and we'll briefly discuss them below:
FBM (Fulfillment by Merchant)
This is the most common way to fulfill an order for any online store. FBM means that the merchant is also the one who is going to pick, pack, and ship the products to their customers. If there are returns or refunds due to damaged items, the merchant will be the one to take care of it, too.
Most online store orders are fulfilled by merchants. However, this means that you will spend more time managing every order. It can take away the time you could have spent scaling up your AMZN store.
FBA (Fulfilled by Amazon)
In this model, the seller delegates the task of fulfilling orders to AMZN itself. This means they will pick, package, deliver and ship the products to the customers. For beginners who don't wanna get swamped with managing their orders, this could be a great option. However, there are also FBA fees that you need to pay to use this option. This can take away some of your profits.
When it comes to deciding what to sell on Amazon, your fulfillment method matters. Certain items are better suited if you use FBA, while some should be FBM only. For example, if you plan on selling products that are fragile, hard-to-handle items such as television sets, FBA is not a good option. There are extra fees involved in handling these fragile products if you use FBA as your fulfillment method. The same goes for items that have lithium batteries inside them.
If you plan to use FBA, going for small, non-fragile, and lightweight items is a great option. Not only will it cost less to fulfill these products, but the chance of damaging them is less as well. Besides these points another benefit of FBA is not having to worry about varying shipping costs, Amazon takes care of this aspect.
Top Amazon Bestselling product Categories
Now that you know what to sell on Amazon and what fulfillment method to use, what's next? Figuring out the bestselling categories to focus on should be a priority on your list. To help you out, we have listed below some of the top-selling product categories on AMZN. (Not in particular order)
Clothing/Shoes/Jewelry
Beauty & Personal Care
Home & Kitchen
Cell Phones and Accessories
Books
AMZN Handmade
Clothing, Shoes, and Jewelry
It's not a secret that everyone needs to dress up. Be it for a formal occasion or just casual wear for hanging out, we all need something to wear. One of the top-selling categories on the website is the clothing, shoes, and jewelry section. They are also one of the easiest products to fulfill, so it is a win-win scenario for sellers to choose this section. Most jewelry, clothes, and shoes are small and light. You will not have problems fulfilling and shipping them. You need to know what to sell on Amazon FBA to make money that can compete in this niche market.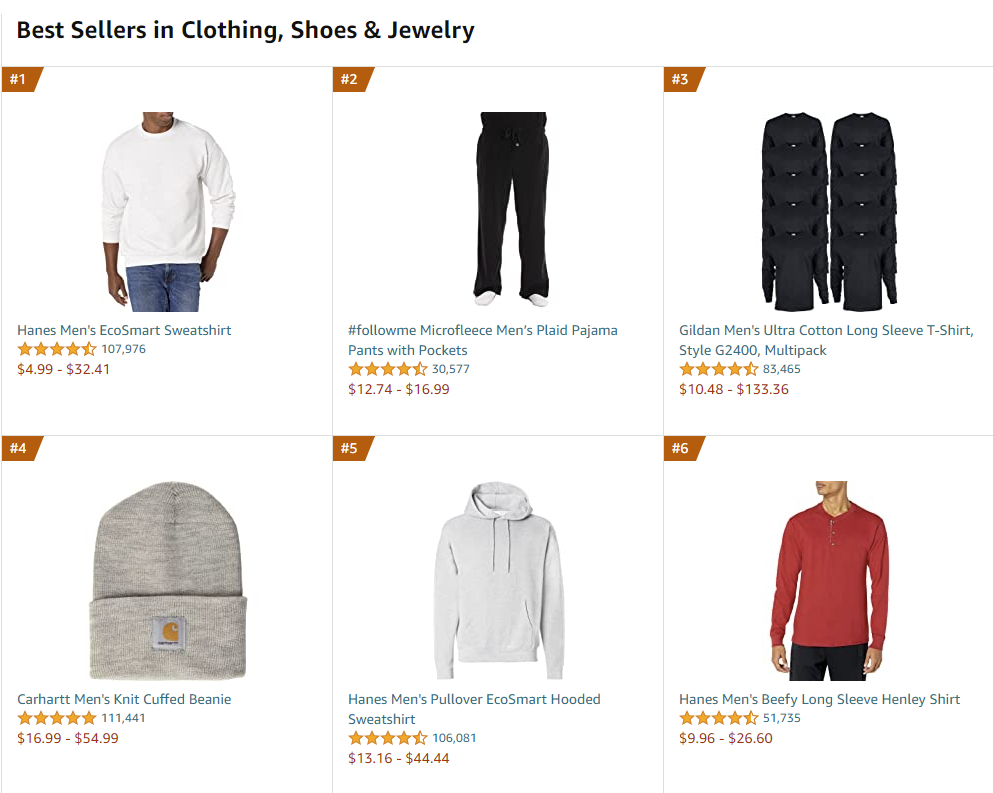 Beauty and Personal Care
Aside from dressing up, most online shoppers also pay huge attention to their looks. It's not a secret that many women love to buy beauty and skincare products. But did you know that men are also starting to catch up on this trend? The number of men starting to buy self-care and hygiene products has steadily climbed through the years too. With that in mind, providing the needs of these people could be a great way to make money for your store. However, be wary of the potential competition you'll bump into. Big brands have always dominated this category, so it is always a good thing to be cautious before jumping in. Make sure that you are offering something different from what the big players have.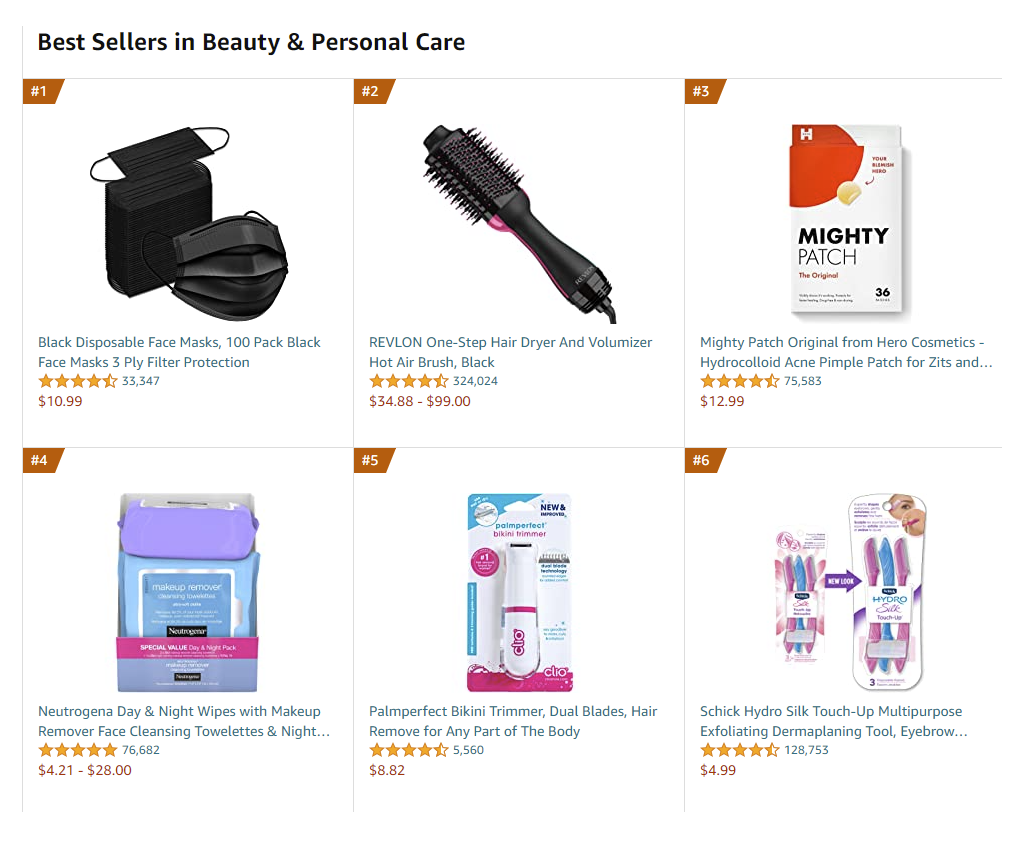 Home and Kitchen
This is probably one of the most popular categories on the website. So many people are always on the lookout for new home furniture and kitchen tools. And you should take advantage of this by selling them what they need. Sub-categories like baking, for example, have gone big and popular during the time of the pandemic. Because more people love staying at home and cooking food for their families, categories such as kitchen tools got big. The same goes for home improvement too. Don't lose the opportunity to make big money in this market.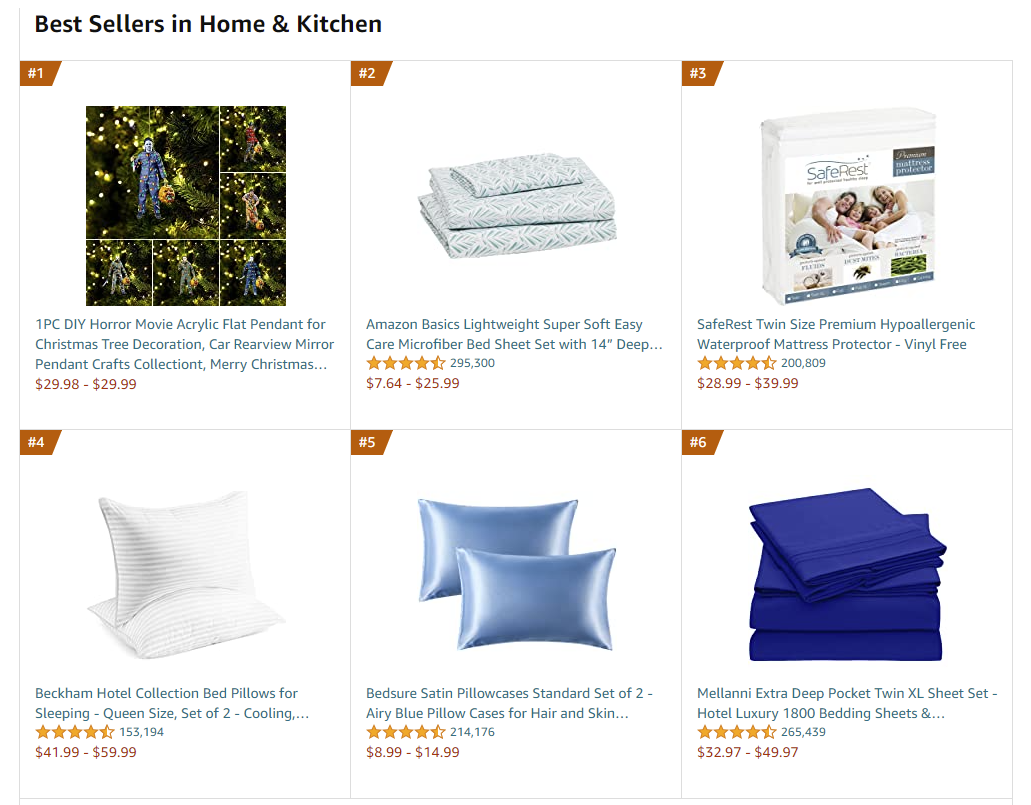 How to Find What to Sell on Amazon
As an aspiring seller, discovering what to sell isn't easy. You might have seen a Youtube video somewhere teaching you how to do it. But is that always a reliable source of information? Just think about this: if it's that easy, why isn't everyone doing it? If all those videos were true, then why aren't all sellers millionaires by now?
The truth is, finding the best products to sell is difficult. And it should be. Otherwise, everyone would be selling products that are the same and making money too.
We'll cut to the chase: the easiest way to find things to sell is by using a product research tool like Zonbase. You may have heard that you need to check AMZN's bestsellers list or the product's BSR to assess the product's profitability. But how many products can you check through manually?
With Zonbase, you can get data about thousands of products within minutes based on the criteria we discussed earlier.
Let's look at how the Zonbase product research tools work.

One of the hardest things to do when finding what to sell is researching the right category. Some categories have so many sellers that profiting from them can be difficult. On the other hand, some categories aren't that saturated but have little demand. This means you won't make as much even if you dominate the top spot.
The ZonResearch tool allows you to find profitable products in a specific category by browsing an extensive catalog. The best part is you can specify the filters or criteria for the products you want. Filters include price, reviews, monthly unit sales, and monthly revenue.
Using the criteria, we talked about earlier, you can set the following filters, for example:
Price (Min-Max): $20 -$50
Reviews (Min-Max): 10 – 40
Monthly unit sales (Min-Max): 300 – 500
Monthly revenue: $5000 – $7000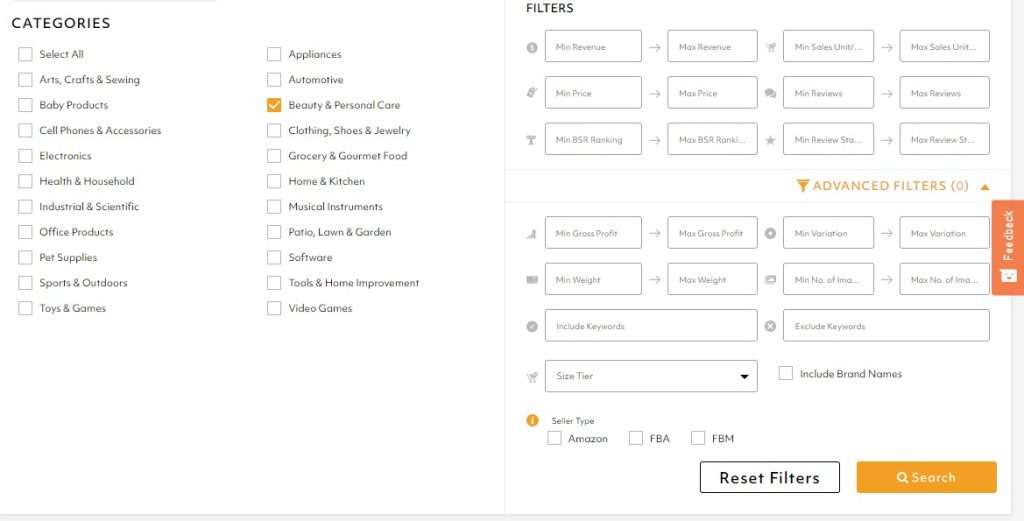 amazon top category by zonbase
You can also set advanced filters like BSR rank, ratings and keywords to include or exclude.
The tool will bring up multiple products that meet the criteria you set. You can then sift through the results for products you're interested in.
The Chrome Extension tool allows you to see data about potential products while searching within AMZN. Once you install and run the Chrome Extension after searching for a product, you can view information about it. This includes the price, BSR (best seller rank), sales history, monthly sales, revenue, rating, and reviews. With this tool, finding out what to sell on Amazon becomes easier. The chrome extension is a great starting point for your keyword research as well.
The Chrome Extension also gives you a breakdown of page one averages. This includes average monthly revenue, monthly units sold, average unit price, and average reviews.
If you know what you want to sell, you'd like to be sure of its profitability first. You can use the Sales Estimator tool to determine how many sales the product gets in a month. You can tell how well the product sells by seeing how much the generated sales are. This can help you make a data-driven decision when it comes to deciding what to sell on Amazon.
So, you want to know which products are trending up in the last few days, weeks, or months? Do you want to jump in on a potential winning product before other competitors can? If yes, then the Hot Products tool is the right one for the job.
By finding the latest ranks on the top most-gifted items on AMZN, this tool can give you a heads up on what's trending. You will see which products get popular during certain months too. This can be a great reference for products that you might want to try selling products in your store.
Conclusion
What products you decide to sell can make or break your business. A winning product can sustain your product for years. At the same time, the wrong product can cost you precious time and money. Hopefully, you can find ideas on how to choose yours with the information we shared above.
Finding the winning product is not difficult or daunting. With powerful AMZN product research tools such as Zonbase, it is easy to make data-driven decisions. You can surely find profitable products that will make you lots of sales if you start on the right path.