So you've heard stories and read blogs talking about people who are making money on Amazon. That's great! And you want a slice of the pie too? That is perfectly understandable. Selling online is a great income stream that you need to add to your portfolio. And learning the best way to sell online in Amazon is the first step toward achieving that goal.
If you think you're ready to take the leap and start selling products on Amazon, you must stop and think first. Figuring out what to sell can be quite difficult, especially if you are just starting out. So, in this article, we'll try to solve this dilemma by sharing the easiest ways to discover what to sell on Amazon.
By going through different Amazon suggestions, we'll answer the question, "what can I sell on Amazon as a new seller". We'll also check out some of the best Amazon seller tools that can help you accomplish this feat. But first, let's take a look at what you should be aiming for when researching winning products.
Things to Look Out For When Choosing a Profitable Product
"What should I sell on Amazon?" or "what can I sell on Amazon FBA as a new seller" are two of the most common newbie questions that we are asked. And if you are trying Amazon to sell your stuff, following Amazon suggestions from other sellers isn't always the best thing.
Not every product sold on Amazon is a winner. Finding the best things to sell on Amazon Marketplace to make money requires a deep understanding of profitability. This will require some time and experience, as well as help from different software tools.
Remember, the goal of any e-commerce store is to sell online products that will earn you a lot of profit. It doesn't matter what kind of product it is. You should be offering it in your store as long as it can generate sales. But what does a profitable product look like? And what is the best way to sell on Amazon? How would you know if a product has the potential to sell well? Is there an easy way to find a popular product to sell? Here, we check out a few elements that you should look out for.
Demand: Are people buying the product?
A profitable product should be popular and in demand. If you sell products that people are not interested in, you're not going to make many sales. Products purchased by customers are products that satisfy a need or solve a problem. So, when researching product opportunities, look for useful products that are always in demand.
After finding products that fit the bill, look for gaps you can fill with your private-label products. With a private label, you can source already existing products from a manufacturer, and improve on them, then sell them under your brand.
A good place to start is by reading negative reviews on product detail pages to identify customers' problems. This gives you an idea of possible modifications that can serve as a unique selling point for your product. It may not even be a product feature. Sometimes, it's as simple as finding ways to manufacture the product at a lower cost and offer it at a lower price. Knowing what to sell becomes easier if you can find out what their problems are.

Seasonality: Can the product can be sold all year long?
When asking the question "what should I sell on Amazon", one of the most important factors is that the product isn't seasonal. A product that can be sold throughout the year will always make you more money in the long run. Avoid going for seasonal products that are only trending in a few months.
For example, selling Santa hats and decorative socks can be awesome during Christmas. But what will you do after the season is done? You'll have to wait another year to make some good sales again, which is not great. Aside from that, unsold products will also garner additional storage fees. This is something you want to avoid.
Competition: How many people are selling the product?
If you sell popular products that your competitors are selling, you'll be in a saturated market. You will have to compete with them to get a portion of those sales. And the hard truth is you're not likely to get many sales as a newcomer unless you can put a spin on your product. Even if you have better product listings, it's not always guaranteed that your product will sell better.
You need something that differentiates you from competitors. You should look for product market niches that are not saturated with many similar products from competing third-party sellers. Deciding which items to sell becomes a lot easier if you can avoid stiff competition and try to find low-competition products. There is a way you can do this by looking at average reviews, which can be found in the Chrome extension.
When assessing your competition, another factor to look out for is the number of reviews. If you see a product with over 50 reviews, the seller has an established sales history and would be difficult to compete with. So if you're looking for a quick way to land on page one, you should look for products with fewer than 50 reviews. With a good product and an efficient launch strategy, you will likely generate many sales and reviews quickly, surpassing competing sellers.
Price range: Is the product is priced between $20-$100?
If you sell a product below $20, you're not likely to make much profit. Once you factor in seller fees and other costs as well as other expenses, your profits will be minimal. You'll need to generate many sales to turn a decent profit, meaning hundreds of thousands of units sold. This could be difficult in a competitive marketplace like AMZN.
In our experience, the $20-$100 range is that sweet spot where you can leverage people's impulsiveness. Because of the fair selling price, people will not likely think too hard before making a purchase. You're likely to generate many sales in this price range, which means you will get more customer reviews. Getting good reviews can boost your product's ranking on AMZN. Sometimes, you have to read through customer reviews to get an idea of popular products.
But if you sell above $100, you cannot leverage people's impulsiveness. You're already veering into expensive territory where people have to do a lot of thinking and research. However, if your product is great and you know you can create demand, then go for it. There is no hard-and-fast rule when choosing a product, so always experiment.
If you keep these factors in mind, you should be able to find a winning product in no time. So, let's get into the crux of this post: how to find products to sell on Amazon.
How to Find Products to Sell on Amazon
Now that you know what to look out for in a profitable product, how do you find products to sell? Here are 5 simple ways to find the most profitable products on Amazon.
Use Product Research Tools
Product research is one of the most important things you should do before you start selling on AMZN. Since your success on AMZN is largely dependent on the products you sell, product research must be taken seriously. However, this process is not as easy as it seems.
Thankfully, you can use efficient product research tools like ZonBase to uncover the best-selling items on Amazon. With ZonBase's ZonResearch and Hot Products tools, you can access product suggestions in any category. Here are five simple steps to help you take your product research to the next level using the ZonResearch tool.
Open the ZonResearch tool from your ZonBase dashboard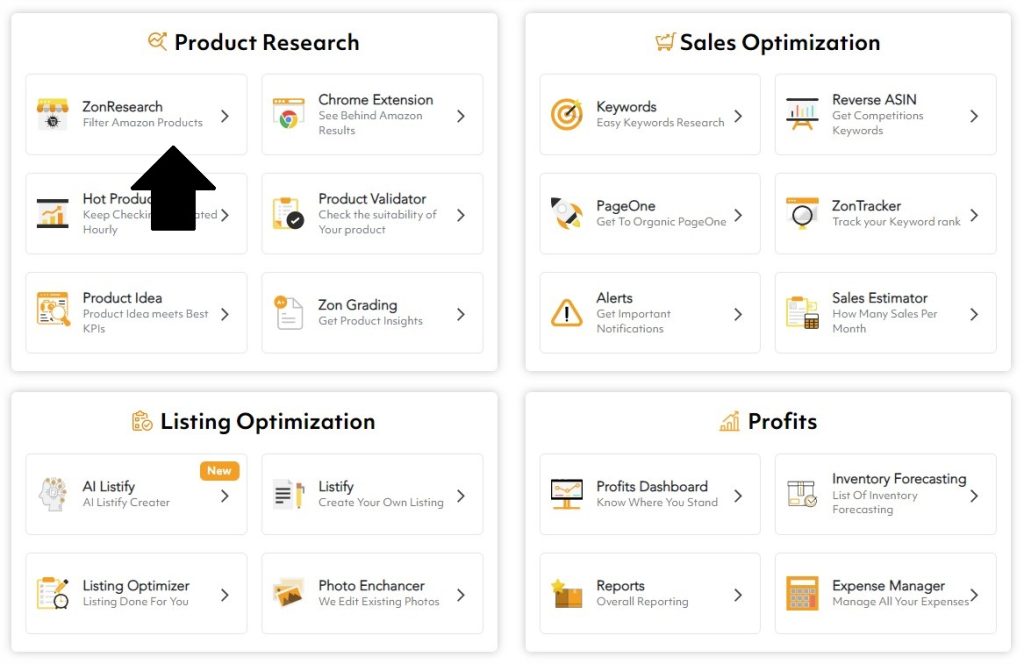 Choose your marketplace, select your preferred categories, and set the filters based on your specifications.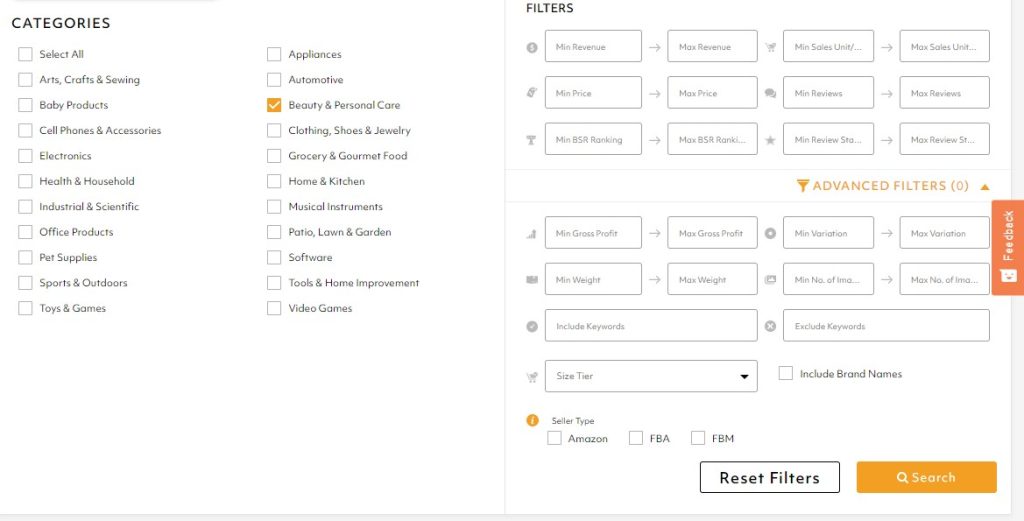 Click the "Search" button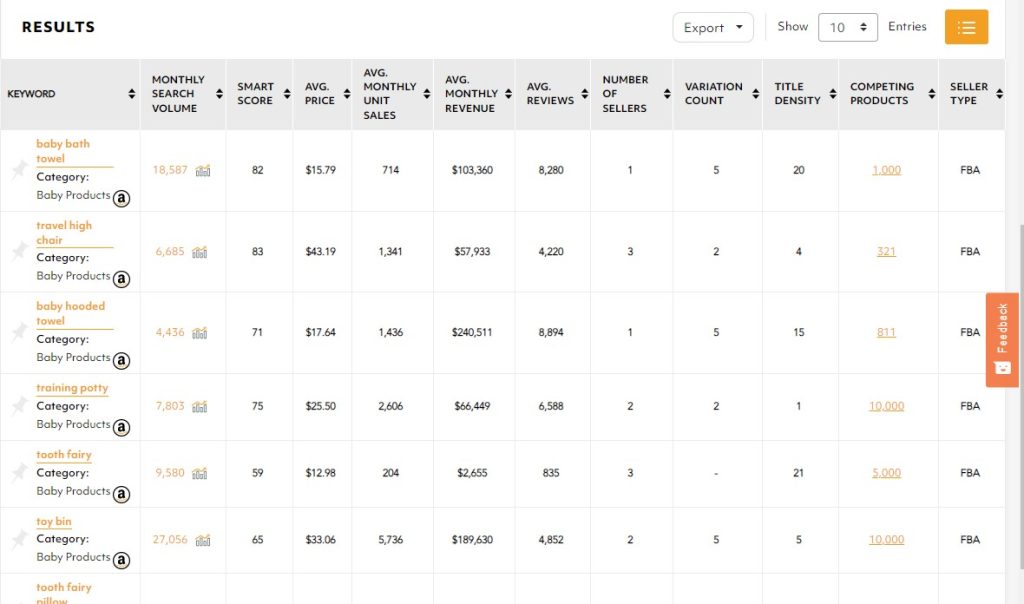 Once you click the search button, ZonResearch sifts through millions of products to generate a comprehensive list of profitable product suggestions.
Not convinced about the validity of the product options you get? Run them through a chrome extension. The ZonBase Chrome extension is a web app that allows you to run customized searches and validate your product options. Using this tool, you can scour AMZN's database to uncover relevant product options for your eCommerce store. 
You can also use the Hot products tool for product research. The ZonBase's Hot products tool also doubles as a supplier research tool. The tool gives you access to a list of reliable suppliers to source your products. Plus, it is easy to use and you can gain access to tons of product and supplier options. To access the tool, follow the same steps we outlined for the ZonResearch tool.
Check the Amazon Bestsellers List
There are so many products listed on AMZN and choosing a product to sell can be difficult. To make it less stressful, AMZN has curated the Amazon Bestsellers list. The Bestsellers list is a list of the top 100 products on Amazon. These products are ranked based on sales volume.
This method is one of the easiest and most reliable ways to find bestselling items on Amazon. Plus, the Bestsellers list can be accessed just by following four simple steps:
First, open the bestsellers page
Next, select the categories that interest you.
Then, streamline your search by picking specific subcategories.
Create a list of the products you think will do well based on the seller rank.
The Bestsellers list is updated every hour, so nothing stays the same for too long. So, before selecting products from the list, be sure to check out previous yearly sales trends.
Use the Amazon Trend Report
Another effective way to find products on Amazon is to check what the trending products are. Product trends are a great way to get into the market. But the downside to running with trends is that the demand for the products may reduce after a while.
Check the trend report to see what products customers are raving about. You can follow these steps to find product options from the report:
Open the Amazon Trend Report page.
Then scroll to the bottom of the page to see the trending products on AMZN
Click on 'Learn more' to access more trending product options
Make a list of the products you're interested in.
Sellers often mistake the trends report for the bestsellers list, but they are not the same. So, you can use both resources simultaneously when searching for product suggestions. Note that the trends report is also updated frequently.
Use Google Trends
Almost everything can be found on Google and ideas are no exception. Want to find the best-selling products online in different categories across various marketplaces? Google trends analytics is a great resource.
Google searches are an effective way to select the best product options amid a plethora of choices. You can see the trending products in your target market over time by looking at the Google Trends data. The search tab's comparison also provides you with useful information about the products you're considering.
Check Out Other Marketplaces
AMZN is the largest online marketplace, but it is not the only marketplace. Usually, customers have similar interests across different marketplaces. So, if you want to find items to sell online; on Amazon to be precise, you should check out other marketplaces. Here is all you have to do:
Go to other marketplaces like Alibaba, eBay, Aliexpress, and even Walmart.
Look for the most popular products on these platforms. You can check the "What's Trending Now" section on Alibaba or click on "Explore Popular Categories" on eBay.
Make a list of the most popular items.
Lastly, check the bestsellers list to see how the products are ranked based on performance. This will help you decide whether to sell the product on AMZN or not.
You're likely to come across some products at cheaper prices on marketplaces like Alibaba and Aliexpress. If you decide to sell those products, you can source them from there and resell them on AMZN through retail arbitrage.
Use an Amazon Keyword Research Tool
One of the best ways to uncover profitable product options is to observe what people are searching for. If a product has a high search volume, then there is high demand for it and it's likely to do well on AMZN.
Keyword research tools are the easiest ways to discover which keywords customers are using frequently. ZonBase offers keyword tools to help you find popular keywords and see how many searches each of them gets monthly.
Using the keywords tool, you can discover high-performing keywords that do not have high competition. In addition to product ideas, keywords can also help you optimize your listings and improve your PPC campaigns. The ZonBase keyword tool also provides advanced filters to help you narrow down your search based on your preferred specifications.
Follow these simple steps to find top-performing keywords using the ZonBase keyword tool:
Open the Keywords tool in your ZonBase dashboard.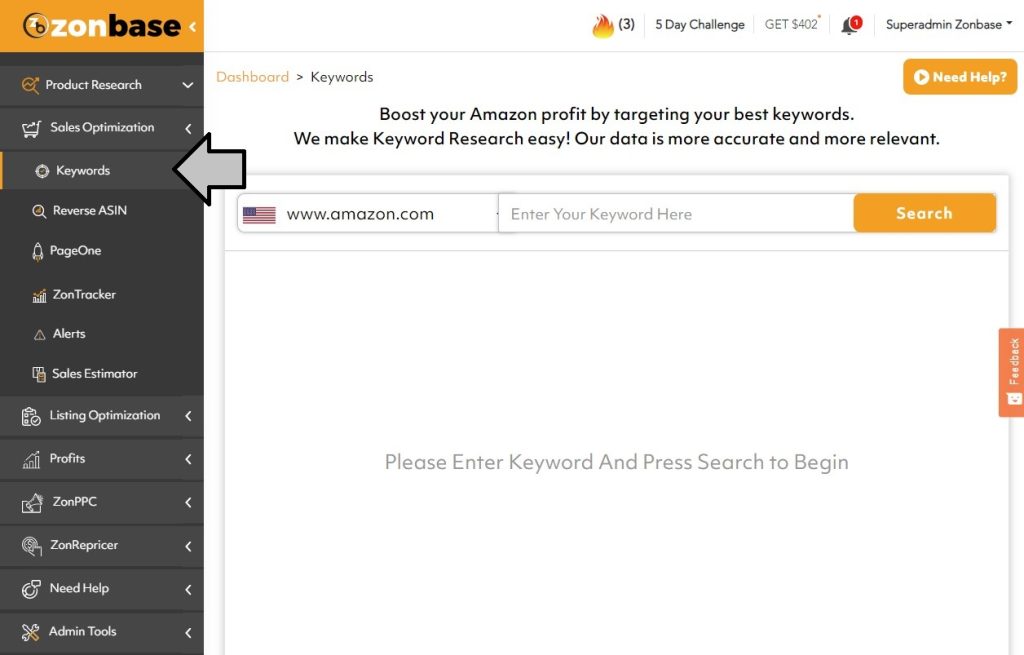 Enter the product or keyword you want to search for in the search bar and choose your marketplace.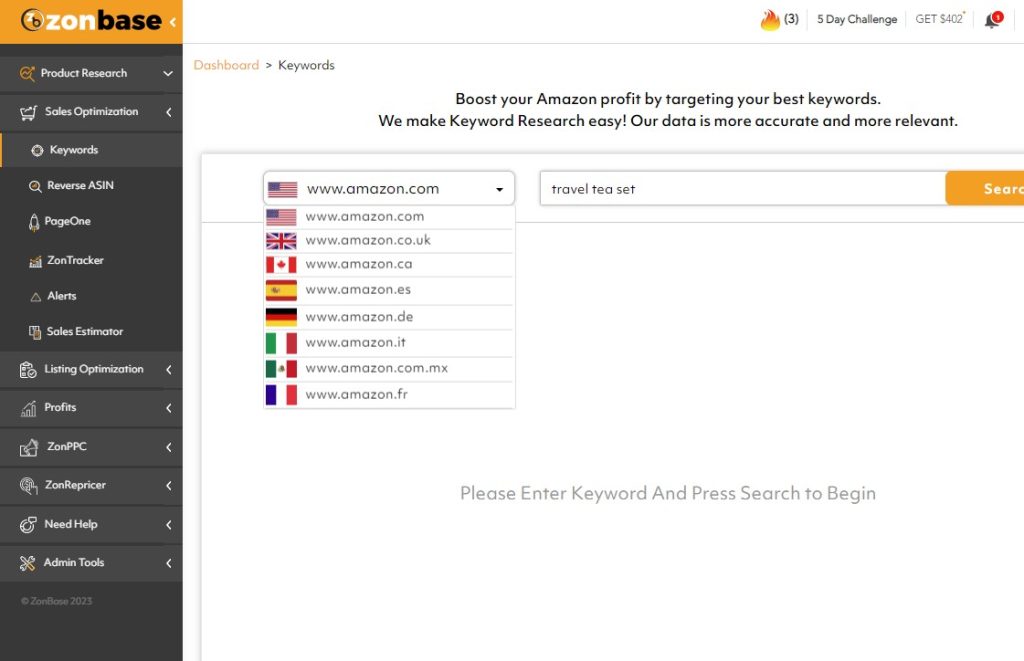 Click 'Search'. The tool will generate a list of relevant keywords with high search volume. It will also come up with a smart score that indicates the relevance of the keyword. The tool also provides a seasonality indicator that shows the popularity of the product. You will find this metric useful if you're considering selling a seasonal product.
You'll also gain access to a word cloud that contains a list of other terms that are related to your target keyword.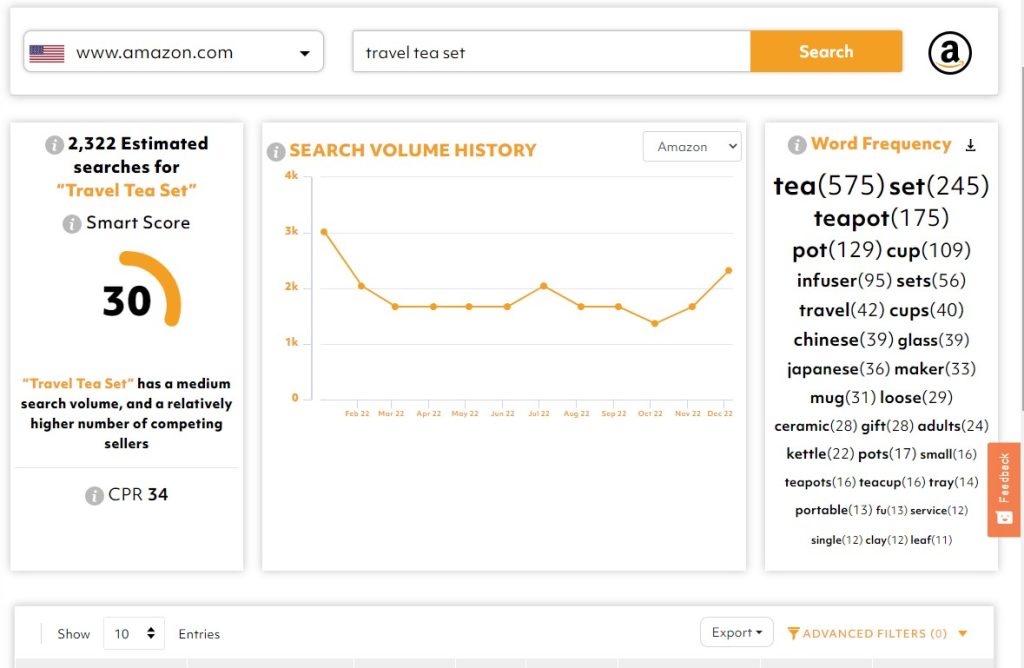 If you scroll to the bottom of the page, you will see other keywords that are related to your target keyword. You'll also be able to see the estimated monthly search volume for each keyword.
Come up with product ideas based on the keyword search volume. Then create a list of potential products based on the search results.
Top Amazon Bestselling product Categories
Now that you know what to sell on Amazon and what fulfillment method to use, what's next? Figuring out the bestselling categories to focus on should be a priority on your list. To help you out, we have listed below some of the top-selling product categories on AMZN. (Not in particular order)
Clothing/Shoes/Jewelry
Beauty & Personal Care
Home & Kitchen
Cell Phones and Accessories
Books
AMZN Handmade
Clothing, Shoes, and Jewelry
It's not a secret that everyone needs to dress up. Be it for a formal occasion or just casual wear for hanging out, we all need something to wear. One of the top-selling categories on the website is the clothing, shoes, and jewelry section. They are also one of the easiest products to fulfill, so it is a win-win scenario for sellers to choose this section. Most jewelry, clothes, and shoes are small and light. You will not have problems fulfilling and shipping them. You need to know what to sell on Amazon FBA to make money that can compete in this niche market.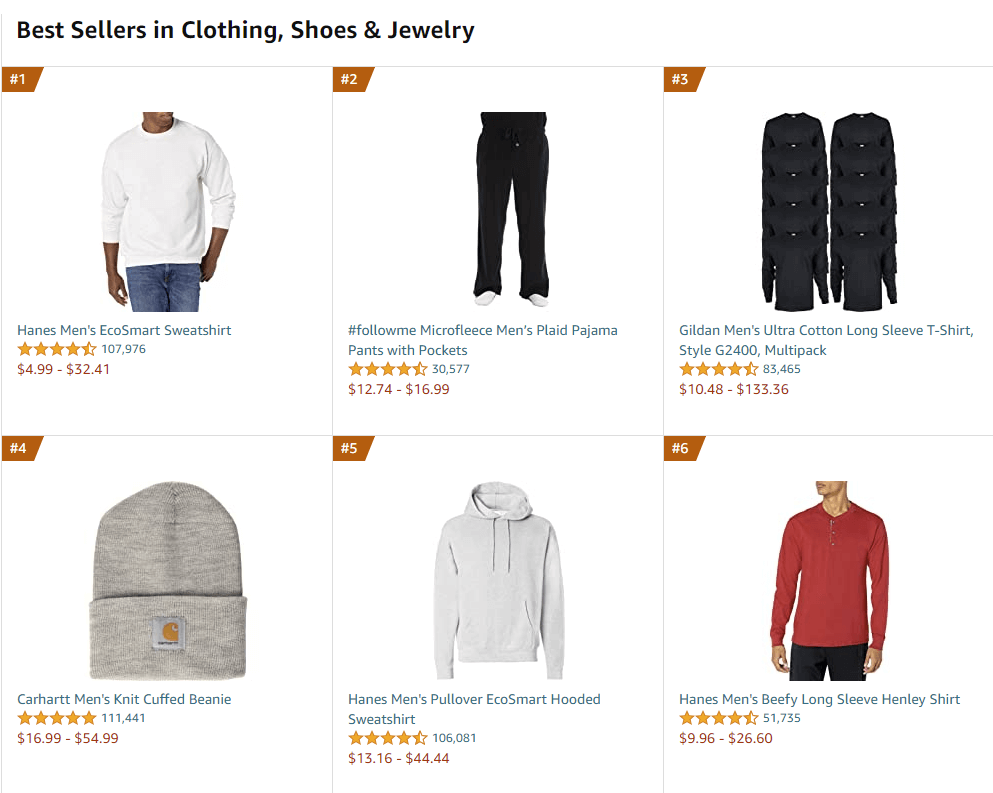 Beauty and Personal Care
Aside from dressing up, most online shoppers also pay huge attention to their looks. It's not a secret that many women love to buy beauty and skincare products. But did you know that men are also starting to catch up on this trend? The number of men starting to buy self-care and hygiene products has steadily climbed through the years too. With that in mind, providing the needs of these people could be a great way to make money for your store. However, be wary of the potential competition you'll bump into. Big brands have always dominated this category, so it is always a good thing to be cautious before jumping in. Make sure that you are offering something different from what the big players have.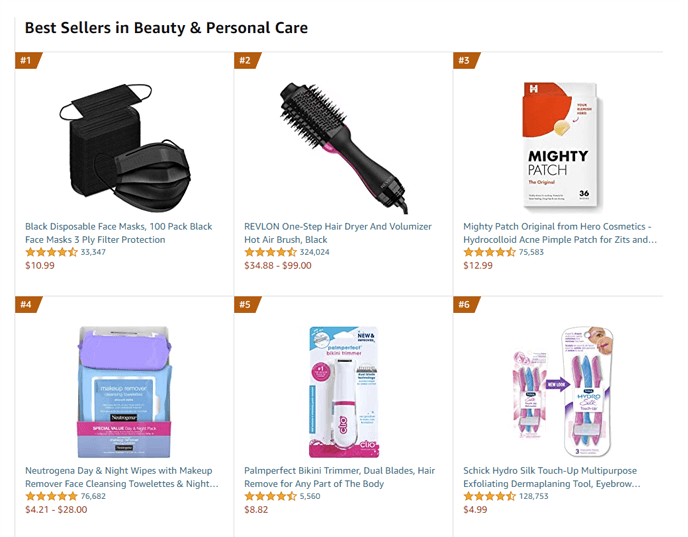 Home and Kitchen
This is probably one of the most popular categories on the website. So many people are always on the lookout for new home furniture and kitchen tools. And you should take advantage of this by selling them what they need. Sub-categories like baking, for example, have gone big and popular during the time of the pandemic. Because more people love staying at home and cooking food for their families, categories such as kitchen tools got big. The same goes for home improvement too. Don't lose the opportunity to make big money in this market.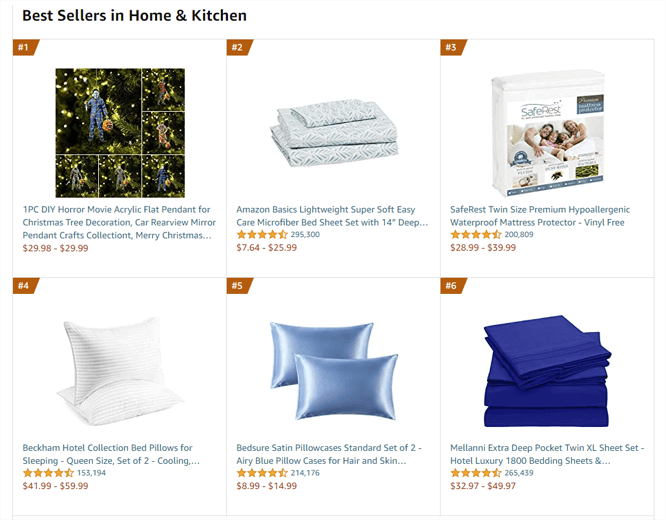 Cell Phones and Accessories
Everyone owns a smartphone these days, so you definitely cannot go wrong with selling cell phones and their accessories. This isn't anything complex as there are many product options in this category and the demand is equally large. Plus, most cell phones and gadget accessories are lightweight, so you get to save money on fulfillment costs.
Books
Books are also one of the best things to sell on Amazon because they are easy to store, ship, and manage. Besides, Amazon started out as a bookstore so Amazon has a large customer base of people who are looking for books to purchase. Plus, books are always in demand. Selling books on Amazon can be a great way to make money, as there is always a wide variety of books to choose from and prices are often competitive.
Conclusion
What products you decide to sell can make or break your business. A winning product can sustain your product for years. At the same time, the wrong product can cost you precious time and money. Hopefully, you can find ideas on how to choose yours with the information we shared above.
Finding the winning product is not difficult or daunting. With powerful AMZN product research tools such as Zonbase, it is easy to make data-driven decisions. You can surely find profitable products that will make you lots of sales if you start on the right path.