When it comes to selling on Amazon, there's no one route to success. The marketplace is ultra-competitive and if you want to succeed there, you have to be miles ahead of your competitors. One of the best ways to gain a leg up on your competitors is to use Amazon seller software.
There are tons of software options available, but not all of them are worth the candle. ZonBase and Helium 10 are two of the most popular Amazon software suites available on the market. Both tools are great, so choosing the best one for your business may be difficult and that's probably why you're reading this. In this post, we'll do a thorough Helium 10 review and then show you how ZonBase is a better option for your business.
Ready? Let's get right into it.
Related: Best Amazon Seller Tools for Your Business
What is Helium 10 Used For?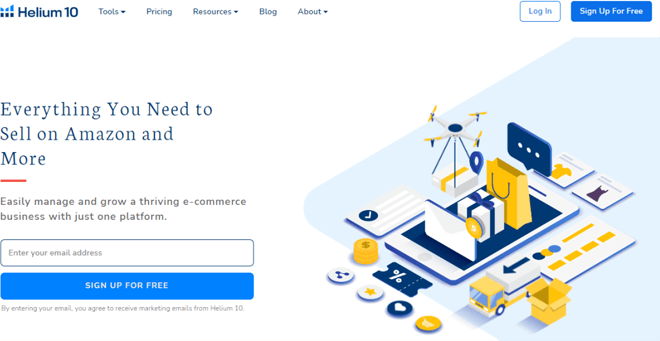 Helium 10 Amazon FBA software provides a set of tools for product research, keyword research, and other business processes. The software boasts several features, but some of the most popular ones are Helium 10 Cerebro, Helium 10 Xray, and Helium 10 Chrome Extension. We'll discuss these tools extensively soon.
What is ZonBase Used For?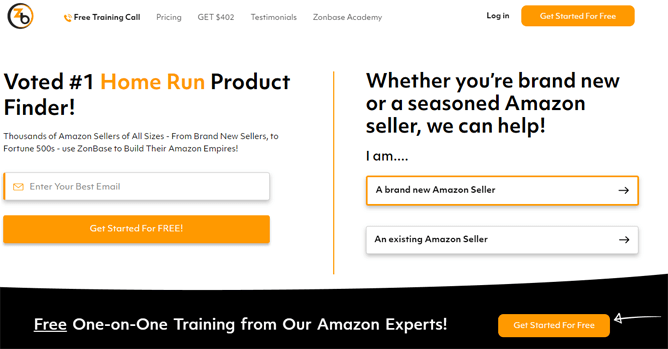 ZonBase is a leading business solution that provides a wide range of tools to help sellers automate major business processes. The software offers product research, keyword research, and listing optimization tools in addition to other tools and done-for-you services. Some of the most popular tools in ZonBase's suite are Zon Chrome Extension, ZonResearch, and its Reverse ASIN tool. Keep reading to learn more about these tools.
Comparison of Features
Both Helium10 and Zonbase are all-in-one software suites with similar tools. Still, the only way to decide which one is best for your business is to check out their most prominent features.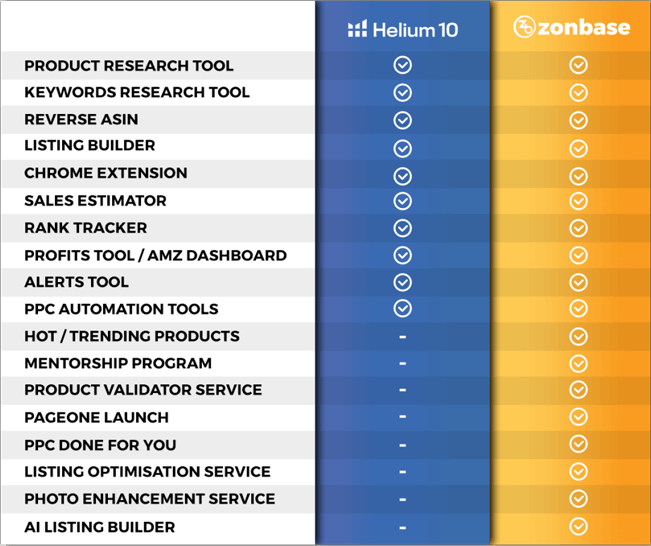 Let's take a look at the features of H10.
Helium 10 Features
Helium 10 Chrome Extension
H10 offers an extensive suite of product research tools. But unlike ZonBase where all the tools shine individually, the Helium 10 extension takes the shine in the product research category. The Helium 10 Chrome extension tool gives a basic overview of market demand alongside product insights, reviews, and sales estimates.
The Chrome extension is the star of H10's product research collection, but the software offers other product research tools; Black Box and Trendster. Helium 10 Black box is a product research tool, while Trendster is a basic seasonality indicator.
Helium 10 Xray
The Helium 10 Xray tool is a product research tool that is embedded into the chrome extension and has an advanced keyword research and sales data feature. The Helium 10 Xray tool may be a bit confusing to use seeing as the tool which is primarily a product research tool is expected to double as a keyword research tool. Another feature of H10 Xray is the feature to see the total amount of reviews a competitor has.
Helium 10 Cerebro
Helium 10 offers a number of keyword research tools, but this tool is the star of this category. Cerebro is a Reverse ASIN tool that allows you to enter any product ASIN and generate an extensive list of keyword options quickly.
Magnet
Magnet is a keyword planner tool that allows you to enter a seed keyword and receive relevant keyword suggestions to help you boost your listings and search rankings. The tool also offers advanced filters to narrow down your search.
Scribbles
Scribbles is H10's keyword research tool that monitors your keyword usage to ensure your listings are well-drafted and not missing any keywords. It shows you which keywords have been used and which ones are unused and should be included in your listing. The tool also monitors character length, so if you sell across multiple niches, you can adjust text lengths without character limitations.
Frankenstein
Frankenstein is more of a "keyword processor or organizer" than a listing optimization tool. The tool sifts through your keyword list to find the most frequently used keywords. Afterward, it creates a more manageable group of keywords for your listings.
Inventory Management
The software offers an inventory management tool that allows you to monitor your orders and predict your inventory or stock level. This tool also comes with presets that allow you to adjust shipment speeds, and lead times and access estimated restock dates.
Profits Tool
This is one of H10's Amazon analytics tools. The profits tool or sales tracker (Helium tracker) helps you monitor your business data and tell your numbers at a glance. The tool tracks product sales trends to show you which ones increase or decrease in revenue. ZonBase's profits tool is a perfect match for this tool.
H10 has other tools in its suite, but there are the main tools in each category. Moreover, the majority of its tools can be merged, while others are quite advanced and may be under-utilized by most sellers. Plus, there's a long list of very similar tools, and this makes it easy for new sellers to be overwhelmed by H10's collection.
ZonBase Features
ZonResearch
ZonResearch works just like Helium 10's X-ray tool, but it is solely a product research tool without any additional distracting features. It is a deep search tool that sifts through the millions of products in Amazon's product database to bring you the most profitable product options for your store. The tool provides a set of filters that allow you to restrict your product search based on your preferred criteria. You can search for the best-selling items on Amazon based on monthly reviews, keywords, ratings, categories, and even prices.
This Amazon seller tool also has a preset option that allows you to conduct your search using the default criteria. You can also create and tweak your own presets and use them repeatedly without having to start your search from the beginning. With this tool, you can make informed decisions and narrow your options to only the best.
Zon Chrome Extension
This Chrome extension tool is a simple way to validate your product ideas. The tool gives you access to hidden information about your product options to help you make the best choice. Using this tool, you can access accurate monthly sales estimates and the average monthly revenue and units sold.
Reverse ASIN
Reverse ASIN is a competitive analysis tool that gives you a clear view of your competitors' product listings. Using this tool, you can discover which keywords are already ranking for. This will help you run targeted ads that hit the bull's eye. The tool also has a word frequency feature that allows you to see the words that frequently appear in your competitors keywords. The Reverse ASIN tool works just like the H10's Cerebro tool.
ZonBase Hot Products
Product research does not start and end with generating product ideas, you must also find authentic suppliers to source your products. The Hot Products tool is a product research tool that not only validates your product choices but also gives you access to a list of authentic suppliers to source them from. The tool uses sales trends and reviews to create an extensive supplier database.
Sales Estimator
Are you looking for a way to ascertain the demand for your products before sourcing and selling them? You can do that using the ZonBase sales estimator tool. The tool provides an average monthly sales estimate for each product option. It uses an extensive database that is curated based on the current market and competitor sales trends. Using the Sales Estimator, you can see how many units of a product you're likely to sell in a month and the potential revenue the product offers.
Keywords
The Keywords tool is ZonBase's keyword research tool which is quite similar to Cerebro. ZonBase's keywords tool has an advanced filter feature that can help you narrow your search. In addition to this, the tool uncovers hidden information about your keywords to help you improve your SEO and PPC strategy. It generates a list of high-performing keywords that will move your listings to page one of the search results. It also assigns each keyword a relevancy score to help you ascertain how relevant the keyword is to your product. 
ZonTracker
ZonTracker is a keyword tracking tool that works just like H10's keyword tracker. The tool lets you gain insight into your product's ranking and view your keyword rank history. Using this tool, you can discover where your product ranks for specific keywords, as well as monitor your competitor's ranking for the same set of keywords. This way, you're not unaware of your competitors' moves. 
Listify
Imagine spending hours on keyword research only to discover that you skipped adding some keywords to your listings. You won't have to risk going through that if you use the Listify tool. The tool is quite similar to H10's tool, Scribbles. Listify ensures you don't miss any keywords by filling in a field with all your pertinent keywords, highlighting the ones you've already used, and showing you where they have been used. So, you can be sure of maximizing the potential of your keywords. 
Profits Tool
This is ZonBase's analytics tool that helps you to monitor your business finances and see how your marketing efforts convert into money. You don't just want to keep spending money on ads without seeing how much you're making in revenue.
With this tool, you can stay on top of your ad spend and gain valuable insights into your business data. It also comes with an inventory forecasting or store manager feature that monitors your inventory level and comes up with an estimated restock date for you.

Helium 10 Chrome Extension vs ZonBase Chrome Extension
Successful sellers know that a Chrome extension is an indispensable tool. If you want to choose the bestselling items on Amazon, validate your product ideas, and access accurate sales estimates, you need an effective chrome extension tool. For most sellers, the challenge often lies in choosing software that offers a variety of tools as well as a functional Chrome extension.
Thankfully, H10 and ZonBase both offer highly effective extensions. But since you cannot pay for both tools, you will have to choose one. We'll compare the Helium 10 extension and ZB's chrome extension to help you see which one is more likely to get the job done.
Helium 10 Extension
The Helium 10 Chrome extension tool works like a regular Chrome extension, only that it comes with tons of additional features that can get confusing. H10 has the following tools integrated into its extension;
Xray
ASIN Grabber
Profitability Calculator
Inventory Level
Review Downloader
Listing Health Score
Using H10's chrome extension may be a bit complicated. Yes, the tool gives you access to sales trends, revenue estimates, and PPC analytics. But do you want to spend all your time going through all the individual tools in the extension before getting the data you want? Certainly not.
Furthermore, H10 does not offer the chrome extension tool on its basic plan. You'll have limited access to the extension when you sign up for a free trial, but that's about it. If you want to use the extension on a paid plan, you'll have to sign up for the basic plan which costs $79/per month. 
What if you cannot afford the Helium 10 basic plan? You'll have to run your business without a Chrome extension and you definitely don't want that. Let's see what ZonBase's chrome extension is like. 
ZonBase Chrome Extension
ZonBase's Chrome extension is quite easy to use. There are no integrated tools, and you get all the information you need at a glance. The tool offers all the information that H10's extension offers without any complex integrations, so you won't need to juggle between tools.
Like H10, ZonBase does not offer the chrome extension as part of its basic paid plan, but you can use the tool when you sign up for a free trial of the legendary plan. You'll have to sign up for the legendary or diamond plan if you want to use the ZonBase extension on a paid plan. Thankfully, the legendary plan costs only $67/month, so it is affordable. 
Clearly, ZonBase wins this battle of chrome extensions. So, if you were going to base your decision on which software offers the most affordable, yet functional chrome extension, you have your answer already. However, choosing software based on just one feature is not advisable. You also have to consider the pros and cons of each software and the plans and pricing.
We'll talk about the pros and cons soon, but first, let's examine the pricing plans of both tools.
Pricing
Helium 10 Price and Plans
Before now, Helium 10 offered 4 plans; a free plan and three paid plans – Platinum, Diamond, and Enterprise. Recently though, H10 reviewed its plans. The software now offers three paid plans and a free trial account. Here's what it looks like now.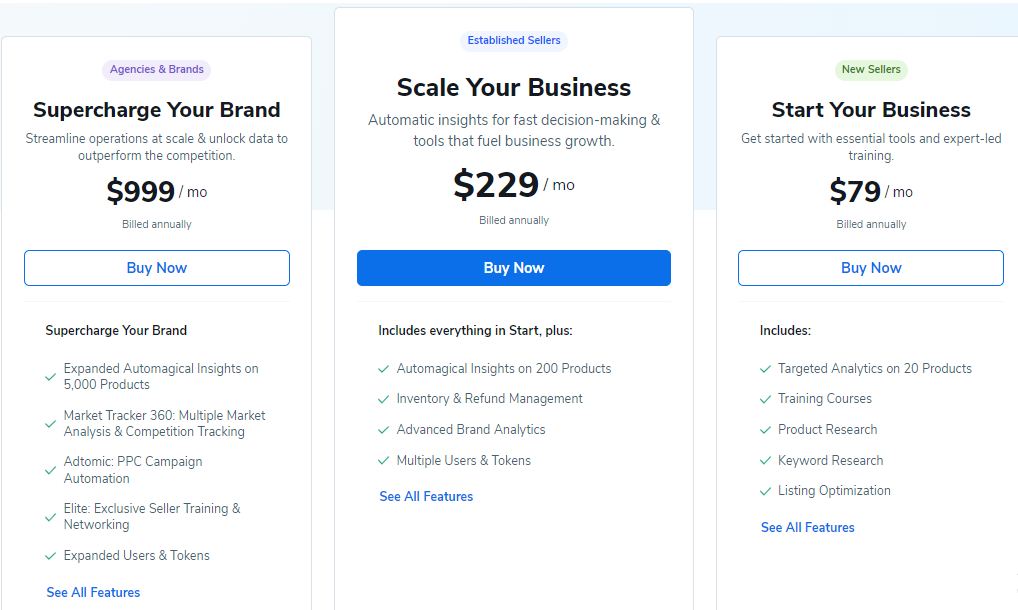 Helium 10's plans are now priced based on expertise and business size. However, the good thing is that you can access all H10 tools on any of the plans, the only difference is in the usage limit. As expected, the lowest-priced plan offers tight usage limits while the highest priced one offers an extended usage limit.
ZonBase Price and Plans
ZonBase offers a 7-day free trial and three paid plans; Standard, legendary, and diamond plans. The standard plan costs $30/month, the legendary plan costs $67/month, and the diamond plan costs $200/month.
All the plans give you access to most of ZB's features, with the legendary and diamond plans offering a more extended usage limit on all the tools. However, the diamond plan offers more daily usage on all the tools and also gives you access to an Amazon FBA masterclass as well as weekly QnA sessions with experts.
Like H10's starter plan, you cannot access the chrome extension on ZB's standard plan. To use the chrome extension, you'll have to upgrade to the legendary plan. Here's what the plans look like.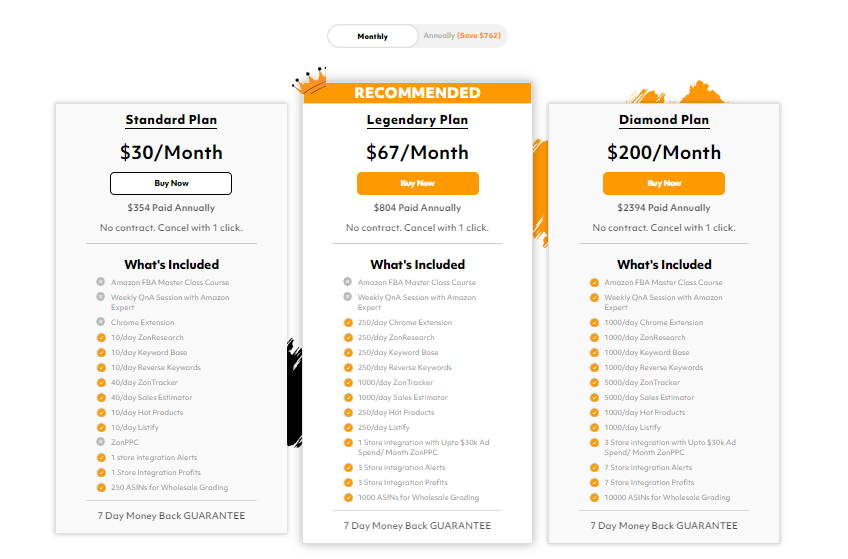 If you sign up for a free trial, you can explore all of ZonBase's tools before making a decision.
Helium 10 Free Trial Vs. Zonbase Free Trial
Is Helium 10 free? No, it's not. However, you can create a Helium 10 free trial account to access a limited version of the software. The Helium 10 free trial account does not expire, but the features on the free plan come with tight usage limits. And if your goal is to build a thriving Amazon business, you'll definitely reach the limit quickly.
Plus, H10 does not offer a money-back guarantee when you sign up for any of the paid plans. So, if you outgrow the Helium 10 free trial account, you have to be sure you're fully in before upgrading.
ZonBase, on the other hand, offers a 7-day free trial period. During the free trial period, you will have full access to all ZB tools. In addition to this, ZonBase offers a 7-day money-back guarantee. You can explore the complete toolset in 7 days and sign up when the free trial expires.
Which is Better?
Helium 10's free trial account is limited. So, an upgrade is inevitable. And if you upgrade to the Starter plan, you'll still get limited access to only a few tools. Your best bet would be to sign up for the Helium 10 platinum plan, which may be out of your budget.
ZonBase's free trial only lasts for 7 days but gives you full access to the tools. You also get a 7-day money-back guarantee, so there's nothing to worry about. Plus, ZB's standard plan offers more features compared to H10's starter plan. Also, the legendary plan, which offers extended usage of all the tools, is not as expensive as H10's platinum plan.
Clearly, ZB's free trial plan is a better option.
Pros and Cons of Using Helium 10
Pros
Great Assortment of Tools: H10 boasts over 30+ tools in its suite which is great for sellers who want many options.
Amazon training and workshops: H10 offers a stand-alone plan; the Elite plan costs $399 and includes in-person workshops and training for Amazon sellers.
Help and Support: H10 offers a learning academy for sellers who want to learn how to use the software. It also offers excellent customer service and you can be sure of getting help quickly if you get stuck.
Cons
Complex Toolset: H10 has a variety of tools but the majority of them are quite unnecessary and if you're a new seller, you most likely won't need them. You'll basically be paying huge subscription plans and using a few tools. Plus, you'll need a full learning curve to use H10's tools.
Cost: It is as though H10's complex toolset is a means of compensation for the expensive plans. Sellers who are on a budget may be unable to afford the software.
Pros and Cons of Using ZonBase
Pros
Simple Toolset: ZonBase does not overwhelm you with too many options. The software provides the most essential tools for your business, this way you won't have to worry about under-utilizing the tools.
Affordable Plans: ZonBase offers only two paid plans. Again, you won't be overwhelmed with too many options. Plus, the plans are reasonably priced so that sellers who are on a budget can afford the software.
Free Training Call and Mentorship: ZB offers a free product research training call and a paid mentorship program to help you take your business to the next level. On the free call, you get to discuss with Amazon experts who will provide practical tips to help you find the best products for your store. The mentorship program is a paid program that gives you access to expert guidance all through your Amazon seller journey.
Help and Support: ZB has an easily accessible learning academy that comprises short videos to walk users through each tool in its suite. The customer service is top-notch and if you ever get stuck, all you have to do is reach out and the issue will be resolved.
Done-For-You Services: ZB offers done-for-you listing optimization and PPC Automation services for sellers who would like to outsource their business tasks to a professional team. The services are not included in the regular plans, so you will have to pay additional fees to access them. Outsourcing can help you save time, so this is definitely a plus for ZonBase.
Cons
Fewer tools: This is not exactly an issue since the software provides the essential tools that your business needs.
It's easy to see why ZonBase is a worthy alternative to H10, the pros far outweigh the cons. Moreover, it's an easy-to-use tool that offers everything you need without the stress of juggling several tools.

ZonBase Done-For-You Services
Apart from its Amazon seller tools, ZonBase offers done-for-you services that allow sellers to outsource crucial business processes to a professional team. When you sign up for any of these services, you can leverage expert guidance and assistance to get better results with less effort. ZonBase's done-for-you or one-off services are listed below.
Product Validator
Selecting the best products for your store is arduous, and getting expert help is never a bad idea. ZonBase's product validator service allows you to access expert opinions and validation before listing your products for sale. You'll have to send your product choices to a team of experienced launch managers who will review them and make valuable suggestions.
Listing Optimizer
Listing optimizer is the done-for-you version of Listify. It's a service that allows you to outsource your listing optimization needs to a team of experts who create and optimize your listings using well-thought-out keywords that guarantee conversions.
Page One and PPC Autopilot
Want to increase your reach and push your listings to the top of search results? You'll need to run PPC campaigns, but guesswork won't get you to page one. With ZonBase PPC Automation services; Page One, and PPC Autopilot, you can be sure of well-optimized PPC campaigns.
These are done-for-you services that allow you to outsource your product launch and PPC automation needs to an expert team. When you sign up for these services, ZonBase's professional team will manage your PPC campaigns from scratch to finish and provide you with targeted campaigns that are tailored to your needs.
Photo Enhancer
Your product images are the lifeblood of your listings. The top sellers on Amazon know this, and they take product photography seriously. Unlike other tools that do not bother about the quality of your product images, ZonBase is particular about making your images attractive enough to convert visitors to buyers. When you sign up for the photo enhancement service, you can send your product images to a team of professional editors who will revamp them on your behalf.
ZonBase Plus
ZonBase Plus is ZonBase's latest package that offers you full access to all ZB personalized packages for product research, listing optimization, and PPC management, as well as complete access to the diamond plan. Sellers who sign up for ZonBase plus get to work closely with experts while still having access to all the tools they need to grow their businesses.
The service is open to all but, interested sellers will have to book a strategy call to see if they fit in for the package.
Conclusion: Helium 10 vs ZonBase – Which is Better?
If you read this ZonBase vs. Helium 10 review to this point, then you already know which tool is best for your business. Both tools perform well, and each has its advantages and disadvantages. Although Helium 10 is considerably more extensive, ZonBase is still a fantastic tool. H10 is expensive and can be confusing, whereas ZonBase is intuitive and straightforward.
Is ZonBase worth it? At the end of the day, the best software for your business depends on what your needs are. But if you're a new seller on a budget, ZonBase is your best bet. And if you are not, you still need a functional yet affordable tool that can save you a few bucks, so be sure to check out this software.