Every day, more business owners and individuals are discovering the huge potential of Amazon and leveraging its wide reach for their online businesses. There are over 2 million sellers on Amazon, and about 3,700 new sellers sign up every day. Hence, the competition is growing stronger by the day.
With this in mind, searching for reviews of software used for selling on Amazon is important for vendors. There is a plethora of software available on the market, and Jungle Scout, Helium 10, and ZonBase are some of the most popular ones. So, in your search for the best software for your FBA business, you may have come across a Jungle Scout review, Helium 10 review, or a ZonBase review.
ZonBase has been rated the number 1 Amazon software for sellers, and there are several testimonials online from sellers who have used the software and recorded massive success. But if you're trying to choose software for your Amazon FBA business, you may be wondering, "Why Zonbase?" "Why not other seller tools on the market?"
In this article, we're going to give you a full and in-depth review of ZonBase. We will explain how it works and why it's the only Amazon seller tool you will ever need.
Ready? Let's dive right in.
What is Zonbase?
Considering that there are over 2 million sellers on Amazon, it goes without saying that the marketplace is saturated. In the mid-2000s, when AMZ was just starting out, it was quite easy to find a niche with little competition. Nowadays, it's very difficult to find a product that you can sell without competition.
Does this mean you're not likely to thrive if you join as a new seller?
Of course not! It just means you need an advantage over your competitors. Whether it's through joining a private group of sellers or using your seller software, you need a competitive edge.
And if you want to get a leg up on your competition, you need an all-in-one Amazon seller tool like Zonbase. Which is why you need to read this review in the first place, right?

What Does Zonbase Offer?
Zonbase, voted as one of the most accurate and best-valued software today, is software for Amazon vendors. It's an all-in-one software with all the tools and services Amazon sellers need to conquer the Amazon marketplace. Whether you are looking to do product research, keyword research, or listing optimization, Zonbase can help you out. This review will help you uncover the services that the software offers.
Zonbase has 13 tools designed to help Amazon sellers with three key processes. These are product research, sales optimization, and product listing optimization. Zonbase is a web-based cloud software, so you don't need to install a program on your computer. And it also has a Chrome Extension tool that makes it easier for you to research products on Amazon.
ZB also allows you to outsource crucial business processes to a team of experts who will execute them on your behalf and ensure you get results. For instance, using the PPC Autopilot and Page One services, you can outsource your PPC campaigns and product launches to ZonBase's PPC experts.
The beauty of this setup is that all the tools you will ever need as a seller are located in one place. You don't need to get one tool for product research, and another for keyword research. You don't need to log in to different accounts and websites to accomplish multiple tasks. Zonbase provides all the tools you can think of, and at an affordable price too. We'll talk more about pricing later in this Zonbase review.
But first, why do you need Zonbase? Let's discuss it below with this Zonbase review.
Why Do You Need Zonbase?
The only way you can get ahead of your competition on Amazon is by making decisions based on accurate data. Amazon reviews tell you all you need to know about a product, and our goal is for this review to tell you all you need to know about a product. Many Amazon sellers fail because they rely on their instincts or other people's opinions. They don't bother to gather data to analyze what has actually worked in the past and what will likely work in the future.
Think about it. If you are a boss and you are going to hire an individual in your company, why do you even ask for credentials? Why do you ask for a resume or previous work history? Similarly, if you are someone looking to apply for a job, don't you try and research the company's history first? Why do you do these things then?
Simple. You want to do your decisions based on accurate historical data. You don't want to make a decision that you'll instantly regret because of the lack of prior research. Since you are investing both your time and money, it's just fair to say you need proper research on Amazon as well.
With Zonbase, you can get access to data about products, sales trends, high-performing keywords, and more. You can also see which are the hottest products updated hourly, which can influence your product choice.
Aside from these software services, Zonbase can also help you handle key elements of your business with more efficiency. You don't need to waste time poring over hundreds of product detail pages to get some information. You don't even need to know how well they sell because you can get access to relevant information within minutes.
Now, let's dive into the key tools and how they work with this in-depth Zonbase review below.
Product Research Tools
Before you even start selling your products on any online platform, the first thing you have to do is research what to sell. Choosing the right products to sell could be the "make or break" decision for your business. If you make the right choice, you will certainly make a lot of money from your winning product. However, if you choose poorly, you might end up losing your upfront capital investment. This is why you need to read this in-depth Zonbase review.
When searching for profitable products to sell on Amazon, there are usually two phases involved:
Finding products with high potential for profit from scratch and sourcing them from a supplier. If you are a private label seller, you will source the products from a manufacturer. This manufacturer can upgrade the product, add your label and logo, and make it a formidable competitor. If you are a reseller, you will source the exact products from a supplier. One way to validate your product options is to check out Amazon reviews on any product you're interested in.
Validating product ideas you already have. Even when you are already confident about your products, you still need to be sure they have profit potential. The only way you can do this is through validation, which can be done
It has several product research tools that cater to these needs: ZonResearch, Chrome Extension, Hot Products, and Sales Estimator.
ZonResearch
The ZonResearch is one of the most popular tools in the Zonbase software suite. It allows you to filter through the entire database of Amazon with just a few clicks of a button. With this tool, you can search their catalog of over 400 million products to find profitable products that meet your preferred criteria.
Here's what it looks like: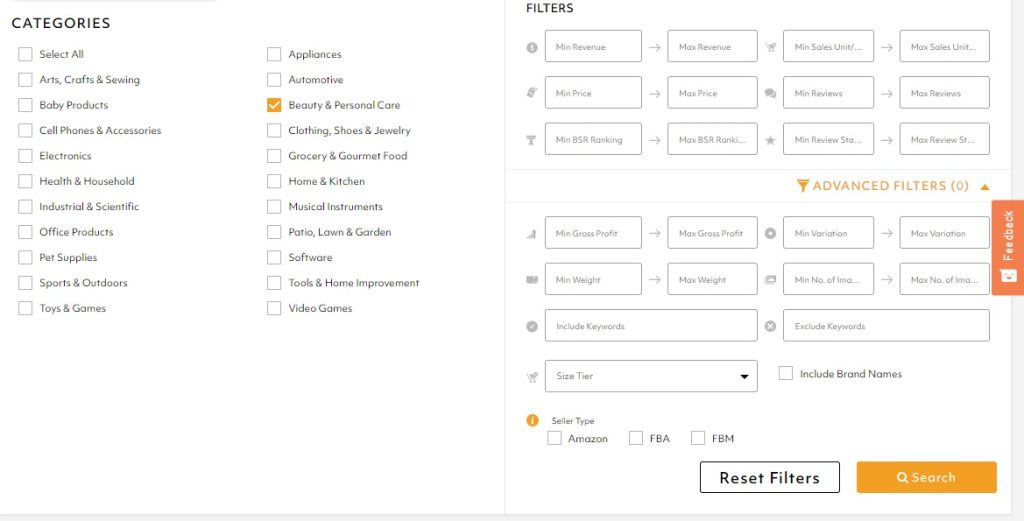 To use ZonResearch, first, choose the categories you're interested in selling in. You can either use multiple categories, or just a single category if you want to laser-focus on one niche. If you would like to find a specific niche within a single category, you can select only that category.
On the right hand, you can then set the filters for price, reviews, and monthly unit sales. To see more profitability options, you can also filter via monthly revenue, BSR (best sellers rank), and product ratings. These filters will allow you to narrow down your choices to find hidden gems within the marketplace.
One good trick that you can do if you want to find untapped, hidden gems is to use the Review filter. Up-and-coming products in non-competitive niches and categories usually contain less than 200 reviews. This is because the categories aren't too saturated yet. If you can find a great product under these niches, you'd be more likely to get increased sales.
The ZonResearch tool is useful if you're having trouble thinking up product ideas from scratch. This will help narrow down your ideas and help you verify existing product suggestions you want to try out.
Chrome Extension
One of the most popular ways to review Amazon sales data nowadays is by using browser extensions. First of all, they are very lightweight and easy to use. Since you don't have to install a large program that takes up space, almost every computer can use it. Second of all, it's very easy to use. You just have to toggle them on and off when you need to use them by clicking their icon in the URL bar.
Do you hate opening multiple product detail pages to look for product opportunities while browsing Amazon.com? Then this might be the best option and solution for you. You can use the Zonbase Chrome Extension to view in-depth data about products at one glance.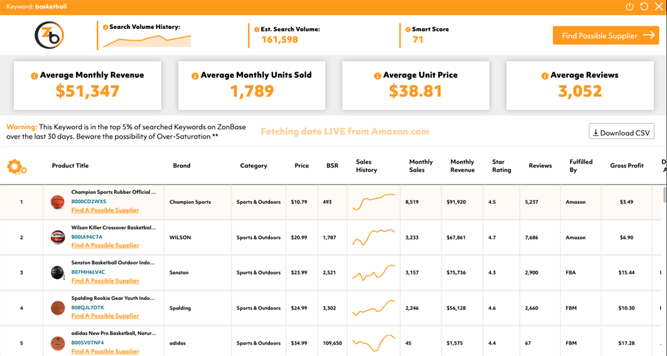 So how do you use this tool? Simply install the ZB Chrome extension and follow the steps on how to activate it. It's as easy as it gets. You just click the ZB button after running a search on Amazon.com, and you are good to go.
With this tool, you will be able to access important information about products similar to the ones you want to sell. You will get valuable info such as price, BSR, sales history, monthly sales, and more. With this, you can make better, more accurate data-driven decisions before choosing a product to sell. By far one of the most useful tools in the Zonbase suite is the Chrome extension; fortunately for subscribers, the query amounts per day are much higher than on the free trial.
Hot Products
So you want to know the top-trending, best-selling products in AMZ at any given moment? Well, there is a page called the "Amazon Best Sellers" page where you can easily check the top sellers in any category.
While the best seller's list is certainly a useful resource for discovering in-demand products, the competition tends to be stiff. The Hot Products tool is a better resource for finding product opportunities with untapped potential. What the Hot Products tool does is check for the top 100 most gifted products with an increasing sales trend. It also checks for those with fewer than 30 reviews. By combining these 3 metrics, the "Hot Products" tool can help you find untapped products that are on the rise.
With this tool, you can discover profitable products to sell that belong to the Amazon Top 100 Most Gifted Products of the Day. It will also check for increasing sales trends and products with less than 30 reviews.
Sales Estimator
Do you have some product ideas in mind? And do you know the ASINs of those products? Then the best way for you to utilize these root ideas is to combine them and use Sales Estimator.
The Sales Estimator tool can be used by sellers to check how many sales a specific product gets in a month. All you have to do is input the ASIN of a product that you are interested in on the search bar. You can also select the marketplace where you want the data to come from (US, UK, CA, etc).
This tool helps you know in advance if a potential product has a high demand. By checking the existing sales of similar products in the niche, you'll see if going for it is worth your time.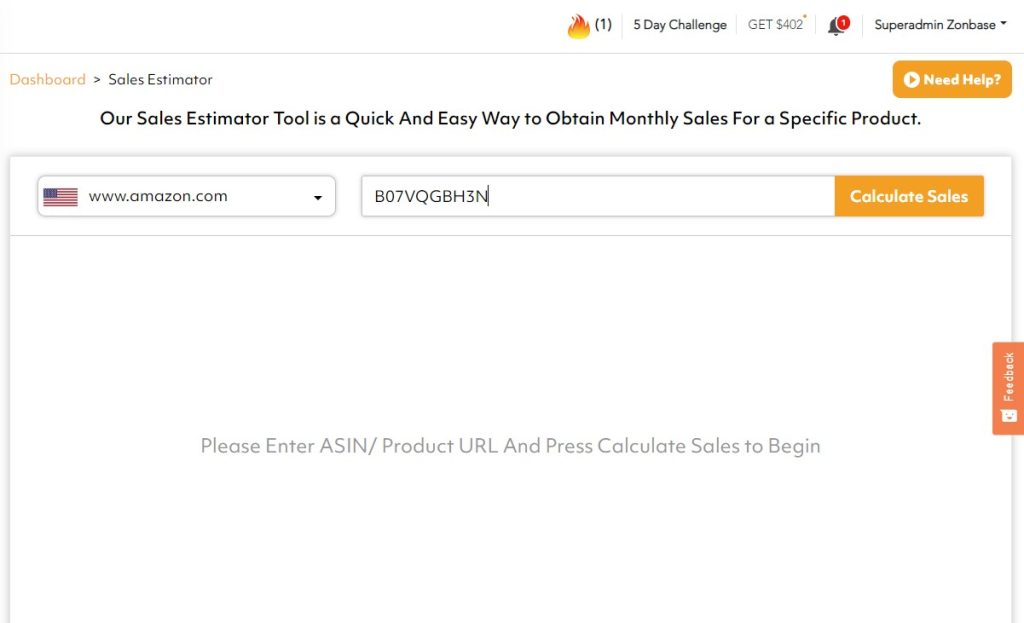 Sales Optimization Tools
It's one thing to get a winning product and another to start getting a high volume of sales. Yes, finding a winning product is important. But you can't just have a "build it and they will come" mentality. You need to still put in the necessary work to optimize your product listings. You need to do this so that the search engines can find your products.
Check out the following tools that will help you make more sales in this Zonbase review below:
Keyword Tool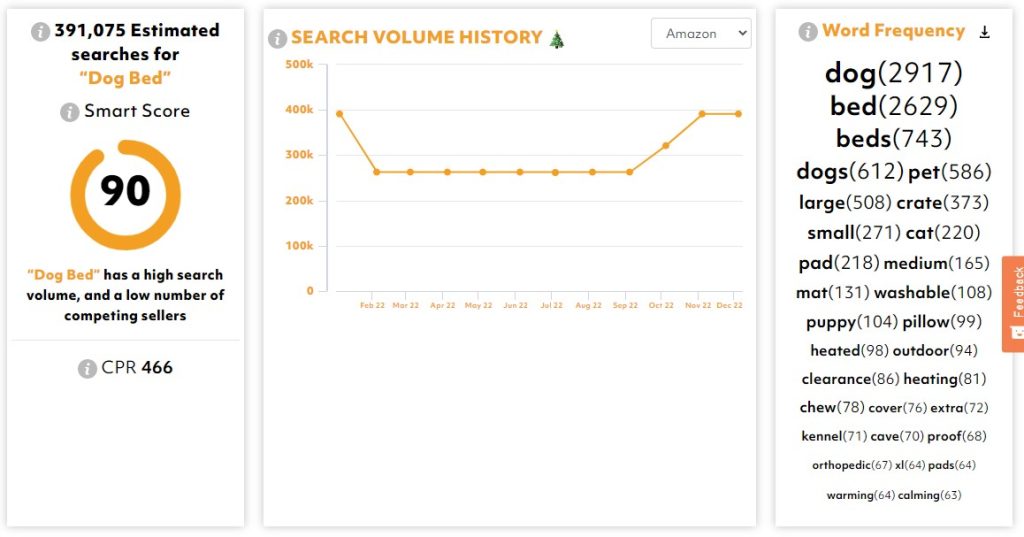 If you want customers to find your products while searching, then your listing needs to contain the same keywords they use as search terms. In a way, this can be considered a "search engine optimization" process. You want to rank high for the most popular keywords that are used by customers to search. If you can land on the first page of these results, you have a higher chance of making and converting sales.
With the Keywords tool, you can generate high-performing target keywords to include in your product listing and PPC campaigns. This will result in increased conversion rates and higher sales. It also displays a "smart score" rating for the keyword you have chosen. A high smart score means that the product or keyword you entered has high volume, but low competition. If you can leverage this data in the right manner, you can find the keywords that work.
Reverse ASIN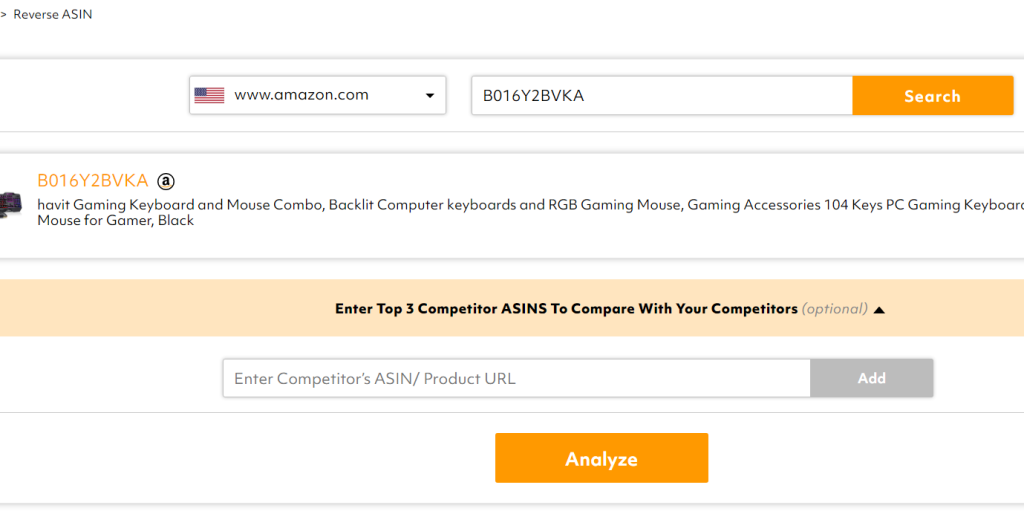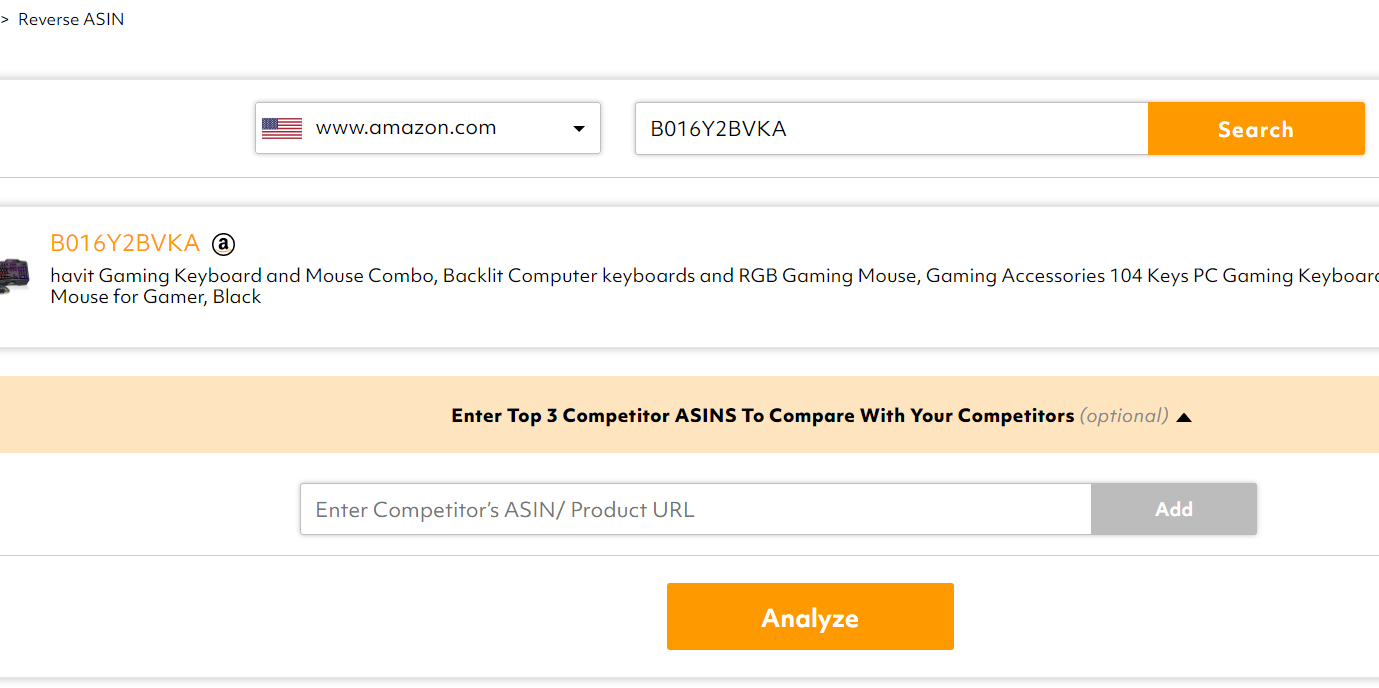 With this tool, you can beat your competitors at their game. So how do you do it? Simple. You can use the Reverse ASIN tool to find out the keywords they rank for. Competitors usually guard and protect these keywords with secrecy because they make money from them. When you use this tool, you can find these hidden keywords with just a few clicks. Then you can start using them in your product listings to get more search engine traffic. More than that, you can also use it to optimize your PPC campaign bids.
ZonTracker
What is the essence of generating keywords if you're just going to add them to your listings and not monitor their performance? If you do that, you'll get zero results. ZonTracker is ZonBase's keyword tracking tool that allows you to monitor the performance of your keywords and see how they impact your conversions.
The tool also allows you to see how your listings are ranking for specific keywords. It also displays a monthly search volume for every keyword you're interested in and provides detailed insights that show you exactly where the loopholes in your listing or keyword strategy are.
In addition to this, ZonTracker provides a seasonality indicator and a relevancy score. Both features show keyword performance and relevance over a particular period of time. Using ZonTracker, you can perform a ReverseASIN lookup on any competitor ASIN and see the keywords they are ranking for as well as their rank for the keywords you are interested in. This will help you to improve on your keyword strategy and increase your chances of outranking your competitors.
Alerts
The alerts tool is a simple notification tool that helps you to stay up-to-date with the latest product and market trends. Using this tool, you can see the latest fluctuations in price, review changes, and inventory.
The alerts tool sends customizable email notifications to keep you in the loop of the latest happenings in the marketplace. Having a tool like this one in your arsenal means you're never the last to hear about changes in your competitors' listings no matter how little. You can see who is in control of the buy box, monitor product availability, and track price changes even when you're not logged into the ZonBase dashboard.

Zonbase Review: Listing Optimization Tools
Listify
Ever had a problem finding the right keywords to use in your product descriptions and listings? Worry not. With the Listify tool, you can create your product listings by retrieving high-performing keywords. All you have to do is extract these keywords from a similar best-selling item.
Similar to the Reverse ASIN tool, you can find the prized keywords of your competitors. But what's great about the Listify tool is that you can make product listings on the fly with this tool. It will help you optimize your product listings with sections where you can write your stuff. After writing, you can then forward these to your listings.
AI Listify
This tool works like the Listify tool, only that it is AI-powered and allows you to automate your listing optimization process. With the AI Listify tool, you can create well-optimized listings automatically and save time on keyword research and listing creation. All you need to do is input a base keyword that is related to your product, then watch the tool create fully optimized listings from scratch with zero input on your part.
You're probably worried that an AI-powered tool will not be able to create listings that match up with those of your competitors. But you have nothing to worry about. With this tool, you can be sure of data-driven, high-quality, well-optimized listings that will increase your chances of showing up on the first page of search results.
Think you're more competent? Well, you aren't and that's not a bad thing. But you're likely to leave out important listing elements and miss out on a chance to outrank your competitors. Good thing is, that the AI Listify tool takes note of all the important details and nothing will be left to chance.
Profits Tool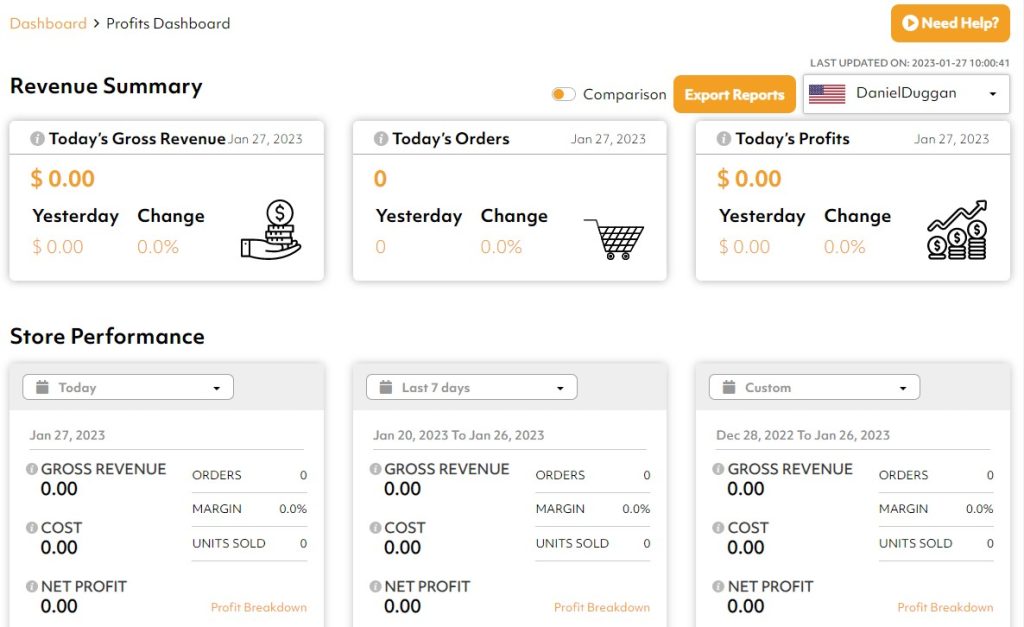 The Profits tool is ZonBase's analytics tool. An analytics tool is a must-have, especially for sellers who want to be on top of their business finances. ZonBase offers a profit tool that allows you to monitor your profitability and performance metrics without having to spend hours sorting through complex reports.
The tool shows important metrics like estimated profit, gross revenue, profit margin, ROI, ad spend, and the number of units sold, and you can view this data for any date range you specify. Using the profits tool, you can access accurate data and make informed business decisions based on this data.
The tool also has a sales forecast feature that comes up with an estimated inventory restock date and makes it easy for you to monitor your inventory levels and never run out of stock.
PPC Automation Tool
Setting up and managing PPC campaigns is not always a walk in the park, but ZonBase offers a broad range of tools that cater to every aspect of an Amazon business and PPC Automation is not left out.
ZonPPC
This is ZonBase's PPC automation tool that allows you to launch and manage your PPC campaigns without stress. The tool uses data-driven algorithms that let you optimize bids, get relevant keywords, reduce your ad spend, and make more sales. And the best part is that ZonPPC allows you to automate your PPC management tasks so you don't have to spend all your time monitoring campaigns.
Using this tool, you can see how all your advertising efforts convert into revenue and access important data to help you make crucial business decisions. The tool also has an algorithmic bidding feature that allows you to set rules and automate your campaigns in a way that aligns with your business goals.
Repricing Tool
ZonBase also offers a repricing tool that allows you to maximize price fluctuations and stay updated on even the slightest price changes. With the ZonRepricer tool, you will no longer have to spend long hours trying to adjust product prices in a bid to outrank your competitors. All you have to do is set pricing rules and watch the tool implement the when necessary.
Done-For-You Services
ZonBase does not only offer Amazon seller tools for business automation, but it also offers done-for-you services that allow you to outsource your business tasks to a professional team. Since the aim of this review is to give you a detailed breakdown of the software, we'll talk about the done-for-you services in this section.
Photo Enhancer
Let's be honest here. What's the first thing that you check out in a product listing? It's not the title. It's not the description and surely not even the headline. Most of the time, it's just the images. Once you see complete, attractive, and high-quality images, you are more likely to browse and click a product. Bad images lead to lower conversions and it's not even something we question.
Clear, high-quality images easily convert visitors to buyers. With Photo Enhancer, you can convert your ordinary-looking product images into high-quality product images.
Product Validator
Choosing the right products for your store is a monumental task, therefore seeking professional assistance is always a good idea. Before offering your products for sale, you can obtain expert advice and validation with ZonBase's product validator service. All you have to do is send your product selections to a group of knowledgeable launch managers, who will evaluate them and offer insightful recommendations.
Listing Optimizer
Listing optimizer is the done-for-you version of the Listify tool. This service allows you to delegate your listing optimization tasks to a team of professionals who will create and optimize your listings using carefully considered keywords that ensure conversions.
These experts will conduct thorough keyword research and create well-optimized listings that are sure to shoot your conversions through the roof.
Page One and PPC Autopilot
Do you want to expand your audience and outrank your competitors on Amazon? You will have to launch and manage PPC campaingns, but you cannot get results if you intend to base your campaigns on speculations. ZonBase offers two done-for-you services for PPC automation; PageOne and PPC Autopilot.
When you sign up for these services, the qualified team at ZonBase will handle your PPC campaigns from beginning to end and give you targeted campaigns that are suited to your requirements.
Zonbase Pricing
They give you access to a wide variety of tools at the lowest price. Here's an overview of the price list.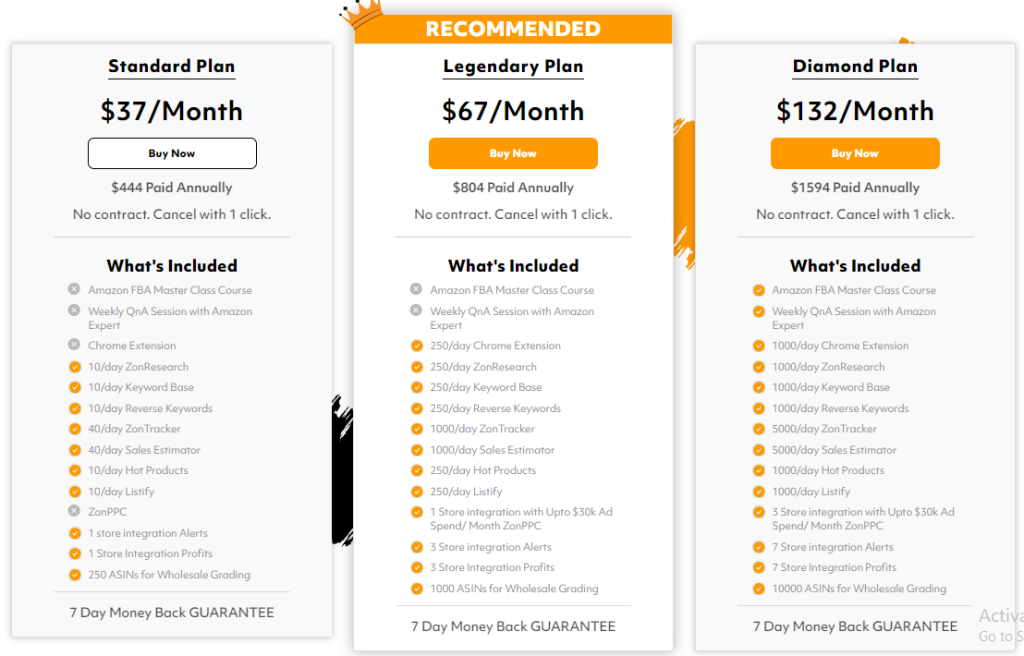 ZonBase plans are affordable and $37, $67 or $132 are small prices to pay for a tool that will earn you a lot of profit. In addition to this, if you go annually, you will get your first year at a 50% discount, so you can get this yearly for as low as $18.50 for a full year for the standard plan.
We recommend that you pay for the annual subscription plan to save yourself some money with this offer.
Conclusion
If you've been having doubts about the accuracy of Zonbase, we trust that this Zonbase review has made you see the light. It has everything you need to thrive on the Amazon Marketplace, and it's worth the investment.
Hopefully, this Zonbase review has helped you make your decision. If you want to see more of this awesome tool, sign up for a free trial.