As the Amazon Marketplace continues to grow at a rapid pace, more third-party providers are creating Amazon seller tools. These tools are designed to help Amazon sellers with key processes.
Some software tools are tailor-made for one aspect of selling on Amazon. Then there are all-in-one Amazon software tools for sellers too. Many all-in-one tools can handle many key aspects of selling on Amazon.
Currently, two of the most popular all-in-one software tools are Zonbase and Helium 10. Both tools are versatile, making them a top favorite for Amazon sellers. But there's no way you'll want to buy two tools, so which one should you choose? That's why we're here to help you decide.
In this article, we'll do a Zonbase review and a Helium 10 review. Then we'll do a comparison of both Amazon seller software tools.
Related: Best Keyword Research Tools For Amazon
Zonbase vs Helium 10: Zonbase Review
Zonbase is an all-in-one Amazon seller software that has risen through the ranks. Zonbase is a comprehensive seller toolkit containing 13 powerful tools. These tools help with product research, listing optimization, and sales optimization.
ZB is a web-based software solution. It also comes with a Chrome Extension tool for product research. Here's an overview of the Zonbase web-based tools:
ZonResearch: ZonResearch is one of the most used tools in the Zonbase suite. It is a product research tool that allows you to search through Amazon's vast database with a few clicks. It also comes with a preset feature that allows you to search using your specifications. You can then save these specifications and use them again.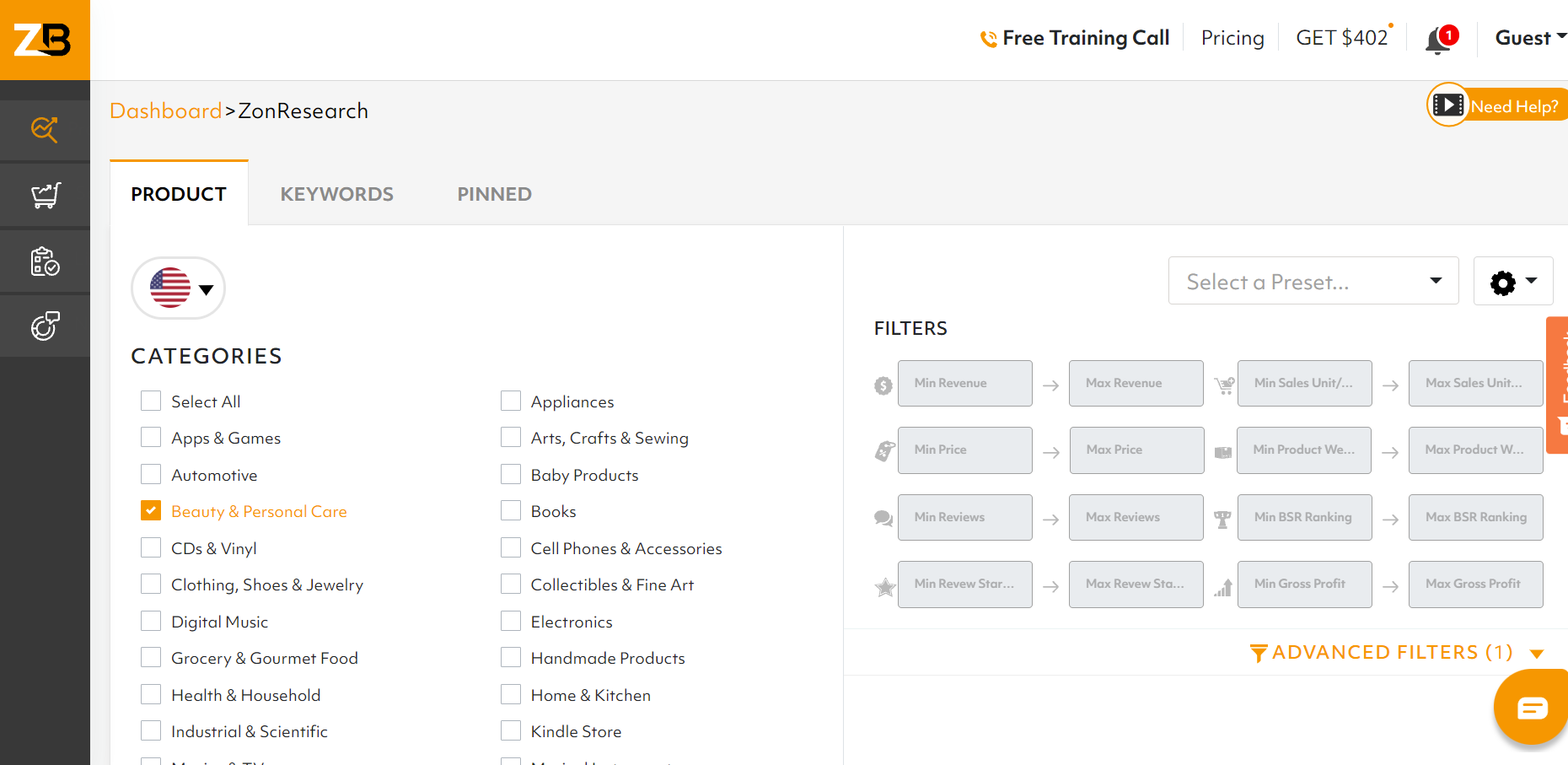 Sales Estimator: The Sales Estimator tool is useful for getting an estimate of a product's monthly sales. Before selling a product, it is crucial to have a concrete idea of its profitability. New sellers often skip this step. With this tool, sellers can gain a clear idea of a product's profit potential before investing in it.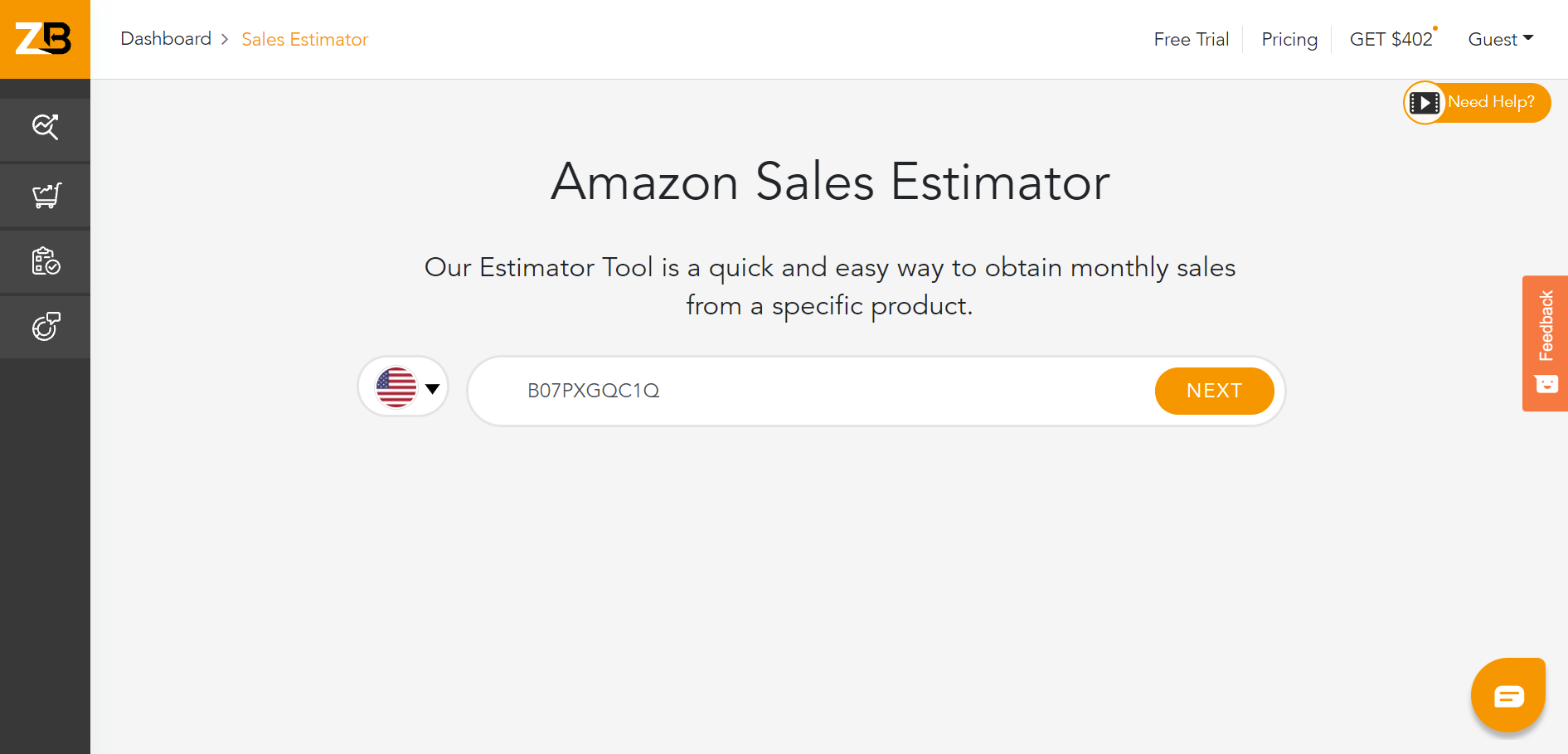 Hot Products: The Hot Products tool is a one-of-a-kind feature. It is a product research tool that provides you with high-competition, low-demand products. Hot products are usually the top 100 most gifted products. They often have increasing sales trends and fewer than 30 reviews.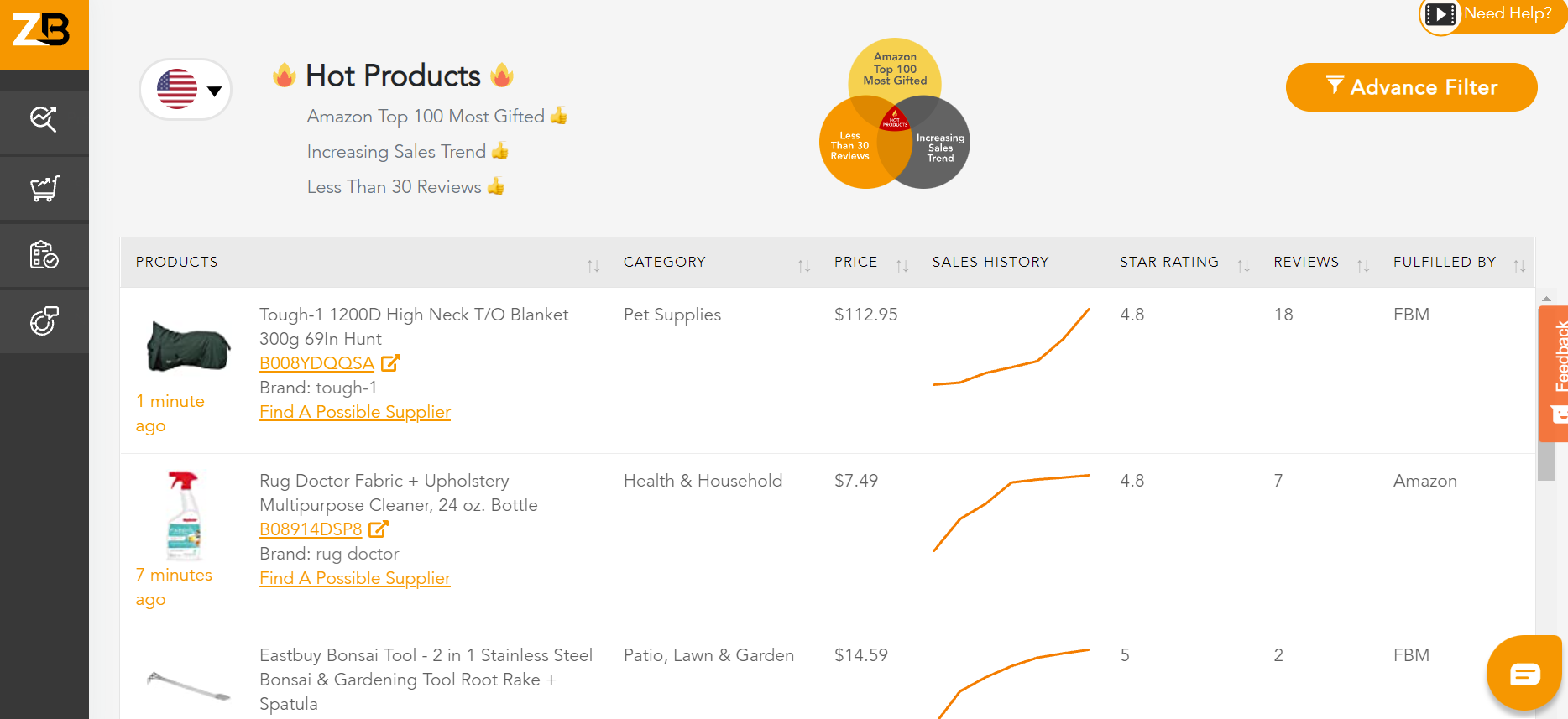 Product Validator: The Zonbase team of experts offers product validation services. They help you choose the right product to sell on Amazon by assessing the potential of your product idea.
Keywords: With the Keywords tool, you can get tons of relevant high ranking keywords. You can include these keyword ideas in your product listing and PPC campaigns. The Keywords tool shows you the monthly search volume of the seed keyword. It also displays related high ranking keywords, and provides a relevancy score to help you target only the best. Furthermore, you can filter the related keyword ideas using metrics such as monthly search volume and smart score.
Reverse ASIN: This tool gives you an insight into the keywords your competitors rank for when you check their ASIN. This tool works with the keywords tool to bring you the best keyword options for your store.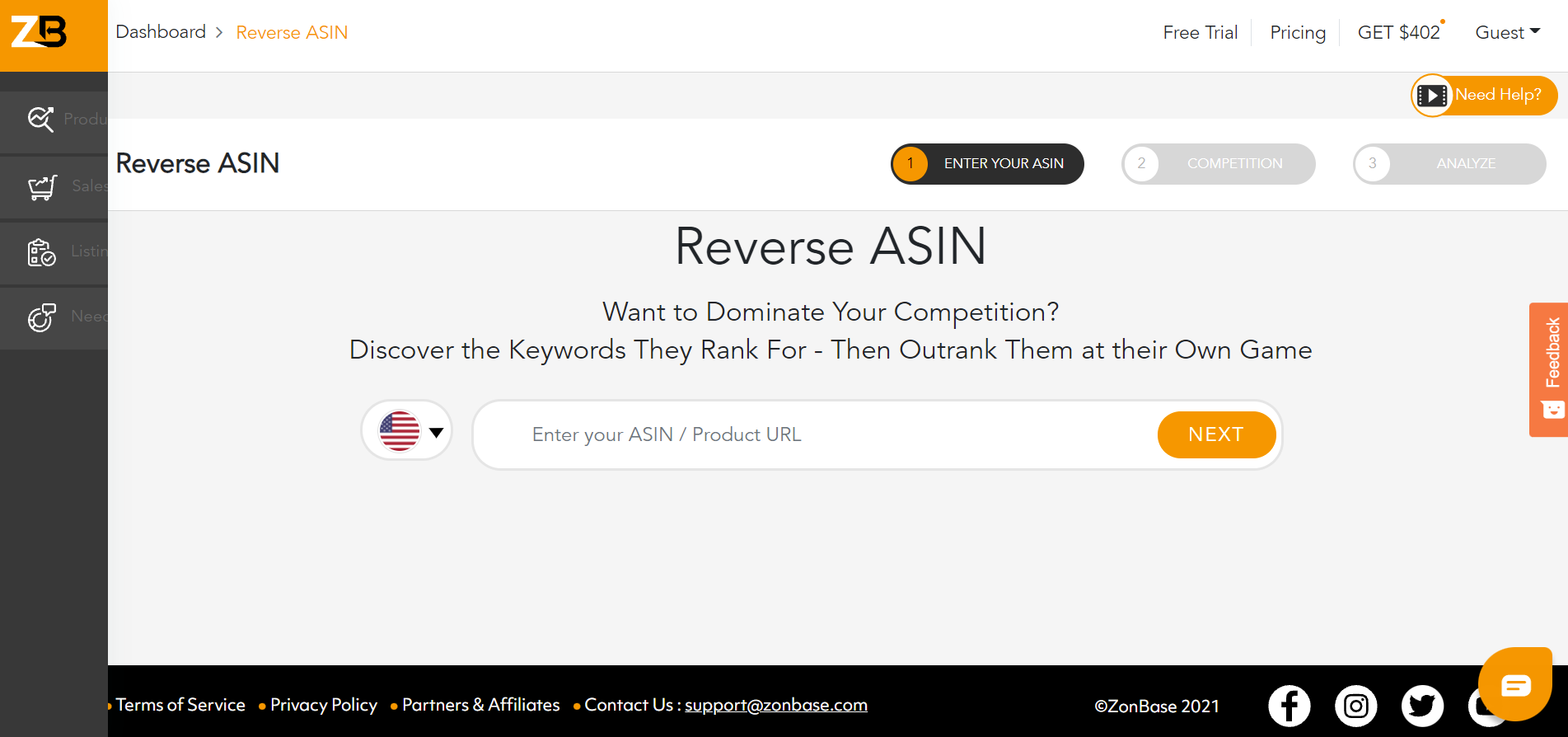 ZonTracker: This is ZonBase's keyword rank tracker. It's a keyword tool that allows you to track your product's organic ranking for any seed keyword. It's not enough to crowd your listings with many keywords, hoping they'll convert. You also have to track keyword performance, and it may be difficult to do this manually. This tool will help you track how your keywords are performing. Once this is done, you can take out low-converting keywords and focus on those that convert.
Listify: With Listify, you can create keyword-optimized listings by retrieving your competitor's keywords. Listify ensures that you don't miss any relevant keyword in your product listing.
Photo Enhancer: This tool converts your product images into high-quality explainer photos. The competition on Amazon is fierce, so you have to do everything to get people's attention. The ZB Photo Enhancer Tool is the perfect tool for Amazon sellers who want to take their product images from 0-100.
Page One & PPC Autopilot: These done-for-you services are aimed at increasing your organic ranking. They also handle PPC management on your behalf. You can use these tools to run automated promotions and campaigns for your thriving eCommerce business. Thus, improving visibility and sales.
Chrome Extension: ZB also has a Chrome Extension tool that is instrumental to product research. This tool provides valuable data about products on the Amazon search results page. The information includes revenue, price, and sales reports. The tool also provides these pieces of data for individual products. You can also validate your product ideas using this tool. It generates relevant product profitability data to help you estimate the profitability potential for any product option.
Zonbase vs Helium 10: Helium 10 Review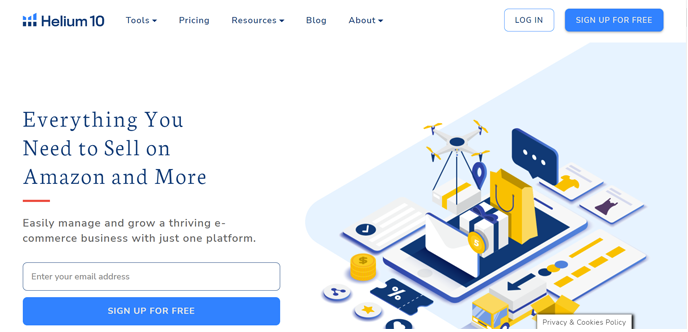 Helium10 is a leading all-inclusive Amazon seller software tool. This tool boasts a wide range of features. Helium10 is designed to help with product research, keyword research, and listing optimization. Helium10 also has other tools that assist with daily operations and business analytics.
Like ZB, Helium10 has web-based software tools and a Chrome Extension. Here's an overview of the major tools on Helium10.
Black Box: Black Box is a product research tool that lets you search through Amazon's database. You can find winning products using filters that match your preferences.
Trendster: This tool shows you a product's sales and price trends, and helps you take advantage of seasonal trends.
Cerebro: Cerebro is a Reverse ASIN lookup tool that lets you spy on your competitors. Cerebro shows you what keywords your competitors are ranking for. You can also see their monthly search volume.
Magnet: Magnet is another of Helium 10's keyword research tools. The tool generates relevant keywords with high search volume. You can sort through the keyword results with your preferred criteria.
Misspellinator: With this keyword tool, you can rank for commonly misspelled search terms. You simply include them in the back of your product listing. So when customers misspell the keyword, your listing shows up anyway.
Frankenstein: You can sort through a long keyword list using this word processor tool. Afterward, you can keep only the most relevant keywords.
Scribbles: You can create optimized listings with this tool. The tool ensures that you have included all relevant keywords in your listing. It also helps you to adhere to any character limits.
Index Checker: With H10's index checker tool, you can verify that your keywords are properly indexed by Amazon.
Chrome Extension: Helium 10's Chrome Extension boasts 5 features that help with product research. Besides showing you information about products on Amazon's search results page. The tool also provides an estimate of monthly sales. It gathers insights from product reviews and gives you an estimate of your profits.
You can check out other Helium10 tools on their website.

ZonBase vs. Helium10 Review: Who Wins?
Both ZB and Helium10 are impressive all-in-one Amazon seller software tools. They have their respective strengths and weaknesses. Although both tools have similar powerful features, ZonBase is the better option. And we'll tell you why.
Pricing: ZonBase is the cheaper of the two. Helium 10's Platinum Plan costs $97 per month. The ZonBase Legendary plan costs $67 per month with a 30-day money-back guarantee. And you'll be getting the same great value for money.
Ease of use: ZonBase tools have a more user-friendly interface and are easy to navigate. The data is presented in simple form and is not difficult to understand. Helium10 packs a lot of features. But these features are mostly too technical for new sellers to navigate. Some of its features can be done with easily accessible tools like Excel. Amazon sellers may not even use some of those features, thus wasting their money. In contrast, ZonBase contains all the necessary tools for your Amazon business, so if you want to save money, you should go for it.
Seller Support: Helium10 has a training academy. In the academy, users are taught the technical skills required to use the Helium 10 software. But you have to enroll. In contrast, Zonbase has an accessible Learning Center. It contains useful walkthrough videos on how to use all the ZonBase tools. Zonbase also has a personalized mentorship program. On the program, experts guide you on your Amazon seller journey. Especially in finding your first product.
Other Reasons Why You Should Choose ZonBase
As a seller, effective software is your secret tool. It doesn't matter whether you are a new or experienced seller. Amazon sellers who have tried out several tools often come to the same conclusion – ZonBase is the best.
There are many other reasons apart from the above ones. Here are a few:
Most tools, Helium 10 inclusive, will struggle to match up with ZonBase when it comes to performance. This is because the majority of them have their strengths in specific areas. In contrast, ZB performs outstandingly in every area. Its strengths are not tied to only a few popular tools. All its tools are efficient. Plus, the software has brought thousands of sellers their desired results.
ZonBase tools are encompassing. Using the software gives you access to effective tools for all your seller needs. Although other software comes with similar tools, ZB offers more value at a lesser price. Helium 10 does not offer a photo enhancer tool or mentorship to hold your hands through your AMZ journey. Not only is the ZonBase software 100% effective, but the team is also always looking out for sellers.
Helium 10 comes with a ton of advanced seller tools which may be unnecessary for new sellers. ZB tools are easy to use, they tackle basic and advanced needs without any complexity. New sellers often get overwhelmed trying to learn how to use seller tools.
With ZB tools, this will not be the case. The tools cut across the four most essential aspects of every AMZ business. And different tools work together for the same purpose. But since these tools are intertwined, it's usually not a struggle to get results.
No seller wants to keep paying subscriptions on tools they are not using. If you choose ZB, you'll use most of the tools. Helium 10, on the other hand, may leave you feeling confused or scared that you're not getting value for money.
How To Scale Your Business In 2022 Using AMZ Software
Starting an AMZ business is easy; scaling it is where the challenge often lies. You'll have to find profitable products and relevant keywords. Then, create and optimize listings. It doesn't end here; you'll need to run promotions to increase conversions and sales.
Launch new products
There are over 300 million customers on AMZ. Not all of them want to buy the same product, so if you're selling one product, you will be missing out on a lot of sales. Most categories are vast and have countless product options. So even if you do not want to sell in different categories, you can diversify. This way, you get to increase your product options.
AMZ software is your best bet if you want to find profitable products in any category. If you do not want to use software, consider the following options.
Explore sub-categories of your present niche
Check the "related to this item section" in search results
Don't ignore the "customers also bought this" section
Carry out competitive analysis
If your competitors are selling out fast on an item, chances are that it is in demand. These methods can help you. But they are not guaranteed to bring you the best results.

Optimize Your Product Listings
If you already have your listings up, you should optimize them. Especially if you didn't use AMZ software initially. Optimizing your product listings is the only way to get results on Amazon. Listing optimization does not apply to only new sellers. Sellers who have created their listings can also optimize them with AMZ software.
To optimize your listings, ensure you include the following:
Product Titles – One that captures your product perfectly
Product Descriptions – Keep this short and clear
AMZ software will save you the stress of having to optimize your listings manually.
Consider selling on multiple channels
This means that you sell on Amazon and other marketplaces. If you do this, you can still use Fulfilment by Amazon. So, order fulfillment will not be an issue.
Use two or more business models.
There are several business models on AMZ. You can choose any of them, but you don't have to be restricted to one. You can use two or more business models. For instance, you could be a drop shipper for selected suppliers. You can also buy branded products on sale and flip them on Amazon.
Related: Best Free AMZ Seller Tools
Conclusion
If you were stuck trying to choose the best AMZ software for your business, we hope this Helium 10 review has helped make the decision easier. Making money on Amazon does not have to be so difficult. To make it easier, automate your business processes with ZonBase, one of the best business management tools you'll come across.
Now that you know that ZonBase is the best AMZ software for 2022, use this information to your advantage. Still, in the end, it's up to you to decide based on your budget and business needs. But if you need further convincing.