Amazon has over 400 billion items in its catalog, across all Amazon marketplaces. This means that identifying, locating, and distinguishing items from one another can be quite a challenge. To help customers find items easily, Amazon issues a unique identifier to each product called an ASIN.
What does ASIN mean on Amazon? As a seller, you need to know what an ASIN number is and how to use it correctly. Certain rules are tied up with these numbers, and you don't want to violate Amazon's rules and policies. Losing your eligibility to sell in the world's biggest online marketplace can be devastating. You don't want that to happen to you just because you didn't read about it well enough.
In this article, we'll explain what this number is, how to get one and how to use it correctly. But most importantly, we'll also learn how to use it to crush your competition in the AMZ marketplace.
Ready? Let's get started.
What is an ASIN number?
One of the most common questions newbies ask is, "what does ASIN mean on Amazon". Beginners often ask what an ASIN number is, which is normal when starting out. Simply put, the ASIN acronym refers to Amazon Standard Identification Number. They are 10-character unique product identifiers consisting of numbers, letters, or a combination of both. Once added, they can be seen on the product page and product description of your listings.
Amazon.com assigns these numbers to each product within its catalog. Because of this, no two items can have the same number assigned to them within the platform. Existing ASIN for a product is merged whenever another similar product is sold on AMZN.
However, there is a catch. ASINs are unique only to one marketplace. This means the same product can have different ASINs, as long as they are not in the same Amazon marketplaces.
So, how to get the ASIN number from Amazon? If the product is new and doesn't exist in AMZN, then you need to create a new one for it. If the product already exists, you need to use the original ASIN for your listings.
All items have their specific Amazon numbers, except books. Instead of using it, books use another convention system for cataloging, also known as the International Standard Identification Number (ISBN). Let's briefly discuss the other conventions used within the website to understand these requirements better.

ISBN
As discussed briefly above, ISBN stands for the International Standard Book Number. It is a unique identifier barcode that is used for commercial books. Within each ISBN code is a combination that can uniquely identify a single book. All ISBNs that were assigned after January 2007 have 13 digits. At the same time, the ISBNs we assigned before January 2007 contain only 10 digits. Most ISBNs are printed on the book's back cover, although some might be printed inside the book cover itself.
UPC
The Universal Product Code (UPC) is a code printed on commercial packaging to help identify a certain retail item. Like the ISBN, this is a unique code for every commercial and retail product. It mainly consists of two parts. First is the machine-readable barcode, a series of unique horizontal black bars that machines can only read. For human beings who want to read the code manually, a unique 12-digit number also comes beneath the barcode.
What is an ASIN number's difference with UPC? Both codes aim to help retailers identify a unique item. However, there is also a big difference between the two of them. UPCs are used worldwide, while ASIN numbers are known to only work on the Amazon marketplace.
Why is ASIN important to Amazon and third-party sellers?
What is an ASIN number's importance?
Now that we know what an ASIN number is, the next question is this: why is it important for a seller? Do you need it before you can start selling on the website? What happens if you don't have one?
The importance of ASIN is that you can legally spy on your competitors. Because you have access to their unique identifier, you can quickly identify the strengths and weaknesses of your competitors. You can find out what makes their listings good and what makes their listings bad. You can pinpoint with accuracy what are the keywords are that make them successful in advertising. You can even identify keywords that you can target to compete with them. All of this can be done with just a few clicks of a button.
ASINs are only used by Amazon, unlike other IDs. Other identifiers such as UPC, are used by many other platforms. Amazon uses the number to organize its vast catalog so customers can have a seamless shopping experience. Thanks to the number, They can easily bring relevant and accurate results when customers search for an item. They also enable customers to search across multiple product categories.
Third-party sellers use them to identify their products. Therefore, they will not list your product in their search results if you don't use the correct number. Amazon sellers can also use these numbers to track their competitors through a reverse lookup using Amazon seller software. We'll tell you more about this trick later, so keep reading!
How do I find an ASIN number on Amazon?
So what is an ASIN number's easiest way to get found? There are two major ways to find a product's unique number. You can either search the detail page or the URL.
Product detail page
On Amazon, sellers often must put essential information on their product listings. This makes it easier for customers to see the information they need in one go. For locating the ASIN, a similar concept can be applied. You can find a product's number in the product information segment at the bottom of a product detail page, as shown in the image below.
Browser URL
Want to know a simple trick to quickly and accurately locate this number without having to read any information? Well, here is an underappreciated but very effective way to do it. To know what is an ASIN number of a product, check the URL bar of your browser. You can quickly find the number in the URL within the address bar. Just scan the whole URL of the item you are interested in. The number comes after the product's name and "dp", as shown in the image below.
How do I get an ASIN number for my product listing?
As mentioned earlier, Amazon numbers are used to identify each item in Amazon's catalog. They are present in every listing that exists on the platform. The number for your product listing depends on the kind of product you are selling. To know more about what is an ASIN number should be associated with your product, read on.
Are you a unique brand owner, private label seller, or exclusive wholesaler on the AMZ website? If your answer is yes, then most likely, your product does not yet exist in Amazon's catalog. You have to create a new listing to get your unique product listed on AMZ's catalog. Once you create a new listing, Amazon will assign your product a unique ASIN as an identifier.
Are you a retailer or a reseller, for instance? How about a retail arbitrage seller or non-exclusive wholesaler on AMZ's website? If that is the case, you will not need to create a new one. Since you are simply selling existing products that already have their own ASINs, you are already covered. All you need to do is match your product to the existing catalog and add your offer to the listing.
Take note that this is a fundamental rule you must keep in mind. If you don't want to violate rules and get into potential trouble, make sure to understand this part. This distinction is crucial because they prohibit sellers from creating a new one for a product that already exists within Amazon's catalog. If you violate this rule, your selling privileges may be temporarily suspended or permanently removed.
How to create a new ASIN
To create a new number, you must create a new listing. But first, you need to know your product ID, also known as Global Trade Item Number (GTIN). Some common examples of GTINs are Universal Product Codes (UPC), International Standard Book Numbers (ISBNs), and European Article Numbers (EANs). Product IDs can be found above or below the barcode on the product packaging. They use these product IDs to create or match their unique ASIN numbers.
If you are the manufacturer of your product or a private label seller, and you don't have a UPC, you will need to obtain one from GS1 US (if you are a U.S. seller). For books, you can obtain an ISBN from the US ISBN Agency.
The next step is to open your Seller Central account, click the Inventory drop-down menu, select Add a Product > I'm adding a product not sold on Amazon. Upon selecting the product category, you will be required to fill in some details within the Vital Information and Offer tabs such as Product ID, Product Name, Brand, Condition, Price, etc.
After submitting the required information, They will assign your product an ASIN number and publish your product details page.
Creating a new one is beneficial for your business as it means you're the only seller for that product, and you have few direct competitors. This improves your chances of winning the Buy Box, leading to increased sales.
You should note that they limit the number of ASINs you can create in a given week until you have established a sales history with them. The more sales you make, the more ASINs and listings you can create. So, if you are a new seller, you should prioritize winning products for your listing to increase sales rapidly.
How to use an existing Amazon ASIN
As a reseller or retailer, you need to use the number already assigned to the product. This means you only have to match your product to the existing product listing.
In your Seller Central account, click the inventory drop-down menu and select 'Add a product.' You can search for the existing product within their catalog by typing the product's name, UPC, EAN, or ISBN in the search box. You can also search for the product using its ASIN number if you already have it.
Once Amazon brings up existing listings, choose the listing that best matches your product. The next thing to do is select a condition, then click 'Sell this product'. You will be required to fill in your offer details (price, quantity, condition) after which you click 'save'. Your offer will be added to the existing listing.
Now that you know how to correctly use ASINs for your listings, let's show you how to find product ASINs on Amazon.
How to Find Product ASINs on Amazon
You can pull product ASINs from the Amazon website. Every product has an ASIN and it's easy to find a product's ASIN if you follow the steps listed below.
From the Product URL on Amazon
Once you click on a product on Amazon, the ASIN is usually embedded in the product URL, so this is the quickest approach to finding the ASIN for any product you want to sell.
You can check through the URL to pick out the ASIN, it is an alphanumeric 10-digit code. If you cannot identify the ASIN number easily, you can use the search bar or the 'Add product' tab on your Amazon Seller Central account. You can search using the product model, UPC, EAN, and product name; the product's ASIN will show after "dp" and the product name.
Here's what the ASIN looks like in the product URL:

Product Detail Section
If you have a long list of products, you cannot manually click through all of the links to pick out the product ASINs. In this case, the product detail section is a faster route for picking out product ASINs.
Here's what the ASIN would look like in the product detail and additional information section.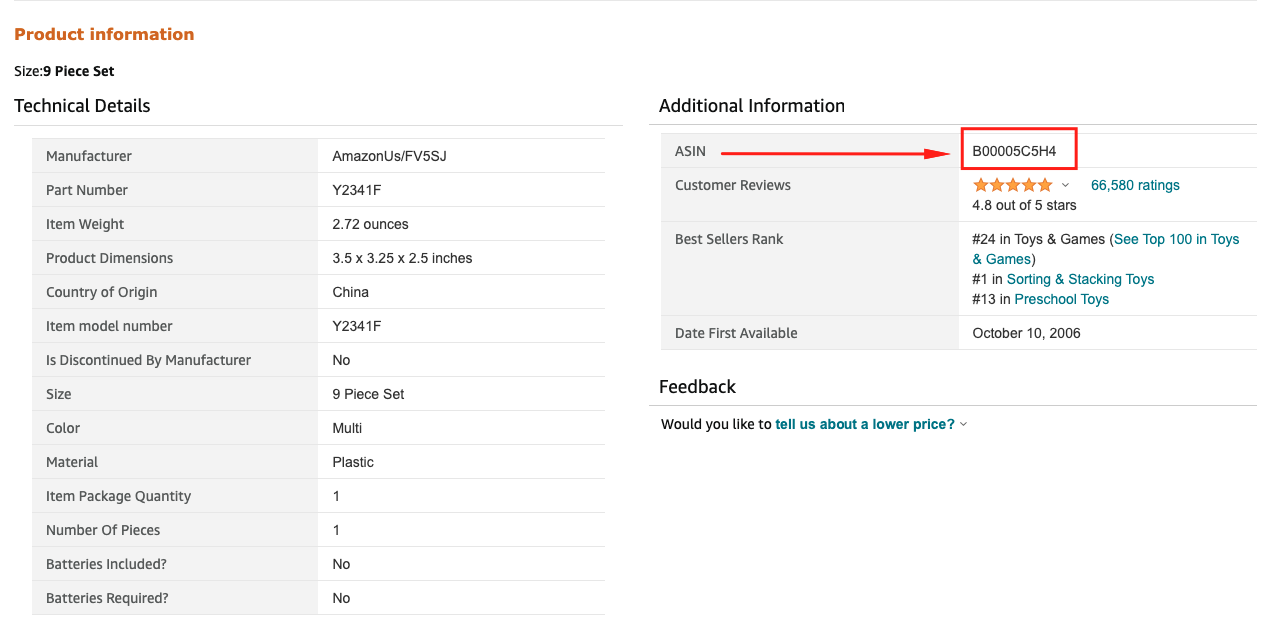 Use ASIN Lookup Tools
If you do not want to manually lookup product ASINs, there are many software options available to help you lookup and identify your product ASIN. The ZonBase Reverse ASIN tool is one of them. We'll tell you about this tool in the next section and also show you how to use it to reverse search your competitors ASINs.
How to track your competitors using Reverse ASIN on Zonbase
Now that you know what is an ASIN number, the next step is to maximize it to crush your competition. Did you know that these unique identifies are useful for product identification? One of the most important functions of this number is the ability to reverse identify your competition accurately. With this feat, you can use your competitor's ASIN number to check out the keywords they use for organic ranking. You can even use it to spy and reverse-engineer their pay-per-click (PPC) campaigns.

However, you need access to a third-party software tool that is powerful enough to accomplish this feat. You can't simply brute-force your way into the database of AMZ without help from software. This is where Zonbase comes in.
Voted as the top 1 most accurate and bang-for-the-buck software service for AMZ sellers, we recommend using Zonbase. It has 13+ tools and services that range from keyword and product research up to listing optimization. The best Amazon seller tool for the Reverse ASIN lookup is Zonbase's Reserve ASIN.
Here's how to perform a reverse lookup to spy on your competitors using the Reverse ASIN tool on Zonbase
Search for your competitor's using any of the methods outlined above
Next, open the Zonbase Reverse tool and input your ASIN into the search box. Here's what it looks like: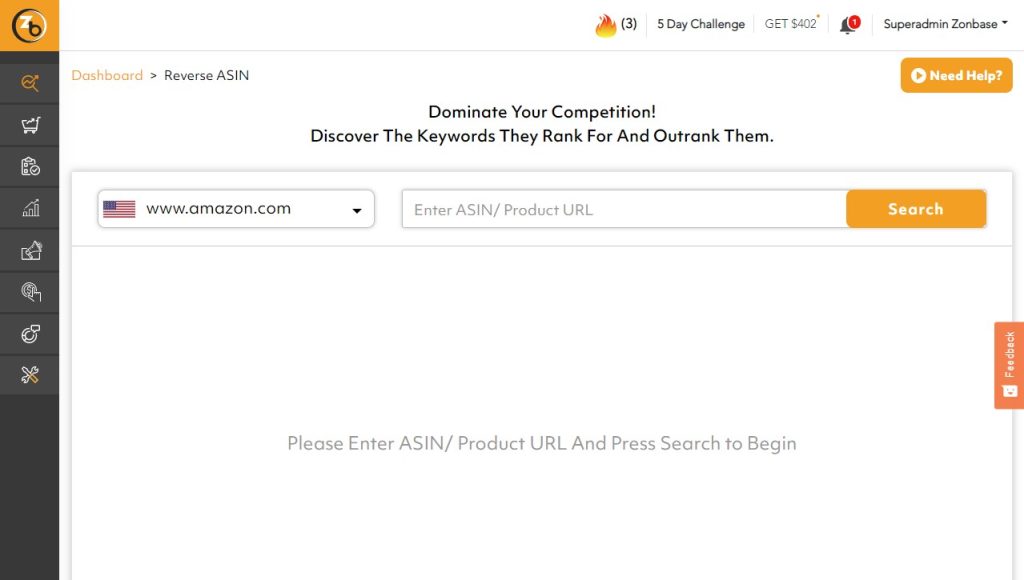 Then you type your competitors' ASIN in the next field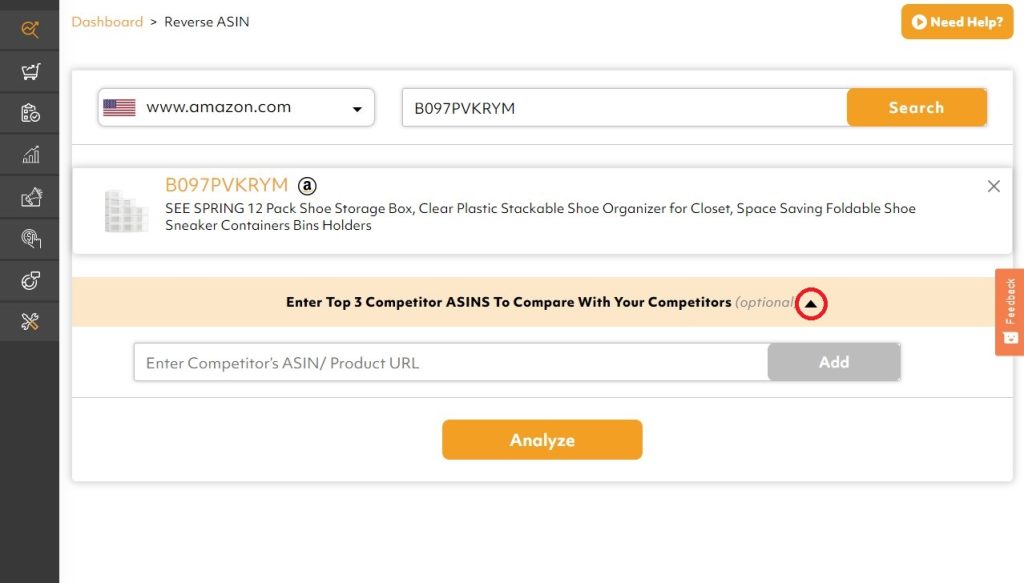 Once you click 'Analyze', the Reverse tool will bring up your competitor's keywords, your rank, their rank, and their monthly search volume. From the results, you can take high-performing keywords and use them for your product listings and PPC campaigns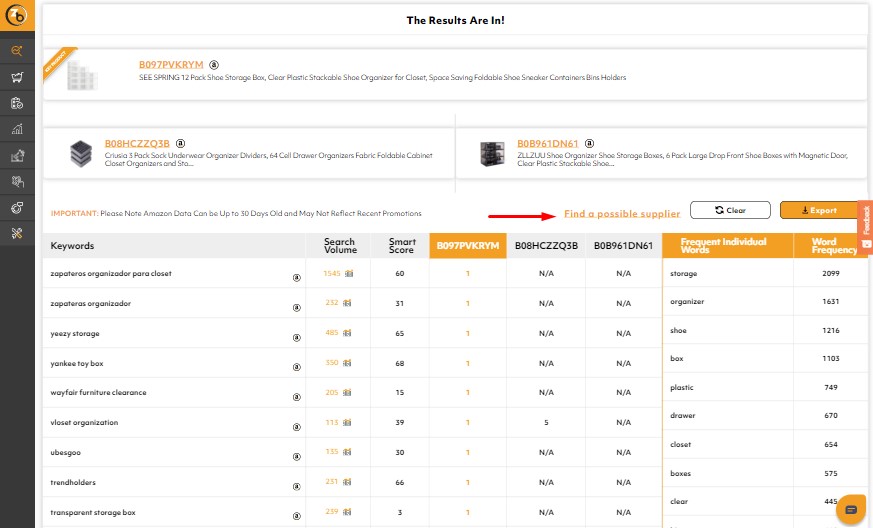 Very easy, right? To use this nifty tool, all you need to do is sign up for Zonbase. In addition to the Reverse ASIN tool, you get access to 12 other tools designed to help with product research, product listing optimization, PPC campaigns, and more. If you are wondering what an ASIN number's other use is, then you just found the answer. You can learn much more about your competition using Zonbase's reverse lookup tool. This tool will allow you to use your gathered information to increase your sales and revenue.
Conclusion
So what does ASIN mean on Amazon? Simply put, it is a unique identifying number that makes it easier to sort out the catalog of all products listed on AMZN. Understanding what Amazon ASIN is, and how it works, is crucial to your journey as an Amazon seller. Using this correctly will boost sales by helping customers find your products easily while shopping on Amazon. It can also help you organize your listings and improve product information searchability. In the right hands, this information can help you improve your AMZ business.
And not only can you use an ASIN number to dominate your competition on Amazon, but you can also use it to gain insight into your performance.
Now that you know what an ASIN number is, the next thing do is use it to improve your business. With the Zonbase tool, this can be done with just a few clicks of a button. To thrive on Amazon with Zonbase, sign up for a free trial.