With over 300 million registered subscribers, half of which are Prime Members, the market of Amazon is massive (Source: Amazon). One of the best-selling categories on the website is Books, which makes it a great option for third-party sellers. If you are an aspiring seller and you are wondering how to sell books on Amazon, this article is for you.
Amazon has an extensive product catalog containing virtually any product you can think of. This makes the platform a one-stop shop for all kinds of online shoppers. However, did you know that during its inception, this website used to sell only books? Yup! Before it decided to expand its market, the website was formerly an online bookstore. Because of that, many people still see AMZ as a great website to purchase titles. Focusing on how to sell books on Amazon is a great way to make money on the platform.
Why Should You Sell Books On Amazon?
Despite its massive growth and expansion, books remain a core part of its business. Book sales only contribute a mere 10% to Amazon's annual revenue. However, this number still accounts for 50% of print book sales in the U.S (Source: Ben Evans). It's not surprising, then, that they are one of the most profitable products to flip on the platform. Selling them is a great way to make money online, which is why you should learn how to sell books on Amazon too.
In this article, we'll tell you all you need to know about making a profit from selling reading materials. We'll also teach you how to find books to sell, and how to be successful at selling them.

But before we get started…
Before we dive into how to sell books on Amazon, there are a few things that you need to consider. At the initial stage of being a seller, you'll need to:
Determine the type of items you intend to resell
Decide where you'll source the titles from
Learn how to pick the profitable book titles
What type of books can I sell on Amazon?
AMZ allows its vendors to list either new or used books, as long as they are in good condition. Now, there are many ways to procure both used and new titles. Deciding on which type to resell when you start your store depends on your preference and budget.
If you are starting and don't have much experience, then used books could be a great option. Since selling used books requires minimal startup costs, you won't have to dig deep inside your pockets for capital. Selling used items is easy because they are often easy to get. Aside from that, you're less likely to face much competition since most people prefer purchasing new ones. However, that is also why profit margins on used titles can be pretty slim.
On the other hand, if you have large start-up capital, you should consider selling new books. Since brand new titles have a higher demand than used ones, you'll get more sales and better profit margins. However, obtaining new ones can be difficult, especially the popular bestsellers. Because you'll have to purchase bulk from publishers, wholesalers, and distributors, so you will need a bigger upfront investment.
Also, new books from popular authors are high-demand items. You would have to compete with the publisher and Amazon itself. You need to either offer a lower price or faster shipping to compete.
Where can I source items to sell?
Now that you know the initial steps to sell books on Amazon, the next step is to find a source. After deciding what type of titles you will list on your store, sourcing your inventory should be next on your list. Let's take a look at some of the available options.
Where to find used books
Your house: The easiest way to find items to resell is your house. Look around your bookcase, attic, basement, or other nooks and crannies for old books in good condition. You can list them for sale rather than leaving them to gather dust. This is a low-cost way to start, however, it is not sustainable in the long run.
Book sales: Some stores often hold book sales to dispose of old inventory. They're a great place to get valuable titles at low prices. Libraries also hold sales to clear out shelf space, so keep an eye out for local libraries. You can also check their websites for updates.
Thrift stores and used book stores: If you like shopping for good deals, then thrift stores are a great place to find an underpriced book. Mom and pop stores around your local neighborhood can be a great source for used ones, too.
Yard sales: People who are about to move or who wish to declutter their homes often sell books at yard sales. And they rarely bother to check how much the titles are worth. This makes them a great place to find good deals.
Estate Sales: The goal of estate sales is to resell off items in the shortest possible time. As such, you may find low-priced goods. You're also likely to find large collections at an estate sale.
Online stores: You can find cheap ones on websites such as eBay, Facebook Marketplace, and Craigslist. You can find great underpriced items here, which you can then sell for a profit.
Where to find new books
Wholesalers: Wholesalers buy large quantities of titles from publishers at low prices and sell them to retailers and resellers.
Distributors: Distributors sell books for publishers. You can source new books from distributors, however, their prices are higher than that of wholesalers.
Publishers/Authors: You can buy new books directly from the publisher or author. However, you will have to buy in extremely large quantities.
How to Sell Books on Amazon: Getting Started
Now that you've sourced your inventory, the next step is to list the books for sale. Here are the steps on how to sell books on Amazon after you are done sourcing them:
Create an Amazon Seller Account
You have to sign up for a seller account before you can sell books. You can either sign up for an Individual Account or a Professional account.
An individual seller account is free to create and doesn't require a monthly fee. However, it is limited when it comes to features and AMZ will charge you $0.99 for every book sold.
A Professional Seller account, on the other hand, costs a monthly subscription fee of $39.99. This is in addition to other selling fees you might incur if you use FBA as your fulfillment method. But the great thing about having a professional seller account is the added features. With the professional account, you can use third-party selling tools, APIs, advanced reporting, and even access restricted selling categories.
If you plan to start small and not sell more than 40 units monthly, then you should opt for the Individual Account. You can always upgrade to a Professional Account as your business grows. If you have a large inventory and want more features, then the Professional Account is a more suitable option.
Choose between FBA and FBM
You must decide the fulfillment method you will use to fulfill orders. You can choose to store inventory, ship orders, and handle customer service yourself under the Fulfilled-by-Merchant method. Or you can send your inventory and have Amazon pick, pack, and ship orders for you. They will also provide customer service for you under the Fulfilled-by-Amazon (FBA) method.
Although you will have to pay some FBA fees, we recommend using FBA. You get to leverage AMZ's world-class logistics and customer service. This will also take a lot of pressure off of you, allowing you to focus on scaling your business.
However, if you're selling books that sell more slowly, you can opt for the FBM model. If you fulfill orders independently, you don't have to pay FBA fees. This is a great thing since FBA fees can be quite a burden to pay when you are just starting.
List your books for sale
Once you've set up your Seller account, you can start listing books for sale. The book you want to resell is likely listed already there, so you don't need to create a new listing. You need to match to an existing listing.
Here's how to do this:
Open your Seller Central account, click the inventory drop-down menu and select 'Add a Product'.
In the search box, input the book's ISBN. The ISBN is a 13-digit book identifier for books usually located close to the barcode on a book's back cover or the copyright page.
They will bring up the existing listing and you can add your offer. Choose the condition of your book, then select 'Sell this Product.'
Below are the fields you will need to complete:
SKU: You can create your own SKU, preferably something you can remember. Otherwise, Amazon will generate one for you.
Price: You should set your price low so that you have a better chance of winning the Buy Box. Fortunately, They have a nifty button that allows you to match the lowest price.
Quantity: They set the default quantity to 1 unit. So if you're selling more than one book copy, put in the total number.
Condition: According to Amazon's guidelines, your book can either be 'New', 'Used – Like New', 'Used – Very Good', 'Used – Good,' and 'Used – Acceptable'. Select the most suitable condition.
Fulfillment Channel: You can either choose FBA or FBM as explained above.
As soon as everything is done, click 'Save and Finish'. Now that you've listed your book for sale, you are all set! All you need to do is sit back and wait for customers to place an order. Now you know how to sell books on Amazon. But that's not where it ends.
Monitor sales and adjust prices
Now that you have accomplished listing your first few books for sale, you can't just sit around. Knowing how to sell books on Amazon is not enough. You must also monitor your sales and make certain adjustments regarding your pricing strategy. If your books aren't moving around, there must be something that stops customers from buying them. Most of the time, it is the price. So what you have to do is lower the prices of your books that aren't moving volume.
Remember that the lower your prices are, the better your chances of winning the coveted Buy Box. The Buy Box is a feature of Amazon where customers select your product automatically if they click the buy button.
With that being said, you also have to consider that you need to make profits too. Pricing your book too low is not recommended because you might pay more for your product. Adjust your price to a certain point where you are still making a profit whenever you make a sale. Even if it is not too much, as long as your book sells well, you can make up for the lost profit. You need to push more volume.

More tips and secrets on how to sell books on Amazon
Need more help in increasing your sales? Do you have issues understanding how to sell books on Amazon and make a profit? Here are some more ideas you can employ to get more sales for your online store.
Use Research Tools To Find Winning Products
Successful sellers always try to have a competitive edge. Access to a powerful third-party tool that can dig into Amazon's database can be a game-changer.
This is where research software tools such as Zonbase can be handy. It helps you find information about a topic or keyword you are interested in, as well as monthly revenue and ratings. For example, one of the tools available in the Zonbase subscription is the ZB Chrome Extension. With this tool at your disposal, finding profitable books and topics is a lot easier.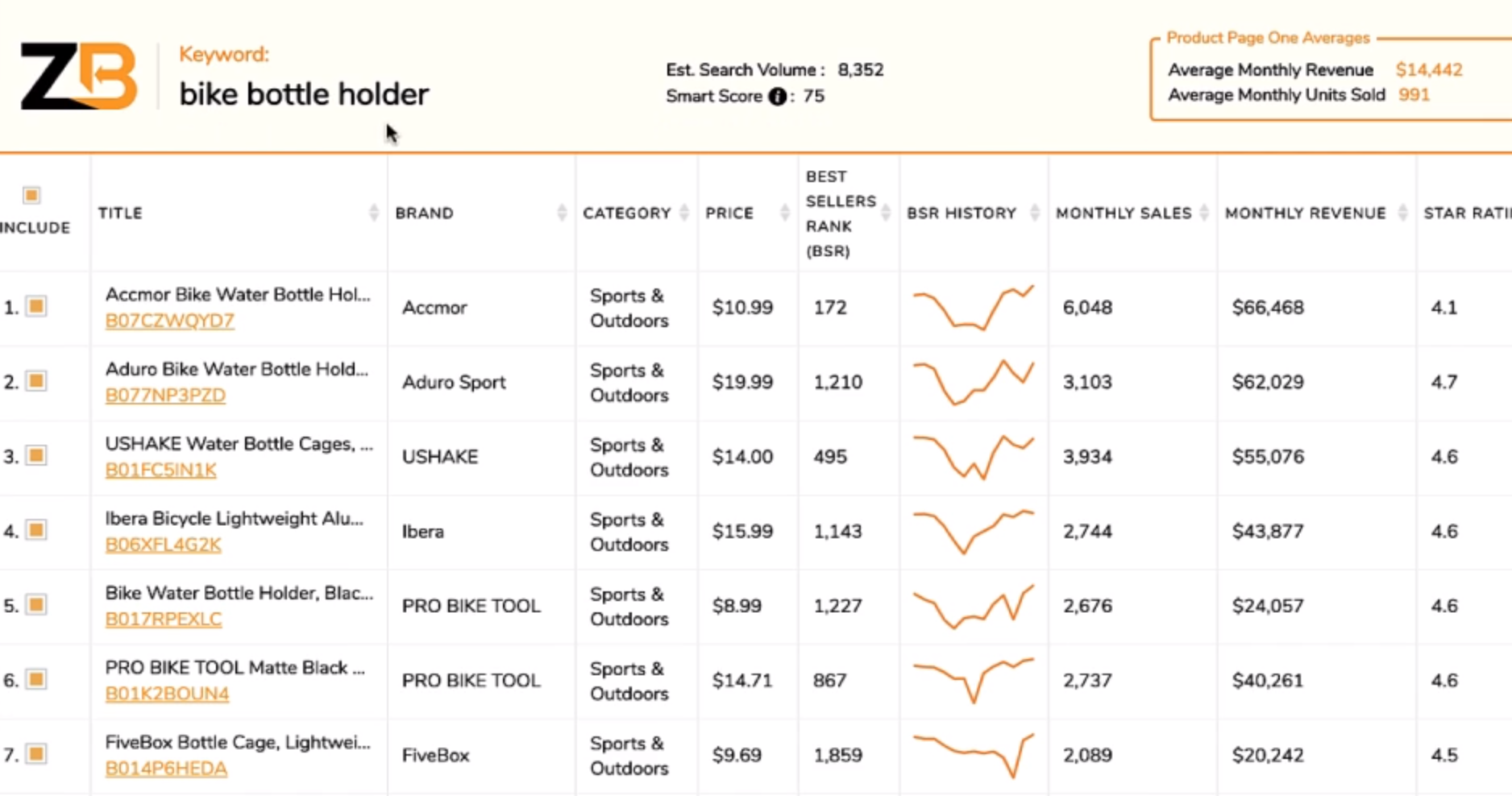 Check for books' resale prices by scanning them
It is not enough to know how to sell books on Amazon. You also need to know how to see if they can be profitable. Want to easily scan a particular book's resale price to see if you can profit from it? Download the Amazon Seller App and scan its bar code or ISBN. Doing so, will give you the number of sales the book has made on AMZ. A simple but effective way of checking if a book is worth reselling.
Sell educational and instructional materials
Most Amazon sellers will agree that some of the bestselling books on the website are instructional and educational materials. Students need them for their studies, and parents will most likely buy them for their kids. If you are having a hard time making sales, try selling educational and instructional materials.
How to discover profitable books to sell
Books are a profitable product category, but not all books are profitable. So before you sell any book, you need to use a product research tool to determine its profitability. Good books have high demand, fairly low competition, and high-profit potential.
To find good books, you need access to a tool that can help you dig deep into Amazon's database. You can make a data-driven decision regarding what books to acquire by seeing historical sales trends and previous bestsellers.
ZonBase's Sales Estimator tool is particularly useful for this process. With this tool, you can find out how many sales a book makes in a month. This will give you an idea about the product's level of demand. A book with 6,000 monthly sales will be selling about 20 copies in a day.
Another useful product search tool is the Zonbase Chrome Extension. While searching for a book on Amazon.com, you can use the Chrome Extension tool to discover its average monthly revenues. It also gives you the average monthly units sold, Best Sellers rank, price, and other data.
The Best Sellers rank is an important factor to consider when choosing a product. The lower the BSR, the higher the sales. However, a very low BSR means very high competition. On the other hand, a high BSR means poor sales. So you have to choose a BSR in the middle: not too high, not too low. So the demand is good, and the competition is not stiff.
Conclusion
Congratulations! Now you know how to sell books on Amazon! Selling books is a great way to earn money, whether you're a newbie or an experienced Amazon seller.
As long as you have a steady sourcing plan and competitive prices, you have a chance to build a successful business. By using the #1 Amazon Seller Software, Zonbase, you can be sure your sales in skyrocket in no time at all.