As an entrepreneur, one of the most important steps you must take before starting a business is understanding your business costs. When starting a brick-and-mortar business, paying little attention to your business numbers can be detrimental. The same thing applies to starting an FBA business. If you want to earn a lot of profit while selling on FBA, you have to familiarize yourself with the different Amazon FBA fees.
Knowing your Amazon fees is important because it allows you to assess whether your store is profitable or not. Even if you're constantly sold out, if your overhead and Amazon FBA costs are too high, you won't be able to earn as much. By knowing all about the different commission rates and your expenses, you can safely fix product prices and remain profitable.
If you want to learn more about the different Amazon seller fees, you are in the right place. In this article, we will summarize all the different Amazon costs to give you a headstart.
Let's get right into it.
Breakdown of Amazon Selling Fees
Amazon doesn't profit only from the people purchasing products on their websites; they also profit from the sellers' using their platform. With more than 10 million sellers worldwide, AMZN makes a hefty profit from all the Amazon FBA fees they take from third-party sellers. These fees, also known as Amazon commission rates, differ from one product to another.
There are about ten different types of Amazon fees; some are general and others depend on fulfillment methods. FBM sellers only have to pay general fees, while FBA sellers have to pay both general and FBA fees.
Apart from general and FBA fees, there are some miscellaneous costs that you may run into. Yes, you may not incur them. But if you run into them unprepared, it may take a toll on your business. So, it's best to be aware of all the possible Amazon fees. Since the focus of this post is on Amazon FBA costs, we'll tell you about the costs of selling through FBA. Then, we'll discuss the general fees and miscellaneous costs.
Amazon FBA Fees
So, you want to start selling on AMZN, but you don't have enough time on your hands to handle the fulfillment? Are you swamped with orders, and you need a helping hand to get things done? If that is the case, then you need to use the Fulfillment by Amazon sales channel.
If you use Fulfillment by Amazon (Amazon FBA), you will be assigned a fulfillment center to send your inventory to. Once a customer orders your item, AMZN will be the one to pick, pack, and ship the orders for you. They will also provide post-purchase customer service after the sale.
They'll basically be your fulfillment provider. All you need to do is send your products to any of Amazon's fulfillment centers, and they will do the rest. These services can help you lighten up your load as a seller. Amazon FBA fees are the costs you incur when AMZN provides any of these services for you.
So how much does Amazon FBA cost? There are two types of fees that only FBA sellers have to pay – Fulfillment fees and storage fees.
Amazon FBA fees vary depending on three main factors:
The size and weight of the product – Also known as dimensions.
The product category
Fulfillment channel
The product size and weight are the most important factors to consider when trying to arrive at an estimate for your fees. AMZN classifies products into two categories based on size; Standard size and oversize products.
Standard size items weigh less than 20 pounds and have dimensions not more than 15″ x 12″ x 0.75″.
Oversize items have dimensions of 18" x 14" x 8" and weigh more than 20 pounds.

Fulfillment Fees
Your fulfillment fees are the Amazon FBA fees you incur on every order that AMZN packs and ships on your behalf. All the processes involved in order fulfillment have a certain charge attached to them. This includes picking, packing, and shipping your orders. It also includes post-purchase customer service as well as product returns. Fulfillment costs are determined by the size and weight of your item. They are also charged on a per unit basis.
The amount of Amazon FBA shipping fees that you have to pay might vary depending on the size of your product, what state you are in and what kind of tax laws you have in your location.
AMZ has provided its comprehensive list of product size tiers for reference and cost of fulfillment per unit. However, Amazon revises its FBA fulfillment fees every year. This is because the shipping rates, packaging costs, and other things fluctuate frequently.
Check out the current fulfillment fees for 2023.
FBA Inventory Storage Fees
This is the cost you'll incur for storing your products in Amazon's fulfillment centers. Your inventory storage fees will depend on your product size and category.
Storage fees are further classified into two: monthly inventory storage fees and long-term storage fees.
Monthly Storage Fee: This fee is deducted monthly depending on how much space your inventory occupies in Amazon warehouses. The space your inventory occupies is also known as inventory volume and the inventory volume is measured per cubic foot. This is based on the size of the product after it has been packaged properly and is deemed ready to ship. The monthly storage fee is deducted from your Amazon account balance like other fees.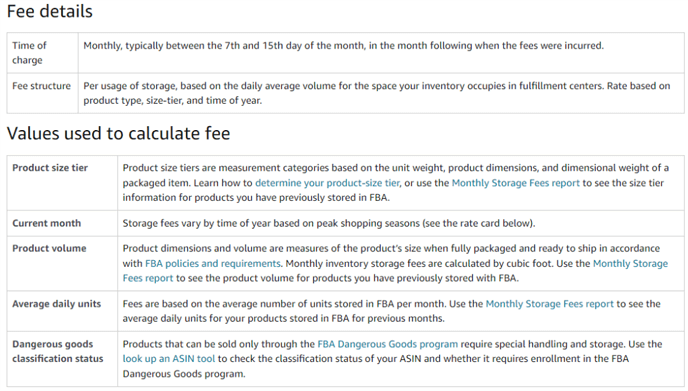 You should note that the monthly inventory storage fees for January to September differs from that of October to December. Also, during peak seasons such as Black Friday and Prime Day, several price changes might occur. Here is what the variance in monthly inventory storage fees looks like:


Source: How Much Does it Cost to Sell on AMZ? | Amazon Calculator
Long-term storage fee: You need to avoid having your products stored in an Amazon warehouse for more than 365 days. Why? Because if your products sell slowly, you will incur additional fees in the form of long-term storage fees.
You can avoid paying long-term storage fees by issuing a removal order before your inventory hits the 1-year mark in Amazon's fulfillment centers. But if you do this, you will still incur removal order fees. So, the best way to avoid incurring long-term storage fees is to avoid stocking excess inventory.
The order fulfillment fees and FBA inventory storage fees are the main fees that FBA sellers have to pay. However, there are some other Amazon FBA fees that you may incur along the way.
View the current long-term inventory storage fees.
Other Amazon FBA Fees
These fees are not mandatory. But if you incur additional fees frequently, they may eat into your profits. So, it's best to be prepared for them if you decide to use the Fulfillment by Amazon sales channel.
Removal order and disposal order fee: Remember, items that have been stored in Amazon warehouses for over 365 days will incur penalty fees (long-term storage fees). A removal order is the easiest way to avoid the penalty fees Amazon charges for long-term inventory.
When you place a removal or disposal order, AMZN will remove or dispose your inventory from the warehouse. Removal orders are best for slow-moving products or damaged products in your inventory.
While removal orders may help you avoid any additional selling fees, they are also not free. AMZN charges inventory removal fees for this service. Removal order fees also depend on the size tier your product falls in.
View Amazon's removal order fees for different size tiers.
Returns Processing Fees: This fee only applies to products in the shoe, jewelry, and apparel category. Since most buyers are often unsure of the fit of these items, AMZN envisages that there will be more returns for orders in these categories. Thus, AMZN deducts returns processing fees on orders that are eligible for free return shipping. Like other Amazon FBA fees, the returns processing fee varies depending on your product's size.
Refund Administration Fee: If you sell via Fulfillment by Amazon, AMZN will be responsible for processing all returns and refunds. And this is the fee that AMZN charges for processing your refunds. When you refund a buyer, AMZN refunds your tax, and they then deduct 20% of your referral fee or a maximum of $5 per unit.
Unplanned services fee: AMZN has packaging and labeling requirements, so you need to prepare your inventory properly before sending them to Amazon warehouses. If you don't, you will be charged an unplanned services fee. AMZN does not charge an individual labeling fee or package prep fees, the unplanned services fee covers all of that.
Amazon Fees for FBA and FBM Sellers
Selling Plan Fees
The first step to selling on AMZN is choosing a selling plan. Amazon offers two selling plans—the Individual Selling Plan and the Professional Selling Plan.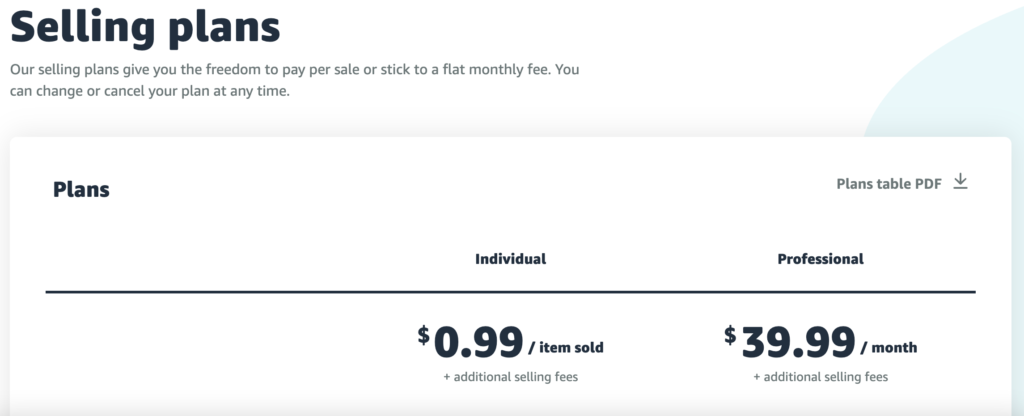 The individual plan is best for sellers who are just testing the waters and do not intend to sell more than 40 items per month. The professional plan, on the other hand, is best for sellers who intend to sell more than 40 products per month.
When you sign up for the individual selling plan, Amazon charges a $0.99 per-item fee on every sale. The fee is deducted from your Amazon account balance after the sale, so you don't have to worry about upfront costs.
In contrast, with the professional plan, you'll have to pay a monthly flat rate of $39.99. This fee is applicable no matter how many items you sell, and is deducted from your account balance. If the available funds are not sufficient, then your credit card will be charged.
Choosing a selling plan is not difficult. All you have to do is specify your preferred plan while setting up your Amazon seller central account.
Amazon Referral Fees
If you're selling on Amazon without being referred there by anyone, then you're probably wondering, "What is Amazon referral fee"?
A referral fee is the commission Amazon charges for letting sellers list their products on the marketplace. In other words, it is the fee that sellers have to pay for running Amazon stores. It is a per unit fee that is charged on every product sold. Referral fees are the same regardless of business model and fulfillment methods. Amazon's commission rates differ depending on what product you sell and what category it falls under.
Referral fees are a flat percentage of the total sales price. These fees vary from 8% – 45% of product prices, depending on the product category. Most referral fees are within 15% of the sales price.
In some categories, the cost Amazon charges is based on sales in dollars and the number of products sold. For example, electronic accessories are charged 15% of the total sales price for orders up to $100 and 8% on any order greater than $100.
Like other fees, referral fees are reviewed annually. So, when estimating your Fulfillment by Amazon fees, be sure to use the updated rates.
Check out the updated Amazon referral fees.

Variable Closing Fees
AMZN charges variable closing fees for certain products. If you sell items in the Media Category, you need to pay this cost. This category includes items such as Books, Music, Digital Items, Software, or Video Games. The Variable closing fee costs $1.80 per unit sold.
Additional Selling Fees
The fees mentioned above are the common Amazon FBA fees. However, all sellers (FBA and FBM) are likely to incur miscellaneous fees at some point. These fees include:
High volume listing fees: Do you have more than 100,000 products listed? If yes, then you will be required to pay a high-volume listing fee of $0.005 per unit. This fee and the FBA inventory storage costs are paid at the same time.
Rental book service fees: If you rent textbooks, then you have to pay a $5 rental book fee. This is for each textbook that you rent. This fee is usually charged at the time of sale.
Are Amazon FBA Fees Worth it?
Selling on Amazon is an easy way to join the eCommerce industry. This is because the online marketplace provides you with a vast customer base that would take years to gain on your own website. Apart from this, most new sellers prefer to sell on Amazon because of the outsourcing option they offer through FBA.
But why are Amazon FBA fees so high? That's a question you've probably asked yourself by now. Yes, Amazon FBA is not as cheap as most sellers expect it to be. And sellers who are on a tight budget may be unable to afford it. However, it is a stress-free way to sell on Amazon. Here are some of the reasons why selling through Amazon FBA is worth it.
Customer Trust: AMZN is not only known for providing quality products at affordable prices, they're also a top choice for most shoppers because of the fast shipping they offer. It goes without saying that FBA increases your chances of making sales.
Lower Shipping Rates: Amazon has a strong relationship with large logistic firms, so they are able to negotiate lower shipping rates. Your own shipping rates would be a lot higher if you ship out orders yourself.
Saves Time and Energy: Selling through FBA is a great way to manage your time better. With FBA, you won't have to bother about fulfillment and customer service. Instead, you can channel this time into other important aspects of your business.
Multi-channel Fulfillment: Can your orders be Fulfilled by Amazon even if you sell on other marketplaces? Yes, they can. Many sellers use the multi-channel fulfillment option to ship items even though they sell on other platforms. Of course, multi-channel fulfillment costs are higher. But is it worth it? Absolutely.
So, you really want to use Amazon FBA but you're not sure you can afford it? If you're willing to extend your budget a little, here are some tips that you can use to reduce your Amazon FBA fees.
How To Reduce Your Amazon FBA Fees
Amazon FBA costs can be a lot, especially if you sell heavy, fragile products that take up so much space in a fulfillment center. If you do not price your products right, you'll end up losing your net profit. You'll also end up paying more for Fulfillment by Amazon compared to self-fulfillment. And that should not be the case.
There are still ways for you to lower your FBA fees and reduce your operational costs. Some of them are listed below:
Make Sure Your Dimensions Are Compact
The space that your item takes up in the warehouse is what drives the storage fee up. So if you want to reduce your FBA fees, the simple answer is to ensure your items' dimensions are declared right. If you can reduce the box size and packaging of your item, then it is in your best interest to do so. By making sure that your item dimensions are as small and light as possible, you can shave off some of this storage fee.
Don't Overstock Amazon Fulfillment Centers
This is one of the most common mistakes beginners make. Sellers think they can save more money by sending a large inventory shipment to the warehouse. But by doing so, you are putting yourself at risk. If you don't sell out your inventory fast enough, you might incur a long-term storage penalty fee.
To be safe, just add 25–50 items to the usual number of items you sell in a month. This ensures that a sudden outpour of sales will not sell out your inventory. Doing this will help you save on unnecessary fees.

Stick To Packaging Requirements
Every little thing AMZN does for you is paid for. Even the bubble wrap and packaging tape used on your products are counted towards your total fee. To help mitigate these costs, try as much as possible to follow the labeling and packaging requirements for your product category. If you don't, you will have to pay a labeling fee as well as unplanned package prep fees.
How to Calculate Your Amazon FBA Fees
Even after understanding your Amazon FBA fees, it may be difficult to carry out real-time cost comparisons. Plus, AMZN updates its fees annually, so you have to stay updated and double-check your calculations frequently.
Thankfully, they provide an FBA Calculator that comes in handy for arriving at a reasonable estimate for your Amazon FBA fees. The question you may have if you've read to this point is, "How does the Amazon FBA calculator work?" or "How do I use the Amazon calculator?" so we've answered that in the next section.
Related: Amazon FBA Calculator – All You Need to Know
How to Use an Amazon FBA Calculator
The FBA revenue calculator is a simple tool that allows you to get a relatively accurate estimate of your Amazon FBA fees. The tool typically takes two types of fees into account; the selling on Amazon fees and the fulfillment fees. Here's a step-by-step guide on how to use the Amazon FBA calculator.
Search for the product on Amazon then copy the product ASIN or product name and paste it into the search bar in the FBA calculator then click search. Once you have done this, the calculator will pull up the product that owns the ASIN you entered.
Next, enter the required values in the Amazon fulfillment section, this will help the tool come up with an estimate for your profit margin.
Enter your 'ship to Amazon' price which is a simple estimate of the amount it would cost to ship your product to an Amazon warehouse.
Input your product cost price in the cost of product field.
Click the 'calculate' button
Conclusion
Knowing your costs before launching your product will help you price your product profitably. It will also guide you while replenishing your inventory, so you can avoid long-term storage fees. Now that you know the costs involved, you can find ways to lower your overall expenses.
But even if you can lower your Amazon FBA fees, the most important thing in selling online is finding a winning product. Finding a product that has low competition, but good profitability can be difficult. But with the help of Zonbase, this task has never been easier.
Zonbase has 20+ tools and services specializing in important business tasks to help sellers make money. From keyword research and product research up to listing optimization, Zonbase uses accurate information to make data-driven decisions.
If you want to ensure the success of your online store, finding the winning product is your priority. With Zonbase, this task can be accomplished with just a click of a button.