Since its launch in 2019, ZonBase has empowered hundreds of thousands of Amazon sellers to grow and build successful businesses. Zonbase houses all the software tools Amazon sellers need in one place and helps them make better data-driven decisions. With Zonbase tools, Amazon sellers can carry out product research, keyword research, and listing optimization efficiently.
In an effort to provide even greater value to Amazon sellers, the ZonBase team has launched the ZonBase Pro program for sellers looking to dominate Amazon. The Zonbase Pro program combines access to the all-in-one Zonbase software with done-for-you services and one-on-one training on key aspects of Amazon selling,
[sc name="zonbase" ][/sc]
What does ZonBase Pro Offer?
ZonBase Pro is designed to help Amazon sellers learn from and leverage the skill and experience of Amazon experts.
New sellers looking to start an Amazon business, either as a side hustle or full-time business, have high hopes of making a lot of profit. But they soon find that the Amazon marketplace is a jungle where everyone is struggling to rise to the top and conquer their competitors.
Amazon seller software suites like ZonBase give sellers an edge by supporting them with key processes like product research, keyword research, listing optimization, and more. But software tools do not provide sellers with the know-how for carrying out these processes. This is where ZonBase Pro comes in.
ZonBase Pro provides Amazon sellers with a complete, well-rounded package by providing them with both software tools and personalized support in the form of training and automated services.
ZonBase Pro includes the following features:
Unrestricted access to the ZonBase software suite

One free product, picked for you by the ZonBase Pro team

One free done-for-you optimized product listing every year

Free done-for-you product launch to page one every year

Live one-on-one mentoring with an Amazon expert via video calls twice a week

Top strategies for listing optimization and high organic ranking
Other additional benefits gained from using ZonBase Pro include:
Free access to the ZonBase Amazon Masterclass taught by Amazon experts and successful Amazon sellers

Free access to a private Facebook group and support from the largest community of Amazon sellers

Private 24/7 Support from Amazon experts readily available to answer your questions

Access to Manufacturer's Template and a list of 50 Hot Products

Timely updates if Amazon makes changes to its policies and procedures

Is ZonBase Pro Worth It?
While it's never too late to start an Amazon business and take advantage of Amazon's massive growth, new sellers have to play catch-up to be profitable. Choosing an overly saturated product can make it even more difficult to compete with existing sellers. And without the right knowledge about optimizing listings and other processes, new sellers can fall further behind.
By investing in ZonBase Pro, new sellers get a headstart in their Amazon business. You don't have to worry about choosing the wrong product and making losses because the ZonBase team picks your first product for you. Their years of experience guarantee that the product chosen for you will be a winning, home-run product.
But the ZonBase team also believes in teaching a man how to fish, not just giving him a fish. So, in addition to done-for-you services, you're also given coaching and support on how to build and run a successful Amazon business. The ZonBase team of experts guides you in selecting winning products, optimizing product listings, launching your products. boosting your rankings. and more.
Mentoring and guidance from Amazon experts lessen the risks of making mistakes in the initial phase of your business and improves your chances of sustainable, long-term success.


Is ZonBase Pro Legit?
ZonBase Pro is powered by the ZonBase team, which is headed by Kevin David, a successful Amazon seller and renowned thought leader in the eCommerce industry. The members of his team are also successful Amazon sellers with years of experience under their belt. They know their onions and have developed a blueprint for Amazon success that they can replicate for your business.
The legitimacy of ZonBase Pro is further demonstrated by its transparency and honesty about what it takes to build a successful Amazon business. ZonBase Pro does not assure you of unrealistic profits, however, the experience and expertise of the team will certainly increase your chances of success.
What's more, there are tons of stories from people who have gone through the Zonbase Pro program and whose businesses are better for it.
[sc name="zonbase" ][/sc]
ZonBase Pro Success Stories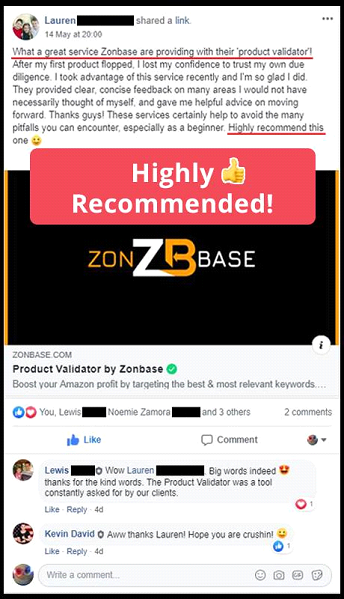 Launching your first product can be very difficult because you are starting from scratch and have no reviews to help your visibility and ranking. But Uthman took advantage of the done-for-you product launch services on Zonbase Pro.  His first product was launched to page one, even with few reviews.
Lauren faced a setback with the first product she launched. To avoid a repeat of her mistakes, she made a wise decision to rely on the expertise of experienced Amazon experts. The ZonBase Pro team provided her with guidance on a subsequent product.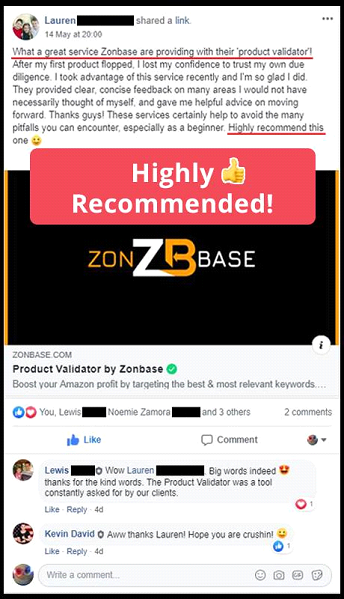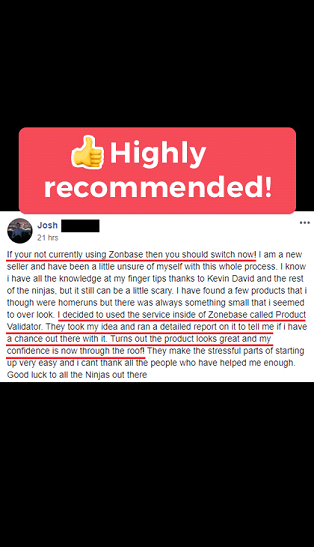 Josh had acquired tons of knowledge from Kevin David, but there was something he lacked: experience. Josh turned to the Zonbase team expert to validate his product. He was able to launch a great first product with a lot of confidence.
Nitin was determined to learn the ropes and put in the work. So, he was always active during the Q&A sessions organized by the ZonBase Pro team. The team answered all his questions about product research, keyword research, listing optimization, and product launches. The support he received from both the ZonBase team and the Facebook Group helped skyrocket his sales.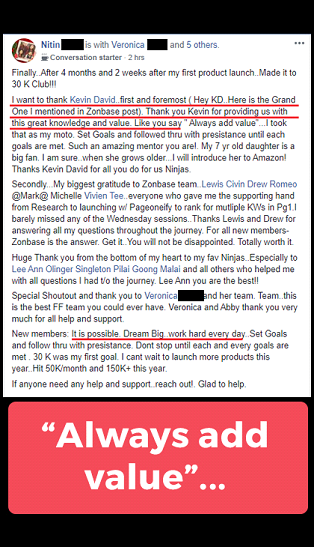 Take Advantage of ZonBase Pro 
Join thousands of sellers who have changed their lives with Zonbase Pro. Sign up today [Include link]
[sc name="zonbase" ][/sc]