Selling products online, especially on Amazon, is a lucrative business venture. With a large customer base of over 300 million active customers (almost 150 million of which are Prime customers), the marketplace is certainly one of the best places to sell your goods (Source: Amazon). However, choosing the right products to sell will largely determine how much money you'll make.
That's why it's important for new sellers to know what the best selling products are.
By looking at the bestselling products on Amazon and analyzing the reasons for their great performance, you can get a good idea of what to sell. Also, understanding why these products sell so well will also help you consistently choose Amazon products that have high sales margins.
In this article, we'll show you how to find the best selling products on Amazon. Keep reading!

How to Find the Best Selling Products on Amazon
When you decide to start selling on Amazon, you should keep in mind that not every product in the top 100 will be profitable. If the category is too competitive, you will not make too much money even if you land in the top 100.
On the flip side, selling a product in the top 100 is always a great idea, especially if the niche is not competitive. If there is low demand and high competition for the product, you can take a big chunk of the sales in that category. However, the top selling products change constantly, so you need to be able to adapt quickly.
Here are a few ways to find the top selling items on Amazon.
Check the Amazon Best seller List
While Amazon doesn't release the exact number of sales generated on its website, they do have a best seller list that displays the bestselling products on Amazon on an hourly basis.
When you go to Amazon's website, you will find a Best Sellers List that is updated hourly. In this list, the bestselling products on Amazon are ranked based on the volume of sales. It displays the top sellers in all the categories on Amazon so that sellers can easily find the top selling products in each category.
Although the Amazon Best Seller List is an excellent resource to discover trending Amazon products, you should know that the list only shows what the best-selling products are on Amazon at the moment. This means that a seemingly popular product may quickly drop in popularity too, especially if it is a seasonal product like Halloween costumes or Christmas-themed gifts.
In the same way, a seemingly low-demand product can become popular in no time. While this list of top selling products might be readily available to everyone, it may not always be reliable for choosing products that will consistently bring in sales. Since the bestseller list is ever changing, it is important for sellers to use product research tools like ZonBase to find the top products at any time.

Use Product Research Tools
Product research tools are great for digging deep into Amazon's database. These tools carry out in-depth market research to discover the highest selling items on Amazon. Not only does a dedicated product research tool have access to extensive sales information, but they also use APIs to extract data that most people wouldn't be able to get on their own. A more reliable and powerful way to discover the highest selling items on Amazon is to use a product search tool like Zonbase's ZonResearch.
With ZonResearch, discovering the most profitable products in every category is so much easier. The tool offers lots of filters and presets that allow you to sift through Amazon's product database and set your preferred criteria.
Filters such as price, reviews, monthly unit sales, and monthly revenue will make it easier for you to laser-focus on your chosen category. It also provides advanced filters that allow you to include or exclude keywords, view product ratings, and even calculate BSR (bestseller rank) for each product option.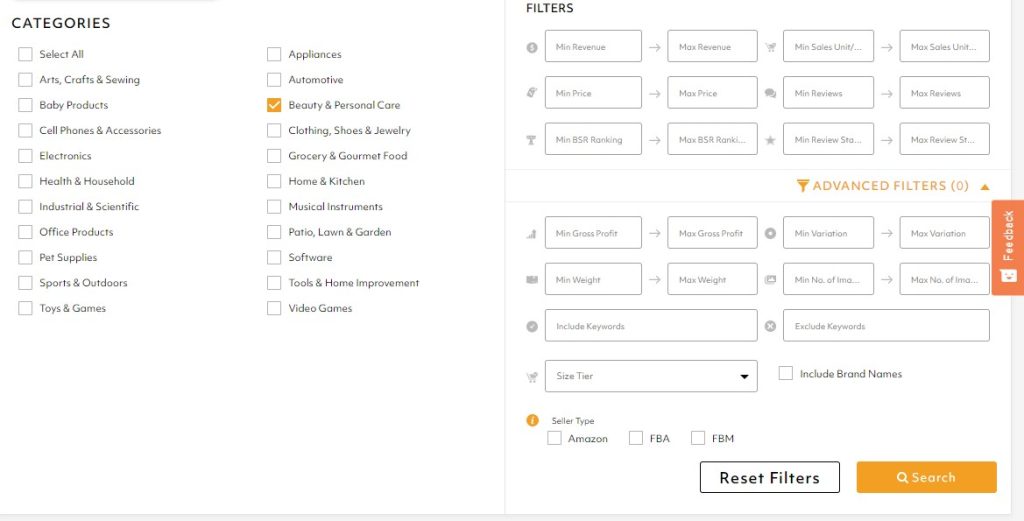 Let us give you an example. For instance, if you want to look for bestselling products with more than 30 sales a day, you can set the monthly unit sales criteria as greater than 900 units a month. If you want to generate a certain amount of revenue each month, you can use the average monthly revenue filter to find products that can generate a monthly revenue that is greater than your specified amount.
For instance, if you want to make over $50,000 every month, you should consider going for specific products with high profit and sales margins that can bring in that amount every month.
Aside from helping you find bestsellers with high profit and sales margins, ZonResearch can also be used to assess the potential revenue for any product option. For example, to find a profitable product option with high demand and low competition, all you have to do is search for a product with good monthly unit sales and revenue but very few reviews. By selling products like this, you can outrank your competitors quickly.
ZonResearch can be used in many different ways, depending on how you prioritize each category's importance. You can focus on price, unit sales, monthly revenue, or even the number of reviews as your anchor for finding an Amazon bestseller that is still untapped. With this tool in your hand, you'll have more options to choose from, and you can start selling products in no time.
Because of its flexibility in using different kinds of search filters to dig deep within each category, using a product search tool like ZonResearch is better than solely relying on Amazon's best sellers list.

Validate your product ideas
Remember earlier when we said that the Amazon Bestseller list is only an indicator of products that are performing well at the moment? Now, what if you want to select products with consistent demand that will drive sales over a long period? How do you go about it?
In our experience, you have to consider the previous performance of the products and observe their sales patterns to make an educated estimate. In other words, you should not just choose seemingly popular items. Instead, you should validate your product options to see if these popular items can be profitable in the long run. A reliable way to find the best products for your store is to use a chrome extension tool like ZonBase.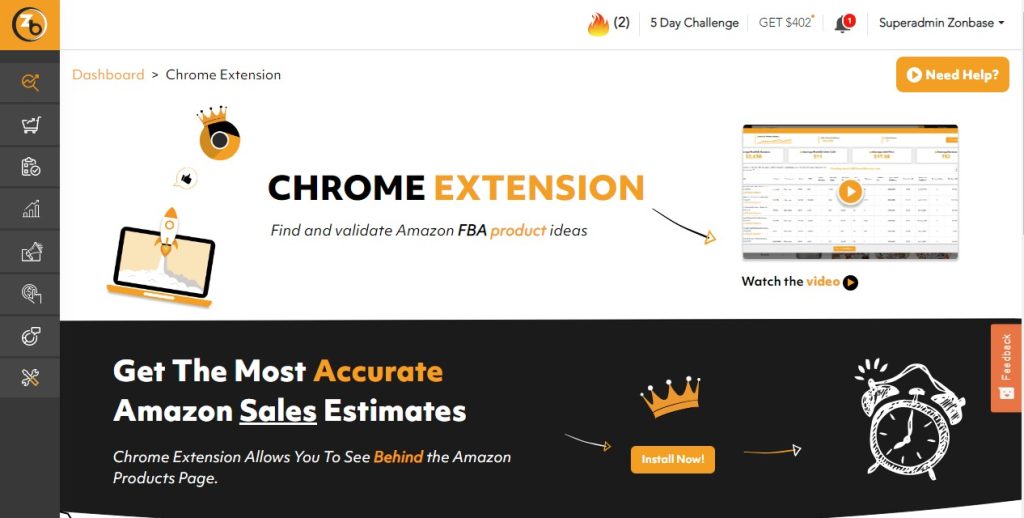 This is where the Zonbase Chrome Extension tool comes in. To find out how well a product has sold in the past, you can use the Zonbase Extension to dig deep within Amazon's database.
This tool lets you see the sales history of a product listed on Amazon. To do this, just take the following steps:
Install the Zonbase Chrome Extension tool.
Now open Amazon.com to search for a product.
As soon as it displays the search results, run the Zonbase Extension. This can be done by clicking the Zonbase icon on the Google Chrome toolbar.
This will allow you to view essential data on page one with just a click.
You can now access real-time information about a product's sales estimates, sales history, etc.
In addition to the sales history, this Chrome Extension shows you relevant product data such as the price, BSR (best seller rank), monthly sales, monthly revenue, rating, and reviews. This gives you a better gauge of the bestselling products on Amazon.
The extension displays information that you will find handy, such as the average unit price, monthly revenues, units sold, and average product reviews. With this tool, you will be able to make a much more accurate estimate of how profitable a product is and, as a result, make a better decision on what to sell.
If you want to ensure that you are making the best data-driven decisions while choosing the bestselling products, using Zonbase's array of Amazon product research tools is your best bet.
Now that you know how to find the highest selling products, you should also find out which categories the majority of profitable products belong to. In other words, some product categories are considered the top of the pack on Amazon; they have been rated as the best categories for new sellers to sell in.
Having a good idea of what the most profitable categories on Amazon are will help you find products that have high sales margins and consistent demand easily. So, what are the most profitable product categories to sell in?
Top 5 Most Profitable Product Categories on Amazon
There are more than 100+ categories and subcategories and over 12 million products in Amazon's catalog. Knowing these top selling products and categories will give you an easier time when it comes to narrowing down your possible choices.
Here are some of the bestselling categories as of 2023:
Books
We're in the 21st century, and yes, everything is already getting digitized-including books! So, it's not surprising that books are classified as one of the most profitable product categories to sell in. Although eBooks and audiobooks have grown in popularity in recent years, physical books are still in high demand. So, physical books; used or new, remain one of the most profitable products for new sellers to sell.
Toys & Games
Hey, it's not just kids who want to have fun. At this point, with more games and consoles starting to cater to adults, gaming and playing have become a constant family activity for many households. Plus, toys & games are usually cheap to acquire, and there's always a hot new toy or game coming out every month.
Remember when the Netflix show, The Queen's Gambit, trended worldwide and people started scrambling to buy chess boards and sets? It has really pushed the sales of chessboards and other board games on the website.
You never know what's going to be the next trendy game in this category, and it might surprise you. So, when it comes to this category, it's always wise to pay attention to the latest trends. If you can jump on the trend while everybody else is not yet on board, you can make a lot of money in the process.

Home & Kitchen
Food is a basic need, so this category will always have a high demand. And while some people may prefer frequenting fast-food stores and restaurants, it is not a surprise that most people still love to cook (especially after the pandemic hit and everyone got stuck inside their homes).
Products like dutch oven, food processors, waffle makers, and blenders are some of the most popular products in this category. Home and kitchen items will also be some of the most popular products based on the high demand.
People cook almost every day, so you can already tell that this category will always generate sales. It is also great for selling seasonal baking and pastry tools for occasions such as Christmas, Halloween, and Thanksgiving.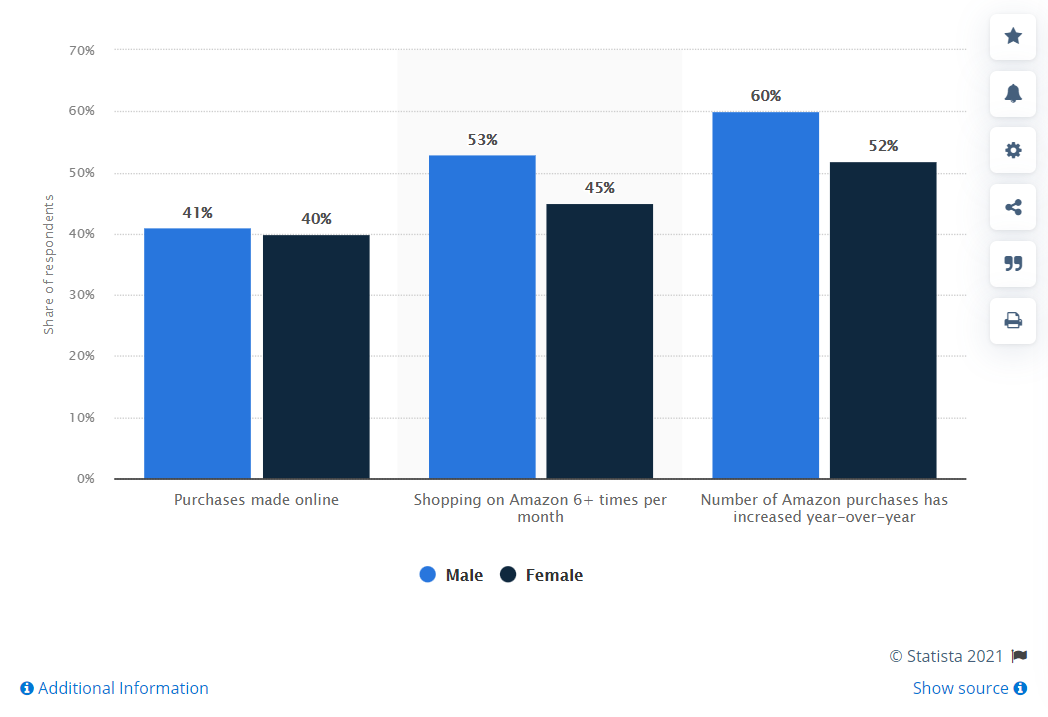 Beauty & Personal Care
Women are big spenders on Amazon (Source: Statista), and most of them spend a lot of time purchasing beauty products. While celebrities will go as far as undergoing cosmetic surgery to rejuvenate their bodies, most regular people simply buy beauty and personal care products. You may think that this category is limited since women are more inclined to buy beauty products, but did you know that self-love applies to everyone and men are starting to pay more attention to grooming too?
Men spend more money than women, in all categories combined. (Source: Statista) So the market has gotten bigger for this category now too. If you want to make consistent sales, you can rely on selling items in this category. But, of course, there's no harm in expanding your business to other niches.
Sports & Outdoors
In recent years, we have seen many sporting trends, such as mountain climbing, fishing, camping, hiking, and others, spike in popularity. And while some people would rather stay at home, others are much more concerned about hitting their fitness goals through workouts and outdoor sports.
This is why sporting and outdoor events will never go out of style. And although many products in this category are heavy, you will have to budget for higher shipping costs. However, you can still find some light and simple products to sell in this category (such as heart rate monitors and smartwatches). By selling items that are light and easy to ship, you can save money on shipping costs, especially if you're handling fulfillment yourself.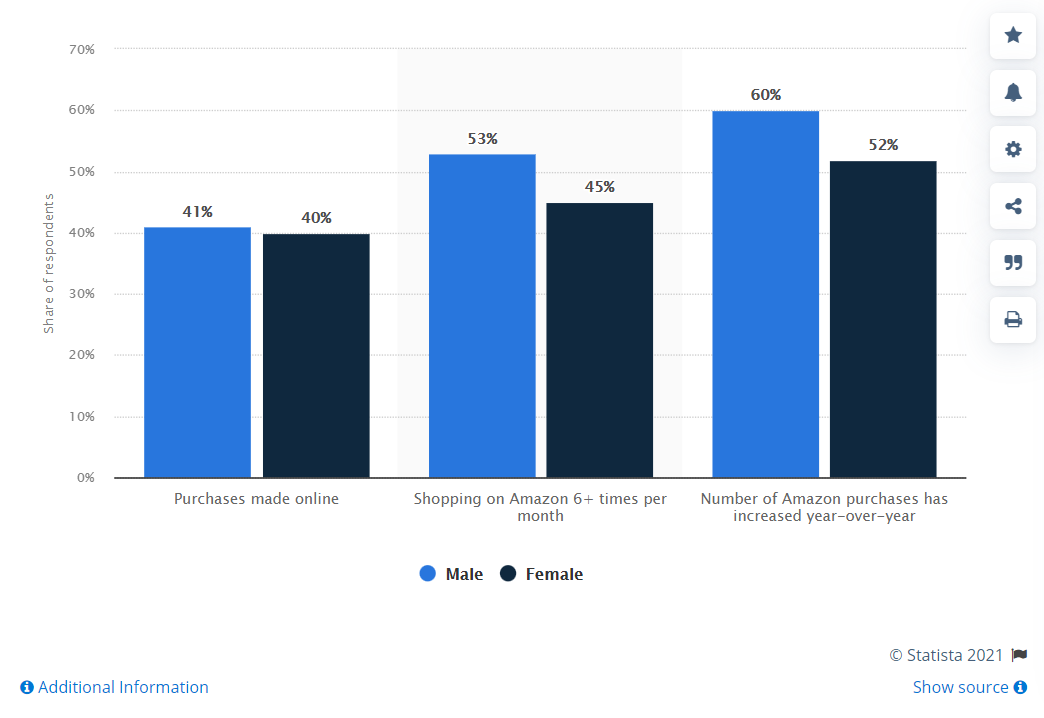 Some products in these categories are more profitable than others because they rake in sales all year round as opposed to specific seasons. But if you want a tip on how to choose the next product for your store, always ask yourself if this category or product is something you'd be interested in. Nothing beats the feeling of selling a product that you also like to use. It will also make it easier for you to be involved and engaged in selling your product.
However, you should not always decide to sell products that you like. It's best to play safe since not all Amazon shoppers are like you. So, you should ensure you dedicate time to in-depth product research and market research. Take time out to research products before deciding to sell them.
Also, try not to get carried away with popular categories, because some of the bestselling products there may be seasonal. What sells well in December because of Christmas may not sell well in June. In other words, when the season passes, some trendy products might also fall off the top spot. If you want consistent sales all year long, be wary of selling items that are seasonal.
To find consistent bestselling items in these top categories, we highly recommend that you use the Zonbase Chrome Extension tool to view the sales trend in the past twelve months.

Conclusion
Amazon is the world's largest online marketplace, beating other competitors like Walmart and Etsy. In the US alone, almost 90% of American households have bought at least once (Source: Oberlo Statistics). This makes Amazon a lucrative sales channel for individuals, SMEs, third-party sellers, and even big brand businesses.
However, the competition is stiff, and you need to know how to find and start selling profitable items if you want to make some money. Knowing how to find the most popular products by looking at trends, best seller lists and sales history over the past year will increase your chances of being profitable on Amazon.
Amazon seller tools like ZonBase can also give you much-needed insight into the top selling items in your category. Use ZonBase to discover more information and data before launching your products. When you automate your product research process, finding the bestselling products becomes easier, and you can do it in less time.
Once you find a top seller, get to work quickly; fix your prices competitively, and run aggressive promotions to increase your reach. Try to stay within the market price, because if your products are too expensive, Amazon shoppers will most likely opt for more affordable options. Don't forget to take things one step at a time.
Hopefully, this article has helped you understand how to easily find the bestselling products on Amazon. Remember, there's no one way to success on Amazon, so you must be open to reviewing your product research strategies when necessary. If you are interested in seeing how Zonbase can help you run a successful, hands-free Amazon business, you can also sign up for Zonbase today and try it out for free for 7 days.