Did you come upon this article because you heard that many sellers are making money on Amazon? Then you are just in the perfect spot. To sell on Amazon, you will have to choose a selling plan or create a seller account. In this post, we'll be looking to discuss the differences between a professional and an individual selling plan or seller account on Amazon. With almost 300 million registered customers, this website is probably one of the biggest e-commerce sites in the world. If you are a third-party seller, it only makes sense that you try to get a chunk of this market too.
When you first make up your mind about being an Amazon seller, the first question you have to ask is this. Do you want to open a professional or an individual seller account on Amazon? Of course, Amazon business account benefits differ from plan to plan. But no matter what, you still have to analyze both sides of the coin before jumping in. That is if you want to make an informed decision regarding which path you want to go.
Before choosing an Amazon business account, the decisive factor should be to weigh the Amazon business account benefits compared to its cost. As a seller, there are many cost differences between a professional and an individual seller account on Amazon. So, in this article, we have covered the major aspects of being a third-party seller. From how to set up your seller account to choosing the products to sell. We'll try to guide you every step of the way to help you choose the right Amazon business account.
Ready now? Then let's jump straight to it.
Professional Versus Individual Seller Account.
When starting, you have two choices: professional vs individual seller account on Amazon. Each one has pros and cons, and we will discuss some of them as we go on. However, the most basic difference between the two aside from the price is the features available. In an individual seller account on Amazon, you don't have as many features available to you.
Upon starting, you have to choose among the two options. AMZ prefers a professional over an individual account. Not only because it offers more features, but because they can sell you more service with it. That is the main reason a website like AMZ demands a certain fee for a professional user. On an individual seller account on Amazon, you have fewer features and services available to you.
But remember, whatever account you are choosing, you want to start a business. And you have to put in an equal amount of effort for selling on Amazon.
You must analyze a lot of the things that you must consider while starting your business. Keeping all other things intact, you also have to make sure that you are getting a separate checking account. You also need to keep saving all your tracking and receipts accordingly.

Individual Selling Plan
So you want to start selling but you are not sure what to sell yet? You just want to test the waters to see if you like it, but don't want to commit fully? Then the individual selling plan is perfect for you. In other words, the individual selling plan is best suited for those who don't want to go far in the Amazon business and just want to start small.
Creating it is free but there is a catch. You have to pay an additional fee of $0.99 per sale that you make in your store. The fee that AMZ takes from this is non-negotiable. This fee is independent and is in addition to referral fees & variable closing fees that are charged irrespective of your account type.
Also, there is a restriction of 40 items to be sold per month under the individual selling plan. That means, if you are going to sell over 40 items, you have to sign up as a professional one. However, if you are still testing the waters, there is little chance you'd go over the limit anyway.
Apart from the fees that you pay, there are other significant factors that you should consider before signing up for an Individual seller account on Amazon. Some of them are the following:
Disadvantages of Individual Seller Account on Amazon
You are not eligible for the Buy Box if you opt for the Individual Amazon seller account. The Buy Box is a feature where your products can automatically get added to card by customers. Without this, your sales can be lower.
However, if you choose to sell your goods under Amazon FBA you will still be eligible to compete for the Buy Box.
Third-party services like Scoutify or Repricers and Inventory Lab are forbidden for the individual account.
Restricted categories are restricted to vendors who use an Individual Amazon seller account. There are categories in AMZ where you need to be approved before you are given permission to sell. However, with an individual Amazon seller account, you won't have access to it.
You need to pay $0.99 for every sale that you make. This might not seem like much, but it also adds up.
Again, listing under both categories of third-party vendors is totally free. But you only have to pay a nominal fee when you sell your products.
Professional Account
Once you have outgrown your account on Amazon, signing up for a professional one is your next bet. Unlike the limited capabilities available to a personal user, this one has more services and features available. In short, if you want to start making big money on the platform, this is the way to go.
The professional account is the one that Amazon vendors around the world follow and recommend. If you are under a professional account, you are at a lot more advantage than having an individual account. In addition to all the other factors, you are not kept under a threshold. There is no more policy of selling less than 40 items per month when you use this kind of account.
It will cost you $39.99 per month to maintain an Amazon professional account. However, the amount is recovered at the time of creating your account.
Advantages of Professional Account
There are a lot of benefits to using a professional account. Here are some of the advantages:
You are eligible to compete and win the Buy Box. This means you have more chances to make sales and increase your revenues compared to a personal account.
Get access to more advanced reports. This will help you understand key points on how to increase your revenue.
You can apply to sell in restricted product categories. This gives you a wider avenue to find your niche product.
Ability to create and add new product listing pages.
Using AMZ Seller Central, you can use a spreadsheet to upload multiple products at a time. If you are a vendor who is interested in selling thousands of products at a time, uploading through a spreadsheet saves so much time.
And last but not the least, you can use third-party services like Inventory Lab, Scoutify & Repricers.
As you can see, the benefits of signing up for a professional account far outweigh its costs. Think of it as an investment like planting a seed. The fruits will not bear fruit overnight. But over time, you will reap the benefits of it as long as you keep watering it. Similarly, investing in a professional account vs an individual seller account on Amazon is the same.
It is also important to know that you can always upgrade your account to a professional account whenever you want to. You can always start with an individual account and upgrade it to a professional once your listing exceeds 40 per month.
You may not feel it urgent to upgrade your account right now but every seller should aim for the highest sales metrics. So it is always good to be prepared for upgrading your accounts to professional accounts.
Can a Professional Account Keep You Motivated?
Yes, the more you sell the more you save in the incremental cost. All the articles above 40 are always reducing your cost. That is the main reason why a professional holder will aim to hit a high target in amazon sales units.
You can sell 500 products and everything on top of 40 products is a bonus to you. Just in case of cost-saving for the fee charged.
Benefits of Professional Seller Account at a Glance!
As the deeper we go, the article is more inclined to go for a professional account. And why shouldn't it be? It has several benefits over the individual account. Here are some of the advantages that you can enjoy by having a professional account:
Chance to win the Buy Box: You can't win the Buy Box if you aren't a professional seller. So you want to be amongst the customers and boost your sales? You have to make your place in the Buy Box first. And for that, a professional account is a must.
Extensive cost-saving: In an ideal scenario, the sales cost goes up when you sell more items. But Amazon has provided an extraordinary where you can sell more than 40 products and save 99 cents on each item sold. The higher you sell, the lower your cost.
Use third-party services to upload your listings: Services like inventory lab will help you to make your work more efficient. Like printing your labels and batch list your products. This is a gift typically in cases where you have to manually enter all the listings one at a time.
Ability to sell restricted categories items: Restricted categories like groceries and topical products are not allowed to individual users. If you want to have the benefit of selling these items you must have a professional account. Click here to find the full list of products that requires approval.
There are some prominent differences between a professional and an individual seller. But, as you can see, the benefits of having a professional user outweigh the disadvantages. It's always a win-win situation when you go for a professional user account.
Things to Consider Before Choosing an Amazon Seller Account
Choosing a seller plan may be difficult, especially if you're more concerned about saving costs. However, the following questions will help you make a final decision.
Do you want to sell in restricted product categories?
This is one of the most prominent benefits of using a professional seller account. Using a professional account gives you access to sell in 10 product categories that are considered off-limits for individual sellers, this is in addition to the other product categories that individual sellers can also sell in.
Do you intend to sell more than 40 products in a month?
If you plan to run your business full-time, you will most likely sell more than 40 products in a month but if you only want to run it as a side hustle, you may not sell up to 40 items in a month. A professional plan will work best for you if you plan to sell more than 40 items in a month.
Do you want access to advanced promotional tools?
Professional sellers have access to Amazon advertising tools like sponsored ads and pay-per-click marketing. These tools will help you improve your reach and boost your conversions, so if you want to have access to these advanced tools, a professional seller plan would be best for you.

Choosing Your Product
So now you know the advantages of choosing a professional plan as opposed to an individual selling plan, right? However, there are still many tasks that you have to do to succeed as a vendor. One of which is choosing the winning products to sell in your store, which can be quite challenging.
The ability to choose the right winning products can determine the amount of revenue and income you can make. Most of the time, selling trendy and low-competition but high-demand products is optimal. This will give you higher margins of profits, but finding products like this is never easy. In this regard, access to third-party software tools such as Zonbase can help you get over the hump.
Just by observing the data from the bestselling products on Amazon via Bestseller Ranks (BSR), it is easy to tell what will sell. You can acquire a good idea of the products that sell well in a single glance. However, you need to truly understand the reasons why these products are successful and why they sell so well. This requires going deep inside AMZ database. This is why third-party software tools are necessary for this task.
Amazon Seller Taxes
Every business pays taxes and regardless of the Amazon business account you choose to use, you will have to remit a certain amount in taxes. The concept of taxes may be a bit confusing for AMZ sellers, however, you will need to understand how a sales tax nexus works, and what makes a product taxable.
Learn more about Amazon seller taxes
Although every seller is expected to pay tax, there are exceptions and these exceptions only apply under the Amazon tax exemption program. So, what is the Amazon tax exemption program?
For context, Amazon has put together a clear summary of the situations where the exemptions apply on the Amazon tax exemption program.
Learn more about the Amazon tax exemption program
Zonbase – Best Amazon Seller Tool For You
Zonbase is known as the best-value AMZ software tool in the market today. This amazing and powerful third-party tool can give you the data you need to find the bestselling products on Amazon.
By giving you access to 13+ tools and services, you will easily uncover the best products that you can sell on AMZ. Don't believe us? Below are examples of two of the most potent and popular tools of Zonbase.
Zonresearch
Zonresearch is a research tool that assists sellers in finding the winning products to sell. To use Zonresearch, you just select a bunch of categories where you want to sell. Next, simply add filters like reviews, monthly sales, price, and revenue. Zonresearch will now start to display the products that fit your criteria.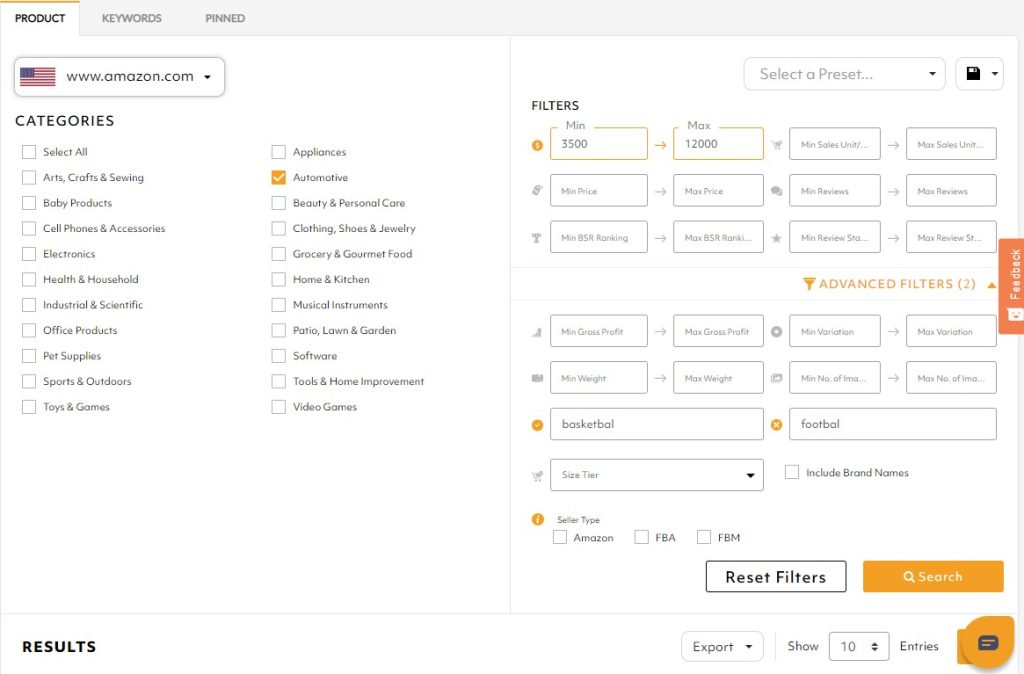 Zonbase Chrome Extension Tool
So you hope to discover which winning products can consistently sell over time? We are not talking about only one season but over an extended time? Fueling data-driven decisions, the Zonbase Chrome Extension tool will give you all the recent sales data you need.
To use the Zonbase Chrome Extension tool, just do the following steps:
Install Zonbase's Chrome Extension tool.
Open Amazon.com on your browser.
Search for one product that is closely related and similar to the item you want to sell.
Wait for AMZ to open the product page.
As soon as AMZ displays the results, turn on the Zonbase Extension. This can be done by clicking the Zonbase icon which is found on the side of your toolbar.
Now you'll see and access the real-time information and data about important figures. These are products, history of sales, monthly sales estimate, etc.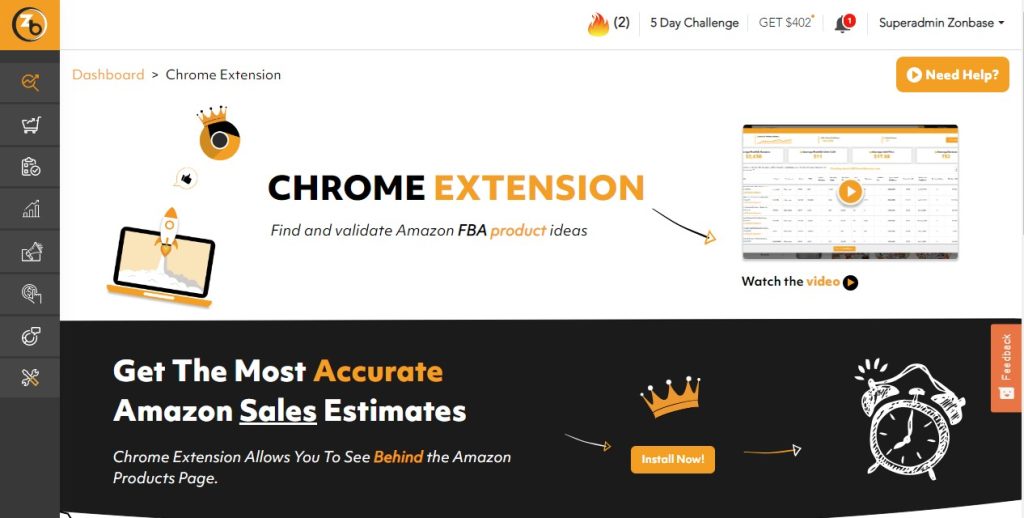 Conclusion
As a seller, being able to use third-party software tools is super important. This is the competitive edge that you need to triumph over your competition. Seller software such as Zonbase can make researching products easier. Because of this, you'll be able to have more time to handle other important aspects of your business. More importantly, it gives you access to essential information that is required to make quality, data-driven decisions.
Zonbase is a top-tier, high-performance software that you need. If you want to be a top professional seller on AMZ, this is a must. An individual seller account on Amazon doesn't have access to this type of software.
So, if you want to be a top professional seller on Amazon right now, you should check Zonbase. If you want to see how it works, sign up for a free trial today. See for yourself how it can turn your store into a successful one.