When you want to start selling on the Amazon marketplace, you may think that the first step is to create a Seller Central account. But that's putting the cart before the horse.

The first step is to decide what to sell on Amazon FBA. There are many factors that differentiate successful sellers from struggling ones, but the most important factor is the kind of products they sell.
Choosing what to sell on Amazon FBA can be difficult, especially for sellers who are new to the marketplace. Millions of products are sold on the Amazon marketplace. How can you tell which one will be a hit or not?
That's what this article will cover. We will explain the criteria to look out for when researching potential products to sell on Amazon FBA.
What is Amazon FBA?
FBA (Fulfillment by Amazon) is a fulfillment service Amazon renders to third-party sellers. Third-party sellers send their inventory to a fulfillment center. Then Amazon handles storage, picking, packing, and shipping orders on their behalf. Amz also provides customer service and processes returns after every transaction.
Sellers can outsource these major processes to Amz. This frees up time for them to focus on other priorities. With Amazon FBA, sellers still have to decide what products to sell on Amazon FBA.
Choosing what products to sell on Amazon FBA goes beyond your taste or interest. Because, what if a majority of customers do not share your preferences?
The customer is the most important factor. So, you have to sell a product appealing to a large segment of Amz's customer base. And you know what influences customers the most when shopping? Low prices.
In other words, to make a profit, consider in-demand and inexpensive products. To find products like this, pay attention to certain product criteria. Then conduct thorough product research with Amazon seller tools.
So let's take a look at some of the product criteria you should consider when choosing what products to sell on Amazon FBA.
What to Sell on Amazon FBA: Key Product Criteria
As we mentioned, price is the most important factor. The price of your product must be within your audience's budget while giving you a good profit margin. In this section, we'll elaborate on the price issue and other crucial criteria you should note.
Selling Price Should Be Between $20 and $50
Avoid selling items on Amazon for lower than $20. Products like this are not likely to make much profit, especially when you add selling fees. You will need to make a lot of sales to get a decent profit. This may be difficult because some competitors will offer the same low-cost product. On the other hand, if your product has a high selling price, you'll chase off potential buyers.
For healthy profit margins, consider pricing your product between $20 and $50. Customers will likely buy items within this price range without overthinking it. So, you're sure to generate a large sales volume.
Pick Small and Lightweight Products
New sellers often wonder how to buy products to sell on Amazon. One thing you should remember when sourcing products for your store is that small and lightweight items are the best for you. Amazon FBA is more suitable for small and lightweight products. Large items take up space, and Amz charges you Amazon FBA fees based on how much space your items take. This also depends on the size and weight of the product. Large and heavy products take up space. So if the items don't end up selling quickly, you'll incur expensive storage fees.
The product's size and weight also determine how much your shipping costs will be. This is because fulfillment fees are calculated with these factors. The heavier and bigger your items, the higher your shipping costs.

Choose a Simple Product
If you're a new seller, it's better to choose simple products that are not likely to cause setbacks. Books are a good example.
Avoid products with many complicated parts, or products that could have potential defects. These kinds of products give rise to customer complaints. You should also avoid products in restricted categories. And products that need a lot of paperwork and certifications.
Sell Products Under Your Private Label
There are many business models for sellers, but the most profitable are private labels. Private labeling is the process of sourcing existing goods from a manufacturer/supplier. Then sell them under your private brand, that is, your unique logo, design, and packaging. These products are referred to as private label products, and if your goal is to build a brand on Amazon, then you should consider selling private label products.
Selling your own branded products allows you to differentiate yourself from your competitors. And since you have complete control over price and quality, there's more room for bigger profit margins.
Select Non-Seasonal Products
You'll need to select items that will drive consistent sales year-round. This means you should steer clear of items only in demand during holidays. And items that can only be used during a particular season, e.g., summer.
As your business grows, you can expand your inventory to include seasonal items.
Choose a Product that Meets Customer Needs
Customers rarely browse online the way one would while walking through a mall. They are often clear about what they want and search for products that can meet a specific need. Pay attention to customers' needs when deciding what to sell on Amazon FBA. Then choose a suitable product. Avoid selling items on Amazon if there's no demand for them.
Find a niche
It's not enough to choose items within a profitable category. You should dig deeper into sub-categories to find a niche that caters to a unique set of people. Niches have less competition and high-profit potential.
Related: Best software for product research
Profitable Product Categories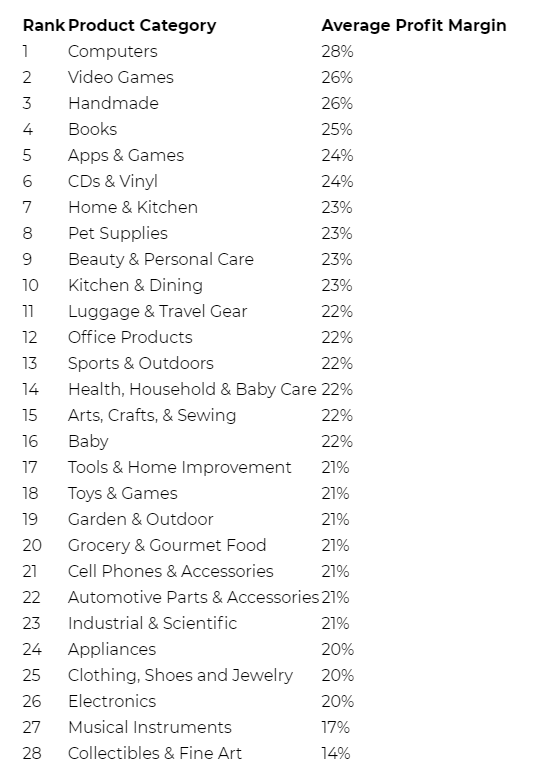 Now that we've looked at product criteria, what are some profitable and popular categories you can sell in?
Toys & Games
Home & Kitchen
Books
Sporting & Outdoor
Baby Products
Beauty & Personal Care
Clothing & Accessories
Electronics
Related: Best-selling product categories on Amazon
You may wonder, "if these categories are popular, they must be saturated." And you are right – the competition in these categories is fierce. This is why you need to follow the criteria we outlined above. Apart from competitive prices, find a niche that targets a specific demographic. There, demand will be high and competition low.
Product Categories to Avoid
Gadgets and Home Appliances, like cameras and paintings, may not be the best choice for you.
These are the most problematic in the long run. Because of the nature of such items, there is a high level of liability and quality assurance. As well as returns, and customer reviews. Choose items without shipping and manufacturing complications.
Also, avoid products directly into or on the body. They include foods, lotions, creams, and supplements. These products have the potential to be harmful. You should avoid such products.
Nonetheless, categories such as shoes and clothing are also noteworthy.
Avoid choosing saturated niches if you want to sell private-label products. If too many popular brands exist in a category, it may be difficult for you to scale your business. The reason for this is that customers tend to prefer well-known brands to those that are new.
How To Find Profitable Products: 7 Helpful Tips
It's not enough to know what to look out for before choosing an item. The best way to find what to sell on Amazon FBA is to develop an effective product research strategy. Here's how to find profitable products on Amazon:
Use Amazon's Bestseller List
Even if you're very good at guessing, you may find it difficult to find profitable products. This is where the Bestsellers list comes into play.
No one knows the profitable categories better than the search engine itself. The Amazon Bestsellers list contains the bestselling products on Amz. These products are ranked based on their performance. Frequently bought products are usually at the top of the list.
The list also contains in-depth information about every item listed on the marketplace. Amz's BSR is a great tool for sellers. Especially those who are interested in finding the bestselling categories on Amz.
Check Out Your Competitors
If you have already chosen a category, you still have to discover specific items. To do this, check out your competitors. See what products they're selling and how quickly they sell out. Competitive analysis is easier when you're using product research tools. Also, carry out keyword research to generate relevant keywords for your listings. Take cues from your competitors' product listings to see what keywords they rank for. Consider using AMZ software for product research and keyword research.
Check out New Additions and Trending Products
Discover top-selling items on Amz. This list contains the latest products on Amz. Especially those that are performing well. Products from this list sell well even though they were just launched.
When new products are launched, there is a rave about them. You can make a lot of money if you capitalize on the excitement. Also, be on the lookout for trending products. If it is trending, then customers want it. And if you have it, they will buy it.
Take Note of The Most Gifted Items
Always find out which items are the most gifted in your desired category. If a product is usually bought as a gift, then it is likely to be in demand both in and out of season.
You may find a good product with excellent profit margins and low competition. This approach will work for almost every seller, including prospective private label sellers.
Explore the 'Frequently Bought Together' Category
When you get a winning product idea, don't just scroll through one product detail page and move on. The frequently bought section is a gold mine that most sellers have not discovered yet. This process allows you to gain a better understanding of your potential customers. It is a reflection of their thinking and buying process. Use the results from this section to research and create a unique product package.
Check Out Other Marketplaces
When researching product opportunities, eBay can be an excellent resource, even if you are selling on Amz. There is a good chance that an item will sell well there if it sells well on eBay!
It's a great way to discover in-demand products you can source and sell on Amz. Remember that not all these products will fit your Amazon product criteria. But you can use this to gain an idea of what products have a possibility for sales.
AliExpress and Alibaba are mostly used for product sourcing. But you should not overlook the fact that they can help your research process. Filter by category. Then find out which products have the highest sales results and ratings.
Why do we recommend that you use these sites? The reason is that they are product sourcing websites. What this means is that their audience comprises mainly sellers. So if a product has high sales numbers on either of these platforms, then it is in demand.
Use A Product Research Tool
One question that new sellers often ask is, "what is the best thing to sell on Amazon?". There are many top-selling items on Amazon, and if you want to build a profitable business, you'll have to find them. However, you can't devote all your time to finding Amz's best-selling products as a seller. There are many things you need to do to succeed. You can use an Amazon seller tool to automate your product research process.
What is the best thing to sell on Amazon? You'll have many options when you use a product research tool. But you should understand the statistics behind each product before investing, so:
How much does it typically sell each month?
How saturated is the market for it?
Is it a good buy? What are its average price and average reviews?
How much margin can you expect from your sales?
Are its sales improving or declining?
Consider using a third-party tool that shows you this information. Product search tools will bring you all the profitable products at the snap of a finger. Many options are available on the market, and it may be difficult to pick a perfect tool.
ZonBase is the best Amz software to execute this task well. With ZonBase, sellers have access to a wide range of tools. These tools are useful for researching products, and keywords, and optimizing their listings. So if you have always wondered how to find the top-selling items on Amazon, you certainly know how to do that now.

ZonBase Product Research Tools
You can find profitable niches with the ZonResearch tool from ZonBase. With ZonResearch, you can set your product criteria using filters, enabling you to find high-demand, low-competition products in minutes. It also comes with a preset feature. This allows you to search based on your preferences and save them for later use.
ZonBase's Hot Products tool generates product ideas using an Amz seller database. The database is accurate, up-to-date, and features important information. It also gives you access to sales trends and reviews. And if you're wondering how to buy products to sell on Amazon, you will find this tool useful. Besides finding profitable product suggestions, you can also access a list of suppliers.
With this tool, you can narrow down your product ideas. ZonBase's product validator leverages the expertise of Amz experts. This is to bring sellers profitable options to scale their business.
To ensure that your final product selection is the right one, you can spy on your competitors using this tool. Using this extension, you can conduct thorough research on any product you want to sell. This tool works hand-in-hand with the Reverse ASIN tool for competitive analysis.
Conclusion
Deciding what products to sell on Amazon FBA is important. This is because the product you choose determines your success.
In researching profitable product opportunities, pick products using the above criteria. Make sure your product is competitively priced. Choose high-quality, and target a niche within a profitable category.
In addition to these tips, you need to use Amz seller software tools like Zonbase. The many product research tools on Zonbase will help you find products that will set you up for success.
Now you know what to sell on Amazon FBA and how to choose what to sell on Amazon FBA. Good luck with your journey!