Selling on Amazon can be quite daunting at first. There is so much to learn and figure out, and it can be intimidating if you don't have a lot of experience. But if you want to succeed as an online entrepreneur, adapting to this marketplace is something you've got to learn to do.
With over 300 million registered subscribers, Amazon is without a doubt one of the biggest online marketplaces in the world. Sellers who have an established presence on this platform will undoubtedly put themselves in a position to succeed.
And if you want to join the marketplace and start growing as a global e-commerce leader, then you are on the right page. Read this comprehensive guide to learn how to start selling on Amazon by finding winning products. In this article, we will also discuss important techniques on how to make your e-commerce business profitable.
Let's get right into it.
How to Start Selling on Amazon: 5 Easy Steps
Learning how to sell on Amazon is seen as a challenging task. However, it's possible to join the league of top sellers on Amazon if you follow certain blueprints and processes. Setting up an Amazon business is not as difficult as it is made to seem. The hard part is scaling your business to profitability, but even that is not so difficult if you have the right products and optimized listings.
If you follow the steps listed below, you will be able to set up and get your business running.
Step 1: Create An Amazon Seller Account
Creating an Amazon account is the first step to joining the Amazon marketplace. While setting up your Amazon seller account, you will have to choose a seller plan. There are two types of Amazon accounts: the individual seller account and the professional seller account.
Individual Seller Plan: You can opt for the individual seller plan if you wish to sell less than 40 items per month. If you opt for this plan, you'll have to pay a $0.99 per item fee plus some other transaction fees.
Professional Seller Plan: The professional seller plan is ideal if you want to sell more than 40 items per month. This plan would require you to pay a monthly flat rate fee of about $39.99 regardless of the number of items you sell.
Also note that if you are registered in an individual selling account, you won't be allowed to sell restricted items. Amazon sellers who intend to sell in restricted categories on Amazon, should sign up for a professional account.
Related: How to choose between an individual and professional seller account.
Step 2: Choose a Business Model
After creating a seller account, the next step to joining the Amazon marketplace is to choose a suitable business model. AMZN offers different business models and there's one for every seller; you'll definitely find one that suits you. Here are the different business models for intending Amazon sellers to choose from.
Retail arbitrage: This business model involves sourcing products from physical or online retail stores and then reselling them on Amazon at a markup price. Selling retail arbitrage on Amazon requires very minimal start-up costs and if you're on a budget, it's a great option for you.
Dropshipping: This is not a regular business model that requires you to carry out product research or product sourcing. As a dropshipper, all you have to do is to get customers to place orders while you forward the orders to suppliers and have them ship directly to the customers.
Private Label: Would you rather leverage AMZN's vast customer base to build your own brand? If yes, then this model is perfect for you. If you decide to set up a private label business, you'll have to find a profitable product or niche first. Then, send the product details to a trusted manufacturer to manufacture your own products for you in your brand's name.
Handmade: If you have creative abilities and do not want to put them on hold, you can consider making money from them instead. Sign up for Amazon Handmade to create handcrafted items and sell them on AMZN for a profit. No upfront fees or capital are required, time is the only investment you'll have to make.
Wholesale: This business model is the opposite of the retail arbitrage model. It involves purchasing products in bulk from suppliers and selling them in smaller quantities to retailers or retail arbitrage sellers.
When it comes to starting an eCommerce business, it never follows a one-size-fits-all approach. So, of course, you can choose any of these business models and still sell on AMZN. But before choosing a business model, you should consider your budget and business goals.
Plus, selling on Amazon is not entirely free, especially if you want to build your own brand or you decide to sell through Amazon FBA. We'll talk about the costs involved in selling on Amazon soon.
Step 3: Find a Profitable Product
Building a profitable business does not end at choosing a business model. You also have to choose the right products for your own online store. There are millions of products in Amazon's catalog. So, if you goal is to make a profit, you can't just sell any random product.
For instance, you can't go wrong selling clothes on Amazon. And there are many other profitable product categories that you can sell in. Here's a sneak peek.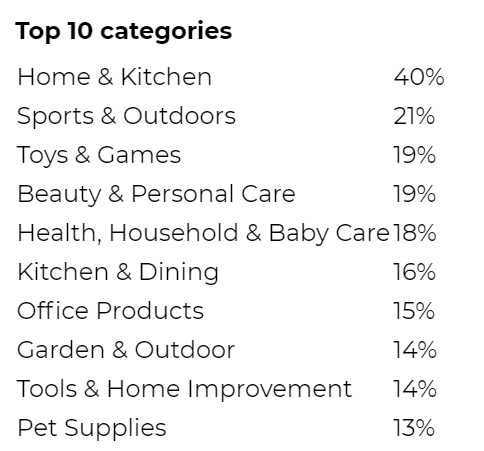 Related: How to find what to sell on Amazon
There are many product options, and the selection process may get overwhelming at some point. The best way to find the hottest products in any category is to use Amazon software.
ZonBase offers an effective set of product research tools to help you find the best-selling products on Amazon. Here's how you can find your first product using ZonResearch; one of ZonBase's product research tools.
Log in to your ZonBase account and open the ZonResearch tool from your dashboard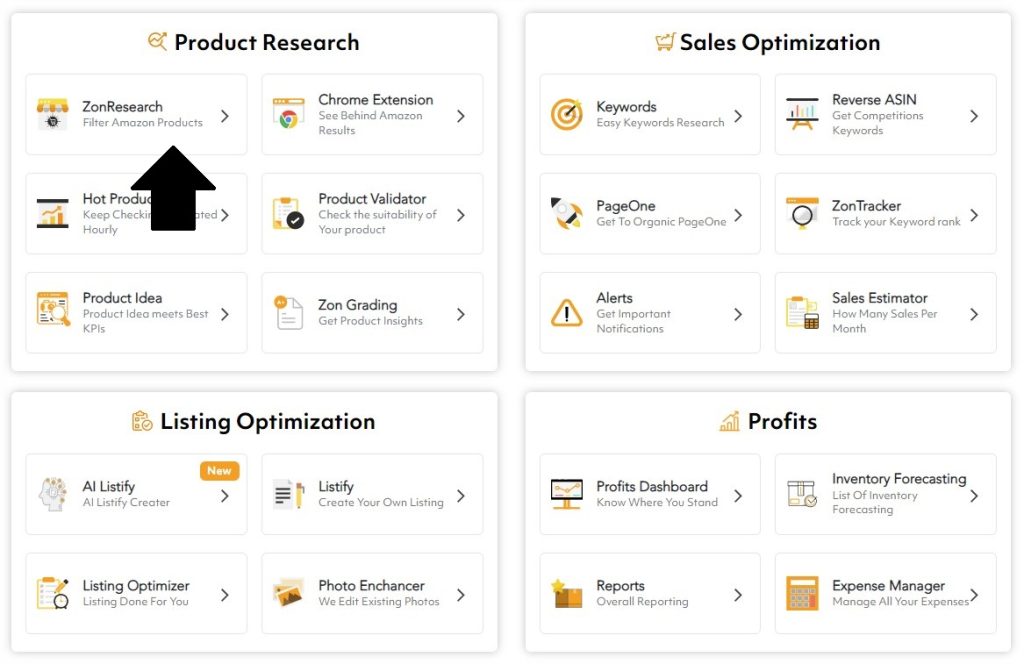 Select your marketplace, choose your preferred categories (you can select multiple categories). Then, set the filters based on your specifications.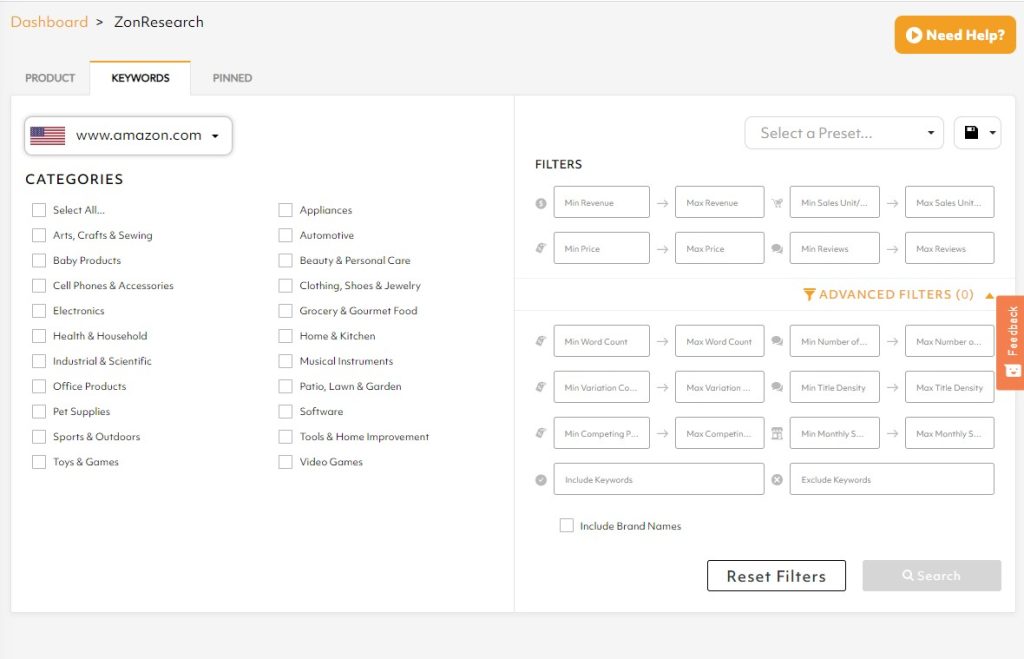 Click the "Search" button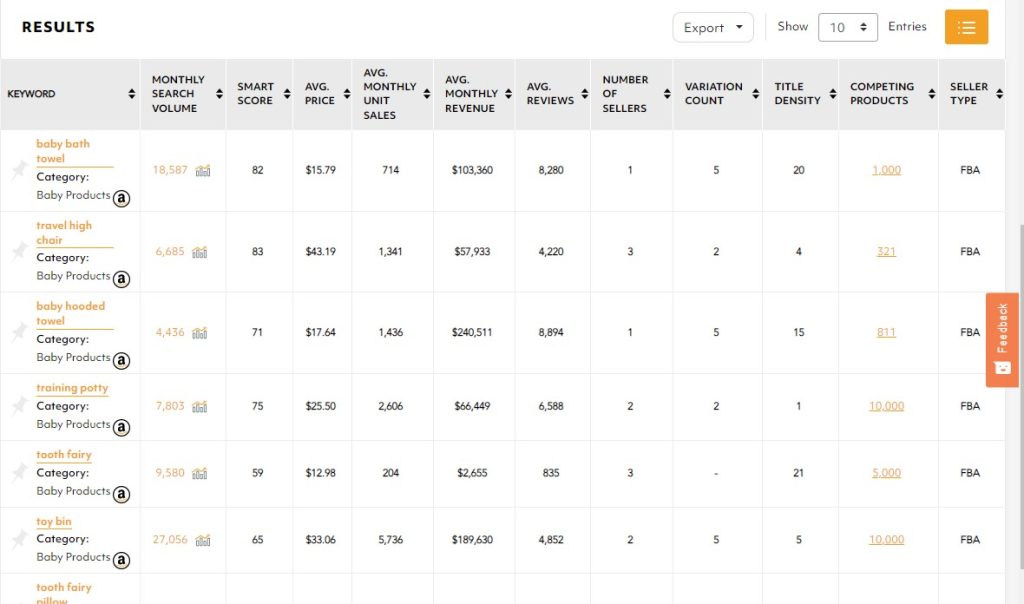 Once you hit the search button, ZonResearch pulls up an extensive list of the most profitable items in your preferred categories.
Apart from ZonResearch, ZonBase also offers a Chrome extension tool to help you validate your product choices.
Step 4: List Your Products
Once you get your seller account ready, you now launch your own online store and get into the market officially. Without product listings, your business is just an incomplete sketch on paper. Product listings or product pages are the only way to showcase the items you want to sell. With a product detail page, you can reach your target audience, show them what you have to offer, and get them to buy from you.
You can launch your own online store and put up your product detail page if you follow the steps listed below:
Sign in to Amazon Seller Central: Log in to your account and click on the "Add a product" n the inventory drop-down menu.
Add a New Product or Select Existing Product: Here, you'll have to specify whether you're uploading a product that already exists in Amazon's catalog or a new product. Click on "I'm adding a product not sold on Amazon" if you want to sell something that isn't already available on Amazon.
Select your product category or sub-category: If your product is not already listed on Amazon, you will be redirected to a page where you'll have to select your product category. The best course of action, if you think your product could fit into two different categories, is to look at where the current sellers are listed. Check out their current daily sales and revenue. Then, go for the category with the most sales.
Fill out your product detail page: After choosing a category, you'll have to enter the important information into your product detail page. There are different tabs under this step. The first one requires you to fill in vital information. This includes your product name, brand name, manufacturer part number, package quantity, product id, and more.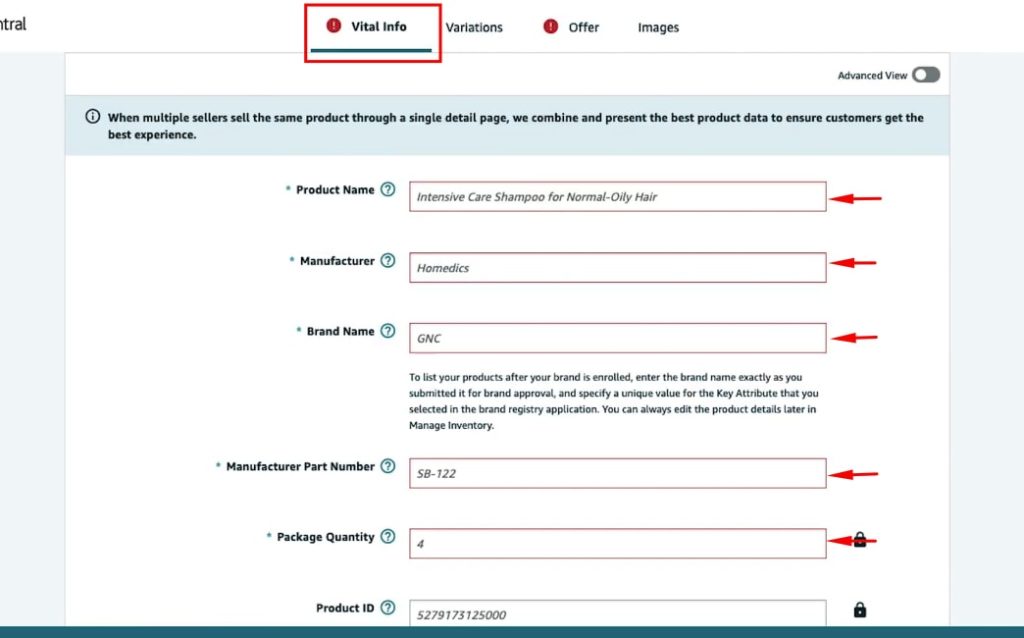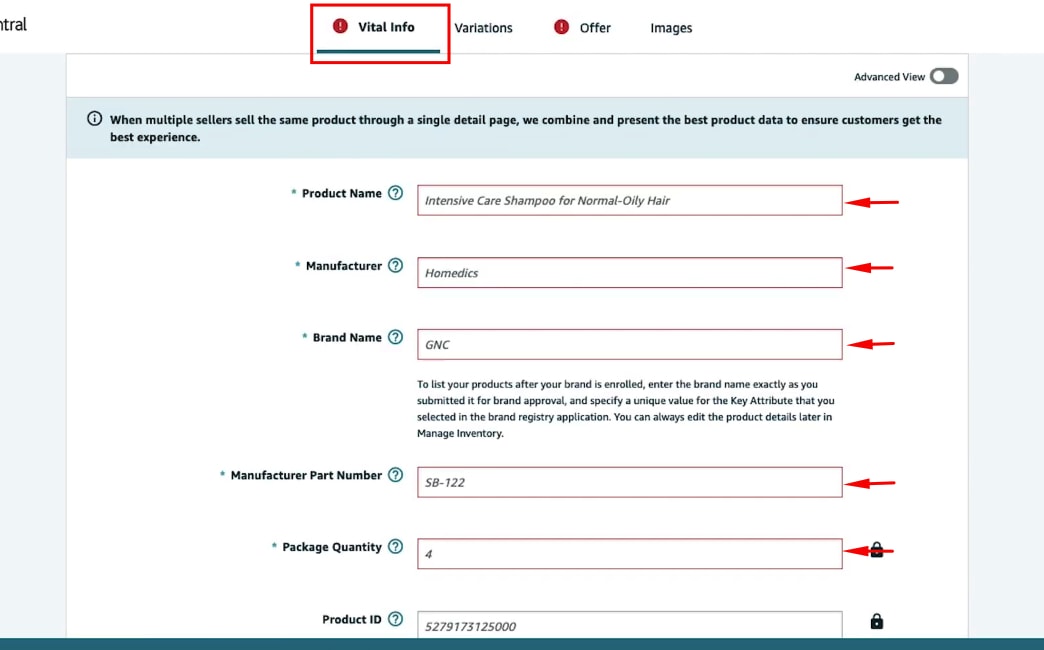 In the event that you sell the same product in various iterations. You can select versions based on the size, color, or items. You can list child ASINs under a parent ASIN that you generate.

Choose a Fulfillment Channel: Here, you'll have to decide if you want to fulfill orders yourself or you want to outsource the fulfillment process to Amazon through Fulfillment by Amazon (FBA).
Optimize your listings: After setting up your product detail page, your next line of action should be to optimize your listings. To do this, you'll have to generate relevant keywords, come up with detailed descriptions, and use attractive product images.
Regardless of the products you decide to sell, ensure you include important product details in your listings and optimize them by including clear titles, descriptions, and bullet points.
Before listing a product for sale in any category, ensure you check out product reviews and trends. For instance, if you decide to sell clothes on Amazon, take some time out to see what buyers are searching for and what kind of clothes are trending.
Creating your product pages is not a day's job, you'll have to constantly optimize them. ZonBase offers a listing optimization tool; Listify, to help you create well-optimized product pages from scratch. Using this tool, you can analyze your competitors' product pages to see what keywords they are ranking for. You can also see how they implement their keywords in titles and descriptions. This will help you create better optimized listings.
Here's how the Listify tool works:
Open the Listify tool in your ZonBase dashboard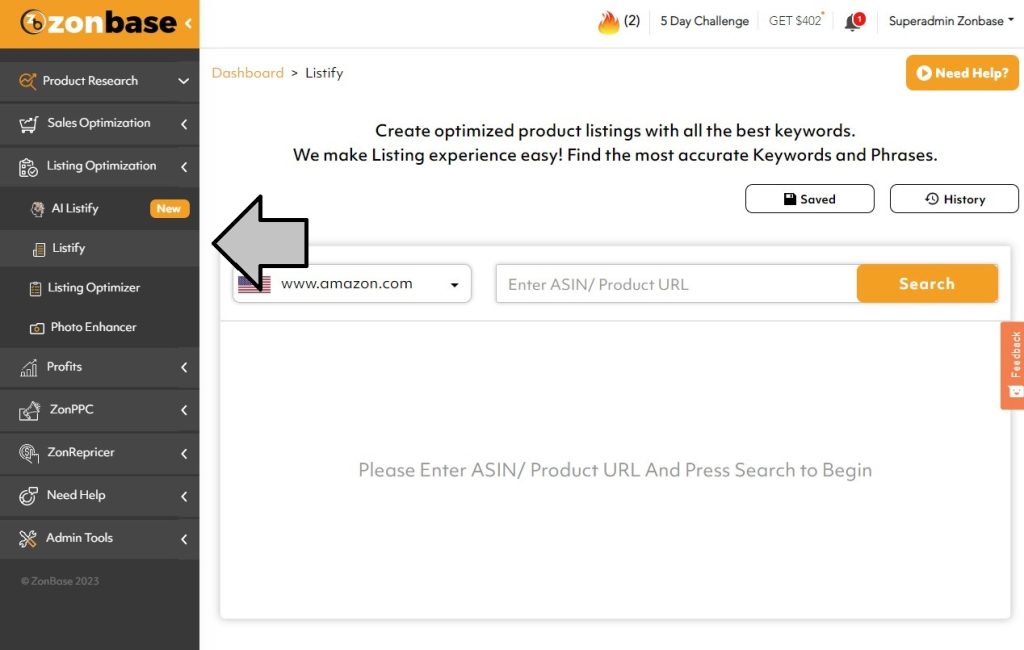 Enter the ASIN or URL of the product whose keywords you want to extract, into the search bar.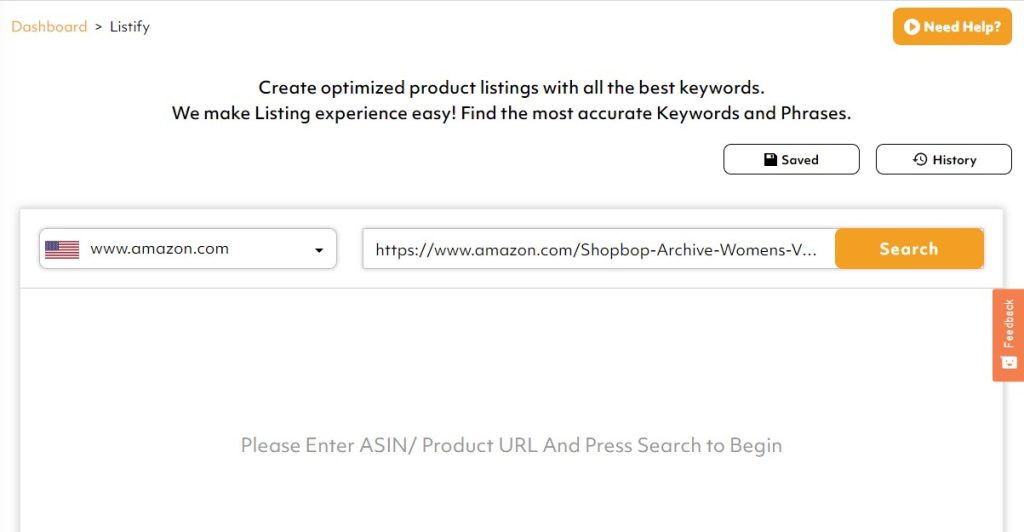 Next, the tool will generate a list of keywords related to your product searches. You should include these keywords in your titles and descriptions.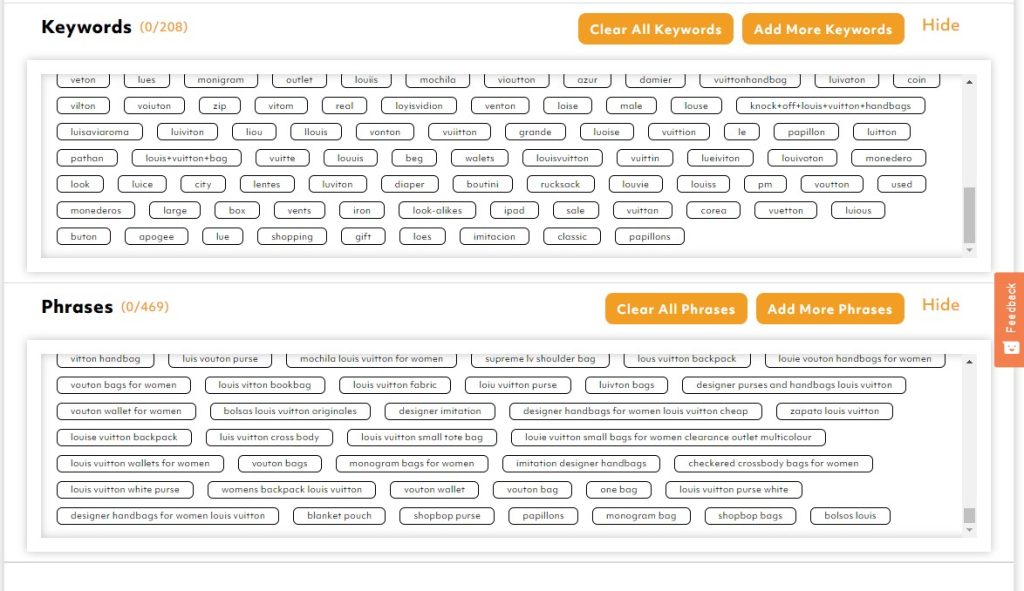 The tool also generates a listing analysis score to help you determine how well-optimized your listings are.

If you scroll down to the bottom of the page, you will be able to come up with your listing elements; titles, descriptions, and bullet points from scratch. The Listify tool places your listings and those of your competitors' side by side, so you can compare and make yours better.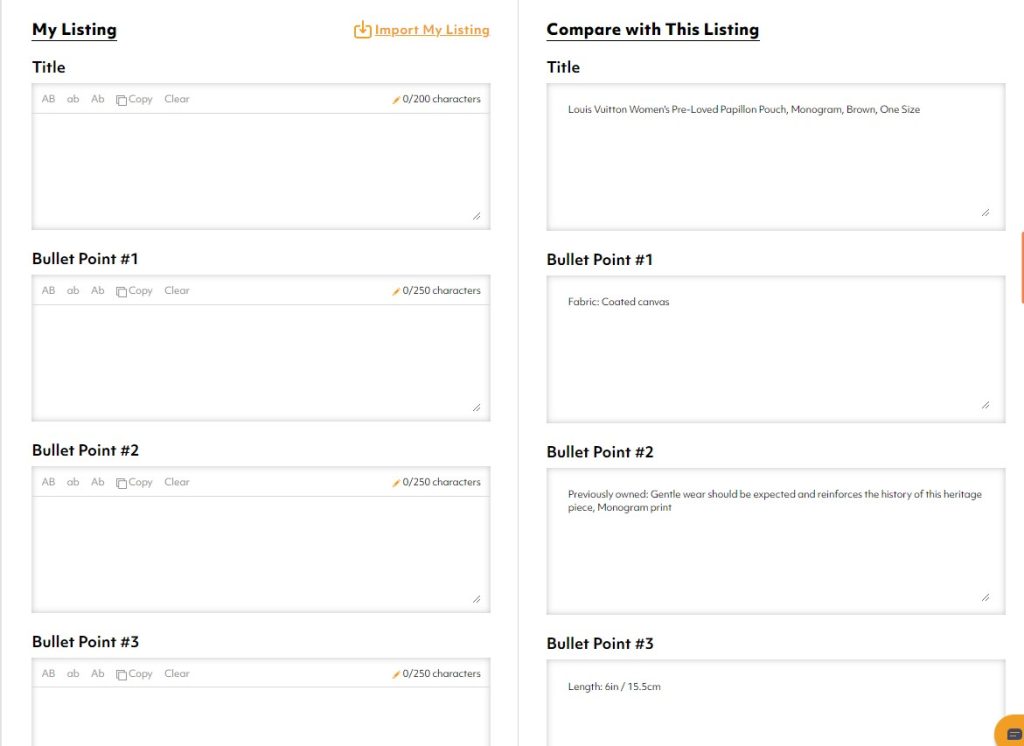 Using the Listify tool, you can create your listings in record time and be sure they'll convert.
Step 5: Manage Your Inventory
After you set up your seller account and list your products, you can check for all aspects of your business on the seller central account. Check for your product orders, update your inventory, and many more.
Every time a customer returns back without being able to order your product being out of stock is a lost opportunity for you. You must take this aspect seriously and manage your inventory properly. Replenish your stock once it is going to be out of stock, mark the margin of safety and find out effective ways to order goods from your supplier so that not a single customer returns empty-handed.
If your inventory is not moving fast, you can always choose the sponsored ad that can move your product listing above the others and can sell fast.

Step 6: Fulfill Your Order and Ship Them to Your Customers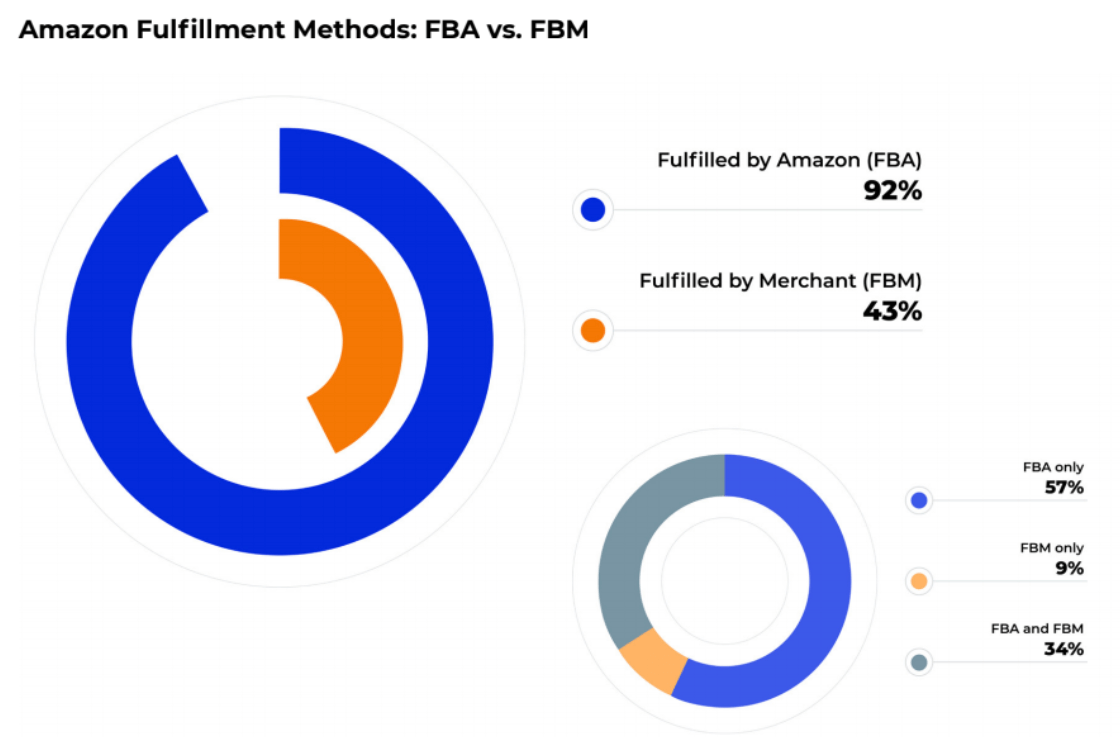 Once you are done with the toughest part of selling, i.e, listing your products and managing your inventory, you have another challenging task of making the product available for the customers.
There are two options a seller can choose for the fulfillment of the customers' orders. These fulfillment options are listed below:
Fulfillment by Merchant (FBM): Under this option, you have to manage all the services like maintaining inventory, packaging, labeling, and shipping products to individual customers. It will cost you a lot, and you have to prepare the warehouse for the products to be stored there.
Fulfillment by Amazon (FBA): This is the best method for new third party sellers. With this, you can store your products in an Amazon warehouse. After that, they will pick, pack, and ship orders on your behalf. They'll also handle return and refund processing for you. If you would like to increase your reach by selling to Amazon Prime members, then you should consider using FBA. This is because only FBA sellers are considered prime-eligible.
Step 7: Optimize Your Processes
Now that you have a fully functional business setup, it's time to chill. Is it??
No, Never.
Most sellers fail due to this mentality. Your work is only half done!
There are certain steps that you have to take to ensure that the sales figures are ever-increasing and the customers purchase your product frequently.
The online marketplace is ever-changing and you have to change as per the market condition. Optimization should be your daily work. Optimizing your product detail pages and creating a pricing strategy can make a huge difference in your business.
In addition, you have to work on making your customer service strong, building your brand, looking for ways to increase your chances to win the Buy Box, and building a strong customer base.
Step 7: Run Promotional Campaigns
Once you join the AMZN marketplace, dedicate time to creating a visibility strategy. As part of your visibility strategy, you should consider running promotional ads and campaigns. You can use Amazon marketing services for all your advertising needs.
With ads, you can show up in between search results and increase your chances of converting visitors to buyers.
ZonBase offers a PPC optimization tool – ZonPPC, to help you launch and manage your PPC campaigns. Using this tool, you can set up your campaigns, fix and modify budgets, adjust bids, and track your ad performance.
There's no better way to ensure you maximize your ad spend, than to get an effective PPC management tool like this.
Related: How much does Amazon FBA cost?
How Much Does It Cost to Start Selling on Amazon?
Selling on Amazon is free for the most part. There are no up-front costs, especially if you use the Fulfillment by Merchant model. However, when you start selling on Amazon, there are a variety of fees that you will have to pay. Due to the uncertain nature of some of the fees, exact numbers are hard to pin down. However, you can still accurately guess the estimate of these fees. It's important to understand the structure of fees and the maximum cost that you have to incur.
Let's take a look into the following fees structure that can help you decide whether selling on this platform is worthy of your time or effort to start:
Selling Plan Fees: This is the most important fee that you'll have to pay as an Amazon seller, regardless of your fulfillment model. You can either pay $0.99 for an individual selling plan or $39.99 for a professional selling plan.
Referral Fees: Referral fees are product-specific and depend upon the category of the product you sell. Generally, referral fees range from 8% to 15% of the selling price.
Shipping Costs: If you sell on Amazon and want to get positive reviews, you will have to ship orders promptly. So, the shipping fee is one of the most important things you need to take into consideration before you start selling on Amazon. Shipping costs are even more important if you intend to ship orders yourself. If you sell to prime members, you will have to offer free same-day shipping, so you should also create room for this in your prices.
Inventory storage cost: You have to calculate the inventory storage fees whether you want to store the products yourself or you'd rather be a Fulfillment by Amazon seller. If you opt for FBA, you will have to pay monthly inventory storage fees. This fee varies depending on your product category and product size. If your products stay in an Amazon fulfillment center for up to 365 days, you will incur a long-term inventory storage fee.
Fulfillment fees: This is an additional cost that that you'll have to pay for the fulfillment services that Amazon offers. This includes picking, packing, and shipping your products on your behalf. Fulfillment fees vary depending on the size and weight of your products.
Returns Processing Fees: In some product categories, AMZN charges fees if the customer returns your products.
In addition, AMZN also charges stock removal fees if you want your products to be disposed of or returned back to you and FBA export fees if you want to sell internationally. FBM sellers will only incur seller fees and referral fees but if you decide to sell through Amazon FBA, then you will incur shipping and inventory storage fees alongside all other costs.
Amazon seller fees are often reviewed annually and the charges are often deducted from your bank account when due.
Check out the full list of Amazon seller fees.

Things to Consider When Choosing Products to Sell on Amazon
So, how do you decide what products to sell? When it comes to deciding what to sell, you have endless possibilities available in the market. However, to be successful, consider the following factors:
Market: First of all, you need to understand your market and connect with your audience. You must carry out market research, find your niche, and make sure that you can dominate that niche. If you understand what your market wants and you know how to provide it, you have already won half the battle. By focusing on your own niche market instead of battling it out with huge retail giants, you are giving yourself a fighting chance to succeed.
Demand: Find products in high demand. By providing solutions to problems that people have, you can create a demand for your own products. Check out the loops and find gaps that others are not able to fill. This is how you can create demand for your own products.
Competition: If you're still wondering, "can I sell on Amazon successfully"? Chances are that your hesitation is a result of the stiff competition on the Amazon marketplace. And you fears are not unfounded. You don't want to sell in a highly competitive space. But you also don't want to sell in a category with no demand. So, the best way to earn sustainably from selling on Amazon is to find high-demand and low-competition niches or products. Using Amazon seller tools like the ZonBase Chrome extension tool. The Chrome extension tool allows you to validate your product choices based on the previous and current sales trends and how saturated a product category is.
Price: It is very good practice to aim for a product that isn't either too costly or too cheap. Costly products are very hard to sell, especially if you are not a big brand. On the other hand, products that are too cheap can also turn off some buyers who are on the upside. You have to look for a product that can bring in a fair amount of profit margin, but doesn't cost an arm and a leg to procure. Once you get acquainted with selling on Amazon, you can definitely change how you target customers.
Product Size: Here's something you may not know—the size of your products will directly affect your revenue and profit margin. And as a new seller aiming to be profitable, you should always try to reduce your costs. As a beginner, shipping costs are crucial, and choosing small and light products can help you cut down on costs.
With all the points discussed above, you can choose those products that are best for you to sell. Consider all the factors and analyze them all to come to the right conclusion.

How to Choose a Product Supplier
Once you have decided what to sell, you need to find the right suppliers to source them from. Buying and selling on Amazon is not so difficult, but you must be willing to go through the stress of sourcing quality products for your store. One option is to manufacture your goods yourself, but that will not be a good option to start with in terms of cost reduction. You can find product suppliers on large marketplaces like Alibaba and AliExpress.
Here are a few tips to help you find authentic suppliers to source your products from.
Get product samples: Every product may not be the same as shown in the image. So, to sell best you need to feel the products physically. For that, you must collect samples from all the suppliers that you have talked to. It will help you in listing your product and advertising it accordingly. Also, you can decide whether the product you have decided is worth selling to the niche market you have chosen.
Read reviews: Reading reviews from other buyers will greatly help you to decide if the supplier is a good fit for you. Plenty of negative reviews show that they already had a dispute with earlier buyers. That may reoccur in your case as well.
Understand their pricing and terms. Talk to them about the overall business and the terms and conditions of the sale. The more information you get, the more beneficial it is for you. As all the suppliers have different policies and terms, it is more beneficial if you can enquire about factors like minimum order quantity, shipping cost, size of the order, and frequency of the order.
Negotiate about the terms that you are not comfortable with: Some of the conditions may be unreasonable and you may have places where you feel to make adjustments in your favor. You have to go for it and negotiate with the suppliers in this context. If you feel the deal is too much for you, don't hesitate to say no and move to other options.
Compare multiple suppliers: As we have already discussed that you have to go for multiple suppliers to find the best deal for you. Go for it and you will have price comparison, feasible terms, and conditions.
You can also use the ZonBase Hot Products tool to find genuine suppliers for any product. The Hot Products tool is a product research tool that allows you to uncover the best-selling products on Amazon and also access a list of supplier options.

Conclusion
Starting an eCommerce business is certainly not a walk in the park. It involves tons of back-breaking processes like product research and keyword research. You'll also have to create and optimize your product detail pages or listings. Plus, initially, you will not have the advantage of brand recognition and all the favorable conditions while selling and it will take some time and effort to start selling on Amazon. But, the benefits you are going to enjoy are much higher than the cost you are going to pay.
The costs are nominal, and you don't have to sacrifice your entire profit to cover all the costs. You can surely rise and shine if you develop a proper strategy to optimize your product detail pages, manage your inventory, and follow all the seller guidelines to sell successfully.
However, the most important part is still finding the best products to sell. Even the most sophisticated Amazon marketing strategies will not work if there is no demand for your product in the first place.
When it comes to finding the best products to sell, having access to powerful software such as Zonbase can be a game-changer. Zonbase specializes in many different tasks, such as product research, keyword research, and listing optimization. With just a click of a button, you can quickly find products that are in demand.
To see what else Zonbase can do for you and your business, try Zonbase today.