Do you want to be a seller on the world's biggest marketplace? That's great! But there are many Amazon product categories to choose from that can make life difficult for beginners.
What's the first question that comes to your mind when you think of starting an online business? Most of the time, it is what kind of products to sell. With over 400 million items sold on the site, deciding what to sell is the toughest part of the online seller journey.
Since there are many Amazon product categories to choose from, how do you find the winning niche for you? How do sellers determine the items with the most demand and least competition simultaneously? Can you accurately predict what categories would work given their historical data?
In this article, we are going to cover what is the most profitable category in the platform. We'll discuss other top Amazon product categories offering the most opportunity to grow as a third-party seller.
What are the most popular categories?
A wise seller looks into the market and finds what consumers are buying. After all, selling t-shirts in the Himalayas is not the best idea. So, you must understand your customers and the items you are selling in the market. Even in a low-demand category, you can still make some money if you can dominate the top spots in the marketplace.
When it comes to selling online, deciding on what to sell is significant. It makes up most of your initial plan and can make or break your whole business. Choosing the right Amazon product categories can get your business rolling right at the start. However, choosing the wrong one can break the bank and even burn your capital investment. For instance, deciding to sell products made by Amazon and sold by them is one way to drastically reduce your chances of success on Amazon.
To help you out, we have made this list containing the top categories in 2023. Let's look into these top Amazon product categories in this article so you can make a wise decision to scale your business.
Top 10 Amazon Product Categories.
Home & Kitchen
Sports & Outdoors
Toys & Games
Books
Clothing, shoes, and jewelry
Beauty & Personal Care
Video Games
Kitchen & Dining
Tools & Home Improvement
Pet Supplies
Home and Kitchen
Without a doubt, this is one of the Amazon product categories that had a boom during the pandemic. Because so many people are stuck in their houses, boredom found a way inside their homes. To pass the time and learn something new, most people turned to cooking and baking as new skills to learn.
Because of this, the increase in the growth of homes and kitchen has shot up the category to the top. Baking tools, cooking utensils, grills, and other home-cooking stuff have become bestsellers.
Tools and Home Improvement
This category has always been one of the top-ranking categories in the platform. For years, home improvement tools have dominated the website and are set to continue the trend. Most Americans love to tinker with their homes, and doing simple DIY stuff needs home improvement tools.
Some of the top sellers in this category include screw drills, patio improvement tiles, garage door repair kits, etc. Small tools are also great items to sell because they are small and easy to ship. This means shipping would be less.

Toys and Games
Of course, this list wouldn't be complete without this one. It would be hard to find a list without Toys and Games in the top category in any online marketplace. And with the pandemic keeping more people in their homes, what else can they do to pass the time? Most likely, they will play a game with their family and avoid stressing out, right?
To give you an example, the sales of Chess shot up to almost 1000% back during the pandemic. Although much of it can be attributed to the Netflix show "The Queen's Gambit", it's still the same mentality. Games are always here to stay.
Aside from games, movie-themed and educational toys are also huge on the website. Characters from popular movies are always bestsellers during the Christmas season and Thanksgiving. There are also many educational and generic games that both kids and adults enjoy playing. AMZ also publishes its own annual Holiday Toy List showing the year's top 100 games and toys. Customers are much more likely to buy gifts when they see something they like on the list.
Electronics
Tech and gadgets rule today's world. You'll see something powered by electricity wherever you go, and that's not even an understatement. The same thing also goes for the top Amazon product categories. You will always find the electronics on top, especially since some of the best-selling items on AMZ are their own.
Gadgets such as Fire TV stick, Echo, and Kindle are all manufactured and produced by Amazon. Televisions, pc parts, monitors, and other items are also huge. The electronics category is a force to be reckoned with.
However, there is one thing that you need to learn about this category. You'll have a tough time if you plan to go head-to-head with the biggest sellers here. Some of the top-selling vendors in this category are known brands like Apple. And you also have to compete with AMZ itself. Not only that, but electronics are fragile to ship, so they might cost you more.
Books Category
Did you know that the AMZ website originally started as an online bookstore? Yes, you heard that right. AMZ was established as an online bookstore in Jeff Bezos's garage back in the 1990s. So it is not a surprise to see Books as one of the top Amazon product categories.
Over the years, the Book section of AMZ has evolved to become digitally focused. Since AMZ is also selling Kindle, it makes sense for them to sell digital books. From epic adventure stories turned into Hollywood films to classic novels, the Book category has a lot to offer. On AMZ's best-sellers list, some of the books that top the charts are also educational books used for learning in school.
Books are great options to sell in the marketplace because they fulfill many criteria for a good category. First of all, they are small and easy to ship. They are also not fragile, so you won't have to worry about breaking them when shipped.
Furthermore, they also don't decay or rot, so you don't have to unload them fast. If you are looking to enter the market as a new seller, this category is something you should consider. You can discover Amazon book best sellers or best-selling books based on reviews or researching the most-purchased genres on AMZ.
Clothing, Shoes & Jewelry Category
Everyone wants to look good and feel good, and that's just our human nature. No one wants to look bad and lose their confidence because of that, clothing, shoes & jewelry stays as one of the top Amazon product categories on the platform.
Whether it's shoes, clothes, winter clothing, or just basic casual wear, this category performs. There is so much traffic and interest in this category, and you will surely not run out of potential customers. Just make sure you have the proper permit to sell in this category before jumping in. Jewelry is a restricted category in the platform, so you need to get permission from AMZ.
Other categories are relatively less traded in the market. Once you decide to become a seller, you have to sell multiple categories. It can be difficult if you choose to go for the categories that are not frequently traded in the market.
You should always look to jump into such a market with less competitive categories. This is how you can land on the first page of the website.
Pet Supplies
This category is one of the most versatile product categories on Amazon, as a result of this, the category has been expanding steadily throughout the years. More people are developing interest in keeping pets, and there's no limit to the variety of pets that people keep. Since this category provides product options for different types of pets, you cannot run out of options to choose from. Also, the rising interest in keeping pets makes for increased demand for sellers.
Sports and Outdoor
Fitness is the in-thing now, with more people becoming more invested in their fitness goals, the sports and outdoor category is definitely a great place to sell. You can target fitness wears, exercise mats, and fitness equipment if you decide to sell in this category.
Beauty & Personal Care
Looking good is good business, but helping people look good is even better business. People are invested in how they look and the goal is often to look good from the inside out, hence the need for affordable personal and skin care essentials. Cosmetic and makeup items are also a staple in this category and the demand is quite high so if you're looking to sell in this category, consider starting with these.
Video Games
These days, almost every one is interested in video games. As a result, this category is fast becoming one one of the most popular categories on Amazon. There are many variations in this category, hence, there are subcategories to differentiate between various gaming platforms like Nintendo, PlayStation, Wii, Mac games, PC games, etc. Video games are fast becoming one of the most in-demand products to sell on Amazon.
Factors that Define the Top Amazon Product Categories
Profitability
Profitability is the most important factor in defining the success of any store. But we have also tried to explain which items are sold more regardless of profitability.
The profit margin is directly related to the cost of the item and other related expenses. They can help bring the merchandise to a marketable stage. The average profit margin by selling on Amazon comes to 17-26%
With 28-26%, the most profitable categories to sell are computers, video games, books, and handmade items.
Profitability ranges from 2% to 200% and is the key to pushing your unknown item to sell like hotcakes on the site.
The most profitable categories are selling the most, but too many subcategories are under these primary categories. Some of these subcategories don't sell well because there is a big competition, competition with Amazon, and a high PPC cost.
The basic theory here is that whatever we do, you have to draw a clear picture of what you will sell. The high demand and low merchandise in the competition are always good, but they are hard to find. So, considering the profitability factor alone is also not a good practice.
Average Monthly Sales
The average monthly sales of almost every top category come in between $1000 to $25000. Although they have high profitability, the monthly sales of books are $1000 and computers and musical instruments collect much higher sales up to $50000.
Selling Experience
This factor demands the experience of the sellers. Some categories that require high selling experiences are :
Musical Instruments
Tools & Home Improvement
Apps & Games
Automotive Parts & Accessories.
The other categories that don't require high selling experiences are electronics and appliances.
Fulfillment method
Almost every category goes for fulfillment by Amazon (FBA) method while there are specific categories that go with FBM. Categories like Cell Phones, Computers, Apps &, Games, and Handmade are popularly sold under FBM. Amazon brands your shipment with their packaging and logo when you use FBA, and this can foster customer trust and help increase your chances of profitability. How? When Amazon brands your products with their packaging, it's like they have put their name on the line for you, and many times, customers take this to mean that your products are of good quality.
Business Model
Now you know the basic selling models that vendors usually adopt. So, let's discuss in detail which product categories are fit to go with each business model.
Private Label: This model is mostly used by new sellers selling categories of handmade and home & kitchen. It is less preferred in categories of books and Video Games.
Retail Arbitrage: It is most famous for product categories like apps and games. It is less famous for industrial, scientific, and home and kitchen items.
Wholesaling: Product categories under wholesaling are more popularly the items including grocery and musical instruments.
Dropshipping: Dropshippers mostly prefer to sell Computes, Collectibles & Fine Art, Electronics while less prefer grocery items.
Meanwhile, Homemade sellers always want to sell handicraft items, fine arts, etc., and not beauty and personal care.
Why is the Home and Kitchen product category very famous?
Home and kitchen items are everyday products, and the majority of them are not huge, making them a great choice for sellers. Plus, interior designing is fast becoming a popular hobby so these items are in high demand.
Here are some additional reasons why this product category is famous:
There is no listing barrier in this product category.
There are endless product ideas under Home and Kitchen that can be explored each day.
It is easy to find a supplier for this product category easily.
Home and Kitchen items have fewer regulations to follow and face no restrictions to sell almost anytime during the year.

Factors to Consider Before Selling in any Product Category
As you know from the above, selling any product category can be profitable. But, what exactly will hit the bull's eye is what you should choose. Here are some factors that you must not miss:
Competing with Amazon: AMZ is always ahead of the game. It lists its products ahead of sponsored products and other private-label sellers' products. It generally has a lower cost than any other seller in that product niche. So, you should avoid selling products made by Amazon or sold by them.
Competing with other sellers: Popular product category is a huge market. You cannot deal with every specification of all the products available. So, to compete with other co-sellers on the website, you have to choose specific sub-categories.
Higher cost of advertising: The more saturated product categories will cost more on advertising. This is all because they have huge competition.
Thus, when a new seller enters the market, he has to pay that increased cost, which will increase his cost of advertising. You have to closely monitor your ad spend as you have a higher cost per click.
Now, does it matter what product category you should be selling specifically?
If you saw the facts above, every product category is profitable, and thousands of sellers are already selling such products in the market. So, you have to invest a lot of time in finding the product category with minimum competition. But it's not impossible.
Here are some important takeaways:
The most important factors to decide on a product category are the demand of the product and the result of your product research.
Even if you find the best product category to sell, you have to follow through to make your business successful. You must continuously enhance yourself and continue your product research, product sourcing, negotiate pricing, and run a PPC campaign.
How to Find Profitable Products to Sell in Any Category
Use Product Research Software
Product research is one of the most important things you should do before you start selling on AMZN. Since your success on AMZN is largely dependent on the products you sell, product research must be taken seriously. The good thing is that you can utilize efficient product research tools like ZonBase to uncover the best-selling items on Amazon. With ZonBase's ZonResearch and Hot Products tools, you can access product suggestions in any category.
Leverage the Amazon Trend Report
Examining the top-selling items on Amazon is a further useful search strategy. A excellent strategy to enter the market is by following product trends. The drawback of following trends is that the demand for the products may eventually decline.
To find out the products consumers are raving about, check out the trend report. Here's how to use the trend report to find profitable products.
Go to the Amazon Trend Report page.
Navigate to the bottom of the page to see the trending products
Click on 'Learn more' to view more trending product options
Compile a list of the products you're interested in.
You can also use the bestseller list alongside the trend report to uncover profitable product options for your business.
Use the Amazon Bestseller List
Choosing an item to sell can be challenging because there are a wide range of product options to choose from. Hence, Amazon created the bestseller list to help sellers narrow down their product options and choose the best products based on previous sales history. The bestsellers list is an extensive list of all the products on the Amazon marketplace, ranked in order of the highest sales volume.
The bestseller list is one of the most reliable resources for product research and can be easily accessed in four simple steps.
Go to the bestsellers page
Select the categories that interest you.
Next, narrow down your search by picking specific subcategories.
Create a list of the products you think will do well based on the seller rank.
The Amazon bestseller list is updated hourly, so product rankings are subject to change based on varying sales volume.
Which of these product research methods is the best? Product research is typically a long and stressful process, so the goal is to choose a method that saves time and allows you to uncover the best product options swiftly.
Zonbase: The Easiest Way To Find Winning Products To Sell
All the discussion above brings us to one simple question: what is the easiest way to find winning items to sell? Product research is a very complex business process — that requires a lot of time, expertise, and patience. If you have a lot of commitments or do not have the skills required to carry out effective product research, your best bet would be to use Amazon software for product research.
There are many profitable Amazon product categories, and settling for one can be tough especially if you do not have data to back up your decision. However, with an effective Amazon software tool like ZonBase, you can uncover thousands of profitable product options in minutes and view important sales data for each product suggestion.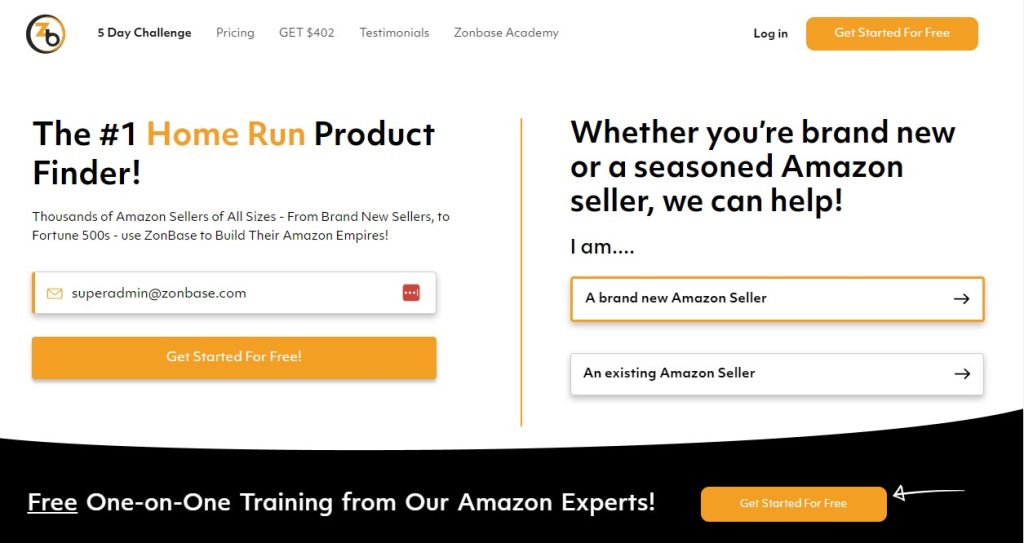 Source: ZonBase Homepage
ZonBase offers four product research tools and a personalized product research service. The tools and service are outlined below.
Apart from product research tools, ZonBase also offers a host of seller tools for keyword research, listing optimization, and inventory management. The software offers a 7-day free trial that allows you to explore the full software suite.
Conclusion
Joining the Amazon marketplace can be intimidating for complete newbies, but don't fret. If you follow the tips above, you are on the right path to success. Also, make sure to use the product research tools offered by ZonBase. You can try Zonbase for a free trial if you want to try out the software first.
Also, check out this video for a complete Amazon Product Research Tutorial!