Product research is one essential process that can make or break your business. If you can successfully find a winning product, it will be so much easier for you to build a profitable business. Similarly, you can easily lose your upfront capital if you start out with an unprofitable product. So, there is so much tied to your ability to find the best-selling products on Amazon. For that reason alone, you should invest more time in the product research stage of starting your business.
Typically, a bestselling product on Amazon is one that has high demand but low competition. However, there are so many product options, and choosing a product like this may be difficult.
In this post, we will show you the bestselling product categories on Amazon, then provide a few tips to help you choose profitable products. We'll also tell you all about the Amazon Bestseller List and how to find the best-selling products on Amazon using software.
How to Find the Best-Selling Products on Amazon
There are millions of products in Amazon's database and choosing the most profitable ones is not always a breeze. However, AMZN has curated a frequently-updated list of the top-selling items, making it easier for sellers to choose.
The bestsellers list is a list of products with high demand and sales potential. The top-selling items in any category, at any given time, are displayed on this list. And the list can be found just below the product information in the product listing.
How to Find The Bestselling Products on Amazon
Now that you know what to look out for when trying to choose from the numerous bestselling products on Amazon, how do you find the product options? Here are a few ways to find the best-selling products on Amazon without wasting much time.
Check the Amazon Bestseller List
The Bestsellers list is every seller's guide to finding bestselling products that Amazon approves of. Since the list is curated based on accurate sales data and previous product performance, you can be sure to turn a profit.
Each product on the bestsellers list is assigned a BSR based on its market demand and performance. A lower BSR means a higher number of sales. Consequently, a higher BSR means lower sales for a product. A product with a BSR of 5000 has fewer sales compared to a product that has a BSR of 1.
Sellers who are just starting out on Amazon may have a hard time figuring out the BSR, so it's best to work with previous market trends. Most sellers prefer to choose products that have a proven track record of sales.
All you have to do is check the product's ranking and see if it meets the criteria listed above. If it does, you can go ahead and try to sell it. However, always remember to start with a little quantity.
Also, remember that the bestseller list is updated hourly, so the product's position is bound to fluctuate. But this does not mean that the product is no longer profitable.
Here's how to use the bestseller list.
First, open the bestsellers page
Next, select the categories that interest you.
Then, streamline your search by picking specific subcategories.
Create a list of the products you think will do well based on the seller rank.
What Determines the Bestseller Rank?
The information about how the BSR is calculated isn't publicly disclosed by AMZN. However, they have hinted in the past that the BSR is affected by the number of sales alone. This means that a product's price, review, or ratings do not directly affect its BSR rankings.
A product's ranking basically depends on its recent sales numbers. As long as your product is making massive sales, you can outrank even other products that have been there for years. In other words, a newly released product can outrank a product from five years ago. The launch date is irrelevant.
Note that AMZ also considers the historical sales volume in determining the rank or average monthly sales. This means you are not likely to experience huge fluctuations in the ranking. While a sudden increase (or a sudden decrease) in sales can affect the rank, the changes wouldn't be too drastic.
Related: Understanding Amazon's Bestseller Rank
Observe Your Competitors
Even if you have already decided on a category, you still need to find the top-selling items in that category. One of the best ways to do this is to observe your competitors. Check out their product offerings; how quickly do they sell out? Also, consider using software for competitive analysis, as this will help you monitor their sales performance better.
Go For the Most-Gifted Items
Always research the most popular gifts in the category you choose. A product is likely to be in demand both in and out of season if it is typically purchased as a gift. You might even discover a good product with high-profit margins and minimal competition. Almost every seller, including private label sellers who sell private label products, will find success with this strategy.

Use Amazon Software for Product Research
Using the software is no doubt the easiest way to find the best-selling products on Amazon. There are many amazon online sales tool options available, but ZonBase is the best FBA software for finding the best-selling products on Amazon.
ZonBase offers an extensive collection of 13+ tools for product research, keyword research, and listing optimization. Finding the bestselling products is a lot easier with ZonBase's effective combination of research tools. The software offers 2 product research tools, a Chrome extension, and a sales estimator tool. It also offers a done-for-you product validator service for sellers who are not confident in their choices and would like to have their product options reviewed by a team of experts.
Each of the tools in ZonBase's suite is designed to bring you the bestselling products on Amazon in record time. Here's how to use ZonResearch, one of ZonBase's research tools, to find your next best-selling product.
Open the ZonResearch tool from your ZonBase dashboard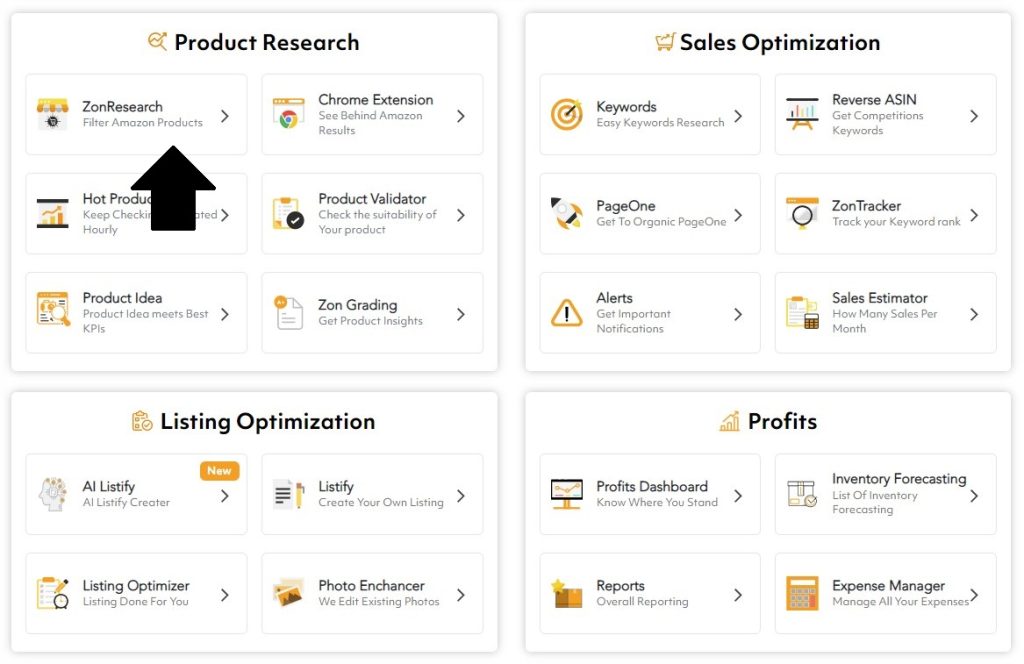 Choose your marketplace, select your preferred categories, and set the filters based on your specifications.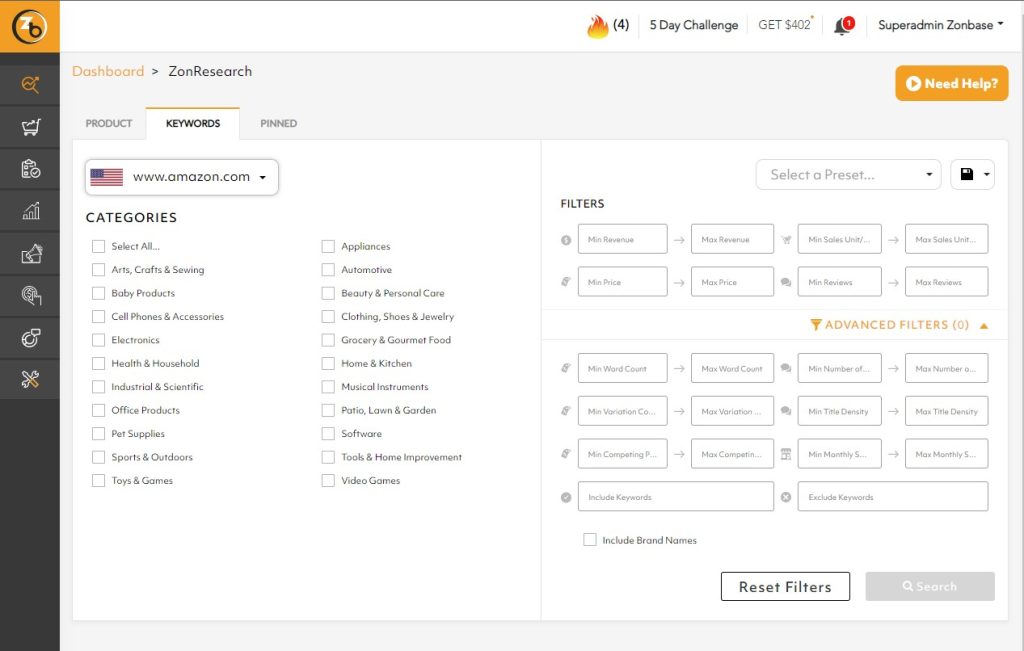 Click the "Search" button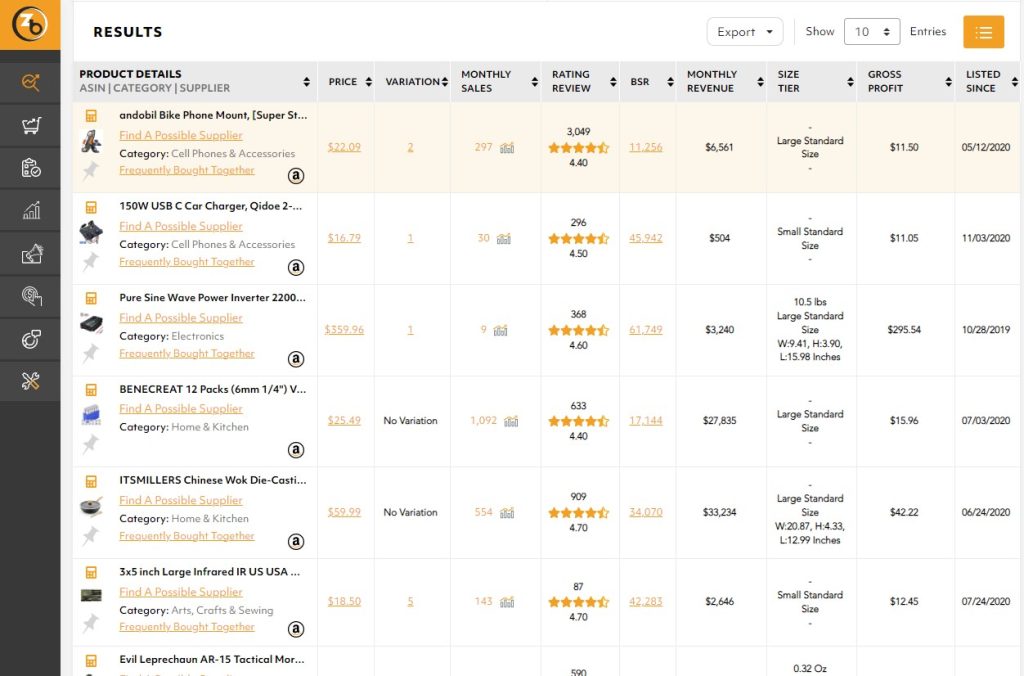 Once you click the search button, ZonResearch sifts through millions of products to generate a comprehensive list of profitable product ideas. You can also click on the 'Find a possible supplier' button to get access to authentic supplier options to source your products.
A single search will give you access to thousands of product options to choose from. Sometimes, these options may be a boon. Other times, they may be overwhelming, making it difficult for your to choose. This is where the Chrome extension comes in.
ZonBase's Chrome extension is an excellent way to validate your product choices. The tool uncovers hidden information about each product option. It also provides relevant data to help you make informed product decisions.
Conduct keyword research and analysis
This is a great place to start when you figure out how to find profitable products to sell on Amazon. You need to be able to figure out what keywords customers are using in their searches and what keywords your competitors are using on their product pages.
Keyword research enables you to know what keywords have the highest search volume because a high-ranking keyword could translate into a high-demand product. Keywords are an important part of determining how to find profitable products to sell.
There are lots of Amazon keyword tools available that you can make use of. Some good examples are Jungle scout, Ahref, and Zonbase keyword tools. Amazon itself is a great place to begin your keyword research. You can do this by using the search bar.
Utilize Amazon trends report alongside google product reports
Amazon trend reports and google trends provide valuable information about profitable products you can sell. You can get access to products that are currently trendy in the market and products that there are in high demand.
Research other marketplaces
While Amazon is one of the top online marketplaces globally, there are other marketplaces where you can carry out product research to find profitable products. The best part is that very often these products are available at cheaper prices which you can buy and resell on Amazon. You can visit other marketplaces like Alibaba and eBay to find trending and popular products.

Related: Ultimate Guide to Selling on AMZN
What Are The Most Profitable Product Categories on Amazon
There are some categories that have a steady record of sales regardless of season and market demands. As a result of their stable market demand, these products rank very high on the bestsellers list. And new sellers are often advised to start by choosing products from any of these categories. So, what are the most profitable product categories on Amazon? Here are a few of them.
Amazon's top ten high-demand categories:
Home & Kitchen
Sports & Outdoors
Toys & Games
Baby Products
Garden & Outdoor
Tools & Home Improvement
Kitchen & Dining
Clothing, Shoes & Jewelry
Health, Household & Baby Care
Beauty & Personal Care
Books
It's been said that AMZ started as an online bookshop, so books hold a special place on the platform. When you see a book, a hardcopy book to be exact, it's most likely one of AMZ's hottest products.
In today's modern world, everyone owns a smartphone and can access thousands of ebooks. However, some people can't meditate while reading softcopy books, so they prefer hardcopy books. Besides, books are great gift ideas, so there's a market for books. There may not be a need to carve a niche around books alone, but they should be an important part of your store.
These are the best sellers at the time of writing. However, the best sellers list is updated every hour, so the position of some items may fluctuate.
Electronics
In today's day and age, technology is essential to modern life and electronic gadgets play a huge role in this matter. Electronic gadgets will always be in demand, so it's not surprising that this category is also ranking high on the Best Sellers list.
So many products that Amazon manufactures are part of this list, which greatly skews the category. For example, Kindle, Echo, and Fire TV are all manufactured by AMZ themselves, and all of these are hot sellers during the holidays. Still, other items in this category sell out, like pancakes. Large-screen television displays, appliances, video games, and even patio lighting are just some of the examples of bestsellers in this list.
However, take note that it is not easy to sell products and compete in the Electronics section. Aside from the fact that you'll compete with AMZ, you'll also lock horns with big Japanese brands.
Cell Phones and Accessories
It is almost impossible to be without a smartphone these days. Cell phones are in-demand products and will be best sellers for a long time. In fact, cell phones are one of the bestselling products online on almost every marketplace. From tempered glass phone cases to the latest mobile phones from Apple and Samsung, this category is alive.
If you are interested in selling in this category, here is a tip we can give you: try going for the phone accessories niche. Why? Simple. Phones are changing year after year, and a new model is released every time too. This means that all the new models will also need a new phone case, tempered glass, or accessory that's compatible.
Also, phone accessories are often small and lightweight. This makes them perfect products for shipping because you won't have to pay a lot to ship them to your customers. A win-win situation for you.
Home and Kitchen
It doesn't need to be said that the recent pandemic has kept many of us in our homes. And because of that, most families can't go out to eat and dine anymore. This has greatly influenced the rise of the Home and Kitchen to the top of best-selling products on Amazon. With so many moms (and dads) trying to cook for their families to minimize spending, this category became hot.
Some of the best-selling products on Amazon today in this category include baking tools, oven equipment, and cooking utensils. The Home and Kitchen category is a hot spot for sellers looking into dropshipping. A lot of manufacturers on the wholesale website Alibaba.com provide cheap products in this category. And they accept drop shipping, too, so you won't need to stock up your inventory.
The home and kitchen category is one of the most consistent top-sellers on the AMZ website. If you plan to start a store but don't want to put up a lot of upfront capital, try dropshipping here. You'll be surprised at how many potential winning products are here in this section.
The best way to guarantee sales is to look for bestselling categories with low competition. Searching for products in subcategories and researching those that come up in a search for a category name are the best ways to find lower-competition products.
Examining each product's BSR will give you a good understanding of the competitive environment. You can guide your product choice by determining whether you would rank on that search results page.
Toys and Games
Toys and games are also some of the hottest products to sell on Amazon. Even better if you're selling products that can be used as gifts for kids. There are so many best-selling toys on Amazon, and you're unlikely to run out of ideas. Also, people are always want to purchase gifts for kids, so you're also not likely to make losses.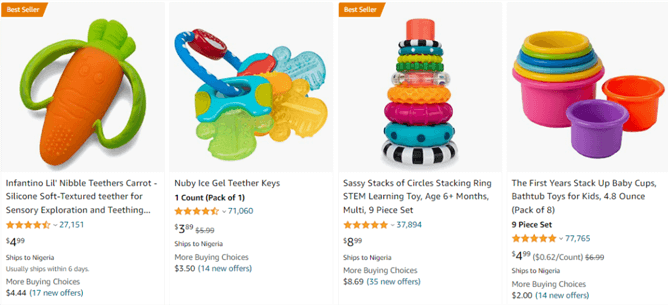 Although these product categories are considered profitable, not all the products under them are profitable. So, when choosing products in any of these categories, you have to choose carefully.
Related: What is the best product to sell on Amazon FBA?
How to Choose A Profitable Product on Amazon: Things to Consider
Select goods that can be sold for $25 to $50
One of the first factors to take into account when looking for products to sell on Amazon is the cost. Unless you make massive sales, products under $10 are less likely to generate revenue for you. On the other hand, if a product is unbranded and costs more than $100, it may be too pricey for your target market. Your best bet is to fix your prices between $25-$50 since most people would be able to afford that.
Don't Choose Seasonal Items
If your goal is to build a sustainable business, then you probably want to make sales all year round. If this is your goal, you should consider choosing products that can be sold at any time of the year.
Reasonable Number of Amazon Reviews
Reviews are a good way to tell if customers are interested in a product, and what they think about it. If a product has too many reviews, it could mean that the market is saturated and the competition is tight. When choosing products, it's best to go for products that have few customer reviews, somewhere between 100-200. This indicates that there is a sufficient amount of product demand, but that the market is not yet oversaturated.
If you sell on Amazon or online, you will have to fulfill orders and pay shipping costs. Large and bulky products incur higher shipping fees, while small and lightweight products do not incur excessive shipping costs. To increase your chances of making a profit, choose small and lightweight products.
Related: How to Find Products to Sell on Amazon
Conclusion
Using the combination of Best Seller Rank and FBA software properly will help you find the best-selling products on Amazon in less time compared to if you had to manually search and guess which products were likely to have high demand. The first step to building a profitable business is to find the hottest products to sell on Amazon. We hope this post has answered all your questions on finding the best sellers on Amazon.