Building a successful online business starts with finding the best-selling products on Amazon. To succeed as a third-party seller, it is not enough to simply assume that a product will sell. Sellers must do actual work, intense product research, and market analysis to find out which products are the best sellers.
Your success in finding the best-selling products on Amazon can make or break your business. If you can successfully find a winning product, it is so much easier for your store to succeed. However, you can easily lose your upfront capital if you don't find a product that can make sales. The amount of pressure to find the best-selling products on Amazon is immense. For that reason alone, you should invest more time in this stage of your seller experience.
The best way to find a winning product is to look for those with high demand but low competition. However, we all know that this is easier said than done. Finding the most profitable products is easier now with the Bestsellers List. You can also use third-party software tools such as Zonbase to help you accomplish this task. We'll talk more about this tool later.
What is the AMZ Best Sellers Rank?
It may be difficult for sellers to guess which products have the potential to drive sales. But because of the access that AMZ has over their data and private information, only they can do this accurately.
Thankfully, they don't plan to keep all this information in-house. When third-party sellers make money, then AMZ is making more money too. It just makes sense to help sellers find out what products sell well on their platform.
AMZ has made it easier for sellers to find the most profitable products on the platform through their Best Sellers list. They do it by curating a list of products with high demand and ranking them based on their current sales. The best-selling products on Amazon in any category, at any given time, are displayed on this list.
The Best Seller Rank (BSR) is a feature that shows the top-selling items in recent days. Every product on the website is on the Best Sellers List. The list can often be found just below the product information in a product listing.
A lower BSR means a higher number of sales. Consequently, a higher BSR means lower sales for a product. A product with a BSR of 5000 has fewer sales compared to a product that has a BSR of 1.
The BSR is also calculated for sub-categories. Because of this, a product may have a lot of different BSRs depending on the number of categories it belongs to.
How To Find A Product's BSR?
The best-selling products on Amazon often have a high BSR too. Finding a product's best seller rank is easy. You must go to the product listing and scroll down to the detail page. In the Product Information section, you will find a detailed explanation of the product's characteristics. This includes the product's weight, packing dimensions, ASIN (Amazon Standard Identification Number), Customer reviews, and Bestseller Rank. If a product is ranked in multiple subcategories, each SR will also be listed in this section.
What Determines The Bestseller Rank?
The information about how exactly BSR is calculated isn't publicly disclosed by AMZ. However, they have hinted in the past, that the BSR is affected by the number of sales alone. This means that a product's price, review, or ratings do not directly affect its BSR rankings.
A product's eligibility to be a part of the coveted Best Seller Ranking all boils down to its recent sales number. As long as your product is trending up in sales, you can outrank even other products that have been there for years. For example, in the case of BSR, even a newly-released product can outrank a product from 5 years ago. Age and recency don't matter. What matters is that your product is making a lot of sales in the past 24 hours to be considered part of the BSR list.
take note that AMZ also considers the historical sales volume in determining the rank. This means you are not likely to experience huge fluctuations in the ranking. While a sudden increase (or a sudden decrease) in sales can affect the rank, the changes wouldn't be too drastic. This means that consistency in making sales is key to climbing up in the BSR ranks. This can help you become one of the best-selling products on Amazon.

How Important Is BSR For Sellers?
When you enter a keyword in AMZ to search for a product you want to buy, you'll often see an icon that says "Best Seller". What this icon does is promote the products that are included in the AMZ Best Seller List. This can greatly boost the potential sales of a product at any given moment.
How many times have your decision to buy been influenced by seeing a "Best Seller" or "Top Product" icon on your search results? You might not notice it, but these subtle suggestions affect more than 50% of buyers' purchase decisions. For a third-party seller, getting this icon means you are one of the best-selling products on Amazon. It increases your click rate and conversion rate by a lot – and all of this is due to your BSR.
If you want to make more money as a third-party seller, getting included in AMZ's Bestseller list can definitely help you out.
BSR vs Organic Rank: Which is Better?
The influence of the BSR sometimes goes above and beyond just a simple search query. Because BSR can influence customers' shopping behavior through product suggestions, it has a different role than organic ranking.
Don't get us wrong. Organic ranking is a great feature to get your products in front of people. The first thing most users do when looking for a product to buy searches for it on the marketplace, right? The organic ranking gives sellers an avenue to get their products promoted for free. While you don't have to make many sales to be part of AMZ's organic ranking list, optimizing your listing is key. If your product listing has above-average optimization and your products are well-received by customer reviews, you are set. This is why you need to use product optimization and listing optimization tools like Zonbase to help you out.
Both the BSR and organic rankings contribute to the success of your online business. You'd be wise to try and target both features to cover your bases. It would catapult your sales to the top if you can be a best-seller while also getting a good organic ranking.
Vetting Product Ideas For Amazon FBA
Researching profitable products and product categories is an essential aspect of building a scalable online business. You must pay attention to choosing the best products for your store, as your choice of products will influence the fulfillment option that will work best for your business.
AMZ offers several fulfillment options, but the best way to choose is to decide what option will be most suitable for the kind of products you intend to sell.
How Do You See The Best-Selling Products On Amazon?
The hottest products to sell on Amazon differ in each marketplace. The Amazon Best Sellers Rank is also available for free.
Although Best Sellers List differs in each marketplace, the products on the list may be closely similar. Here's a list of Best Seller Rank for different marketplaces.
Hottest Product Categories On Amazon
With so many different categories to choose from, where should you sell? Here are some of the hottest products to sell on Amazon and their categories:
Amazon's top ten high-demand categories:
Home & Kitchen
Sports & Outdoors
Toys & Games
Baby Products
Garden & Outdoor
Tools & Home Improvement
Kitchen & Dining
Clothing, Shoes & Jewelry
Health, Household & Baby Care
Beauty & Personal Care
The position of products on the bestseller list fluctuates from time to time. The best way to find the most profitable products and product categories at any time is to use an FBA software. The best Amazon seller software is equipped with product research tools that will help you discover the winning products in any niche at any given time.
Related: Best Amazon software for Product Research
What are the most profitable product categories?
The Bestsellers list is the most straightforward way to find the most profitable products to sell on AMZ at any point in time. The BSR is curated using the most in-demand product categories, all you have to do to see the bestselling products in any category is to click, and all the products will be displayed.
Books, electronics, cell phones, and accessories are all on top of this list. Let's take a look at the products in these categories.
Books
It's been said that AMZ started as an online book shop, so books hold a special place on the platform. When you see a book, a hardcopy book to be exact, it's most likely one of AMZ's hottest products.
In today's modern world, everyone owns a smartphone and can access thousands of ebooks. However, some people can't meditate while reading softcopy books, so they prefer hardcopy books. Besides, books are great gift ideas, so there's a market for books. There may not be a need to carve a niche around books alone, but they should be an important part of your store.
These are the best sellers at the time of writing. However, the best sellers list is updated every hour, so the position of some items may fluctuate.
Electronics
In today's day and age, technology is essential to modern life and electronic gadgets play a huge role in this matter. Electronic gadgets will always be in demand, so it's not surprising that it's on the Best Sellers list.
So many products that Amazon manufactures are part of this list, which greatly skews the category. For example, Kindle, Echo, and Fire TV are all manufactured by AMZ themselves, and all of these are hot sellers during the holidays. Still, other items in this category sell out, like pancakes. Large-screen television displays, appliances, video games, and even patio lighting are just some of the examples of bestsellers in this list.
However, take note that it is not easy to sell and compete in the Electronics section. Aside from the fact that you'll compete with AMZ, you'll also lock horns with big Japanese brands.
Cell Phones and Accessories
It is almost impossible to be without a smartphone these days. Cell phones are in-demand products and will be best sellers for a long time. From tempered glass phone cases to the latest mobile phones from Apple and Samsung, this category is alive.
If you are interested in selling in this category, here is a tip we can give you: try going for the phone accessories niche. Why? Simple. Phones are changing year after year, and a new model is released every time too. This means that all the new models will also need a new phone case, tempered glass, or accessory that's compatible.
Also, phone accessories are often small and lightweight. This makes them perfect products for shipping because you won't have to pay a lot to ship them to your customers. A win-win situation for you.
Home and Kitchen
It doesn't need to be said that the recent pandemic has kept many of us in our homes. And because of that, most families can't go out to eat and dine anymore. This has greatly influenced the rise of the Home and Kitchen to the top of best-selling products on Amazon. With so many moms (and dads) trying to cook for their families to minimize spending, this category became hot.
Some of the best-selling products on Amazon today in this category include baking tools, oven equipment, and cooking utensils. The Home and Kitchen category is a hot spot for sellers looking into dropshipping. A lot of manufacturers in the wholesale website Alibaba.com provide cheap products in this category. And they accept drop shipping, too, so you won't need to stock up your inventory.
The home and kitchen category is one of the most consistent top-sellers on the AMZ website. If you plan to start a store but don't want to put up a lot of upfront capital, try dropshipping here. You'll be surprised at how many potential winning products are here in this section.
The best way to guarantee sales is to look for bestselling categories with low competition. Searching for products in subcategories and researching those that come up in a search for a category name are the best ways to find lower-competition products.
Examining each product's BSR will give you a good understanding of the competitive environment. You can guide your product choice by determining whether you would rank on that search results page.
Toys and Games
Toys and games are also some of the hottest products to sell on Amazon. Even better if you're selling products that can be used as gifts for kids. There are so many best-selling toys on Amazon, and you're unlikely to run out of ideas. Also, people are always want to purchase gifts for kids, so you're also not likely to make losses.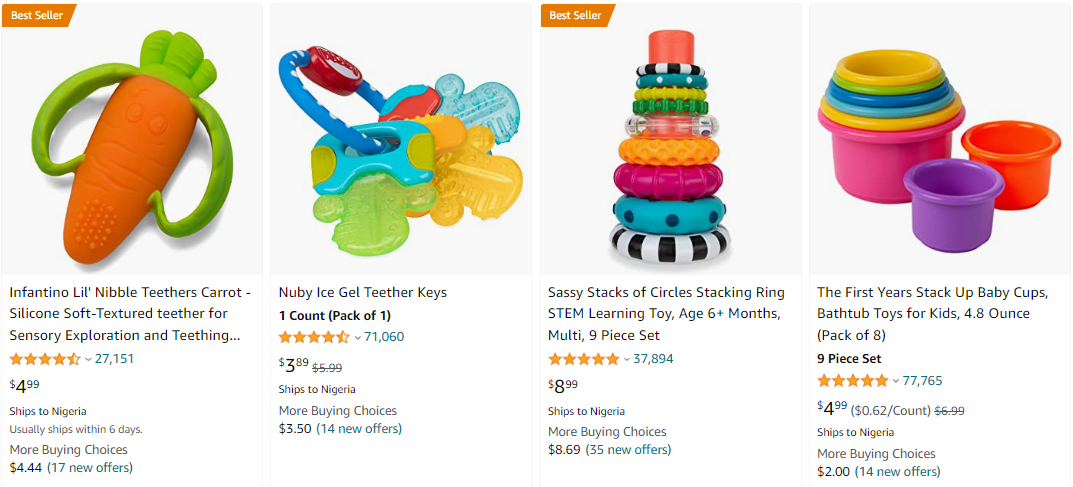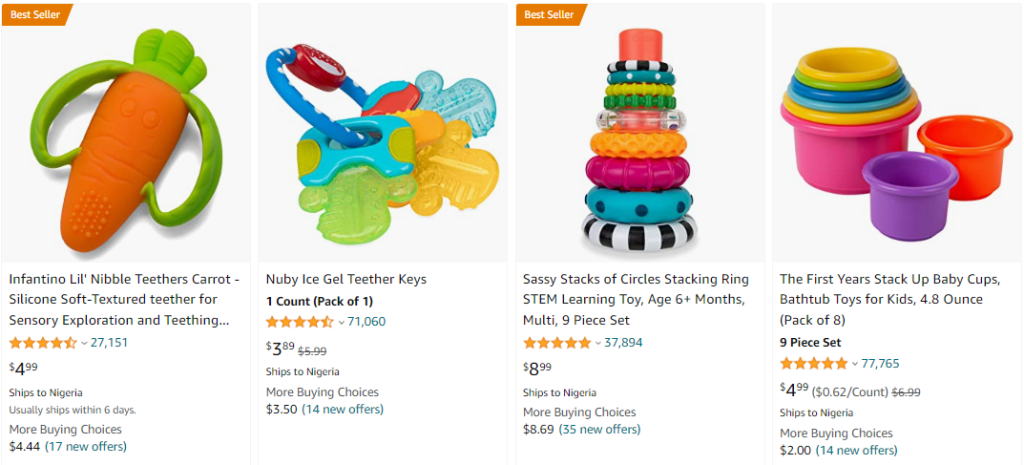 Random searches will have you confused because there are so many options. Consider using an AMZ software to find the best-selling toys on Amazon and then go ahead to sell similar stuff.
How To Find Best Sellers on Amazon Using AMZ Software
Using FBA software is the easiest way to find the hottest products to sell on Amazon. ZonBase is the best FBA software for finding best selling products on AMZ.
ZonBase's collection of seller tools ranges from product search tools to keyword research tools and listing optimization tools. It is an all-inclusive software that is equipped to meet all your seller needs.
ZonBase has an effective combination of 5 product search tools designed to filter product search results and narrow your options to only the best.
With ZonBase Product search tools, you can be sure of finding the most profitable product categories in only a few clicks.
ZonBase Product Research tools include:
Each of these product search tools is designed to bring you the winning products on AMZ to help you make sales and join the league of top sellers.

Conclusion
Using the combination of Best Seller Rank and FBA software properly will help you find the best-selling products on Amazon in less time compared to if you had to manually search and guess which products were likely to have high demand. The first step to building a profitable business is to find the hottest products to sell on Amazon. We hope this post has answered all your questions on finding the best sellers on Amazon.