Selling wholesale on Amazon's marketplace is undoubtedly one of the most lucrative ways to make money online in 2021. With the increasing popularity of online shopping, more small- and medium-sized businesses are migrating to eCommerce platforms. Regular individuals are also turning to it as another stream of income. The numbers don't lie: over 55% of paid units sold on the website came from third-party sellers (Source: Statista, 2021).
Chances are you've thought about selling on Amazon too. But with the high costs associated with starting a private label, you probably got discouraged and tossed your ambitions aside. Thus, becoming an Amazon wholesale website seller might be something that piqued your interest.
Well, we come bearing good news. There's a viable alternative to the unarguably lucrative private label business model, and it's called selling wholesale.
In this article, we'll explain to you how to start selling wholesale on Amazon. We'll teach you how this system works as well as its pros and cons. We will also give recommendations on the best wholesale products to sell on Amazon. And the icing on the cake: we'll share with you top tips for succeeding in your wholesale business.
Let's get started.
How does selling wholesale on Amazon work?
So you might be wondering how to sell wholesale products on Amazon, right? Selling wholesale on Amazon is a pretty simple concept. Wholesale refers to the practice of buying branded items in bulk from a manufacturer, supplier, or distributor, at a discounted price and reselling them on Amazon. 
The process of selling wholesale on Amazon is not much different from other business models. If you are wondering how to wholesale on Amazon, then you just have to take the following steps:
Create an Amazon Seller account: To start selling wholesale on Amazon, you'll need to create an Amazon Seller account. This will allow you to list your products, manage your inventory, and track your sales.
Find a profitable product to sell: The next thing to do before you launch an Amazon wholesale business is to research and find a profitable product to sell. Look for products with high demand and low competition, and ensure that the profit margin is worth the investment.
Source the product from a manufacturer: Once you've found a profitable product, it's time to source it from a manufacturer. You can find manufacturers through online directories, trade shows, or even by reaching out to suppliers directly.
Create your product listing: When creating your product listing, ensure that it's optimized for search engines and highlights the unique features of your product. Include high-quality images, detailed descriptions, and competitive pricing.
Launch and promote your product: Once you have created your product listings, you should create launch and marketing strategies to help increase your chances of sales. Utilize Amazon's advertising tools, social media, and influencer marketing to drive traffic to your product listing.
Manage your inventory, monitor sales, and scale your business: As your business grows, it's important to manage your inventory, monitor your sales, and scale your business. This includes keeping track of stock levels, adjusting prices, and expanding your product line.
Should You Opt for Amazon FBA or FBM?
A number of factors will influence the fulfillment model you should go with. Before you sell Amazon bulk items, you also have to consider what inventory storage and fulfillment method you would like to use. For your Amazon wholesale business, you have two options: Fulfillment by Merchant (FBM) or Fulfillment by Amazon (FBA).
Under the FBM model, third-party sellers are responsible for storing inventory, packing and shipping customers' orders, and customer service. And under the FBA model, third-party sellers send their inventory to Amazon's warehouse, also known as a Fulfillment Center, and Amazon stores their inventory for them. Amazon also handles picking, packing, shipping, and customer service on their behalf.
If you're considering selling wholesale on Amazon, Fulfillment by Amazon (FBA) is a more suitable option. You don't have to worry about inventory storage, fulfillment, and customer service because Amazon is taking care of it. With them doing the heavy lifting, the burden on you is less and you can focus on scaling your business. 

Amazon FBA also offers other benefits such as:
Automatic eligibility for Prime shipping

Leveraging Amazon's efficient logistics infrastructure and customer service

Increased chances of winning the Buy Box
If you use FBA, you will have to pay Amazon some fees though. You will be charged fulfillment fees and monthly inventory storage fees. However, these fees might end up less than the costs you will incur if you handle fulfillment on your own. Inventory storage and order fulfillment under the FBM model can be quite expensive. Especially if you are shipping fragile and bulky objects such as big-screen television sets.
That being said, if your products are heavy-weight or don't sell quickly due to low demand, then FBA may not be the best fulfillment method for you. You may have to store inventory, pick and pack orders, and ship product items to customers yourself. Thus, selling wholesale on Amazon makes much more sense when combined with FBA.
Now that you know what this entails, you're probably wondering how wholesale is different from other selling models. After all, they all involve product sourcing and selling to consumers for profit.
Keep reading to find out.
Related: HOW TO SELL ON AMAZON FBA FOR BEGINNERS: A STEP-BY-STEP TUTORIAL
Wholesale on Amazon vs. Other Amazon Business Models
Selling wholesale on Amazon is not the only way to make money. Other business models used by other sellers are:
Private label

Dropshipping
As you'll soon see, the process of starting a wholesale business is similar to that of other Amazon businesses. However, wholesale differs from other business models in some significant respects. To start an Amazon wholesale website, you have to know how to sell wholesale products on Amazon. And selling wholesale on Amazon requires a lot of planning.
Let's do a quick comparison between selling wholesale on Amazon and other selling models:
Wholesale vs. Private label: Private label is, by far, the most popular business model on Amazon. Private label involves sourcing products from third-party manufacturers or suppliers and selling them under your label or brand. Both private labeling and wholesale involve some negotiation with a manufacturer or supplier. However, private label sellers sell products under their brand name while wholesalers sell already existing branded products. As a result, when wholesalers want to list their products, they do not need to create a new product listing. Instead, they match an existing listing. Private label sellers, on the other hand, have to create a new product listing. This is the difference between private labeling and selling wholesale on Amazon.
Wholesale vs. Retail Arbitrage: Retail arbitrage is the practice of purchasing products at a discounted price from retail stores and reselling them at a higher price. Both wholesalers and retail arbitrage sellers buy already existing branded products to resell. Also, both wholesalers and retail arbitrage sellers take advantage of discount prices. But while wholesalers purchase items in bulk, retail arbitrage sellers purchase individual items or a small number of items. Also, wholesalers negotiate directly with the supplier or manufacturer for lower prices. But retail arbitrage sellers do not deal directly with manufacturers/suppliers. They simply buy discounted items, usually products on sale or clearance, at a retail outlet.
Wholesale vs. Dropshipping: There are quite a few differences between selling wholesale on Amazon and dropshipping. First of all, dropshipping doesn't require you to maintain an inventory.

Dropshipping involves listing items for sale and forwarding a customer's order details to a manufacturer/supplier to fulfill the order on the seller's behalf. Both drop shippers and wholesalers sell already existing branded products. But drop shippers do not own inventory or fulfill orders themselves since they only act as a middleman. On the other hand, wholesalers are responsible for keeping and maintaining inventory and fulfilling orders themselves.
Now that you know the similarities and differences between selling wholesale and other business models, why should you choose to sell over other selling methods?
Pros of Selling Wholesale on Amazon
You can leverage the popularity of established brands
The wholesale marketplace relies on the popularity of the name brand you are selling. As a wholesaler, you are selling products of established brands that are already in high demand. This is one of the best advantages of selling wholesale on Amazon. So your customer base is guaranteed and you don't have to invest so much effort in marketing. Since the brands already handle their marketing and promotion, you can just leverage this. Wholesale sales are often more profitable too if you buy them in bulk.
With wholesaling, you don't have to deal with extensive product and market research since you're choosing products from millions of brands. Once you find a supplier to stock your inventory, your business operations can be up and running in less than six weeks.
Although the award for the most profitable model goes to private labels, wholesalers turn in a profit quickly. Jungle Scout took a survey of sellers and results showed that 57% of wholesalers gained profit in less than 3 months. But for private label sellers, 65% said it took them six months to turn in a profit. Amazon bulk items can get high-profit margins if you're able to negotiate with suppliers for fairly low pricing, you'll get good profit margins. Wholesale sales can be profitable because you can get huge discounts for buying in bulk, unlike other selling models.
By selling wholesale on Amazon, you are spared the hassle of creating new product listings. You don't need to worry about building a brand and aggressively marketing your products. So you get to invest more time and energy in building a sustainable business. You can focus more on sourcing products, offering great customer service, and getting good reviews, all of which help grow your business.
Guaranteed Inventory Availability
Selling wholesale guarantees that you will always have products in stock as long as your supplier keeps manufacturing. This easily translates to repeat customers who will keep coming to re-order products from you.
Sounds great, right? But before deciding to start selling, you should also consider the drawbacks of the wholesale selling model so that you will be well-prepared to handle them.
Let's take a look at some of them.
Cons of Selling Wholesale on Amazon
The level of competition is high
While it's great that you don't have to create a new listing, adding your offer to an existing listing means competing with multiple sellers of the same product. To get ahead of the pack, you will have to offer lower prices than your competitors, which could significantly reduce your profits.
Yes, this does not cost as much as a private label. But it still costs a lot. You have to invest a significant amount of capital into purchasing items in bulk.
Because you are purchasing products in bulk quantities, you carry the risk of having a large inventory that could end up unsold if the item turns out to be in low demand.
Choosing the wrong product can mar your business as the point above shows. So you have to invest a substantial amount of time in product research. Finding a reliable supplier may be tedious too because the established brands will screen you first. If you don't get approved, you have to find other alternatives.

Best Practices for Selling Wholesale on Amazon
As noted earlier, the crux of the wholesale model is finding the right product and sourcing the products from a reliable manufacturer. So we will be sharing with you some tips and strategies in these respects, to help you successfully start and run a wholesale business.
Conduct thorough product research
The beauty of the wholesale model is that you get to thrive off the success of established brands. So make sure you look for established brands with products in high demand. You don't want to end up with a low-demand branded product that you have to market from scratch.
A good place to start is Amazon's best-selling products page. Amazon's best sellers rake in huge sales so you can be certain there is high customer demand. There is also a high level of competition, so winning the Buy Box multiple times is necessary to earn money from bestselling products.
You should steer away from products that are already sold by Amazon because Amazon is known for offering really low prices that you cannot compete with. You should also avoid products sold by a private label seller because it will be difficult to source products from the manufacturer. Besides, private label sellers can block you from adding your offer to their existing listing.
So how do you find out if a product is in high demand? By relying on data. The best business decisions are backed by data. There are tons of software to help you with Amazon sales analytics but we recommend Zonbase.
You can use Zonbase's Sales Estimator to get information about a product's monthly sales. From the results, you can ascertain if a product is likely to make hundreds of sales per day.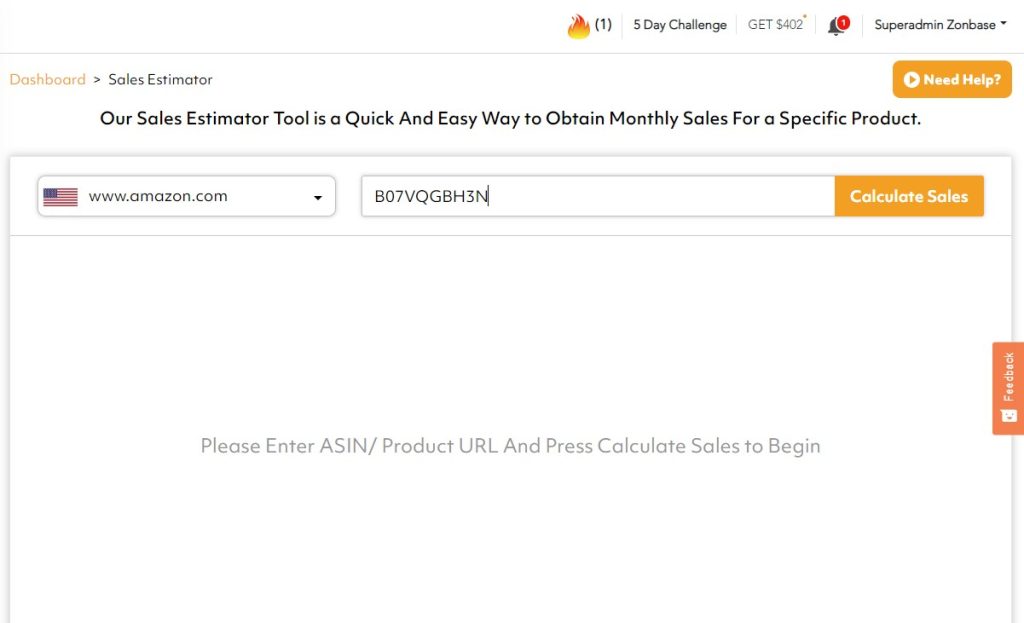 Oh, and there's more. Zonbase has several product research tools to help you assess a product's potential profitability.
With the Zonbase Chrome Extension tool, you can obtain data about a product while searching directly within Amazon.com. The Amazon FBA Chrome extension tool shows you a product's average monthly revenues, average monthly units sold, sales rank, price, and so on. With this information, you can assess how much demand a product gets.
You should use the previous tools if you already have a product or a shortlist of products in mind and want to validate or eliminate your options. But if you're struggling to think of product ideas, you can just start your search with the ZonResearch Tool on Zonbase. With ZonResearch, all you have to do is set your preferences for a product and the tool will sort through Amazon's database to give you results that match your criteria.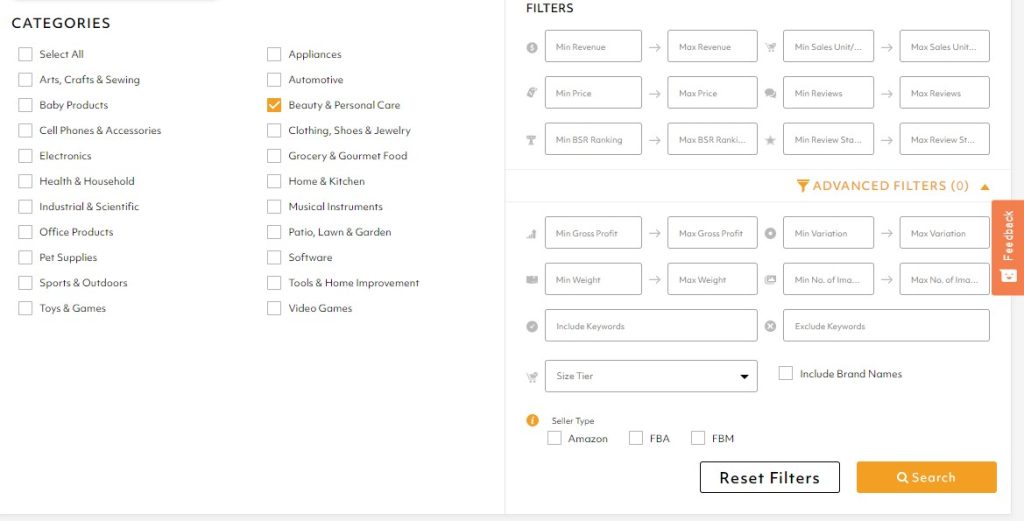 Use the data to calculate profit
Now that you have found some high-demand products, you have to estimate how much profit you are likely to gain. You need to take the following steps:
First, ensure that your product price is within 2% of the Buy Box price. If you don't know what the Buy Box is, the Buy Box refers to the widget on the top right side of a product page where customers can view pricing and add items to their cart

Find out the fees Amazon will charge for the product. Some Amazon fees depend on your selling plan and fulfillment method. Amazon has provided an FBA calculator for sellers. Just input the ASIN of the product, input the data, and review the result.

Now that you know the price and expected fees, you need to calculate your estimated profit. Your profit is the product's selling price minus the product's cost price and Amazon fees.

Using the Zonbase Sales Estimator Tool, find out the estimate of the product's monthly sales. Because you are likely to have competitors, not all those monthly sales will go to you. So the next step is to divide the number of monthly sales by the number of sellers on the listing including you. The result is an estimate of your monthly sales.

After getting an idea of the number of sales you are likely to make every month, calculate your inventory turn rate. This refers to the inventory level you should have at hand to meet your sales target. As a beginner, you want to stock inventory for at least 2-3 months. This is to avoid paying Amazon's long-term storage fees if you are using Amazon FBA.
Find the right supplier
Now that you have researched and found profitable branded products you can sell wholesale, it's time to source those products from a supplier.
Finding a supplier as a wholesaler is a different ballgame from finding a supplier as a private label seller. As a wholesaler, you are dealing directly with manufacturers or brand owners, not suppliers or manufacturers in China or overseas. You just simply need to contact the brand owners or manufacturers and inform them that you're interested in opening a wholesale account with them.
This approach has several advantages:
The brand owners are most likely in the U.S which means you can receive your inventory faster. Also, you don't have to deal with issues like overseas shipments and customs clearance.

You don't have to deal with communication barriers like differences in language and timezone. The suppliers you contact will most likely use U.S working hours

You don't have to worry about design, logo, and packaging because you are not creating a new brand. As a wholesaler, you sell the products of already-known brands.
However, finding a supplier as a wholesaler has its drawbacks. Unlike Chinese manufacturers who will readily do business with you, you're dealing with established brands who will have to screen you.
Before you contact a brand owner, there is certain information they will require from you so be sure to have them handy. This includes:
Incorporation documents: To sell as a wholesaler, you have to register a legal business entity, that is, a limited liability company (LLC). You can also do business as a sole proprietor in some states. Suppliers will want to see your company certificate or business registration information.
Resale certificate issued by your state: If you're in the U.S., manufacturers or suppliers may also request your resale certificate (or reseller license). This certificate allows you to purchase products for resale from a brand, distributor, or wholesaler without paying local sales tax. Without this, most wholesalers or brands will not allow you to buy wholesale.
Employer Identification Number (EIN): The EIN is a form of tax identification for a business. The EIN is particularly vital if you have employees or operate as a corporation or partnership. If you operate as a sole proprietor without employees, the EIN is not legally required but it could be beneficial to your business.
Now that you know what you need to conduct business with manufacturers and brand owners, it's time to find them out. The process is so easy, all you have to do is run a Google search. You'll certainly find their website in the search results. Open their website and scroll to the "Contact Us" segment, and send them an email stating your intentions to open a wholesale account with them. You can also reach out to their sales representatives if their numbers are on the website or any social media account.

Another way to locate wholesale suppliers is to attend trade shows. This is particularly useful if you are interested in selling a product that is not yet on Amazon. At tradeshows, you can have face-to-face conversations with brand owners and learn about their values, experiences, and pain points. It also presents the opportunity for you to pitch yourself to them and show them how you can add value to their brand.
Negotiate win-win with suppliers
If you want to be a reseller for a known brand, then you can be sure other sellers are knocking on their doors too. Apart from the possibly high competition, known brands are large companies or conglomerates that spend a lot on global marketing initiatives.
To stand a chance with established brands and stand out from the competition, you have to show them how you can add value to their brand. The main objective of companies is to make profits. So the most important thing to demonstrate is how you can increase their sales.
Also, do your research on the company, its annual revenue, its products, etc. Then come up with specific aspects you think they can do better in and suggest practical solutions to the issues you highlighted. For example, if their product packaging is unappealing, you could suggest a more compelling design. Or if the product images available online are of poor quality, you can highlight that too.
Another way to convince known brands that you're worth working with is by showing them proof of your past success, either as an Amazon seller or an offline seller.
For brands that do not yet have a presence, make them aware of the benefits of using Amazon as an additional sales channel. Also demonstrate how you intend to leverage the power and potential of Amazon to make them more sales, for example, by creating new optimized product listings from scratch, etc.
You'll also need to negotiate prices and order quantities
Chances are you will get several no's for an answer at first, but don't give up. Negotiations involve a seemingly unending back-and-forth so keep following up until you get a favorable deal.
Monitor your inventory and sales
A key ingredient for successfully selling wholesale is to know when, and in what quantity, to re-order in bulk from your supplier. First, you need to monitor your inventory level as you fulfill orders so you can know when to stock up.
You also need to monitor your sales history, so you can know the number of bulk quantities to purchase. If you order too much, and your products don't sell quickly, you'll spend a lot on inventory storage. And if you order too little, and your products sell quickly, you might miss out on sales.
If you observe that your products are not selling fast enough, you should consider adjusting the price. You could even source for a new product.
Conclusion
If you're looking for a side hustle and stream of income that won't take too much of your money and time, then you should get into selling wholesale. The wholesale marketplace is a profitable one, but it's not without its challenges. However, if you put the strategies we've shared into practice, your success at selling wholesale is guaranteed.
As you begin your journey as an Amazon wholesaler, Zonbase is the best Amazon FBA software you need for your business processes. Selling wholesale on Amazon doesn't have to be hard if you have tools that can make life easier for you.
Learn more about the Zonbase Suite through the Zonbase is it worth? it blog post