Selling online, especially on Amazon, means facing fierce competition. The struggle to turn a profit is real. Making money on Amazon begins with finding the most profitable products. Next, you will have to research keywords and optimize your listings. The question is, do you have the time and knowledge required to carry out these tasks effectively?
Amazon FBA software and product research tools have become essential resources for sellers.
In this article, we compare 3 of the best Amazon research tools – ZonBase vs Jungle scout vs Viral Launch. We'll also help you decide on which is the best for your business.
When comparing ZonBase vs Jungle scout vs Viral Launch, remember that all three tools have a lot to offer. Having so many features isn't necessary for everyone, but for some, it is.
So, how can you determine which tool to use? Each of these tools is unique. So you may tend towards one than others. Usually, your choice will depend on your needs, budget, and other factors. So be sure to weigh your options well.
The goal is to help you make an informed decision on which Amazon FBA software is the best. Hence, this guide will provide the following information:
Specifically, which tool would be the best to start an Amazon FBA business,
A ZonBase vs Jungle scout vs Viral Launch comparison table, in case you are in a hurry.
The strengths and weaknesses of ZonBase, Jungle Scout, and Viral Launch.
ZonBase vs Viral Launch vs Jungle Scout Overview
Although these tools are similar, there are a few differences. We will discuss these differences in this comparison.
Once you're done reading this, all your questions should be answered.
ZonBase vs Viral Launch vs Jungle scout Based On Pricing and Trial Period
Tool
Top Pricing Plans
Free trial
ZonBase

Legendary – $67/month
7 – Days + 30 Days Money Back Guarantee +
Free Training by Amazon Experts
Jungle scout
Professional – $84/month
7 -Days free trial/ Money-back guarantee
Viral Launch
Diamond – $197/month
14 days
ZonBase vs Jungle scout vs Viral Launch Based on Features
| | | | |
| --- | --- | --- | --- |
| | ZonBase | Jungle Scout | Viral Launch |
| Product Research tools | 5 | 4 | 2 |
| Keyword Research tools | 3 | 2 | 3 |
| Listing Optimization tools | 2 | 1 | 2 |
| PPC Management tools | 2 | 1 | 1 |
ZonBase Tools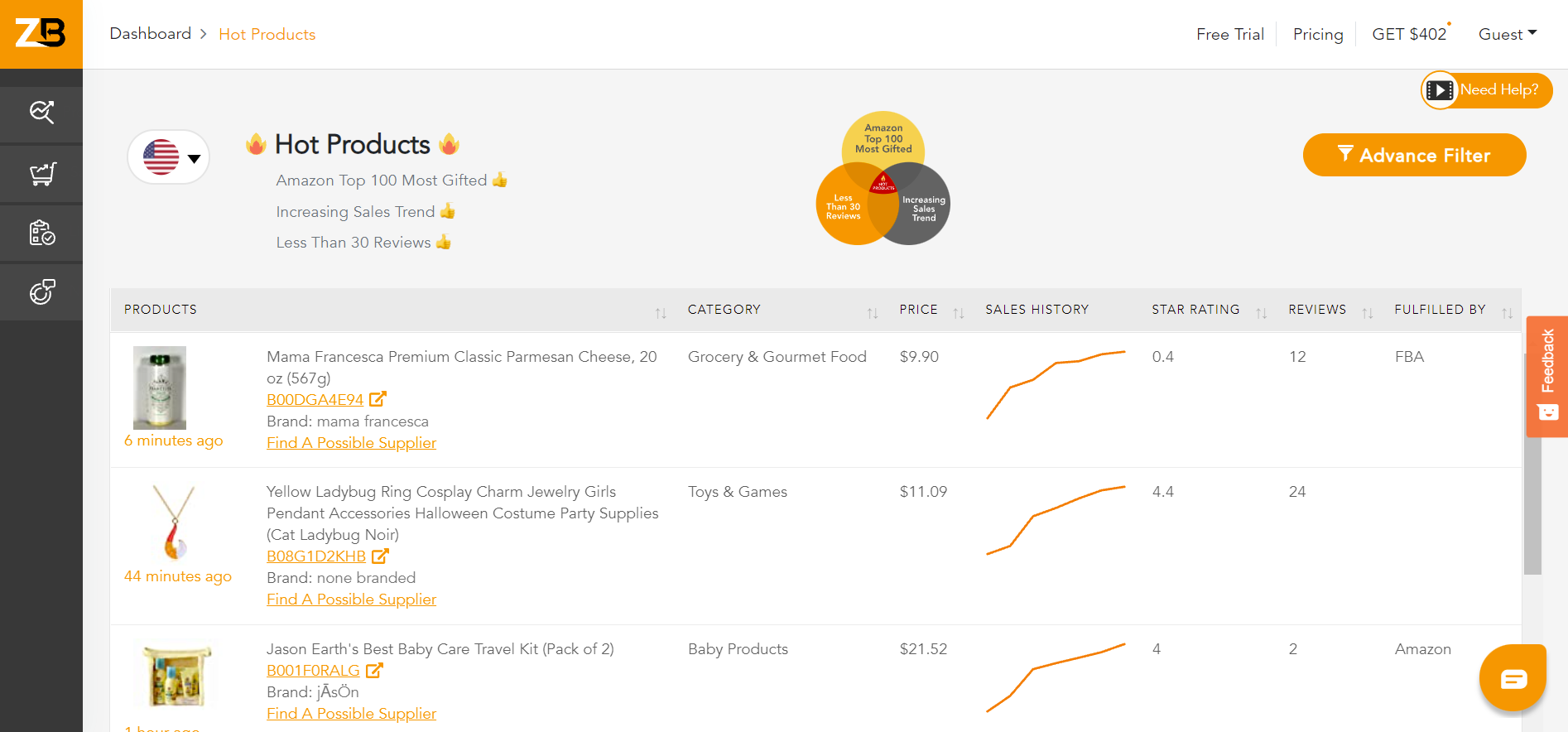 The Zonbase platform has 13 tools at present. Here is a list of the tools and what they do:
| | |
| --- | --- |
| Tools | Uses |
| ZonResearch | Discover niche-specific products from Amazon's database of more than 20 million products. |
| Chrome Extension | Find Amazon's hottest products with this extension. |
| Sales estimator | Analyze how much your competitors sell on Amazon based on their ASINs. |
| ZonTracker | You can view Amazon's search rankings for any keyword |
| Keyword | Get the most out of your Amazon product listings by finding the most effective keywords. |
| Reverse ASIN | Spy on the keywords of your competitors to dominate the market. |
| Hot Products | Discover the top-selling items on Amazon. |
| Listify | Add targeted keywords to your product listing to maximize its effectiveness |
| Listing Optimizer | Optimize listings for conversions. |
| PageOne | Show up on page one with these tools. |
| PPC AutoPilot | Automate your Amazon PPC campaigns |
| Product Validator | After selection, your products will be evaluated by experts. |
| Photo Enhancer | Enhance product images to captivate buyers' attention and increase sales. |
| Mentorship | Amazon experts offer their knowledge and expertise to help you succeed on Amazon. |
Jungle Scout Tools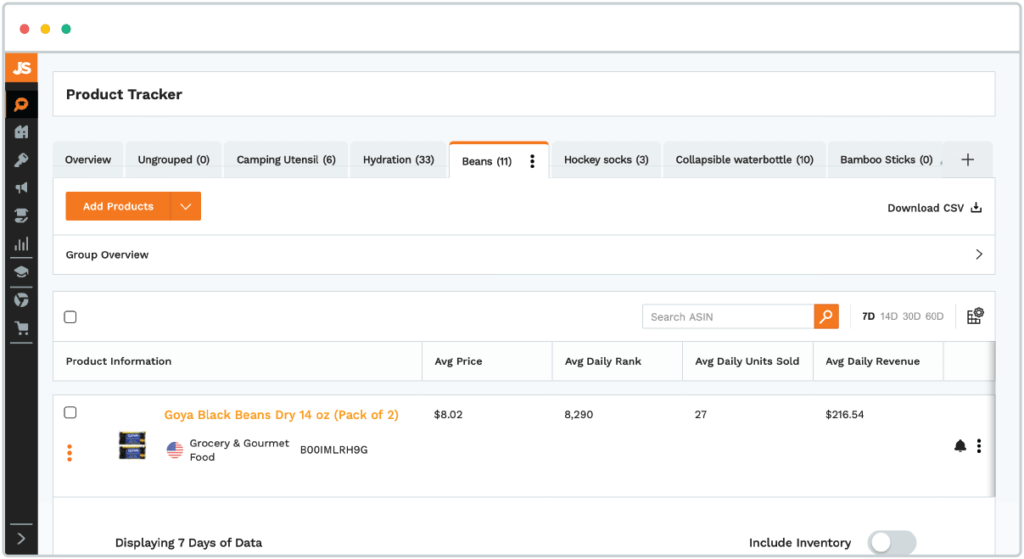 | | |
| --- | --- |
| Chrome Extension, the Opportunity Finder, and Product Finder | You can find profitable products to sell on Amazon by using the tools |
| Supplier Database and Supplier Tracking | These tools will help you find out where and how to source products to ship directly to customers based on verified Amazon suppliers |
| Listing Builder and Keyword Scout | Two tools you might need to maintain your ranking and build a great listing. |
| Email campaigns and Promotions tools | These are the tools used to promote products and help you make your first sale. |
| Alerts, Inventory Manager, and Sales Analytics | These tools will help you start, manage, and scale up your Amazon business. |
Viral Launch Tools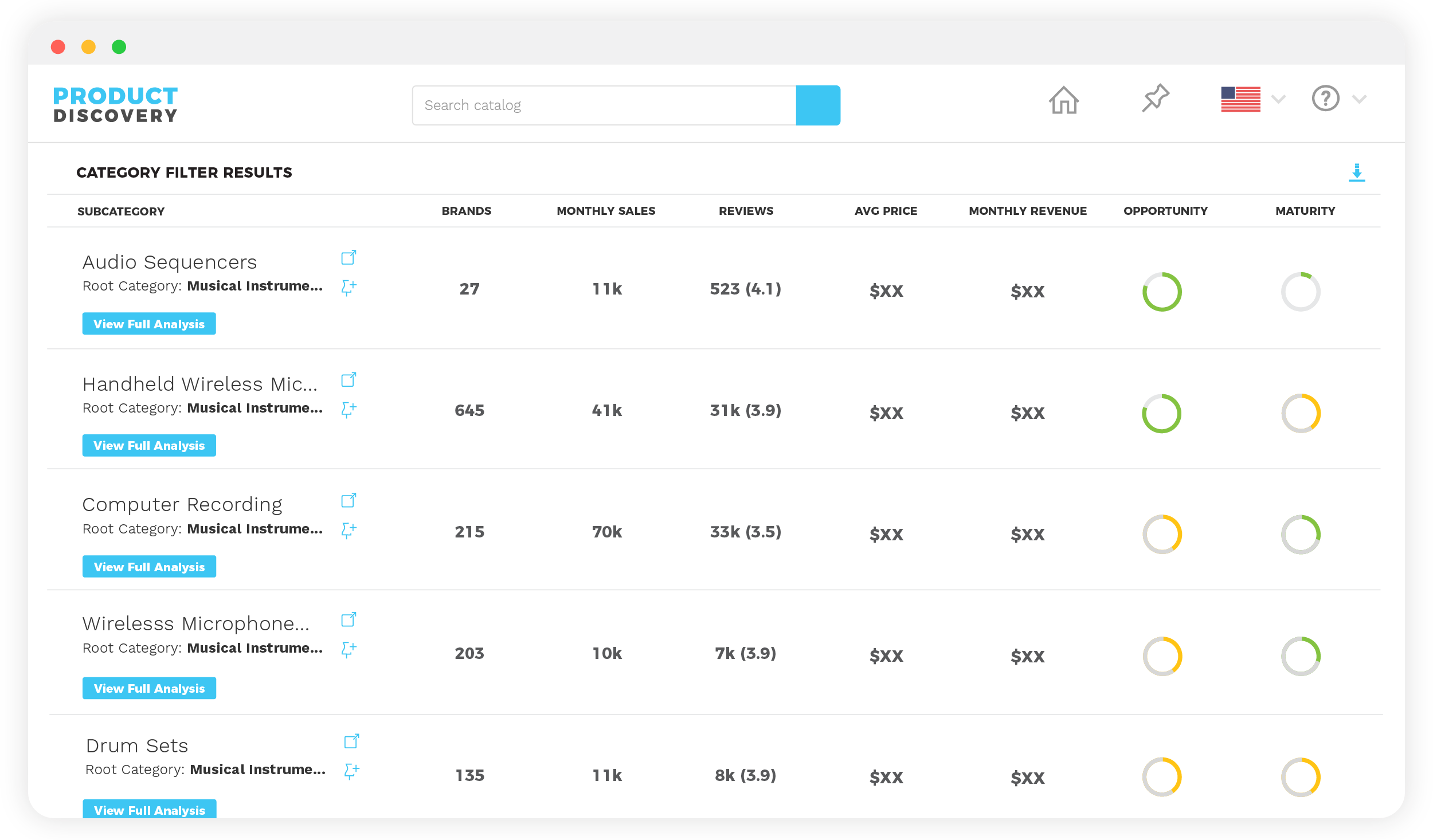 | | |
| --- | --- |
| Keyword Research Tools | This feature allows you to search for the most relevant keywords for your products. You can also track the analytics and data of those keywords. |
| Product Discovery Tool | Using these tools, you will be able to find new market opportunities for your products. You'll also get real-time information on the catalogs available on Amazon. |
| Market Intelligence Tool | It provides information about a variety of products and makes a solid estimate of sales |
| Product idea scoring and ranking | This feature will determine whether a product is worth the effort and if it will be sold or not. |
| Review Tool and Kinetic PPC Tool | The review tool estimates the number of reviews you will receive for a potential product. While the Kinetic PPC tool helps with automating your PPC campaign. |
ZonBase vs Jungle Scout vs Viral Launch Pros and Cons
Choosing software for your business is not something you should do with your eyes closed. You need to consider the features, pricing, pros, and cons. Doing this will help you weigh your options properly to see what works for you.
We have considered the features and pricing of each of this software. We will now see the pros and cons of all three – ZonBase vs Jungle scout vs Viral Launch.
ZonBase
Pros
Many product research and keyword research tools. These tools will help you validate and narrow down your options.
Effective listing creation and optimization tools
Easy to use dashboard and tools
Mentorship and expert support
Cons
There have been complaints that ZonBase customer support can be slow to respond.

Jungle Scout
Pros
An easy-to-use tool to research profitable products
Also, it can guide you to identifying profitable competitor products.
The Chrome Extension is excellent for researching products & competitors
Cons
Some users say that Jungle Scout customer support can be slow to reply
And that it's hard to find help in other languages than English

Viral Launch
Pros
Viral Launch is great for launching and scaling Amazon stores.
Analyzes product and seller information extensively.
Accurate and user-friendly software.
A simple, no-pressure sales approach to choose which features you desire.
Cons
You are charged even when you aren't using the service. You also won't be notified when the subscription is being renewed automatically.
Charges on unused services are not refundable or partially refundable.
Sometimes, market intelligence doesn't produce results.
ZonBase is the best Amazon software for Amazon sellers, especially those who are on a budget. It offers a versatile set of tools that cut across every area. This has made it the perfect option for newbies and professional Amazon sellers.

How ZonBase Can Help You Scale Your Business
Scaling an AMZ business is not as easy as it sounds on paper. New sellers are often jolted back to reality when they discover the amount of work they have to put in. The euphoria that comes with a new business dissipates in the face of the complex tasks they have to execute.
Contrary to what you may have thought, you cannot just list products on AMZ and walk away. First, you will have to conduct product research to uncover the best-selling products. Next comes the keyword research and listing optimization processes. These processes cannot be overlooked. But there is a high chance that you will be unable to execute them effectively.
AMZ software can help you automate these processes. Using software guarantees you better results. The crossroad is usually at the point of choosing software within your budget. Some sellers end up frustrated from using expensive, yet ineffective software. This means that you risk investing in software that does nothing but cost so much. To avoid this, it is in your best interest to use ZonBase.
The software contains a comprehensive set of tools for product research. AMZ businesses do not rely on this alone. Hence, ZonBase also offers tools for keyword research and listing optimization.
Here's how these tools can help you scale your business.
Discover The Hottest Products On AMZ
If you don't have the right products, making headway on AMZ may be a bit of a struggle. So if you do not know how to find profitable products, ZB is your go-to tool. With ZB, you have access to effective product research tools.
These tools use important Amazon data to bring you top product recommendations. You can't go wrong with software that recommends products based on sales history. What's more? With the hot products tool, you get access to a list of authentic suppliers.
Related: Best AMZ Software For Product Research
2. Create Well-Optimized Listings
After discovering winning products for your store, you'll have to put them up for sale. This is where creating listings comes in. Ordinarily, you can create listings with even basic knowledge. But, listing optimization involves a whole lot more.
Optimizing your listings involves including bullet points, titles, and descriptions. If you are new to the marketplace, you may find this complex. Not to worry, ZonBase's listing tools have you covered. These tools help you come up with well-optimized listings using these elements. You can even check out your competitors' listings and take cues from them.
3. Keyword Research
When it comes to conversions, keywords are crucial. Ranking higher for several keywords will increase your reach. The Amazon algorithm relies heavily on keywords. Including relevant keywords in your listings results in more visibility and increased conversions.
You can optimize listings by incorporating more and more high-converting keywords. ZonBase provides the best combination of tools for conducting keyword research. These tools will show you what keywords your competitors are ranking for. Using this information, ZonBase will bring you the perfect set of keywords for your store.
4. Run Automated Promotions
Amazon allows you to run paid ads. But running promotions can be a hassle, especially for new sellers who don't know how it works. Automating your PPC ads is your best bet. Currently, ZonBase's PPC tools are the best you will come across. These tools allow you to automate PPC campaigns and rank on the first page.
Besides PPC ads, consider using Google and Facebook ads for more visibility. You can also leverage social media to build an audience. This makes it possible to reach a larger audience outside of Amazon. You can then redirect them to your listings.
Apart from product research, keyword research, and listing tools, ZonBase has other tools. All these tools work together to help you succeed on AMZ.
What To Consider When Choosing AMZ Software
you need to choose software that meets your needs and is within your budget. Most AMZ software is overpriced and ineffective. So when you find one that gets the job done at a reasonable price, be sure to go for it.
Aside from pricing and features, you should also look for customer reviews. Reviews will help you know what people think about any of these tools. Third-party opinions will also help you make an informed decision.
ZonBase has a ton of good reviews. Thousands of sellers swear by this software. Some of them have even built six-figure businesses from scratch using this tool. Here are a couple of them:
Will R
"I have been selling 2ish for about a week. But ZonBase has started doing a campaign for me lately. Should I be surprised that there are 39 sales today when I'm used to selling 2 a day?"
Mary A
" …For those that have not used ZonBase, I have to say they are the greatest! …They are super friendly and absolutely great to work with. Thank you so much ZonBase!"
Tom
"Was skeptical about trying ZonBase photo enhancer, but I decided to give it a try. I was amazed at how high quality the photos turned out. ZonBase made the process so easy with detailed instructions on how to take the pictures myself using an iPhone."
Conclusion
Amazon sellers often find it difficult to make the best choice between these tools. But, this ZonBase vs Jungle scout vs Viral launch comparison should make it easier.
Be sure to consider all the important factors before choosing software. ZonBase is the best tool for sellers who are on a budget. If you're interested in giving Zonbase a try, sign up for a free trial.