Selling on Amazon has become much easier, thanks to many Amazon seller software tools on the market. Sellers now have access to a wide range of tools they can use to find profitable products, discover high-converting keywords, optimize their listings, and more.
When it comes to making a decision, sellers are often torn between two popular tools: Jungle Scout and Zonbase.
Both Jungle Scout and Zonbase are all-in-one seller software suites. They offer a wide range of features that assist with product research, keyword research, listing optimization, inventory management, and more.
But which software tool should you choose for your Amazon business?
In this guide, we'll walk you through the core features of Jungle Scout and Zonbase and the differences between them, so that you can make an informed decision.
Let's dive in.
Jungle Scout
Jungle Scout is, no doubt, a pioneer in the world of Amazon seller software. Founded in 2015 by 8-figure Amazon seller, Greg Mercer, Jungle Scout is one of the leading solutions for sellers.
Jungle Scout was originally a product research tool but has since evolved into an all-in-one software solution. The web-based software currently offers 14 features and tools that cut across product research, keyword research, listing optimization, and inventory management.
ZonBase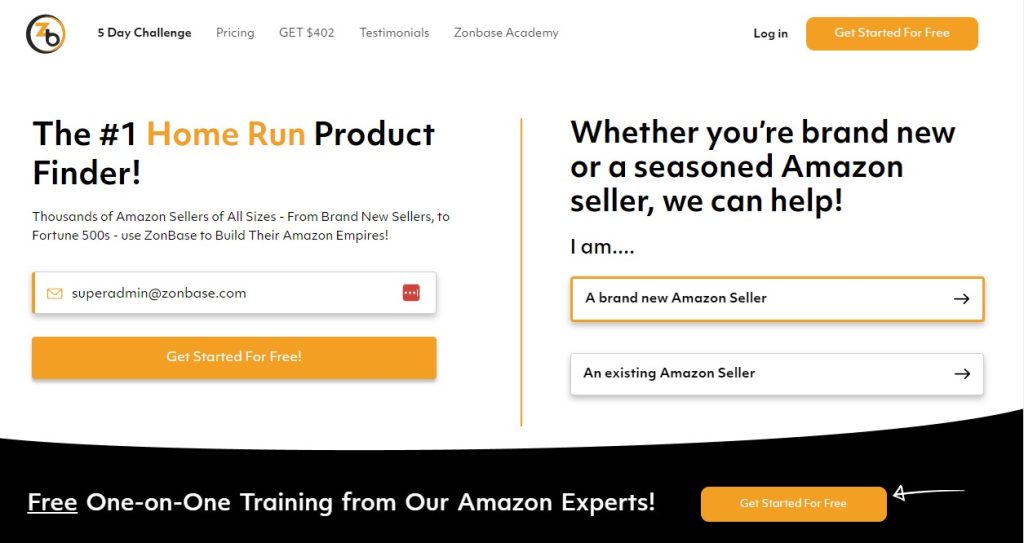 Zonbase arrived on the Amazon seller software scene 4 years after Jungle Scout. But it's fast becoming a well-known solution for Amazon sellers, especially those on a budget.
The Zonbase software suite consists of 13 tools designed to help with product research, keyword research, listing optimization, financial tracking, and PPC marketing.
Jungle Scout vs Zonbase: Tools for Sellers
Both software suites have an impressive array of tools, some of which perform similar functions. But of course, both suites have some unique features.
Let's take a look at each tool in both Jungle Scout and Zonbase.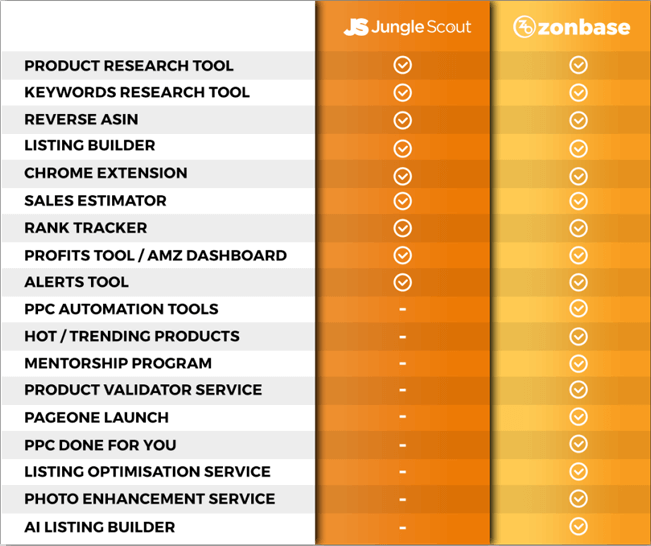 Jungle Scout Tools for Sellers
Product Database
The product database is one of the core product research tools on the Jungle Scout platform. With Product Database, you can search through millions of products in Amazon's catalog for profitable product ideas.
The Product Database provides some filters you can use to narrow your search. Think of these filters as the criteria for your preferred product. The filters include price, monthly sales, monthly revenue, rating, rank, number of reviews, and listing quality score. You can further narrow down your search by specifying keywords to be included or excluded.
Opportunity Finder
The Opportunity Finder is another product research tool for discovering profitable product niches. At first glance, this tool seems similar to Product Database. However, the major difference is that Product Database generates profitable (individual) products, while Opportunity Finder generates high-demand, low-competition keywords/niches. Opportunity Finder also provides more in-depth information to help you assess the profit potential of a product niche.
With Opportunity Finder, you can narrow down your search based on average monthly units sold, average monthly price, search volume, seasonality, and competition.
When the results have been generated, you can view key historical data about the product niche for 12 months, based on the above filters.
The star of the Opportunity Finder tool is the Niche Score, which is an estimate of how profitable a niche is. Jungle Scout arrives at this score by taking into account demand, competition, and a keyword's listing quality.
Product Tracker
Jungle Scout's Product Tracker is also a product research tool. But unlike the first two, this tool does not generate product ideas. Instead, it is used to validate a product idea and narrow down your options.
With the Product Tracker, you can monitor the performance of product ideas you may have discovered on Product Database or Opportunity Finder over time.
This tool provides insight into key product metrics such as average price, average daily sales, average daily revenue, average net profit, review count, and more. You can also dig deeper to view historical data for each product, based on units sold, rank, inventory, and Buy Box price.
Supplier Database
Supplier Database is a product research and sourcing tool that enables sellers to find reliable suppliers for their product ideas. Within Supplier Database, you can access a large catalog of manufacturers and suppliers across the globe. This tool displays essential information to guide your decision, such as the number of their total shipments, top customers, and the products they manufacture.
You can search for suppliers by:
Product – the name of the product you want to sell e.g. yoga mat
Company – the name of a company or brand that sells a product similar to yours. The tool will bring up their top suppliers.
Supplier – if you already have a supplier in mind, you can look them up to verify their credibility.
ASIN – you can copy a product's ASIN from Amazon and paste it into the tool to get the name of the overseas supplier who manufactured the product.
Keyword Scout
Keyword Scout is Jungle Scout's keyword research tool. With Keyword Scout, you can search for keywords that Amazon shoppers use to find products like yours. You can also reverse-search your competitors' keywords to find the keywords they rank for and sponsored keywords.
Keyword Scout displays the search volume for the seed keywords you enter, as well as related keywords. Once you click on a keyword, you can view its historical search volume, helping you assess its seasonality over time. You can also view the cost-per-click of any keyword and how easy it is to rank for it.
You can narrow down your keyword search with filters such as categories, and search volume (broad & exact match).
Listing Builder
Listing Builder is a tool for building and optimizing product listings. You can draft a new listing within the tool or optimize an existing listing on Amazon.
You can import your keyword lists to Listing Builder and start drafting your listings with them. The tool flags the keywords you've already used, to prevent duplicates.
Listing Builder provides a Listing Optimization Score, which indicates how likely it is that your listing will rank and convert.
Rank Tracker
Rank Tracker gives you insight into your keyword rankings over time. With this tool, you can see which keywords are performing well, and which ones are not. You can also view the rank history of multiple keywords related to one ASIN over time, within a graph.
In addition, Rank Tracker allows you to reverse-search your competitors' listings to view their top-performing keywords so that you can add them to your listing.

Sales Analytics
Sales Analytics provides insight into the financial performance of your Amazon business. With this tool, you can track key financial metrics such as the number of units sold, net margin, ROI, net profit, revenue, and costs. You can view this information on a company level or for individual products.
Once you click on any of the above metrics, you can see a more detailed breakdown of their performance over time.
Inventory Manager
The inventory manager feature provides data about your Amazon FBA inventory so that you don't run out of stock. With this tool, you can view your inventory levels, suggested dates to reorder, suggested quantities to reorder, and reorder costs. The Inventory Manager also provides insights into your costs and profits.
Review Automation
The Review Automation tool sends automatic review requests to customers after a purchase. You can view the status of each request within your dashboard. You can also customize the timeframe for sending a review request and the products for which requests will be sent.
Promotions
With this tool, you can create and manage promotional campaigns directly within Jungle Scout to boost sales.
Alerts
The Alerts tool sends you notifications about changes to your product listings. This includes changes to your price, rating, and Best Sellers Rank. The Alerts tool also informs you when your product gets a new review, a new seller is added to your listing, the Buy Box owner changes, and more
Category Trends
With the Category Trends feature, you can track the performance of the top 100 bestselling products within any category or subcategory on Amazon. This tool provides insight into key metrics like price, review, rating, and rank.
Browser Extension
Jungle Scout's Browser extension is a powerful tool that can help sellers validate product ideas and confirm the profitability of any potential product before launching it. The extension provides real-time data on monthly sales estimates, historical product demand, and sales projections. This data can be used to assess the potential profitability of a product and make informed decisions about whether or not to launch it.
Advertising Analytics
What happens after you launch your PPC campaigns? With Jungle Scout's advertising analytics tool, you can view your campaign metrics and review the performance of your campaigns based on this data.
Zonbase Tools for Sellers
ZonResearch
ZonResearch is the core product research tool in the Zonbase software suite. It combines the functionality of Jungle Scout's Product Database and Opportunity Finder.
Within the Product tab on ZonResearch, you can search through millions of products in Amazon's database for a profitable product that matches your preference. Using filters, you can set your criteria. The filters include revenue, price, monthly sales, review count, and Best Sellers Rank. You can also narrow down your search further by using advanced filters such as keywords to be included or excluded, seller type (FBA, FBM, or Amazon), and brand names.
Within the Keyword tab, you can search for profitable niches based on keywords. In addition to the filters in the Product tab, you can also narrow your search based on keyword search volume.
Hot Products
The Hot Products tool is a unique product research tool that provides a collection of trending products: the top 100 Most Gifted products with an increasing sales trend and fewer than 30 reviews. While Jungle Scout's Category Trends only lists the top 100 products within categories, the Hot Products tool goes a step further to generate trending products that are high-demand and low-competition.
You can also view more data about each product, such as price, sales history, review count, and more. This tool also connects you with possible suppliers on Alibaba you can source your products.
Keywords
The Keywords tool is a keyword research tool, comparable to Jungle Scout's Keyword Scout. With this tool, you can uncover high-potential keywords to optimize your listings with. When you type in a seed keyword for your product, this tool displays its monthly search volume and its seasonality over time.
The Keywords tool also displays a plethora of related keywords that Amazon shoppers use to find that product, with their monthly search volume.
You can narrow down your search using filters like search volume, keywords to be included or excluded, and the best sales season.
Reverse ASIN
The Reverse ASIN tool is another keyword research tool in the Zonbase suite. With this tool, you can reverse-search your competitors' listings to find out what keywords they rank for.
The Reverse ASIN tool reveals each keyword including each rank and monthly search volume. You can also view a table that shows the frequency of words in the listings.
ZonTracker
Zontracker allows you to track the ranking of keywords in your listing over time. Once you add a product and the keywords you want to track, you can view the monthly search volume, current rank, and historical trend for the week.
Listify
Listify is a listing optimization tool for building fully optimized product listings. You can either import your existing listing for editing or create a new one from scratch within the tool. With Listify, you can extract keywords and phrases from your top competitor's listings and use them as a guide for creating yours.
Listify marks keywords as you include them in your listing to prevent duplicates. You can also compare your listing with your competitor's, side by side.
AI Listify
AI Listify is a unique listing optimization tool powered by artificial intelligence and machine learning. This tool automatically generates fully optimized product listings from scratch. Once you enter your product niche, the algorithm analyzes the top ten organic rankings for that keyword. Then, the algorithm extracts high-converting keywords from their listings and uses them to create a new listing for you.
Profits
Profits is a business analytics tool for tracking the financial performance of your product listings. With this tool, you can view financial data on your overall business, such as gross revenue, units sold, costs, net profit, and profit margin. You can also dig deep into these metrics for individual products over a certain period.
The Profits tool also doubles as an inventory management tool, not unlike Jungle Scout's Inventory Manager. You can gain insights into your inventory levels and how long they will last, helping you determine when to restock and in what quantities.
Related: Best Amazon analytics tools for beginners.
ZonPPC
ZonPPC is a PPC management solution that uses machine learning and artificial intelligence to create and optimize PPC campaigns. This tool helps you create fully automated or semi-automated PPC campaigns, you simply have to set your bids and budget.
ZonPPC does all the work involved in managing your ad campaigns, from adjusting bids to promoting the best-performing keywords and marking non-performing keywords as negative.
Chrome Extension
The ZonBase extension offers a seamless experience for both product research and validation. With this powerful tool, you can effortlessly uncover lucrative product options or validate your existing ideas. The best part? It leverages data-driven insights to generate or validate product ideas in a matter of minutes, all with just a few clicks.
Sales Estimator
The Sales Estimator is a powerful tool that enables you to assess the profitability of your product options by analyzing previous sales data. By utilizing this tool, you gain access to crucial information that aids in selecting profitable products based on existing data and track records.
With the Sales Estimator, you can make informed decisions about which products to pursue, guided by historical sales data. This data-driven approach helps you evaluate the potential profitability of different product options, enabling you to choose wisely and optimize your chances of success.
Zon Grading
Zon Grading, one of the latest additions to the ZonBase collection, allows wholesalers to validate the profitability of their wholesale product options. With this tool, wholesalers can obtain estimated profit margins for each product, enabling them to make informed decisions about their wholesale inventory.
Using this tool, wholesalers can confidently assess the potential profitability of their product options. This tool takes into account various factors such as costs, fees, and market demand to provide accurate estimations of profit margins. Armed with this information, wholesalers can strategically choose which products to include in their inventory, maximizing their chances of success.
Zon Scanner
Zon Scanner is a mobile app for product research. This tool allows sellers to effortlessly scan the barcode of any product and gain access to crucial product and sales data, enabling them to make informed decisions before entering the market.
Designed with online and retail arbitrage sellers in mind, Zon Scanner proves invaluable in confirming the profit potential of products before committing to large inventory quantities for resale. By leveraging this app, sellers can accurately assess the viability of a product, ensuring optimal profitability and mitigating potential risks.
Seller Insights
This tool is a game-changer for arbitrage sellers and wholesalers. It offers an extensive list of private labelers and manufacturers for resellers to establish partnerships with. This valuable resource provides crucial seller data, simplifying the process of selecting and collaborating with established and profitable sellers who have a strong existing brand.
With the Seller Insights tool, resellers gain access to a wealth of information about potential partners, including their track record, profitability, and brand reputation. This empowers resellers to make informed decisions when choosing partners, ensuring they align with reputable and successful sellers.
Brand Analytics
Resellers flourish by capitalizing on products that already enjoy significant demand. That's why stocking up on popular and sought-after brands is crucial. The Brand Analytics tool makes the search for profitable brands seamless, as it provides an in-depth overview of the top brands within any product category, simplifying the process of selecting brands to resell.
With the Brand Analytics tool, resellers gain access to comprehensive insights on brands that pique their interest. They can view vital data such as the in-stock rate, seller count, total sales, average selling price, and total reviews associated with each brand. Armed with this information, resellers can make well-informed decisions about which brands to focus on and leverage the existing demand for maximum profitability.
Supplier
The Supplier tool, true to its name, revolutionizes the process of product sourcing. This indispensable tool grants you access to an extensive database of suppliers, empowering you to discover reliable sources for your products.
With the Supplier tool, you gain more than just a list of suppliers. It offers a wealth of detailed information, including website addresses, email addresses, locations, and contact numbers. This comprehensive database equips you with the essential details needed to establish meaningful connections and foster successful partnerships with suppliers.
Alerts
As the name suggests, this tool alerts you about crucial changes to your product listings. You will get a notification if there are changes in your product price, Best Sellers Rank, or rating. The Alert tool also informs you when there is a hijacker on your listing, when a seller is removed, or when your product gets a new review, and when there's a new Buy Box owner.
ZonRepricer
ZonRepricer is a repricing tool that allows sellers to make price adjustments automatically by setting pricing rules for the algorithm-based tool. The tool makes it easy for you to maximize price fluctuations and maintain competitive prices without spending hours trying to manually implement price changes.
Most of the above tools come with the software suite of Zonbase, which has either a monthly or yearly subscription, and you can try any of these out with a 7-day free trial.
Apart from the regular seller tools that allow sellers to find profitable products, generate relevant keywords, and create & optimize listings themselves, ZonBase also offers professional services for sellers who would rather outsource these tasks to experts.
ZonBase offers a Product validator service for sellers who need help with finding new product options or validating their product ideas. Sellers who would rather partner with experts for listing optimization can sign up for the listing optimizer service and work with a team of professionals who will create unique, well-optimized listings from scratch.
With the Photo Enhancer service, sellers can partner with professionals who will optimize their product images for conversions. If you need help with PPC launch and optimization, you can opt for the Page One and PPC Autopilot services and work with experts who will launch your campaigns and manage them on your behalf.
Which is better?
While it looks like Jungle Scout has more tools in its suite, Zonbase does have tools that combine the capability of tools in the JS suite. For instance, Jungle Scout has a separate tool for Inventory Management and Sales Analytics, while the Profits tool in Zonbase handles both of these.
Zonbase does not have a Review Automation or Promotions tool. But it does have a PPC management tool — a feature Jungle Scout does not have. And in our opinion, that's a more crucial feature for sellers because PPC campaigns are one of the major ways sellers drive traffic to their listings. The AI Listify tool will also cut the time sellers use to create fully optimized listings.
Jungle Scout vs Zonbase: Chrome Extension
In addition to a web app, both Jungle Scout and Zonbase have a Chrome Extension you can use for product research while browsing Amazon. Let's take a look at how they work.
Jungle Scout Chrome Extension
The JS extension is useful for validating product niche ideas. Once you search for a product, the Jungle Scout extension reveals key insights about that niche, such as average monthly sales, average sales rank, average price, and average reviews. You can also view this information for individual products in that niche.
This extension also displays crucial information about a product when you're on the product detail page. You can view historical data on the product's monthly sales, daily sales, price, and rank. You can also view current data on the product's fees, net profit, and listing quality score.
Zonbase Chrome Extension
If you have product ideas, you can use the ZB extension to validate them. Once you run the extension after searching for a product, you will be able to view essential information about the niche. This information includes the average monthly revenue, average monthly units sold, average unit price, and average reviews. You can also view the estimated search volume for that keyword and a Smart Score that evaluates the product's potential based on demand and competition.
In addition, the ZB extension provides information on individual products, such as monthly sales, monthly revenue, gross profit, product weight, dimensions, and more.
You can also use the ZB extension to make financial projections. Once you enter your preferred return on investment, the extension recommends your product's cost price, selling price, Amazon fees, and profit per unit. You can also forecast how much inventory you can afford to purchase based on your budget.
Which is better?
The Zonbase and Jungle Scout extensions provide similar data. But the financial projection feature is where the Zonbase Chrome extension takes the cake. It's not enough to show sellers the price or fees of a product. How much profit will they earn? How many units should they stock up on? The ZB extension does a better job of providing these insights.
Jungle Scout vs Zonbase: Sales Estimator
Jungle Scout and Zonbase offer a Sales Estimator tool that gives you an estimate of a product's average monthly sales.
Jungle Scout Sales Estimator
The JS Sales Estimator uses a product's Best Seller Rank to estimate how many units it sells in a month. To use this tool, you have to enter the product's rank and category.
Here's the data for a large fanny pack on Amazon.
Zonbase Sales Estimator
The Zonbase Sales Estimator provides monthly sales and monthly revenue estimates for any product. This data is fetched directly from Amazon.com so it takes about two minutes to populate.
Here's the data for the same fanny pack above.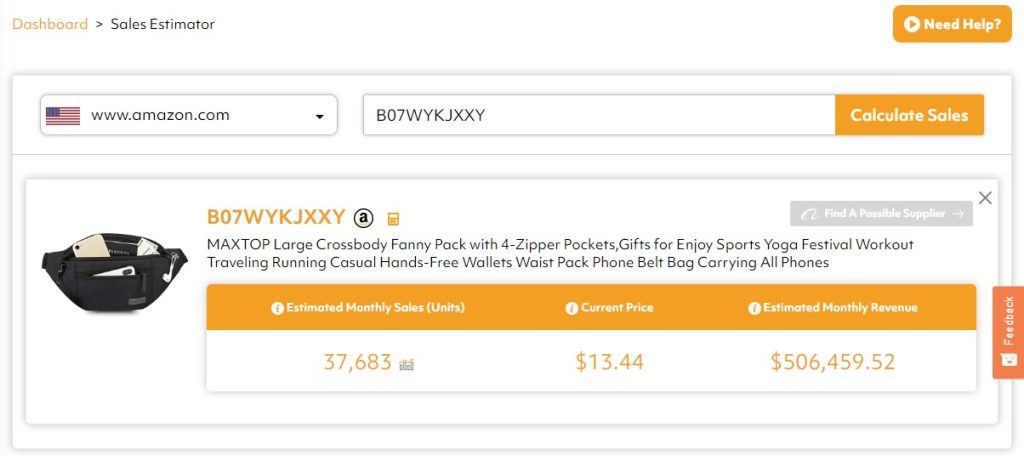 Which is better?
Jungle Scout pulls up the data within seconds, so it's doubtful that the data is fetched from Amazon. Faster doesn't always mean better. The Zonbase algorithm delivers results within two minutes after fetching the data directly from Amazon, so the estimates tend to be more accurate. The ZB sales estimator is also easier to use, as you only have to enter a product's URL or ASIN. With JS, you have to scroll down the product detail page to copy the BSR and category.
Jungle Scout vs ZonBase: Based on Assortment of Tools
Jungle Scout only provides seller tools that allow sellers to execute their tasks themselves. They also don't offer specific tools for resellers. ZonBase, on the other hand, offers personalized services that give sellers access to expert guidance and assistance. They also provide a comprehensive suite of tools for resellers.
Based on the assortment of tools, ZonBase is better than Jungle Scout.
Jungle Scout and Zonbase: Pricing and Plans
Price is a huge factor to consider when deciding what seller software to use for your Amazon business. Let's take a look at the pricing structure for both tools.
Jungle Scout Pricing Plans
There are three pricing plans available on Jungle Scout, as follows:
Basic Plan
This plan costs $29 per month. Sellers on the Basic Plan only have full access to the Jungle Scout browser extension. Their access to other tools in the suite is limited. For example, they are only entitled to 3 searches per day on Product Database, Opportunity Finder, and Keyword Scout. This plan is ideal for new sellers focused on product research.
Suite Plan
This plan costs $49 per month and offers more robust features than the Basic Plan. Sellers on the Suite Plan have full access to all the tools in the Jungle Scout. The usage limits for some tools are also higher on this plan. This plan is ideal for sellers looking to grow their Amazon business.
Professional Plan
This plan costs $84 per month and is ideal for expert sellers who have a long-established presence on Amazon. In addition to getting access to all the tools, sellers on the Professional Plan can add up to 6 users. They can also access historical data for a longer timeframe.
Zonbase Pricing Plans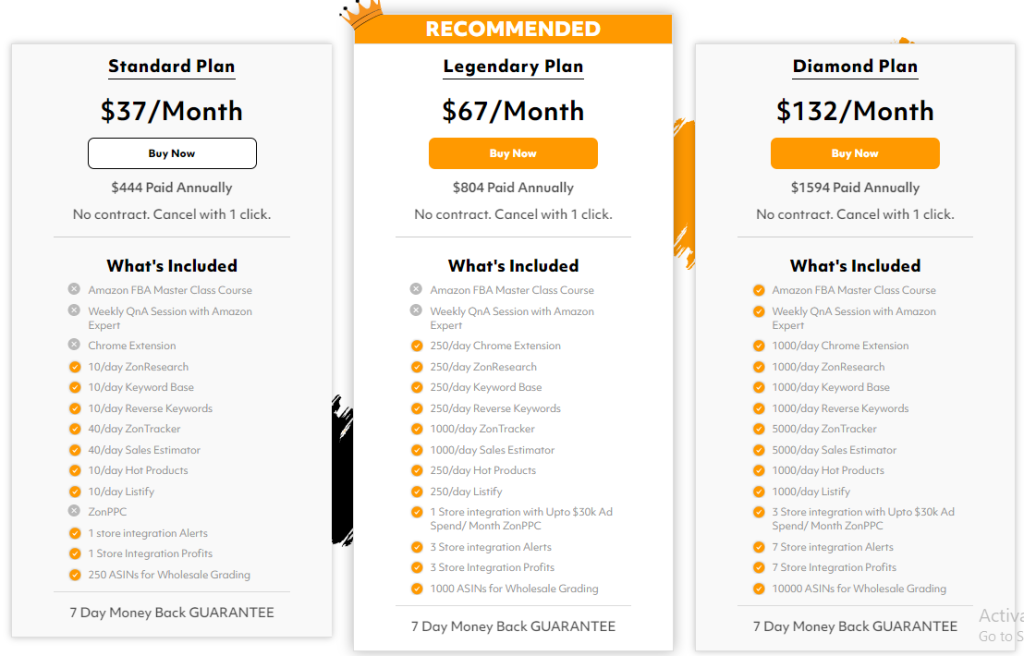 Zonbase offers three pricing plans, and they are as follows:
Standard Plan
The Standard plan costs $30 per month. This plan gives you full access to all the tools in the Zonbase software suite except the Chrome Extension and ZonPPC. It's ideal for new sellers looking for an affordable all-in-one software suite.
Legendary Plan
The Legendary plan costs $67 per month. This plan gives you complete access to all the tools in the Zonbase software suite—no exceptions. You also get a higher number of uses for each software tool. This plan is ideal for experienced Amazon sellers looking to dominate the marketplace.
Diamond Plan
Clearly, this is ZonBase's most expensive plan, costing about $200/month. It offers a more extended usage limit compared to the legendary plan and comes with free access to a comprehensive Amazon FBA masterclass as well as a weekly Q&A session with top Amazon experts.
Pricing for the Personalized Services
The personalized services do not come as part of the regular plans.
Product validator costs $197/1 product, $397/5 products, and $397/3 products.
Listing Optimizer costs $397/per ASIN, $647 for 1 ASIN and 5 enhanced product photos, and $497 for 2-5 ASINs and 5 enhanced product photos.
Photo Enhancer costs $197/1 photo, $647/5 photos + 1 optimized ASIN, $397/5 photos.
Page One costs $397/keyword launch, $497 for 30 days of fully managed PPC + keyword launch, and a customized plan that seems negotiable.
PPC Autopilot has four plans that cost $497/month, $697/monthly, $897/monthly, and a customizable plan.
Which is better?
Of the two software tools, Zonbase offers more value for money. Jungle Scout does have more tools than Zonbase, but you have to pay for the more expensive plans to access many of them. On the other hand, the cheaper plan on Zonbase gives you access to the key tools you need to make data-driven decisions.
Jungle Scout vs Zonbase: Free Trial
Wondering if you can get a Jungle Scout free trial? Jungle Scout does not offer one. However, they have a 7-day money-back guarantee. This means you can ask for a refund within 7 days of signing up if you're not satisfied with the software.
Zonbase, on the other hand, offers a 7-day free trial. To top it off, Zonbase also offers a 7-day money-back guarantee.

Which is better?
Jungle Scout does not offer a free trial. This means you have to pay for the software to try it out. What happens if this software does not suit your needs or is not as effective as you expected? You can apply for a refund but that process takes time. With Zonbase, you can try out the software for free, helping you decide if it's worth investing in without taking a risk.
You can also see our Zonbase Full Review for more details on the software.
Is Viral Launch Also a Good Software Option?
Viral Launch is another effective software that offers an extensive suite of tools to help sellers get their businesses off the ground. The tool provides sellers with various tools to assist them in driving traffic to their listings and obtaining useful leads. It also provides effective product research and keyword research tools. Here's a brief overview of what Viral Launch offers:
Viral Launch Features
Viral Launch Product Discovery
This tool offers a set of filters that allow sellers to find untapped markets and access accurate sales estimates quickly. Viral Launch's product discovery tool comes with a lot of advanced integrations. There's a Chrome extension, Sales estimator, and Product trends tool embedded in the tool. As a result, newbies may experience some difficulty in using the tool.
Competitor Intelligence
This is Viral Launch's Reverse ASIN tool. Using this tool, sellers can run a reverse search on competitors' ASINs and uncover hidden product and listing information. The tool shows important product details like price, reviews, keyword rank, and even sponsored ad rank.
Viral Launch Market Intelligence
The Viral Launch Market Intelligence tool is one of the most popular tools in Viral Launch's suite. It is a product research tool that allows sellers to view market trends, get accurate sales data, and get a basic idea of a product's profit potential. This will help sellers decide whether or not a product is worth sourcing.
Keyword Manager
Keyword Manager is a keyword analytics tool that reveals important keyword data to help sellers make informed decisions. The tool provides advanced keyword insights and a keyword tracking feature. Using the keyword tracking feature, sellers can create a keyword ban where they can remove, edit, and track keywords. This will sellers to ensure they do not leave out important keywords when creating listings.
Viral Launch Keyword Research
This is basically a keyword research tool that allows sellers to uncover new, relevant keywords and monitor their performance. Using this tool, sellers can select keywords that are likely to convert and improve their sales.
Listing Analyzer and Listing Builder
These are Viral Launch's listing optimization tools. Using the listing analyzer tool, sellers can discover new, helpful strategies to improve their listings. Listing builder, on the other hand, helps sellers create a list to manage their most popular and frequently used keywords.
Viral Launch advises sellers to use the combination of the keyword manager, listing analyzer, and listing builder for sales optimization.
Kinetic PPC
This is one of Viral Launch's most recent features. It is a PPC management tool that allows sellers to analyze their listings and control their listings. With Kinetic PPC, sellers can personalize their campaigns, maximize profits, and build effective PPC strategies.
Split Testing
Split testing is fast becoming one of the best ways for sellers to improve their listings and gain more conversions. Viral Launch offers a stand-alone split testing platform that allows sellers to test up to 7 variations of their listing elements. Using the insights from this platform, sellers can increase their listing's profitability.
Launch GPT
This is Viral Launch's version of ZonBase's AI Listify tool. The tool allows sellers to create and optimize listings from scratch using artificial intelligence. But like the Split testing feature, this tool is priced differently.
Viral Launch Pricing and Free Trial
Like Jungle Scout and ZonBase, Viral Launch also offers three paid plans – the essentials plan, the pro plan, and the pro plus ads plan. The plans cost $69/month, $99/month, and $199/month respectively.
The essentials plan provides limited access to viral launch features, while the pro plus ads plan gives you full access to the complete tool suite. However, if the pro plus plan which is the most expensive one is out of your budget, you can go for Viral Launch's most recommended plan; the pro plan at $99/month.
So, does Viral Launch offer a free trial? Yes, they do. Viral Launch offers a 14-day free trial that allows you to explore their toolset.
Jungle Scout vs Zonbase vs Viral Launch: Which will you go for?
Of the three tools, only ZonBase and Viral Launch offer free trials. However, Jungle Scout and Viral Launch have very similar suites. But while Jungle Scout's pricing is not on the high-end, you will have to spend at least $99/month to get enough value from Viral launch. To get the best out of your Jungle Scout subscription, you will also have to sign up for the professional plan at $84/month.
ZonBase, on the other hand, offers a comprehensive suite of about 20 tools and all the tools can be accessed on the legendary plan which costs only about $67/month. So, when it comes down to it, ZonBase definitely checks all the boxes. However, the choice is ultimately yours. You should consider your needs and goals as you weigh your options.
If you want to see how ZonBase tools work in real-time, you can start your free trial today.
Best of luck!