How to resell on Amazon
So you are interested in starting an Amazon selling business, and you have done some research about Amazon's business models. The chances are that majority of them were not a good fit for you. This could result from the cost, time constraints, or little information. Regardless of what you may have seen or heard, some people even ask if retail arbitrage allowed on amazon? Yes, Amazon retail arbitrage is worth the try.
This business model is not half as popular as private labeling. But also not half as expensive. If you want to start an Amz business with low capital, it is ideal for you. Amazon retail arbitrage is cheap, easy, and viable. Anyone can do it.
In this post, you will learn the basics of Amazon Retail Arbitrage. And we will guide you on how to resell products.
Let's get started.

What is Amazon Retail Arbitrage?
The concept sounds complex but it is pretty simple. It simply involves buying products selling at a low price from retail outlets. Then reselling the product on Amz at a higher price, thereby gaining a profit.
For instance: you are at a Target store during a sale and find a toy that normally sells at $30. During a sale, it'll probably be offered at a discounted price of $10. You can buy some of them and resell them on Amz for $25.
Amazon retail arbitrage can also take the form of online arbitrage. Here, you buy discounted products on an online marketplace and resell them.
It is different from normal retailing. In the former, sellers buy their products from manufacturers or wholesale suppliers. Here, sellers get their items from retail stores.
So how is Amazon Retail Arbitrage different from other business models?

Amazon Retail Arbitrage vs. Other Amazon Business Models
Apart from Amazon Retail Arbitrage, there are other business models. Let's take a quick look and compare them.
Private label: This is the most popular and the most profitable too. In this model, sellers source products from third-party manufacturers or suppliers. Then sell them under their own product label or brand. The seller chooses the design, logo, and packaging.
Here, sellers have no control over the product's branding. This is because they are reselling already manufactured and branded products. So they don't have to deal with manufacturers or suppliers.
Dropshipping: Dropshipping is a retail model where the seller acts as a middleman. Seller forwards the customer's order details directly to the manufacturer or supplier. The manufacturer/supplier then ships the product to the customer. Under dropshipping, the seller does not have to keep or maintain an inventory. But arbitrage sellers need to own an inventory.
Wholesale: Wholesalers buy branded products in bulk. Usually at a discounted price from a manufacturer, supplier, or distributor. Then they resell them on Amz.
Retail arbitrage sellers source their products from other retailers. So, they do not buy in bulk as wholesalers do. You know the difference between Amazon retail arbitrage and other business models. So why should you opt for this model in place of others?

Retail Arbitrage: Pros
It is easier than other business models and faster to start. No need for extensive product research and finding a wholesale supplier overseas. Branding will also not be an issue. The products are readily available, and you have more than a thousand options to pick from.
Amazon Retail Arbitrage requires less start-up capital. Business models like private labeling and wholesaling are capital-intensive. 49% of arbitrage sellers spend less than $1,000 to get started. This is according to Jungle Scout's survey of over 1,000 Amazon Sellers. For private label sellers, 61% spend more than $2500 to start their Amz selling business. Retail Arbitrage is definitely the least expensive option.
With Amazon Retail Arbitrage, sellers do not have to invest a lot of effort in marketing. They sell already branded products, and the brands already handle advertising and promotion. The seller can simply pay for pay-per-click (PPC) ads.
Still, there are no pros without cons. In this next section, we will discuss the cons. This is to give you a well-rounded view that will guide your business decisions.
Retail Arbitrage: Cons
Lower Profit Margins: It is the least expensive business model. But, it is also the least profitable. Arbitrage sellers do not own the products they sell. Hence, they have little control over the factors that determine their profit margins. These factors include costs of production and pricing.
Time-consuming: The process of scanning many retail stores to find inexpensive items is time-consuming. It can also be stressful. This is because sellers have no control over when items go on sale. They also can't decide what items will go on sale. So they have to spend a lot of time and effort in sourcing products.
High Risk: Imagine buying discounted items to resell only to find out they have been damaged. Or a new model is being released. It could also be that the product has been discontinued. Sellers will lose out on their investment if they cannot sell the products.
Brand Registry Protection: Brand Registry is a program that protects the intellectual property of sellers. This gives them control over their product listings. Your listings will be removed if you sell a brand's local product. As a result, your account could be taken down. This is another reason why the retail arbitrage model is risky. Before you buy or list any product, ensure that it is not part of Amazon's Brand Registry.
Not Scalable: It is difficult to scale your business or build a long-term sustainable business. But, you can eventually sell for profit. This is because your business depends on big brands and corporate retailers.
Now you know the pros and cons of starting your selling journey with retail arbitrage. Let's guide you on how to resell on Amazon.

How to Get Started with Amazon Retail Arbitrage

Step 1: Create a Seller Account
Before you start selling, the first step is to create a seller account. Go to https://sell.amazon.com/ or https://sellercentral.amazon.com and click the sign-up button. You can use your business email address to create your seller account. You can also use your customer account if you have one.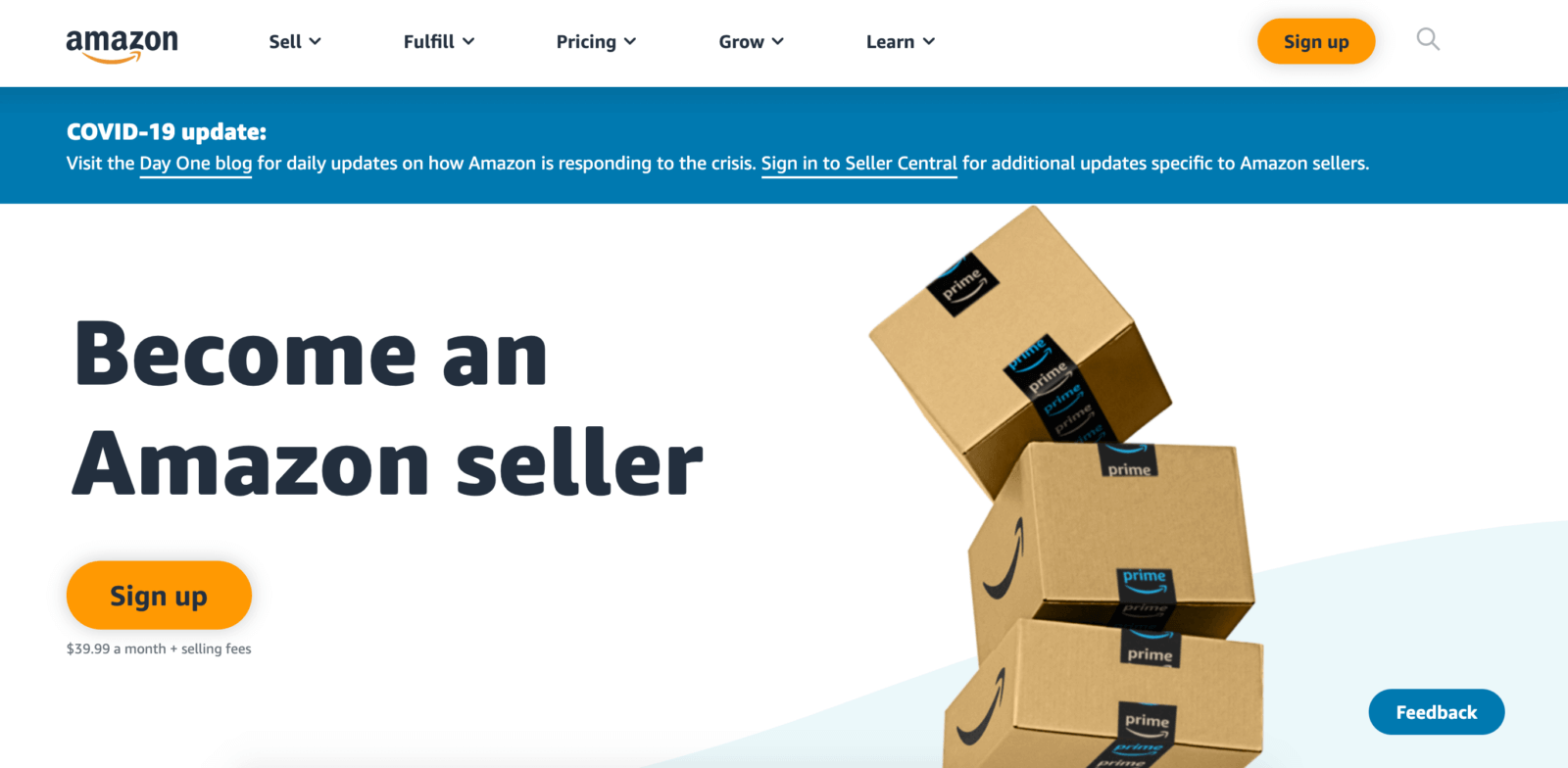 Source: https://sell.amazon.com/
There are two selling plans available to you when creating an account: The Individual Selling PlanThe Professional Selling Plan.
Under the Individual Selling Plan, sellers pay $0.99 for every item sold and a 15% fee. This plan is ideal if you do not plan to sell more than 40 items a month, or products from restricted categories.
Under the Professional Selling Plan, you pay a monthly flat fee of $39.99. This is regardless of how many items you sell, although there are other selling fees. This plan is suitable if you plan to sell more than 40 items a month.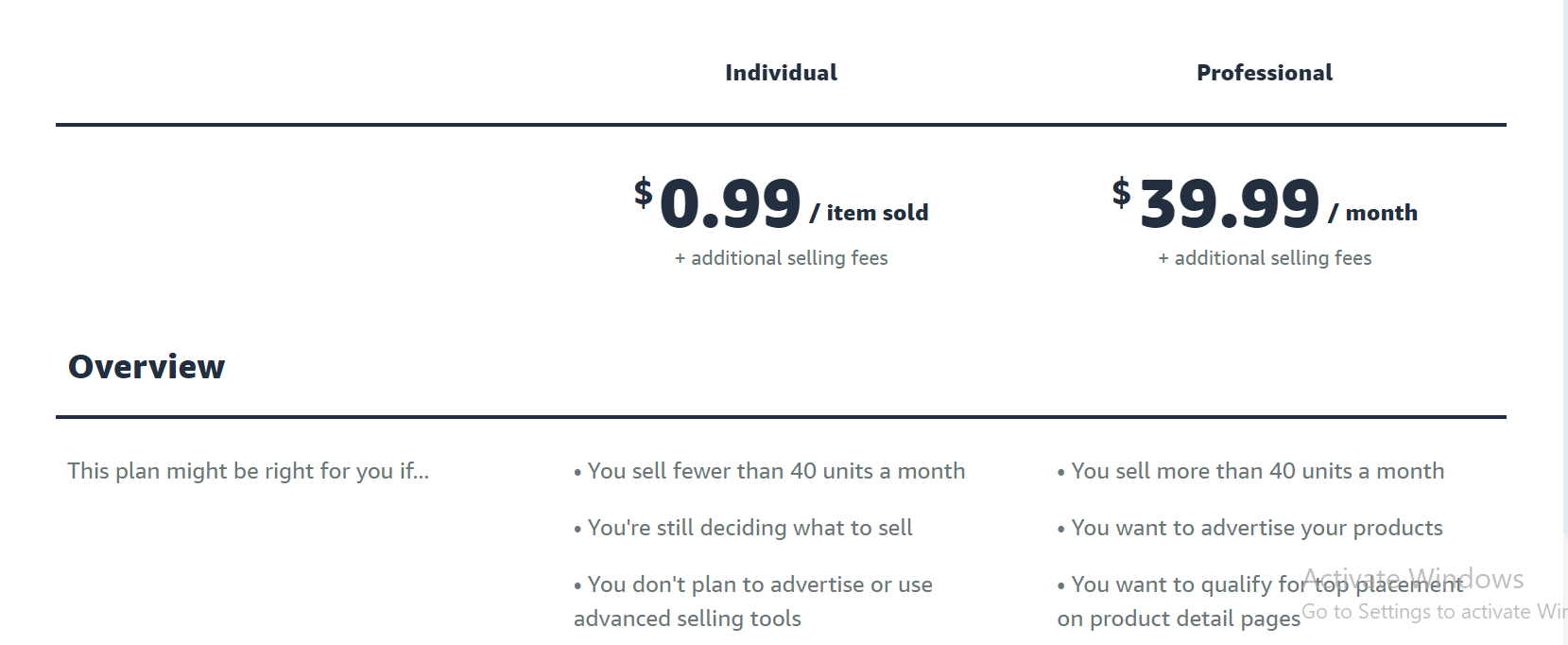 Source: How Much Does it Cost to Sell on Amazon? | Pricing Calculator
You will also have to decide what fulfillment option to use. You'll have to pick between FBM (Fulfillment by Merchant) and FBA (Fulfillment by Amazon).
Under the FBM option, sellers are responsible for all business processes. With FBA, Amz handles inventory storage, picking, packaging and fulfillment. Amz will also provide customer service.
FBA is a preferable option. Because you do not have to worry about storage space and shipping logistics. You get to leverage Amz's quality customer service. It also boosts eligibility for Amazon Prime Free Two-Day shipping, amongst other benefits.
Zonbase is the best Amz FBA software. It helps in managing the core processes of your Amazon Retail Arbitrage Business. ZonBase tools will increase your conversion rates and ranking in no time.
Step 2: Find Products to Resell on Amazon
Now that you have created your Seller Account, you need to find products to resell. It is not enough to buy any discounted item you see in a retail store. You need to ensure you can sell them at a profitable price.
There are several tools and software to help with this process. But, the most essential software you need is the Amz Seller App.
Download the Amazon Seller App
With the Amz Seller App, you can scan product barcodes. This will come in handy when trying to select items at a store. The Amz Seller app also has other uses, such as:
Managing orders and returns
Accessing Sponsored Products
Responding to Customers' messages, and so on
The App displays useful data you can use to assess the profitability of a product. The app shows you the price, the sales rank, listings, and whether you are permitted to sell the product.
The Amazon Seller app is available on both Android and iOS.
Zonbase's Chrome Extension is another effective tool. Once you enable FBA Chrome Extension you can view product data. Easy access to information about price, sales history, average monthly revenues, and others.
2. Go to a local retail store
Now that you have downloaded the Seller App, the next step is to go to a local retail store to find products. You can source products from retail stores such as:
Dollar Tree or other dollar stores
But before you go to a retail store, you want to consider what kind of products you should be on the lookout for.
Here are some of the best product categories to sell in:
Also consider sporting goods, clothing and shoes, electronics, and phone accessories. Avoid restricted products or categories.
3. Scan products on sale or clearance
Remember the Amz Seller App? Open it and touch the camera button in the top right corner to scan products. You can scan the product barcode or scan the product packaging and search by image. It will bring up the features, details, eligibility, and current sale rank. You can also see the total number of sellers, price, and gross proceeds.
To guide your decision, you need to check the data. The first thing to look out for is whether you are eligible to sell the item. A green checkmark will indicate this. Then the next thing is to check the sales rank. For instance, the general rule is that you should select products beneath the 100,000 sales rank.
Estimate the Potential Profitability
The most important thing about running a business is making profits. So you need to confirm whether you can sell the product at a profitable price. First, determine the profit threshold you want. For example, you can set your least profit threshold at $5. Experienced retail arbitrage sellers recommend setting a benchmark of over $3.
To calculate your net profit:
Navigate to the pricing section of the product details page. You will see this page after scanning.
Then input the cost price of the product and the shipping fees. The app will factor in other Amz fees. With the information given, you can calculate the profit.
If the profit matches your benchmark, calculate the Return on Investment (ROI). To do this, divide the profit by the cost price, and express it as a percentage. For example, if you buy a toy for $10 and sell it for $15, your profit is $5, and your ROI is 50%.
As the seller, you determine the least ROI that is acceptable to you. But as a beginner, it is best to choose products with at least 50% ROI. If the items match the criteria above, go ahead to buy them.
Which begs the question, how many items should you buy? This depends on your risk tolerance.
As a beginner to Amazon retail arbitrage, you should opt for the low-risk option. Buy about 5-10 items to see how they perform on the market.
As you gain more experience, you can buy much larger quantities. Especially if the product has a good profit margin and high demand.
Here are other tips to guide you while finding profitable products.
Items are often on sale or in clearance because they are older stock or have been returned by customers. Hence there is the possibility of damage. The last thing you want is to buy product items in poor or damaged condition. Else, you will be unable to resell it. Also, selling damaged goods can lead to negative reviews. And this can be bad for your conversion rate in the long run.
You need to thoroughly examine product features and packaging. This is to make sure the products you buy are in good condition.
You do not need to diversify your product categories from the beginning. Because you may be unable to manage the complexities involved. You can start with one product category at first. Then diversify into 3 or 4 categories as you gain more experience in major areas.
Sign up for email newsletters of retail stores. This will help you know when there are upcoming sales.


Step 3: List your products
After purchasing your products, the next step is to list them for sale on Amazon. Since you are selling an already listed product, not a private label product, you won't need to create a new listing. All you need to do is match an existing listing.
There are two ways to do this:
List the product on Seller Central
Find the existing listing you want to sell on, and then copy the ASIN. Next, click the inventory drop-down menu and select "Add a Product". Then paste the ASIN.
Or you can search for the existing listing and choose the identical item. Select "New" as the condition of the item you are selling, then click "Sell this Product".
On the "Offer" page, fill in the required fields (SKU, Price, Condition). Afterward, choose your fulfillment channel. Once you fill all required fields, click the "save and finish" button. Your listing will be created within your "Manage Inventory" after about 15 minutes.
2. List the product from the Amazon Seller App
After scanning a product with the app, it brings up details about the page. Click "list" at the bottom-right corner. You will have to fill the following fields:
Condition, Price, SKU, and Fulfilment Channel.
If you choose FBA as your fulfillment channel, the Seller app adds the listing for you in Seller Central. All you need to do is create the FBA shipment in Seller Central so that your product listing can go live.
Step 4: Send Your Inventory to Amazon Warehouse
You've purchased your inventory and added your listing within Seller Central. Great. If you're using Amazon FBA — which you should — then, it's time to send your inventory to the Amazon warehouse. To do this, you need to create your FBA shipment. Here's how:
In your Seller Central dashboard, click "Edit". Then select "Send/Replenish Inventory" in the drop-down menu.
Choose the inventory to send. Here, you will fill in the packing template. It includes the template name, how many units per box, dimensions, weight, and other details. When done, click "confirm and continue."
In the next section, confirm your shipping. Fill in your ship date, and shipping mode, and then confirm the inbound shipping price.
Click "Accept charges and confirm shipping".
Print your FBA shipment labels and affix them to your box. Ensure that the two barcodes on the shipment labels are clear on the outside of the box.
And that's it, you're now an Amazon Retail Arbitrage seller. Don't forget to spread the word. Also, market your products on social media and with Amazon Pay-Per-Click (PPC) ads.
Step 5: Optimize and Track your Listings
If you're going to drive sales, then you need to optimize your listing. Many sellers struggle with listing optimization. But there are several software tools that make this process easy. The best Amazon listing software is Zonbase's Listing Optimization tools. With Listify and Listing Optimizer, you can create optimized listings. These tools can help to improve your conversions.
Also, check your listings regularly to avoid ending up with Stranded Inventory. This is when your inventory has arrived at an Amazon Fulfillment Center. But there is no active listing.
Don't forget to track your sales to see how well your products are selling. With Zonbase's Sales Estimator, you can get information about your monthly sales. If your products are selling well, stock up your inventory in larger quantities. Consider diversifying in the long run. If your products are not selling well, you should consider adjusting your prices.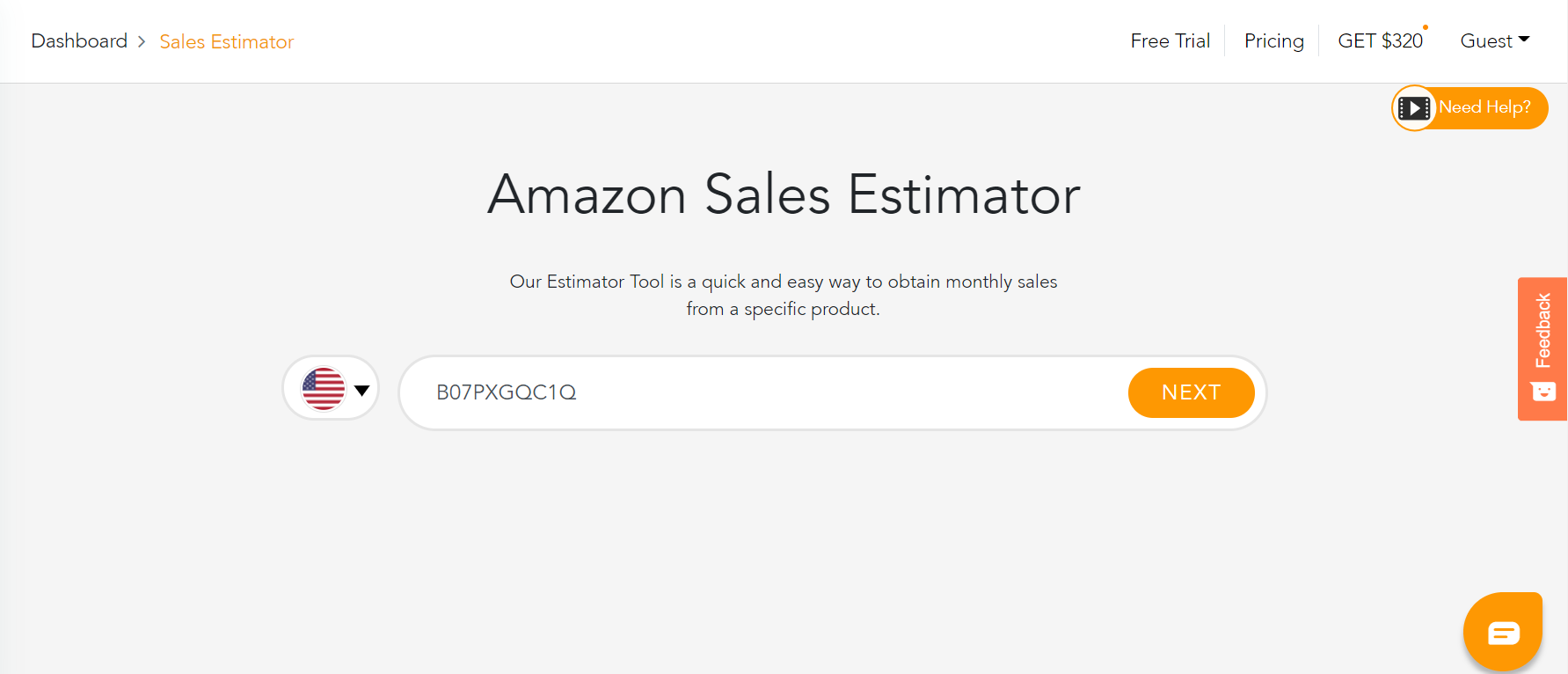 Source: https://www.zonbase.com/sales-estimator
Conclusion
If you're a beginner, the Amazon Retail Arbitrage model is a great way to begin. Reselling on Amazon is the cheapest and easiest business model to set up, and a quick way to make a side income. But, like any other business, it has its own unique set of challenges. You must invest a lot of time, effort, and persistence for your business to be successful.