So you are interested in starting an Amazon business, and you have done some research about Amazon's business models? The chances are that the majority of them were not a good fit for you. This could be a result of the cost, time constraints, or lack of information.
Amazon retail arbitrage is one of the least popular Amazon business models, but it creates a good balance between the cost of startup and time investment. In other words, the business model requires little capital and time to manage.
This business model is not half as popular as private labeling, but it is also not half as expensive. So, if you want to start an Amazon business with low capital, this business model is ideal for you.
In this post, you will learn the basics of Amazon Retail Arbitrage. We'll also guide you through how to start reselling products on Amazon.
What is Retail Arbitrage on Amazon?
The concept sounds complex, but it is pretty simple. It simply involves buying products from online or physical retail outlets at a low price, then reselling them on AMZN at a higher price, thereby gaining a profit.
For instance, you are at a Target store during a sale and find a toy that normally sells at $30, being offered at a discounted price of $10. You can buy some of them and resell them on AMZN for $25.
Amazon retail arbitrage can also take the form of online arbitrage. Here, you buy discounted products from an online marketplace and resell them.
Retail arbitrage is different from product retailing, although they have some similarities. In the latter, sellers buy their products from manufacturers or wholesale suppliers. While the former requires sellers to purchase their items from retail stores. So how is this business model different from other business models?
Retail Arbitrage vs. Other Amazon Business Models
AMZN offers different business models for sellers to choose from, so it may be a bit difficult to settle on one especially if you only have a little information to work with. Let's take a quick look at and compare them.
Private label: This is the most popular and the most profitable too. In this model, sellers source products from third-party manufacturers or suppliers, then sell them under their own product label or brand. In other words, the seller chooses the product design, logo, and packaging. This is not the case with retail arbitrage since sellers have no control over the product's branding because they are reselling already manufactured and branded products. So they don't have to deal with manufacturers or suppliers.
Dropshipping: Dropshipping is a retail model where the seller acts as a middleman by forwarding the customer's order details directly to the manufacturer or supplier who in turn ships the product to the customer. Under dropshipping, the seller does not have to keep or maintain an inventory, but arbitrage sellers need to own an inventory.
Wholesale: Wholesalers buy branded products in bulk, usually at a discounted price from a manufacturer, supplier, or distributor, then they resell them on AMZN. In contrast, arbitrage sellers source their products from other retailers, so, they do not buy in bulk as wholesalers do.
Now you know the difference between retail arbitrage and other business models. So why should you opt for this model over others?

Pros and Cons of Retail Arbitrage on Amazon
Pros
It is easier than other business models and faster to start. No need for extensive product research and finding a wholesale supplier overseas. Branding will also not be an issue since the products are readily available and you have more than a thousand options to pick from.
Retail arbitrage requires less start-up capital while business models like private labeling and wholesaling are capital-intensive. According to Jungle Scout's survey, 49% of arbitrage sellers spend less than $1,000 to get started while 61% of private labelers spend more than $2500 to start their Amazon businesses. So, retail Arbitrage is definitely the least expensive option.
With Amazon Retail Arbitrage, sellers do not have to invest a lot of effort in marketing. They sell already branded products, and the brands already handle advertising and promotion. All the seller has to do is pay for pay-per-click (PPC) ads.
Cons
Lower Profit Margins: It is the least expensive business model, but, it is also the least profitable. Arbitrage sellers do not own the products they sell, so they have little control over the factors that determine their profit margins. These factors include costs of production and pricing.
Time-consuming: The process of scanning many retail stores to find inexpensive items is time-consuming and can also be stressful. This is because sellers have no control over when items go on sale. They also can't decide what items will go on sale, so they have to expend a lot of time and effort in sourcing products.
High Risk: Imagine buying discounted items to resell only to find out they have been damaged or a new model is being released. And in some cases, the product may have been discontinued and taken off the market. In any of these scenarios, arbitrage sellers will most likely lose out on their investment if they cannot sell the products.
Brand Registry Protection: The Amazon Brand Registry program protects the intellectual property of sellers, giving them control over their product listings. However, your listings will be removed if you sell a brand's local product and your account could be taken down as a result. This is another reason why the retail arbitrage model is risky. So before you buy or list any product, ensure that it is not part of Amazon's Brand Registry.
Not Scalable: It is difficult to scale your business or build a long-term sustainable business. But, you can eventually sell for profit. This is because your business depends on big brands and corporate retailers.
Now you know the pros and cons of starting your selling journey with retail arbitrage. Let's guide you on how to resell on Amazon.
Looking for other topics on Amazon FBA? See our Full Amazon FBA Guide.
How to Get Started with Amazon Retail Arbitrage
Step 1: Create an Amazon Seller Account
The first step to starting an Amazon business, regardless of the business model, is to create a seller central account. Go to https://sell.amazon.com/ or https://sellercentral.amazon.com and click the sign-up button. You can use your business email address to create your seller account, you can also use your customer account if you have one.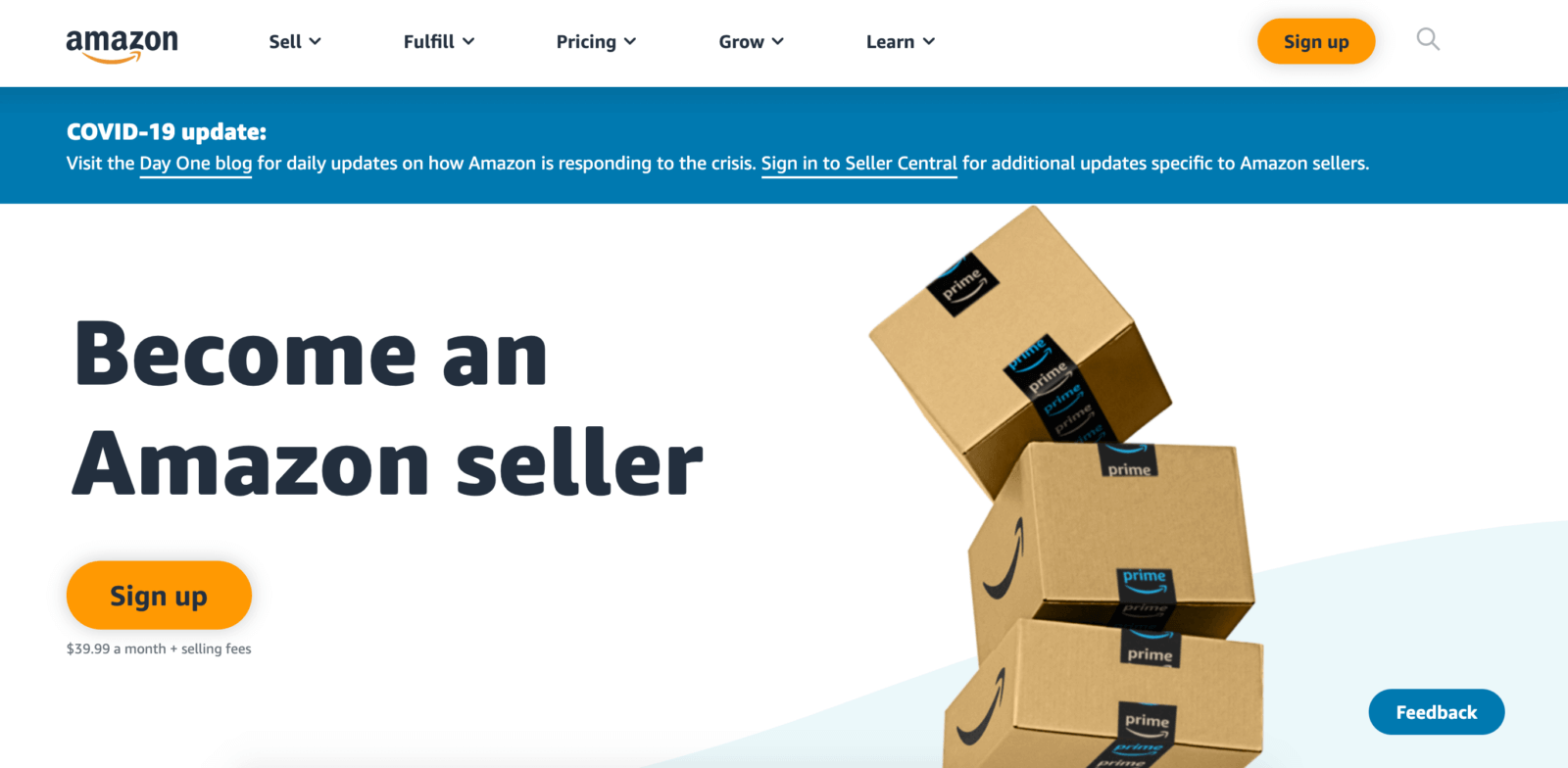 Source: https://sell.amazon.com/
There are two selling plans available to you when creating an account: the individual selling plan and the professional selling plan.
Under the individual selling plan, sellers pay $0.99 for every item sold and a 15% fee. This plan is ideal if you do not plan to sell more than 40 items a month, or products from restricted categories.
Under the professional selling plan, you pay a monthly flat fee of $39.99 regardless of how many items you sell, although there are other selling fees. This plan is suitable if you plan to sell more than 40 items a month.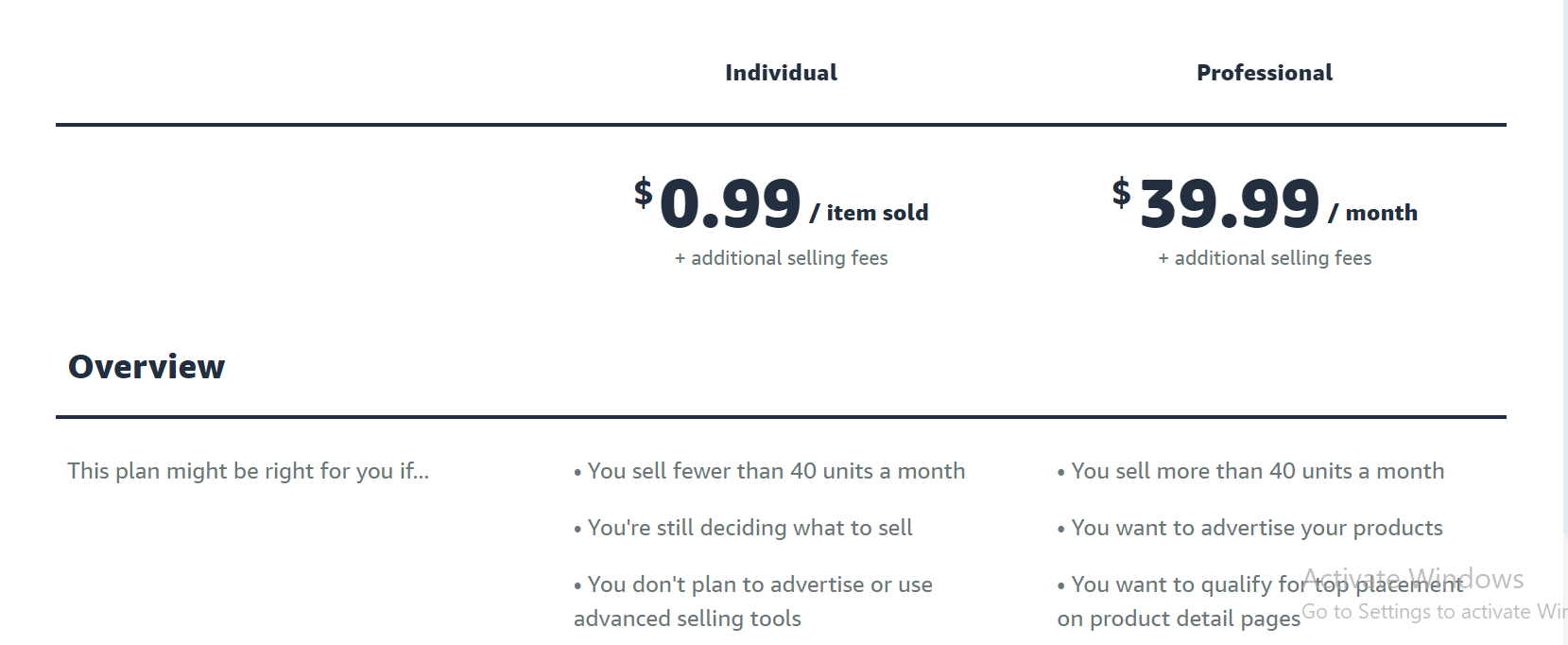 Source: How Much Does it Cost to Sell on Amazon? | Pricing Calculator
You will also have to decide what fulfillment option to use, and you'll have to pick between FBM (Fulfillment by Merchant) and FBA (Fulfillment by Amazon).
Under the FBM option, sellers are responsible for all business processes, while FBA allows sellers to outsource inventory storage, customer service, and order fulfillment.
Clearly, FBA is a preferable option because you do not have to worry about storage space or shipping logistics. You also get to leverage AMZN's quality customer service and become eligible for Amazon Prime Free Two-Day Shipping, among other benefits.
Step 2: Find Products to Resell on Amazon
The next step after creating your Amazon seller account is to find products to sell on Amazon. It is not enough just to buy the first discounted item you see in a retail store. You must buy products that are in demand and can be sold at a profit.
The Amazon Seller App is the most essential tool in this process. There are several other tools and software to help you, but this is the most essential one.
If you're at a retail store, you can scan barcodes to find products to sell using the app. You can also use the app for:
Order and return management
Accessing Sponsored Products
Replying to customers' messages, among other things
By scanning products with the AMZ Seller App, you can get useful product information. Afterward, you can use the information to confirm a product's profitability. The app shows you the product rank, listings, and whether the product can be sold.
Android and iOS users can download the Amazon Seller app.
Use a product research tool
AMZ product research can be cumbersome, especially for beginners on Amazon. However, sellers who would like to automate their businesses can use FBA software.
ZonBase is the best all-inclusive AMZ software available on the market right now. The software allows you to uncover new, profitable product options, generate relevant keywords, and create well-optimized listings from scratch in minutes using AI.
ZonBase's software suite contains four high-tech seller tools for product research. These tools work together to generate new product ideas; high demand and low competition product options for you. You can also validate your product ideas using the Hot Products tool or personalized product validation service. Its combination of tools will help you make the best choice for your store.
Go to a local retail store
Following the download of the Seller App, you need to go to a local retail store to find products. Below are some suggestions of retail stores that you can check out:
Walmart
Kohl's
Target
Home Depot
Costco
Ross
Publix Super Markets
Dollar Tree or other dollar stores
First think about which kinds of products you want to sell before going to a retail store. There are thousands of product options to sell on Amazon, but not all of them are worth it, so it's important to choose carefully. Here are some of the best product categories for arbitrage sellers to consider:
Toys & Games
Office Products
Home & Kitchen
Beauty & Personal Care
Books
Baby products
Health & Household
Sporting Goods
Clothing and Shoes
Electronics
Phone Accessories
Try as much as possible to avoid selling restricted products on Amazon as a retail arbitrage seller. Also, avoid selling only seasonal items as this may reduce your chances of making sales at certain times of the year.
Look out for discounts and clearance sales
The Amazon seller app can help you keep track of this. To scan items, you need to open the app and press the camera button in the top right corner. Search by barcode or image by scanning the product packaging.
The features and details, eligibility, and current sale rank will be displayed. It will also show prices and gross proceeds.
You should check the data before making a decision. A green checkmark indicates you are eligible to sell the item. After that, check the sales ranking of the item. It is generally recommended that you select products with sales below 100,000.
Estimate the Potential Profitability
The most important thing about running a business is making profits. So you need to confirm whether you can sell the product at a profitable price. First, determine the profit threshold you want. You can set your minimum profit threshold at $5, but experienced retail arbitrage sellers recommend setting a benchmark of over $3.
To calculate your net profit:
Navigate to the pricing section of the product details page. You will see this page after scanning.
Then input the cost price of the product and the shipping fees, the app will factor in other Amz fees, and with the information generated, you can calculate the profit.
If the profit matches your benchmark, calculate the return on investment (ROI). To do this, divide the profit by the cost price, and express it as a percentage. For example, if you buy a toy for $10 and sell it for $15, your profit is $5, and your ROI is 50%.
As the seller, you determine the minimum ROI that is acceptable to you. But as a beginner, it is best to choose products with at least a 50% ROI. If the items match the criteria above, go ahead and buy them. Which begs the question, how many items should you buy to start?
This depends on your risk tolerance. As a beginner to Amazon retail arbitrage, you should opt for the low-risk option which is to buy about 5-10 items and observe how they perform on the market before taking a plunge. As you gain more experience, you can buy much larger quantities especially if the product has a good profit margin and high demand.
Here are other things to keep in mind when trying to find profitable products for your new arbitrage business.
Tips for Choosing Products
Sometimes, some items are only on sale or in clearance because they are older stock or have been returned by customers. Hence there is the possibility of damage. The last thing you want is to buy product items in poor or damaged condition. Else, you will be unable to resell it. Also, selling damaged goods can lead to negative reviews. And this can be bad for your conversion rate in the long run.
You need to thoroughly examine product features and packaging. This is to make sure the products you buy are in good condition.
You do not need to diversify your product categories from the beginning. Because you may be unable to manage the complexities involved. You can start with one product category at first. Then diversify into 3 or 4 categories as you gain more experience in major areas.
Sign up for email newsletters from retail stores. This will help you know when there are upcoming sales.

Step 3: List your products
After purchasing your products, the next step is to list them for sale on Amazon. Since you are selling an already listed product, not a private label product, you won't need to create a new listing. All you need to do is match an existing listing.
There are two ways to do this:
List the product on Seller Central
Find the existing listing you want to sell on, and then copy the ASIN. Next, click the inventory drop-down menu and select "Add a Product". Then paste the ASIN.
Or you can search for the existing listing and choose the identical item. Select "New" as the condition of the item you are selling, then click "Sell this Product."
On the "Offer" page, fill in the required fields (SKU, Price, Condition). Afterward, choose your fulfillment channel. Once you fill all required fields, click the "save and finish" button. Your listing will be created within your "Manage Inventory" after about 15 minutes.
List the product from the Amazon Seller App
After scanning a product with the app, it brings up details about the page. Click "List" at the bottom-right corner. You will have to fill out the following fields: condition, price, SKU, and fulfillment channel.
If you choose FBA as your fulfillment channel, the Seller app adds the listing for you in Seller Central. All you need to do is create the FBA shipment in Seller Central so that your product listing can go live.
Step 4: Send Your Inventory to Amazon Warehouse
You've purchased your inventory and added your listing within Seller Central. Great. If you're using Amazon FBA — which you should — then, it's time to send your inventory to the Amazon warehouse. To do this, you need to create your FBA shipment. Here's how:
In your Seller Central dashboard, click "Edit". Then select "Send/Replenish Inventory" in the drop-down menu.
Choose the inventory to send. Here, you will fill in the packing template. It includes the template name, how many units per box, dimensions, weight, and other details. When done, click "confirm and continue."
In the next section, confirm your shipping. Fill in your ship date, and shipping mode, and then confirm the inbound shipping price.
Click "Accept charges and confirm shipping".
Print your FBA shipment labels and affix them to your box. Ensure that the two barcodes on the shipment labels are clear on the outside of the box.
And that's it, you're now an Amazon Retail Arbitrage seller. Don't forget to spread the word. Also, market your products on social media and with Amazon Pay-Per-Click (PPC) ads.
Step 5: Optimize and Track your Listings
If you're going to drive sales, then you need to optimize your listing. Many sellers struggle with listing optimization. But there are several software tools that make this process easy. ZonBase offers an effective set of listing optimization tools to help you create well-optimized listings from scratch. Using the ZonBase AI Listify tool, you can create your listings from scratch by simply providing instructions for how you want them to be.
Remember to check your listings regularly to avoid ending up with Stranded Inventory. This happens when your inventory has arrived at an Amazon fulfillment center, but there is no active listing.
Don't forget to track your sales to see how well your products are selling. With Zonbase's Sales Estimator, you can get information about your monthly sales. If your products are selling well, stock up your inventory in larger quantities and consider diversifying in the long run. If your products are not selling well, you should consider adjusting your prices.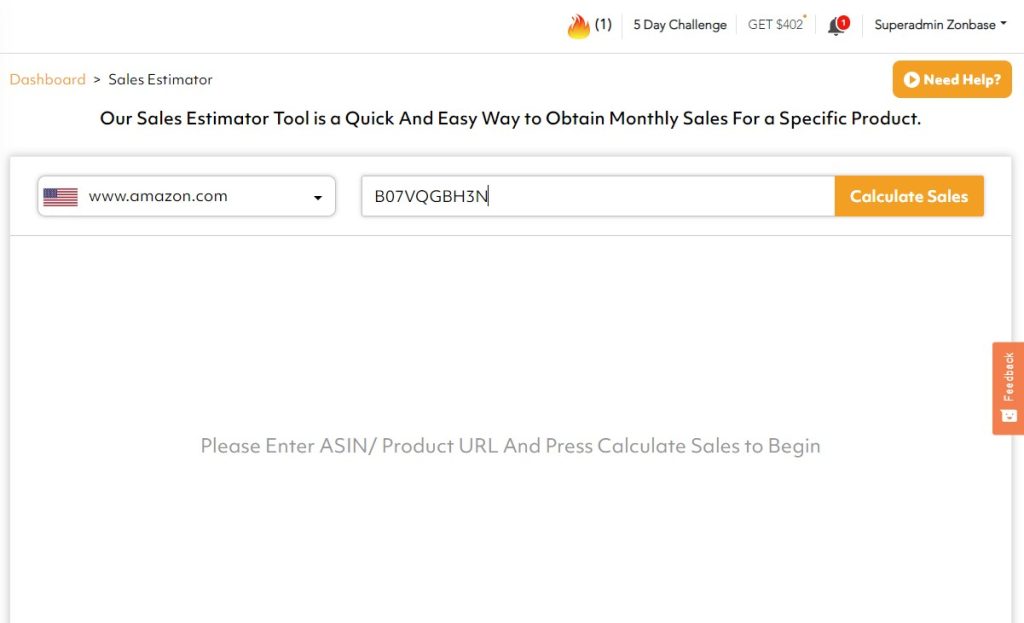 Source: https://www.zonbase.com/sales-estimator
Other Considerations
Understanding Brand Gating and Category Restrictions
Brand gating involves obtaining permission from a brand owner to sell their products on Amazon. This is often required for popular or well-known brands to ensure that only authorized sellers are representing their products. Similarly, category restrictions limit who can sell in specific product categories, preventing unrestricted access to certain markets.
Navigating Restricted Categories
If you're itching to get into a restricted category, there are steps you can take to increase your chances of getting ungated. Begin by researching the specific requirements and guidelines for that category. This could include having a certain number of successful transactions, maintaining a positive selling history, or even providing invoices from legitimate suppliers. Familiarize yourself with the prerequisites and ensure that your seller metrics align with what Amazon is looking for.
Building Relationships with Brands
When it comes to brand gating, building relationships with brands can work in your favor. Reach out to brand representatives and explain your intentions to sell their products. Show them that you are committed to maintaining product quality and adhering to their brand standards. This proactive approach can lead to brand approval, granting you the opportunity to sell sought-after products that can elevate your retail arbitrage business.
Strategies for Gaining Access to Gated Products
Start small and demonstrate your commitment by focusing on lesser-known brands or categories. This can help you build a track record and positive reviews, making your application for gated brands or categories more convincing.
Another approach is to connect with authorized distributors or wholesalers. These companies often have existing relationships with brands and can provide you with the necessary invoices and documentation to apply for brand gating.
Remember, patience is key. Navigating brand gating and category restrictions can take time, but with persistence and determination, you can break through these barriers and open up new avenues for growth in your Amazon retail arbitrage journey.
In conclusion, while brand gating and category restrictions may initially seem like hurdles, they can ultimately serve to protect your business and the integrity of the Amazon marketplace. By understanding the process, demonstrating your commitment, and building meaningful relationships, you can overcome these challenges and unlock exciting opportunities for success.
We have a full blog post on more details about unlocking gated amazon products.
Boosting Sales with Smart Product Bundling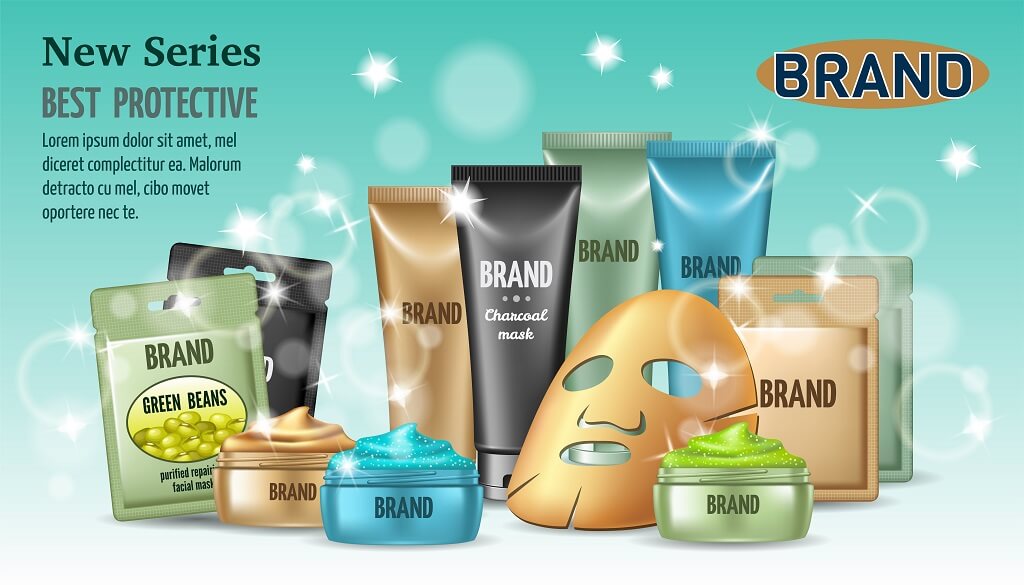 In the world of Amazon retail arbitrage, finding ways to stand out and boost sales is essential. One savvy strategy to consider is product bundling. This involves grouping related products together to create a unique offering that not only catches customers' attention but also adds value to their shopping experience. Here's how you can leverage the power of product bundling to drive sales and set your business apart.
Understanding the Concept
Product bundling is all about packaging complementary items together as a single unit. By doing so, you create a convenient and enticing package that customers are more likely to choose over individual products. This can lead to increased sales and a higher average order value.
Creating Irresistible Bundles
When crafting a bundle, think about the needs and preferences of your target audience. Consider which products naturally complement each other. For example, if you're selling kitchen gadgets, a bundle could include a set of utensils, a cutting board, and a recipe book. Make sure the bundled items make sense together and provide added value.
Highlighting Benefits
Clearly communicate the benefits of your bundle to potential buyers. Explain how purchasing the bundle saves them time, money, or effort compared to buying each item separately. Showcase the value they'll receive and how the bundle enhances their overall experience.
Effective Marketing
Once you've created your bundle, make sure to market it effectively. Use high-quality images and compelling product descriptions that highlight the advantages of the bundle. Consider running promotions or offering a slight discount to encourage customers to choose the bundled option.
Leveraging Customer Data
Use your existing customer data to tailor your bundles. If certain items are frequently purchased together, consider bundling them to streamline the shopping process for your customers. Additionally, pay attention to customer feedback and reviews to continually refine your bundling strategy.
Setting Yourself Apart
Product bundling not only increases sales but also sets your offerings apart from competitors. By offering unique bundles that cater to specific customer needs, you create a memorable shopping experience that encourages repeat business and positive word-of-mouth.
Get more detailed information on how to create product bundles and considerations to keep in mind.
Conclusion
If you're a beginner, the Amazon Retail Arbitrage model is a great way to begin. Reselling on Amazon is the cheapest and easiest business model to set up, and a quick way to make a side income. But, like any other business, it has its own unique set of challenges. You must invest a lot of time, effort, and persistence for your business to be successful.