When it comes to eCommerce and online shopping, Amazon is undoubtedly a household name. Amazon has over 300 million users. And as of 2021, over 126 million customers are subscribed to Amazon Prime (Source: Statista).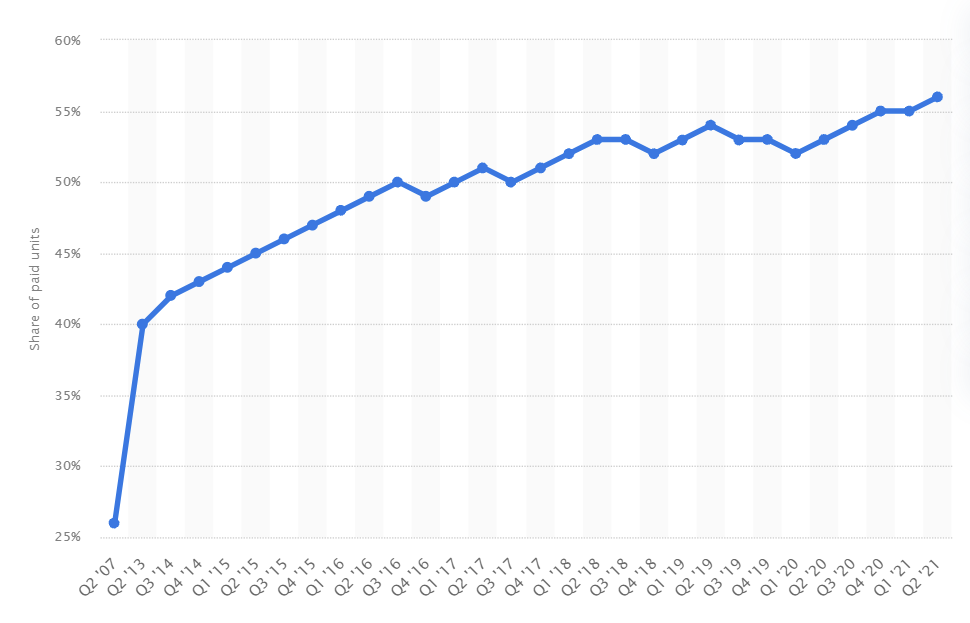 You've certainly bought items from Amazon too. But did you know you can also sell products on Amazon using FBA? Amazon partners with third-party sellers on its Marketplace, and it would interest you to know that more than half of the sold items on Amazon come from third-party sellers. Another interesting fact is that about two-thirds of the top U.S sellers on Amazon Marketplace use Amazon FBA (Source: Statista).
If you want to diversify your income stream, selling products on Amazon is one of the best online business options out there. In this post, we'll explain the basics of Amazon FBA, its pros and cons, and the best Amazon seller software for building a successful Amazon business. Let's get started.
What is Amazon FBA?
First, Amazon FBA stands for Fulfillment by Amazon. This is a service offered by Amazon to third-party sellers whereby Amazon handles inventory storage, order fulfillment, and customer service on their behalf.
This is in contrast to the Fulfillment-by-Merchant (FBM) model whereby Amazon sellers bear the responsibility of storing inventory, fulfilling customers' orders, and managing customer service.
The FBA program was launched in 2006 to help third-party sellers scale their businesses by leveraging AMZ's advanced logistics infrastructure and customer service network.
Selling on Amazon is much easier when you use FBA since AMZ does much of the heavy lifting. You'll no longer have to worry about warehousing your inventory and shipping logistics and can focus on other key aspects of your business.

How Does Amazon FBA Work?
Starting an Amazon business is not as difficult as it may seem. Although it involves some complex processes, you only need to understand the basics and you will definitely succeed. Let's walk you through the steps involved in an FBA business:
Step 1: To start selling on Amazon, you first have to sign up for an Amazon seller account. Next, provide all the necessary details to set up the account.
Step 2: Add your products to AMZ's catalog by creating product listings. Specify Amazon FBA as your Fulfillment Channel.
Step 3: Prepare your products in line with AMZ's requirements, create an FBA shipping plan, then send your inventory to an Amazon warehouse for storage.
Step 4: After AMZ receives your inventory, warehouse employees sort and store your products using a tracking code.
Step 5: When a customer orders your product, AMZ picks and packs the item, then ships it to the customer using their chosen shipping method.
Step 6: After the sale, AMZ provides customer support and handles returns, requests, and exchanges.
Step 7: AMZ deducts seller fees and remits your funds every two weeks.
Related Content: Amazon FBA for beginners: 7 steps to start selling like a Pro.

Amazon FBA Fees: How Much Does it Cost?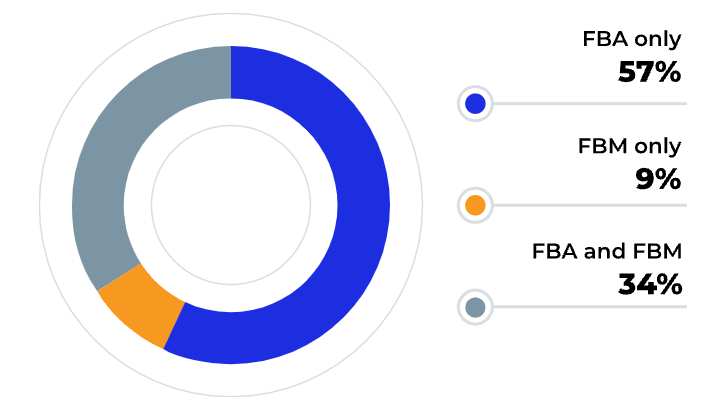 Taking advantage of the Amazon FBA program comes at a cost. In exchange for its services, AMZ charges fulfillment and storage fees. You have to get familiar with Amazon fees so that you can factor them into your pricing.
Understanding the fees will also guide you in stocking your inventory.
The major Amazon FBA fees that sellers have to pay are:
Fulfillment fees: This covers the cost of picking, packing, and shipping your orders, customer service, and product returns. Fulfillment fees are charged per unit based on the weight and dimension of your item.
Inventory storage fees: This covers the cost of storing your inventory in an Amazon fulfillment center. Inventory storage fees are charged monthly based on the volume of your inventory, which is determined by unit size. Inventory storage fees are also based on the calendar month.
As an Amazon FBA seller, you may also incur additional Amazon fees such as:
Long-term storage fees: This is charged on items that have been stored in a fulfillment center for more than 365 days. You'll have to pay this in addition to monthly storage fees.
Returns processing fees: This is charged on orders for which AMZ offers free return shipping.
Removal order fees: This is charged when AMZ disposes of your inventory on your behalf.
Unplanned services fees: This is charged if your FBA shipment to a fulfillment center without proper preparation and labeling and AMZ has to do it for you.
Also, ensure you factor in Amazon FBA shipping fees when choosing Amazon FBA products.
When doing your research on potential products to sell, use the Amazon FBA Calculator to determine how much your fees will amount to. The calculator will also show you your gross profit and profit margins.
Here are a few tips to consider when choosing Amazon FBA products.
How to choose the best Amazon FBA products for your store
Use the AMZ Bestsellers rank to determine the bestselling products in your niche.
Choose products that are between $10 – $100 in price and ensure your profit is about half the value of the product.
Choose small and lightweight products, this will help you cut down on FBA shipping fees.
Avoid selling in restricted product categories.
Now that you know how FBA Fees work and how to choose the best Amazon FBA products, let's take a look at the pros and cons of using Amazon FBA.
Related Content: Amazon FBA Fee Calculator: All You Need to Know
Amazon FBA: Pros
Despite the costs involved, most sellers use Amazon because the program is unarguably beneficial. Here are some of the benefits you enjoy as an Amazon FBA seller:
1. Shipping made easier
Shipping logistics can be very stressful to handle. But it relieves you of that burden. AMZ handles packaging and shipping from start to finish. And AMZ's fulfillment network is world-class so you have nothing to worry about. You only have to monitor your listings and restock your inventory.
2. Cost-effective
The shipping costs you'll incur by fulfilling orders yourself is much higher than the costs included in your fulfillment fee. AMZ is a retail giant and can negotiate lower costs with shipping companies better than you can. In addition, you don't have to bear the upfront costs of renting a warehouse for storing your inventory.
3. Access to more storage space
Amazon's fulfillment centers have a large capacity and can store more items than a regular warehouse. So, you're guaranteed near-unlimited storage for your FBA inventory.
4. Prime eligibility
With FBA, your products get the Prime badge, giving you access to AMZ's most loyal base: Prime customers.
5. Speedy delivery
Because your products are automatically eligible for Prime, you can offer customers Free Two-Day Shipping. And you won't have to pay extra fees to offer free shipping.
6. Customer service and return management
Amazon's trusted customer service team handles customer inquiries and support for you, which guarantees great customer satisfaction. In addition, Amazon handles returns and refunds for you.
7. More time on your hands
With AMZ handling the heavy lifting tasks that ordinarily fall on you, you can concentrate on scaling your business. You also get to spend more time on the things and people that matter to you.
Amazon FBA: Cons
Although the FBA program is helpful, it is not without its drawbacks. They include:
1. High costs
Using this fulfillment option minimizes your startup costs but you'll still have to pay fees. And because the fees are deducted after a sale, your profit margins may be really low if your products are low-cost. In addition, Amazon usually increases the fees yearly.
2. Risk of long-term storage fees
If your products end up selling slowly and staying in the Amazon warehouse for a long time, you may incur hefty long-term storage fees, especially if they are large and heavy.
3. Sales tax compliance issues
Amazon FBA sellers have to remit sales tax to the state where their inventory is warehoused. However, AMZ sometimes moves inventory to a warehouse located in another state without notifying the seller, and this may raise tax liability issues.
Amazon FBA Business Models
Aspiring entrepreneurs often get stuck wondering how to start an Amazon business because many assume it is difficult to start an AMZ business. On the contrary, there are several business models for new sellers to choose from, and many of them are flexible and easy to start. Below is a list of the business models that you can start with.
This business model is ideal for sellers who want to build their brand on AMZ. In other words, you can get suppliers to manufacture products based on your product type. This way, the products carry your brand logo and packaging.
In this model, you buy products in bulk from suppliers and sell them at retail prices on AMZ. So, products do not carry your brand logo because the products are not made for your brand. If you don't mind making huge capital investments, this business model is great for you.
Here, you buy items at discount rates from physical or online stores and resell them on Amazon. Retail arbitrage requires little capital investment. It is also a great way to start an Amazon FBA business.
Want to start an FBA business without having to handle products at all? Dropshipping is best for you. You can enter an agreement with a dropship supplier and have them ship the inventory directly to the fulfillment center.
This way, you won't have to worry about replenishing inventory and shipping to Amazon FBA.
AMZ does not restrict you to selling only factory-made items. You can also create unique hand-made designs and put them up for sale on Amazon.
Choose a business model that captures your interests and is within your budget. Also, regardless of the business model you opt for, you will still have to fulfill orders. And if you intend to sell through FBA, you must learn how to ship products to Amazon FBA warehouses. We'll cover this in the next section.

How To Ship to Amazon FBA
To ship products to Amazon fulfillment centers, you'll have to secure the services of a reliable freight forwarding firm. But that's not the first step. The shipping process to FBA fulfillment centers begins from your seller central dashboard. So, you must understand how the seller central dashboard works before learning how to ship to fulfillment centers.
Before now, shipping to Amazon fulfillment centers was complicated, and new Amazon FBA sellers often struggled to learn how to ship products to Amazon FBA. Thankfully, AMZ recently introduced a "Send to Amazon" beta feature that allows sellers to ship to Amazon FBA warehouses in fewer steps. Here's how to ship to Amazon FBA using the beta feature.
How To Ship Products to Amazon FBA Using the 'Send to Amazon' Beta Feature
Step 1: Navigate to the 'Inventory' tab in your Seller Central dashboard. Then, click on the 'manage inventory' option in the dropdown.
Step 2: Go to the 'Edit' dropdown menu on the right-hand side and click 'Send/Replenish inventory.
Step 3: Enter the current location of your inventory and specify whether your products are individual products or case-packed products.
Select 'individual products' if your shipment includes various products with different SKUs and conditions. On the other hand, the 'case packed' option applies to products that share the same SKU. If your products are case-packed, you'll have to specify the number of cases and unit per case for each SKU. Private label sellers often use this option when shipping multiple product units.
When you're done, click 'continue to shipping plan'.
Step 4: Specify the number of units in one case and how many cases you're shipping. After filling the required fields, click 'Continue'.
Step 5: Brief AMZ about the packaging procedures of your products. Also, state whether or not your products need to be prepped before shipping. Then, select the type of products you're shipping from the list that follows.
After selecting a product category, you will be notified about the prepping requirements. If you cannot prep your products, AMZ can do that for you. AMZ charges a fee for packing and prepping, typically from $1.00 to $2.30 per unit. The cost varies based on the type of product and the packing material used.
Step 6: Select how your products will be labeled. You can add FNSKU codes yourself or have AMZ do it for you if your products require them. Also, while labeling your products with FNSKU numbers, make sure you follow the proper procedures.
Step 7: This is where you'll be assigned a fulfillment center. Sometimes, AMZ may ask you to split your inventory and send it to different places. But, this only happens if you retain 'Distributed inventory placement' as your default setting. If you don't wish to separate your inventory, adjust this parameter to 'inventory placement services.'
However, choosing the latter option puts you at risk of incurring an additional per-unit fee. The fee is usually between $0.30 and $0.40 depending on the weight of your products.
You can make changes to your settings by navigating to the settings tab and clicking on inbound settings.
Next, click "Approve and Continue". Then, "Work on shipment".
Step 8: You'll select your shipping provider and how your things should be packaged in this section. After that, you'll supply the dimensions and weight of your package so that AMZ can calculate pricing. Once you've completed this, your inventory is ready to ship!
Complete all required fields, choose a shipping date and print your labels. Then click 'Complete shipping' once you're done.
Step 9: Create a new packing template. These templates will assist you in storing information about your SKUs so that you can reuse them if necessary.
Step 10: Confirm your FBA shipping fees and details.
Step 11: Finally, you can print your labels and ship your products to Amazon FBA. Ensure that the barcodes on both sides of the package are visible. After that, either drop off your packages at UPS or arrange for a pickup.
Now that you have learned how to ship products to Amazon FBA from your seller central dashboard, you can send in your first FBA shipment and start counting to your first order!
How To Maximize Your FBA Sales: 6 Helpful Tips
1. Use Amazon seller tools.
Find out which product categories are the most profitable on Amazon. You should use Amazon software for product research.
The first step to making sales is to find the right products. Without effective product research, it would be almost impossible to scale your business.
2. Select the right product.
Sales rank is important, but so is your profit margin. Competitive products sell fast, and they keep inventory moving. Take this into consideration when making product choices.
Low-ranking products have less competition. But, there's also the risk of incurring extra storage fees, which can be bad for your business. So, consider all options before making a decision.
3. Create product bundles
Amazon is notorious for its dozen similar listings that are only different in a few ways or by a few dollars. Craft a unique selling point for your brand. One way to do this is to put similar items together in a package or listing. You can attract more customers by offering product bundles that offer more value. If you decide to create product bundles, there's an increased chance of your inventory getting exhausted quickly. In this case, you will have to create a strategy for replenishing inventory quickly to avoid running out of stock.
4. Create a brand for yourself.
Don't select products and leave the rest to chance. It is important to put your brand in a position with the potential for success. Also, think of better ways to reach your target audience, you can do this through social media ads.
Ensure you focus on selling high-quality products. So, source products from authentic suppliers. Also, good reviews are important if you want to win the buy box and maximize your sales prospects.
5. Create and optimize your listings for conversions
Product listings are a crucial part of every Amazon business. So, if you would like to scale your business, optimizing your listings is very essential.
Here are a few tips to help you optimize your listings for conversions:
Use high-quality product images
Include product titles and use short descriptions
Add product features in your listings – they help to convince your buyers.
Use bullet points
6. Make sure you maintain your FBA inventory at the right level
AMZN may store your inventory in its fulfillment centers, but inventory management is ultimately your responsibility. With effective inventory management, you will avoid overstocking and racking up hefty long-term storage fees. You will also reduce the likelihood of running out of stock and losing sales. To maintain your inventory, take advantage of the inventory management tools on Seller Central. With these tools, you can:
track your inventory age and know when to get rid of slow-moving items.
discover if you have excess inventory and take measures to sell them quickly, such as running a promotion or removing them from Amazon's fulfillment centers
get recommendations on when to restock and what quantities of inventory to reorder
The Inventory Performance Index (IPI) score on Seller Central will help you determine how well you're managing your inventory.
The Best Amazon Software for Building a Successful Amazon Business
Starting an Amazon business is one of the best things you can do for your financial health. Selling on AMZ is easier with this and the benefits far outweigh the costs.
Although AMZ handles the more tedious tasks, you will have to execute some other tasks. These tasks include product research, keyword research, and listing optimization. And you need to use AMZ seller software to manage these processes efficiently.
ZonBase provides a set of seller tools for Amazon FBA sellers. It also comes with a sales estimator and photo enhancer tool that you will find very useful.
Use ZonResearch, Hot Products, Product Validator, and Zon Chrome Extension for product research. All these tools work together to bring you the best product options. Also, the Hot Products tool provides a list of authentic suppliers for any product you decide to sell.
ZonBase also offers keyword research tools. For instance, ZonTracker allows you to choose keywords and get detailed information. ZonBase's reverse ASIN tool helps you spy on your competitors' keywords to outrank them. You can also use the keywords tool to confirm your keyword choices.
With the sales estimator tool, you can access sales trends for various products. Then, select those that have a track record of sales. Also, the software comes with a photo enhancer tool.
With this tool, you can enhance your image quality. As a result, you can optimize your listings for conversions using high-quality images.
Want to build a successful AMZ business? You should use Zonbase, an all-in-one software with the best seller tools.