Pricing products is one of the most difficult tasks you'll have to undertake in running your Amazon business, especially if you want to turn a profit. Competitive pricing is an effective marketing strategy that can translate into sales. However, there are a lot of factors to consider when fixing prices because low prices can directly impact your profit margins.
Hence, knowing how to find high demand products to sell on Amazon isn't enough; you have to sell them at the right price.
We'll tell you how to fix your product prices, but first, let's talk about how to find profitable product options to sell on Amazon.
How to Find Profitable Products to Sell on Amazon
Use Product Research Tools
Product research is an essential part of every Amazon business. If you want to make sales on AMZN, you have to prioritize product research and dedicate time to finding high demand products for your online store. However, trying to find a profitable product option for your store can be pretty complicated.
Thankfully, you can use efficient product research tools like ZonBase to uncover the best-selling items on Amazon. ZonBase's ZonResearch and Hot Products tools, allow you to run product searches and product suggestions in any category. Here are five simple steps to help you take your product research to the next level using the ZonResearch tool.
Open the ZonResearch tool from your ZonBase dashboard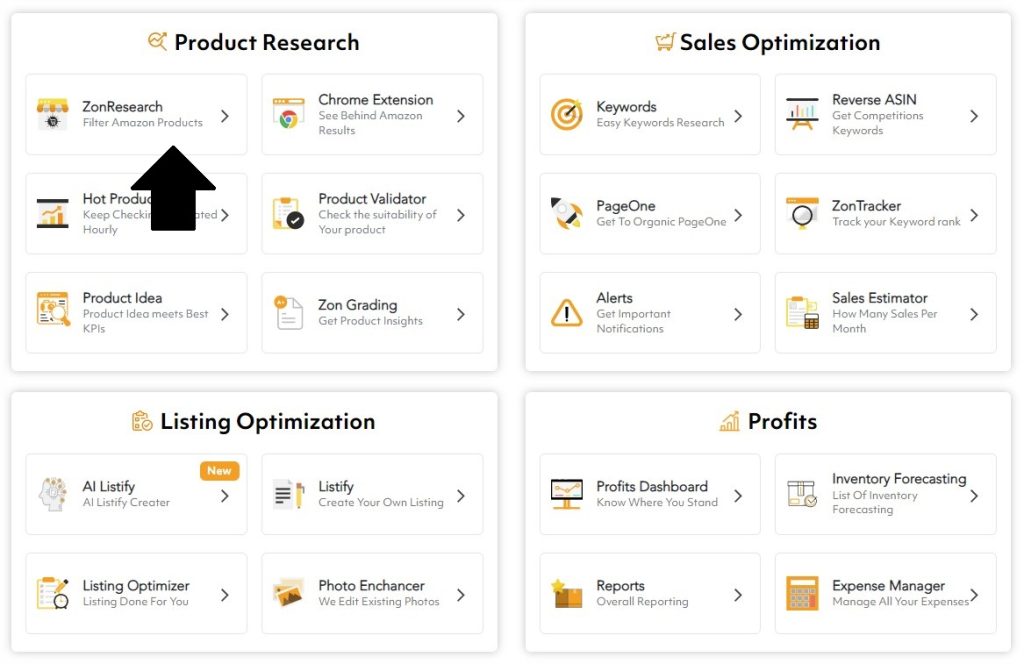 Choose your marketplace, select your preferred categories, and set the filters based on your specifications.
Click the "Search" button
Once you click the search button, ZonResearch goes through Amazon's vast product database to generate a comprehensive list of profitable product options for sellers to choose from.
Sellers who are not satisfied with the product options and are still in doubt the potential of their product options can validate them using the Zon Chrome extension tool. The ZonBase Chrome extension is a web app that allows sellers to run streamlined product searches and validate their product options. Using this tool, you can scour AMZN's database to uncover relevant product options for your Amazon store.
You can also use the ZonBase Hot products tool, an effective product research tool that also doubles as a supplier research tool. The tool gives you access to a list of reliable suppliers to source your products. Plus, it is easy to use and you can gain access to tons of product and supplier options. To access the tool, follow the same steps we outlined for the ZonResearch tool. 
Use the Amazon Bestsellers List
It can be challenging to choose a product to sell because there are so many things available on AMZN. The Amazon Bestsellers list has been carefully selected by AMZN to reduce stress. The top 100 items on Amazon are listed on the bestsellers list, then they are ranked based on their previous sales volume.
One of the simplest and most dependable ways to locate the top-selling products on Amazon is by using this technique. Accessing the Bestsellers list only requires taking the following four steps:
First, open the bestsellers page
Next, select the categories that interest you.
Then, streamline your search by picking specific subcategories.
Create a list of the products you think will do well based on the seller rank.
Products do not maintain their ranks for too long because the Bestsellers list is updated every hour. Therefore, make sure to look at past year's sales trends before choosing products from the list.
Utilize Google Trends
Product ideas can be found on Google just like almost anything else. Want to find the top selling items across a variety of online marketplaces and categories? An excellent resource is Google Trends Analytics.
Finding the greatest product selections amidst a sea of options is easy using Google searches.
By looking at the Google Trends data, you may identify the products that have been trending over time in your target market. You can also learn helpful details about the products you're thinking about through the comparison on the search page.
Three Factors to Consider When Fixing Product Prices on Amazon
According to Statista, there are more than 3 million active sellers on the AMZN marketplace right now. Around 1.3 million of these sellers joined in 2020, which means there are lots of new Amazon sellers to compete with. (Source: Statista)
So, what does this data mean to you? As a seller, this means that you have a myriad of competitors trying to take a sale away from you. Even if you know how to find products with high demand to sell on Amazon, it doesn't matter if you can't sell them at the right price. You cannot win a place in the buy box if your products aren't priced competitively. We'll also discuss the three Cs that directly impact your success on AMZN. Let's get right into it:
If you want to make sales on Amazon, you cannot stop at just learning how to find profitable products. You have to go the extra mile and learn how to price your products properly. And to this, you'll have to ensure that your product prices are not on either pricing extreme – too high or too low.
Setting high prices that are above your audience's budget may cause you to lose customers, and low prices may discourage buyers because they'll assume that your products are inferior.
Here are three factors to consider when fixing product prices:
Competition
Customers
Cost
As an Amazon FBA seller, competition, customers, and cost are the three things that you should pay attention to. These things directly impact your success as a seller and can make or break your business. Understanding how to integrate these 3 elements into your pricing scheme can help you increase your profit margins.

How to Price Amazon FBA Items: Top 3 Things to Consider
Competition
Amazon is an online marketplace where thousands of sellers already sell the same product. One good way to make yourself unique when you decide to sell on Amazon is to start selling private-label products. If you are not a brand owner or private label seller, then you cannot afford to be careless with your pricing.
With so many other sellers offering the same products, you can't price yourself out of the customer's reach. Sellers who have a slightly lower price than your product, without a doubt, will snatch your customers in an instant.
For this reason alone, researching your pricing and making it competitive is very important as a third-party seller.
Before you can attract customers with your low prices, you must start researching your customers first. The first thing on your agenda should be to look into the product reviews of your competitors. See whether customers are rating them highly because of their competitive pricing. Doing this will give you an idea of how you can price your product.
Do you want to price your product correctly? Then you must check whether the product you want to sell on Amazon gives equal or more value. If you have more value than what your competitors are providing, you already have an edge.
Checking your competitor's products
You can always check your competitor's product value by going beyond your process. You should always look into what the buyers are talking about your competitor's products. This can be checked by looking into the product review section under each product. You can visit your competitor's listing and read a few of your competitor's reviews. You will have a general idea about their strengths and weaknesses.
If you find out that your product offers more value than that of your competitors, you shouldn't fret. You can price higher than your competitors without any second thought. However, it will be a lot of effort to always prove that value to your customers. Making claims on product titles and descriptions category aren't enough. You have to make your customer believe your worth.
You should have a different approach if your product gives an equal value to the competitors. Under such circumstances, you should price your product a little lower than your competitors. You must also consider that constantly reducing the price isn't always great. Even in the name of competition, it can lead to a price war leading you to profit less than what you wanted.
Cost calculation
Calculating the cost of your product is the most important factor for deciding the correct pricing for your products. But, it's a tough call to calculate your items' cost. The values can range from the manufacturing cost of your product to the shipping cost to take your products to the fulfillment center.
Costs you need to keep in mind
If you want your price to be calculated correctly you must consider the following cost factors accurately:
Storage Cost: This cost includes the cost of inventory if you are fulfilling your products all by yourself. If you are using the Amazon FBA service, you need to pay a separate fee for your use of Amazon's storage centers.
Raw materials: Raw materials are any materials that are used in the manufacture of the complete product that you are selling. This cost includes the cost of materials like wood, plastic, clothes, etc.
Labor Costs: It includes the cost of human resources that you have to use to engage people to manufacture.
Shipping Costs: Your shipping costs cover the cost of transporting your goods from your supplier to your inventory storage center or fulfillment center. If you are getting your products from websites such as Alibaba, it can get expensive. However, the total cost of products from China is usually low. You need to know how to find the bestselling products to sell on Amazon.
Assembly Costs: This cost includes the value of assimilating different products. The raw materials used to bring the final product to the customers also include labor and machine costs.
Marketing Cost: It includes the cost of making available your products to the customers. This may incur costs like advertising costs, paying content writers, marketers, and graphic designers.
Cost of returns: This is one of the major fees that is added on top of other costs that you have to bear. This is because of the lost profit due to customers returning your products.
Taxes: This is the cost that you have to bear while paying the government as per their respective tax laws.
Other miscellaneous costs
These costs include other costs that are not specific as above but incur while making products available to the customers. It includes accounting fees, repairs, and insurance costs.
To get the average cost per item, add up all your costs. Then, divide the total cost by the number of the products that you produce in a given time.
Also, you need to calculate the profit percentage you want to achieve from each product you sell online. It is not enough that you know how to find a profitable product to sell on Amazon, you also need to make sure you are making enough profits to rotate your initial capital.
Customers
When it comes to a successful business, having a loyal customer base is an X-factor many sellers often overlook. Your business can only succeed if you have plenty of loyal customers supporting you. Without loyal customers, you will not have anyone to sell to. Loyal customers also spread your business through "word of mouth" marketing. Having a loyal customer base is as important as having trustworthy employees.
But how can your customers affect your product pricing? And what about the quote that says, "Build it, and they will come"? Isn't it enough to create a successful AMZN store?
Well, the answer to this question is quite simple. Your customers affect what niche or category you want to target. Before you even start looking for a product to sell, when comes to selling your product?
The choice of what customer category you want to target can be done with a few simple steps. But mostly, by including the gathered cost data and the assessment of your competitors in your product category. Knowing the most profitable categories to sell on Amazon is very important if you want to make money there.
If you want to get ahead of your competitors, you can always do extensive research. Try and look for the weaknesses in your competitors' listings. This is to gain an advantage over their poor product images, product reviews, and product descriptions.
Getting to know your customer intimately is always a benefit, it will help you to get the correct pricing for profitability. Find out what kinds of products other sellers are selling, and you can analyze this process.

Different Types of Customers That You Can Target
Here are certain types of customers that you can target:
Quality is driven: These types of customers are willing to spend more as long as they can see the quality. Because they are focused on quality, they also tend to be loyal customers. Once they find a store that produces the quality they want, they will likely return and buy more.
Bargain Hunter: This type of customer is always searching for the best price for the given product. They look at various sites and compare them to choose the lowest purchase price. They do not like spending too much, so it will be hard to sell expensive products to them.
Splurger: These types of customers are willing to spend their money on whatever they look appealing to at the first sight. They don't care about the price of the items. If they want something, they will find a way to get it.
Shaping Your Product Price
The way you shape your product price should be considered based on the customer habits, tendencies, and predictability of the types of competitors. Even if you know how to find high demand products to sell on Amazon, it doesn't mean anything. You still need to get to know your customers once and for all.
Also, there is a concern regarding raising the price of your product by a small percentage over the competitors. Doing this will question the interest of the quality-driven customers if the value offered by your product is equal to that of your competitors.
The only thing you should be stuck at is having a good grasp of your customer. If you can spend enough time researching, have a good grasp of your target audience. Spend some time researching and collecting data from existing and prospective customers.
Keep an eye on the highest category of customers you can target. And also take note of what is the highest volume of sales you can make to a category of customers.
How Important Is Pricing your Products on Amazon?
Pricing the products you sell on Amazon isn't as easy as it seems. Without knowing the perfect strategy for pricing your product, you can end up overpricing or underpricing your merchandise.
According to a study published by the Harvard Business Review, a 1% price improvement can actually lead to an 11.1%. profit increase. That is a massive jump when it comes to the price-to-profit ratio; you can instantly increase your revenues just by changing your price by 1%.
The buying patterns of people are often the same. Many people will compare prices first before checking out the products added to their carts. If there is a lower-priced product, buyers will most likely know about it. And to be honest, the majority will prefer the one priced more competitively.
People will only spend way above their average budget when buying branded products. When it comes to non-branded and non-luxury products, not too many people will spend more than what is necessary.
At the end of the day, one of the easiest ways to generate maximum profit is to price your product competitively. And this means you always have to be wary of your competition.
In AMZN, 70% of the sales for a keyword search go to the Amazon sellers who are ranking on the first page. If you don't have enough marketing budget to push your product to the top, pricing competitively is where you can make some changes.
Pricing correctly can help you dominate your product niche by letting you win the Buy Box. And increasing your sales will provide you with a best sellers rank that can help you get noticed by customers.
Conclusion
Pricing your product is not an easy task, and it will take time. You must give in all your time and ideas to price your product correctly. But once you set the price, your product's ecosystem and branding will be set on autopilot. This means that finding the right pricing balance will determine the success of your overall selling efforts.
One of the major considerations in pricing is to mark your price as 99.99 instead of 100 dollars. Many studies find that this strategy is making a lot more difference in customers' eyes. Maybe the added zeroes make customers think the price is higher than it should be. The difference between one cent can make your pricing more competitive and successful.
The product pricing strategy comes right after you choose the product niche. So, you must be careful in choosing the correct product niche by doing product research.
ZonBase is one of the best tools that you can use to build a profitable online business. It teaches you how to find profitable products to sell on Amazon. More importantly, it also has different tools such as keyword research, product research, listing optimization, and much more.
Interested in learning more about how to find profitable products to sell on Amazon? Gear up and build your online store today. Start by getting a free trial of Zonbase.