Selling on Amazon is great, but when you think about all the costs and processes involved, you'll most likely want to back out. If you want to build a profitable business on Amazon, you'll have to store inventory and ship orders promptly. And this can be costly and time-intensive, especially for sellers who are on a budget. The Amazon FBA program is the easiest way out for sellers who want to sell online on a budget.
As a result of the decline in the global economy, more sellers are considering selling on the Amazon marketplace. Hence the frequently-asked question, "How does Amazon FBA work?".
Wondering how Amazon FBA works and how much it costs? You've come to the right place. In this post, we'll explain how the Amazon FBA program works in the simplest way possible. We will explain how this fulfillment method works and the benefits that sellers can enjoy from using this program.
What is Amazon FBA?
Amazon FBA is an abbreviation for Fulfillment by Amazon. This is a paid fulfillment service offered by Amazon to third-party sellers. It is an alternative to the Fulfillment by Merchant (FBM) model, which is a fulfillment model that requires sellers to fulfill customers' orders by themselves.
Order fulfillment is one of the core aspects of an online business. It covers everything from warehousing, packaging, and shipping orders to customers, and processing returns, refunds, and exchanges. If your fulfillment process is not optimized, your customers will not have a satisfactory experience, and this can hurt your business.
With Amazon FBA, you can set up your business without spending a huge amount of upfront money on storage facilities and support staff. All you have to do is send your inventory to any of the Amazon fulfillment centers around you. Once this is done, Amazon will store, pack, and ship orders on your behalf.
The idea of having Amazon store and ship your products may sound great and it is. However, Amazon FBA costs money. So, if you're new to the eCommerce space, you'll have to weigh your options and decide if the service is worth it. We'll consider the costs and help you decide if you read to the end.
What makes FBA a Good Alternative to Self-Fulfillment?
Through the Fulfillment by Amazon (FBA) program, third-party sellers can now outsource their fulfillment process. Since the platform boasts an advanced distribution network, delivery infrastructure, and customer service operation, fulfillment becomes faster. As a result, selling on Amazon is stress-free.
Under the Fulfillment by Amazon model, your inventory is stored in Amazon fulfillment centers. And Amazon picks, packs, and ships customers' orders on your behalf. Furthermore, they provide customer support and handle all seller returns and refunds. If you are still wondering, "How does Amazon FBA work?", this is the simplest explanation for it.
With Amazon packing and fulfilling orders on your behalf, you can easily grow your business. You can launch or sell your product and increase your inventory level, without having to worry about storage space and workforce.
How does Amazon FBA work?
This fulfillment method is quite simple. Here's a step-by-step guide on how Amazon FBA works.
Sign up for a Seller central account. Regardless of the model you choose, you will have to create a seller central account before selling on Amazon FBA.
Create a product listing to sell your products and indicate Fulfillment by Amazon (FBA) as your fulfillment channel.
Send your inventory to Amazon's fulfillment center. They will determine which Amazon warehouse you should send your inventory to.
Workers will sort and store your inventory
When a customer purchases your product, AMZN processes the payment and updates your inventory.
AMZN then picks, packs, and ships the product to the customer.
They will also manage the customer service operations after the transaction by processing returns or refunds.
Finally, AMZN deposits available funds into your account every two weeks.
Essentially, AMZN automates fulfillment for you by having its employees perform tasks that you would ordinarily do. These services are done on your behalf for a fee. Most of the time, Amazon FBA fees are cheaper than the costs you will incur if you fulfill the orders yourself. Now you won't have to wonder how Amazon FBA works.
Related: Beginners' Guide to Amazon FBA
Source: Jungle Scout

Benefits of Amazon FBA
The Amazon FBA program is not free. But is it worth it? Yes, it is, to a large extent. However, before deciding to use the service, you should weigh the pros and cons. Because in business, there are downsides to everything, no matter how perfect it looks.
Below are some advantages of using the Fulfillment by Amazon model:
1. Thrive on Amazon's reputation
Apart from the fact that selling on Amazon is easier with Amazon FBA, as an Amazon seller, you get to leverage Amazon's reputation. People are more likely to buy your products when you sell through the Fulfillment by Amazon model.
2. Logistics support
AMZ is an eCommerce behemoth with more money, resources, and employees than you. They can handle payment processing and fulfillment logistics more efficiently than you can. With FBA, your customers are guaranteed fast and efficient shipping and customer service.
3. Automatic Prime eligibility
Selling through Amazon FBA makes you automatically eligible for the Prime badge. In other words, you get to sell to Prime customers and offer free same-day or two-day shipping. Of course, customers will be more likely to buy your products because everybody loves fast and free shipping. This gives you an edge over sellers who do not use Amazon FBA.
4. Reduced business costs
The Fulfillment by Amazon model is cost-effective. You incur fewer costs as you don't have to worry about renting or buying a warehouse, employing staff, or handling shipping logistics. Plus, the cost of shipping through FBA is significantly lower than if you had to negotiate shipping rates on your own.
5. Higher chance of winning Buy Box
Nobody knows exactly what it takes to win the buy box. What we do know is that AMZN gives priority to FBA sellers, so you have an increased chance of winning the Buy Box if you're an FBA seller. As long as you're not Amazon's direct competitor, you have a distinct competitive edge over other sellers.
6. Frees up time
With Amazon packing and shipping orders on your behalf, you'll have more time on your hands. So, you can channel all your time and energy into finding more profitable products, optimizing your listings, and scaling your business.
7. Fulfill orders on other sales channels
You can also use Fulfillment by Amazon (FBA) for multi-channel fulfillment. Sellers who run businesses on multiple online marketplaces can still ship orders using Amazon's reliable framework. This way, you can make money from different platforms without having to worry about shipping orders. The cost of using FBA for multi-channel fulfillment is, however, quite different from the regular shipping costs.
Disadvantages Of Amazon FBA
It's always great to have a helping hand. However, there are a few drawbacks of this fulfillment service that you should be aware of, such as:
1. Costly FBA fees
As we mentioned earlier, Amazon FBA costs money, and sellers who are on a budget may be unable to bear the costs. Yes, the service may not be as costly as the expenses you'll incur on your own. But in some instances, using Amazon FBA can cost you more.
For instance, your shipping fees may be higher if you sell bulky or slow-moving products on Amazon. So, it's best to check out the storage and fulfillment costs for your product category before making a final decision. You can use an Amazon FBA calculator to arrive at a relatively accurate estimate of your FBA seller fees.
2. Tedious product prep requirements
Amazon has tons of packaging and prepping requirements. Failure to adhere to these requirements can prevent your products from being shipped on time. However, preparing and packaging your products in line with the requirements can be quite taxing. And if you don't do it properly, AMZN will take care of it for you, but you will be charged a packing and prepping fee.
3. Limited brand identity
Orders fulfilled through Amazon FBA carry AMZN's packaging and logo. So, if you run a private label brand, the chances of having customers recognize your brand are slim. As a result, you may get fewer return customers than you normally should.
How to Start Selling on Amazon FBA
The journey to becoming an FBA seller is not one that is complicated at all. It basically comprises of four simple steps.
Setting up your seller central or FBA account
This is the first step to joining the marketplace as an FBA seller. There are two types of seller accounts; the individual and professional seller accounts. For sellers who are just starting out and don't aim to sell more than 40 goods each month, the individual plan is best. However, sellers who want to sell more than 40 products each month should choose a professional seller account.
Finding a profitable product
This is one of the most important steps to success as a seller. Finding the best-selling products on Amazon is important, but it is not an easy task. If you want accurate, profitable product suggestions, it's best to use Amazon's software for product research. With software, you can access an extensive list of product suggestions for your business.
Preparing Your Products for Fulfillment
Before sending your inventory to the warehouse, you have to prepare and package your products the way you want customers to receive them. AMZN has laid down requirements that you must adhere to, and these standard requirements are a must-follow for every seller. If you don't follow them, your products will not be accepted. Instead, you'll have to pay a packaging and prepping fee to have Amazon do it for you.
Managing your inventory
Inventory management is the seller's responsibility, not AMZN's. Amazon stores your inventory and notifies you when it is low. So, you have to replenish your inventory regularly, so you don't run out of stock. However, you must also make sure not to overstock your items.
Remember, items stored in any Amazon fulfillment center for more than 365 days will incur additional penalty fees. So, you need to make sure you can sell your products quickly. The best way to ensure this is to avoid sending excess inventory to your designated Amazon fulfillment center. And if you have slow-moving items, file a removal order before the items hit the 12-month mark.
Create and optimize your product listings
After finding profitable product options and sourcing your inventory, you will have to create product listings if you want to make sales. Your listings are your ticket to sales on Amazon. However, you cannot just stop at creating listings, you have to optimize them.
To optimize your listings, you have to research relevant keywords and include them in titles and descriptions. You will also have to include product images and implement other listing optimization tips for increased visibility and sales.
Optimizing your listings is not something that can be done once. You have to constantly improve your listings and it's best to use software for listing optimization.
How Much Does Amazon FBA Cost?
Selling and fulfilling your orders through Amazon FBA is not free. You'll have to pay Amazon FBA fees for the storage, picking, packing, and shipping services that Amazon provides. So, how much does Amazon FBA cost?
There are two main Amazon FBA fees that all Amazon FBA sellers have to pay. Only FBM sellers are exempted from paying these fees. As an Amazon FBA seller, you will have to pay inventory storage fees, as well as order fulfillment fees. You'll also have to pay some general and miscellaneous Amazon seller fees.
Inventory Storage Fees
So, you decided to use the Fulfillment by Amazon model? Cool! However, it would help if you had a warehouse to store all of your inventory. Amazon warehouses are all over the country to store FBA sellers' products. However, depending on the product you are selling; its size, and its category, storage fees might vary.
There are two types of storage fees: monthly and long-term storage fees. The monthly storage fee is a fixed amount you need to pay for storing your products in an Amazon warehouse. However, if you do not sell your product within 365 days, you will also incur a long-term storage fee. This is why you should store inventory that you sell out quickly.
Monthly Storage Fee: Amazon deducts a monthly inventory storage fee from your Amazon account balance. You can take this as the cost of storing your product in Amazon's warehouse every month. The monthly storage fee is calculated based on inventory volume. This is the size of the item once it has been properly wrapped and is approved for shipping.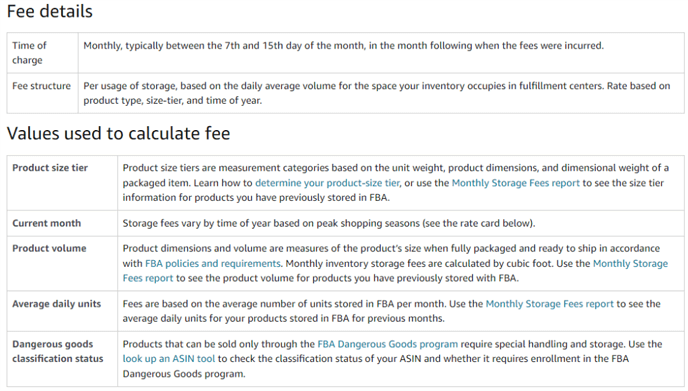 Also, the monthly inventory storage rates for January through September are different from those for October through December. Additionally, a number of price modifications might take place during peak times like Black Friday and Prime Day. The variation in monthly prices for inventory storage looks like this: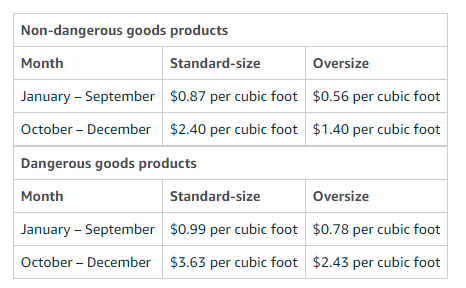 Long-term storage fee: Products that stay longer than 365 days in an Amazon warehouse will incur long-term storage fees. The long-term storage fee amount to about $6.90 per cubic foot or $0.15 per unit, whichever is greater.
To save money, try to avoid incurring long-term storage fees. But if you do this, you will still incur removal order fees. So, the best way to avoid incurring long-term inventory fees is to avoid stocking excess inventory. You can also file a removal and disposal order before the 365-day benchmark.
Check out Amazon's updated storage fees for 2023
Fulfillment Fees
Your fulfillment costs are the charges you pay to Amazon for each order they pack and ship on your behalf. Each step in the order fulfillment process has a fee associated with it. The fulfillment fee covers your shipping costs as well as the cost of packing your orders. It also covers product returns and customer assistance after the sale. The size and weight of your item will affect the fulfillment costs. Additionally, they are billed by unit.
Depending on the size of your item, the state you are in, and the type of tax regulations in your area, Amazon FBA fulfillment or shipping costs may vary.
Also, Amazon updates the cost of FBA fulfillment each year. This is due to regular fluctuations in shipping charges, packing expenses, and other factors. For easy budget estimation, they usually have an updated list of fulfillment costs based on product weight and size tiers.
Check out the updated Amazon fulfillment fees for 2023.
Other Amazon Seller Fees for FBA and FBM Sellers
There are two main seller fees that all Amazon sellers have to pay – selling plan fees and referral fees. Regardless of the fulfillment channel you choose to use, you'll have to pay these fees.
Selling Plan Fees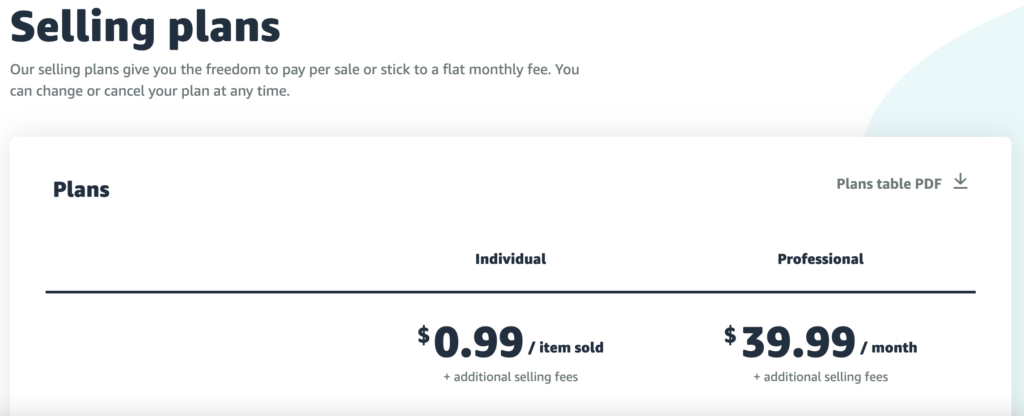 This fee depends on the seller account you choose to use. For each sale you make after signing up for the individual selling plan, Amazon levies a $0.99 per-item fee. You don't need to worry about up-front fees because the fee is withdrawn from your Amazon account balance following the transaction.
In contrast, if you opt for the professional plan, you will have to pay a fixed monthly fee of about $39.99. No matter how many items you sell in a month, this fee still applies and is subtracted from your account balance. If the available funds are insufficient, a charge will be made to your credit card.
Related: Are FBA Fees Worth The Cost?
Referral Fees
The referral fee is the commission that AMZN charges sellers to list their goods on the marketplace. In other words, it is the cost associated with maintaining Amazon stores. Every product sold is subject to a per-unit fee. Regardless of the fulfillment model, referral fees remain the same. However, depending on the product you sell and the category it belongs to, this fee may vary.
These fees range from 8% to 45% of the product price. But the fee for most categories ranges from about 15% – 20%. Also, the price AMZN charges vary depending on the number of products sold and the total sales in dollars for specific categories. In the electronics category, orders up to $100 are charged 15% of the total sales price, while orders over $100 are charged 8% of the total sales price.
However, like fulfillment and storage costs, AMZN also reviews its referral fees yearly. So, when estimating your business costs, be sure to use the updated rates.
Check out the current referral rates for each category.
There are some other miscellaneous fees that you may encounter as you go along. However, they are not compulsory and if you play your game well, you may not have to incur them. Amazon has a comprehensive list of all seller fees on its website.
See the full list of seller fees.
Is FBA Worth It In 2023?
Yes, Amazon FBA is still worth it in 2023. As a matter of fact, it is one of the easiest business models you will come across. But like every other business model, it has its pros and cons and if you ask us, the pros far outweigh the cons.
Although selling on Amazon is not free, it is definitely a smart move especially if your aim is to build a side hustle or passive income source. Since an Amazon business can be run from anywhere, at any time using software, you get to work at your own pace and that is definitely a real flex in this fast-paced digital world.
However, the competition in the marketplace is stiff, so you must be well-positioned if you want to grab a slice of Amazon's massive revenue. Being well-positioned for success on Amazon begins with
One of the best ways to increase your chances of success and profitability on Amazon is to invest in an accurate and reliable software tool for product research. We 100% recommend ZonBase's product research tools and complete tool suite, as the combination of tools makes it extremely easy to launch and manage your business successfully. Listed below are a few other things to do to build a successful Amazon business.
Conclusion: How Zonbase Can Help Scale Your Amazon FBA Business
ZonBase is a seller software that offers over 13+ tools and services to help sellers succeed. It is great for product research, keyword research, and listing optimization and is considered one of the best-valued and most accurate software suites available today.
One of Zonbase's tools; ZonResearch allows you to choose a product on Amazon and find the best products to sell fast. Another popular Zonbase tool is the Chrome Extension tool, which allows you to search through Amazon's database thoroughly. Using this browser extension, you can uncover hidden sales data and revenue for any product idea.
The software also offers effective keyword research and listing optimization tools, as well as a profit or inventory management tool. In addition to this, the software offers a sales estimator to help you track your sales data and make accurate sales projections.
Apart from seller tools that allow you to execute any Amazon FBA process on your own, ZonBase also offers personalized services. These services allow you to outsource major business tasks to a professional team. These services include; Product validation, Listing optimization, Photo enhancement, Page one, and PPC autopilot.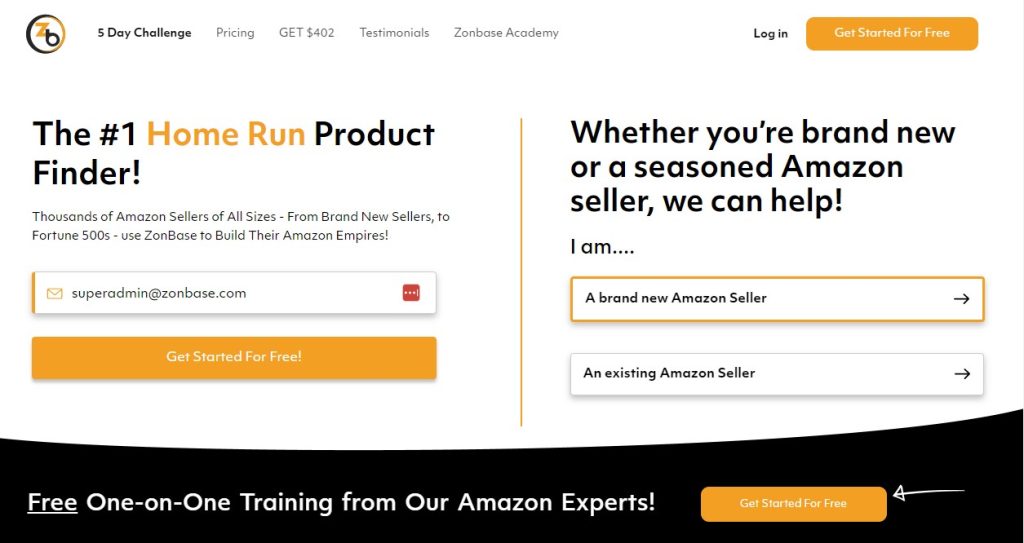 As an FBA seller, having access to a powerful tool such as Zonbase can be a game-changer. With Zonbase, you can build a competitive advantage over other sellers in your niche. For a successful online business, Zonbase is the best FBA seller software that you need. Now you don't have to wonder how Amazon FBA works and how you can find the best products to sell.