If you would like to start an online business, selling on Amazon is one of the best options to explore. Online shopping is on the rise, and Amazon is undoubtedly the most popular online marketplace in the world. With over 300 million customers and billions of monthly visits, the Amazon platform is a goldmine for aspiring entrepreneurs.
But what if you don't have enough time and resources to handle the fulfillment process?
That's where the Fulfillment by Amazon program comes in.
In this article, you'll learn how Fulfillment by Amazon (FBA) works, what it costs, its pros and cons, and how to grow your FBA business.
What is Fulfillment by Amazon?
When you sell on Amazon, you either pick, pack, and ship customers' orders by yourself. Or you can have Amazon do it for you. The latter is what Amazon FBA entails.
Fulfillment by Amazon, also known as FBA, is a service through which Amazon handles the entire fulfillment process for third-party sellers. The FBA service covers the storage of your inventory and picking, packing, and shipping of your customers' orders. Amazon will also provide customer service and process returns for you.
Amazon FBA is invaluable to both new and experienced Amazon sellers. With this fulfillment method, new sellers can start their eCommerce business without incurring huge startup costs on warehousing or staffing. They also don't have to worry about spending much time picking and packing items, high fulfillment costs, or communicating with customers.
Experienced sellers, on the other hand, can expand their product offerings without having to pay more for bigger storage space or employ more people. FBA also frees up more time for them to focus on scaling their Amazon stores.
How does Amazon FBA work?
Here's how Fulfillment by Amazon FBA works:
You ship your products to an Amazon fulfillment center.
When your shipment arrives at Amazon's warehouse, its employees will store your inventory.
Once a buyer places an order, Amazon picks and packs the order.
Amazon ships the item to the buyer.
After the transaction, Amazon provides customer service and processes any returns, refunds, and exchanges.
Advantages of Using Amazon FBA
Amazon sellers have two fulfillment options: fulfill orders on their own through the Fulfilled by Merchant process or fulfill orders through Amazon FBA. With FBA, you can leverage Amazon's advanced fulfillment infrastructure and customer service network.
Here are some of the benefits you'll enjoy if you use FBA:
Less work, more time
Fulfillment is, by far, the most exhausting part of running an eCommerce business. But with Amazon FBA, you don't have to bear that burden. Amazon handles the whole process, from storing inventory to packing and delivering orders, providing customer service, and processing returns. This allows you to devote more time to growing and scaling your business or doing the things you enjoy.
Higher customer satisfaction
As an Amazon seller, you will have to deal with customers' inquiries and process returns. This can be difficult to handle alone. With FBA, you can outsource this function to Amazon's efficient customer service network. Buyers will be able to reach AMZN's support team 24/7, giving them a delightful customer experience. In addition, AMZN will help you process returns, refunds, and exchanges.
Lower startup and overhead costs
With Amazon FBA, you don't have to spend a large amount of capital on renting warehouse space or hiring manpower. Your inventory is stored in Amazon's fulfillment centers and its employees do the hard work for you.
Leverage Amazon's brand reputation
Customers buying goods on AMZN don't look for seller names. Their brand loyalty mostly attracts them to the platform. They trust that Amazon will be efficient in delivering their orders and handling any issues.
With FBA, you get to leverage that trust. This is because your product listings carry the Prime badge, indicating to buyers that Amazon is in charge of packing, shipping, customer service, and returns. As a result, customers are more likely to buy from you.
Reduced shipping fees
With its huge network, AMZN is likelier to have strong partnerships with multiple shipping companies. Also, if the shipping orders are huge, the shipping costs per unit will be reduced. Since they are shipping hundreds of thousands of products daily, they pay much cheaper fees on average. On the contrary, if you ship your products yourself, the shipping cost is much higher.
AMZ usually charges sellers lower shipping fees if they use Fulfilled by Amazon. Aside from this, using FBA also makes your products eligible for the free 2-day shipping option available only to Prime subscribers. Sellers who don't use the Fulfilled by Amazon service will have to offer free shipping to compete with FBA sellers, leading to higher shipping costs.

Speedy shipping
AMZ is already a trustworthy brand with a standardized shipping network. Because of this, it is easier for them to fulfill your orders in a timely and efficient manner. By using the FBA shipping and delivery network, you are also increasing your customer's trust. You can build a good relationship with your customers if you assure them that their products will be shipped safely and quickly.
Offer free delivery to Amazon Prime members
If an Amazon seller opts for fulfillment by Amazon and his products are Prime eligible, the product is displayed with the Prime logo. That means Prime members can get free delivery within one or two shipping days. And there's no faster way to convert customers than the promise of free and fast shipping.
If you would like to fulfill orders yourself yet offer products to Prime users, you can join the Seller Fulfilled Prime (SFP) program. Your listings will also bear the Prime logo, even though Amazon is not responsible for fulfilling customers' orders. However, Seller Fulfilled Prime is not open to just anyone and you will have to meet some burdensome requirements.
Fulfill orders on multiple sales channels
Using Fulfillment by Amazon is not only limited to orders from the AMZN marketplace. FBA also gives you access to Multi-Channel Fulfillment (MCF) services. This means that AMZN will help you fulfill orders from other channels like Shopify or WooCommerce, using your FBA inventory stored in its fulfillment center.
With Multi-Channel Fulfillment, your customers on other eCommerce channels can enjoy fast delivery just like AMZN customers. You can also reduce your fulfillment costs and streamline your order fulfillment process.
Disadvantages of Using FBA
Issues Regarding Product Handling
Sometimes, various issues can occur in the fulfillment process. The goods could be lost or damaged, and there is nothing you can do about it. When this happens, Amazon often reimburses the fees. But often, in cases where these are not brought up and noticed, your seller's fees will not be returned. These errors are often on their end. In such cases, the suppliers should be extra careful.
Strict product guidelines
There are a lot of preparation and packaging requirements that you need to know if you use Fulfillment by Amazon. Also, for specific products that need special packaging, such as poly bagging and bubble wrapping, they need to be in optimal condition. If your product doesn't follow these strict guidelines, it might be returned to you. This will mean additional costs.
More Returns and Refunds
Return processing is something many sellers dread. However, sellers who use the Fulfilled by Amazon service will not have to worry about the stress and complications of return processing. Amazon handles return processing on your behalf. This is a good thing, but customers can abuse this rule since returns are free of cost, and the refund amount is 100%. Some customers might return as many goods as they want and still get back all their money. It may lead to higher return rates and create operational inefficiency in their employees.
Costly Fees
Sellers need to give special attention to the nature of their goods. FBA fees can be considerably lower if you have small, fast-selling goods. However, the cost can quickly pile up if you have slow-moving and heavy products. If your products don't sell fast, the long-term storage fees charged to you can be quite big. Also, if your goods are defective and damaged, they will be removed from the fulfillment centers. A removal fee is charged for these instances.
Sticker-less mergers
Amazon's fulfillment centers focus on keeping separate inventory based on the nature of the products. Some other sellers may have procured the same goods of less quality from the same manufacturer. When your products get mixed with these, it has serious repercussions. It might even lead to fraud and account suspensions.
Amazon FBA Fees
Let's now talk about the real deal. There are several fees that a seller using the FBA program has to pay. Some of them are as follows:
Fulfillment Fees
Fulfillment fees are fees charged per unit. The fulfillment fee you pay depends on the category and size of the product that you are selling. Fulfillment fees include fees for the picking, packing, shipping, handling, and delivery of the products. It also includes product returns and other post-purchase customer services.
Referral Fees
Whenever you sell an item from your store, there is a certain referral fee charged per item. This fee is different from the $0.99/unit sold fee that you have to pay if you sign up for an individual seller account. Depending on the category of your item and its size, there are different referral fees charged.
Inventory Storage Fees
Storage fees are charged per cubic foot of inventory. It is also dependent on the product's size and category. Selling seasons also affect the price of inventory storage fees. Inventory storage fees can also increase during peak seasons such as Black Friday or Prime Day.
Under the inventory fees, there is another long-term storage fee. This fee occurs when your inventory stays at the fulfillment center for more than 365 days. This charge is different from the monthly storage fees. Because of this, you must ensure that your inventory sells out fast. You must not stock inventory that is more than what you can sell. So, you must be on top of your inventory management game and keep replenishing inventory to avoid running out of stock.

Other FBA Fees
Apart from fulfillment, referral, and inventory storage fees, FBA sellers may incur some unexpected fees. These fees often include:
FBA Disposal or Removal Order Fees
Sometimes, goods may be returned in bad condition, rendering them unsellable. As a result, keeping them in the fulfillment center will only result in unnecessary storage fees. In such cases, sellers can request that Amazon dispose of or remove unsellable items from their inventory. The seller will have to pay a disposal or removal order fee if this happens.
FBA Return Processing Fee
A return processing fee applies when customers return items that qualify for free return shipping. In other words, Amazon charges a return processing fee when items in this category are returned. This fee is charged per unit, and it depends on the size tier and shipping weight of the product.
FBA Unplanned Services Fee
As the name implies, you may or may not incur this fee. However, if you do not package or label your products correctly, Amazon will have to do so on your behalf. The unplanned services fee applies in such cases.
Getting Started with FBA
Ready to start using FBA? Don't worry, it is not that difficult to set it up. Just make sure to follow the steps listed below:
Create a professional seller account
Set up your FBA by choosing it as the fulfillment option when you add your inventory.
Source the packaged product, choose a shipping plan and print the shipping label.
Transport it to the Amazon fulfillment center.
Abide by all the shipping, packaging, and routing requirements to ensure acceptance in the fulfillment centers.
Should You Go With FBA?
Now, this is a question that your own needs can only answer. Are you a seller with a lot of time to pack, ship, and deliver your items to customers? Can you establish a lower shipping fee agreement with shipping companies? Do you have lots of time on your hands to handle customer service? If the answer is yes, then going for FBM (fulfillment by Merchant) isn't such a bad idea.
However, if you want to scale your business up and sell thousands of items in one day, Fulfillment by Amazon might be the better choice. With FBA, you can focus on the other aspects of your business, such as streamlining your manufacturing and production. You can also rest assured that you can handle large orders from customers during peak season. Some sellers get swamped during Black Friday and Prime Day because of the huge amount of orders. By leveraging FBA's delivery and logistic networks, you can handle this huge influx of orders without problems.
Remember that you have to pay certain FBA fees, though. And if these fees end up eating your profits, there is no sense in using the service. So make sure that your FBA costs do not take away your profits.
Understanding Amazon FBA's meaning, pros, and cons are not all there is to know about using the service. After weighing your options and deciding to go with the service, the next thing is to learn how to ship to Amazon fulfillment centers.
How To Ship To Amazon Fulfillment Centers
Before making your first sale, you will have to send your inventory to Amazon's warehouses or fulfillment centers. To do this, you must have an Amazon seller central account and understand how the seller central dashboard works.
Before now, sending inventory to fulfillment centers was more complicated. However, AMZ recently launched a "Send to Amazon" beta feature which allows sellers to send inventory to fulfillment centers in three simple steps.
For new sellers, navigating the seller central dashboard and understanding how to ship products to Amazon fulfillment centers may be difficult at first. So, here's a simple breakdown of the steps involved for both methods.
How To Ship To Amazon Fulfillment Centers: Method 1
Step 1: Go to your Amazon Seller Central dashboard, then click on the 'Inventory' tab. Next, navigate to the 'manage inventory' option in the dropdown menu.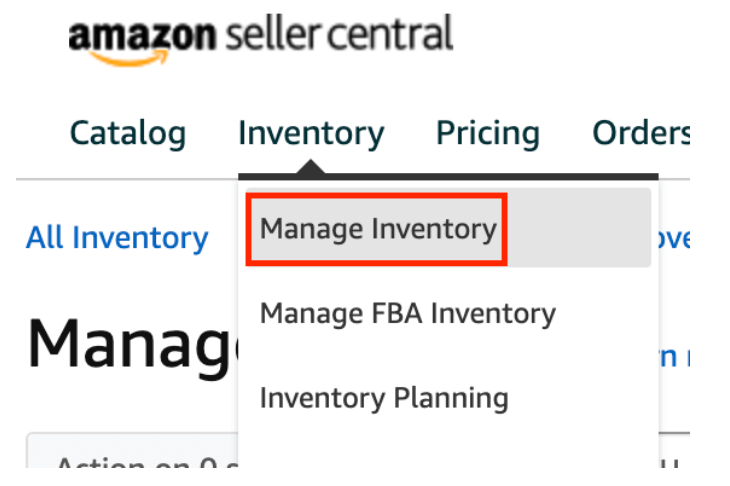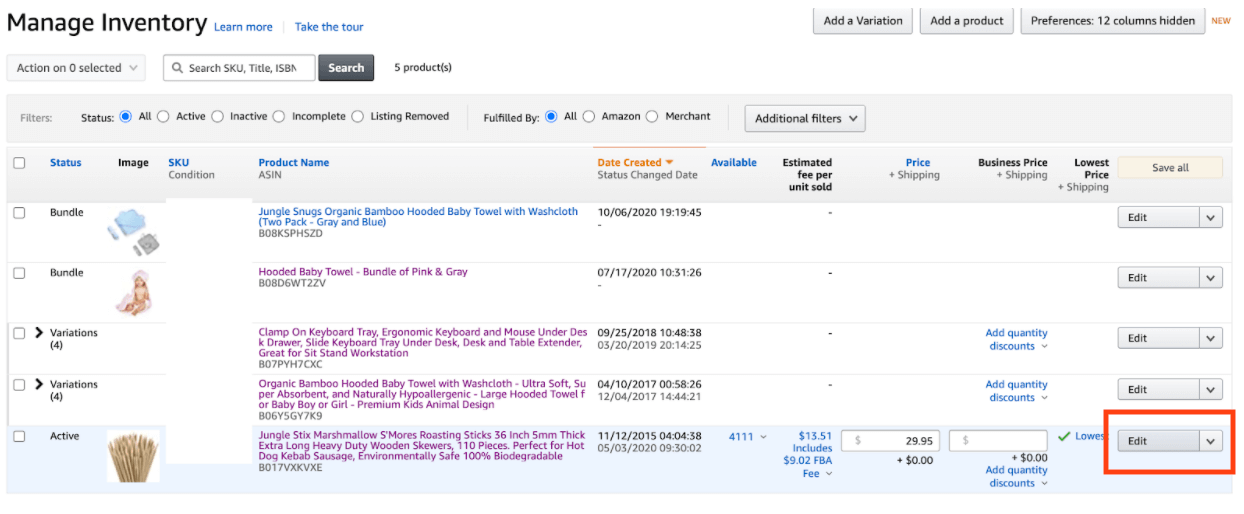 Step 2: Navigate to the 'Edit' dropdown menu on the right-hand side and click 'Send/Replenish inventory.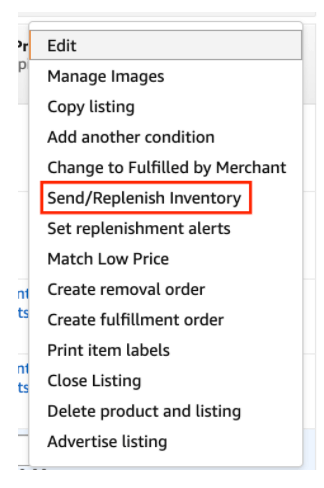 Step 3: Here you'll have to enter your 'ship from address' and this is basically the current location of your inventory. You'll also need to specify whether your products are individual products or case-packed products.
Choose 'individual products' if your shipment contains several products with different SKUs and conditions. The 'case packed' option, on the other hand, applies if your products have the same SKU. If they do, you'll have to specify the number of cases and unit per case for each SKU. This option often applies to sellers sending in multiple units of a private label product.
Next, click on the 'continue to shipping plan' button.
Step 4: Here, you will have to specify the number of units in one case and how many cases you're shipping. After filling the required fields, click 'Continue'.
Step 5: This is where you get to inform AMZ about the packaging procedures of your products. So be sure to state whether or not your products need to be prepped before shipping. Also, select the type of products you're shipping in the dropdown menu that follows.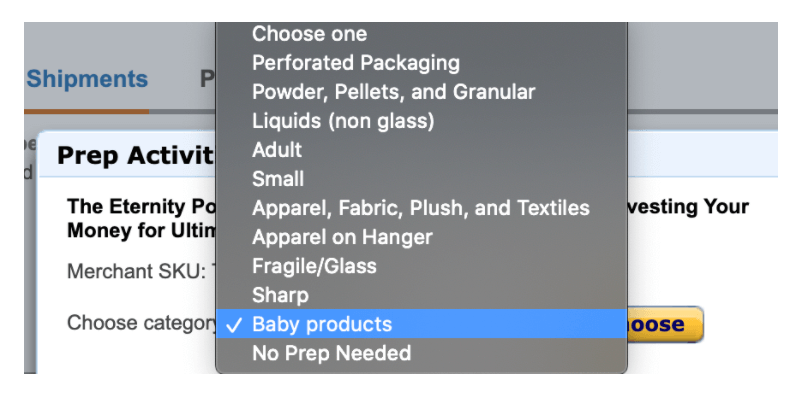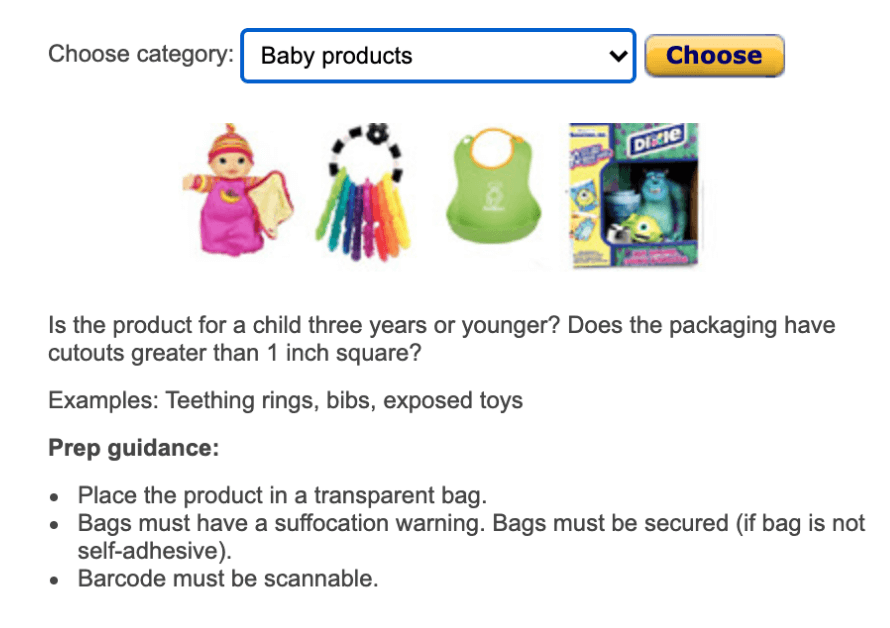 Once you have specified your product category, you will be notified about whether or not it needs to be prepped. If you don't have the materials to properly prep your products, AMZ can handle that on your behalf. AMZ handles packaging and prepping for a fee, the fee usually ranges from $1.00 to $2.30 per unit. The fee varies depending on the packaging material and type of product in question.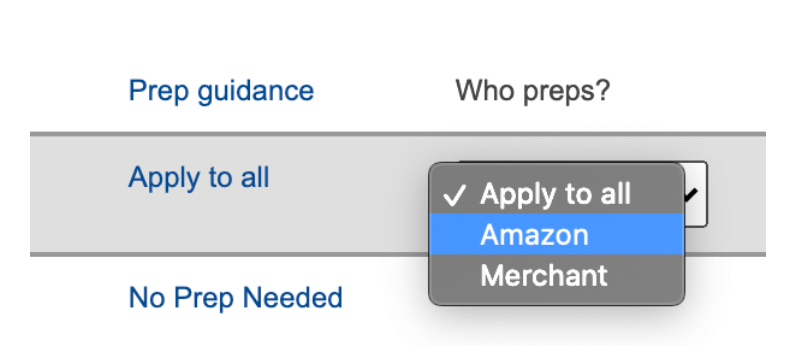 Step 6: Choose how you want your products to be labeled. If your products should carry an FNSKU code, you can apply them yourself or let AMZ do that for you. Also, ensure you follow the right procedures when labeling your products with FNSKU codes.
Step 7: This is where you'll discover the location assigned to you. Locations are assigned based on demand across the country. In some situations, AMZ may require you to split your inventory and send it to different locations. But this only happens when you retain the shipping default settings 'Distributed inventory placement'. So, if you do not want to split your inventory, you can change this setting to 'inventory placement services' instead.
However, choosing the latter option puts you at risk of incurring an additional per-unit fee. The fee is usually between $0.30 and $0.40 depending on the weight of your products.
You can make changes to your settings by navigating to the settings tab and clicking on inbound settings.
Next, click "Approve and Continue". Then, "Work on shipment".
Step 8: Here, you'll choose your shipping service and how your items should be packed. Afterward, you'll provide your package dimensions and weight to enable AMZ to fix a price. Once this is done, your inventory is ready to ship!
Fill in all the necessary fields, choose your shipping date, and print your labels. After completing all the steps, click 'Complete shipment'.
How To Ship To Amazon Fulfillment Centers Using The 'Send To Amazon' Beta Feature
Step 1: Follow the above steps and click 'Send to Amazon'. At the moment, the beta feature only works for case-packed products, so for individual products, you will have to use the first method.
Step 2: Next, create a new packing template. These templates will help you save information about your SKUs so you can reuse them if you have to.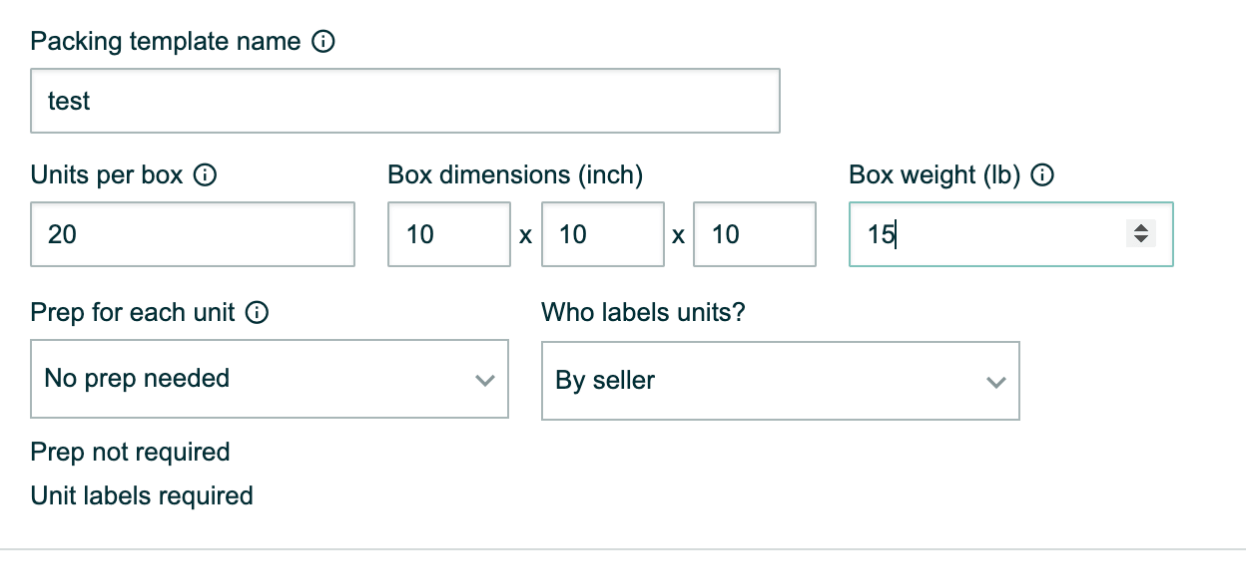 Step 3: Confirm your shipping details and charges.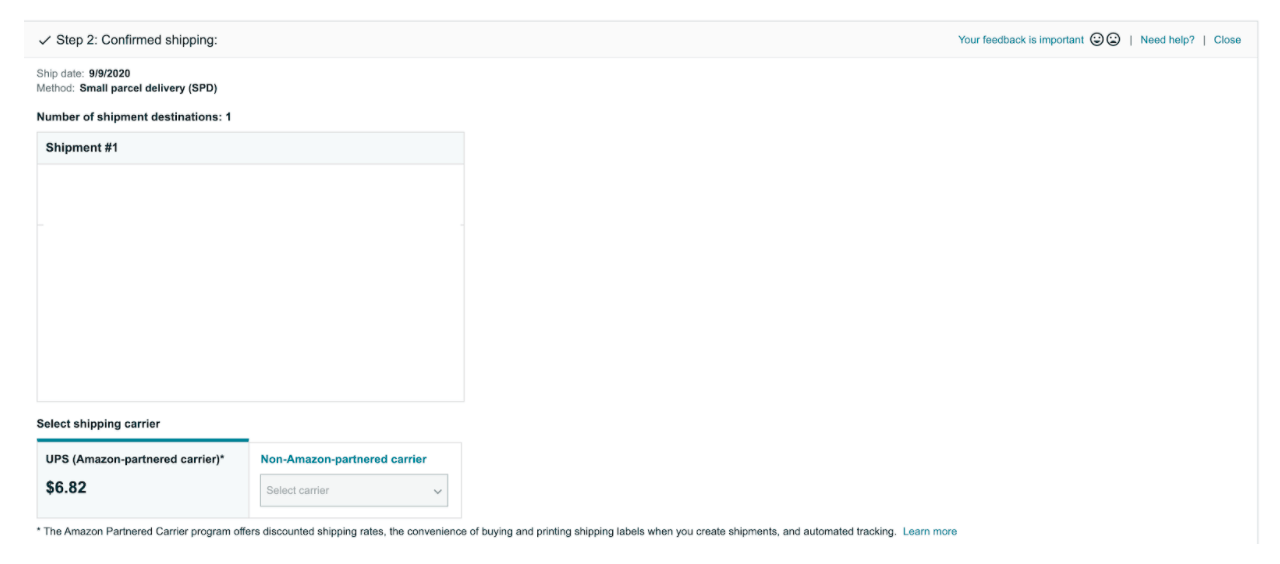 Step 4: Lastly, you'll have to print your labels and ship your inventory. Ensure the barcodes are visible on both sides of the box. Afterward, drop off your packages at UPS or schedule a pickup.
Following these steps, you can ship your inventory to an Amazon fulfillment center from your seller central dashboard.
Now that you know how to ship to Amazon fulfillment centers, your inventory management process should no longer be difficult to navigate.
Zonbase: The Best Software Tool For Amazon Sellers
Whether you are thinking of using Fulfilled by Amazon or Fulfilled by Merchant, you still need to find the best products to sell. And as a third-party seller, finding the best products to sell is an important task. Finding the right product means your store's survival in the long run. Choosing the right product is like finding a gold mine that you can earn from. However, choosing the wrong product can also mean your downfall. Because of this, you need a software solution that can help you discover the perfect products to sell.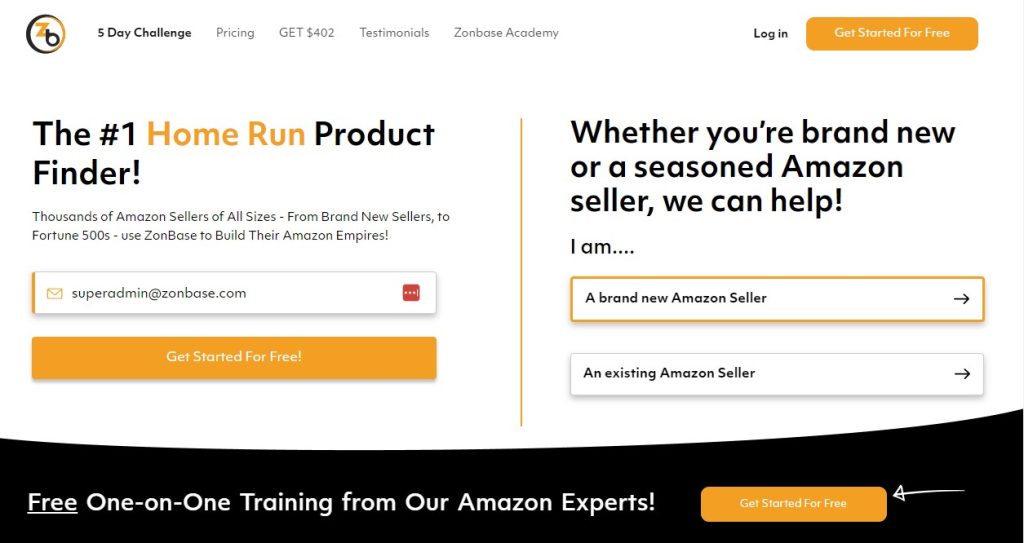 Zonbase, with its 13+ tools to help sellers, is your homerun product finder. It can help you accomplish tasks such as product research, sales optimization, and listing optimization. Voted as one of the best software suites for sellers, Zonbase can help you find your winning product with just a click of a button.
As a third-party seller, having access to a powerful software tool is crucial. Zonbase gives you the competitive edge that you need to go over your competitors. And this will also help you as you start using fulfillment by Amazon to scale up your operations. Interested to know more about Zonbase? Sign up for a free trial.