The only way to track growth in any sphere is to track metrics consistently. This applies to your Amazon business too. So, if your goal is to build a successful business, then you must track your performance from time to time. Amazon is an ultra-competitive marketplace and there are many metrics to monitor. You may be able to track some metrics casually, but for the most part, these metrics must be carefully analyzed. So, in this complicated and competitive marketplace, how do you track your business growth? That's where Amazon seller reports come in.
As you might know, AMZN has very high expectations, and it is important for sellers to stay on top of their game. Sellers who want to succeed must also be intentional about tracking performance and improving their strategies. The only way to track performance and do better is by consistently monitoring data. Thankfully, unlike other platforms, Amazon's high expectations are backed up by structures. Hence, the availability of the Amazon seller reports feature.
Amazon seller reports, also known as business reports, are an essential feature of Seller Central. And the most successful sellers are those who know how to use these reports to their advantage. The Amazon seller reports contain valuable, data-driven insights that can help sellers improve their advertising, pricing, and listing strategies. And by extension, their conversions and sales. In this article, we'll tell you all you need to know about Seller Central business reports. We'll also show you how to read the reports and which ones you should focus on.
Let's dive in!
What are Amazon Seller Reports?
Amazon Seller Central business reports provide valuable insight to help business owners track their performance and business growth. These reports provide information about the number of units you've sold, listing traffic, and conversion rates. You can also see your buy box percentage and total sales amount. This is a summary of the details you get to track using Amazon business reports. But there are other reports available in Seller Central. From your Seller Central dashboard, you can also view return reports, advertising reports, and fulfillment reports.
These reports allow you to see how your business is performing in all areas so you can review your strategies and do better. Instead of relying on your gut, take advantage of the important data AMZN provides. Anyone will find the reports useful, but only professional sellers can access the Amazon business reports.
How You Can Track Business Growth Using Amazon Seller Reports
The business reports within Seller Central are a great tool for tracking business performance and analyzing metrics. Using these reports, you can review past business decisions, then improve your strategies and make new, informed decisions. This will not only help you maximize your sales and profit potential, but you'll also be able to cut down on your ad spend. You can also improve your conversions and increase your sales volume using the data you get.
Let's assume there's a huge disparity between your conversion rate and the number of sales. Using the information in your reports, you can monitor your funnel and see at what point customers are dropping off. After checking the reports for your store, you can download them as a CSV file and access them later.
What Are the Amazon Seller Reports to Focus On?
There are many reports and they are all useful. But if what you want is an all-around breakdown of your store's performance, then there's one you should focus on. We'll tell you the one to focus on, we'll also tell you about the other seller reports. But first, which of the Amazon seller reports should you pay more attention to?
Usually, a seller's primary aim is to boost sales and conversions and build a profitable business. If this is your goal too, then you should focus on the "business reports" in your Seller Central dashboard.
Let's take a look at the 'business reports' on your dashboard. To access these reports, log in to Seller Central and navigate to the 'Reports' tab. Next, click on 'business reports' in the dropdown menu.
You'll be redirected to your Sales Dashboard first. Here, you can see a brief snapshot of your total Amazon sales. You can view today's sales, sales from the previous week, month, year, or a specific date range. The navigation panel on the left side displays a further breakdown of the different reports under this tab.

Detail Page Sales and Traffic (Child Item)
There are many reports to check out but you should pay more attention to the 'detail page sales and traffic'. This report provides a thorough breakdown of each of your products including variations. It's great to have a broad image of how your business is doing, but knowing how each product is performing will help you get a more balanced perspective.
This report is the most beneficial since it shows you specific details for each product. This data is also helpful in fixing product prices and marketing budgets.
Here's a breakdown of the information you can see in this report.
This is the most important metric in the business report. It shows your conversion rate, which is the percentage of units ordered compared to the number of page views. What do you do if your conversion rate is low? Consider optimizing your listings using images and clear descriptions. You may also have to increase your ad budget and run more promotions. Also, consider requesting reviews. This may help convince potential customers to go through with their orders.
This metric is also important and helpful if your goal is to see your Amazon FBA sales data and track sales growth. It shows the accumulated revenue for each product within a specific period.
If you have always wondered how to see total sales on Amazon, now you finally know where to find this data. This report displays your total Amazon FBA sales data. It also covers the ordered product sales and gross product sales. It combines two metrics; the first is the product price multiplied by the number of units purchased. The second covers the total amount the customer spent on the product. This report is helpful if you want to track your store's performance in terms of sales.
This works hand in hand with the total sales. It helps to track the number of orders placed within a certain period. Of course, you can specify the time range that you want to track.
This report shows the number of unique visits to your store in the last 24 hours. This is useful because you get to have an idea of how many new visitors your listings get for a specified time frame. This will help you track your traffic and come up with better ways to drive traffic to your listings.
This shows the total number of people who viewed your listings. But it's different from the sessions tab since it also tracks multiple views. So, if a customer views your listing twice, both visits are recorded and your page views may be more than the sessions.
This shows the percentage of page views individual product ASINs receive compared to other products.
The percentage of page visits where the Buy Box was yours. If you're a retail arbitrage or wholesale reseller, this indicator is very relevant. Why? It shows you how often you obtain the Buy Box compared to competitors selling on the same listing. If you're a private label vendor with less than 100 percent of the Buy Box, this is also helpful.
This shows the total orders placed for a particular product. This figure does not always tally with the total number of units ordered because some customers may order multiple items.
The business report may seem complicated but it is quite easy to understand. If your goal is to scale your business to profitability, then you must be able to read and interpret the report. We'll show you how to do this in the next section.
How To Read Amazon Seller Business Reports
Now that you know how to access your Amazon seller reports, you should also learn how to interpret them. As we stated before, your sessions and conversion rate are the most important metrics, so we'll focus on them.
Conversion Rate

Your conversion rate on AMZN should be about 5-10%. Anything less than that needs some improvement. Since you have access to this data on the report, you can easily restrategize and up your game.
Typically, the conversion rate on regular eCommerce websites is about 2%, but it can be as high as 10% on Amazon. Why? Because most of Amazon's customers go on the website with the intent to make a purchase.
If you have a conversion rate that's below the 5-10% benchmark, you should consider optimizing your listings. Also, include more reviews in your listings. This will help to persuade customers to make a purchase. We'll tell you all about the best tool for listing optimization if you read to the end.
From the table above, we can tell that the first two products have a great conversion rate. The first product has 2102 sessions and a conversion rate of about 30%, which implies that 30% of viewers end up making a purchase. We can't say the same for the last product though, so the listing has to be optimized for better conversions.
Go through your listings regularly and optimize them when necessary. It's crucial that you strive to improve conversion rates constantly, as they directly affect your sales.
Sessions

Your conversion rates are important, but they're only a percentage of your listing traffic. So, your traffic is the real determinant of how much sales you make. If you have few page views, you may still have a good conversion rate. But if your listing traffic is low, then your sales will be low.
How then do you determine how much traffic your listings are getting? By tracking the session metric. The number of sessions your listings get is a pointer to whether you need to drive more traffic to your listings or not. But when it comes to driving traffic, you should focus more on driving qualified traffic to your listings. In other words, focus on sending your target audience, not just random traffic to your product listings. This is where effective keyword research comes in.
Listing optimization is for increased conversions and keyword research is for increased traffic. But as you can already tell, both go hand in hand. Focus on relevant keywords, otherwise, you'll be sending random customers to your listings. And this will end up impacting your conversions negatively.
Check out the product in the second row. We can tell that the conversion rate is great, at about 40%, but it has only 335 sessions. The solution is to drive more traffic to this product listing and how do you do that? Run sponsored ads or promotions and optimize your listings with relevant keywords and images. Also, track your keyword ranking and increase your off-Amazon advertising efforts.
Buy Box Percentage

The Buy Box is Amazon's treasure chest and every seller's dream is to win the Buy Box. If this is your dream too, then the Buy Box percentage metric is also important. This metric is even more important for arbitrage or wholesale sellers who share listings with competitors. A low Buy Box percentage means that your offer is always unavailable when customers check out the listing.
For instance, if your buy box percentage is 30%, it means that only 30% of visitors can click "Add to Cart" on your offer. This further implies that there are too many sellers on the listing or that the product is overpriced. This is usually the case for arbitrage and wholesale sellers. In contrast, private label sellers can have a 100% buy box percentage since they're the only ones on the listing.
Winning the buy box is a great strategy to improve your conversions and sales. Here are a few reasons why your buy box percentage may be low:
High order defect or refund rate
Your products are always out of stock
Bad account health or condition
Fixing these issues will increase your chances of winning the buy box.
These are the important business report metrics you should focus on. Now you're wondering if the AMZN business report is the only report you should pay attention to. Well, the answer is no. There are other Seller Central reports, but the business report is the most important. But, we'll talk about the other Amazon seller reports in the next section. Then we'll recommend the best Amazon software for keyword research and listing optimization.

Other Amazon Seller Central Reports to Help You Manage Your Business
Amazon Seller Central Advertising Reports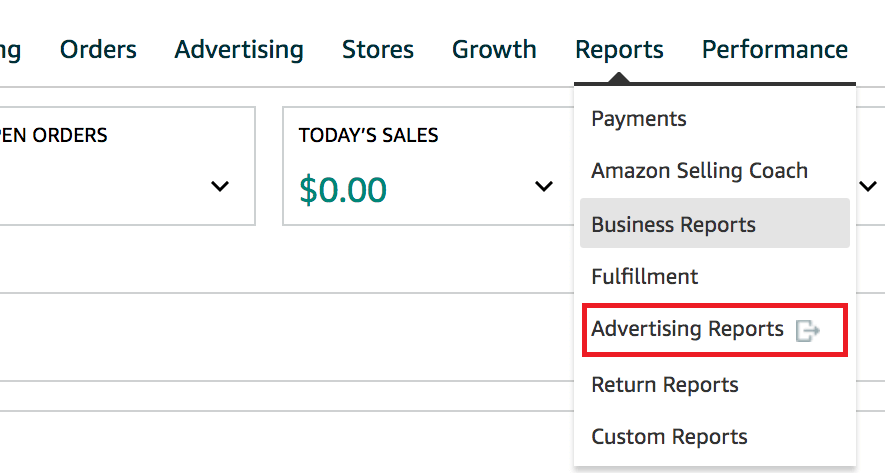 As the name implies, this report allows you to track your marketing and advertising efforts on AMZN. This way, you can see which ad types and keywords are converting and which ones are not converting. This will help you improve your marketing strategies and maximize your ad spend.
To access the advertising reports, go to the report tab in Seller Central and click " advertising reports".
Return Reports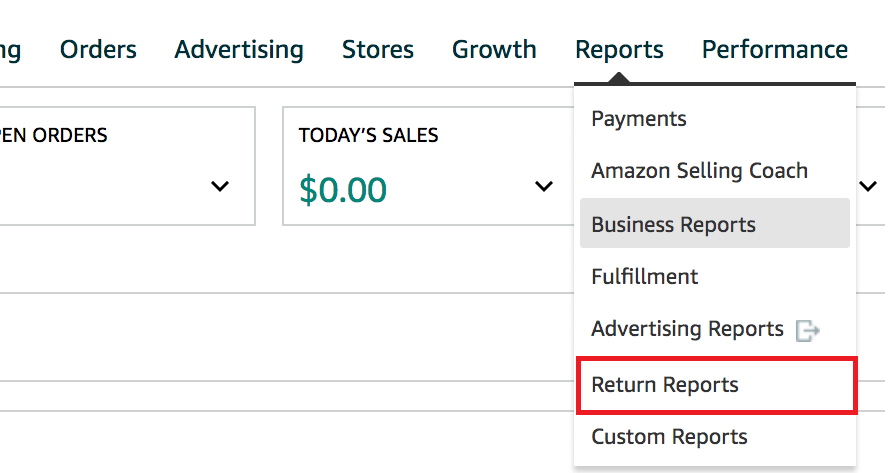 This report helps you track the number of returns received within a certain period. This way, you can monitor your order defect rates. You can also track returns and be aware of the reasons customers return your products.
To access the return reports, go to the report tab in Seller Central and click " return reports".
Fulfillment Reports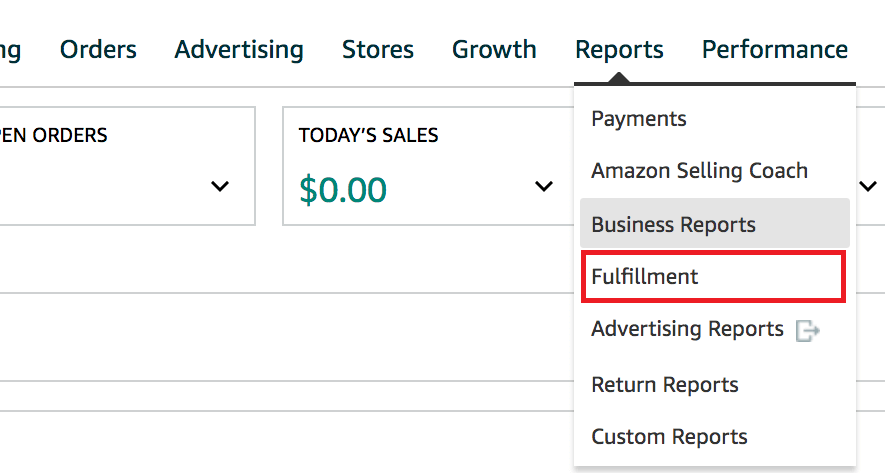 Fulfillment reports help you to gain more insight into FBA as a whole. It contains other reports like stranded inventory, long-term storage fee reports, and others. Sellers who use Amazon FBA will find these reports useful.
To access the fulfillment reports, go to the report tab in seller central and click " fulfillment reports".
Best Amazon Seller Tool for Listing Optimization and Keyword Research
After reading your Amazon Seller reports, you may need to optimize your listings or research relevant keywords for your ads. While it is possible to do these manually, it does not guarantee optimal results and you may end up going around in circles. To prevent this, it's best to use Amazon software for keyword research and listing optimization.
ZonBase is the best Amazon software for keyword research and listing optimization. ZonBase offers a set of keyword tools to help you find the most relevant keywords for your store. It also provides a keyword and product tracking tool to help you track your seller ranking.
When it comes to listing optimization, other seller tools will struggle to do better than ZonBase. It offers an effective listing optimization tool that allows you to spy on your competitors' listings and take cues from them. In other words, you can come up with well-optimized titles and descriptions by taking a look at your competitors' listings.
If you do not want to optimize your listings yourself, you can outsource your listing optimization to the ZonBase team by signing up for the Listing Optimizer service.
ZonBase also offers a photo enhancement service. Sellers who want to improve the quality of their product images will find it helpful. You can also use the sales estimator tool to estimate product profitability.
Final Words
Amazon seller reports are a great way to stay on top of your game and never be unaware of your business performance. Always keep an eye on your conversion rates if your goal is to make sales and earn substantially on AMZN.
There's no better way to beat the competition on Amazon than to be armed with accurate data. Leverage the accuracy of Amazon seller reports for your business today!