Looking for an easy and fast way to sell products online?
Amazon dropshipping is the way to go.
With Amazon dropshipping, you can run an eCommerce business without holding inventory or fulfilling orders yourself.
In this guide, we will explain how dropshipping on Amazon works, the pros and cons, and how you can get started.
What is dropshipping?
Before we dive into dropshipping on Amazon, let's take a look at dropshipping in general.
Dropshipping is an online business model where the seller does not keep or maintain physical inventory or ship goods to customers.
The seller only acts as a middleman and forwards the buyer's order details directly to the manufacturer, supplier, or distributor. The manufacturer/supplier then ships the goods directly to the buyer.
You can either dropship using your online store or third-party sites like Amazon. However, we recommend Amazon dropshipping for beginners
Why dropship on Amazon?
There are several reasons why you're better off dropshipping on Amazon instead of your own eCommerce store.
First, Amazon is the world's largest online marketplace. In the US alone, the online retailer controls 40% of the eCommerce market.
Just how wide is Amazon's reach? Well, the site has over 300 million active users and 2.45 billion visits every month.
There's no way your eCommerce store could ever get that much traffic. By selling on Amazon, you can enjoy some of that traffic without spending so much on SEO and marketing.
Amazon's customer base is not only vast; it is also fiercely loyal. According to eMarketer, there are over 157.4 million Prime members, most of whom begin their product searches on AMZN.
Considering all of this, Amazon dropshipping certainly has a lot of sales and revenue potential.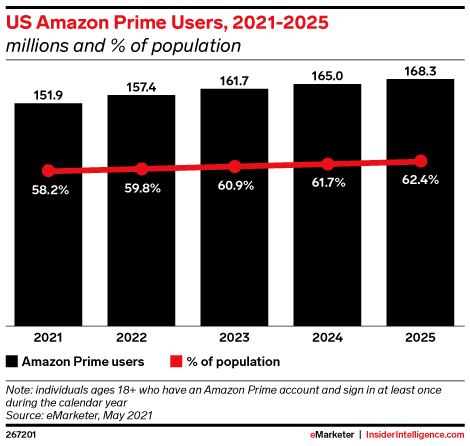 Besides, you can now connect your Amazon account with your own eCommerce site or Shopify store.

How Amazon Dropshipping Works
Amazon dropshipping is just like dropshipping on any other platform. The only difference is that the seller lists the item for sale on the Amazon marketplace.
When a customer purchases a product, the seller sends the customer's order information to their dropship supplier. The supplier then ships the product directly to the customer.
The supplier handles manufacturing the products, storing and maintaining inventory, and fulfilling customers' orders. On the other hand, the seller manages the online store by taking care of every customer-related function, such as receiving orders, forwarding the orders to the supplier, and handling customer service.
Read other Amazon FBA Topics on our Full Guide that covers everything for Selling on Amazon FBA.
Does Amazon Allow Dropshipping?
Amazon allows dropshipping as long as you comply with the conditions laid down in its dropshipping policy.
If you want a dropship supplier to ship orders on your behalf, these are the requirements you should adhere to:
You should be the seller on record. All packing slips, invoices, external packaging, and other connected information should identify you as the seller. The supplier should not be identified at all.
You should get rid of any packing slips, invoices, external packaging, or other information identifying a third-party drop shipper before the order is shipped.
Customer returns should be accepted and processed by you.
Comply with the terms of the seller agreement and other applicable policies.
The following forms of dropshipping are strictly prohibited on the platform:
Purchasing products from another online retailer and having that retailer ship orders directly to customers (and the shipment does not identify you as the seller of record)
Including packing slips, invoices, external packaging, or other related information with a seller's name or contact information other than yours.
If you fail to comply with these requirements, your account may be suspended.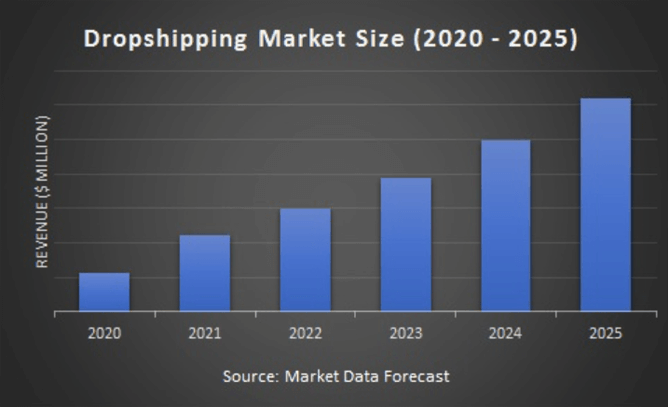 Can Amazon Dropshipping Be Done Through FBA?
Many resources online advise sellers to dropship
Pros of Dropshipping on Amazon
Apart from dropshipping, there are other lucrative selling models such as private label and wholesale. Under a wholesale model, you purchase branded goods in bulk from a supplier at a discount and resell them online. Private label, on the other hand, is when you use a third-party manufacturer to manufacture products under your label or brand.
So why should you choose dropshipping over private label or wholesale?
1. Low upfront costs
Private label and wholesale require huge startup capital because you need to purchase goods in bulk and keep an inventory. With dropshipping, your upfront costs are next to nothing because you do not buy goods directly from suppliers or hold any physical inventory. All you need to do is create an account (which costs a meager $39.99 if you're using the Professional selling account) and list items for sale.
When a customer pays for the product item, you purchase it from the supplier with a portion of the proceeds and have them ship the product to your customer.
2. Fast and easy to start
Amazon dropshipping is quick and easy to start, particularly because you do not need to own inventory. The products you want to sell are already manufactured and ready for shipping. So you don't have to wait for your products to be manufactured and shipped to Amazon's warehouse. As long as you have a Seller account and an agreement with dropship suppliers, the only thing left is to list your item and make a sale.
3. Easier product research
Both private label and wholesale require extensive and time-consuming product research. But with dropshipping, you are selling already existing products from manufacturers. It's easier to decide on products to sell when no manufacturing or branding is involved. And as you will soon see, there is an awesome product search tool to help you see how well items are selling on Amazon.
4. Easier marketing
Amazon dropshipping gives you access to a vast customer base that you may never get on your eCommerce store. Your products are visible to a myriad of people, which potentially means huge returns. In addition, you are selling already existing branded products. This means you do not need to invest much effort in advertising and promoting your products. With optimized product listings and pay-per-click (PPC) ads, you can easily drive traffic and boost sales.
However, there are no advantages without disadvantages. So let's take a look at some of the cons of dropshipping.

Cons of Amazon Dropshipping
Below are some of the drawbacks of the dropshipping model:
1. Slow delivery
Before you can forward a customer's order to the supplier, payment has to be processed, and this can result in a delay. More importantly, dropshipped items are mostly from manufacturers or suppliers overseas. This means delivery to the customer may take some weeks or even months. And slow shipping times may lead to negative reviews, which is bad for business.
2. High Competition
Dropshipping is so quick and easy to start that many other sellers use this model. Also, many other sellers can sell products identical to yours. This means competition is quite high. And to get ahead of the competition, you have to distinguish yourself, which is difficult because you have little control over product customization. Many sellers resort to setting low prices, but this may reduce your profit margins.
3. Lack of quality control
You can't assess the quality of the product because the items are being shipped directly from the supplier to the buyer. Your only option is to order product samples or hire a third party to perform physical inventory checks. And if the products are being shipped from overseas, China, for example, you face the risk of the products getting damaged in the process.
4. Communication issues
Although you don't own or stock inventory, your business is dependent on your supplier's inventory storage. If your supplier is low in stock or out of stock on some products and you are not promptly informed, you won't be able to adjust your listing. A customer may place an order and be unable to receive the product quickly, or at all.
Is Amazon Dropshipping Worth It?
Can you drop ship on Amazon? Yes. If you have wondered how dropshipping works or have been searching for helpful posts on how to get into dropshipping on Amazon, there's only one reason: you want to make money, and that's fine.
However, before getting into any business, Amazon dropshipping inclusive, ensure you have a good idea of the chances of profitability. There's only one way to estimate the profit potential of the dropshipping model, and it's by finding out how much dropshippers make.
So, how much do drop shippers make? About 50% of AMZ's revenue comes from third-party sellers, and drop shippers are responsible for a huge chunk of this revenue. The average drop shipper makes about $1000-$50,000 per month. So, if you're looking to set up an Amazon dropshipping business, now is a great time.
Dropshipping for beginners may seem daunting, especially because it seems impossible to sell on Amazon without owning any inventory. In addition, many "dropshipping for beginners guides" tend to focus on the complex aspects, leaving out the basic stuff for sellers to figure out.
So, if you have searched "How to dropship on Amazon", you probably won't find concrete, practical steps to walk you through the entire process. However, if you do not understand how to get into dropshipping on Amazon, you may have difficulty navigating your way around the marketplace.
To make your ride a smooth one, in the next section, we'll provide a step-by-step guide on how to get into dropshipping on Amazon. Let's get right into it.
How to Start Dropshipping on Amazon
The first step is to create an Amazon seller account.
Go to https://sell.amazon.com/ or https://sellercentral.amazon.com and click the sign-up button.
You should have the following information readily available before setting up your Amazon seller account:
Phone number
Bank account number and bank routing number
Internationally chargeable credit card
Proof of identities, such as Government issued national ID, driver's license, or national passport
Tax information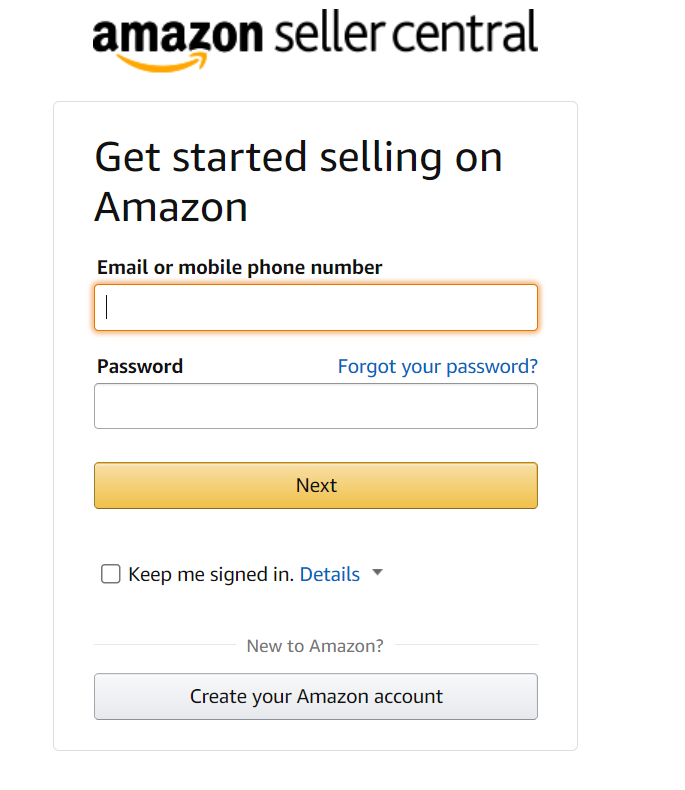 Source: Amazon Next
Amazon offers two options for your Seller account: Individual Selling Plan and Professional Selling Plan.
The Individual Selling Plan is free to create but you will be charged a commission of $0.99 for each item sold, in addition to other selling fees. The Professional Selling Plan costs $39.99 monthly, in addition to other selling fees.
The Professional Selling Plan is the better option for your dropshipping business because it has more features and affords more benefits. With the Professional account, you can sell products in restricted categories and take advantage of AMZ's advertising services.
After creating your account, you need to set up your selling account. You will be required to input your business name, business address, public contact information, billing information, tax information, and so on.
Find a Profitable Product
After setting up your Amazon seller account, the next step is to find a product to sell. The success of your business largely depends on the type of products you sell. And the last thing you want is to end up with products that no one wants to buy. So you need to select products with high demand and low competition.
You also want to look for products with healthy profit margins. You should target products with prices that range between $20 to $35 and rake in at least 100 sales every month.
To see how well a product is performing on Amazon, you must check its sales rank or Best Sellers Rank (BSR). You can search for a product on AMZ and open the product page of one of the items in the search results. Scroll down to the product details/information segment of the product page, and you will find the BSR there.
Manually checking for the sales rank of products is tedious, however. To speed up the process, there are several sales rank estimator tools you can use. However, we recommend Zonbase.
Zonbase has a Chrome extension tool that makes product research easier than ever. After installing the extension, run your search within Amazon.com. When the search results appear, run the Zonbase Chrome Extension. It will give you information about the products, including their respective Best Sellers Rank and sales history. It will also show you a smart score which reveals the product's level of demand and competition. Remember, you're looking for products with low, but not-too-low, BSRs. So, based on the results, you can shortlist products with a BSR of 5000 or less.
Another AMZ product research tool on Zonbase that you could use is ZonResearch. Using the advanced filter, you can put in your preferred metrics to find products with great profit potential.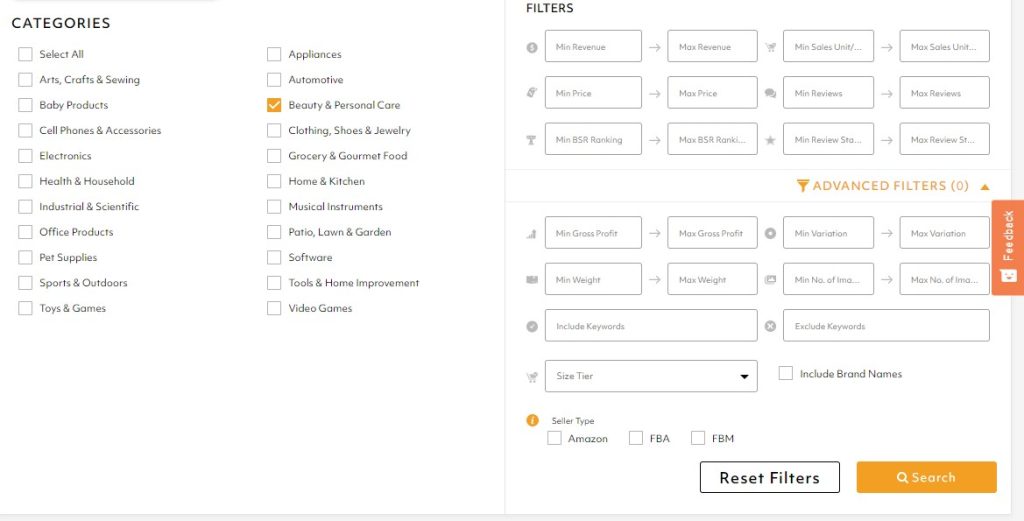 ZonResearch – Fastest Amazon Product Research Tool | ZonBase
As a beginner, you should start with simple, low-maintenance products. Some great categories with low-maintenance products are Office Products, Beauty & Personal Care, Home & Garden, and Sports & Outdoors. You should also consider selling disposable or consumable items that are used regularly and are more likely to be re-ordered.
After deciding on the product or a shortlist of products you want to sell, the next step is to find a supplier who allows dropshipping and is trustworthy. Choosing a supplier is an important task since you don't want someone who delivers substandard products or does not fulfill orders on time.
You can check out dropshipping suppliers on AliExpress. Although AliExpress is a business-to-consumer eCommerce site, many AliExpress sellers offer to dropship. So, small businesses use the platform as a drop shipping network.
First, create an AliExpress account and search for the product item you want to sell. The site will bring up many search results which you should click on.
Check the product page for details relating to the product and supplier. To check the seller's reliability, look out for the following:
Seller's rating – you want a supplier with a 4+ score
Customer reviews especially reviews with photos
Product price – will you be able to make a profit?
Buyer protection period offered by the seller
Shipping options – AliExpress offers free shipping to the U.S
Delivery time – is it fast enough?
After perusing the product page, you can conduct further research on Google to ensure the supplier is trustworthy. If satisfied, you can contact the supplier directly to make inquiries. After reaching an agreement with the supplier, get product images and details so you can create a listing on AMZ
Another way to find dropshipping suppliers is to run a Google search, and contact them through details on their website.

Create a product listing on Amazon
Now that you have a product to sell, and the supplier to fulfill orders, the next step is to create a listing.
Log into your Seller Central account, click the drop-down menu for Inventory, then select "Add product". When the Add a product page comes up, select "Create a new product listing".
First, select the category of the product you want to sell. Afterward, fill in all the listing information in the supplied tabs.
When setting a price for your product, you should consider Amazon's fees. AMZ charges a referral fee for every item sold, depending on the product category. Referral fees range from 8% to 15%. Also, if you use the Individual Selling Plan, Amazon is entitled to $0.99 for each item sold.
When you are done, save changes to complete the listing process. Your listing gets published and you can start making sales.

Tips for Building A Successful Amazon Dropshipping Business
Now that you know how to dropship on Amazon, you can start your business. It's really simple to set up, and you can even get your dropshipping business running in less than a week. But while starting a dropshipping business is simple, you still need to put in hard work for your business to succeed.
We'll share with you some tips and tactics that will help you smash Amazon dropshipping and increase your profits.
Optimize your Product Listing
Every hour, millions of customers bypass Google and search for products directly on Amazon. So if you want to rank high on the search results and increase your visibility, you need to optimize your listings.
The most important element in product listing optimization is the use of keywords. Your product title, bullet points, and product description should be filled with relevant keywords with high search volume.
There are plenty of tools to help you find highly searched keywords, but the best Amazon keyword research tool is Zonbase. Zonbase's Keywords tool makes it easy for you to find target keywords in seconds. Type keywords for a product in the search box, and the tool will show you the search volume and a word cloud of more keywords. The Keywords Tool also provides target keywords related to the product and its monthly search volume.
After drawing up a shortlist of target and relevant keywords, incorporate them into your product listing.
Here are a couple of listing optimization tips you should note:
Your product title should be filled with target keywords. However, you should not stuff them with keywords in an incoherent way. Make sure you use keywords naturally and in a flowing manner. Your title should be simple but catchy

Your bullet points should not just talk about the features of your product. You should also talk about the uses and benefits of the product to the customer. Ensure you use relevant keywords that are evenly spread

Your product description should be brief, straightforward, and comprehensive. Include additional keywords

Include multiple high-resolution photos that show your product from different angles. Amazon requires product images to be set against a plain white background. Product images must be at least 500 x 500 pixels. But for high-quality listings, consider increasing the size to 1,000 x 1,000.
With Zonbase's Photo Enhancer tool, you can edit your photos and make them more captivating.
Promote your Product Listing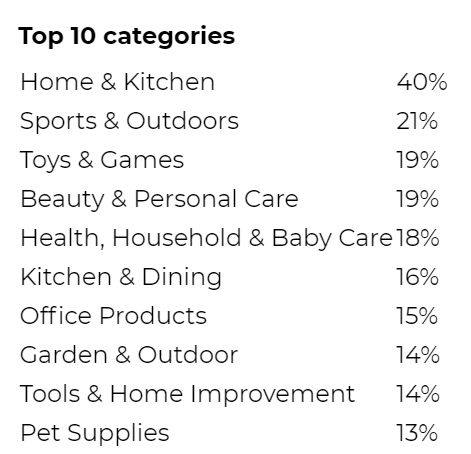 Even though Amazon's wide consumer base guarantees you some traffic, you still need to increase your visibility to boost traffic. Without visibility, you can't make sales and increase your earnings.
Here are a few ways to promote your listing:
Use Amazon's advertising program, known as Pay-Per-Click (PPC) ads or Sponsored Ads, to drive traffic to your listing. With PPC, your products appear on the first page of the search results for keywords suggested by Amazon or set by you. Once a buyer clicks your ad, they are directed to your product listing, and Amazon gets paid a fee. Because PPC ads are targeted at customers who are already browsing the AMZ website for products, they are very effective in promoting your product.

Posting about your products on social media platforms like Facebook, Instagram, and Pinterest is a cost-effective and engaging way to drive traffic to your product listing. You can also make use of blogging and email marketing.
Offer great customer service
The best thing about dropshipping on Amazon is that you do not have to worry about inventory storage, shipping logistics, and other tasking processes involved in running a business. This allows you to give your customers priority and offer them a great experience.
Great customer service translates to positive customer reviews. And positive customer reviews maximize your conversions and increase your ranking.
Conclusion
Dropshipping is a lucrative business model that is relatively simple to set up. As long as you apply the tips we've provided you with, coupled with diligence and smartness on your part, you're good to go. And with Zonbase, dropshipping has never been easier.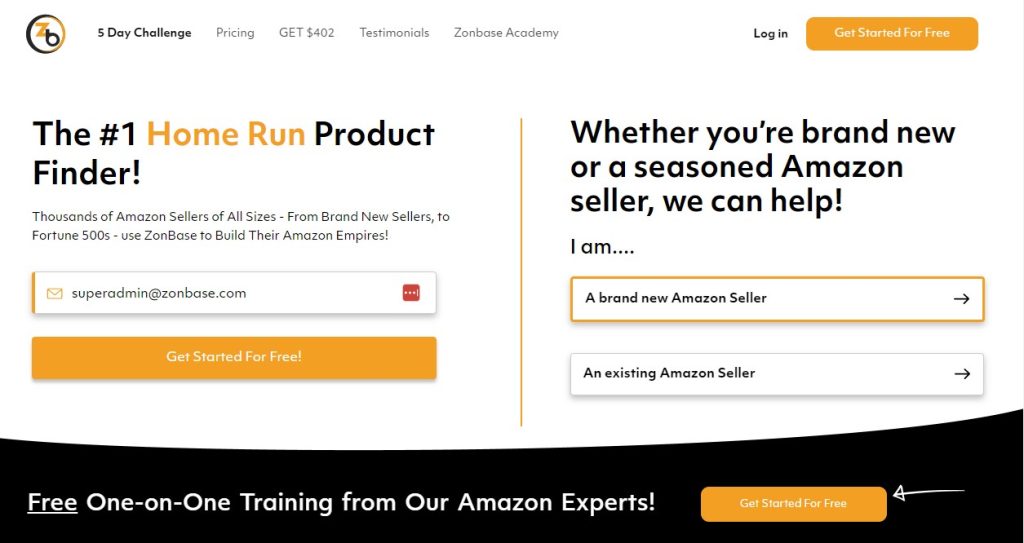 Zonbase is a complete, all-in-one suite software that aims to help sellers increase their profits. It makes certain tasks easier to focus on other more important aspects of your business. Zonbase can help with product research, keyword research, listing optimization, and so much more. With 13+ tools and services to help you rack up your sales, finding the best products for dropshipping on Amazon has never been easier.