Thinking of better ways to diversify your income and gain financial stability quickly? Selling on Amazon is your best bet. Whether what you need is a side hustle or a full-time job, setting up an Amazon business is a great idea. If you have considered selling in the marketplace for a while, chances are that the costs are the only reason you're holding back. Contrary to any assumptions you may have had, you do not have to break the bank to sell on Amazon.
Getting started on Amazon is not so difficult. But it can be challenging at first, especially for beginners. It is even worse for beginners who have no source of capital to finance a new business. Thankfully, the marketplace is built to accommodate everyone. So, whether you're buoyant or cash-strapped, there's an Amazon business model for you. Of course, selling on AMZN is a lot easier when you have a source of funding. But what if you don't? Not to worry, you can still sell on Amazon without capital.
If you want to sell on AMZN without capital, then you should learn how to sell on Amazon without inventory. AMZN offers different business models, but the majority of them require you to fund your business. However, there's one that allows you to sell on Amazon without inventory. In this post, we'll tell you all about the different business models. Then, we'll go ahead to show you how to sell on Amazon without inventory.
Let's get started.
Amazon Business Models
AMZN offers five different business models and they all work differently. Of course, the financial commitment also differs. Some require huge capital, others require little financial investment. But if you want to learn how to sell on Amazon without inventory or capital, there's one you should look out for.

Arbitrage: The arbitrage business is one of the most cost-effective ways to sell on Amazon. Still, it requires you to source products from retail stores, then sell them on AMZN at a higher price. So, you'll have to maintain an inventory. To source products, you'll need to have a reasonable amount of capital, but you can start small. This business model has two models: the online arbitrage model and the retail arbitrage model. Both models are similar, but the product sourcing methods vary. With online arbitrage, you'll have to source products from online retail stores. In contrast, retail arbitrage requires you to source products from physical retail stores.
Wholesale: Selling wholesale on Amazon involves purchasing products in bulk from manufacturers. Then, selling in smaller quantities to retailers (arbitrage sellers). Of course, the wholesale model requires you to maintain inventory. And since you'll be buying in bulk, you'll need a large capital to start.
Private Label: Private label products are products that are sold under a company's brand name, but manufactured by a different company. This is the most expensive business model to start with, but if you want to build a brand on AMZN, it's your best bet.
Handmade: So you have creative abilities and you want to make money out of them? You can create handcrafted goods and sell them online. The handmade model allows you to sell handmade products from the comfort of your home. But of course, you'll need to have the products in stock, so you'll have to maintain an inventory.
Dropshipping: This business model is popular among those who wish to make money on the side by selling on AMZN. It allows you to avoid the worry and difficulty that comes with inventory management, packaging, and shipping products. In other words, if you want to learn how to sell on Amazon without inventory, the dropshipping model is your go-to.
The dropshipping model involves selling things on behalf of a vendor. So, when a customer places an order on your listing, the information is sent on to the supplier. The supplier then ships the item directly to the buyer on your behalf. This way, you won't
Since the purpose of this post is to show you how to sell products on Amazon without inventory, we will focus on the dropshipping model. Keep reading to learn more about dropshipping on AMZN.
Related: How to Sell on Amazon for Free
How Does Dropshipping on Amazon Work?
Amazon dropshipping is the easiest way to sell online without inventory. It allows you to sell to customers even if you do not own the product. As a dropshipper, all you have to do is list products for sale and have the supplier ship them to the customers. As a dropshipper, you're only responsible for marketing products to customers on and off AMZN. The supplier will be solely responsible for shipping orders and maintaining inventory.
If you're learning how to sell on Amazon without inventory through dropshipping, you can explore the print-on-demand dropshipping model. It is a dropshipping model that allows you to advertise customized items for sale on AMZN. Then, when orders are placed, the supplier designs the products and ships them on your behalf. Customized t-shirts are the most suitable items for this dropshipping model.
Pros and Cons of Dropshipping on Amazon
Dropshipping is a great way to sell on Amazon without inventory or capital. But you should not start dropshipping without making findings and weighing your options. Like every other business model, the dropshipping model comes with its pros and cons. So, to help you decide if dropshipping on Amazon is worth a try, we'll provide a balanced view of both sides.
Pros
Dropshipping, unlike other business models, does not involve inventory management. Instead, when the customer pays you for a product, you take some of the money and use it to buy the product from the supplier, who then ships it to your buyer. You won't be storing or maintaining inventory, so you'll also incur fewer costs on storage and shipping.
Since you won't have to go through the stress of product sourcing and inventory management, you can easily get started as a drop shipper. Making money is as simple as advertising your product, making a sale, and getting paid. Getting started as a dropshipper may not be easy at first, but all you need is consistency. Also, follow AMZN's dropshipping guidelines to avoid running into any trouble.
Check out Amazon's dropshipping policy.
Dropshipping does not require you to manufacture new products from scratch. So, you can sell pre-existing products. Also, there are over 30 categories on AMZN and you can decide to sell in as many categories as possible. All you need to do is find profitable products and then find genuine suppliers to work with. This won't be much stress since product research and supplier research can be automated using AMZN software. If you read to the end, we'll recommend the best software for product and supplier research to you.
Cons
Dropshipping has a lot of competition because the hurdles to entry are so low. Furthermore, while there may be some uniqueness to the products you're selling, there's nothing prohibiting other sellers from selling similar items.
As a result, price adjustment is one of the marketing strategies you'll have to implement as you go along. But this may not be sustainable in the long run because if your product prices are on either extreme, your bottom line may suffer from it.
Dropshipping usually involves partnering with international suppliers. Consequently, the delivery of these products may take a lot longer. Always check where your supplier is located whether it be overseas or already in the states.
You may not get to see the products before they're sent to the customer, so you may be unable to assess product quality. As a result, product quality may vary from customer to customer and this may be bad for your business.
How to Sell on Amazon Without Inventory Through Dropshipping
Now that you know you can sell on Amazon without inventory through dropshipping, how do you get started? You can start dropshipping on AMZN in three simple steps.
Create a Seller Account
You'll need to create a seller account to sell on AMZN. Next, you'll have to choose a selling plan. AMZN offers two selling plans: an individual plan and a professional plan. The individual plan is best for sellers who intend to sell fewer than 40 items per month. In contrast, the professional plan is best if you intend to sell more than 40 items in a month.
Find a Profitable Product
Choosing a profitable niche is the first step to success on AMZN. But there are over 12 million products in AMZN's catalog, and it may be difficult to settle for one. One hack to choosing a profitable product is to go for a high-demand, low-competition product.
Another way to find the bestselling products on AMZN is to use software for product research. With a product research tool, you can find in-demand products in different categories. This makes it easier for you to sell in multiple niches and make more money. What's the best product research tool for your dropshipping business? We'll tell you about it shortly.
Find a genuine supplier
After finding a profitable product, the next step is to find an authentic supplier to source the products. Supplier research is the most challenging aspect for many dropshippers. But it's easier when you use software. ZonBase, the best AMZN software, offers a tool that gives you access to a list of authentic suppliers. Read to the end to learn more about this tool.
You can also check other online marketplaces for supplier options. Alibaba and AliExpress are often the best places to find suppliers for any product. Once you have found a supplier, ensure you contact them ahead of time so they don't ship orders to customers with their company address. The AMZN dropshipping policy prohibits that.
Create a Product Listing
Found a profitable product? Found an authentic supplier? Great! The next step is to create a product listing.
To create a product listing, open seller central and go to inventory. Next, click 'add a product'. When the add a product screen comes up, click 'inventory', then 'add a product'. Click 'create a new product listing' to complete the listing creation process.
The first step is to select a product category. After that, you'll need to fill out the information for the listing. Remember to factor in AMZN's costs when deciding on a price for your dropshipped item. If you're a professional seller, you'll be charged a monthly flat-rate fee of about $40. Individual sellers are also charged $0.99 per sale. AMZN also charges a referral fee on every sale, usually between 8% – 45% of the product's price. Referral fees vary by category.
How to Sell on Amazon without Inventory: Fulfillment Methods
Amazon generally offers two fulfillment options — Fulfillment by Amazon (Amazon FBA) and Fulfillment by Merchant (FBM).
If you opt for the FBA option as a dropshipper, your supplier will ship orders directly to an Amazon fulfillment center, Amazon then stores and ships the orders to your customers. This way, you will not have to hold inventory at all.
With FBM on the other hand, you will have to handle storage and shipping yourself. This defeats the aim of selling on Amazon without inventory. However, you can make use of third-party logistic firms if you really want to be in control of your shipping procedures. We will discuss the pros and cons of Amazon FBA as well as the pros and cons of the third-party logistic option.
Pros and Cons of Amazon FBA
Pros:
Access to an established network of loyal shoppers
Amazon handles fulfillment and shipping using its existing logistic infrastructure
Access to Amazon fulfillment centers for storing your products
Assurance of safe storage, fast shipping, and excellent customer service
Cons: 
Costly Amazon FBA fees
There are strict packaging and shipping requirements
Pros and Cons of Third-Party or 3PL Logistics
A 3PL allows you to store your products and ship them without Amazon FBA fees and without storing Amazon inventory. A few pros and cons are listed below.
Pros:
Fulfilling orders through 3PLs gives you more control and can be a great way to cut down costs depending on the quantity and size of your orders.
Like Amazon, if you choose a reliable 3PL, you can be sure that they also have the infrastructure required to ship orders quickly. 
CONS:
3PLs often require you to monitor the shipping procedures and this may require an investment of time. 
Amazon Dropshipping Tips
Starting a dropshipping business on AMZN is pretty easy, but you'll still have to put in some work. Here are a few tips to help you get the best out of your dropshipping business.
Promote Your Listings
The easiest way to make sales on AMZN as a dropshipper is to drive traffic to your listings. Consider running PPC ads to drive traffic to your listings and boost your conversions. You can also drive off-Amazon traffic to your listings through social media ads and email marketing.
Develop a Unique Selling Point
As a dropshipper, you'll face stiff competition on AMZN because many other sellers sell the same products as you. As a result, you need to come up with ways to differentiate your brand from others. Pricing may not be the best way to do this, but you can come up with other unique selling points for your brand.
Test Products Before Selling Them
As we mentioned before, there is very little quality control when it comes to dropshipping. However, if you want to build a profitable business, ensure that your products are of good quality. Otherwise, you'll end up shipping sub-standard items to customers and having them file claims against you. If this happens, your account health may suffer and your business may take a hit.
The only way to confirm the quality of your products is to request samples from suppliers before placing large orders. Examine the sample when it arrives. When it arrived, how did it look? How long did it take you to get the order? Were the items exactly as described? This will help you confirm the quality of the product and estimate the average delivery time.
Try Out Multiple Options
There are no restrictions on how many products you can sell as a dropshipper. Since you won't be paying any upfront costs, you can list as many items as possible. Observe what sells and what doesn't, then focus on the products that are most profitable.
Other Ways to Sell on Amazon Without Inventory
So, you want to learn how to sell without inventory, but you're not interested in dropshipping? That's fine. Dropshipping is the most popular way to sell without inventory, but it is not the only way. However, there's only one other option apart from dropshipping, and that's to sell digital products on Amazon.
Sell Digital Products
Downloadable audiobooks, digital versions of your publications, and print-on-demand products, such as selling t-shirts on Amazon or art prints, are all examples of digital products. Selling digital products on Amazon has very similar pros and cons to dropshipping. A few of them are listed below.
Pros of Selling Digital Products on Amazon
Low startup costs and ease of setup.
Can be accessed by new and existing sellers, regardless of the level of expertise.
Sellers are in control of their prices
Cons of Selling Digital Products on Amazon
Fierce competition resulting in low visibility and reach
No assurance of sales or profitability
Commission fees are on the high side
So, can you sell on AMZN without inventory? Yes! Anyone can. All you have to do is set up your account, find a profitable product to sell, and then create and optimize your listings. You won't have to pay any upfront fees, but if you want to scale your business quickly, you may have to invest in software. There aren't many affordable yet effective software options, but there's one that we trust—ZonBase.
Best Amazon Seller Tool To Scale Your AMZN Business
ZonBase is the best Amazon seller tool for product research, keyword research, and listing optimization. Sellers will find this tool helpful regardless of the business model they choose to use. Its product research tools are known for generating thousands of profitable product suggestions. Apart from generating product suggestions, sellers can also validate their product ideas using this tool. Its keyword research and listing optimization tools work hand in hand to help sellers find relevant keywords and create well-optimized product listings.

ZonBase also offers sales estimation and analysis tools to help sellers track profitability. It also offers mentorship and a photo enhancement service for sellers who want to improve the quality of their product images.
How to Sell on Amazon Without Inventory Using ZonBase Tools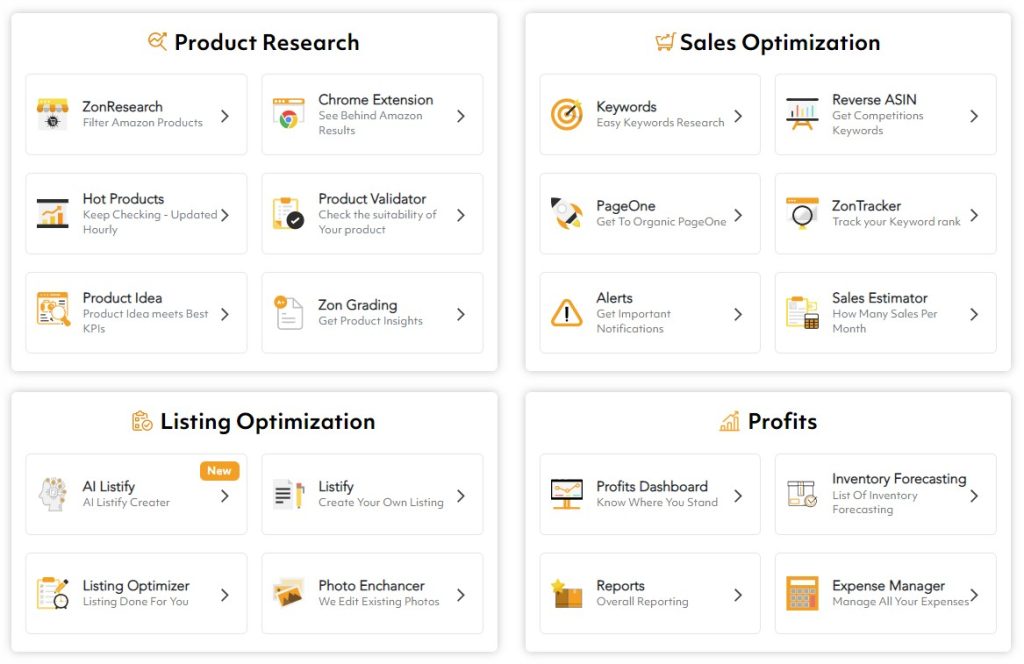 With ZonBase product research tools, you can find the best-selling products on Amazon. After finding profitable product suggestions, you can estimate their sales potential and profitability using the sales estimator tool. ZonBase also offers a Hot Products tool that provides supplier options for each product.
Your product images also play a major role, so ZB provides a photo enhancement service. The service allows you to send your product images to a team of experts. The team will then edit them professionally and send them back to you.
ZonBase is the best software for anyone who wants to sell without inventory. The software offers three plans: a standard plan at $37/month, a legendary plan at $67/month and a Diamond Plan at $132/Month. This may seem like a lot, especially if you do not have any source of funding, but investing in software is never a bad idea. It's a smart move, and if you make the investment, you'll definitely make the money back in no time. For a start, you can sign up for a free trial to explore the features before making a financial commitment.
Conclusion
If you read to this point, then you already have all the information you need on how to sell stuff on Amazon without inventory. Now that you have learned how to sell on Amazon without inventory, you will have to use the tips provided in this post if you want to build a successful business.
Good luck on your journey.