Amazon is not just the largest online marketplace in the world. It also presents multiple opportunities for entrepreneurs to make a living online. Selling private label products on Amazon is one of the many ways to make money on the website. If you are an individual seller who wants to start your own brand, selling private-label products is the way to go.
What Are Private-Label Products on Amazon?
Do you want to sell a generic product with your logo, name, and brand on it? Do you want to become one of the successful Amazon brands that have a huge following on the website? If your answer is yes, then you should be doing private labeling.
Private labeling is simply building your brand without having to manufacture your products. Private labeling involves sourcing products from other manufacturers. Once you find a manufacturer, you ask them to create products for you and label these products with your own brand name. In other words, the manufacturer will produce the items and then label them with your logo and brand. Entrepreneurs who don't want other sellers to copy them usually go the private label route.
Pros and Cons of Selling Private Label Products on Amazon
Starting a private label business on Amazon is a great way to build your customer base. However, it also takes a lot to make money from running a private label business on Amazon. Like every other business model, private labeling comes with its pros and cons. So, before you decide to create a private-label brand on Amazon, you should weigh your options. The pros and cons of the private label business model are listed below.
Pros:
You don't have to worry about brand restrictions
If you are selling other products from other brands, you'll have to comply with tons of restrictions. However, if you decide to build your brand by selling private-label products, you'll have more freedom to do as you wish. You'll no longer have to worry about these restrictions, which is a huge plus. If you want to become one of the established brands that don't have to worry about getting copied by others, private labeling is the answer.
Minimal Competition
Selling private-label products distinguishes you from competitors who are selling products similar to yours. Every seller's goal is to outrank competitors, win the buy box, and build a successful business. Being a private-label seller places you in a class of your own, so you don't have to struggle with other sellers for the buy box. Having a private-label brand makes you eligible to sell on Amazon Basics, and that's a major perk.
Higher Profit margin and Return Customers
Private-label products generally have a higher profit margin than generic ones. Not only do you stand a chance to make more money, but it is also easier for you to get customers to come back. And if you sell high-quality products, it's to get customers to trust you.
Cons:
Bigger Capital Investment
It's always a good idea to sell your own private label products on Amazon, but it involves a huge capital investment, and it's best to be prepared for it. You'll need to do your market research and come up with marketing strategies. It can also be costly at the start because you have to create your logos and packaging.
Higher Risk
Investing in your brand comes with risks. Private labels cannot be bought from an established brand, and there is always the risk that they won't sell well since they're new on the market. Moreover, private labeling sometimes takes time to gain traction and show results. You also have to depend on your supplier for your product quality and specifications. Trying to build trust with a private label business takes time, although it is not impossible.
Now that you know what the pros and cons of building a private label brand on Amazon are, you can start making an informed choice. Let's get into the main part of this post – how to set up a private label brand on Amazon.

How To Start Selling Private Label Products on Amazon
If you consider private labeling as a way to make some quick cash, you probably need to rethink your plan. Setting up a private label brand involves a lot of hard work. Plus, the market can be unpredictable, so you'll need to be patient before you start seeing results. Here are a few steps to help you set up your private-label business on Amazon:
Create an Amazon seller account
However, whether you decide to run a private label business or not, the first step to selling on Amazon is to create a seller account.
Amazon offers two seller accounts: an individual seller plan and a professional plan.
You can create an individual seller account for free, but each sale is subject to a per-item fee of $0.99. The individual plan is best for sellers who do not intend to sell up to 40 products every month.
In contrast, the professional plan costs $39.99 per month and is best for sellers who intend to sell more than 40 items per month.
Find the best-selling products in your niche
AMZ is one of the most popular eCommerce platforms with over 2.5 million active sellers. The platform poses fierce competition, especially for sellers who are trying to build their brands from scratch. So, how do you beat this intense struggle to make sales on AMZ?
You have to learn how to find the most profitable products in your niche. Your success on Amazon is largely dependent on your ability to find the hottest products. You have to conduct market research to see what items are in demand and to determine if the market is saturated or not.
Product attributes to be considered.
If you are a new seller on the platform, keep the following product attributes in mind when trying to choose products.
Small and lightweight: Don't start up with a heavy and costly product. That will take away all your profits in terms of shipping fees and FBA fees. Instead, go with the products that fit in a small box and weigh not more than 2 pounds.
Seasonality: Avoid selling seasonal products that only have demand during certain periods of the year. Instead, start with evergreen products that are not affected by any season or change in weather.
Avoid regulated products like food items, toys, and batteries are a lot more time-consuming and legally binding. Try to avoid such complications while starting your business. Instead, sell items that are easy to manufacture and trade. Choose products that don't require a lot of customer support, have less returnability, and have no color issues.
Using a product search tool is the most effective way to find the hottest in-demand items. ZonBase offers an effective set of product research tools to help you find the bestselling products on Amazon. Using the ZonResearch tool, you can find the best products for your store and see important details like monthly sales revenue, sales history, and reviews in a few clicks. Here's how the tool works:
Open the ZonResearch tool from the ZonBase dashboard.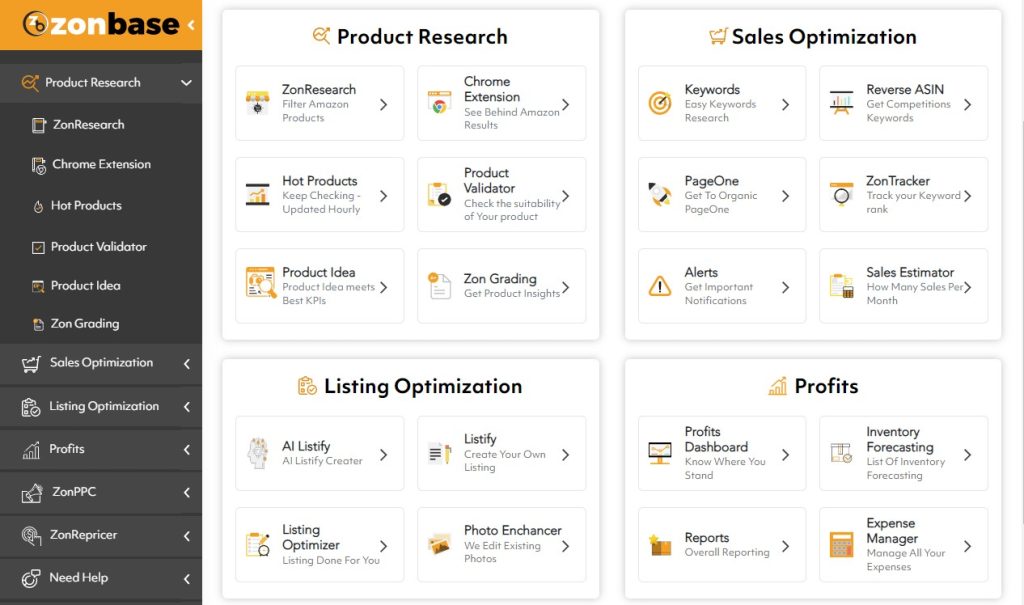 Select your preferred categories and set the filters based on your preference.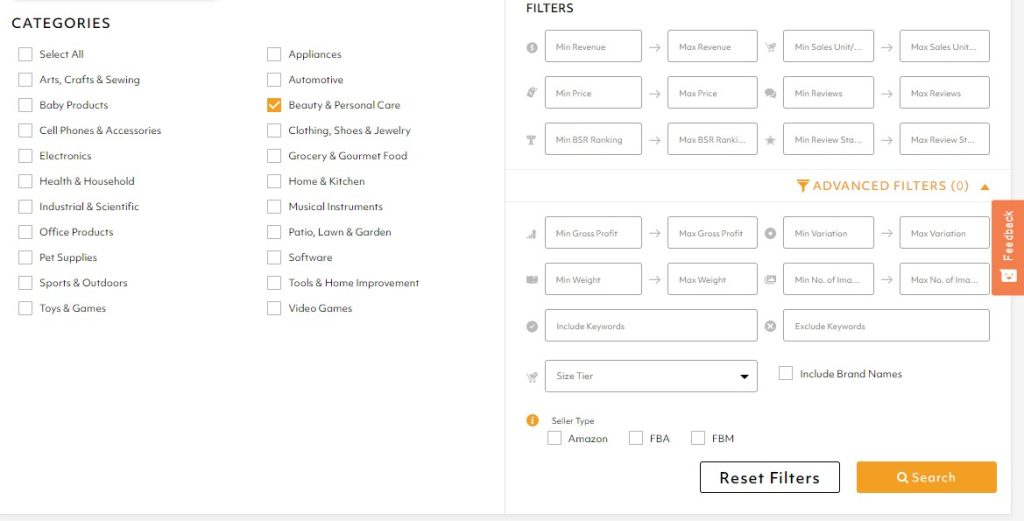 The tool generates a list of profitable product options based on your specifications. It also provides a list of authentic supplier options for you to source the products from.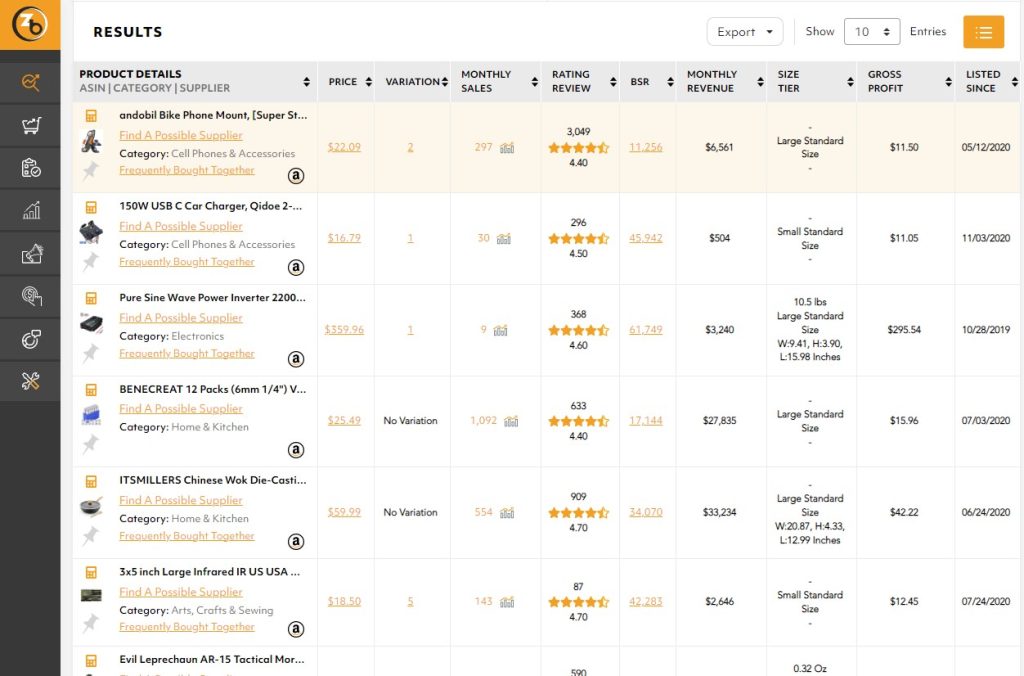 Leverage The Bestseller List
Using a product research tool is great, but the bestseller list (BSL) is also an amazing resource. No one knows the best-selling products on Amazon better than AMZN. They have compiled a list of these products for sellers to check out. So if you are stuck, the BSL, which can be found on their website, is a great place to start.
Start by browsing the Best Sellers page to see the most popular items. Bestseller lists are compiled based on sales volume and are updated hourly based on the most recent sales figures. You can see the most popular products broken down by category.
Here are a few things to keep in mind when you are researching a private label product:
Choose lightweight products, preferably those that can be transported easily and do not cost much. This will help you cut down on shipping costs and some other expenses.
Selling generic products is often the best choice. There are restricted categories on AMZ, and you need permission before selling products in those categories. It is more advisable to choose products that do not carry any restrictions for your private label.
Consider durability and demand. Choosing seasonal or perishable products can increase your chances of running at a loss.
Choose high-ranking products that can be advertised with AMZ's Pay-per-click service.
Carry out competitive analysis
It is almost impossible to run a successful business if you do not constantly check out your competitors. Starting a business without adequate information about the market is a big risk that you shouldn't take. By carrying out a survey of the market and checking out your competitors' data, you can make data-driven decisions and analyze the potential of your product easily.
Here's how to carry out an effective competitive analysis:
Take note of the keywords of each product you selected.
Take advantage of software or tools to analyze the sales and income of your competitors based on each keyword.
Review all the customer reviews and feedback for each product. You can use these customer reviews to improve your products and outrank your competitors.
One of the best ways to carry out competitive analysis is to run a reverse search on competitor listings using software. ZonBase offers a Reverse ASIN tool that allows you to get into the backend of your competitor's listings. With this tool, you can see what keywords they are ranking for, monthly search volume, and other important details. Here's how the Reverse ASIN tool works;
Open the Reverse ASIN tool from the ZonBase dashboard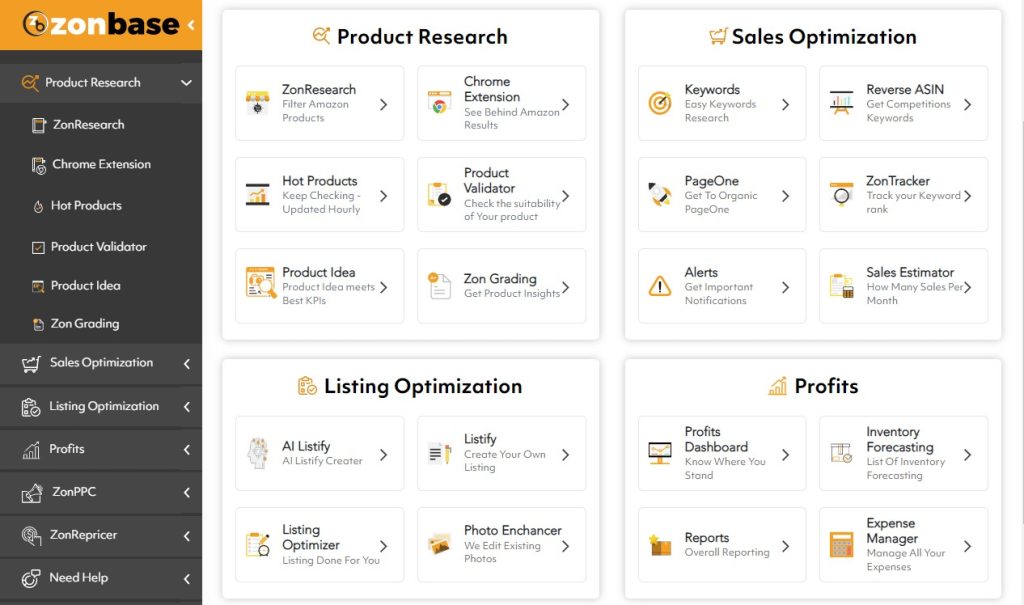 Copy your product ASIN/URL from Amazon. Then, paste it into the search bar in the Reverse ASIN tool and click 'search'. A pop-up for your competitor ASINs will appear.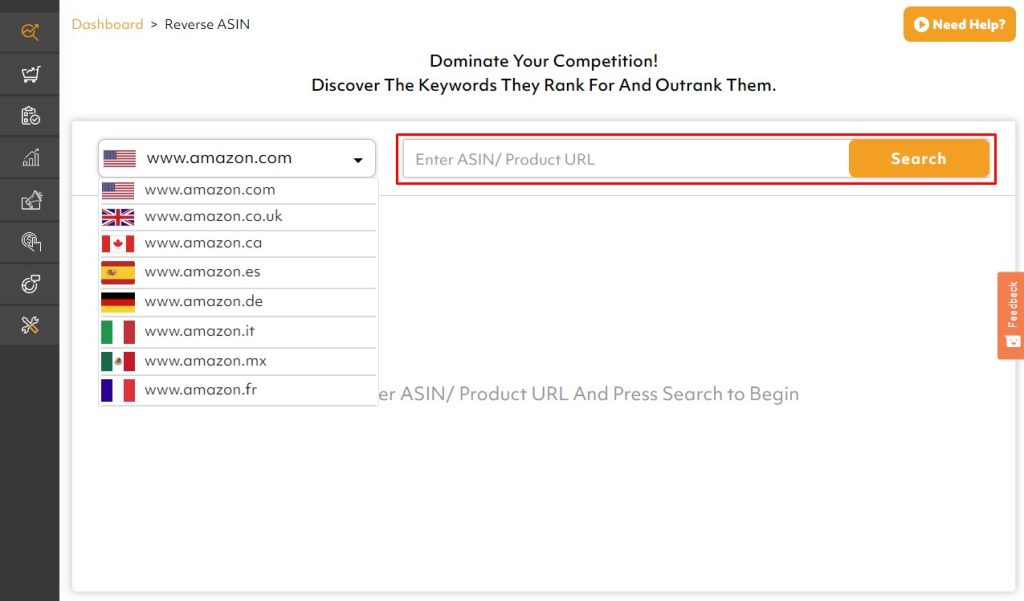 Next, go to Amazon and search for three similar products from competitors that you want to target, then copy their Product ASINs/ URLs. Go back to the Reverse ASIN tool and click the dropdown button in the pop-up.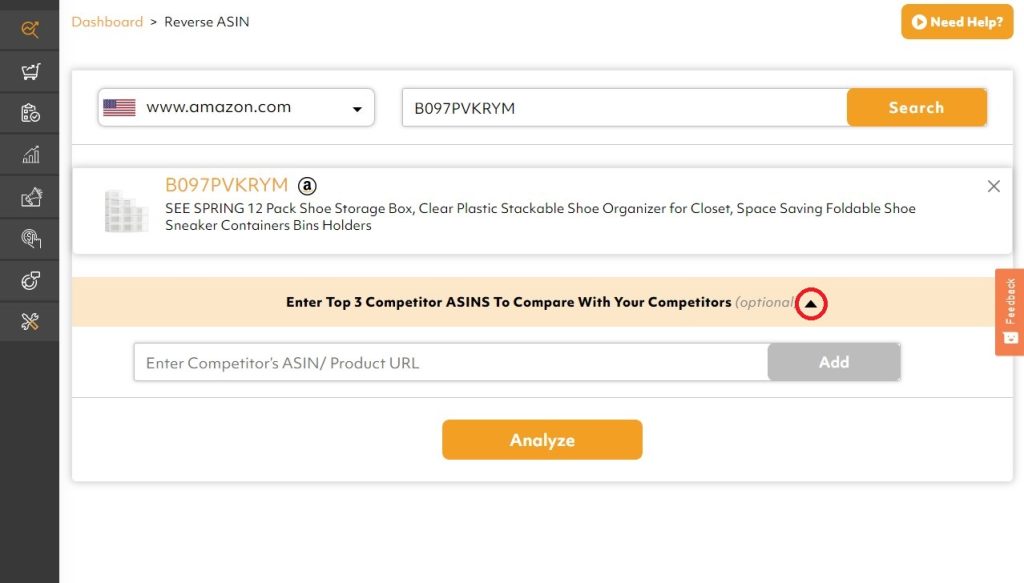 Paste your competitor ASINs in the search bar and click 'Add'. When you're done pasting all your competitor ASINs, click 'Analyze' and wait for your results.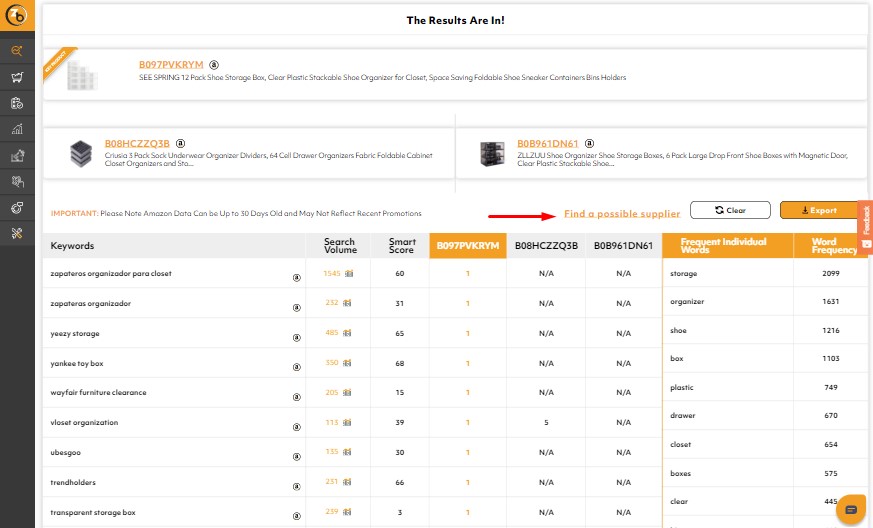 The Reverse ASIN tool shows you all the keywords your competitors are ranking for and their current rank for each keyword. It also assigns a smart score to the keywords and shows you the monthly search volume for each keyword.
Get Expert Assistance
Setting up a private-label brand is a great business move. But if you're a new seller who's just trying to understand the dynamics of the Amazon marketplace, navigating the marketplace on your own may not be a great idea. Hence, it's best to ride on the wings of people who have gone before you. ZonBase offers a program for sellers who want a hands-off approach and expert assistance on their entrepreneurship journey.
The program gives sellers access to a complete set of tools and personalized support from Amazon experts who have years of experience under their belt. Using software tools to automate your business tasks is a smart move. But if your goal is to build a profitable business, you'll need someone to provide you with practical tips and strategies to help you succeed on Amazon.
The program has two unique plans; ZonBase Pro and ZonBase Elite, for sellers who want access to an effective set of tools that cater to all aspects of their business as well as expert guidance and support on their journey. The plans are quite similar, but they're also a bit different—ZonBase Elite offers more features compared to ZonBase Pro. Here's a breakdown of what you get when you sign up for either of these programs;
ZonBase Pro
Unrestricted access to the ZonBase software suite
One free product, picked for you by the ZonBase Pro team
One free done-for-you optimized product listing every year
Free done-for-you product launch to page one every year
Live one-on-one mentoring with an Amazon expert via video calls twice a week
Top strategies for listing optimization and high organic ranking
ZonBase Elite
Three hot products that guarantee profitability picked for you by a team of product research experts
Insightful Live Q&A sessions twice a week
Three Done For You World Class Product Listing Per Year
Three Done for You PPC Product Launches to Page 1 Per Year
Listing optimization tips and strategies to help you rank better
Step-by-step PPC guide to guarantee sales and conversions
Here are some additional benefits of signing up for ZonBase Pro (ZBP) or ZonBase Elite (ZBE):
Free access to the ZonBase Amazon Masterclass taught by Amazon experts and successful Amazon sellers.
Free access to a private Facebook group and support from the largest community of Amazon sellers.
Private 24/7 Support from Amazon experts readily available to answer your questions
Access to the Manufacturer's Template and a list of 50 Hot Products
Timely updates if Amazon makes changes to its policies and procedures
Find a genuine supplier
Once you have found the best products and checked out your competitors, the next thing to do is find genuine manufacturers. This can be a hurdle to scale, so we recommend that you check out several suppliers before making a decision.
Here are a few things to consider when choosing a supplier:
Product price
Minimum quantity required
Length of order
Reviews and experiences
Variety of product options and Styles
Allows private labeling
Wondering where you can find good suppliers? You can find wholesale suppliers on sites such as Alibaba or AliExpress. The ZonBase Hot Products tool is an effective product research tool that not only brings you the best product options but also directs you to genuine wholesale suppliers to purchase the products at favorable prices. Here's how the Hot Products tool works:
Open the Hot Products tool from the ZonBase dashboard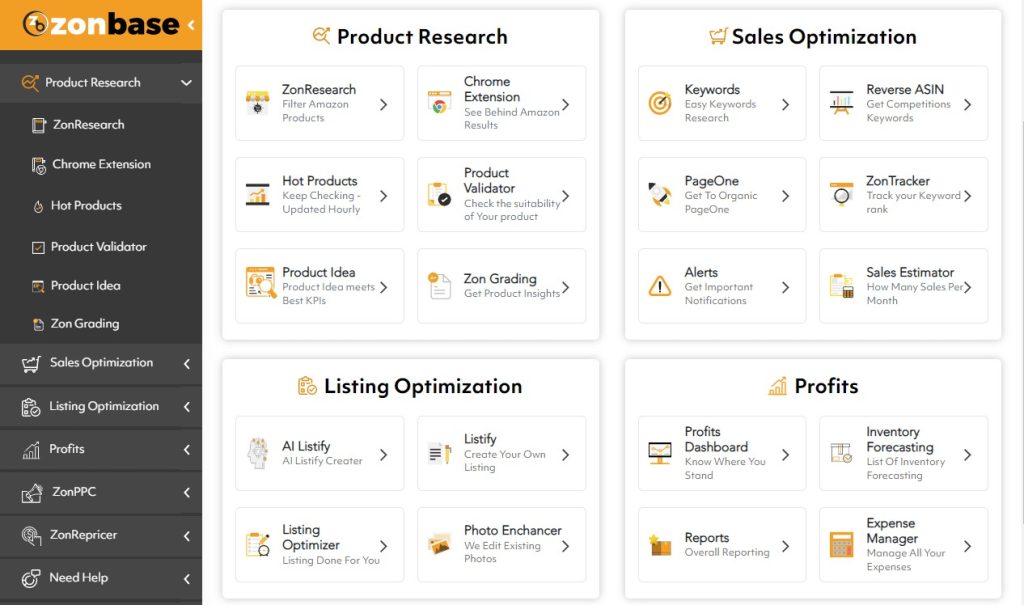 Select your preferred categories and set the filters based on your preference.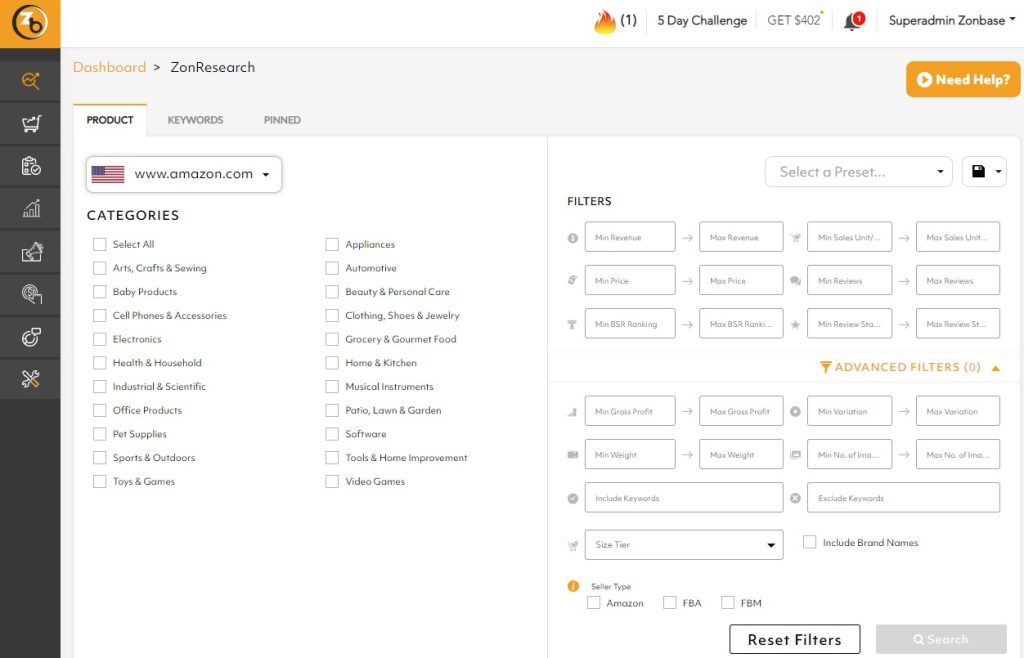 The tool generates a list of profitable product options based on your specifications. It also provides a list of authentic supplier options for you to source the products from.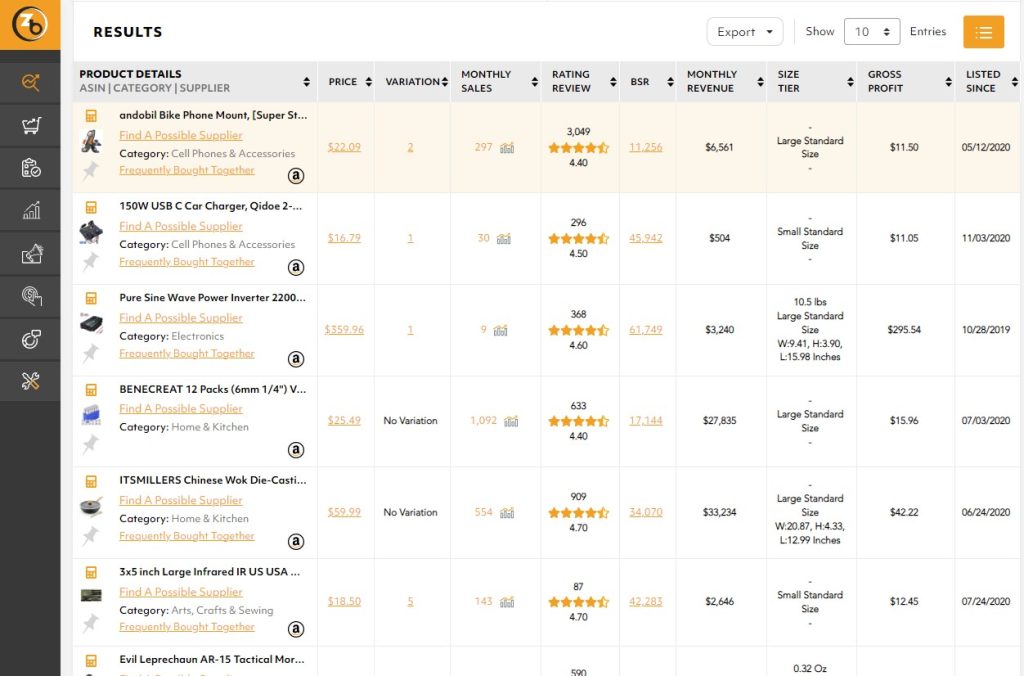 Click on the "Find a supplier" button to access a list of possible suppliers for your products.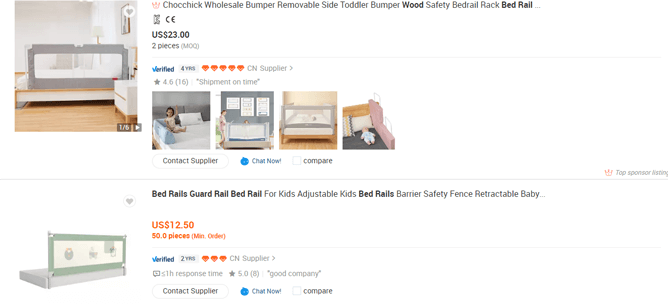 Branding
If you want to start selling your own private label product on Amazon and establish yourself in the marketplace, you have to make sure customers can recognize and remember your brand. Customers' purchasing decisions are affected by small details such as colors, visuals, design, and overall brand aesthetics. Your company's logos and colors tell your brand story and help customers remember you! You can take cues from other established brands, but always start your own brand with a unique vision.
Choosing a name for the business is the first step, and you'll have to come up with a unique idea for this. After choosing a name, you should design your brand's logo, packaging, and other marketing materials. You can learn to do it or hire someone to do it for you.
When choosing a logo or brand color, consider these things:
Unique logo designs are always preferable.
Choose a few colors for your brand and stick to them.
Simple things like fonts matter.
Don't overdo it with your logo
Create and Optimize your product listings
Once you have picked your products and found the supplier, what comes next? Usually, the next thing would be to create your product listings and optimize them.
Optimize your listings
If you want to make sales on Amazon, you'll have to put your best foot forward and do all it takes to show up on the first page of sales results. Optimizing your product listings is the best way to ensure that you show up on page one.
To optimize your listings, start by creating a list of target keywords for your products and using them in the titles and descriptions. Also, include high-quality images in your listings because customers are often pulled in by attractive images before making their final decision.
Product listings consist of four main components:
Product title: Ideally, you want to keep your product title short and sweet while also describing how your product works. Your brand name should be noticeable if you are selling private labels.
Product images: Selling a product involves making sure the customer knows what exactly you're offering. Your customers can understand your product better with high-quality images and videos.
Product price: AMZ has tens of thousands of sellers selling generic products. Competitive prices are the key to standing out. Ensure that your business is profitable as well. If your brand is starting, you might consider starting with a low price.
Product Description: Your product description should give all the details about your product. If your customers are considering buying your product description, there is a good chance they will make a purchase.
Creating well-optimized listings is easier when you use the ZonBase Listify tool. The tool allows you to create your own listings by using your competitors' listings as a reference. In other words, you can take cues from high-ranking competitor listings and improve your ranking in no time. Here's how to use the Listify tool.
Open the Listify tool from the ZonBase dashboard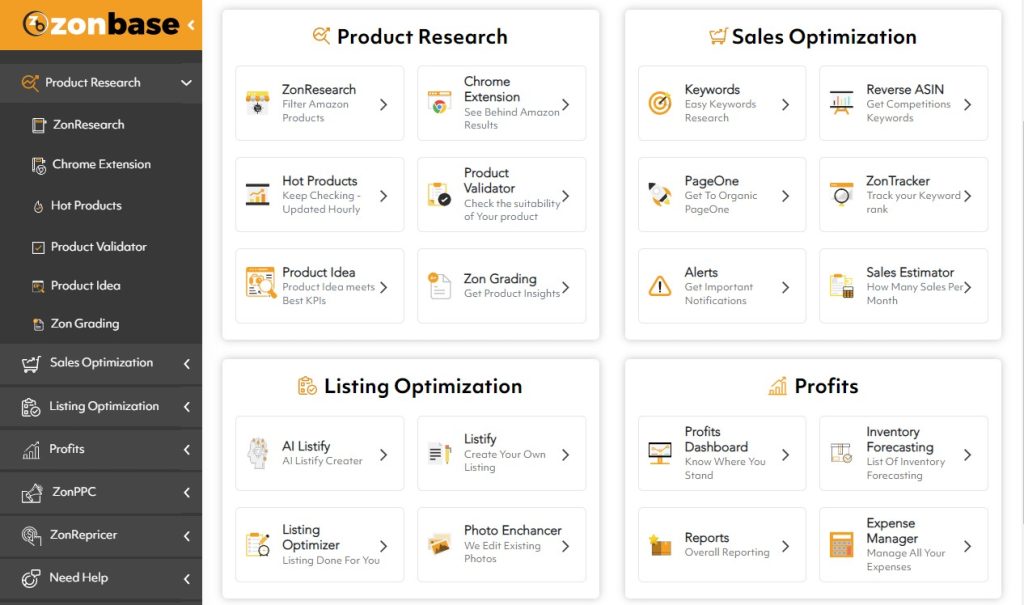 Enter the ASIN or the URL of the product that you want to extract keywords from, in the search bar.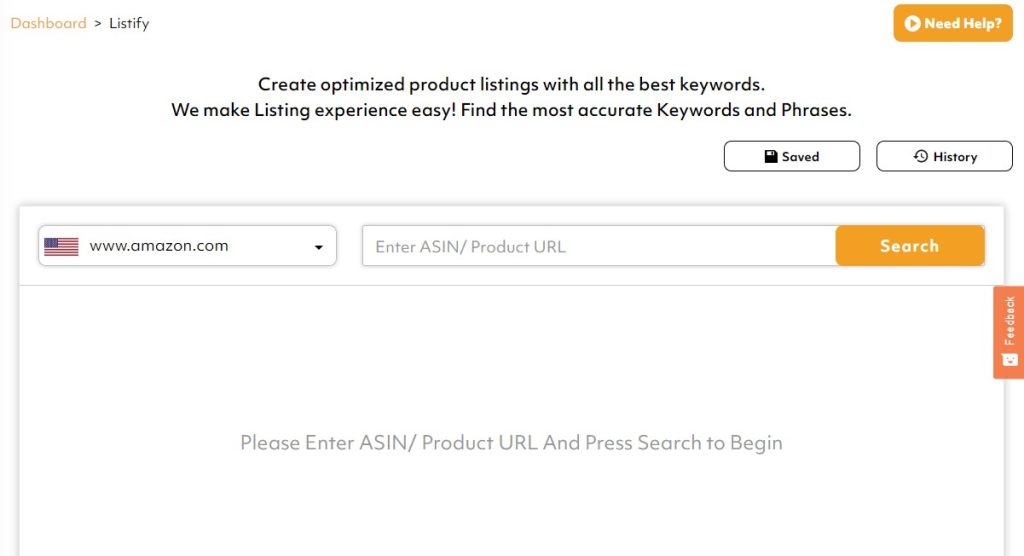 The tool will generate a list of all related keywords and phrases depending on the product you searched for.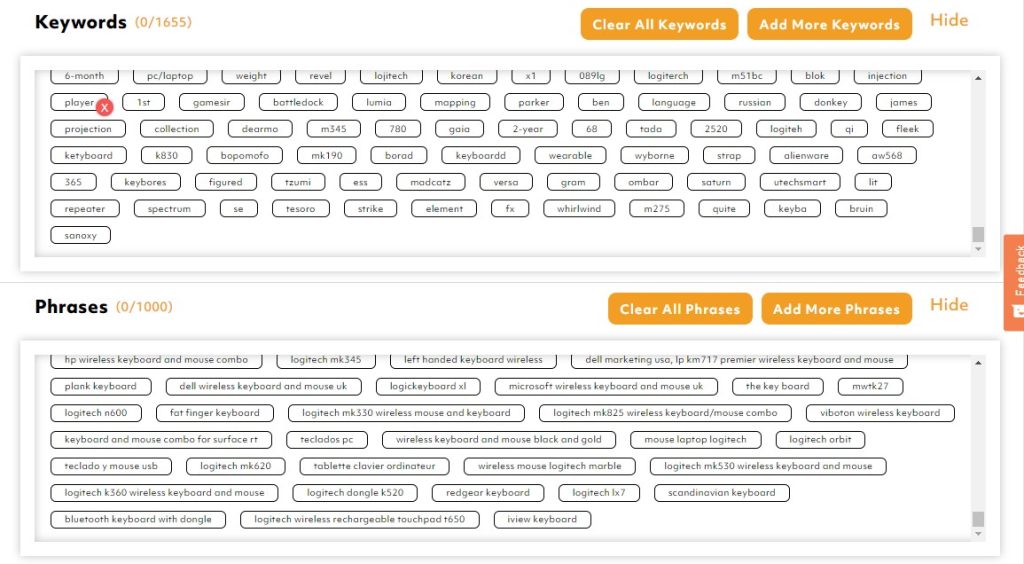 Afterwards, the tool will assign an evaluation score to your competitors' listing. And you can scroll down a little to see a detailed breakdown of your competitors' listing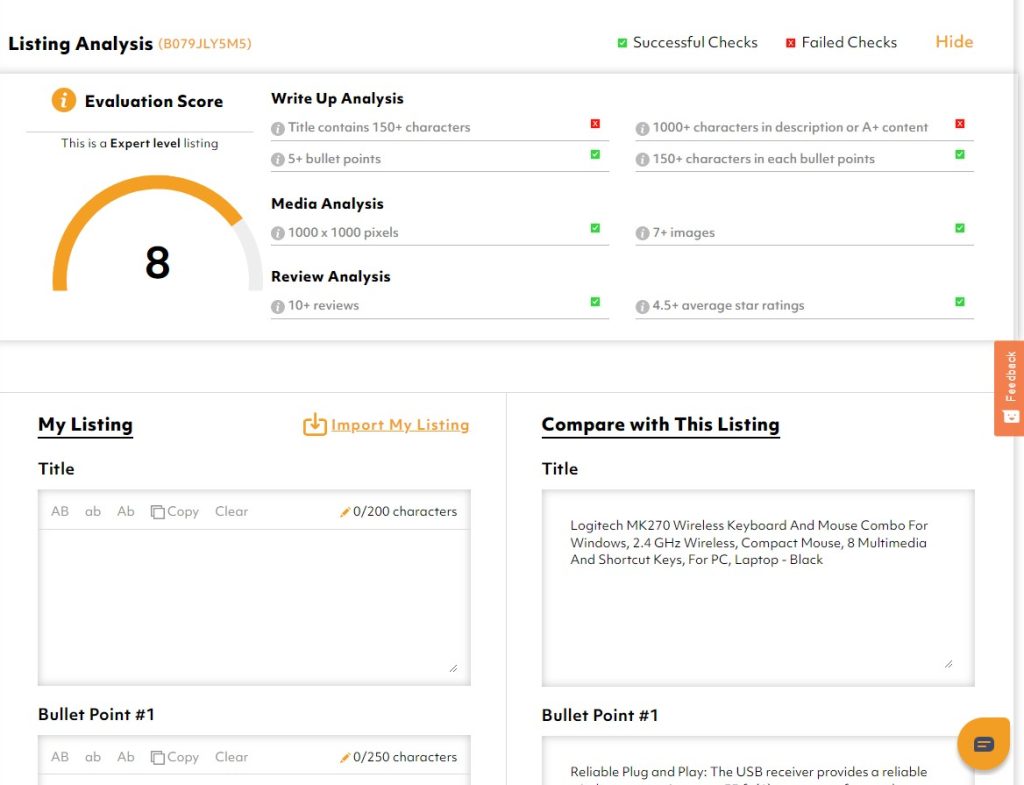 Related: Keyword Research – Amazing tips to optimize your listing
Maximize FBA
If you're just about to start building your brand on AMZN, then you'll have a lot to do. Aside from all the things we've listed above, you'll also have to ship orders to customers, and that can be a lot of work. Your best option is to outsource storage and shipping to AMZN through FBA. Amazon FBA saves you a lot of stress. You no longer have to worry about shipping, packaging, and customer service issues. This gives you more time to focus on doing other things to scale your business.
Promote your product
The next thing you should do after launching your product is to promote it. Running ads and asking for reviews is the key to getting them, but you need to ask the right way. Sellers cannot reward customers for reviews, so be cautious about how you contact them. Requesting honest feedback once a purchase happens is natural, but don't offer discounts in return.
Running PPC campaigns is a great way to drive traffic to your listings. However, it involves a lot of work, and if you want to get the best results, you will have to monitor your campaigns closely. ZonBase offers a PPC management tool – ZonPPC, that allows you launch and manage your PPC campaigns with ease.

With ZonPPC, you can manage your PPC campaigns from one dashboard and in less time. The tool uses a data driven algorithm that allows you to change your budget, adjust bids, and manage keywords easily. In addition to this, the tool allows you to set rules while it makes strategic adjustments to your campaigns based on the rules.
Related: How to get reviews on Amazon
Private Label Product Ideas
Not all products can be suitable to be sold as a private label products on Amazon. But, here are some of the most profitable items you can start your private-label business with.
Apparel and Accessories
Water Bottles
Essential Oils
Party Games
Phone Accessories
Tracking Devices
Reusable Bags
Terrariums
Smart Backpacks
LED Lights
Yoga and Sports Accessories
Rain Ponchos
Keto Snacks
Shaving Equipment
Food Supplements
Detox Products
Vegan Products
Hair Products
Beauty Products
You can explore any of these categories, and as you already know, it's best to use FBA software if you want to discover the best products in each of these categories.

Conclusion
Selling private label products on Amazon is a great way to build an online brand. Yes, it comes with many back-breaking processes and may take time for your hard work to convert into sales. However, it can be a worthy long-term investment to transition as one of Amazon's private brands.
You can minimize risks and save time by using trusted FBA software such as ZonBase for all your business processes. It will make keyword research, product research, and listing optimization easier. It will also give you more time to focus on selling your private-label products on Amazon.
ZonBase offers 20+ Amazon seller tools to help you automate your business processes. The software offers effective tools for product research, keyword research, and listing optimization. It also offers a sales estimator and profits tool, as well as done-for-you services that allow you to outsource your listing optimization and PPC automation tasks to a professional team.
The software can be accessed for free for 7 days, after which you'll have to sign up for one of two paid plans; the standard or legendary plan. The standard plan costs $37/month and the legendary plan costs $67/month.