With more than 300 million people registered on its platform, Amazon is the world's largest online marketplace. And more people are still setting up Amazon stores, so if you want to make money in online selling, you cannot afford to ignore this platform.
Amazon statistics over the years have shown that online shopping is here to stay. And with the change in the online shopping landscape because of the 2020 pandemic, the trend isn't going away anytime soon.
So, if you want to get into selling online and make more money for yourself, you must understand how to use this customer data. Understanding Amazon seller statistics will give you the advantage you need to make data-driven decisions for your business.
To develop a comprehensive understanding of this business, we'll discuss some of the most important Amazon statistics. as well as general online retail statistics to make you better positioned for success in the eCommerce world. Let's get right to it below.
Important Amazon Statistics Sellers Should Know in 2023
Here are 10 of the most important statistics that you should know if you want to join the league of online retailers in 2023.
More people are shifting to online shopping
From 2014 up to 2023, the number of online shoppers has drastically increased. In 2016, only around 1.66 billion people worldwide were expected to shop online. In 2021, this number has jumped to around 2.14 billion. (Source: Statista). This figure is expected to increase by about 218.8 million in 2023 – Source: Oberlo.
9 out of 10 consumers visit AMZ to check the price of any product.
Think about it. How many times have you opened up the web browser in the last year just to look for prices? As soon as you got interested in buying a new perfume or a pair of pants, did you check online? When have you seen an ad on Facebook or Google? These days, we are all surrounded by suggestions and advertisements, and it's inevitable.
It affects our way of purchasing things and our online shopping behavior. One of the most important Amazon retail product sales statistics is this – 90% of people use AMZ for price checking. This means that people are more likely to buy from your store if you have the best price in town.
In addition, people have likely made up their minds to purchase once they start researching a product's price. Before going to the Amazon marketplace, they already know the top products to buy and which product categories to visit. This means that a little push or nudge, like a discount, can make them commit, and they will be more likely to check it out if they get lightning-fast delivery and reliable customer support.
Source: CNBC

AMZ sells almost 400 million products in total
Amazon's main mission is to list anything that online shoppers prefer. Therefore, there is almost every product from almost all industries in the world on their website.
While this is a great thing for AMZ and the customers, it is daunting for Amazon third-party sellers. The competition is always at its peak. This means that all Amazon sellers have to do their best to be on top. If you can fill in the products and services customers want, you can make a lot of money on the platform.
One of the best ways to make money on the platform is to list products in the top categories – Home and kitchen, tools and home improvement, clothes, shoes, and jewelry. There are millions of bestselling products in these categories. Check out the figures below.
33.4 million products in the clothes, shoes, and jewelry category
11.1 million products sold in the home improvement category
64.3 million products sold in the Home and kitchen category
Source: Retail TouchPoints
172 million people have Prime membership in the US
As of 2022, Amazon has about 172 million Prime subscribers in the U.S. and over 200 million worldwide. With almost 300 million active customers, this means that almost half of Amazon's users are Amazon Prime members.
What does this mean for your Amazon business? This means that using FBA for your fulfillment method is a big priority. That is, if you want to leverage the purchasing power of Amazon Prime members, a massive community of 172 million loyal Amazon customers.
Amazon Prime members do not only pay for their products, but they also pay an extra fee for other benefits, such as faster delivery and exclusive deals compared to other general customers. There is also a shopping holiday called "Prime Day," where Amazon Prime members splurge on discounted prices.
Source: TechJury
$1400 per year is spent by a Prime member
Prime members often spend more than the usual customer. While most non-prime customers spend only around $100-500 every year, its Prime members spend somewhere close to around $1400 (Source: Statista)
What do these Amazon statistics mean for your business? It means that you must ensure you can sell to Prime Members. This means that you might need to sign up for FBA (Fulfillment by Amazon) or qualify for Seller Fulfilled Prime.
FBA provides an increase in selling by 30-60%
FBA third-party sellers are more likely to sell than FBM Amazon sellers, resulting in more conversions and net sales. This is not a surprise, since FBA mostly caters to the precious group of Prime Members.
As part of online shopping, no one wants to pay shipping fees. Also, customers are more likely to believe the shipping offered by AMZ than shipping by merchants themselves. Using the FBA fulfillment method gives you access to these perks, which increase your conversion rates by a lot.
The benefits of a Prime subscription include 2-day shipping on Prime-eligible products. There is an inseparable aspect of trust between the prime members and the platform. Prime members pay to be served one tier higher than normal customers. It would be wise to give them the treatment and service they deserve. This will go a long way when it comes to the success of your business.
More than 50% of the website's sales and net income come from third-party sellers
In the second quarter of 2021, 56% of Amazon's net sales came from third-party sellers. The trend of third-party sellers entering the Amazon marketplace has shown upward growth, and it is ever-increasing. Third-party sellers' stories are also on the rise.
In 2020, the website generated approximately 80.5 billion dollars in third-party seller services. It amounts to an increase of nearly 50 percent over the previous year.
https://www.youtube.com/watch?v=etur-Hm1uT4
80% of sellers sell on other platforms outside of Amazon
Have you ever heard of the saying, "Don't put all your eggs in one basket?" Sellers have heard of it too. Almost 80% of sellers have also started selling on other online platforms such as Etsy and eBay. With so many private label companies competing for the same spot in the SERP, diversifying and branching out on different selling platforms is the smart thing to do as a third-party seller.
The competition on AMZN is fierce, and you sometimes do everything but fail to gain momentum because of the massive competition. Sellers do not completely abandon the platform, but they want to try other platforms where they can be more successful.
Amazon's net revenue continues to rise
Amazon generated $149.2 billion in sales in the fourth quarter of 2022, surpassing its $137.4 billion generated in sales in the fourth quarter of 2021. (Source: Statista)
This is proof that they are still growing rapidly, and with the pandemic affecting the behavior of how people do their shopping, you now have a massive online shift of customers. This is something that you can take advantage of as a seller. 
There is an increase in the number of new sellers
The marketplace has around 6.4 million total sellers across the world. Among this number, around 1.5 million are active sellers, while the rest are not selling any more products in their stores. (Source: Market Pulse)
But what makes this stat amazing is the fact that about 3,700 new sellers join the platform every day. (Source: Jungle Scout)
The important factor that drives purchases on Amazon
By now, it should be clear that customers love shopping. But as a seller, one of the most important Amazon statistics to know is the factor that drives customer purchases. According to Statista, almost 82% of buyers said that price is the leading factor in their purchasing decision. This is followed by fast shipping time at 70%, and positive product reviews at 52%. Many customers also love the flexibility offered when it comes to returning products.
If you are a third-party seller, having the ability to price your products profitably while still making an aggressive move on the competition is one of the most important things you should do.
The above statistics will help you understand the potential that Amazon offers and be well-prepared for the competition. Now, let's take a look at a few statistics that show that Amazon is still one of the best marketplaces to sell in 2023.
Important Online Retail Statistics for 2023
Top Online Retailers: Where Do Consumers Love to Shop?
There are several marketplaces for consumers to shop. But statistics show that these are the most preferred stores for 2023.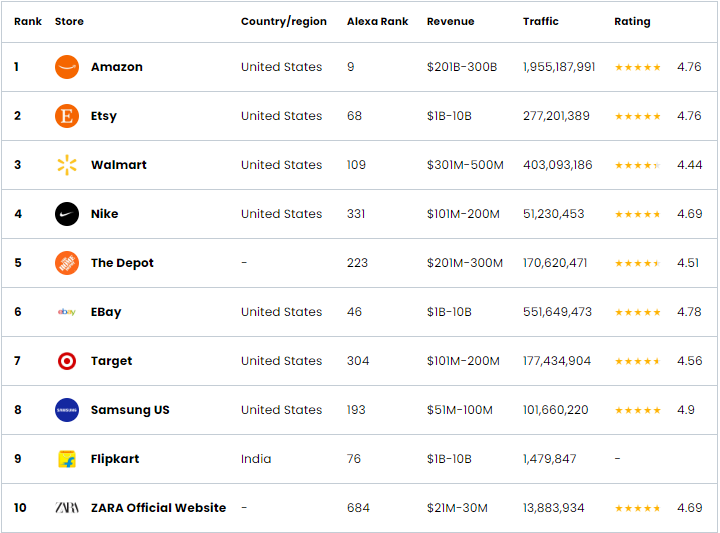 Amazon has the highest traffic inflow, with Etsy and Walmart coming right after. Based on the above results, other online retailers are not top choices among consumers.
You certainly would like to know more about these online retailers. So, how often do consumers buy from Amazon and Walmart?
Shopping on Amazon
Here are some reasons why customers preferred shopping on Amazon.
Free same-day shipping for Prime subscribers.
Smooth return process
Excellent customer service
Trusted brand (Consistency in packaging and product quality)
Shopping on Walmart
15% of people preferred to shop at Walmart. Here's why:
50% of Walmart customers like the prices
39% of shoppers are familiar with the products
36% feel it's a faster place to get the items they need.
Related: Ultimate Guide To Starting A Successful FBA Business
Where Will Consumers Be Buying from in the Future?
Online shopping is certainly not coming to an end anytime soon. Jungle scout's survey of the top online shopping destinations gave the following results.
| | | | | | | |
| --- | --- | --- | --- | --- | --- | --- |
| Category | Walmart (in-store) | In-store excluding Walmart | Amazon.com | Walmart.com | Another online retailer | Won't buy |
| Alcohol | 15% | 18% | 15% | 17% | 9% | 27% |
| Arts, Crafts & Sewing (paints, ceramics, etc.) | 16% | 10% | 20% | 18% | 11% | 26% |
| Automotive Parts & Accessories | 14% | 10% | 23% | 17% | 10% | 26% |
| Beauty & Personal Care (cosmetics, shaving kit, etc.) | 21% | 15% | 23% | 20% | 12% | 10% |
| Books (print or digital), Magazines & Newspapers | 14% | 10% | 26% | 17% | 12% | 22% |
| Cleaning Supplies | 26% | 17% | 20% | 20% | 11% | 7% |
| Clothing | 17% | 17% | 23% | 17% | 17% | 9% |
| Electronics (TVs, smartwatches, etc.) | 16% | 9% | 23% | 21% | 11% | 22% |
| Exercise/Fitness Supplies (at-home gym equipment, etc.) | 13% | 6% | 20% | 17% | 10% | 34% |
| Garden & Outdoor (patio furniture, plants, etc.) | 19% | 15% | 18% | 17% | 10% | 22% |
| Groceries | 25% | 22% | 17% | 20% | 12% | 4% |
| Home & Kitchen (furniture, coffee makers, etc.) | 16% | 11% | 23% | 18% | 11% | 21% |
| Office Supplies (laptop stands, printer paper, etc.) | 19% | 11% | 23% | 18% | 10% | 19% |
| Over-the-Counter Medicine | 24% | 19% | 17% | 19% | 10% | 11% |
| Pet Supplies (cat/dog food, toys, etc.) | 18% | 13% | 19% | 18% | 12% | 20% |
| Tobacco, Pipes & Accessories | 12% | 9% | 14% | 15% | 9% | 41% |
| Toys & Games (board games, children's toys, etc.) | 14% | 8% | 22% | 17% | 11% | 28% |
| Vitamins & Dietary Supplements | 21% | 16% | 21% | 19% | 12% | 12% |
Source: Jungle Scout
Amazon had the highest votes in this survey. This shows that Amazon tops the list of the best online retailers by almost every metric.
Top Online Marketplaces To Sell On
Starting an online business is not as difficult as it is often made to seem. All you have to do is pick one of the many online retailers that we have considered and sign up. There are a plethora of options available. Here are our top five.
Amazon
Globally, Amazon is the largest marketplace. Almost anyone can make money on Amazon thanks to its 300 million users and 2 million active sellers. Having a customer base on Amazon is a great start, but it's not the only reason you should sell there.
Besides offering a huge customer base, the platform offers growth opportunities. Amazon controls 50% of the market for eCommerce. Also, about 84% of its sellers are profitable.
Walmart
The second-largest retailer is Walmart. Walmart had revenue of $514 billion last year. Walmart also operates more than 11,100 stores in 27 countries. Walmart started out as a physical store, it has now become one of the world's biggest online retailers.
Walmart's venture into the eCommerce world hasn't been for too long. Still, it has grown in popularity over time.
eBay
As opposed to Amazon, eBay began by selling used items. The platform has metamorphosed into a popular marketplace for a wide range of items. The website allows sellers to offer both used and new merchandise for sale.
eBay is one of the most popular online retailers. This platform offers a good amount of sales due to its 689 million visits per year.
Etsy
The Etsy marketplace specializes in handcrafted and vintage goods. The marketplace specializes in niche products. As a result, its visitors are mainly related to this niche. If you're not interested in selling items in this category will have to use other online retailers. In other words, Etsy may be your best bet if you want to sell customized handmade items.
Based on the Amazon statistics we outlined earlier, it is clear that Amazon is one of the best marketplaces to sell on in 2023.
Why You Should Sell On Amazon
Selling on Amazon comes with several benefits. But there are three that stand out for us. They are:
Low Start-Up Capital
Setting up an AMZ business is not as capital-intensive as most people assume. With AMZ, you only need a little upfront financial investment. You can sign up for free and even start with items that you already own.
There's also the retail arbitrage option. This option allows you to buy items from physical retail stores and resell them on AMZ at a higher price. You also do not need too many tools. A computer, printer, paper, and a smartphone to take product pictures will do for a start. Other AMZ Fees can be paid as you go along and they won't be anything too draining.
Related: Amazon FBA Fees Explained
You Won't Have To Build A Website From Scratch.
Selling on AMZ means that you get to list your products on the website and leverage AMZ's traffic. You will not have to worry about the extra cost of building a website or directing traffic to your website.
All you need is to sign up on AMZ and list your products for sale. However, selling via AMZ's website means that you play according to their rules. If you don't, you risk having your account suspended. If this happens, you lose all your investment and any customers you have gained.
This is aside from the fact that AMZ has so many restrictions and guidelines that may be difficult to adhere to. So, if you can bear the cost of building a website from scratch, by all means, do. Better safe than sorry!

AMZ Businesses Can Be Automated
Almost every online business owner juggles several business activities, but for AMZN sellers, this is no longer the case. Sellers can automate their business processes using software. FBA or Fulfillment by Amazon is AMZN's fulfillment service to third-party sellers.
Amazon software is designed to help sellers automate major business processes. AMZN businesses cannot run without adequate product or keyword research and listing optimization. With AMZ software, sellers will have access to a wide range of tools to execute these tasks.
There are several AMZ software available on the market right now. But there's only one we can trust.
ZonBase: The most powerful Amazon seller software tool to boost your Amazon sales
Using FBA indeed provides a boost to your sales. But understanding the prerequisite of a successful business is the heart of your effort. Sometimes, it's not all about Amazon seller statistics. It would help if you also thought about reaching your customers. You need products to sell, and you must find products that sell well. More importantly, you want to find products with less competition.
ZonBase has been continuously serving its clients from all around the world for the past 9 years in product research and listing optimization. As far as Amazon statistics go, seller software like Zonbase can take you to the next level. It's high time you employed ZonBase if you want to increase your sales tremendously, start to rank on page one, improve your listings, and reduce your expenses on PPC campaigns.
ZonBase is the best AMZ software for sellers who want to scale their business without stress. The software offers a versatile set of seller tools that cut across various aspects.
There are tools for product research, keyword research, and even listing optimization. The software also offers mentorship, a photo enhancer, and a sales estimator tool. New and existing sellers who would like to outsource on a budget will find this tool helpful.
Sign up for a free 7-days trial

Conclusion
Amazon is the largest online marketplace, and it is dominating the online market. It has created countless opportunities for sellers around the world. It's a platform where you can quickly shift from a passive business to an active one.
In the end, it is important to understand that AMZ is very much like the other businesses. You must have a good strategy, planning, investment of time and energy, and powerful resources to fuel your business to succeed.