If you want to sell books on Amazon and make a profit, you have to dedicate time to finding the most profitable product categories to sell in. Books are one of the bestselling items on Amazon, and this is not surprising, seeing as the marketplace started as an online bookstore. Plus, you can sell new or used books on Amazon, so you can start your business with little capital. If you want to sell books on a budget, your best bet is to start by selling used books on Amazon.
Yes, you cannot go wrong with reselling books on Amazon, but there's still a lot of work involved and it goes beyond just setting up a store and stocking up on books. If you want to make money, you need to learn the nitty-gritty of how to sell used books on Amazon. In this article, we'll show you how to find books to sell on Amazon. We'll also explore how much it costs to start selling books on Amazon. Hopefully, by the end of this article, you'll learn a thing or two about how to sell used books on Amazon.
Ready to start? Let's dive right in!
Related: Ultimate Guide to Starting a Successful FBA Business
How to Sell Used Books on Amazon
It's easy to start selling books on Amazon. However, when it comes to selling used books, there is a certain standard that you should maintain. First, it goes without saying that the items should be in decent condition. Also, there should be no torn or missing pages, and the cover should be presentable.
Furthermore, no molds or paper bugs should be found on the books you sell. Also, used reading materials should be in 80-90% physical condition to avoid getting complaints and returns.
Apart from these, there are three important aspects that you should focus on when learning how to sell used books on Amazon:
Choose a fulfillment option
Set up your Amazon seller central account, then decide on a selling account; choose between an individual or professional account.
Decide how to source for your products (books)
Choose A Fulfillment Option
Regardless of what you decide to sell on Amazon, order fulfillment is at the core of your online business. So, you will have to decide how you want to ship orders to customers. Amazon offers two fulfillment options; Fulfillment by Merchant (FBM) and Fulfillment by Amazon (FBA). We'll discuss each one of them below.
FBM (Fulfillment by Merchant)
Under the FBM model, the Amazon seller is the one who fulfills all the orders of the customers. This means that you will be the one to pick, pack, ship, and offer customer support to your customers. If there are returns and refunds, you will also be the one to process all of them. In short, the FBM model is a "DIY" approach to fulfillment and is usually the common method sellers use on any platform.
FBA (Fulfillment by Amazon)
Under the FBA, things are slightly different. By paying AMZ a fee, you can leverage the company's manpower, logistics, and network to fulfill your customers' orders. With FBA, you must send all your inventory to the designated Amazon fulfillment center. When a customer makes a purchase, AMZN employees will be the ones to pick, pack, and ship the order to the customer.
Customer service is also handled by AMZ under the FBA fulfillment model. If you are too busy to do your fulfillment, this is a great solution that you can utilize. However, you need to be aware of the different Amazon FBA Fees that are attached to the use of this service.
Create an Account and Choose a Selling Plan
The first step is to create your account. When setting up your account, you'll have the option to choose between an individual and a professional seller account.
The individual seller account is free to use, but you have to pay a fee of $0.99 for every book sold in your store. You also have limited access and some features are unavailable to you. In contrast, the professional Amazon seller account requires you to pay a monthly subscription fee of $39.99. Also, the professional seller account unlocks other features such as access to third-party tools, API, selling on restricted categories, and so much more.
The individual plan is best for Amazon sellers who do not intend to sell more than 40 items per month, while the professional plan is recommended for sellers who have a large sales volume and plan to sell more than 40 items per month.
How Will You Source For The Books?
The most important step when you're learning how to sell anything on Amazon is to decide how you'll source your products. The same thing applies when you're learning how to sell used books on Amazon. Thankfully, sourcing books to sell is not so tough and there are many ways to source used books. We'll list some of them below:
Book sales are dime-a-dozen and easy to find if you know where to look. Just type in "nearby book sale" into Google, and you can find lots of potential used book sources for your business. One tip is to use a Bluetooth scanner and a book-scanning app so you can find exciting, in-demand books quickly.
Sometimes, libraries have fundraisers where they sell used books that are still in good condition. Connecting with your local library or librarian is handy in these situations, but you can also stay aware of these sales by visiting the social media pages of your local libraries.
Gems pop up now and then during garage or estate sales. And believe it or not, this is one of the cheapest sources of quality used books that you can resell for a lot of profit. Check them out by typing "garage sale" or "yard sales" on Google to see the ones happening nearby.
Some people have a library full of books that they no longer need, so in a bid to clear their libraries, they often give these books away for free. Online stores like Craiglist and Facebook marketplaces are great places to find books to sell on Amazon for free. Just be sure that the books you're getting are not being given away by an Amazon seller who cannot sell them.
If none of the other options interests you, you can spend time checking other websites for used books. Some sellers check websites like eBay and Facebook marketplace for used books that cost little and can be sold for higher on Amazon.
There are lots of places where you can find people selling used books online. Some of the best places to visit are eBay, Craigslist, and Facebook groups. Sourcing books through this option is easy, you just have to be sure you're not buying books that have been scanned already. Purchasing books that have already been scanned puts you at risk of being stuck with unprofitable books that someone else dumped.
How to Choose the Best Books to Sell on Amazon
Books generally do well on Amazon, but you still cannot list random book options for sale because the market can be tricky. Plus, there are many book categories on Amazon and not all books have a good sales potential.
Check the Bestsellers List
Amazon assigns a bestseller rank to all products on their website based on how much sales the product gets. So, if a product has a BSR of 5, it makes more sales than a product with a BSR of 100.
To view the BSR for a book, you can go to the book's product listing page. When choosing books to sell, try not to sell books that have a BSR lower than 100,000.
Estimate the Book's Profitability
You can do this by using product research tools like a sales estimator or Chrome extension tool. ZonBase offers an effective sales estimator as well as a chrome extension tool that can help you ascertain the profit potential of your book.
Using the sales estimator tool, you can view previous sales data about any product and uncover relevant product information that will help you make an informed decision.
The Chrome extension also dives deep into Amazon's database to uncover hidden product and sales details including the estimated sales, revenue, and price changes over a period of time.
Both tools are available on free trial, you can explore them for free for 7 days.
How to List Books on Amazon
One question that aspiring sellers who are considering selling used books on Amazon ask is, " how easy is it to sell used books on Amazon?". Selling used books on Amazon is easy, once you have created your account and sourced for your books, the next step is to create your product listings.
There's an easy way to list your books on Amazon and it's to go through the original product detail page of the book you want to sell. In other words, you can list your books directly on Amazon without having to create a new listing. Once you create your listing, the book will appear on the same page.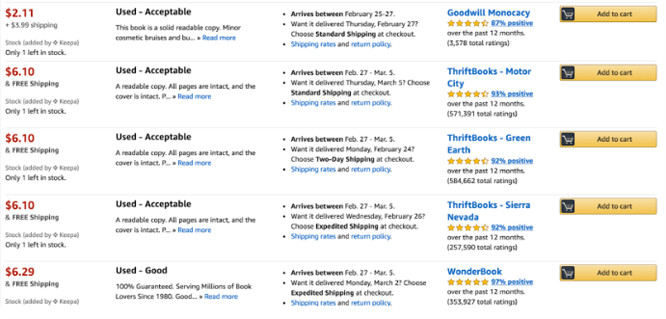 You'll have to enter the book's ISBN into the search bar if you want to access its product detail page. The book's ISBN number can usually be found in the lower back portion of the book. Sometimes, it can also be found in the Bar Code of the book. Here's what it looks like: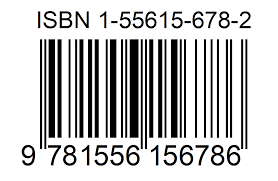 Most books have the ISBN, however, if the book was published before 1970, it will not have one. If your book doesn't have an ISBN, you'll have to enter the title.
Once this is done, click on the "sell on Amazon" button just below the buy box. If you're eligible to sell the book, you will be redirected to a screen like the one below: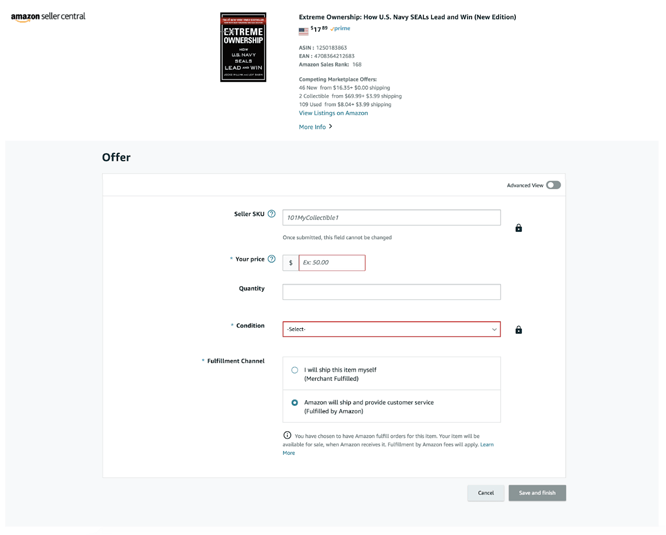 Choose the fulfillment method that you want to use – either FBM or FBA
Check the costs of selling to see if you can make a profit.
When completing the fields, here are some of the items that you need to fill out:
SKU – This refers to Stock Keeping Unit. This is a number that allows you to sort and label the items that you are selling. You can generate your own SKU or let AMZ make one for you.
Price – Every item needs a price, and this applies to the books you are selling as well. When pricing them, do proper market research, especially since you are selling used books. One of the best strategies for selling is to price the items low enough to win the buy box. You can quickly make sales and gain reviews by winning the Buy Box consistently. But don't fix your book price so low that you aren't making profits.
Quantity – Default quantity is set to 1. Make sure that you change this number to your actual inventory number before publishing your listing. Many new sellers often forget this, and they end up "out of stock" right after making one sale. Don't forget to set yours.
Condition – Since you will be selling used books, you have several options to choose from here. You can choose Used – Like New, Used – Very Good, Used-Good, and Used – Acceptable as viable options here.
Fulfillment Channel – As discussed earlier above, you need to choose between FBA and FBM. If you choose to use FBM, your listing will be uploaded within 15-30 minutes and you can start taking orders.
However, if you choose the FBA option, you'll have to ship your inventory to AMZN fulfillment centers first and this may take about 2 weeks or less. It usually takes AMZN's employees about three days to unpack shipment and distribute it. So, if you want to sell used books on Amazon through FBA, you have to be patient.

How Much Does it Cost to Sell Books on Amazon?
One of the most common questions that new sellers ask is, "How much does it cost to sell books on Amazon?" And frankly, this is a valid question you need to ask if you want to be a profitable seller in the marketplace. There are many costs that you have to factor in, such as referral fees, delivery charges, overhead costs, etc. Here's a detailed breakdown of the major costs you should take note of when learning how to sell used books on Amazon.
Referral Fees
Every time you make a sale, AMZ takes a percentage and deducts it from your total sale. This fee is called a referral fee. The fee is calculated depending on the total sales price, delivery charges (for FBA users), gift wrapping charges (for FBA users), and the product category your item is sold under. Knowing your referral fee charges is important to calculate your profitability. If you want to know how to sell used books and make a profit, knowing your referral fee rate cards is important.
Delivery Charges
So you plan to ship on your own? Then it would help if you calculated your courier and delivery charges. The fee you have to shoulder on this part depends entirely on your courier. If you can make a bulk shipping deal with your chosen courier, you might be able to shave off some dollars from the shipping costs. If you use Amazon FBA, you'll only have to pay a monthly fee for inventory storage, your fulfillment fees will cover the cost of shipping.
Marketing Costs
Running paid advertisements, giving away books for contests and sign-up, and any marketing stunt you can think of. It all falls under this category. If you use AMZ's PPC (pay-per-click) advertising model, you need to pay them a certain fee to start running your ads. Make sure you monitor all your costs to keep your business profitable.
Overhead Costs
Just like any other business, there are overhead costs involved in running a used book online store. If you hire freelancers or virtual assistants to run your store, you have to pay them their salaries. And if you are hiring a third-party service to wrap, deliver, and ship your items, you need to pay them as well. Your overhead costs depend on how you handle your business, though. If you can cut down on your costs, more profits will be in for you.
Related: How to Sell on Amazon for Free
If you'd rather publish books and sell your own books on Amazon, you should consider selling your book on Amazon kindle direct publishing. With Kindle direct publishing, you can create and sell ebooks without holding inventory.
What Are The Most Profitable Books to Sell on Amazon?
It is obvious that there's so much to take note of when it comes to learning how to sell books on Amazon. And choosing the most profitable books to sell on Amazon is one of the most important things to pay attention to if you want to sell successfully on the marketplace. Not all used books sell well on AMZN, so before you start your business, ensure you take out time to discover the most profitable types of books to sell. A few of the best types of books and not-so-profitable books to sell are listed below.
Most Profitable Books to Sell on Amazon
Textbooks
Comic Books
Collectibles
Non-fiction
Hard covers
Niche books
What Types of Books Don't Do Well on Amazon?
Fictional books
Children's books
Trendy new books
Cookbooks
Related: Best Items to Sell on Amazon
Other Ways to Sell Used Books
Not everyone wants to go through the stress of selling on Amazon – the hassle involved in shipping and calculating FBA fees can be a lot sometimes. If you would rather not sell your used books on Amazon, here are some other ways to get rid of them and still make money.
Sell on eBay instead
eBay is a great marketplace for selling off used goods, but when it comes down to it, Amazon takes the crown. eBay does not offer fulfillment options that allow you to outsource to a professional team, they also do not assign BSR to products on their website. So, choosing the right product to sell and managing your business may be a bit tough.
Bookstores
Selling your used books to a secondhand bookshop is another option you may want to consider. If you have a lot of used books, this option may be best for you since all you have to do is find a bookstore that buys used books, get a good rate and drop off your books. There will be no need to ship books individually and incur shipping costs. The only downside is that bookstores are often selective, so you may not be able to sell off all your used books.
Garage Sale
Trying to declutter your library and earn a few bucks while at it? Set up a garage or yard sale. This works great if you have a community of avid readers and a library that people would be interested in.

Is Selling Books On Amazon Worth It?
As an e-commerce seller, this is an important question that you need to ask before you venture into selling used books on Amazon. According to eMarketer, around 60% of the total books, music, and videos sold in the world are bought online.
Now that the world is almost completely digital, more people are setting up online businesses, and learning how to start selling books on Amazon has never been more exciting. This is not surprising, seeing as there has been a huge demand for books since the pandemic. Many people want to try and learn new things, and there aren't too many accessible teachers that can assist them. Thus, reading has become a popular way to learn a new hobby or craft.
Aside from that, reading for leisure is also a big reason for selling books on Amazon. With so many young people exposed to games, movies, and TV series based on books, reading the source material has become a passion for them. Titles like The Witcher, Harry Potter, Game of Thrones, and The Lord of the Rings are consistent bestsellers in the fantasy genre.
Upcoming releases not only in the fantasy genre but in the young adult subcategory are always in demand. And if these are consistently popular no matter what kind of economy the world is in, it is safe to say that books will be here to stay.
We all know that most sellers are only interested in asking one question. "Is selling books on Amazon worth it?". And if the fact that books are amongst the top 10 most popular and profitable categories on Amazon doesn't comfort you, we aren't sure what else will.
The book category has always been a consistent top performer on AMZ. Combined with the new ways that e-books are published and consumed by the public today, as well as the easy fulfillment methods available to sellers, selling reading materials is a safe bet in any marketplace.
Now that you know that selling used books on Amazon is worth it, there's one more question you should be asking when you're learning how to sell used books on Amazon – "How much does it cost to sell books on Amazon?". If you want to build a profitable business, you cannot afford to ignore the costs involved, so we'll do a detailed breakdown in the next section.
Conclusion
Learning how to sell used books on Amazon is great, but like any other business, you'll have to compete with other sellers who are probably selling the same book, and it may be daunting initially. But if you take your time to learn before you delve into selling books online, you'll be making money selling books in no time.
When it comes to selling books online, especially on AMZN, product research is crucial and having access to a software seller tool goes a long way. Zonbase is one of the best-valued and most accurate software tools for sellers today. With just one click of a button, you can check your competitors' listings and see if your products are profitable in the long run.
Want to learn more about Zonbase and how it can guide you on how to sell used books on Amazon and help your business succeed? Sign up for a free trial of Zonbase.