Did you know that a total of 1.3 million new sellers joined the Amazon marketplace in 2020 alone? Within the same year, the biggest number of new third-party sellers was also recorded in the United States. This increased the total number of sellers on the AMZN marketplace to nearly 2.8 million. (Source: Statista)
In an online selling platform as big as Amazon, how do you expect to be found? Surely, you can't just spend money on running AMZN Sponsored Ads to get traffic, right?
This is where Amazon SEO comes into play.
Amazon SEO is the process of optimizing your product listings to rank high in AMZ's organic search results. Some rules must be followed to run the "A10 algorithm" in your favor. Knowing and mastering these rules is the key to ranking high in the Amazon search engine results.
In this article, we'll talk about Amazon SEO tips and how to "game the system" in your favor. We'll also talk about the new "A10 Algorithm" previously known as the A9 algorithm and how mastering it can propel you to the top of the search results.
Ready to know more about Amazon SEO and how you can use it to gain free traffic? Then let's get started.
What Is Amazon SEO?
Before we even tackle Amazon SEO, let us first discuss what SEO is.
Search Engine Optimization (SEO) is the task of optimizing your content to increase visibility on a platform. Following a set of rules and algorithms, you can optimize your content and make it appear first when people search for certain keyword terms.
The easiest way to understand SEO is this. If a customer types a keyword such as "dog training" on Google, you want to be on the first page of the results. Why? Because customers rarely read the results on the second page, you will not get any traffic.
But how do you get on the first page? The answer is through SEO. You can add the keyword "dog training" in your title, create more articles surrounding the topic "dog training", use anchor links towards your website that include the word "dog training", and so on. By doing these processes, you are improving your credibility in Google's eyes regarding the keyword "dog training". Thus Google will rank you higher for this specific term.
Amazon SEO follows the same process. But instead of trying to rank for search engines like Google, sellers try to rank high on Amazon.
In a survey conducted by BloomReach, they found out that around 55% of customers spend time on Amazon compared to Google when they are looking to buy a product. This means that AMZN is not just an e-commerce website anymore. It has turned into a product search engine that customers use for product research too.
Knowing how to use Amazon SEO for your business will give you an advantage over your competitors. If you can rank high for a bunch of relevant keywords related to your niche, you won't have to spend lots of money on Amazon PPC marketing.
A higher ranking also means more traffic to your listings. You'll have more chances to get your products in front of millions of AMZN customers. We believe this is the most important reason why Amazon SEO matters.
Relationship Between Amazon Search Engine Ranking And Amazon Sales Rank
The Amazon Search Engine Ranking is directly proportional to a product's Sales Rank. Since AMZN is an e-commerce website, it only makes sense that it will rank products that sell better than the competition. If a product sells better, then AMZN makes more money too.
The prominence of getting your product in front of customers is very important in a huge marketplace like AMZN. With millions of sellers competing in the same space, you have to get your product in front of people's faces to entice them to buy. And this can only be done with the right knowledge of SEO.
By implementing correct amazon SEO strategies, from your product listings to your choice of relevant keywords, you can increase your visibility. With increased visibility comes more traffic, which would then convert to more sales. Thus, your Sales Rank has a direct relationship with your SEO efforts, too.
Mastering the right SEO strategies and learning more about the A10 Algorithm is crucial to your success. Let's discuss it in the following section.

What is the Amazon A10 Algorithm?
Optimization for Amazon involves several different steps and procedures, which are all enclosed in one single algorithm.
This algorithm, also known as Amazon A10 (formerly known as A9 Algorithm), is the key to how Amazon decides who should rank first on the search result.
A subsidiary of AMZN that is based in Palo Alto, California, Amazon A10 focuses only on one thing. And that is to develop a search engine technology that is smart enough to know which products to recommend to customers based on their keyword search queries.
To rank high in the Amazon search engine results, you need to meet the standards of the A10 algorithm. Since it is considered the "brain" behind the rankings of all the products in AMZN, knowing how to utilize it to your advantage will allow you to gain an edge over your competition.
The A10 algorithm focuses on one very important thing that other search engines don't. And that is a variable known as "revenue per click".
Whenever someone types in a keyword, clicks on your product description, and makes a purchase, your revenue per click goes higher. Since AMZN is mainly an e-commerce website focused on making sales, the A10 algorithm gives it a great value.
AMZN favors products that can generate more revenue for its platform. Thus, you need to know the best-selling categories on Amazon and how you can make money from them.
Since it is considered the "brain" behind the rankings of all the products in AMZN, knowing how to utilize it to your advantage will allow you to gain an edge over your competition. The AI techniques and supervised learning of the machines make it possible.
What Are The Two Important Ranking Factors On Amazon?
It can be pretty overwhelming and challenging for someone who has no technical expertise to engage in Amazon Search Engine Optimization. For this reason, some sellers often hire Amazon Consultants and third-party professionals to do optimization for them. However, that doesn't always have to be the case.
Learning about the two important ranking factors that A10 prioritizes is more than enough to get you started. After all, the A10 algorithm is a cognitive tool that learns as you give it more information.
Based on the A10 algorithm, the two most important ranking factors for Amazon SEO are:
Sales Velocity
Keyword Optimization
Sales Velocity
As we have discussed earlier, AMZN is primarily an e-commerce platform. Thus, its main priority is to make money from sales and increase its profits. Using this as a guideline, it is fairly easy to understand why Sales Velocity is one of the most important metrics in Amazon SEO.
The connection between Amazon SEO and sales velocity is pretty straightforward. The more revenue you make per click, the more A10 will prioritize your listings.
It is a no-brainer that AMZN wants sellers who can make them more money. And as a reward for sales velocity, AMZN will push your listings higher in the rankings. It is the perfect case of "you scratch my back, and I will scratch yours".
Here are some of the most effective ways to help you increase your sales velocity:
Run promotions such as giveaways on your social media accounts
Offer discounts to your email list
Run profitable PPC campaigns to boost your traffic
Engage customers to leave more positive seller feedback through incentives
Improve conversion rates by doing an A/B test on your CTA (click to action)
If you want to create a buzz and get AMZN's attention, there is no better way to do it than sales. AMZN prefers sellers who make them money and make their customers happy. Make them notice you by doing both.
Keyword Optimization
Keyword optimization is the second key to increasing your organic rank in AMZN. In any SEO process, keyword optimization is always an integral part that you have to master.
The A10 Algorithm is a smart one. But it needs guidance from people too. You need to let it know what your content is all about through keyword optimization.
The keywords that you choose are the ones that will connect you and your customers to the information that they are looking for. For example, a customer who enters a keyword such as "dog training books" is not looking for Harry Potter, right?
One of the best ways to find keywords that you can use to optimize your content is the Zonbase Keywords Tool. All you need is to enter the seed keyword that you want to target. The Zonbase Keywords tool will automatically give you all the related keywords associated with your seed keyword.
It will also give you the estimated monthly search volume of each associated keyword and its Smart Score. The Smart Score indicates how good a keyword is. A higher score means high search volume with low competition. This means the KW search term is a good one to target.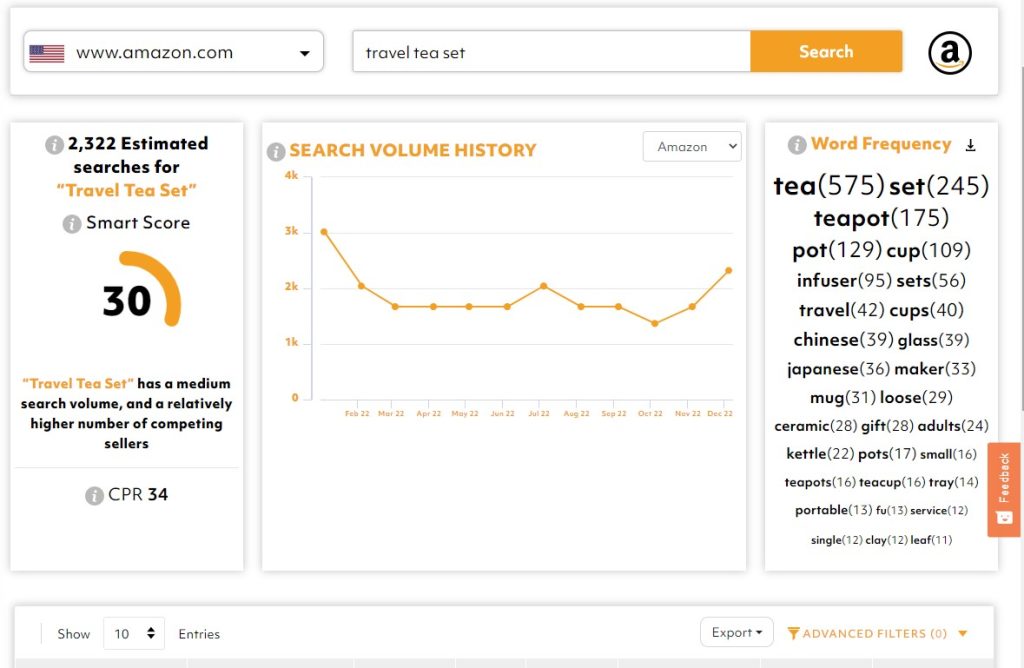 As a seller, it is your job to let AMZN know what your product is all about. This can be done in several different ways. Let me share some of these below:
Include Main Keywords In Your Product Listing
Your product listing is where your customers land. It is where you convert sales and place all the information about your product in the product description. But more importantly, it is where the A10 Algorithm scans for information to figure out what your product is all about.
Inserting the main keywords in your title, bullet points, and description is a great way to optimize your listing. Just make sure you can still provide relevant and useful information to the customers while doing keyword research. Don't spam the listing with keywords just for the sake of doing Amazon SEO.
Use Semantic Keywords
Semantic Keywords are phrases that are closely related to the main KW that you are targeting. By using semantic keywords, you are giving the A10 algorithm more ideas about what your product is all about.
For example, if you are selling dog products and you are targeting the keyword "dog teether", some of the semantic keywords that you can use are "teething toy for dogs" or "bite toys for dogs".
Through the use of semantic keywords, establishing a connection and cementing your primary niche will be easier.
How To Optimize Your Product Listings
Now that we know how important keyword optimization is, how do we use it on our product detail page? How can you add value to your product description while following Amazon SEO guidelines?
The practical application of what we learned in the previous section can be done through the following suggestions below:
Optimize Your Product Title
The product title is the first major text that your customers will see when they click on your listing. For SEO purposes, it is highly recommended that you place your main keywords on your title.
You can also add the following elements to your title to further improve your optimization:
Brand name
Model type and number
Color, size, or quantity
Weight
Dimensions
Through title optimization, you can instantly catch the reader's attention. Finding the information that they are looking for will be so much easier. This can result in a higher conversion rate and increased sales velocity.
Use High-Quality Images With Alt Titles
Something that many sellers often overlook when it comes to Amazon SEO is using high-quality images.
Remember, one of the most important factors to rank high on AMZN is sales velocity. And what is one of the most effective ways to increase conversion rates? Having high-quality and informative images.
When uploading your images, make it a practice to rename them using the keyword you are targeting. This way, search engines other than AMZN can also pick up these keywords in your images. This will help you get indexed on websites such as Google Images.
Also. try to use a white background when taking your images. This will let your products blend better in the white background of Amazon. You might think this is a small thing, but removing distractions from your photos can help improve your conversion rates.
Use Bullet Points in the Product Description
Another way to improve your conversion rates is through the use of bullet points. Most customers don't want to read a wall of text. If you can relay the information about your product using as few words as possible, this could increase your engagement. And it may even directly affect your conversion rates.
When writing bullet points, outline your product's best attributes in one bullet point. Try to solve one problem at a time and focus on one benefit per point. This will make your content easier to digest. As long as you can close it out with an effective CTA, then your listing is good to go.
Just one thing to note – there is a 200-character limit per bullet point. So make it short and sweet, but still informative.

Listify – One of the Best Tools for Listing Optimization
When it comes to listing optimization, one of the best ways to stay on top is to emulate your competition. If something is working right for your competitors, you should also do it for your listings.
One of the best ways to reverse-engineer the listings of your competitors is through the Listify Tool by Zonbase. All you have to do is enter the URL or the ASIN of the product that you want to spy on. Listify will then return a complete list of the keywords that your competitors are using. It will also give you a complete evaluation of how you can emulate your competitor's listing.
A nifty feature of the Listify tool is the side-by-side Listing creator. With this tool, you can write your listings while you compare them side-by-side against your competition. You can easily rewrite your optimized listing using the keywords that worked well for your competitor's listings.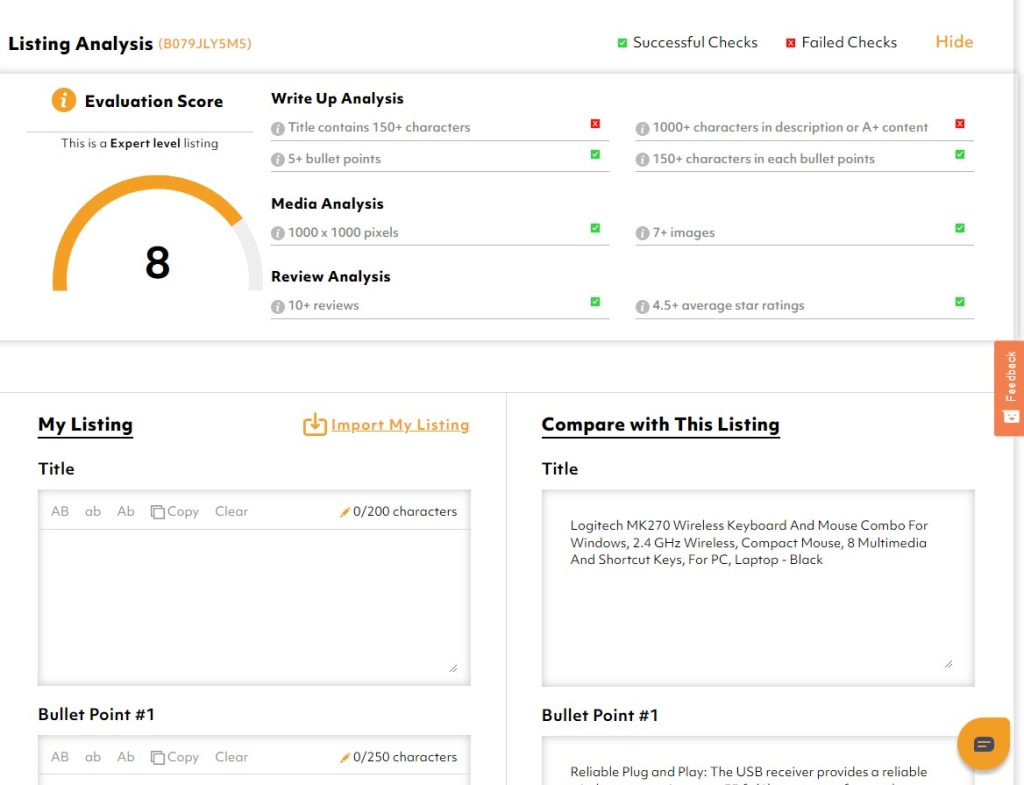 Conclusion
In conclusion, getting your products in front of millions of people can only be achieved through Amazon SEO. By understanding and mastering the A10 algorithm, you can raise your organic ranking in AMZN.
Getting traffic without having to pay for expensive PPC campaigns is a dream for many AMZN sellers. Hopefully, the tips and strategies shared in this article can help you use the A10 algorithm to your advantage.
When it comes to listing optimization and keyword research for Amazon SEO, Zonbase is one of the best amazon seo tools around With its ZonResearch and Listify tool, finding the best keywords and using them on your product listings can be done with just a few clicks of your button.
Want to see these powerful Zonbase tools in action? Subscribe for a free trial of Zonbase today and see how this product can help your business.