The stories of making it big on Amazon as a seller are plenty. But, to be successful, every opportunity needs planning and market evaluation. Amazon is one of the largest eCommerce platforms, with a 50% share of all eCommerce sales in the United States. If you sell online, no other platform offers such massive outreach. Amazon product research is the first step to beginning your online entrepreneur journey.
People often find Amazon product analysis overwhelming because they arbitrarily look for products. That is not how you do Amazon product research; instead, there's a workflow to follow.
This guide will explain finding the best products to sell on Amazon. We will cover everything from utilizing the insights of Google Trends to using product research tools.
What is Amazon Product Research?
The phrase is relatively self-explanatory. Amazon product research involves analyzing what products sell, like hot cake, to grab a slice of the action. The idea is to find products you can source within your budget and sell for a profit.
It sounds super simple.
But is it?
Being a profitable seller on Amazon involves extensive planning like deciding the niche, competition analysis, costs and fees calculations, etc.
Why do you need to strategize your Amazon product research?
According to Marketplacepulse, there are over 2.5 million sellers on Amazon. The eCommerce giant has an unbelievable catalog of more than 12 million products. Amidst the intense competition, 25,000 sellers were able to earn more than $1 million a year in sales.
Yet, a large number of Amazon sellers fail to break even.
Why? They never took the time to create a winning Amazon FBA product research strategy.
Amazon sells millions of products every day. The daunting number of sellers and products might be overwhelming, but it's suitable for market research. Such many sellers and products serve as data points for product research tools.
If you use the right tool, you can instantly access critical information about best-selling Amazon products.
This Amazon product research guide will share tools for product research, trend discovery, keyword research, etc. But first, we compiled the wisdom of hundreds of experienced Amazon sellers to outline what traits you must look for in a product.

What Product Traits Are Essential To Sell On Amazon?
You can't turn a profit with every product on Amazon. Certain items won't even sell, so it is essential to have a strict selection criterion.
After helping over 10,000 sellers, we can confidently state that some items are best left out. Put these metrics into your Amazon product research to select the best items:
High demand: An excellent benchmark to decide whether a product is high in demand or not is to check its monthly sales. 300 sales per month, i.e., ten sales a day, is a good starting point.
Low Competition: It gets easier to sell if you pick a product not many people offer. The lower the competition, the easier it will be for your listing to rank higher in search results.
Reasonable sales price: To be a profitable Amazon FBA seller, you need to be wise with pricing. You want items that aren't too cheap with no scope for profit or too expensive to scare off the customers. A price range of $10-$70 is ideal.
Fewer Reviews: Amazon is home to millions of sellers, making it challenging to get noticed. Focus your Amazon product analysis on niches where the top sellers have less than 400 reviews. The customers' feedback is an integral part of Amazon's algorithm. If you sell a product with fewer reviews, it gets easier to stand out.
Items weighing less than 5lbs: Heavy items are expensive to store and costlier to ship. If you import the product to sell on Amazon, lightweight items will reduce shipping costs. It gives you higher profit margins.
Size Below 18″ x 14″ x 8″: Just as heavier products cost more, bigger products also need more shelf space and cost higher to ship. Choose smaller items to keep costs low.
4x selling price: It is best to choose Amazon FBA products that you can sell for roughly four times the costs of sourcing them.
Most successful sellers use the above filters in their Amazon product research. They also recommend selling everyday-use items as they sell well on Amazon. Experienced sellers use these traits to pick the best products to sell on Amazon.
If you can't figure out a product to sell at this point, don't worry. There is more to learn. Let's dive deeper to understand Amazon product research further.
A checklist of what to avoid
We will keep it short. Check this checklist to avoid known pitfalls while researching a product to sell on Amazon.
Never choose a tiny niche. It will throw you out of the active market as your product will not get noticed, hence sold.
Don't set item prices low just to generate sales. Often sellers make the mistake of pricing items lower than the competition pricing without analyzing its logic. Your competitor might have a sourcing or logistic strategy to manage the profit margins. Don't chase their pricing; instead, decide on a selling price relevant to your profit margins.
Always calculate costs and fees before setting the price. Don't underestimate the impact of Amazon's fee on your final revenue.
Move over undifferentiated products; Amazon is no longer the same. If you think you can private label China-sourced yoga mats, BBQ gloves, or chargers and make a huge profit, you are in for a surprise.
Not improving the product after researching poor reviews. It's common sense to offer a better product to satisfy customers' demands. That's how you sell more and enjoy more profit too.
Tools for Amazon Product Research
Ahrefs Keyword Explorer
The next step in selling on Amazon is to drive traffic to your chosen product. Optimizing the product descriptions is one thing, but you want to use low competition keywords. These keywords will show your products in Google Ads and Amazon search results.
How do you find such low-competition keywords?
We recommend Ahrefs Keyword Explorer.
Not many sellers know, but Ahrefs can be an excellent Amazon product research tool. Here's how you can use the tool for keyword research:
Open Ahrefs Keyword Explorer and enter 5-10 product niche ideas
From the left pane, click All Keyword Ideas
Set the Filter for Keyword Difficulty to less than 10
Set SERP features to only 'Include Shopping Results'
Click on filtered keywords to see their SERP Overview
On the SERP overview page, look for low Domain Rank (DR) sites
What you do here is to sort the SERP results for shopping keywords. If there are several low DR sites on Google for a niche, it implies less competition.
We searched within the 'home and garden' niche in our example. We found many keywords with less competition, such as rain showerheads.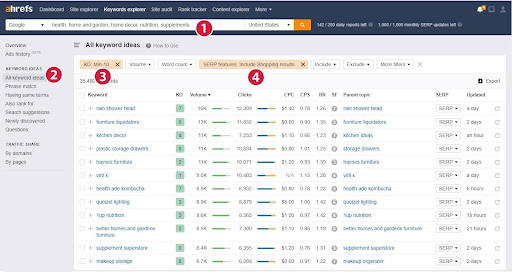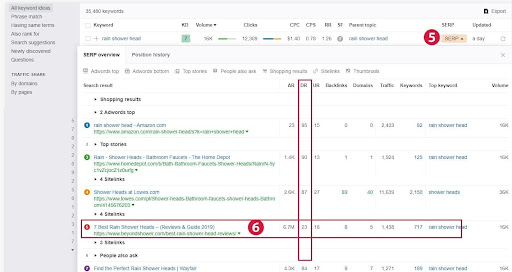 Spy on eBay to find the best products with WatchCount.com
Another tool you can use for Amazon product research is WatchCount.com. While it is a tool that tells you what's selling hot on eBay, you can still exploit it for Amazon FBA product research. The site operates in real-time. You can find the most popular eBay items at any time. The data is taken from the eBay feed directly, which tracks votes by users when they add items to their watch list.
You can look for top-selling eBay products in your niche and then narrow them down to items that have the potential to sell on Amazon. The site lists products based on the number of watchers. It also offers some unique search capabilities to find best-selling products.
Research Trending Topics on Google Trends
If you want to find out the products that will fly out of the door, take your Amazon product research to Google Trends.
Google Trends is a tool that shows users how popular a search term is over a period of time. With Google Trends, you can quickly narrow down the options from the list you have created so far. It gets easier to find the most popular products using insights provided by the service. Irrespective of the niche, you can use the latest Google Trends to understand what's selling more.
You can customize Google Trends results based on location, duration, category, and result type. Here is the result of the 'pet food' search. Pay attention to the trending topics and queries at the bottom of the result.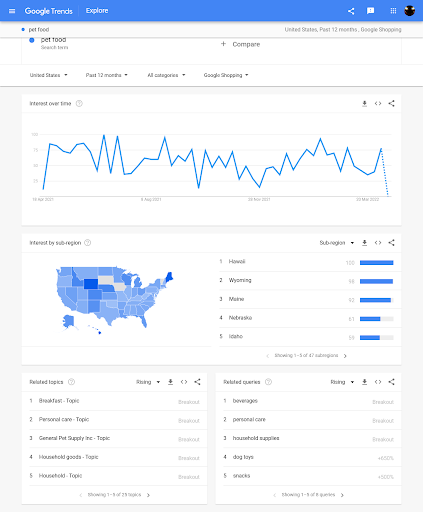 Investigate the 'Customers Also Bought' and 'Frequently Bought Together' product listing sections
Another great Amazon product research tactic is to explore the sections beneath the main product listing. To the investigating eyes, these sections can provide insightful product ideas.
Experience Amazon FBA sellers know that it's not only the product research that pays off well. Understanding your potential customers' thoughts and buying process sets you up for long-term success.
Customers Also Bought and Frequently Bought Together sections help you understand what your target customers want. Furthermore, you discover opportunities to create unique product bundles.
You can combine frequently bought products to create a fantastic combo that sells fast. As a seller, you must dig deeper into the available data on Amazon. That's how you beat the competition.
Personalized product recommendations are highly effective. According to BigCommerce, over 70% of businesses across industries get positive ROI with a personalized offering.

Find product-market gaps with Amazon reviews
You don't have to try too hard to sell when you have products to offer that solve a problem or fulfill a requirement. Knowing what customers want on Amazon makes it easier to decide what products to sell. Some sellers might have the budget to form focus groups to get direct customer feedback about desired products and likes and dislikes. But not all sellers have such time and budget.
How do you do market research to find product gaps?
You scour through Amazon customer reviews to understand the market and what customers want. It is simple if you wonder how you can mine reviews for Amazon product research.
Break down your analysis to these questions:
What items people are excited about
Explore comments by unsatisfied customers to find out what leaves them disappointed about a product
Match the complaints with your product offerings and modify your prospective product
Amazon reviews are a treasure trove of market research for FBA sellers. You get honest opinions from people who have used a product. This information guides the decision on what products to sell or any modification required in products.
Alibaba for White Label Products
Selling white label products is immensely popular on Amazon. If you want to sell white labels, Alibaba is an excellent resource to find such products.
Decide what kind of white label products you want to sell on Amazon. Electronics and imitation jewelry are two categories that are popular among white label sellers.
Once on Alibaba, you can search for items based on their popularity, the number of sellers, and ratings.
Zonbase Tool Suite
Zonbase offers you a complete suite of Amazon tools to do market research and find trending products to sell. Our Hot Products tool helps sellers find products that sell fast. If you want to sell trendy products within a category or during certain months, Hot Products can help. It lists products based on their latest ranks in the last few days, weeks, and months. This tool is a great reference to include hot-selling items in your store.
ZonResearch is another gem of an Amazon product research tool powered by ZonBase's extensive proprietary database with more than 20 million products. Quickly find potential home-run products with high demand, low competition, and high-profit margins with ZonResearch's custom search.
But that's not all. We have 13+ tools for Amazon sellers to try.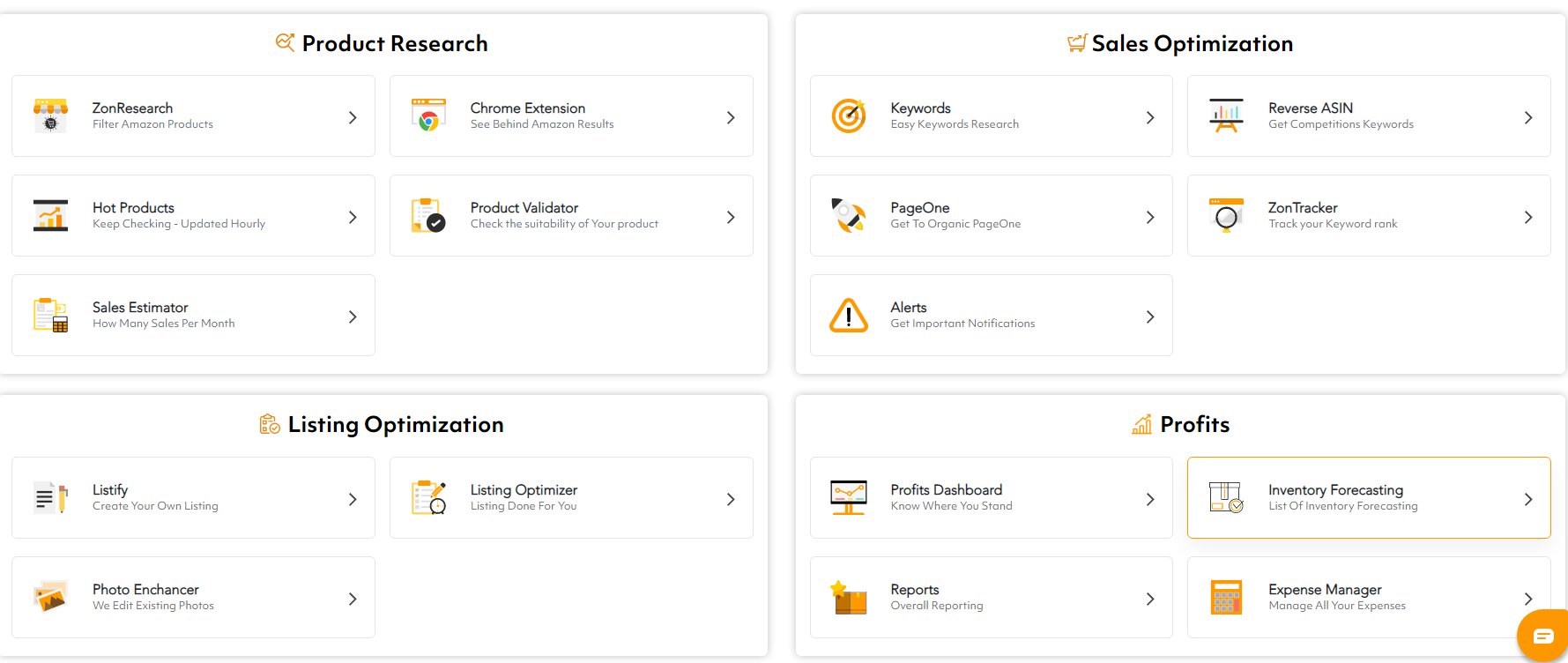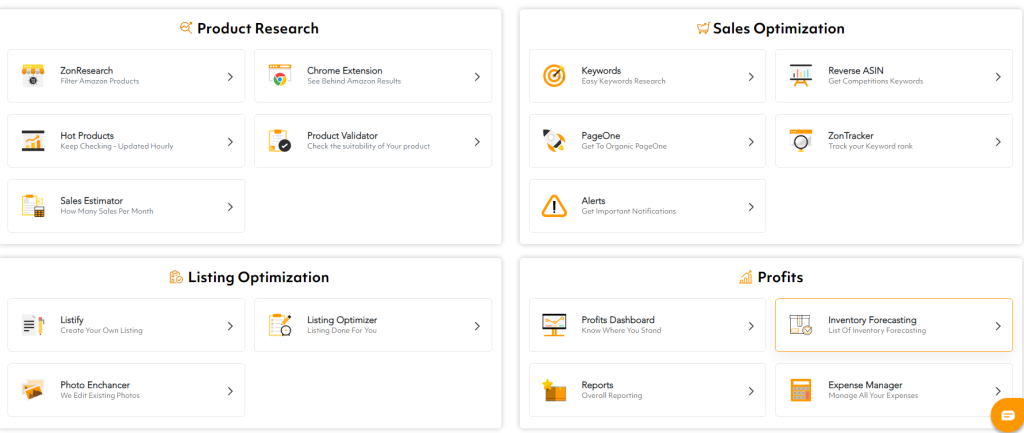 Conclusion
We hope you understand how to create an Amazon product research strategy for a profitable business. With the right tools and a solid plan, selling on Amazon gets easier. The 'hit and trial' approach doesn't waste hundreds of dollars. Focus on increasing your chances of earning a nice profit margin by selecting products that are inexpensive to buy and easy to sell.
Once you have picked products to sell on Amazon, the next is to decide the right selling price. Check out this beginner's guide to Amazon FBA calculator. This guide explains how the Amazon profitability calculator can help you set the prices for maximum net profit.
We are here to help you succeed on Amazon; that's what we share only tested and tried ways to be profitable.