Achieving record-breaking success on Amazon is possible, but only if you have the required knowledge and tools. It isn't easy to build a business without in-depth product and keyword research. Listing optimization and supplier negotiation processes are also important.
All these processes need mastery and can be frustratingly cumbersome, and beginners find them even more complex to execute. However, the most important key to success is working smart, and FBA software is the stress-free way to do that.
FBA software is software designed to help sellers automate business processes. It executes important tasks like product research, keyword research, and listing optimization. Some FBA software are specifically designed for Amazon keyword research, while others, like ZonBase, contain keyword research tools, product research tools, and listing tools.
Amazon Keyword Tools
ZonBase is an all-inclusive FBA software that contains Amazon keyword research, product research, and listing optimization tools. The software offers a set of versatile tools that cut across different areas and are suitable for new and experienced sellers.
ZonBase also offers a set of effective Amazon keyword tools to help you discover the most relevant keywords in your niche. Plus, the software offers its plans at a pocket-friendly price. You'll learn more about ZB tools in this post, so keep reading.
Merchant Words software is a keyword niche finder tool that allows you to research KW trends to discover what products your customers search for frequently. By doing this, you'll be able to choose and sell the right products for the greatest profit.
Merchant Words creates product descriptions based on keywords and search terms. It then optimizes PPC campaigns and product listings using these descriptions. Using this Amazon keyword tool, sellers who have no experience in Amazon SEO can generate relevant keywords and keyword phrases tailored to their products.
"Scientific seller" is a free Amazon keyword tool. This Amazon keyword research tool may be slow for some sellers, but it is one of the most effective tools available. Other tools can generate hundreds of KWs in a matter of seconds, but that isn't the case with this tool. The software takes extra time to do in-depth research for relevant keywords. Sometimes, it even runs overnight.
Also, it only shows results for Amazon buyer keywords, and these keywords are sourced from various sources. So, this free keyword research tool sieves through a collection of keyword ideas and restricts them to frequently used Amazon keywords.
This is an advertising tool that uses carefully selected keywords and allows you to search for keywords that are relevant to your niche. By doing this, you'll get access to thousands of KWs that are related to your product or niche. With this tool, you can also gain insight into KW trends and search frequency. Then, you can narrow down your list to the ones with the best trends.
The tool also suggests bid estimates for your advertising budget. Furthermore, you can also save keywords for future use, and incorporate them when you're ready to launch your campaign.
This tool works like the Google keyword planner and has a free version that allows you to generate up to 750 KW suggestions. However, the Pro version is quite advanced. It offers two times more keywords than its free version and comes with other useful features. The tool generates keyword ideas using Google search results and the auto-complete feature.
The Sonar Amazon keyword tool is a free Amazon keyword tool that helps sellers find relevant KWs. Inexperienced sellers can also improve their Amazon SEO game with this tool since it tracks competitors' keywords and uses them as a reference for its suggestions.
Sonar uses a frequently updated database of keyword ideas and suggestions, so it displays keywords that are ranked on the first page of search results at the time of the research. Sonar only takes AMZ search terms and trends into account and does not use data from other sources.
This is a keyword research tool like every other software on this list. But unlike others, it comes with a seller map feature that displays real-time seller data. With this feature, you can discover sellers in your location and view their revenue. You can also analyze your listings and get more information about different products.
The tool also tracks high-converting key terms and includes them in your listings. In addition to this, the software uncovers your competitor's KWs, making it easier for you to go up against them.
This tool is quite effective, but new sellers who do not have lots of cash to spare may find the tool very expensive.
This is a seller tool that generates suitable KWs. It also analyzes keyword difficulty and traffic potential. Ahrefs Site Explorer provides a list of the keywords bringing traffic to AMZ. Its dashboard displays several metrics that allow you to spy on your competitors.
The page's position on the SERP (Search Engine Results Page) for each keyword can also be seen.
The tool refines search volume numbers monthly using clickstream data. Sellers can also find and select the best keywords using filters. The software allows you to estimate how difficult it would be to rank in the top 10 results for a specific KW. To do this, it provides a scorecard that ranges from 10 to 100, 100 being the most difficult.

Amazon Keyword Tool
Amazon Keyword Tool is a native tool for keyword research. All you need to do is type in a keyword and then enter it to get results. The results include the search volume trend, cost per click (CPC), and competition evaluation. You also get the same results for related keyword suggestions.
Most of these free keyword tools, may not be the best choice for you, especially if you are a new seller and are on a budget. However, scaling your business will require you to have access to tools for a variety of processes. You'll need product research and listing tools alongside any keyword research tool you choose.
The best thing to do is to use all-inclusive software. All-inclusive software gives you access to a variety of AMZ seller tools. In other words, you do not only get access to keyword research tools, you also gain access to several other tools.
ZonBase is the best all-inclusive software. It provides a set of tools for effective keyword research. But it also goes beyond that and provides listings and product research tools. ZonBase also comes with a sales estimator and a photo enhancer tool. You can also use the mentorship program to learn from AMZ experts.
Here's a list of ZB keyword tools and how they can help you scale your business.
ZonBase Keyword Tools
ZonBase Amazon keyword research tools will help you research niche-relevant keywords. You can then narrow down your options to the best ones.
Its Keyword tools include:
You can sell your products more effectively if they're visible and buyers can find them easily. You need to rank well in search results to generate more sales. Making sales on AMZ requires more than a good product research strategy. Dedicating time to researching the best keywords for your listings will have a tremendous impact on your business.
Amazon keyword research can be performed by hand or with AMZ seller tools. But, the ZonBase keyword research tool has many features to help you automate this process.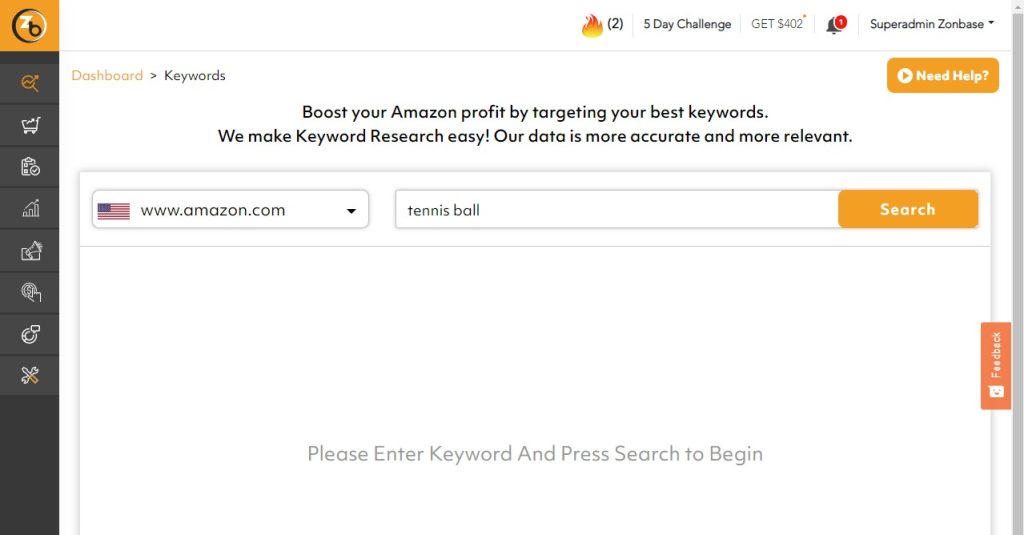 ZB Keyword tools can also work with other tools in the software to confirm your keyword choices.
What results have you gotten so far with your keywords? How awesome would it be if you could check your ranking within seconds?
Discovering relevant keywords for your business isn't enough. The Zon Tracker is a KW tool that allows you to select any keyword from Amazon. After selection, you get detailed information about that search term in seconds. It monitors your keywords and keeps you informed when they change. It also displays a list of different variations of your competitors' keywords.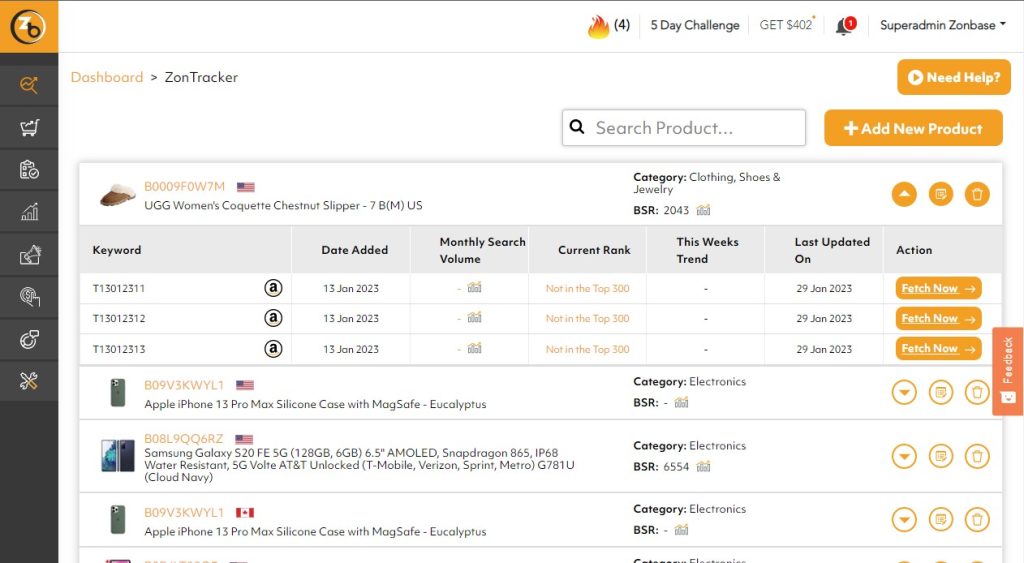 Reverse ASIN
The key to creating the perfect product listings lies in finding the right keyword ideas. It may even be the same keywords that your competitors use. We know this since we've scaled and grown AMZ businesses for years.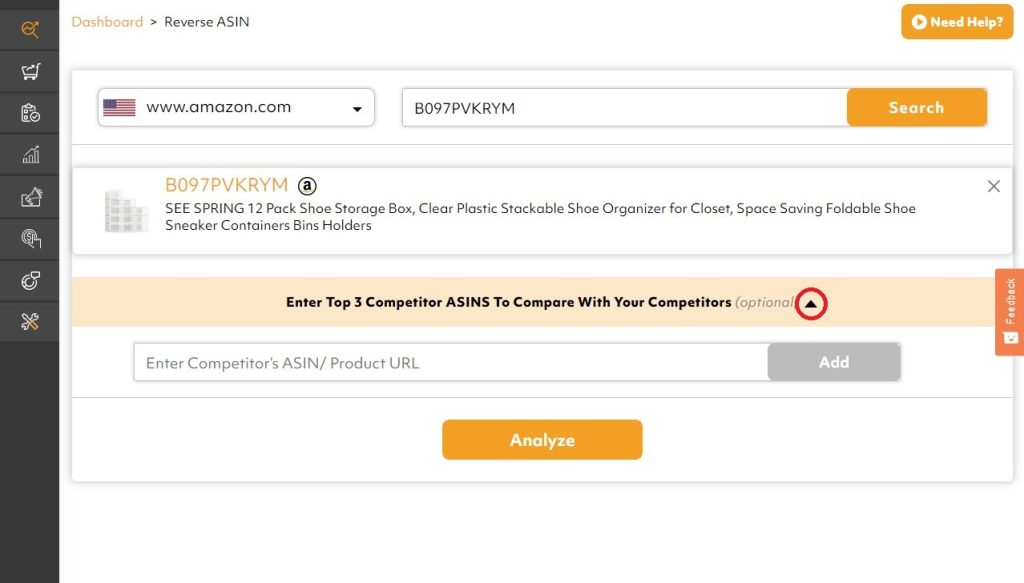 The ZonBase Reverse ASIN tool will show you what keywords your competitors use and rank for. You can then use this information to outrank them.
It's possible to increase product visibility using sponsored ads. But, if you don't use the correct keywords, you will not succeed. With this Amazon keyword tool, you can see what your competitors are doing. You can also optimize your sponsored ads to increase your earnings.
FAQs on ZonBase Keyword Tool
Am I guaranteed to reach page one for every keyword?
It's impossible to guarantee anything since the Amazon A9 algorithm changes constantly. The principle about products that sell well and rank highly will always hold true. Sellers have always been able to improve their rank by taking advantage of ZB tools.
How does the ZonBase Amazon keyword tool research keywords for my listings?
Thousands of winning product listings have been created by our team. You must research the keywords your exact competitors are ranking for. You can then use these keywords in your listings. Most keywords used by buyers appear in listings' titles. Those used less frequently appear in bullet points and the back-end.
How does ZonBase determine what keywords to use?
It makes no sense to repeat keywords. So instead of repeating them, we search for related keywords using our KW data. Every keyword used by buyers must appear once in your listing. We do this to ensure that you rank for many keywords that are relevant to your niche. That way, you won't have to miss a chance to show up in search results.

Keyword Research Tips
Using the tips above, you will be able to manipulate the Amazon algorithm to rank higher. But here are a few tips on how to select the best keywords and hack Amazon keyword research.
Use Long-tail and Short-tail Keywords
Long-tail keywords differ from short-tail keywords in the Amazon dictionary. You may have already guessed that keyword phrases are rarely the same. A long-tail KW usually consists of four, five, or more words. In contrast, short-tail keywords are the exact opposite and use just a few words.
Short-tail keywords use niche-specific terms like shoes, clothes, gadgets, and more. You're likely to run at a loss if you add more of these keywords to your listings. If your product isn't what buyers are looking for, your conversion rate will be low. As a result, you incur higher advertising costs without any return on your investment.
You can access relevant keywords for your listing through Amazon Pay-Per-Click campaigns. Campaigns can either be run manually or automatically. With manual campaigns, you determine your keywords. But with automatic campaigns, keywords are chosen for you.
If you have little knowledge of Amazon keyword research, run automated PPC campaigns. With Amazon picking the best keywords for your listings, you can carry out effective keyword research with low risk. ZonBase FBA software has the perfect tool to help with your PPC campaigns.
Factors that affect rankings on Amazon
When optimizing your product's ranking, there are some factors worth considering. Especially if you want to improve your product's keywords or performance:
Keywords: Include relevant KWs when creating your product listing. Use keywords in the title, bullet points, or description.
Amazon offers extra information fields in the sidebar search filter. By filling them out, you will be visible in the filtered search results
Product copy: Include keywords in sales copy, but be sure to make it appealing and easy for buyers to understand.
Make professional product images to illustrate different aspects of the product. Discuss its benefits, how to use it, etc.
A+ content: Tell the story of your product selection, brand, and product in a more engaging way
Review management and excellent customer service
Come up with a good pricing strategy to ensure product prices are competitive.
Conclusion
Researching Amazon keywords is one of the biggest obstacles that Amazon sellers face. But it should no longer be a struggle for you because the ZonBase Amazon keyword tool is at your service. Now you can get the work done within seconds. The software offers a 7-day free trial and two affordable plans.