The eCommerce industry has boomed massively since the start of the pandemic in 2020. Even now, when the effects of the lockdown begin to wane, e-commerce is still experiencing incredible growth. As a result, more entrepreneurs are moving their businesses online. And as expected, Amazon, the largest online marketplace, is usually the first port of call.
Based on statistics, this is a great business move because, so far, 69 percent of Americans have done their shopping online, and 25% of them do so at least once a month. Also, the bulk of these shoppers (59%) purchased apparel and 47% purchased their first item on Amazon.
The table below shows the countries with the highest eCommerce revenue per shopper. (Source: Optinmonster)
It is evident that selling online is never a bad idea, and there's a market for every Amazon seller regardless of their country. Moreover, you can now sell internationally on Amazon. AMZN has over 16 marketplaces, and these countries are not left out. However, as you can already tell from the chart, selling online in the United States seems very lucrative. So, if you decide to sell on AMZN, you should first sell on Amazon USA and then expand to other marketplaces.
Planning to start selling on AMZN? In this post, we'll tell you everything you need to know to sell in the U.S. marketplace, even if you don't reside in America.
Let's get right into it.
Why Should You Sell on Amazon USA?
Vast Customer Base
The U.S. marketplace is the largest online marketplace in the world. The marketplace boasts over three million monthly visits, placing it far ahead of eBay, the second-largest online retailer. Apart from the monthly traffic, there are a few other numbers that show why selling in the U.S. marketplace is worth it:
There are over 142 million Prime members in the U.S. marketplace.
The U.S. marketplace hosts about 350 million product listings, including the over 12 million products sold by AMZN itself.
64% of sellers in the U.S. marketplace have generated over $25,000 in profits in the course of running their businesses.
70% of sellers in the U.S. marketplace earn more than $1,000 monthly in revenue.
Limited Entry Barriers
You won't have to face too many obstacles if you decide to sell in the U.S. marketplace. Unlike other marketplaces, there are minimal barriers to entry in the U.S. marketplace, and you can set up your business in no time. Also, 54% of U.S. sellers run their businesses in less than three months. And about 64% of the sellers hit the profitability mark in their first year. 
Plus, the U.S. marketplace typically approves new seller accounts in about a week. So, you won't have to wait too long, and you can get other important tasks done in that time. 
It's Easier to Sell in the U.S. Marketplace than in the European Marketplace
The unified European Amazon network is the only other AMZN marketplace that comes close to Amazon.com in terms of size. However, new sellers must overcome a few hurdles before selling on European marketplaces.
For instance, sellers must account for VAT to sell in the European marketplace. Whereas in the United States, retailers collect sales tax from customers, which is levied after the transaction is completed. Sellers in the EU are required to incorporate VAT earlier in the supply chain. This increases the cost of goods supplied, making it more difficult to price products competitively in the EU.
Furthermore, EU sellers cater to a wider audience, not just English speakers. In contrast, those who sell on Amazon USA can list their products in English since their audience comprises majorly of English speakers.
The EU marketplace caters to shoppers in Spain, Germany, France, Italy, the Netherlands, and the United Kingdom. So, the items and listings must be accessible in up to six languages. Of course, you can reach more people if you create your listings in different languages, but the stress of translating can also be a lot.

You Can Leverage Fulfillment by Amazon
The Fulfillment by Amazon service is one of AMZN's fulfillment options. Under this service, AMZN handles storage, packaging, and shipping on behalf of its sellers. So, sellers who opt for this fulfillment option can focus on other aspects of their business. 
The service is available on other marketplaces, but sellers who have decided to sell internationally on Amazon USA will find it very useful. Without FBA, international sellers would have to ship their goods to their consumers overseas. Or they can locate third-party fulfillment options, which may be costly and time-consuming.
If you've stalled on setting up an AMZN business because you've been wondering "can Amazon ship internationally?", now you have your answer. 
If you sell on Amazon USA through FBA, you won't have to worry about international shipping, customer service, or even returns processing. AMZN will handle all these major processes on your behalf.
Which Countries Can Sell on Amazon USA?
At the moment, AMZN has about 19 marketplaces and accepts sellers from over 102 countries across the globe. So anyone can start selling globally on AMZN, but first, you must provide proof of residence in your home country, a valid phone number, and a chargeable international bank card. Sellers often ask, "Can you sell on Amazon USA from Australia or Canada?" Well, the answer is yes, you can, and quite easily too. In the next section, we'll show you how to sell on Amazon USA from anywhere in the world.
How to Start Selling on Amazon USA
Selling in the U.S. marketplace is not so difficult. So even a foreigner outside of the USA can sell there. But like every other process on AMZN, there are certain requirements you'll have to meet. So, to start selling in the marketplace, you must have:
A valid credit card
A credit card that is chargeable internationally
If you can't create a U.S. bank account, you may need to use Amazon's Currency Converter. If you do, you can sell on AMZN without creating a U.S. bank account)
Proof of residence (Utility Bill)
Proof of Identification (ID, passport, driver's license, and oftentimes Credit card or Bank statement)
Tax information
Phone number
Afterward, AMZN will send a postcard to the address you provided when signing up to confirm your address. With that, you can then enter the code that is on the postcard in seller central to confirm your account. Depending on where you live, it can take anywhere from 1–4 weeks. With COVID-19, there could be delays in this process. It is important to enter this code within 30 days of receiving it, as they will often send follow-up emails stating that the code will expire if not used within that time frame.
Create a seller central account

If you have all the requirements listed above, you can go ahead and create your seller account. To sell on Amazon USA, visit the U.S. website (amazon.com), then fill in all the required information. 
Check out our article on how to create a seller account if you need more help.
In addition to the basic requirements listed above, aspiring sellers must complete an online step-by-step interview to determine whether a W9 (as a US taxpayer) or a W-8BEN (as a non-US taxpayer) is required.
AMZN may take up to 72 hours to review your application. They may also ask for further details sometimes, so make sure you respond to all requests promptly.
Choose A Business Model
After creating an account, the next thing you'll have to do is to choose a business method to sell with. AMZN offers five different business models, but three of them are more popular and profitable in the U.S. marketplace.
The three most common business methods in the U.S. marketplace are as follows:
Private Label: You can decide to manufacture your own products to sell. To do this, you'll have to find a profitable product option and then reach out to an overseas manufacturer to make them for you so that they carry your branding. Private labeling is the most popular business model in the U.S. marketplace, and about 67% of U.S. sellers use this model.
Wholesale: This business method involves buying in large quantities to reselling in small quantities to retailers. Unlike the private label model, which requires a seller to create their own brand, wholesalers sell already existing products.
Dropshipping: Being a dropshipper is another option you may want to consider if you want to sell on AMZN. This business method is stress-free, and you won't have to maintain inventory.
Retail Arbitrage: If you are on a budget, you can consider sourcing products from physical or online retail stores, then reselling them on AMZN. This way you can start your online business with little or no capital.
There are other e-commerce business models, but if you want to sell on AMZN without doing much heavy lifting, then these three are the best options for you. Regardless of the business method you choose, you will have to find a profitable niche and product options. When it comes to finding the bestselling products on AMZN, guesswork will not get you the results you want. So, it's best to invest in software for product research. 
If you read to the end, we'll tell you about the best software for product research. However, here are a few things to look out for when choosing products if you carry out manual product research.
Choose products that have high demand and low competition, preferably products that sell at least 200-300 units per month.
Choose small and lightweight products. This way, you'll be able to save costs on shipping. Also, try not to choose products that are fragile or can get damaged in transit.
Make sure the products you list for sale are not patented.
After choosing a product, the next thing you should do is source the products from suppliers. Look out for genuine suppliers to source high-quality products. You can also use ZonBase's Hot products tool for supplier research. Here's a faster way to find suppliers for your products.
Open the ZonBase Hot Products tool and enter basic product information
Set the filters based on your product preferences. You can filter products based on price, BSR Ranking, reviews, and the number of sales.
The tool generates an extensive list of the best-selling products in any category in a matter of seconds. Click the 'find a supplier' option on each entry to find authentic suppliers.
Create Your Listings
You'll have to create a product listing if you want to sell through FBA. Here are a few things to keep in mind when creating your product listings:
Use attractive product images: Ensure your product images are clear, attractive, and detailed.
Use clear titles and descriptions: Your titles and descriptions play a major role in your visibility, so you should include relevant keywords in your titles. Also, make your descriptions detailed, and use bullet points where necessary.
Add reviews to your listings: Customers want to see proof that others have purchased items from you and found them worth it. So, use reviews to persuade buyers to buy from you.
Choose a Reliable Freight Forwarder or Customs Broker
There are many processes involved in international shipping, especially for online vendors. So, if you want to sell internationally on Amazon without too many hassles, you should enlist the services of a freight forwarding company or customs broker.
With a customs broker on your team, you won't have to worry about too much paperwork and documentation. They'll handle all the customs procedures, freight forwarding, and inventory storage for you. A freight forwarder, on the other hand, will ensure your products get to the fulfillment center safely. 
Here are a few of the services that custom brokers can render:
Examining samples: Your customs broker can inspect your samples for you and tell you whether they are the exact products you requested from your supplier.
Assurance of high quality: Your customs broker can inspect the quality of your goods in the same way that samples are examined. Before the products reach Amazon's fulfillment hubs, third-party quality assurance organizations can evaluate and grade them.
Fulfillment Preparation: Your products must be prepared before AMZN accepts them, and this includes having FNSKUs and other required labeling.
In addition, if your product requires some assembling that your supplier cannot provide, a third-party fulfillment prep center can help.
How Much Does it Cost to Sell on Amazon USA?
Selling on Amazon is a lucrative business venture, but it isn't free, and you must understand the costs involved. Here's a breakdown of the selling fees you'll have to pay if you sell on AMZN.


Selling Plan Fees
To sell on AMZN, you'll have to create a seller account and choose a selling plan. AMZN offers two selling plans: the individual selling plan and the professional seller account or selling plan. The individual plan costs $0.99 on every sale and is best for sellers who do not intend to sell up to 40 items per month. In contrast, the professional seller account requires a monthly subscription fee of about $39.99 and best suits sellers who want to sell more than 40 products in a month. 
Referral Fees
Referral fees are a fixed percentage of the total sales price and can range from 8% to 45%, depending on the product category. AMZN's fees are calculated based on sales in dollars and the number of products sold in some categories. Electronics accessories, for example, are charged 15% of the total sales price for any component up to $100 and 8% for any portion larger than $100. Amz has a minimum referral charge that applies if the percentage-based payout is greater than the minimum referral fee, albeit this isn't always the case.

Fulfillment Fees
This applies to FBA sellers and is the cost you'll have to pay for AMZN's services. This includes picking, packing, and order fulfillment. Fulfillment fees are calculated based on the item's size and weight and are charged on a per-item basis. Your FBA fees and shipping costs may differ depending on your location and what kind of tax laws apply there.
"Starting on April 28, 2022, a 5% fuel and inflation surcharge will be applied to FBA fulfillment fees. The surcharge is subject to change."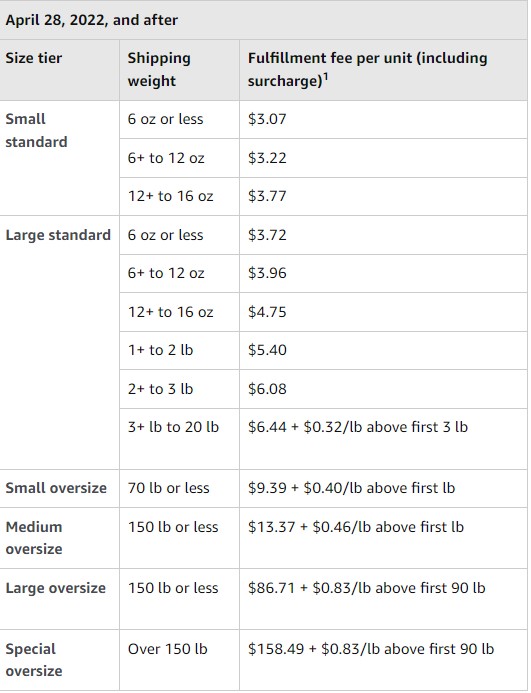 Inventory Storage Fees
This fee covers the cost of having your inventory stored in AMZN's warehouses. The inventory storage fee is charged monthly and depends on the type and size of the item you're selling. Note that the storage fee from January to September is different from October to December. Also, if your inventory stays in fulfillment centers for more than 365 days, you'll incur extra costs in the form of long-term inventory storage fees.
There are other fees that you may incur, but they are not fixed.
Check out the full list of Amazon FBA Fees
Tips for Selling on Amazon USA Successfully
Every day, more and more people are jumping on the opportunity to sell and make money on Amazon. In fact, currently, there are about 500,000 individual sellers. With this increasing number of sellers comes fierce competition. 
So, if you want to make your time on Amazon worth it, you have to come up with ways to beat the competition and ensure that your products are reaching your target audience. Here are a few tips to help you sell on Amazon USA successfully.
Monitor your inventory levels
Choosing the right products — products with high demand and low competition or market saturation is the first step to success. The next step is to ensure you never run out of stock. 
One way to avoid stockouts is to monitor your inventory level to ensure that your products are available. If customers notice that your products are mostly unavailable, you may end up losing sales because they're likely to purchase from a competitor.
You can use inventory management software to monitor your inventory levels and avoid stockouts. 
The ZonBase profits tool is an excellent tool for tracking your inventory, monitoring business expenses, and managing profits. The tool comes with an inventory forecasting feature that notifies you when your stock level is low. It also predicts an estimated restock date based on your sales history and sellout rate.
You can try out the ZonBase profits tool for free for 7 days when you sign up for a free trial of ZonBase.
Choose the right fulfillment option (FBA or FBM): 
Amazon offers two fulfillment options — FBA and FBM. Both options are great, but they offer different benefits, so it's important to go for one that works best for you. 
Amazon FBA allows you to outsource major business processes like storage, order fulfillment, shipping, customer service, and returns processing to AMZN while you focus on other crucial aspects of your business; like product research, keyword research, and listing optimization.
FBM on the other hand will require you to handle your business processes by yourself from start to finish.
Unlike FBA where Amazon is in control of your products, FBM puts you in control. However, you get to save more time and cut down shipping costs when you use FBA. If you opt for FBA though, you will have to pay Amazon FBA fees and this may add up eventually.
Both fulfillment options are available to all sellers, but sellers who are on a tight schedule and have multiple commitments will find FBA more convenient. However, the ultimate decision is in your hands.
Run Promotional ads
Running promotional campaigns on Amazon can help to increase your brand awareness, thus increasing conversions and sales.
AMZN offers a wide range of promotional tools and ad options. These tools have flexible formats with customizable features and customizable budgets that enable you to access these tools no matter your budget. 
Launching and managing promotional campaigns is a lot easier with PPC optimization tools because they also give you access to real-time insights which enable you to track the success of your ads. 
With ZonPPC, you can launch profitable campaigns and monitor the progress of your ads from start to finish. It is a data-driven and AI-based tool that allows you to monitor buds, change bids and adjust budgets on the go.
The ZonPPC tool is available for free for 7 days when you sign up for a free trial of ZonBase.
Use social media to drive traffic to your store
Social media offers numerous benefits to you as a seller, you stand to reach a wider audience, build a connection with your customers, and showcase your product.
It's a great tool to build brand awareness. There are different social media platforms you could use, choose one that works best for you and start using it today.
You don't need to have a large budget or possess some kind of special skill, most of these platforms are easy to use and free. Create an account, showcase your product and services, join conversations, create content around your products, and include your links to drive people to your Amazon store.
Best Amazon Software for Product Research
Finding profitable products for your store is the first step to success on Amazon. But there are so many product categories, and product research may get overwhelming if you don't have the right tools to help you sort through the several options at your fingertips. Thankfully, with Amazon software, you can now automate your product research process.
ZonBase is the best software for Amazon business automation, not just product research. The software not only offers high-tech product research tools, but also offers keyword research, listing optimization, sales estimation, and analytics tools. You will find this software useful if you want to sell on Amazon USA. You can also use the ZonBase Hot Products tool for supplier research.
The software is quite affordable and can be accessed for free when you sign up for a free trial.
Conclusion
Selling online is always a great idea, and if you ever decide to sell online, you should consider selling on Amazon USA. If you're located outside the United States, there may be a few challenges, but once you get past them, the rest of the journey will be a breeze.