Keyword search is one of the primary ways customers find products online. And when it comes to Amazon, keyword search is one of the biggest traffic sources for sellers too. Being indexed and ranked for the most popular keywords can be a huge reason for a seller's success. Because of this, knowing Amazon keyword research strategies is very important if a third-party seller is to succeed on AMZN.
In this article, we'll talk about Amazon keyword research and how to find profitable keywords successfully. While some strategies require more advanced techniques, learning the basics will help maximize your keyword research efforts. We'll also talk about software and tools that you can use to carry out research efficiently. Keyword research tools can help make the task of finding the right keywords easier.
Ready to learn more about the best Amazon keyword research strategies? Then let's jump right into it.
Why Is Amazon Keyword Research Important?
According to Similar Web, almost 26% of the traffic that comes into AMZN is from organic search (Source: Similar Web). This means that people using search engines such as Google end up on AMZN after typing in product keywords. With an average of almost 2 billion visitors every month, this is a huge chunk of targeted traffic that goes into product listings.
As a seller, your product listings need to get a slice of this pie. If you want to succeed in a competitive marketplace like AMZN, trying to eke out every advantage is a must. And the only way for you to do that is to know how to do this properly.
This is very important because search is the gateway for customers to find your listings. The process of finding products usually goes something like this:
Customer goes to Amazon with the intent to buy or do research on a product.
Customer types in a keyword related to the product he or she is looking for (ex: dog training leash)
Product listings that rank high and are optimized well for the keyword "dog training leash" will appear at the top of the search results.
Customer clicks on a product and (possibly) makes a purchase
This process is how customers look for products on the AMZN marketplace. This is why your product listing's organic search results are the bloodline of your e-commerce business. If your product listings are not indexed for the right keywords, you'll have difficulty getting traffic from customers.

What Is The Amazon A9 Algorithm?
When it comes to research, getting yourself familiar with the A9 algorithm is a must.
In a competitive marketplace such as AMZN, not getting enough traffic means that your competitors are the ones taking it. It will affect the long-term profitability of your business if you can't get to page 1 of AMZN for at least 15–25 keywords. The Amazon A9 algorithm is the system responsible for determining which products show up in the first few pages of search results.
The A9 algorithm works just like Google's search algorithm – it uses keywords and frequently used search terms to determine which products deserve to rank on the first page of search results. But the algorithm does not only rank products based on keywords, so you cannot stuff up your listings with random keywords. You have to consider the other factors that influence the algorithm's choice of top-ranking products.
Factors That Influence the A9 Algorithm
There are two major factors to consider when trying to get the A9 algorithm to favor you. The two factors are listed below:
Sales Conversions
In order to rank well in terms of Amazon's algorithm and for your business strategy to be successful overall, you must achieve a high sales conversion rate. The A9 algorithm selects the top-ranking products based on their existing sales conversion rates because the conversion rate is a pointer to the profit potential of the products.
In other words, the algorithm considers products with high sales conversion rates because they have more potential to generate revenue. As a result, increasing your sales conversions will benefit both your company and increase visitors to your listings through better rankings.
Keyword Relevance
Only use keywords that are relevant to your products; focus on keywords that customers are likely to use when searching for your product. The algorithm ranks products based on the relevance of the keywords used in the listings.
Without keywords, your listings cannot even be found. So, the algorithm needs to be sure that your listings are well-positioned for sales and only your keywords can serve as a pointer to that. So, you need to dedicate ample time to uncovering the right keywords for your listings. However, there are thousands of keyword options, so how do you choose the right ones for your listings? This is where Amazon keyword tools come in.
What are the best Amazon keyword tools to use in 2023? Let's take a look at some of them.
What Are the Best Amazon Keyword Tools For 2023?
Ahrefs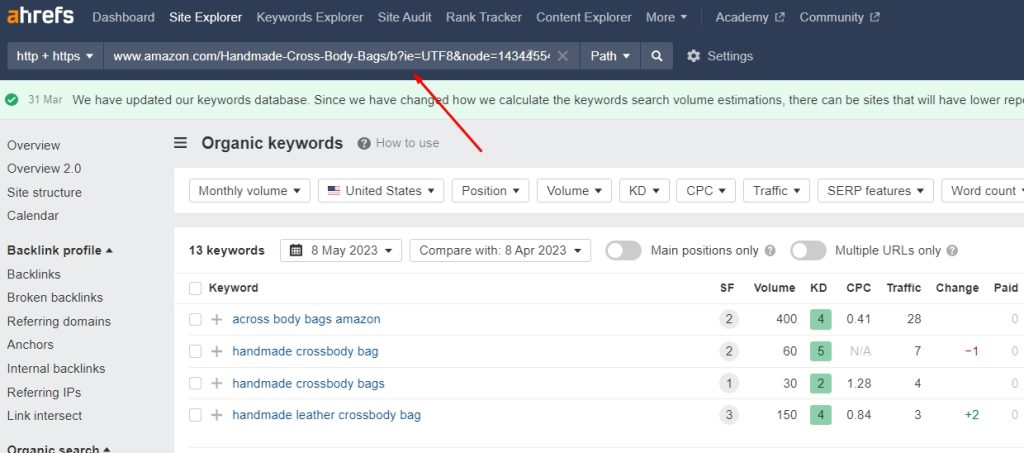 This is one of the most popular keyword tools available online. They claim to offer up to 7 billion or more updated monthly keywords. Ahrefs offers four different plans – the lite plan, the standard plan, the advanced plan, and the enterprise plan. The plans cost $99, $199, $399, and $999 per month respectively. However, if you choose annual billing, you receive two free months. You can also try out the software for free for 7 days.
Sonar
Sonar is another keyword research tool that you should keep in mind if you're a new Amazon seller. The tool provides a good number of keywords for you to start with. When you enter a search query, it responds to your query with an extensive list of keyword suggestions and their corresponding search volumes.
Sonar offers 3 plans – the starter and growth plans cost $250 and $550 respectively. The pro plan also costs $550 but is quite different from the growth plan.
Merchant Words
Merchant Words is another affordable keyword tool that offers a wide range, updated database of high converting keywords. The tool generates long tail keywords to help improve your listings.
Merchant words currently offers different pricing plans ranging from $79/month to $1500+ per month.
ZonBase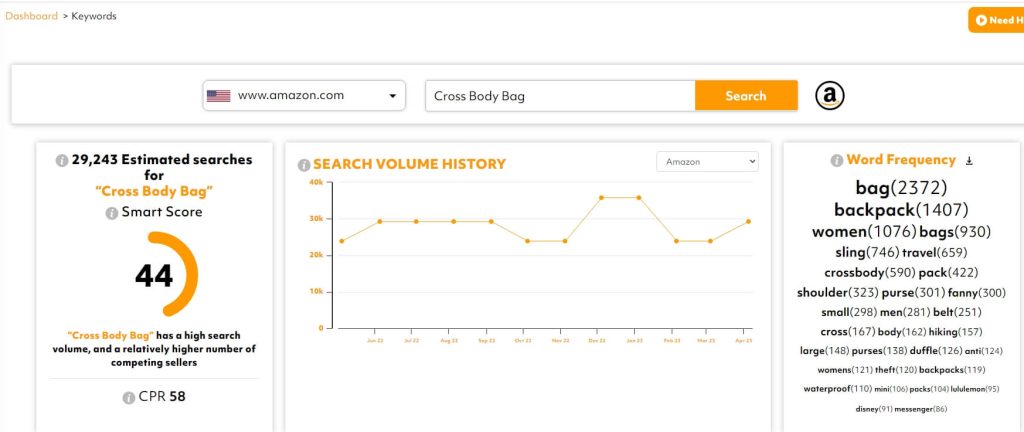 ZonBase is an all-incluse Amazon software tool that offers up to 4 keyword tools to help improve your listing visibility and conversion rate. With ZonBase's regularly updated keywords tool, you can discover new, untapped, keyword options for your listings and using the ZonTracker tool, you can track your keyword performance and make appropriate adjustments to your keyword selections.
The software also offers a Reverse ASIN tool that reviews your competitors listings and helps to uncover the keywords they are targeting and ranking for. ZonBase goes the extra mile to offer listing optimization tools including the AI Listify tool – an AI-driven tool that creates listings from scratch using Amazon's data and the information you provide.
ZonBase offers three affordable plans – the standard plan, the legendary plan, and the diamond plan. The plans cost $37/month, $67/month, and $132/month respectively.
Afer deciding on a keyword research tool for your business, the next thing you should do is to come up with a keyword research strategy. Without a strategy in place, the already overwhelming process of finding relevant, high-converting keywords can becom even more frustrating. So, below are a few strategies for keyword research.
Amazon Keyword Research Strategies For Sellers
Keywords and content work differently on Amazon. When people type in keywords on Google, they are looking for information. The intent to buy is not there yet. Instead, they are looking for more information to help convince them to make a purchase.
When someone types a keyword on Amazon, the intent to buy is already there. The customers have already decided what they want to buy. The only thing left to do is find the seller who can provide what they are looking for.
It is also essential to note that when it comes to AMZN search engine optimization, frequency doesn't add much value. Therefore, repeating keywords and inserting them multiple times within the title or content of your product listing isn't going to send a stronger signal to AMZN's organic ranking algorithm.
Since AMZN is an e-commerce marketplace, other factors that play into consideration when it comes to organic rankings include the number of reviews, sales, average star ratings, fulfillment time, and so much more. The best keywords to incorporate these into the equation (ex: adding "bestselling" in your product keywords such as "bestselling dog beds")
Still, there are tried and tested strategies that all sellers can use for their listings. Below are some of these research techniques that you can apply when creating a keyword database.
Use Expanded Keyword Phrases
As we have mentioned before, people go over to Amazon with the intent to buy. Thus, using expanded keyword phrases that include buyer keywords is one of the first strategies that you should apply when it comes to your research.
So, how do you find expanded phrases? Simple. Just think about how customers might find your products if they forget your product or brand name. You can use words that describe your products' look, color, physical appearance, or texture.
For example, "red dog chew toy" is an expanded keyword phrase to describe Kong, a dog teething toy. If the customer forgets that the product name is "Kong", the keyword "red dog chew toy" is a great keyword phrase that will also display the same product in the AMZN search results.
Reverse-engineer Your Competitor's Keywords
This is another effective Keyword research strategy that you can use to find the best Amazon keywords. If your competitors already have a database of keywords that work well for them, why don't you use these keywords too? Your competitors are making sales because they are doing something right. If this means they are using keywords already converting well for them, the smart thing to do would be to emulate their keyword list.
So how do you do this? The answer is to use a keyword tool that can carry out a Reverse-ASIN lookup. Zonbase's Reverse ASIN tool is one of the best software in the market today that can do this task. With the Reverse ASIN tool, you can spy on your competitor's keyword strategy and beat them at their own game.
To use the Zonbase Reverse ASIN tool, all you have to do is enter the ASIN or product URL of the competitor product you want to analyze. Below is an example of what a simple search would normally look like.
As soon as you click "Analyze", the Reverse ASIN tool will display a list of keywords for which the ASIN or Url you entered is currently ranking. The information displayed will also include the current rank of the keyword, the search volume per month, and the Smart Score.
A higher Smart Score means that the keyword listed is a good choice. You should aim to find as many as possible with a high Smart Score.
Related: AMZN Seller Guide To ASIN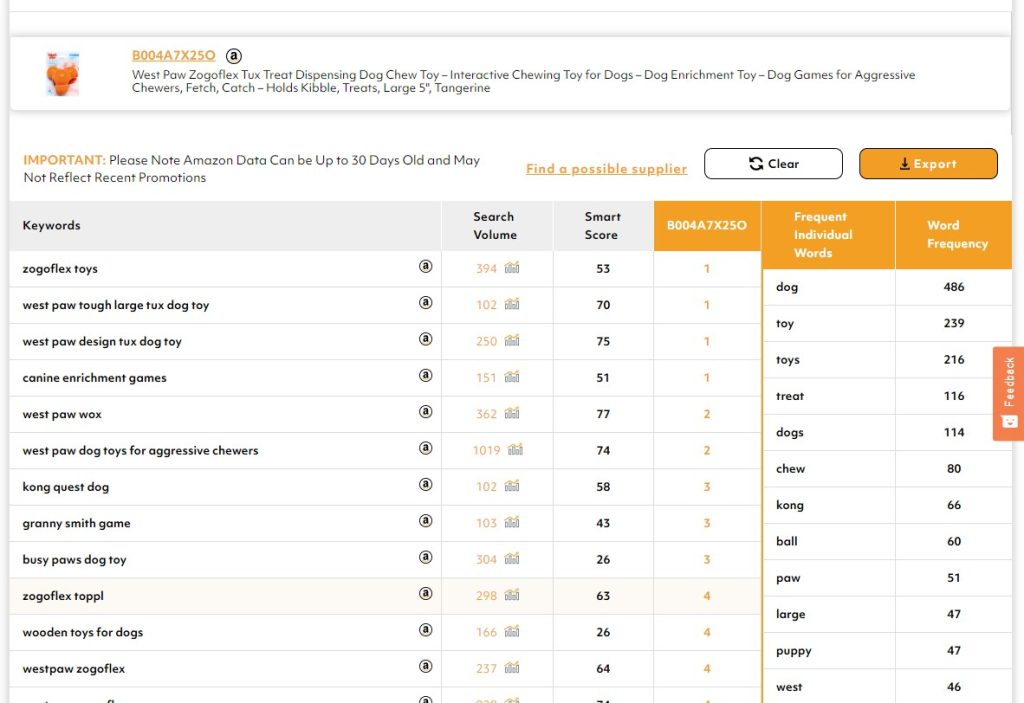 Now that you have all the keyword data you need, you can build your list of profitable keywords. And since these are all from your competitors, you can be confident that these will work well.
Use the Amazon Keyword Suggestions
One of the most underrated (and often overlooked) strategies is using keyword suggestions. Frankly, this is something that most sellers should utilize because it is so easy to do. More importantly, aside from being free, this strategy leverages AMZN's keyword database to your advantage.
When you go to AMZN, and you type a keyword on the search bar, have you ever noticed the "suggestions" displayed? These suggestions aren't just a bunch of random keywords that AMZN decided to throw in your way.
AMZN suggests them because these keywords are what customers use to buy products. This means that AMZN is already giving you a list of keywords proven to work well. And it's all for free too. How cool is that?
The advantage of using this strategy, aside from being free, is that the keywords come straight from AMZN itself. You are using AMZN's database of working keywords to build your list, which is amazing in itself.
However, the disadvantage is that you have to do all of this manually. If you are working with many products and you don't have lots of time, this strategy is difficult to pull off.
Use Buyer Keywords
As mentioned earlier, AMZN is an e-commerce marketplace. When people visit this website, they are not just looking for information. More often than not, people come to AMZN when they already have the intention to buy. Thus, the best Amazon keywords are the ones that integrate buyer keywords into the mix.
So what are buyer keywords? These often include descriptive words about the product a customer is interested in. For example, instead of "dog bed", the keyword "cheap" or "discounted" dog bed is a better keyword to optimize for.
When doing research, you should try to add some of these buyer keywords into the mix. They will come in handy when it comes to attracting people who are ready to buy.

Look at the keywords you are currently ranking for on Google
Google and its search engine algorithm are one of the smartest, if not the best, in the world. Its machine-learning capabilities and ability to connect the meaning behind words are unparalleled. Google's bots can identify what an article is all about just by scanning a few semantic keywords and sentences. Thus, it would help if you took advantage of this by using Google as your keyword tool.
How? Simple. Just look for the keywords that you are currently ranking for on Google. If you have a website for your product, you can log on to Google Analytics. Within Google Analytics, you'll see a list of all of them that are currently bringing in traffic to your website.
With this information, you can make a database that people use to find your products. You can then apply these keywords to your AMZN store listings.
Use Amazon Keyword Research Tools
One of the best strategies for Amazon keyword research is using third-party software and tools. Doing keyword research can be boring, repetitive, and tiring. It can be daunting and time-consuming, especially if you do it manually.
There is also a chance you'll miss some of the most effective keywords due to human error. If you don't have the right software or tool that can do the job for you, keyword research can be difficult.
Of all the keyword tools listed above, ZonBase is the one that we recommend for doing efficient Amazon keyword research. With Zonbase's Keyword tools, you can easily create a database of KWs that you can use for SEO and PPC campaigns.
Related: Zonbase: Best Amazon Keyword Tool
To use the Zonbase Keyword tool, just enter your seed keyword in the search bar.
The Zonbase keyword tool will display the estimated search volume for your keyword and its Smart Score. A higher score means that the keyword has a high volume and a low number of competing sellers. It will also show a seasonality indicator (if applicable) and a Word Cloud. The Word Cloud will display all the similar keywords related to your seed keyword.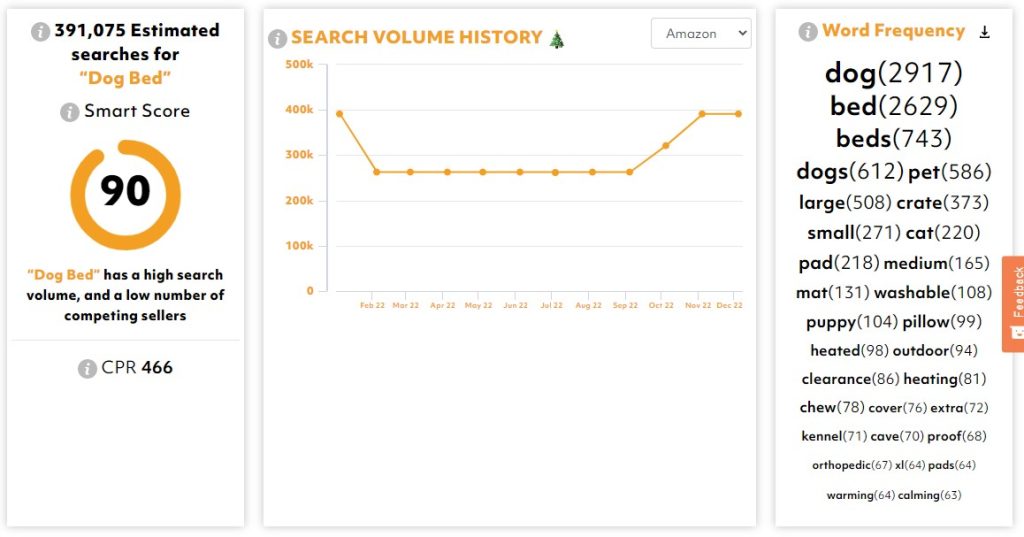 Finally, Zonbase's Keyword Tool will show all the keywords related to your seed keyword. You can use advanced filters to narrow down the results further. Some of the filters you can use are the Search Volume, Smart Score, and Best Sales Season. Using the filter, you can choose only the keywords with high search volume and high Smart Score.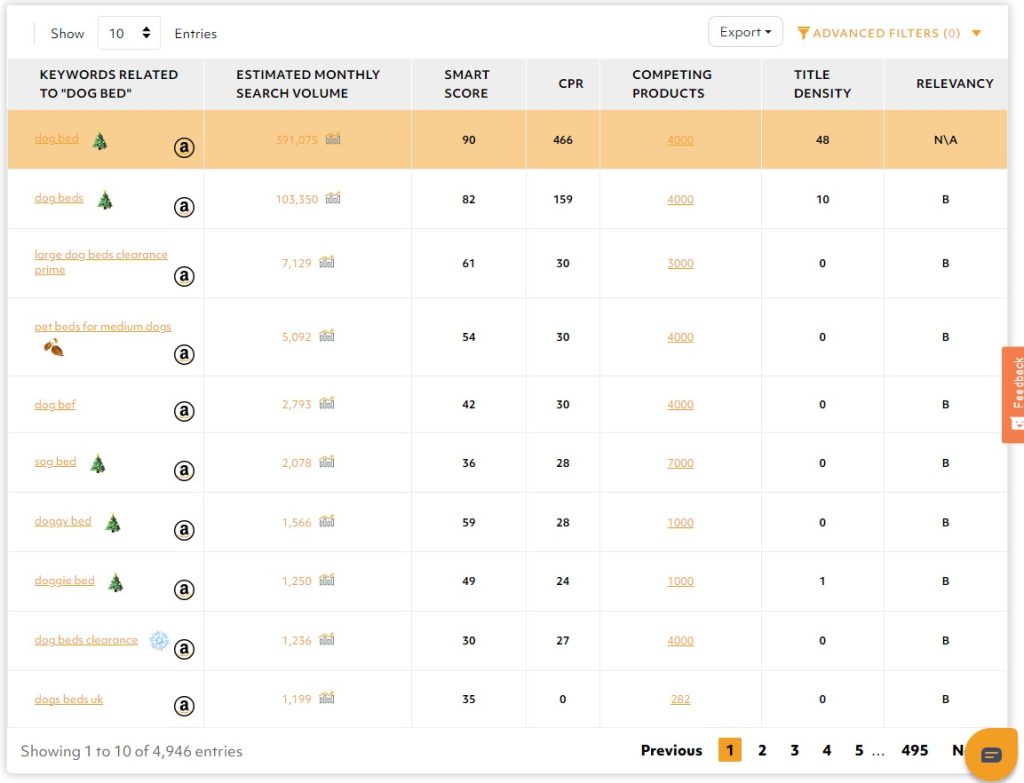 The best thing about this tool is that you can export and download your keyword list via CSV. This will make it easier for you to analyze your keywords and share them with your SEO or PPC manager.
Conclusion
When it comes to doing keyword research, there are many techniques and strategies that you can try. Every strategy has its advantage, from using expanded keyword phrases to reverse-engineering your competitors' KWs. However, there is no denying that one of the best strategies is using tools and software solutions.
The Zonbase Keyword tool and Reverse ASIN tool are two of the best ones you can use for your next keyword research project. See how it works for yourself by signing up for a free trial of Zonbase today.