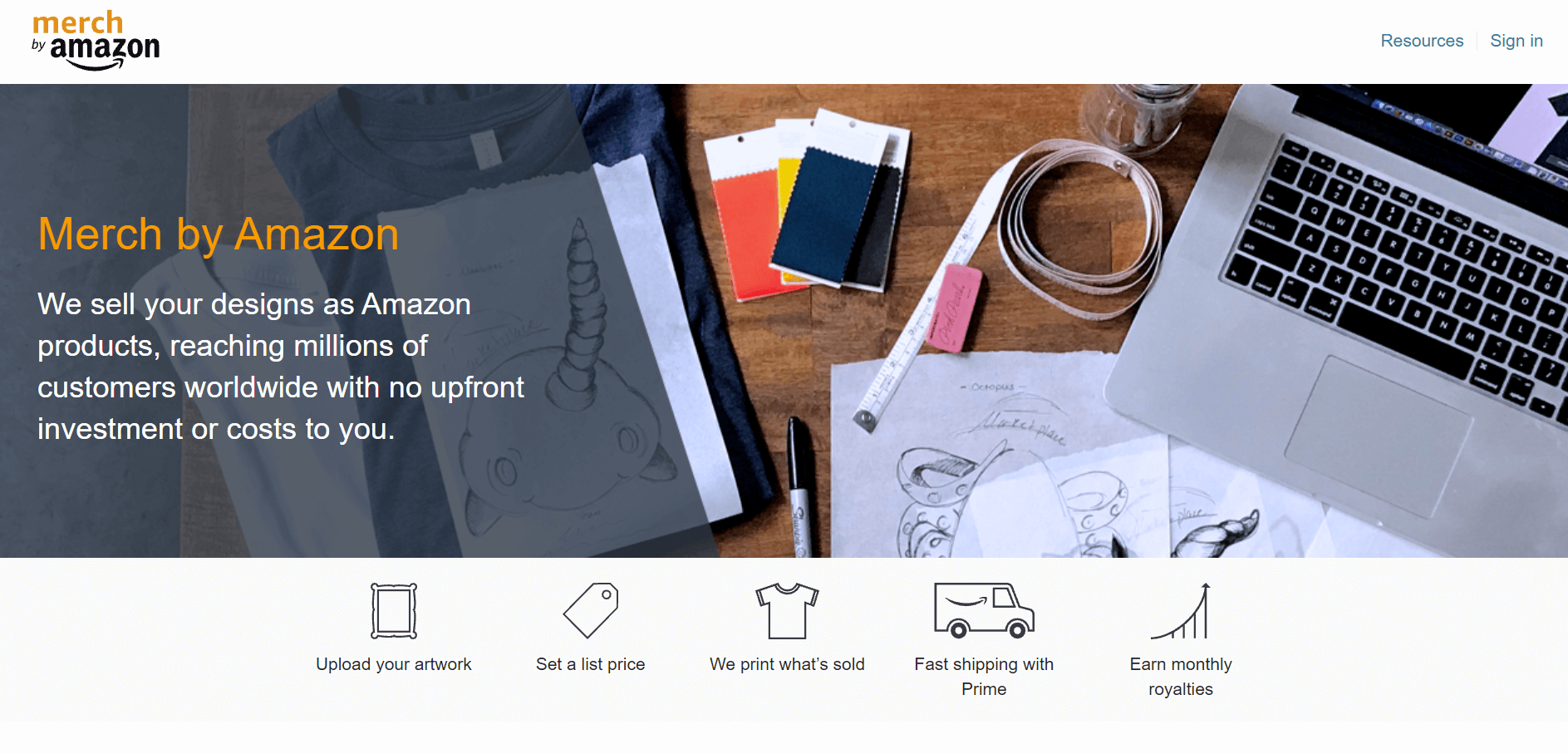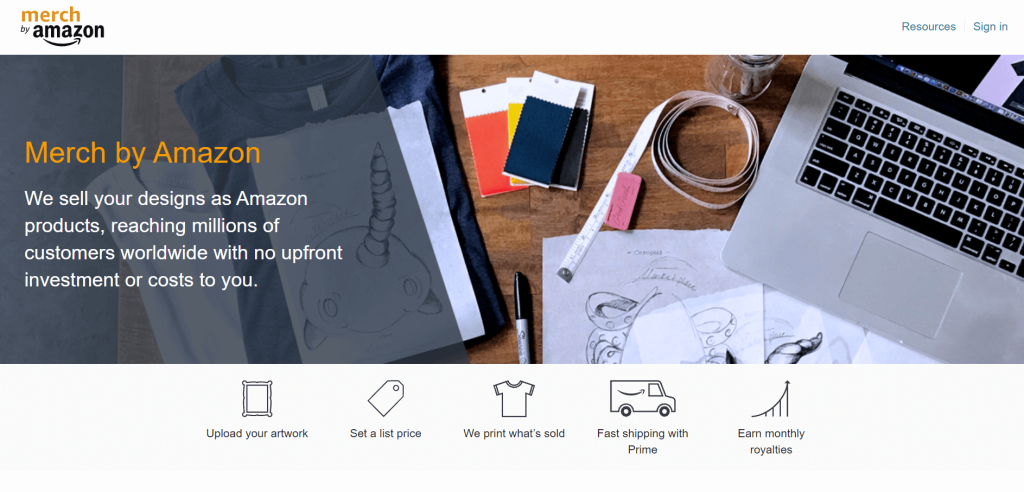 It's no secret that Amazon is the world's largest eCommerce company and online marketplace. One of the reasons for Amazon's massive success is thinking outside the box. The company continuously develops innovative products and services to improve customer experience and generate revenue.
One of its innovative services is Merch by Amazon, an on-demand printing service that adds a new twist to brand merchandising.
If you're wondering "how does Merch by Amazon work?", then you're in the right place. Let's dive in.
What is Merch by Amazon Products?
The Merch by Amazon program is a print-on-demand service that allows designers and content creators to sell branded merchandise without incurring upfront costs. All you need to do is upload your designs or artworks, which will be sold as "Merch by Amazon products". AMZ takes care of the production, shipping, and customer service. When a customer buys a product branded with your design, you earn royalties.
Merch by Amazon products is a great way to earn extra money as an artist. Even if you don't have the initial capital to start a t-shirt business, you can still sell Amazon merch products through your designs. You can get started with Merch by Amazon if you have a merch account. However, joining the platform has been restricted to invite-only for now.
Merch by Amazon products was originally introduced as a self-service tool to be used by game developers to promote and monetize their online games. They would advertise custom T-shirts featuring their logo or game personalities in their apps and sell them to fans on-demand.
However, the platform has since expanded to accommodate content creators other than game developers. Anyone is free to join the community.
In addition to custom T-shirts, the service offers long-sleeve shirts, sweatshirts, tank tops, hoodies, and so on.
How Does Merch by Amazon work: Step-by-Step Guide
The process is pretty simple. Upon approval of your invitation request, you create your account. Then take the following steps:
Upload your Original Design
The first step in creating a branded product is to go to the Dashboard and upload your original design or artwork. There's a big emphasis on "original" because Amazon frowns on copyright, design, and trademark infringement. If you use another person's protected design, you should obtain their permission first.
The artwork should be a transparent PNG file no larger than 25 MB. The size of the artwork should be 15 x 18 inches at 300 dpi (dots per inch) with standard RGB colors.
Not sure where to start? You will find many design tips and guidelines on the website that can help you create a high-quality final product. For best results, you can also use their design templates.
You can use design software such as Adobe Photoshop, Adobe Illustrator, and GIMP to create your designs.
Select the product type and color
After uploading your design, choose the type of products that you want the artwork to be printed on. It could be a standard T-shirt, zip hoodie, phone case, tote bag, throw pillow, or any other product.
Then choose the colors you want the branded merchandise to be produced in. You also have to add a product description that should be rich with relevant keywords.
Set your List Price
Pricing is fully controlled by the seller and can be set competitively and profitably. The platform has a calculator that shows you the estimated royalty you will receive, as you set the price for your branded product.
Royalties are the product's purchase price minus any applicable taxes and costs. The costs cover the following: materials and production, fulfillment of orders, customer service, handling returns and exchanges.
Your listing goes up
Amazon reviews your submitted design to ensure it does not violate its content policies. Once your design is approved, your product listing is created.
Customers order your branded products
The moment your listing goes live, your product page becomes visible to millions of customers, and interested buyers can place an order.
Production and Fulfillment
When a customer places an order, Amazon prints the design on the T-shirt or other product type. Then Amazon packs the item and ships it to the customer. The company will also handle any relevant refunds, returns, exchanges, and customer service-related.
Royalties
For every item sold, you earn a royalty. So, the more branded products sold, the higher your royalties. Your royalties are remitted 30 days after the end of the calendar month when your product was shipped.

Why You Should Use Merch by Amazon
If you are interested in starting an online business, then Merch by Amazon is a great platform to join. You don't have to be a graphic designer, artist, or big brand to join the platform. Here are some of the benefits you'll enjoy from using this service:
Offering physical branded merchandise requires upfront investments for manufacturing and inventory storage, among other things. But with this business model, you don't have to worry about upfront or out-of-pocket costs. You don't even have to pay a fee to join the platform.
On this platform, branded merchandise is produced on demand. So, you don't have to worry about stocking in multiple colors and sizes that won't sell. This helps to eliminate inventory risk.
Amazon handles all the logistics, from production, packaging, and shipping, and customer service. As a result, you have no hassle and can focus on creating and marketing a wide selection of designs.
You gain access to the millions of customers that use Amazon.
For people looking to multiply their income streams, this is a great way to generate passive income.
Your products are automatically eligible for Prime free two-day shipping so that your customers can receive their orders quickly.
Brands and content creators can use merchandise branded with their logos, games, and movie characters to engage their audience and promote their products.
It builds brand awareness and increases brand visibility
You'll get Merch by Amazon review that can help your brand
How Merch by Amazon Works: Joining the Platform
Amazon Merch Products was formerly open to everyone — all you had to do was create an account. However, due to the high demand, it has become an invitation-only platform. The previous Merch by Amazon Review given by people stated that it is better to restrict the platform to invites-only. That way, the quality of the designs and artists can be maintained at a high level. This will also result in better Amazon merch products.
Before you begin the application process, you should have the following basic information at hand:
Business contact information
Personal contact information, if you don't have a business or company set up
Bank account and routing numbers
Social Security Number (SSN) or other tax identification information
To join, take the following steps:
Go to the Merch-by-Amazon landing page and click 'sign up.'
It will lead you to the sign-in page. If you have an Amazon account as a customer or seller, you can sign in. If not, create a new account.
After signing in, click on the "begin application" button to begin the application process, where you will be required to fill in some details.
The first section is for Your Company Profile, and you have to provide the following information:
Country
Business name
Business address information – this includes City, State, and Postal Code
Phone number
Business email address
In the second section, you have to fill in your bank information such as your account name, account number, routing number, etc.
The last section requires you to fill out a tax questionnaire.
After completing this application form, you will be directed to the Request Invitation Form.
Here, you have to provide the following information:
Industry Type
Organization Name
Any additional information
Website (optional)
You cross-check your application and submit it.
Amazon reviews your application within a timeframe ranging from 2 weeks to 3 months and notifies you of its decision. You will receive an email telling you your request has been approved, if successful.

Tips to note when filling the Request Invitation Form
If you do not have a business or company name, you can input your first and last name in the "Organization Name" field
Because this platform is extremely competitive, you need to make a compelling case as to why AMZ should approve your request. The "any additional information" box is where you get to distinguish yourself from the crowd. Talk about your design background and the kinds of designs you create. Show that you have some experience by including links to your design portfolio or other websites where your artwork has been published. Profit is the ultimate goal of business, so prove to them that your services will make money for them.
If you have trademark rights or any license to use someone's intellectual property, include it in your form.
You can create a personal blog or website to include in the "website" box. Even though it's optional, it's a great way to show how much effort you put into your craft. It's also a great way to show that you have built a following for your brand.
What is the Merch by Amazon Tier Level?
This service limits the number of designs content creators can upload and sell. This is known as a tier. The tier levels are:
10 – Tier 1
25 – Tier 2
100 – Tier 3
500 – Tier 4
When you first join the platform, you can only upload ten designs. To move to the next tier, you must sell at least 10 products. Similarly, when you're on Tier 2, you can only upload 25 designs. To move to the next tier, you need to sell at least 25 products.
In addition to sales, the quality of products sold is also a crucial factor in moving up the tiers.
As you progress up the tiers, you can upload more designs per day and increase the number of designs that are available for sale.
The tiered system rewards content creators with quality, high-selling designs and gives customers access to the best products.
How Merch by Amazon Works: Best Tips for Getting Sales
Many sellers think all they need to do is upload designs and submit them, then customers will start flooding them with orders. But they couldn't be more wrong. Like every other business, you need to employ some strategies to increase sales. We'll share some tips on how to increase your earnings.
Optimize your Listings with Keywords
Every day, millions of customers are typing keywords in the search box to find desired items. If you want to attract customers to your branded products, you need to include those target keywords in your listings.
Before your product page is created, you will be required to fill in the following fields:
Brand Name
Title
Price
Key Product Features (bullet points)
Product description
The product title is the most important factor in how your products rank in search results. So your title needs to be compelling, unique, and rich with target keywords. You can ask yourself, "What is a customer likely to type in the search box to find this particular shirt?"
In the Key Product Features box, you can only use two bullet points, so you have to make the most of it. This box is typically used to describe the features and benefits of the product. However, this is the best place to show a potential customer why buying this product is a good idea. Be as descriptive as possible with the use of relevant keywords, without making it incoherent.
The product description is an optional field and does not impact your rankings on Amazon. However, customers will still read it on your product detail page, making it as informative as possible. In concise sentences, describe the features and benefits of the product. And make sure you include relevant keywords too.
It's a lot easier to find target keywords with research tools than second-guessing. And the best Amazon keyword research tool to use is Zonbase.
With Zonbase's Keywords tool, you can easily find target keywords in seconds. Simply type a "seed keyword", and the tool will bring up many related keywords that are being searched for. Incorporate these keywords in your listings, and watch your conversions scale higher.
You can also create keyword-optimized listings with listing software like Zonbase. Zonbase's listing optimization tools include Listify and Listing Optimizer.

Beat your competition at their game
If other sellers are making more sales than you, find out what they're doing and emulate. The best way to do this is by analyzing their Best Seller Rank (BSR).
A BSR indicates how well a certain item is selling, and every item sold on Amazon has a BSR. The BSR number given to a product depends on the sales that item is getting in a particular category. And the rank fluctuates based on how other products in the same category perform. Merch by Amazon products belongs to the Clothing, Shoes, and Jewelry category.
To find a product's BSR, open the product page. Then scroll down past the product pictures, and right under the product description, in the product details segment, you will see this:
Source: Ramen T-Shirt Cat Tshirt Kawaii Anime Tee Japanese Gift T-Shirt
Now that you know how to find a BSR, think of popular or trending branded products. Then use Zonbase's Keywords tool to generate target keywords.
Type those target keywords in the search box and start going to each product page in the search results. Then, scroll down past the product description box, and look at the BSR. The lower the BSR, the better the sales.
However, manually opening multiple product pages to search for a product's BSR is tedious. To make the process faster, you can use the Zonbase Chrome Extension.
Zonbase's Chrome Extension product research tool enables you to obtain information about products directly within Amazon.com. Simply type in a keyword in the search box, and after the search results appear, run the Zonbase Chrome Extension. It will give you information about the products, including their respective Best Sellers Rank and sales history.
Navigate the results and note the products performing well based on their BSRs. You should be targeting BSRs between the 100,000-500,000 range. Then, think of ways to develop their designs in a better and more appealing way without copying them.
Another way to beat your competitors is to discover the keywords they rank for. It would help if you had a software tool to perform this search. Zonbase has an amazing keyword research tool that you can use to discover your competitor's keywords.
How does the Zonbase Reverse ASIN tool work? Simply enter the ASIN of a product with a low BSR, then the tool will bring up the keywords the product ranks for. You can then incorporate these keywords into your listings.
Source: Reverse ASIN Search Tool – Spy on Competitors
Carve a Niche
If you want to conveniently make good sales, you should consider targeting a niche. A niche is a sub-category within a broader category. With niches, you have less competition and can cater to the unique needs of a specific demographic or location.
Simply put, don't just create any design. You should create designs that cater to the needs or interests of a particular set of people. For instance, you can make basketball-themed designs rather than creating designs for all kinds of sports fans.
You can find profitable niches using the BSR research process we discussed earlier. Social media is another great way to figure out what niche to venture into. There, you get to study people's behaviors and social trends.
Additionally, keep in mind that each niche has the potential to contain sub-niches. You can start in a niche with a lot of competition. Afterward, you can narrow it down into a sub-niche with much less competition.
A good way to target a niche is to use current events and trending memes on social media as material for your designs. Google Trends is a great resource for discovering trending niches.
Promote your Product
Branded merchandise is a great way to promote your business, but your branded merchandise needs promoting too. Yes, Amazon has hundreds of millions of customers, but your product does not become automatically visible to all of them. You need to create awareness about your brand.
Here are some of the ways you can promote your Merch:
On the platform, there's a portal promotions section through which you can advertise your listing on your social networks. You can share the URL of your product page on Twitter and Facebook, directly from the portal promotions section. You can also pin your designs on Pinterest from your product page.
Build a strong online presence for your brand. You can create a blog, newsletter mailing list, or social media accounts like Instagram and Facebook. Furthermore, engage your target audience by regularly posting creative designs and content.
You can take advantage of Amazon Advertising by using Pay-Per-Click (PPC) advertisements, also known as Sponsored Ads. With PPC ads, AMZ gets paid when a customer clicks your sponsored content. You can either use Sponsored Products or Sponsored Brands. However, Sponsored ads are not yet available to all content creators, as Amazon is rolling it out gradually.
Conclusion
At this point, we bet you're no longer wondering, "how does Merch by Amazon work?" This business model is best for anyone looking to sell on Amazon with a low budget. It's easy to set up, and there are no upfront costs. All you need is creativity and proactiveness in promoting your brand.