Selling on Amazon FBA is a great source of income that nearly anyone can take advantage of. However, as a business owner, there are definitely some annoyances you have to keep in mind in order to ensure your storefront runs smoothly.
One issue that plagues Amazon sellers left and right is stranded inventory. Dealing with Amazon stranded inventory can be a real hassle that leads to unnecessary storage fees, account issues, and even loss of products.
In this article, we go over everything you need to know about dealing with and preventing Amazon stranded inventory. What are you waiting for? Read on!
What is Amazon Stranded Inventory?
Amazon stranded inventory refers to inventory stored in Amazon's warehouse that has no active offers for the product. This means the customers wouldn't be able to purchase those products, and thus they get labeled as stranded inventory.
Stranded inventory is a big problem for sellers because Amazon will continue to charge monthly storage fees if even your inventory is not active and unavailable for sale.
Thus, if you do not consistently check your account for any inventory issues, then you may be held liable for an assortment of fees. These fees may include monthly inventory storage, FBA inventory storage overage, and FBA long-term storage fees.
Along with that, Amazon stranded inventory can negatively impact your inventory performance index (IPI). Amazon uses this system to make sure their sellers are optimizing their inventory in a more efficient manner, grading their inventory performance on a scale of 0 to 1000. While Amazon doesn't say exactly how they judge your performance, it wouldn't be a surprise that stranded inventory is a negative factor considering that it takes up unnecessary space in the Amazon warehouse.
This is something you should be worried about since if your IPI score drops below 400, Amazon will put a limit on your storage space in their warehouses.
So, it is vital that any Amazon stranded inventory issue is dealt with as soon as possible.

What is the Difference Between Stranded and Unfulfillable Inventory?
It is a little difficult to distinguish what Amazon means by unfulfillable inventory and stranded inventory. However, there is one key difference between the two: the status of their listing.
Here is how you can tell the two apart:
Unfulfillable Inventory
Unfulfillable inventory gets its name because even if the offer is active, the product is unable to be shipped. This is usually because of the inventory itself, whether the products are misplaced, damaged, or some components are lost in transit or storage.
However, it isn't unheard of to have unfulfillable inventory due to other factors. For instance, unfulfillable inventory can occur due to shipment discrepancies, listing errors, or even poor labeling. Despite the reason behind the inventory being unfulfillable, the seller will be billed every time there is a mid-month inventory cleanup. So, like stranded inventory, it is important to fix the problem to prevent that from happening.
Stranded Inventory
Basically, Amazon stranded inventory is the opposite of unfulfillable inventory. While the units are in the fulfillment center, the listing may be inactive, missing, or incomplete. Even though the product isn't able to be sold, Amazon will continue to store it and charge you fees.
For both situations, it is important to resolve them as quickly as possible or you can end up paying expensive Amazon fees.
Reasons For Stranded Inventory
There are many reasons why your inventory can become stranded. Down below, we go over the most common ones.
1. Suspended Listing
Suspended or suppressed listings usually occur when a specific product listing doesn't follow Amazon's requirements. This may be caused by missing information—such as bullet points, images, age requirements, etc.—or your product may have received a large number of returns.
2. Pricing Error
If Amazon thinks your price is too low or too high, then they will suppress the listing. However, this issue is easy to counteract by adding a minimum and maximum price in your 'Manage inventory' section.
3. Restricted ASIN
Sometimes, Amazon restricts the sale of an ASIN. This could be because of poor product quality, or intellectual property violations. Or in some cases, because your product requires additional safety testing. There may also be other more specific reasons. As this issue can occur for a variety of reasons, you will need to contact seller support to identify the particular issue and resolve it from there.
4. Listing Error
Listing errors occur when your product is not connective to any active ASIN, such as if your listing was deleted (usually by accident or a competitor). Luckily, you can easily fix this by relisting the ASIN. However, in some cases, you may need to contact seller support.
5. Expired Product
When you sell a grocery item that has recently expired, Amazon will mark your inventory as stranded. If this happens, there will need to be a physical removal of the inventory from the warehouse.
6. Closing or Deleting a Listing
When a listing is deleted from your seller account immediately after selling out, any lost or returned products will become stranded in the warehouse.
7. Bulk Update Error
You may end up with stranded Amazon FBA inventory if you fill out the quantity field when filling out a bulk template upload file. Why? Because your listings will shift from Fulfilled by Amazon to Fulfilled by Merchant, which leaves your inventory stranded.
Where to Find Your Amazon Stranded Inventory
On Amazon's Seller Central, you can view your stranded inventory report. To access this, you hover over the 'Inventory Tab' and select 'Manage Inventory.'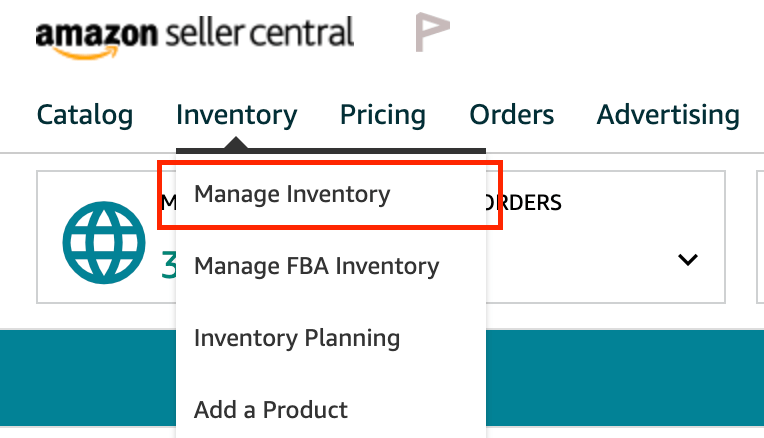 When you have Amazon stranded inventory, you will be able to view a section labeled 'Fix-stranded inventory' on this page. You can also access this by selecting 'Inventory Dashboard'.

From there, you'll be able to view all your inventory as well as the reason why it's stranded. The options shown are dependent on the reason why your inventory is stranded.

There will be a dropdown menu on the right side of the screen containing options on how to handle the stranded inventory.

How to Fix Amazon Stranded Inventory
Now that we've told you the possible causes of stranded inventory and where to find them, we can now go over how to fix stranded inventory issues on Amazon.
Usually, Amazon will send you a notification when your inventory becomes stranded. It is up to you as a seller to fix inventory errors within 30 days of being notified. If you fail to take action within 30 days, Amazon will automatically remove and dispose of the inventory from the warehouse.
However, you shouldn't rely completely on Amazon to inform you about inventory issues. As a seller, you should keep an eye on your account frequently to help you understand whether there are any problems that need to be fixed.
Here are a few ways to fix stranded inventory issues on Amazon.
Contact Seller Support
You may not always have to contact seller support before you get notified or get your issues resolved. Sometimes, the seller support team actually fixes inventory issues without requiring you to file a case. However, in certain situations, you may have to file a new case. Here's how to go about creating a new seller support case.
On Seller Central, select 'Help' in the top right corner.
At the bottom of the page, find the section 'Need more help?' and click on 'Get support'.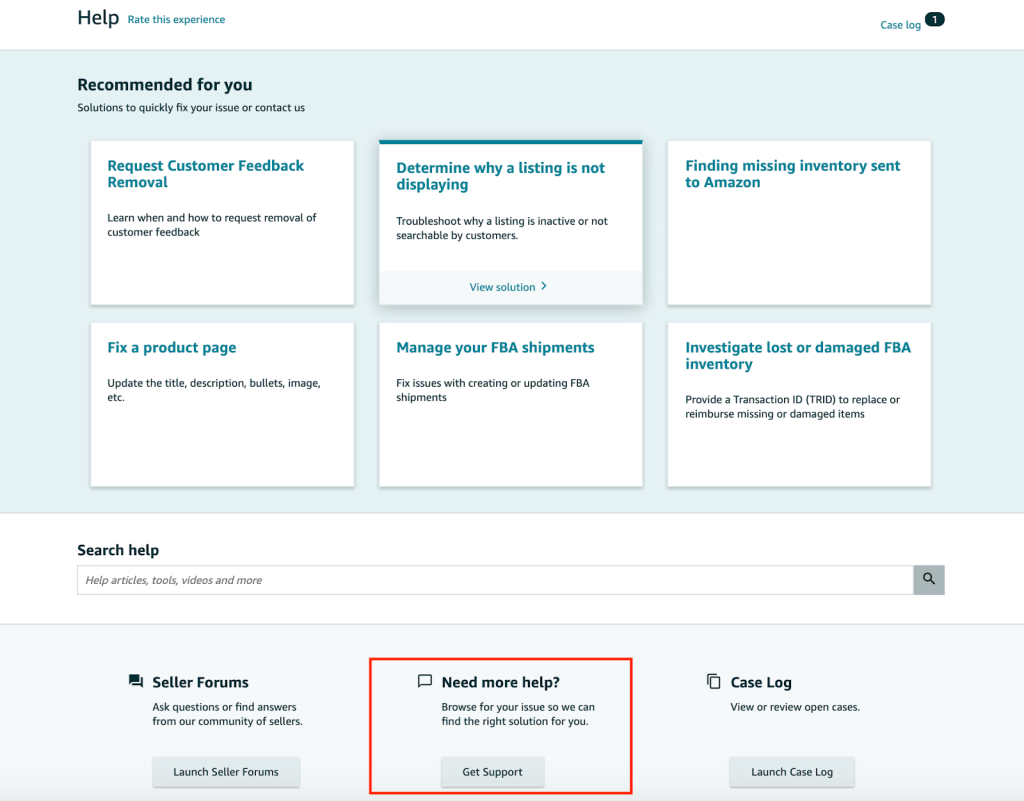 Under the 'What service can we help you with?', select 'Selling on Amazon', then 'Fulfillment by Amazon, then 'Investigate Other FBA Issues', then 'Stranded Inventory or FBA No Listing Error'.
Click on 'Select Issue' and then enter your ASIN/FNSKU and select 'Next'.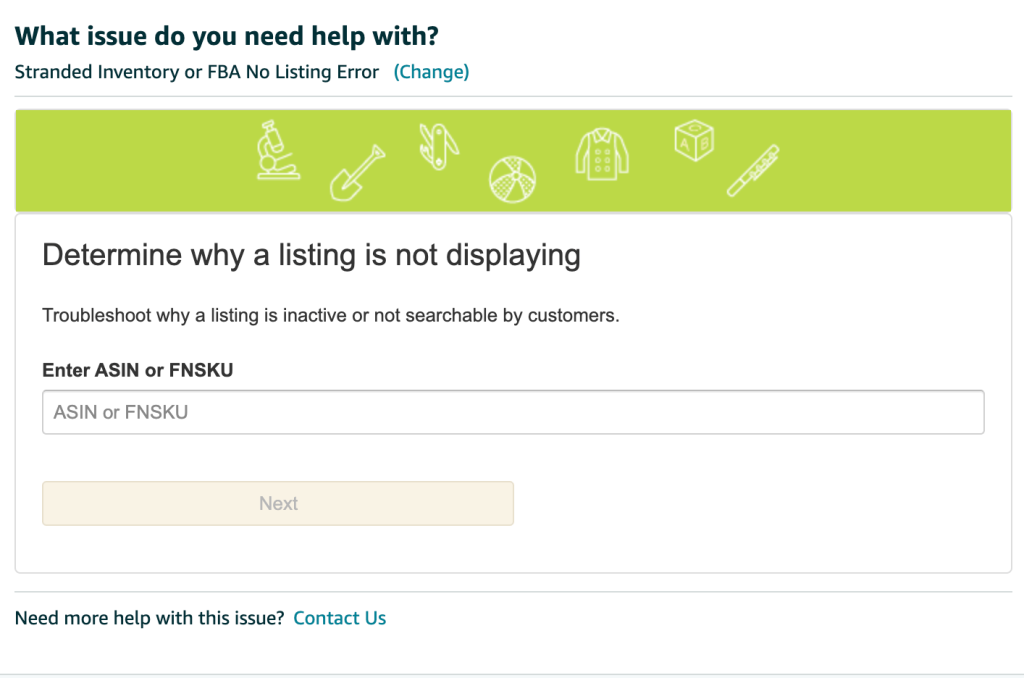 This page may tell you exactly what problem you are experiencing and how to fix it. However, if it doesn't solve your issue, then you can click 'Need more help with this issue? Contact Us.'
Remove your Amazon stranded inventory
Another way to fix stranded inventory issues is to file a removal order. You can file a removal order for your stranded inventory by following the steps listed below:
Use the 'Create Removal Order' option from the dropdown menu in the Action field
In this menu, you can select to either have the product disposed of or returned to you
Either way, you will have to pay removal order fees
Relist stranded inventory
Relisting your stranded inventory is another option, but first, you have to figure out what caused Amazon to deactivate your offer. It could be one of many reasons, such as pricing or quantity error, incomplete listing, or invalid ASIN.
Then, select 'Relist' or 'Edit' on the 'Manage inventory' page and make the necessary adjustments to your inventory listing.
You can also relist up to 25 items in bulk by selecting their listings and clicking the 'Relist' option.
How to create a new listing
If your listing has been deleted, discontinued, or you would just rather restart the process altogether, then you can create a new listing.
Under the 'Inventory' menu on Seller Central, click 'Add a Product.'
From there, you can choose to create a listing from three methods: add a product that is already on Amazon, 'Create a new product listing' for any brand new product that is currently not sold on Amazon, and 'Bulk upload.'
From there, you will have to input a variety of information depending on the method you choose, such as product title, manufacturer and brand, and pricing.
Click 'Save and Finish', and you're done!
Amazon's Automatic Inventory Actions
Recently, Amazon has made a huge change to help sellers manage their stranded inventory.
As we said earlier, if sellers don't act on their issue within 30 days, Amazon will automatically remove and dispose of the products. However, this is a default automatic fix, which sellers can change in the 'Fix stranded inventory' dashboard. Here's how it works.
On that page, there will be a button that says 'Edit automatic-action settings.'
Under the 'Automatic fixes' tab, you will see options to automatically relist Amazon stranded inventory that falls under these reasons: item discontinued, listing closed, FBA listing changed to Fulfilled by Amazon (FBA), or Listing closed and inventory error.
Even if stranded inventory isn't dealt with after 30 days, Amazon will automatically relist the ASINs to make the inventory active again.
The other section is the 'Automatic removal' page, which lets Amazon remove and dispose of your stranded inventory. If you want to override this default, then you should follow the guidelines below:
Select the 'Click here to review or edit automatic removal settings' hyperlink.
Under the removal method for all stranded inventory reasons, you will see that Amazon has 'Dispose of units' as the default setting. Click on 'Return units to me' to make sure you don't lose all your products.
If there are any listings you do not want to be automatically relisted, then you can select 'Opt out of auto action' in the dropdown menu to the right of the listing.
Why You Should Avoid Having Stranded Inventory on Amazon
Having stranded inventory may not seem like a big deal especially because it can be fixed for the most part. However, having stranded inventory does come with consequences, the most obvious one being that stranded inventory is unsellable — you're incurring additional storage costs without making any sales.
Stranded inventory also directly impacts your Inventory Performance Index (IPI) Score. Your IPI score is one of the most important seller metrics, it indicates how well you handle your inventory. If you have stranded inventory, you're likely to have a low IPI score and this will lead to storage restrictions and extra storage fees in the long run.

How to Prevent Amazon Stranded Inventory
Dealing with this issue can be a real chore, especially if your issues make you have to contact Seller Support often. However, here are tips you can use to try to prevent stranded inventory from occurring in the first place.
Fully complete your listing information before sending in your FBA shipments
When you create a brand new listing, you can skip steps such as adding product features or images. However, if you don't add this information before your inventory arrives at an FBA warehouse, your products are at risk of becoming stranded. Thus, it is recommended you do this ahead of time to prevent listing errors from happening.
Conduct research before listing items and sending inventory to the FBA warehouse
Before purchasing, listing, or sending the inventory for a product, you have to make sure you are allowed to sell it, especially when doing wholesale dropshipping.
Don't delete your listings or offers right away
Do not immediately delete your offer from 'Manage inventory' if you have run out of your stock and don't plan on replenishing it. If you do, any possible lost inventory or returns will be stranded without an active offer.
Stay within your product's minimum and maximum price settings
If you are selling an original seller's products, you have to make sure you price your listing within their minimum and maximum price settings. If you are out of that range for the listed ASIN, then Amazon will disable your listing and thus any inventory at the warehouse becomes stranded.
Conclusion
There you have it – all the ways you can fix and prevent errors. By following these tips and tricks, you will become a pro with inventory management and be on your way to Amazon success.
If you want to make the most of FBA, then you need the Zonbase software suite to help you run your business smoothly. Zonbase is made up of 20+ tools that perform product research, keyword research, listing optimization, and financial analytics. Sign up for a free trial today.