If you manage an Amazon business, then you probably know that an important factor in making sales is presenting your brand and products in an engaging and appealing way. On Amazon's restrictive platform, this can be difficult to do uniquely while still staying true to your brand story.
However, with the implementation of the Amazon A+ content feature, Amazon gives brand owners the opportunity to present their brand and products the way they want in order to maximize conversions.
In this article, we'll tell you everything you need to know about A+ content; benefits, tips, and how to create A+ content on Amazon.
Related: How to Start a Successful Amazon Business
What Is Amazon A+ Content?
Amazon A+ Content is a tool that allows brands to enhance their product descriptions and brand pages. This usually comes in the form of high-definition videos, text placements, and enhanced photos in order to best convey a brand's story.
As mentioned above, promoting your products in an attractive way is very appealing to customers. Thus, adding A+ content to your product detail pages often results in increased traffic, sales, and higher conversion rates when done correctly.
There are two aspects of your account you can optimize with A+ content: brand content and product description. We go over both below.
Brand Content
Brand content is often used to educate customers about the brand's history, values, and product lines.
Photos and text cards
Carousel display with full-screen background
Links to brand stores
Appears in the "From the Brand" section of the Amazon detail page
Product Description
Product description is the primary way to sell your items to consumers. In this section, you should include product details and benefits to help customers make purchasing decisions by answering their questions.
Unique photo and text layouts
Customized images and paragraph headers
Product comparison charts
Clear bulleted feature lists
Appears in the "Product Description" section of the Amazon detail page
The price can vary depending on the type of A+ content your brand utilizes. There are two price points:
Self-Service Modules – at around $400 per listing, sellers with experience in branding and marketing products will benefit from this option to completely control the layout and design of their listing.
Amazon Builds – at around $1500 per listing, you can send Amazon your product's content and images and then they will choose the best design and layout for the listing for you.
Who Can Use A+ Content on Amazon?
Unfortunately, not everyone can use the A+ content feature. This feature is only available to Brand Owners and Professional sellers as part of the Amazon Brand Registry or other programs, such as Amazon Launchpad and Amazon Exclusives. So, if you want to use A+ content, you have to be part of those groups. 
What is Premium Amazon A+ Content?
Amazon Premium A+ content or A++ content is one tier above the basic A+ content plan and is a great resource to further optimize your brand pages to be interactive and appealing to your buyers. If you have ever browsed Amazon, chances are that you have come across A++ content without even knowing it. It is often used by big brands and major vendors due to all the perks it comes with elevating the customer shopping experience.
The A+ content feature provides an additional 14 modules and allows up to 7 slots of content up to 1464 pixels wide. Other types of A++ content include:
Attractive HD images and visuals, including images with hotspots and background text
Full-width videos, including text.
Interactive features, such as hotspot modules that interact with the consumers when they hover over the product features
Frequently Asked Questions (FAQs) to clear confusion and build trust with its appealing layout
Fun scrollable carousel modules
Engaging comparison charts with competing products
Benefits Of A+ Content
At such a high price point, there are many benefits to using the A+ content feature. In such a competitive marketplace, businesses need to do anything they can to be ahead of the competition. This is where A+ content's value truly lies.
Basically, the whole purpose of A+ content is to better market your products and differentiate them from your competitors, thus convincing shoppers to buy them. All in all, every seller on Amazon wants to increase their sales and conversion rates, which is what A+ content helps you do.
Down below, we go over a few ways how your business can benefit from A+ content:
Utilize Emotive Storytelling and Content
One of the ways you can advertise your brand is by using the A+ Page to showcase your brand's story. Whether it's committed to sustainability, passed through the family for generations, or makes use of natural ingredients, branding your business is a great way to appeal to your clients and target specific demographics. Using A+ content, you can use text and images to promote your company and convey your mission statement.
Grabs Buyers' Attention
Potential buyers are generally used to looking at product listings that are cluttered or filled with paragraphs of text blocks. With such a dull format, it often leads to them having no intention to purchase the products. A huge plus of creating A+ content is that you can capture customers' attention with high-quality images, videos, and creatively formatted text.
Give Customers a Better Understanding of the Product
In order to make informed purchasing decisions, many customers want to know as much as possible about a product to ensure it is what they are looking for. While unfortunately they cannot physically grab or hold it, A+ content allows brands to use detailed photos and videos in order to present their product and offer the customer the best buying experience. This allows them to have a high level of product understanding to make sure they don't buy the wrong item for their needs, leading to fewer returns and better reviews for the product.
Helps You Cross-Sell
Have you ever been browsing on Amazon and saw sections labeled "You might also like this" and "Other customers also bought"? Well, all products displayed there use Sponsored Ads, a byproduct of Amazon A+ content. Those sections are extremely powerful tools to introduce your products to people looking at your competitor's listings or who don't even know that you need your product yet.
Another tool to help you efficiently cross-sell is comparison tables. Comparison tables often include competing products, meaning that you may be able to steal buyers right under your competitors' listings. Along with that, if you feature comparison tables that only include your own products, you are able to introduce your customers to similar products of your own as well as make sure they don't look for alternatives to your competitors' brands. 

Makes Your Listing Easier to Skim
As we said earlier, buyers are accustomed to cluttered and overfilled product listings. With those types of listings, it is very easy to lose potential customers. While the listings may be highly informative, if the buyers cannot find the information they are looking for easily, then there is a high likelihood of them just not reading on.
With A+ Content, you can break up large portions of text with images or design elements to make it easier for a potential buyer to skim and find the information they are looking for.
All these reasons lead to more sales and conversions. With Amazon itself stating that listings using A+ content have 10% more sales due to the use of proven marketing strategies, A+ content is a worthwhile investment for your company.
How To Create An A+ Content
If you want to know how to utilize Amazon A Plus Content for your brand, then read ahead to go through our step-by-step guide.
Step 1: Sign in to your Seller Central account
Make sure you are brand registered, or else you won't be able to use A+ content!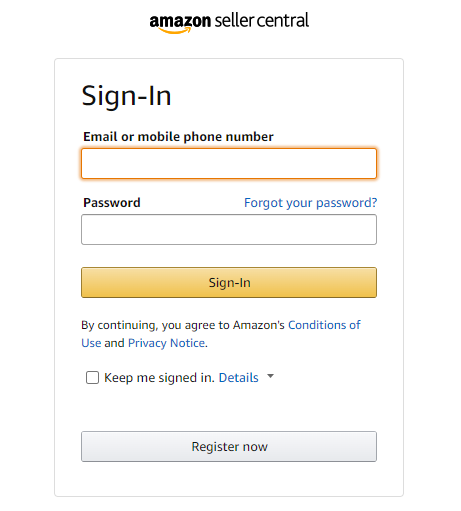 Step 2: Go to the A+ Content Manager
Under the "Advertising" tab, click on "A+ Content Manager."
Step 3: Start creating A+ Content
On the A+ content manager page, click on "Start creating A+ content." When you click on it, you can then select between two templates for your A+ content: Self-service modules and Amazon builds for you.
Step 4: Begin the Self-Service Module
You will be redirected to a page to start creating A+ content. First, you must enter the product ASIN you want to create content. Afterward, you will then see a list of options to build the layouts and modules. There are 12 different types—10 standard and 2 advanced options. You can only use 5 on your page, so choose wisely!
After you're done, click the "Continue" button and upload your image and content. You can then click on "preview" to see how your A+ content looks, click on "add to cart" and see the pricing details to pay.
Step 5: Begin "Amazon builds for you"
If you choose this option, you will be redirected to a page asking you to upload your text and images. After that, all you have to do is wait for Amazon to work its magic and do the job for you.
Step 6: Name the Project
Make sure your project name is descriptive enough for you to understand and remember it.
Step 7: Design the Project
Design the layout and upload your content. You will also get the chance to preview it to see how it looks before you publish it.
Step 8: Done!
Once you're happy with how it all looks, click the "Finish" button, and you're all set!
Following the steps above will help you create basic A+ content, but if you truly want to get results and create content that yields result consistently without fail, there are some things to keep in mind. Let's call these the secrets for building a reliable Amazon A+ content template.
Best Amazon A+ Content Template
One thing you should always remember is that your A+ content is like a landing page. So the aim is to provide easily accessible information that persuades shoppers to make a buying decision in your favor.
As a result, the best way to approach creating content that generates conversions is to focus on the buyer and what you can offer them. We have simplified the A+ content into simple bullet points below:
Show empathy — prove that you understand their needs and can provide a lasting solution.
Create content around their frequently asked questions. You cannot do this without understanding your target audience, their needs, and the answers they are looking for.
Show why your product is better than that of your competitors — in other words, why should they choose your product?
Show them how to get the results they want from your product. Feel free to provide alternative suggestions from your product catalog and show your audience how to use them.
Avoid using only images, and ensure you include up to 500 words in your content.
Best Practices for Creating A+ Content on Amazon
If you want to make the best A+ content to promote your brand and products, then here are some tips you should follow:
Keep your content short and precise – shoppers are unlikely to purchase your item if they have to read through long lines of text before making a decision.
Create an Amazon A+ content template and proofread it thoroughly before submitting your content – the worst thing you can do is have a copy with grammatical errors or spelling mistakes in it.
Check and make sure you follow the a+ image requirements, such as image size and resolution for any module you choose to use. Also, adhere to Amazon policies and category requirements.
Keep your designs uniform – consistency is the key to compelling branding! Remember, that you'll be creating designs across multiple landing pages; it's like an Amazon A+ content template, so ensure that your designs remain consistent throughout.
Use high-quality, detailed images. An A+ image is very important if you want to get results from your content. Even if you create an Amazon A+ content template, it will still be relatively incomplete without an attractive a+ image.
Keep it more visual and less textual – to keep your content attractive, you should add a lot of visuals and keep a proper, appealing balance of the two. Use more a+ images and fewer texts or paragraphs.
We mentioned including an A+ image (or multiple images) in your content, but what makes up an A+ image? Here's what makes up an A+ image.
A+ image must be .jpg, .bmp, or .png in the RGB colorspace. CYMK colorspace is not supported. Also, individual images must remain under 2 MB. and the resolution should be at least 72 dpi. Avoid using animated images.
You cannot use photos that are pixelated, unclear or include watermarks or tiny, illegible text when displayed on mobile devices.
Avoid using image alt-text that does not describe the image and will not be useful to someone who uses a screen reader application.
Is Amazon A+ Content Free?
The regular feature is currently free for sellers and vendors. However, the premium A+ content is not free for vendors. While all the A++ content features are a huge asset for vendors, it is also an exclusive and extremely expensive invite-only program. The costs are usually negotiated between the brand and Amazon, but sellers can expect to pay $250,000 to $500,000 per year.
What Not to do When Creating A+ Content?
Like tips, there is also a multitude of practices you should avoid when creating an Amazon A+ content template. There's a lot, so buckle up to go through it.
Avoid giving any contact information about the company
Never refer to your business as a distributor or seller
Don't mention any shipping information
Avoid using quotes from third-parties
Don't use special characters like ® or ™
Never use the same product photo more than once
Don't mention any warranties or guarantees
Avoid exaggerated claims, such as "Top" or "Best"
Don't use excessive capitalization or bold fonts
Avoid buzzwords, such as eco-friendly, green, or cutting-edge
Amazon A+ Content Guidelines
Creating A+ content is great, but you can only get the results you desire if you follow Amazon's A+ content template or guidelines. The guidelines are listed below.
It is recommended to use your A+ content within 1 month of confirming your purchase
You will be charged more for A+ content for items that are already listed by other vendors
The A+ content manager lets you see a preview of both desktop and mobile versions of your Amazon A+ content template on the same screen.
Any text or images you submit for A+ content should be unique
When your page goes live, you will only have 2 business days to make any changes or modification
You can't mention your competitors or the products that they sell on your listings
A+ content is not indexed on Amazon, meaning it doesn't affect your product listing ranking
Amazon has the right to take down your A+ content page at any time, but this usually doesn't happen.
Related: Listing Optimization Guidelines.
How to Track Your A+ Content On Amazon
Amazon recently launched the "Manage your experiments" feature; a split test feature that allows sellers to run A/B tests on their A+ content. This is the best way to maximize your efforts. Using this feature, you can decipher which images or text format yield the best conversions. Remember, the goal is to test and choose the best A+ content, this means you'll need to create two A+ content templates, then decide what you want to track before you start testing.
Bear in mind that you cannot afford to make testing a one-off thing if you want to keep getting results from your A+ content. So, as time goes on, you will have to revisit your winning A+ content template and optimize it. It's best to run your A/B tests for extended periods if you want to get reliable data, but if you just want to make a short-term decision, it's okay to run short tests.

Conclusion
Overall, Amazon A+ content is a great feature to creatively express your brand and story and increase your outreach.
If you want to further maximize your sales on Amazon, we recommend using ZonBase. With tools such as Listing Optimizer and Reverse ASIN, it is easier than ever to optimize your listings to reach the top of the search engines. Best of all, it's free to start. Try our free trial today!