Product listings are an essential part of selling on Amazon. If you want to sell on Amazon, you must not only learn how to create listings, but you must also learn how to optimize them. Product descriptions, images, bullet points, and A+ content are some of the most important things to include when optimizing a listing for conversions. All these elements are important, but there is one that guarantees better conversions: product videos.
Product videos provide a better way for online shoppers to interact with products before they buy them. Statistics show that 96% of customers find product videos helpful. Customers' ability to understand a product plays a major role in their purchasing decision.
Want to make your listings more interactive and improve conversions? You should learn how to include product videos in your listings. If you read to the end, we will tell you about product videos and how they can help improve your conversions. We'll also show you how to add an Amazon product video to your listings. But first, what should an optimized listing look like?
What You Should Include in Your Amazon Product Listings
Product listings are product information pages that help online shoppers understand your product before buying it. Your listings are the best way to gain visibility on AMZN, so you must constantly optimize them. An optimized listing should contain clear and concise information capable of convincing buyers.
Apart from videos, there are other elements of optimized listings. So, an Amazon product video is not the only thing you should have in your product listings. Here is a breakdown of the core elements of an optimized listing.
Product Title
When a buyer types in a search keyword for which your product ranks, this is the first thing they see. Product titles on Amazon can normally be up to 200 characters long, but the brief is better, so keep it between 100 and 150 characters.
Images
The purpose of including images is to assist buyers in visualizing the goods you have in stock. So, if you want to increase conversions, you should use high-quality photos. Product photographs should be included in listings in the range of five to eight. Having six product images in your listing is a good compromise.
Taking product pictures is not easy, and if you have no photography skills, you may struggle with editing. Still, your product images must be top-notch, so it's best to invest in editing software. You may consider signing up for the photo enhancement service. When you sign up for the service, you get to send your product pictures to a team of experts who will professionally edit them to ensure they convert.
Product Description
Product descriptions allow you to use relevant keywords to help shoppers learn more about your product. But more importantly, descriptions convince them to buy it. Your product descriptions should be clear and detailed, but not too long. AMZN provides 2,000 characters to describe your product and what it can do for buyers. Make the most of your 2,000 characters by expanding on any of your product features.
Product Features
This is an excellent way to highlight the characteristics that make your product the best option. Most sellers use about five to six bullet points to highlight their product features. When outlining your product's qualities, concentrate on the characteristics that set it apart from the competition.
Reviews and Ratings
79% of buyers say they trust reviews more than recommendations and about 54.7% of online shoppers read at least 4 reviews before deciding to buy a product. This shows that nothing pulls a crowd more than a crowd. Reviews go a long way towards attracting potential customers. Also, try your best to remove negative reviews when you can.
Related: How to Get Reviews on Amazon
Using ZonBase listing tools, you can spy on your competitors' listings to see which keywords they're ranking for and also draw inspiration from their titles and descriptions. The software also offers a listing optimizer service that allows you to outsource listing optimization to a team of experts.
Here's a simple way to optimize your listings using ZonBase's Listify tool

First, copy the Product URL or ASIN for a competitor's product from Amazon, then paste it into the Listify search bar.
Click "search" and you'll not only see a list of their keywords, but you'll also get a detailed breakdown of their listing. You'll be able to see the number of images, ratings, and reviews in their product listings.
Scroll down to create your product listings using cues from theirs.



ZonBase's listing tools will help you come up with well-optimized listings that contain images, keywords, reviews, and descriptions. If you already have all these elements, why should you still add videos to your listings?
Why You Should Include Amazon Product Videos in Your Listings
These days, many people would rather shop online than in-store. However, the only issue that many buyers have is that they cannot see a true representation of the product. For instance, a product is likely to look bigger in pictures than it actually is. As a result, buyers who do not want to be stuck in a situation of "what I ordered vs. what I got" would rather not shop online.
Videos reproduce the in-person experience as precisely as possible. Having a video on your listing communicates the value of your product far more effectively than images or words. Plus, it's easier for buyers to see the true representation of your products in videos.

Also, videos have been proven to increase conversions by at least 80% when used on landing pages. And, demo video viewers are 1.81x more likely to make a purchase.
(Source: ResponsiveInboundMarketing)
Other Benefits of Adding an Amazon Product Video to Your Listings
It can keep a customer's attention while they're on your listing, help them connect with your offering, and boost your conversion rate.
You can avoid unfavorable reviews by using videos to set clear product expectations for your customers.
It makes it easier for buyers to see if your product meets their needs. They can also visualize themselves using your products.
Product videos are all you need to convince buyers to buy your products. Now that you know why you should include an Amazon product video in your listings, let's go over the different types.
Types of Product Videos
Product Highlight Video
A product highlight video shows your product's key features, functions, and advantages. You can use a product highlights video to show potential buyers what your product has to offer. Focus on the primary features of your product when creating this video. Also, keep it short, straightforward, and to the point.
Lifestyle Video
A lifestyle video shows a customer using your products. This gives potential buyers a sense of how they might appreciate the product and allows them to envision themselves using it. It's important to understand your target audience and what they're looking for while creating this type of video. Make an emotional connection with them and help them see why they should buy the item.
Explainer Video
Explainer videos are also unboxing and are best for complex products. They typically involve someone unboxing the product from start to finish. The goal of an explainer video is to show potential buyers what the item looks like and everything else that comes with it. When creating this product video, ensure you show your product from different angles and use animated texts or voiceovers.
Comparison Video
Comparison videos compare your product against a competitor's product. It's a risky but effective approach, especially if your product outperforms the competition for solid reasons. But it's important to remember that you can't name your competitors. Instead, use subtly worded phrases. Comparison videos are most effective if your product can solve an issue that none of your competitors' products can.
How to Add a Product Video to an Amazon Listing
You can include videos in your listings in three simple steps.
First, log in to your seller account. Then, go to the Inventory tab in your Seller Central dashboard.
To upload your product video, click 'upload videos' and select a video file to upload.
The final step is to add the video details. In the title of your video, include your major product keywords. Then, choose a thumbnail that represents the video. When you've picked the ASINs associated with the video, click the "Submit" button to send it to Amazon.
How to Create an Amazon Product Video Without a Photoshoot
Product videos are great, but not everyone has the time and skill required for video production. You don't have to worry if you don't have the time or resources to do a video shoot for your products. Here are a few ways to make Amazon product videos without a photoshoot:
Using graphic design software, turn a static image into a video.
Use photo transitions in a slideshow to make an instant video.
The illusion of movement is created by overlaying moving text over static photos.
If you absolutely must have moving pictures, you should use stock video material. Make certain that the footage exclusively features your products.
Where Do Product Videos Appear in Product Listings?
You can find your product videos in the main product images section of your listing. Also, the videos are easily accessible so customers will not have to scroll through your listings to view them.
When you click on the video thumbnail, the video loads fully so you can watch it in a larger window.
Can every Seller Include Videos in their Listing?
Any seller can include product videos in their product listings. Before now, only sellers who were part of the Amazon brand registry program could use the feature. But AMZN made it available to all sellers in September 2020. However, some sellers have reported not having access to this feature yet. So, you have to check to see if you can add an Amazon product video to your product detail page.
To check, log in to your Seller Central account and navigate to the inventory tab.
If you have access to the feature, you should see an option for "brand and non-brand".
The "brand" option allows sellers to enter up to 300 related ASINs, while the non-brand option allows for only one related ASIN.
Do's and Dont's of Creating Video Content
eCommerce video production is not as easy as it sounds; it can be time-consuming and complicated. You can choose to shoot your product videos yourself, or you can hire someone to do it for you. Whether you produce it yourself or hire someone else to do it, you'll need to be very involved in the process to maintain the integrity of your brand and ensure the highest possible quality of the final video content.
Here are some things you should keep in mind when shooting product videos for your brand:
Capture audience attention in the first few seconds: Customers are often in a hurry to find the best product, so no one has time to spend several minutes watching a video. Also, two-thirds of customers prefer videos that are less than 60 seconds. So, for better conversions, keep your videos short. If you intend to use the video for sponsored brand ads, then keep it below 45 seconds.
Show buyers how your product can solve their problems: Comparison videos are a great way to do this. Ensure you sell your products as an effective solution when creating videos.
Use clear audio or voiceovers: Ensure your audio quality is great and your voice-overs are clear. To be safe, invest in a simple microphone that can be connected to your camera.
Use good lighting: Bad lighting when shooting videos may cause your product to look unappealing. So, make sure your environment is well-lit when shooting product videos.
Use on-screen text and make it easy to read: This is even more important if you're using a voiceover in your video. It's excellent to provide on-screen text that explains what your voiceover says because sometimes buyers watch videos without sound.
Edit your videos properly: You don't have to invest in expensive software for this. You can use simple apps or video editing software like iMovie or Premiere Pro.
Choose good music for your videos: Add music in the background of your video to enhance the mood and give it a professional touch. Just be careful to not make the music loud and distracting.
Avoid sending buyers to listings outside of Amazon: If you add external links to your listings or video, AMZN will not approve your video.
Don't infuse any promotional information: Avoid using words like "special sales", "discount codes", and "20% off" in your videos. If you include any promotional information or limited-time offers, your video will not be approved.
Don't mention your competitors in your video: AMZN does not allow you to mention competitors directly, so avoid making references.

Other Helpful Tips
Short Videos Work Best: Viewers are more likely to watch short videos all the way through. If your product videos are too long, you risk losing your audience's attention. Regarding video adverts, the shorter and more to-the-point, the better. Although Amazon doesn't limit listing videos to a set length (though they do limit their video size at 5GB). It's recommended to keep your video under 15 seconds long. Use the opening few seconds to show off your product's image, features, and value to your audience.
Use Consistent Branding: Customers are more likely to remember you if your branding is consistent across your material. You want loyal clients who return to your store repeatedly, just as much as you want speedy sales. So, at the end of each product video, there should be a logo. Also, keep the fonts and colors of the overlays consistent. When choosing background music, stick to a basic theme and choose music that complements your brand.
Check Your Reports: For your listing videos, you can now check watching statistics and engagement data. Keep an eye out for patterns in video viewing or ASINs where your listing videos aren't getting as many views. Based on your findings, you can change your video content approach.
Best Amazon Software for Amazon FBA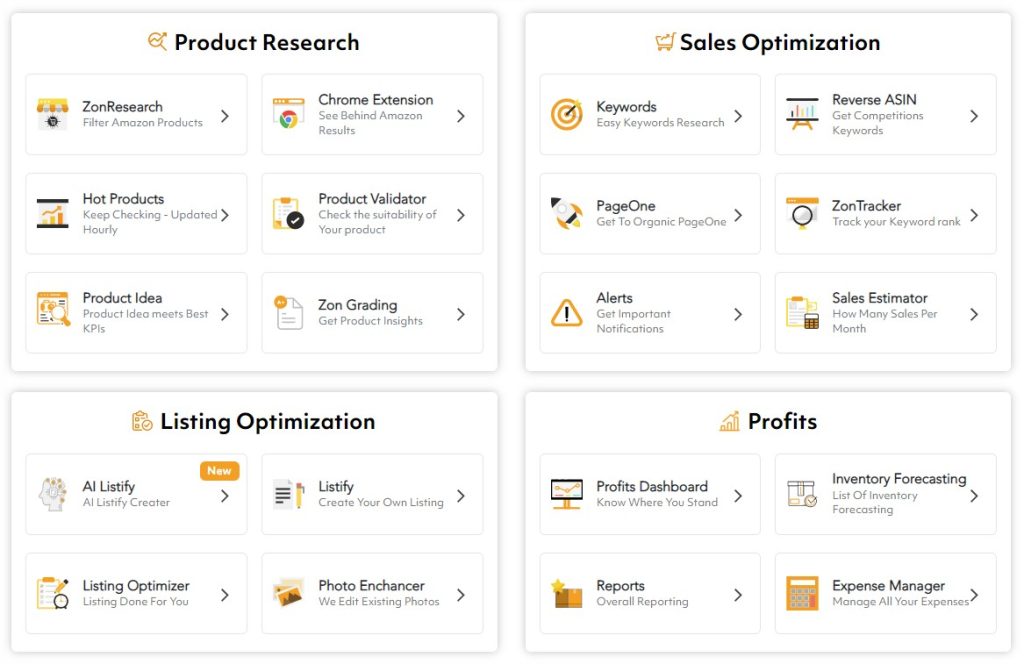 ZonBase is an Amazon seller tool that offers 20+ tools for Amazon business automation. It offers effective product research, keyword research, listing optimization, and PPC automation tools. In addition to listing optimization tools, the software also offers a photo enhancement service for sellers who have no photo editing skills. The service allows you to send your product images to a professional team who will retouch them and make them more appealing.
ZonBase also offers a sales estimator and profits tool to help you track sales trends and monitor your business expenses. The software offers two pocket-friendly plans and a free trial that allows you to explore the tools for free.
Conclusion
Adding an Amazon product video to your listings is one of the best things you can do for your business. Product videos, when used well, can improve your conversions significantly. The tips in this post will help you create amazing product videos even if you've never tried to before. Don't hesitate. Incorporate Amazon product videos in your listings, then track your reports and tweak your approach accordingly.