We all know that Amazon is one of the world's biggest B2C (business-to-consumer) marketplaces. But do you know where most Amazon private label sellers and drop shippers get their products from? You got it right. Alibaba is the biggest B2B (business-to-business) marketplace globally, and it is where most sellers import their products from. But buying from Alibaba to Amazon FBA is considered one of the most complicated tasks for a seller. Or is it really?
Without a doubt, buying from Alibaba to Amazon FBA can be intimidating. First of all, not everyone knows how to speak, read, or write Mandarin. The language barrier is one of the biggest reasons why people refrain from buying imports from China, and this argument is fairly acceptable. Until recently, Alibaba decided to hire English-speaking intermediaries to help coordinate purchases between buyers and suppliers. Now that you have a middleman, also known as an "agent," to coordinate your purchase, buying from Alibaba to Amazon FBA has never been easier.
In this article, we will get you familiar with Alibaba, and its B2C proprietary, also known as Aliexpress. We'll discuss how safe it is to buy from Alibaba, how to find suppliers, ask for samples, the risks of purchasing imports, and finally, sell from Alibaba to Amazon FBA.
Ready to start? Let's jump right in!
What is Alibaba and How Can it Help Third-Party Sellers?
Alibaba is a B2B (business-to-business) global e-commerce platform that helps connect manufacturers directly to brands and sellers. A large majority of factories and producers of products are based in China and Asia. However, there has been a large language and geometric barrier that has made it impossible for buyers from Western countries and sellers from China and Asia to connect with each other.
Through Alibaba, this problem has been solved. Suppliers and manufacturers of millions of products can now offer their items at factory prices to Western sellers. Those who want to make money by selling on platforms such as eBay, Amz, and other marketplaces online can now source their products directly through Alibaba.
Alibaba is unlike traditional B2C (business-to-consumer) marketplaces like Amazon, where you are dealing with a third-party seller. On Alibaba, you are now talking directly with the factories, manufacturers, and creators of products. It's like buying products directly from a local factory and reselling them for a profit. Bulk purchases are encouraged when dealing with B2B import businesses such as this to save money on shipping and product costs.

What Makes Alibaba Great For Amazon Sellers?
There are many reasons why sellers love to buy Alibaba products and resell them on Amazon. To make it simpler and easier to understand, we have broken down these reasons in the section below.
Cheap Prices
This is perhaps the most important reason third-party Amazon FBA sellers flock to Ali Baba. As one of the cheapest direct suppliers and manufacturer sources, you just can't beat the prices of the items sold here.
Just to give you an idea, items that usually sell for more than $20 on AMZN can be bought in bulk from suppliers on Alibaba for as little as a dollar per piece (sometimes even less). This gives sellers more room to make profits, especially since they will be using FBA as their main fulfillment method.
User-Friendly Interface
Alibaba, compared to other global B2B websites, has a much more familiar and user-friendly interface. Since it just looks similar to any other marketplace such as eBay or Amz, even new sellers won't have problems navigating the website.
The website has its main search bar where you can enter the keyword of the product you are looking for. You can also filter the results based on the criteria that you are looking for to make sure that your results will be the most relevant for your query.
Easy Way to Source Products for Private Labeling
So you want to start your own branded products by rebranding generic ones? If you use Ali Baba as your communication channel, that can be done directly with the manufacturer. Private label sellers who want to start selling products under their name and logo can ask Alibaba suppliers to do the necessary customizations. You have to send them your product name and logo and fulfill the requirements.
By doing this, you can protect your products from being copied by other people. You can also start building your brand and attract more loyal customers once you have your name and logo on your products.
Guarantee and Protection
Alibaba protects its customers by letting them choose manufacturers and suppliers that have proven track records. The Alibaba guarantee makes it easier for buyers to get their money back if a supplier or manufacturer doesn't meet the requirements. If the demands that have been agreed upon between the buyer and the seller are not fulfilled, you can rely on Ali Baba's guarantee and money-back protection.
Easy to Find Great Quality Suppliers
Finding great suppliers on Alibaba is as easy as counting 1-2-3. And we are not even joking about that. Why? Because Ali Baba maintains the quality of its suppliers by making sure that they are verified.
A trusted supplier in Ali Baba means that the business you deal with has passed all the quality and product standards required. To initially qualify as a verified supplier, several variables such as the company's profile, production factory capabilities, product quality, and process controls need to be met. A verified seller will only have its badge appear on its profile after being inspected, verified, and assessed by the independent third-party quality assurance companies hired by Ali Baba.
What Kind Of Sellers Can Benefit In Buying From Alibaba To Amazon FBA?
While all types of third-party sellers can benefit from the low prices offered by the manufacturers on Alibaba, two types of sellers benefit more from them. Buying from Alibaba to Amazon FBA has a bigger impact on these two selling models listed below:
Dropshippers
Dropshipping is one of the most popular selling models on Amazon. Sellers who engage in drop shipping don't need to stock up their own inventory, which means they don't have to put out as big of initial capital to start.
Drop shipping works like this: When a customer purchases a product from a seller's store, the seller forwards the customer order information to Alibaba or Aliexpress (Alibaba's B2C proprietary company) supplier. Once the supplier receives the order, he picks, packs, and sends the order to the customer. But when sending the product, the sender information used on the shipping labels contains the name of the AMZ seller and not the supplier. The customer won't know that the product came directly from the supplier and not from the seller itself.
Many manufacturers and suppliers on Alibaba (or Aliexpress) agree to do dropshipping. You can send a message to your chosen supplier or ask an agent to help you find a supplier that can do drop shipping if this model is something that you fancy doing.
Clear Expectations: The Foundation of Cooperation
When embarking on a dropshipping arrangement, clarity is your compass. It's crucial to outline your expectations from the outset. Clearly articulate factors like product specifications, packaging requirements, shipping methods, and labeling instructions. This proactive approach minimizes the possibility of misunderstandings and ensures that your suppliers comprehend your needs accurately.
Precise Order Processing Timelines: Time Is of the Essence
In the realm of dropshipping, time can be a double-edged sword. Clearly defining order processing timelines is instrumental in averting potential delays and fostering a smooth workflow. Establish specific timeframes for order confirmation, product preparation, and shipping initiation. This not only aligns your expectations but also sets the pace for a timely and efficient dropshipping process.
Establishing a Strong Working Relationship
Beyond mere transactions, a strong working relationship with your suppliers is a cornerstone of success. Nurture open lines of communication that transcend the transactional realm. Regularly engage in courteous exchanges, share feedback, and express appreciation for their contributions. By building a rapport based on mutual respect, you foster an environment where suppliers are invested in your success and are more likely to go the extra mile.
Adaptability and Flexibility:
In the dynamic landscape of dropshipping, adaptability is your ally. Acknowledge that circumstances may evolve, and being open to flexible solutions can fortify your collaboration. Be willing to discuss changes in product specifications, order quantities, or shipping methods as the need arises. This spirit of adaptability can contribute to a more resilient and responsive supplier relationship.
Private Label Sellers
If you have been dreaming of building your own brand and starting your own line of products, then private labeling is the business for you. Under private labeling, a seller looks for a manufacturer who can produce the items required, and rebrand it with the seller's logo and name.
Private Label sellers can contact factories and manufacturers directly to communicate what kind of products they need. Upon reaching an agreement, the factories or manufacturers will promise not to produce the same products for companies other than the seller who originally sourced them. The seller can send logos, packaging, and other important brand information to the factories. They will then create the products under these specifications, and forward the products to the seller's Amazon FBA warehouse.
When a customer makes an order, the products will be taken from the FBA warehouse, which is stocked with private-label products. This is how buying from Alibaba to Amazon FBA works, not only for private labels but for other selling models as well.
Navigating Shipping and Logistics: A Vital Aspect of Your Endeavor
Once you've meticulously selected your products from Alibaba, the next step is to transport them to your intended Amazon fulfillment center. This phase presents a spectrum of shipping options, each with its unique attributes and considerations.
Air Freight: Often favored for its speed, air freight ensures swift delivery of your products. This mode is ideal for smaller quantities or time-sensitive shipments. However, its convenience comes at a relatively higher cost compared to other options.
Sea Freight: If you're working with larger quantities, sea freight emerges as a cost-effective choice. While it might entail a longer transit time, its economies of scale can substantially reduce per-unit shipping costs.
Express Shipping: Catering to those seeking a balance between speed and cost, express shipping offers a middle ground. It combines reasonable transit times with manageable expenses, making it a versatile option for many sellers.
Understanding Shipping Terms: Navigating the Lingo
The language of shipping includes terms like FOB (Free On Board) and EXW (Ex Works), which wield significant influence over responsibilities, costs, and risk allocation in the shipping process.
FOB (Free On Board): This term indicates that the seller is responsible for goods until they are loaded onto the vessel at the port of departure. After that point, the buyer assumes responsibility. FOB pricing typically includes transportation to the port, export duties, and related charges.
EXW (Ex Works): Under this arrangement, the buyer shoulders the entire shipping process, including collection of goods from the seller's premises, transportation, and export formalities. EXW places more responsibility on the buyer and allows for greater control over the logistics process.
How to Find Suppliers from Alibaba
If you already have a product in mind, the steps in this next section will help you find the best suppliers from Alibaba. If you don't have a product in mind yet, we'll also let you in on a software seller solution to help you find the best products to sell on Amazon.
Here are the steps to find suppliers from Alibaba to Amazon FBA:
Go to Alibaba.com and search for a product that you would like to sell.
On the search bar, type the product that you are looking for. In this example, we tried using the keyword "camera holder" as an example
Browse the results. Now you'll see several recommendations from the website. However, the key to finding the best suppliers is to use filters. Check the left side of the website page to see the filters available.
Click the "Trade assurance" and "Verified supplier" checkboxes to ensure that you only find the most credible and trusted suppliers.
You can also use other filters. Examples are filters for minimum order quantity you want to order to source suppliers willing to sell a smaller number of products per batch. You can also use price, country, materials, and certification filters to further dig deep into the database.
Once you have found a supplier, click its name to go directly to the supplier's product page. You'll see all the relevant information that you need here. Click the "Contact supplier" on the right side of the page to talk directly to the supplier. Sometimes, the suppliers also have a "chat now" button that you can use
Please communicate with the supplier and let them know that you are looking for a product that can be shipped directly from Alibaba to Amazon FBA. Ask the suppliers if they are willing to do this (most of them will likely say yes, especially if they are verified).
Don't forget to ask for samples. Some suppliers only give out paid samples, but some offer free ones. Be patient since some samples can take a few days up to a week or more to arrive (especially with the pandemic shipping restrictions around the world)
Once you have agreed on all the details (minimum number of orders, branding, etc), settle all the payment fees. It will vary per supplier, but they usually accept direct bank transfers, Paypal, or credit card payments. Make sure that the supplier follows the Amazon FBA Shipping and preparation requirement standards so your shipment won't be rejected by the fulfillment center.
Track the order from Alibaba to Amazon FBA. Ensure to constantly check on this just in case a shipping mishap happens to avoid your products getting lost in transit. Once your order arrives, confirm with AMZ that the warehouse fulfillment center has already received your shipment.
That is it! Once you get this process streamlined, you'll be able to find the best suppliers on Alibaba, and enjoy their huge discounts for your online store inventory.
Things to Consider When Choosing Alibaba Suppliers
There are many suppliers on Alibaba, one tip to keep in mind when choosing suppliers is to check out different suppliers before settling for one. Here are a few other tips for choosing Alibaba suppliers.
Price: Price is one of the main reasons for sourcing products from Alibaba anyway, so you should be on the lookout for the supplier with the best price point. Sourcing products at an expensive price will leave you with a slim profit margin. However, don't get carried away with low-end prices because it's usually a pointer to inferiority. So, your best bet is to stay at a safe point and avoid either pricing extreme.
Product quality: The quality of your product often determines how much sales you make on Amazon. If you source high-quality products, you're more likely to get good reviews and have your customers coming back. Request product samples from each supplier you're considering purchasing products from, see the products in person, then you can evaluate the quality.
Experience: Check out the supplier's qualifications, you can access important information about any supplier from their profile. How long has the supplier been in operation? Can they make a product to your specifications? Are their products certified? What additional goods can they manufacture? These are things you should be looking out for.
Ensuring Product Quality
Before committing to a bulk purchase, savvy sellers comprehend the significance of requesting product samples from potential suppliers. This preliminary step allows you to physically examine the products, assess their materials, workmanship, and overall aesthetics. By closely scrutinizing these samples, you gain firsthand insights into the quality and characteristics of the products you intend to offer. Remember, these samples serve as your tangible assurance of the product's standard, enabling you to make informed decisions before initiating a larger transaction.
2. Factory Inspections: Peering Behind the Scenes
For a more comprehensive evaluation of the manufacturing process, consider conducting factory inspections. This practice entails visiting the supplier's production facilities, granting you a firsthand look at the entire production chain. By personally observing the assembly process, quality control mechanisms, and adherence to industry standards, you gain an unparalleled understanding of the supplier's capabilities and commitment to excellence. Factory inspections provide a nuanced perspective that empowers you to gauge whether the supplier aligns with your expectations and upholds the quality you demand.
How to List Your Products on Amazon After Buying From Alibaba
The first step to selling your products on Amazon is to create your seller account. Once this is done, you will need to set up your listings. Here's how to go about that.
Go to the 'Add products' tab under 'Catalog' in your seller central dashboard. Then choose "I'm adding a product not sold on Amazon'.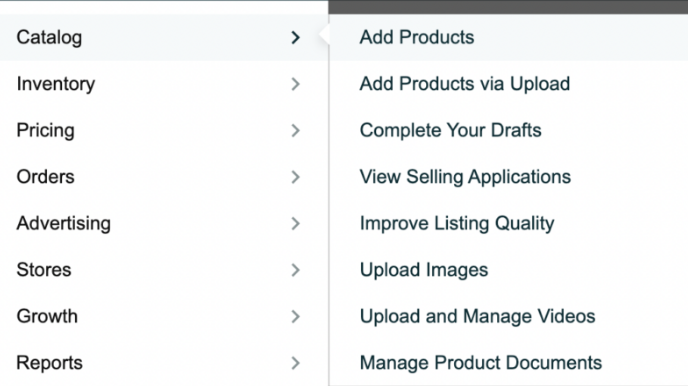 Next, fill in your product information, including its UPC, brand name, images, product features, and product description. Your listing will be ready for sales once your products arrive.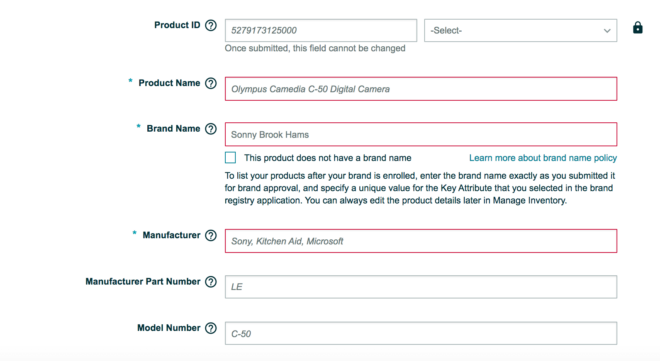 Further optimize your listings and boost sales with the Zonbase Listify Tool, try it free for 7 days.
Alibaba Payment Methods
Of course, payment must be made before the sourcing process can be completed. Since sourcing products from Alibaba is also considered sourcing products from overseas, it is important to ensure that there is a payment method that works for you.
Also bear in mind that there are unscrupulous people who pose as suppliers and are out to defraud unsuspecting people. So, it's equally important to avoid making payments through unrecognized platforms as this makes it difficult to track transactions. Below are some of the recognized Alibaba payment methods.
This payment method is quite swift, but it is also one of the riskiest payment methods, especially if you make an upfront payment. The best approach to paying through bank transfer is to split your payment.
You should also confirm that you have important details like the supplier's name, Bank ID, as well as home and bank addresses. Although this payment method is usually fast, you may encounter delayed payment issues sometimes and in some cases, you may not be refunded.
PayPal is another payment method that offers a lower risk level and works great for international transactions. PayPal works smoothly across a wide range of countries and the platform is quite recognized for safe payment systems. Unlike Bank Transfers, you are less likely to experience payment delays with PayPal and you have a higher chance of refunds if you experience any payment hiccups.
This is Alibaba's payment service and is the most secure of all the payment methods. Here's how payment by Escrow works – the buyer places an order and the payment is held until the order is manufactured, shipped, received, and approved by the buyer based on the agreed standard and terms of payment. In other words, suppliers do not receive payment until the buyer says the product is of good quality.
This method is safer for both the supplier and the buyer because it creates a win-win situation for both parties provided the terms of the order are strictly followed.
Alibaba Trade Insurance is another secure payment method. It only applies if you pay using Alibaba.com's secure payment gateway rather than through another channel. This option covers any losses you might suffer in the event of a delivery time delay, damaged or incorrect goods, etc. It guarantees refunds and shields customers from scammers.
All suppliers are unwilling to join in Trade Assurance and those that do charge more for their goods as a result of using this policy method, which is one of the faults with it.
This payment method is best suited for sellers who make orders in large quantities of about $20,000. It is the most efficient technique to purchase goods that meet the required standards of quality. The documentation included in this method of payment, which includes clearly defined terms, also assures payment to the supplier.
FAQs
Is it safe to buy from Alibaba and sell on Amazon?
No business procedure is completely risk-free, however, buying from Alibaba is safe for the most part. There are safety measures in place to ensure seamless transactions and prevent fraud. Some of these include the trade assurance payment option as well as the stringent verification process that Alibaba subjects its suppliers to.
What are the risks involved in buying from Alibaba?
Although sourcing from Alibaba is relatively safe, here are a few risks you should be aware of.
There is the risk of suppliers compromising on product quality especially if you do not order product samples before ordering in bulk.
Online transactions are not 100% secure especially if you do not confirm the supplier's bank details. Be wary of fraudsters and hackers.
You may encounter communication barriers because a majority of the suppliers do not communicate n English. However, you can use a translator.

Conclusion
Finding the best reputable suppliers that offer the lowest prices is much easier with Alibaba. By connecting Amazon third-party sellers with the most credible manufacturers, expanding online business has never been easier with your amazon seller account.
But buying from Alibaba to Amazon FBA doesn't stop there. You still need to decide what the best products to sell are. When it comes to finding winning products, Zonbase is the best software solution that you can find. With 20+ tools and services to help sellers in keyword research, product research, and listing optimization, Zonbase is a game-changer that your amazon fba business needs right now.