Without a doubt, one of the best marketplaces in the world in the last decade is Amazon. And with so many items to sell, choosing the top-selling items on Amazon in 2023 can be truly daunting. One of the most difficult things for newbie sellers is choosing the top-selling items on Amazon. Without too much experience under their belt, beginners can find it difficult to select winning items to sell on the world's biggest marketplace.
The top-selling items on Amazon that you decide to sell ultimately determine the success of your business. If you choose the right product, you can easily find your business on top of the heap, enjoying the fruits of your success. However, if you choose the wrong item to sell, you can quickly burn through your investment. You can get your warehouse inventory swamped with items that you cannot seem to sell. This is something that breaks so many newbie sellers, which is why we decided to write this article.
To help you out, we have decided to write this guide about the top-selling items on Amazon in 2023. With this list, hopefully, we can give you an idea about how to choose the right items to sell on the world's biggest B2C marketplace. We'll also let you know about a software solution that can help you find the best items to sell with just a few clicks of a button.
Ready to dive in? Then let's start!
Top-selling Items on Amazon in 2023
Choosing a profitable product is the first step to succeeding in the Amazon marketplace, hence, product research is a non-negotiable process that every seller must undertake. However, as important and time-consuming as product research is, it is easily one of the most challenging business processes. Why?
There are over 12 million products in Amazon's catalog, and there is a high chance of picking a product at random just because it's listed on the platform. But one thing you should always keep in mind is that you cannot sell random products. Choosing products to sell on Amazon, especially as a beginner, should not be based on personal preference, but instead on market demand.
To make your product research process easier, we have outlined 7 of the top-selling items on Amazon below.
Electronics
You probably don't have to wonder why the Electronics category made this list, right? During Black Friday and Prime Day sales week, the top-selling products on Amazon are usually smartphones, computers, Fire TV Sticks, Echo, Kindle, Televisions, and other electronic gadgets.
The electronics category is probably one of the marketplace's biggest and most popular categories. But if you are planning to sell products in this category, you better opt for small electronic products such as USB ports, USB extenders, and chargers that you can import through channels like Alibaba and Aliexpress. Don't try to compete by selling televisions and other gadgets that AMZ is already selling because you will never win a head-on battle with AMZ itself.
Gift Cards
In 2022, over 30% of holiday shoppers intended to purchase about 50-74% of their holiday gifts from Amazon. Clearly, Amazon is one of the first places that people check when trying to gift their loved ones, so selling gift ideas there will never be a miss. People who would rather not make random gift choices often prefer to purchase gift cards to give their loved ones the freedom of choice. Hence, gift cards are also top-selling items on Amazon.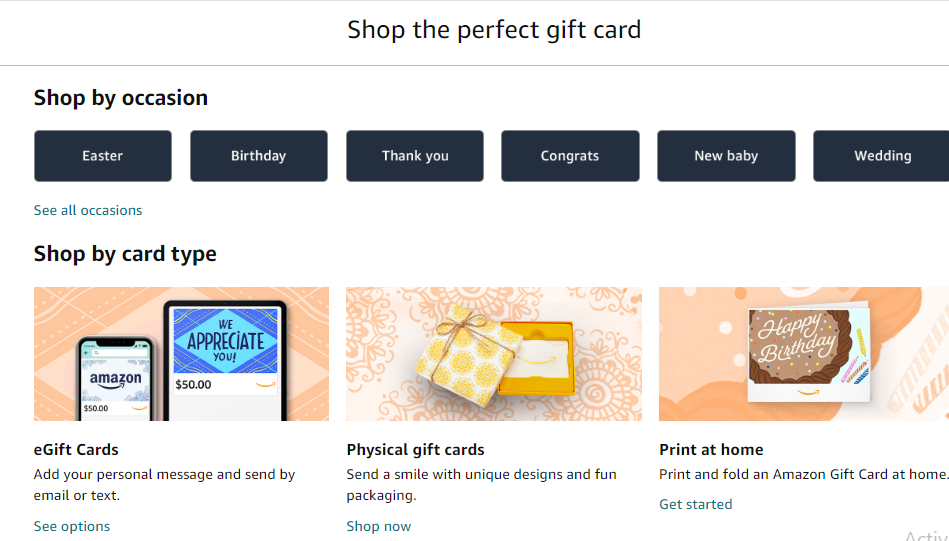 Home and Kitchen
Everyone eats! And that could be the single, most important reason this category is seemingly always on top. Home and kitchen are never out of the list when it comes to the best-selling products on AMZ. Especially now that the pandemic has severely limited the ability of some people to go out and enjoy a fancy restaurant dinner. More people now resort to doing home cooking, which is why the Home and Kitchen category is always a good bet for sellers.
If you are interested in this category, go for small, easy-to-ship items such as baking tools, double-sided pans, and insulated tumblers. Don't try to sell fragile, breakable items such as dinner plates. Also, avoid selling sharp items like knives. You will have a hard time shipping these items with all the restrictions, and breakable shipping items can cause you trouble.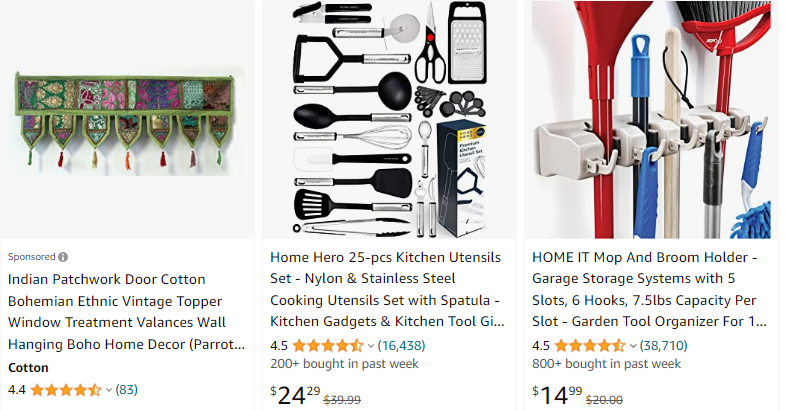 Toys and Games
This category is probably one of the most popular ones during the Black Friday and Christmas seasons. Toys and games are often used as gifts for young kids, and we all know that parents would stop at nothing to get what their children want.
Some of the most popular items in this category are building block toys, educational toys, board games, and outdoor toys. With the pandemic limiting the ability of kids to go out and play, some surprise products such as chess and card games can even be profitable product ideas that you can explore.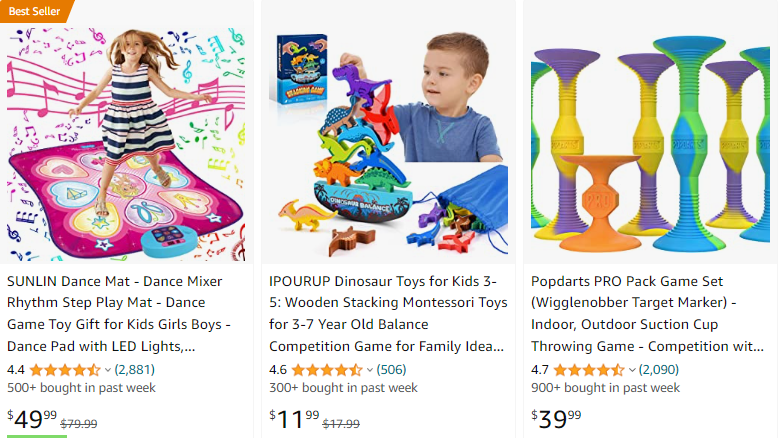 Tools and Home Improvement
Men love their power tools and women love their home improvement kits. This is why the Tools and Home Improvement category has always been one of the most popular ones on the platform.
Some of the great product ideas in this category are masks, led strip lights, kitchen and bath fixtures, power tools, and plumbing accessories. Home organization sets such as boxes can also be surprisingly profitable in this category.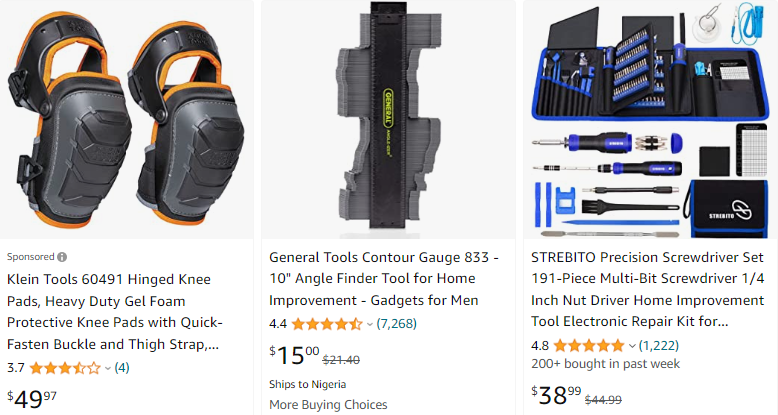 Handcrafted Products
Handmade products are also a top-selling product category, so if you're a creative who is looking to make money from selling unique, handmade items, you should explore this category. You can sell simple handmade household items, paintings, jewelry, beaded items, fabrics, etc in this category.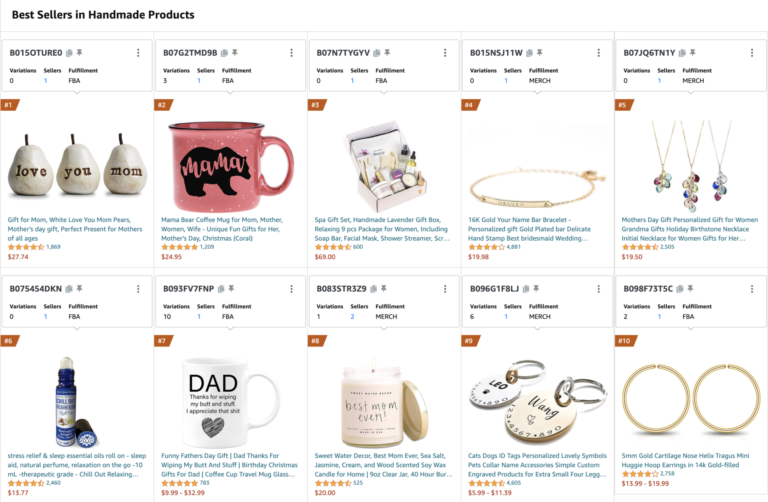 Books
Books have always been at the top of the list of the best products to sell on Amazon for beginners. Not only is the book category very versatile, but there is also a significant demand for books on Amazon, so you cannot go wrong with selling books on the marketplace. Books are also quite easy to sell online compared to some other product options. All you have to do is find a best-selling book, confirm its profitability, then go ahead and list it for sale.
And the best part? If you're an avid reader who is looking to declutter a collection of books, you can sell your used books on Amazon too. Writers and aspiring authors who want a place in the online space can also explore Amazon Kindle Direct Publishing to self-publish their books and sell them on Amazon.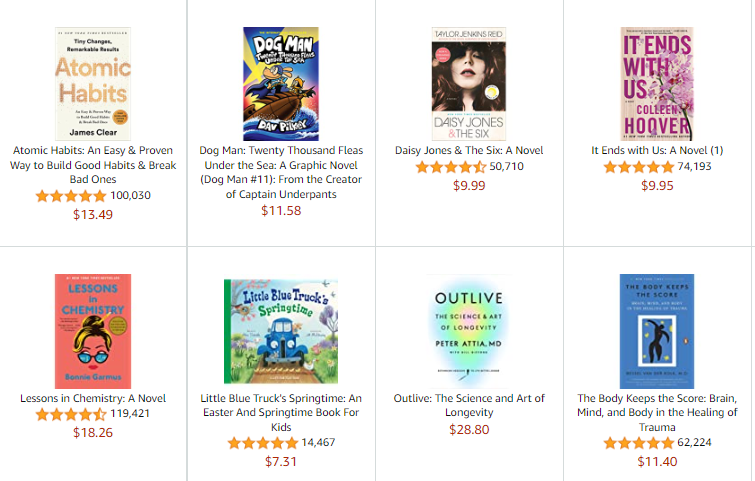 Related: Amazon KDP Guide for Beginners.
How To Choose Top-Selling Items On Amazon
When we are talking about selecting these on Amazon, there is probably no one-size-fits-all answer. There are many factors to consider that play a huge part in determining whether a product would be successful or not. A product can be unpopular and lowkey for most of the year, then suddenly become popular in just a few weeks or months.
One such example is chess sets in the early-to-mid phase of 2020. Before 2020, chess sets were relatively a cold product in AMZ. However, when the show "The Queen's Gambit" from Netflix started getting extremely popular in 2020, chess sets also started to sell like pancakes. Beginners of all ages started to pay more attention to the game and bought chess sets to learn how to play it.
No one had predicted that a single television show from an online streaming service could impact chess as a whole. And while this is more of an anomaly rather than consistency, finding the best sellers on Amazon is rather challenging.
The final decision to choose the best sellers on Amazon falls in your hand. Products will trend up and down depending on what is currently popular and "in" at the moment. But we'll give you some ideas on making the process a lot more manageable.
Use the Amazon Bestsellers List
If you are on the fence about choosing the best sellers on Amazon, a great starting point would be AMZ's bestsellers list. Unknown to the newbie sellers, there is a curated list of the latest bestsellers on the website. The Amazon Bestsellers List contains all the products and categories trending in the past 24 hours. The product is also updated hourly, so you can see which one is making a push in real-time.

Whenever a product makes a sale, that product's BSR (best seller rank) gets nudged up a little. The more a product sells within a certain period, the more likely it can climb up the curated Best Sellers List. If you research the top, trending products in the last 24 hours, this Best Sellers List is the best place to start. The list is also sorted via category, so it can be easy for you to check out what's selling, like hotcakes in each one of them.
When using the Best Sellers list to research the top-selling items on Amazon, you have to be wary of certain things. For example, you might find products on this list trending down, and you might catch it during this phase. This means you might jump into a product just when it is starting to lose its popularity, Furthermore, some of the bestselling products on this curated list might not have a large profit margin. You'd have to sell hundreds and thousands of them before you can even see somewhat of a return on your initial investment.
You also have to remember that this curated list is open for anyone to see. So if you can see the trending products on the list, you have also to assume that hundreds and thousands of other sellers are seeing them. This can make this list a very competitive piece of real estate for sellers. However, it is still a great place to do your initial research. You have to be creative and pay attention to how the information presented can be used.
Follow the steps outlined below to access and use the bestsellers list.
Go to the bestsellers page
Select the categories that interest you.
Next, narrow down your search by picking specific subcategories.
Create a list of the products you think will do well based on the seller rank.
Use Amazon Software for Product Research
One of the best things about selling on Amazon is the availability of software for business automation. Using software, you can find profitable products, generate relevant keywords, and even create optimized product listings in minutes. All you have to do is find reliable Amazon software; preferably one that offers a complete set of Amazon seller tools to help ease product research, keyword research, and listing optimization.
ZonBase is an all-in-one software solution that offers a wide range of seller tools for product research, keyword research, listing optimization, Amazon analytics, and even PPC optimization. Here's how ZonBase can help you find profitable products for your business.
ZonResearch
With the help of ZonResearch, finding profitable products to sell on Amazon is no longer a complicated task. Through customized, powerful search filters, you can easily sift through millions of products in AMZ's database with just a single button click.
To use Zonresearch, choose the categories you want your products to come from, and enter the filters you want to use for these products. Some examples of the filters that you can use include Revenue, Price, and Number of Reviews.
Zonresearch makes finding potential home-run products very manageable. Through its filters, you can choose only the high-demand, low-competition products with high-profit margins. Within seconds, this tool can help match the products that fall under your selected categories and filters. With Zonresearch, you can eliminate all the guesswork. Through advanced algorithms, you can now make data-driven decisions from the information that you are given.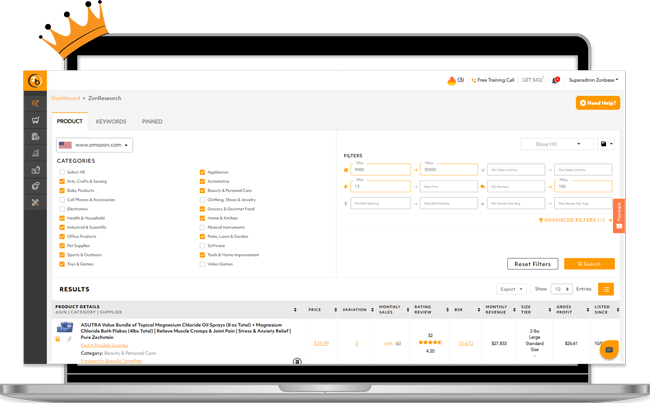 Zonbase Chrome Extension Tool
Validating your product ideas without someone experienced to look over your shoulders is nearly an impossible task. What you might think as a very promising product idea could very well be a wrong assumption. Many beginners fall for this trap, which is why we highly recommend using the Zonbase Chrome Extension Tool.
With the Zonbase Chrome Extension Tool, all the sales estimates and data projections of your chosen product can be validated in real-time. To use this tool, go to Amazon and search for the product you are interested in selling. Once you are on the search results page, you'll see a list of the top organic ranking products for that specific keyword. Click on the Zonbase Chrome Extension Tool, and it will show you data about the top-ranking products, such as monthly sales, monthly revenue, average review star ratings, and more.
Using the Zonbase chrome extension tool, you can now verify how many sales a product similar to the one you plan to sell is making every month. With this powerful tool, you can make an educated guess whether your chosen product can be profitable as well if it reaches the first page of Amazon.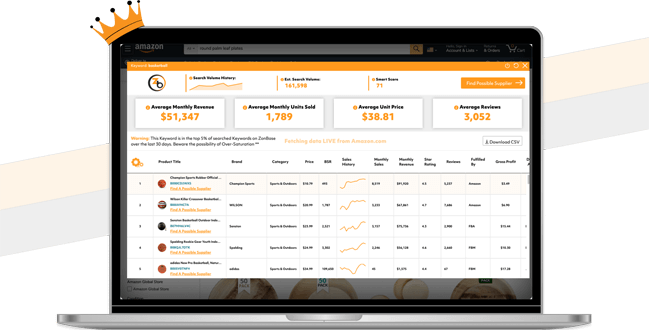 Zonbase Hot Products Tool
The Zonbase Hot Products tool is a unique research tool that works similarly to the AMZ's bestseller list. However, this tool also uses other factors to make the list much more interesting.
This tool uses three databases to create its curated list. First, it looks at the Top 100 Most Gifted Products on the website to see which ones are getting gifted in the last 24 hours. Then, the products with increasing sales numbers are also added to the mix. Finally, to make sure that the competition isn't as huge, only products with less than 30 reviews are added to the list. By combining these three databases, Zonbase creates a more targeted list that covers all the important aspects of a Hot Products curated list.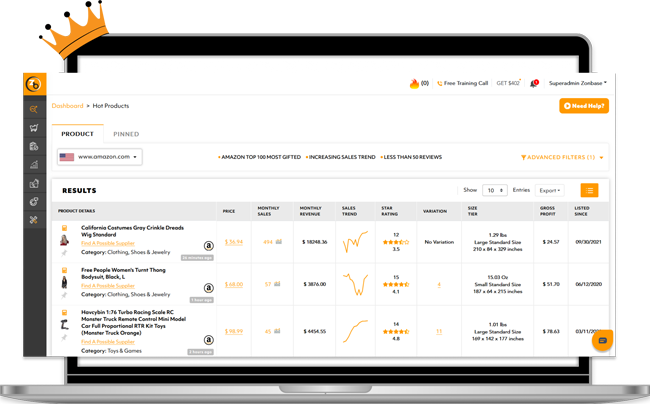 These are just some of the powerful tools offered by Zonbase that can help you find the best selling products on Amazon in 2023.
All ZonBase tools can be accessed for free when you sign up for a 7-day free trial of the software. Sign up for a free trial.
Follow Trends
Trends are one of the best ways to discover in-demand products at any time. Amazon has a regularly updated trend report that can help you stay up-to-date with the latest and hottest items in any category. Here's how to use the Amazon trend report.
Go to the Amazon Trend Report page.
Navigate to the bottom of the page to see the trending products
Click on 'Learn more' to view more trending product options
Compile a list of the products you're interested in.
You can also use Google Trends to discover trending product options in any category. By running a simple google search, you can see the trending products in your preferred category over time.
Conclusion
When it comes to finding the winning product to sell on Amazon, there is no fixed rule or strategy that you need to follow. Trending products come and go, so the best strategy is to always keep up with the latest popular items on the marketplace.
However, by using Zonbase, you can make it so much easier to find the best-selling products on Amazon. With just a few clicks of a button, the Zonbase software seller tool can validate your product ideas and make it easier for you to make data-driven decisions.