No money down for your Amazon FBA business but have the technical expertise to get an Amazon store off the ground?
Don't let money get in the way cause your dream Amazon FBA business is still within your reach even if you don't have enough cash (just yet)!
As we all know, the traditional way of doing business in the Amazon marketplace is through selling your own products.
And as the Amazon marketplace continues to grow, so does the number of sellers!
And more often than not, mostly newcomers and overwhelmed sellers who need help to get their stores off the ground and keep them running…
An OPPORTUNITY you can take advantage of!

Why Build An Amazon Agency
In 2019, about a million NEW sellers joined the Amazon marketplace – increasing its seller population to about 2.5 million.
And in reality, not all these sellers know how to sell on Amazon and manage their Amazon business just by themselves. Truth be told, it requires time and technical know-how to keep an Amazon store running and profitable.
And here are some of them:
Optimizing product listings: Some sellers might not know how or don't have the time to optimize their product pages with the right keywords, copy, images, and bullet points, resulting in poorly designed storefronts that don't convert.
Amazon advertising: This is a key factor in getting sales in the Amazon marketplace. It requires knowledge, strategies, and patience in order to get results and not burn a hole in your pocket. And since Amazon advertising is not a "set it and forget it" platform, it requires constant ad optimization and weekly analysis of all the data generated from the campaigns. Sellers who want to maximize their ad spend will also have to monitor their ad performance closely.
Keeping up with Amazon policy changes: As Amazon rolls out policy changes every now and then, some sellers are having difficulty staying up-to-date and can't seem to adapt immediately to these policy updates published in Amazon Seller Central. In fact, recent changes in Amazon policies have made sellers worldwide freak out! Changes such as selling restrictions, counterfeit crackdowns, storage limits, sellers' names, address disclosure, and many more.
Creating a strong Amazon marketing strategy for business growth: Sellers who want to grow their businesses must dedicate time to creating a strong Amazon marketing strategy to increase reach and visibility, and increase sales velocity in the long run. To do this, sellers must factor in Amazon SEO, however, not all sellers understand how the Amazon algorithm works. So, if you run a digital agency that specializes in helping sellers understand and maximize Amazon SEO, you'll be providing great value.
Managing daily operations: About a million sellers are just starting out on Amazon and have a lot to learn: how Amazon FBA works, dealing with seller support, online marketing, figuring out how to do bulk uploads, product research, product sourcing, and the list goes on.
Sure, lots of blogs, webinars, and courses are out there to help newcomers direct their own learning on how to become an Amazon Seller. But that alone is a HUGE time investment in itself-time that most busy entrepreneurs don't have.
Scaling of business. It is every seller's utmost desire to take their Amazon FBA business to greater heights. And for them to actively grow their Amazon FBA business, they have to focus on strategizing, understanding online marketing, and creating a system instead of dealing with the demands of day-to-day operations.
There are lots of things an Amazon seller needs to juggle simultaneously in order to succeed in the Amazon marketplace. And judging from the long list of tasks that need to be done, it's safe to say that THEY NEED HELP. They can't do all this by themselves without being tired, stressed, and constantly overwhelmed.
So this is where you come in.
How about relieving them of the whole headache of managing their Amazon stores? Using the knowledge, understanding, and experience you have about Amazon, you can set up a full-service Amazon agency that offers paid services to help struggling sellers get through the system.
You help Amazon clients free up their time while increasing their profit, and you get paid healthily in return.
WIN-WIN, right?
And you don't have to be the most knowledgeable resource on Amazon to do that!
Armed with all the tools and services from ZonBase, you can manage someone else's store as if it were your own. ZonBase offers a range of sophisticated tools that enable Amazon sellers to stand out in a competitive marketplace.
Planning to build your own Amazon marketing agency? Read on!
Pros and Cons of Running an Amazon Agency
Starting an Amazon agency can be an exciting and lucrative business opportunity, but it also comes with its own set of pros and cons. Here are some of the key advantages and disadvantages to consider:
Pros
High demand: Amazon is one of the largest e-commerce marketplaces in the world, and millions of businesses and individuals sell products on the platform. This means there is a high demand for Amazon agency services, particularly those that specialize in areas such as product listing optimization, PPC advertising, and inventory management.
Recurring revenue: Many Amazon agency services are ongoing, which means you can generate recurring revenue from clients. For example, if you offer product listing optimization services, you can charge a monthly fee to continually update and optimize your client's listings.
Flexibility: As an Amazon agency owner, you have the flexibility to work from anywhere in the world and set your own schedule. This can be particularly appealing for those who want to work remotely or have a flexible lifestyle.
High potential for growth: If you're able to build a successful Amazon agency, there is a high potential for growth. As you acquire more clients and expand your services, you can increase your revenue and build a valuable business.
Cons
High competition: While there is a high demand for Amazon agency services, there is also a high level of competition. There are many other agencies and freelancers offering similar services, which can make it difficult to stand out and win clients.
Constantly changing marketplace: The Amazon marketplace is constantly evolving, with new policies, algorithms, and trends emerging regularly. This means that as an Amazon agency owner, you need to stay up to date with these changes and adapt your services accordingly.
Reliance on Amazon: As an Amazon agency, your success is tied to the success of your clients on the platform. If Amazon changes its policies or algorithms in a way that negatively impacts your clients, it can also negatively impact your business.
Need for specialized expertise: To succeed as an Amazon agency, you need to have specialized expertise in areas such as product listing optimization, PPC advertising, and inventory management. This means that you may need to invest in training and ongoing education to stay competitive.

How To Build An Amazon Agency
Now that you have a clearer idea about Amazon seller problems that you can leverage on, it's time to figure out the solutions you can offer to help them.
STEP 1
Run a preliminary assessment on the skills, experience, and knowledge you have about Amazon that you can use in your offer. Doing so gives you a benchmark of what you're confident to deliver.
STEP 2
Identify the focus of your Amazon marketing agency. Will you offer a total solution to Amazon sellers encompassing front-end tasks, pricing strategy, Amazon advertising, and all the way to the back-end processes? Or will you focus on key areas within your specialties?
STEP 3
Find Amazon software that will help you get the job done. And the good news is, you don't have to search far because the very software you need to kickstart your Amazon marketing agency is just a click away!
ZonBase is a powerful Amazon software that helps with product research, keyword research, market analysis, product launch, and PPC marketing ALL IN ONE PLACE.
Product research. This is where most Amazon sellers often get stuck. Most of them attempt to do manual product research, but this can be laborious, time-consuming, and frustrating. It often leads to a dead end.
But with ZonBase, product research now becomes faster, easier, and with higher certainty. It contains tools that perform data-driven searches to find you WINNING products – those with high demand and less competition to which Amazon sellers can dominate!
For one, the ZonResearch tool pulls data directly from Amazon, filters results for both products and keywords, and uncovers the next best selling products on Amazon in seconds!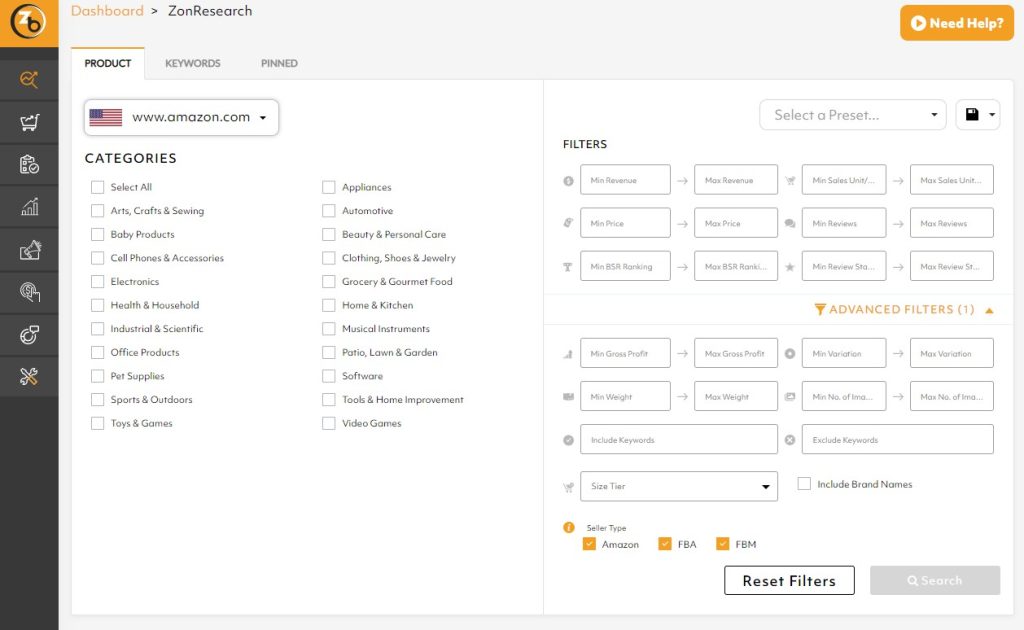 The ZonBase Chrome Extension shows you all the details behind your Amazon search all in one glance, thus getting your product research efforts up to speed.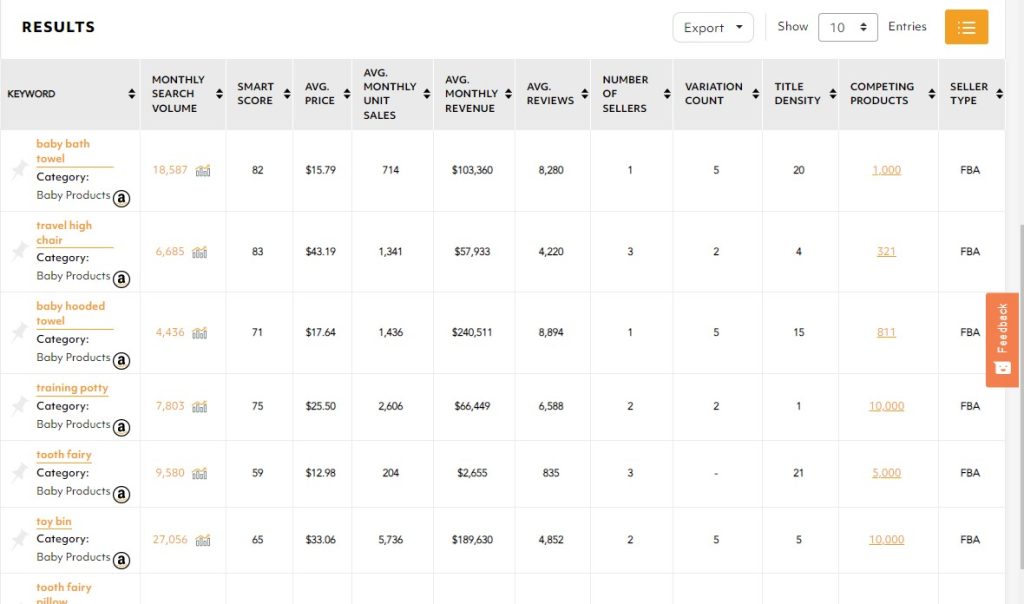 The Hot Products tool gives you access to profitable products to sell that belong to the Amazon Top 100 Most Gifted Products of the Day, have increasing Amazon sales trends, and contain less than 30 reviews.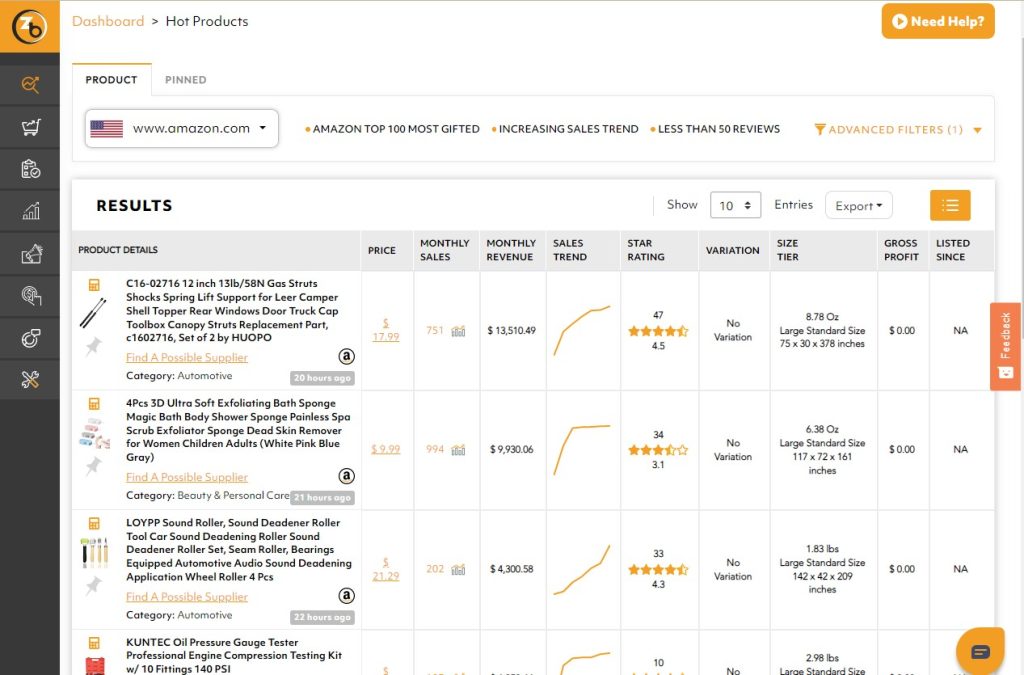 Keyword research. Among the sales key drivers is getting all the possible Amazon search terms on your customers' listings.
ZonBase Keywords targets the best keywords to rank for and gives you more relevant data such as Smart Score, Seasonality Indicator, and Word Cloud to help you make more informed decisions.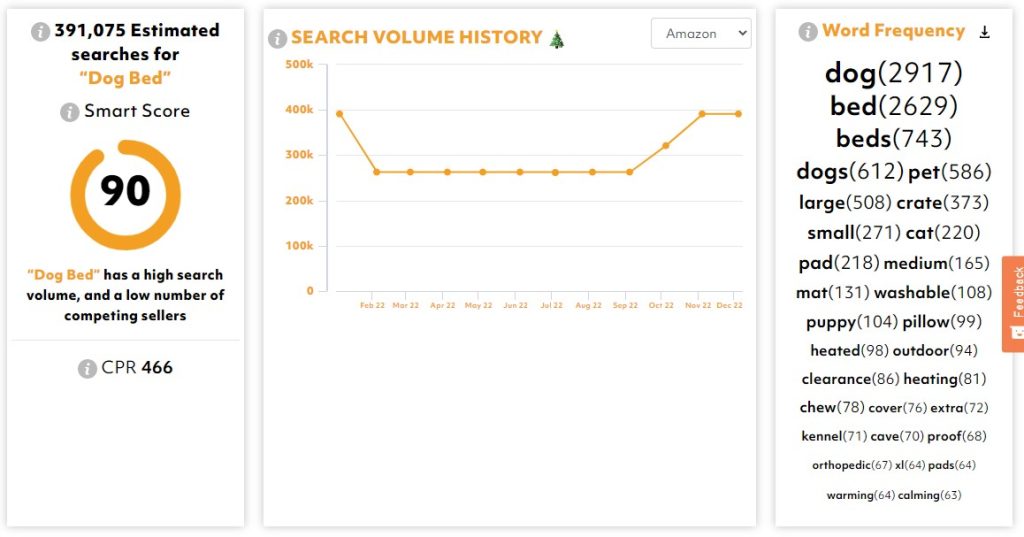 Market Analysis. For you to help your clients stand out in the Amazon crowd, you need to gain market intelligence.
Reverse ASIN, ZonTracker, and Sales Estimator are your best bets when it comes to sales and keyword trends and they get the job done by spying on your competitors and tracking your own progress.
Also, the Product Validator service helps you validate your customer's product first to know if it's saturated, worth a launch, or the demand is high enough for investing to make sense – saving them from so much frustration, wasted effort, and wasted money.
Launch. Another done-for-you service you can utilize in ZonBase is the Listing Optimizer which performs machine learning to come up with winning titles, optimized bullet points, and strategic backend keywords.
Plus the Photo Enhancer service does the trick of turning your ordinary Amazon product photography into EXPLAINER images that SELL MORE.
Just look at the difference!
And you can even outsource the PPC campaigns of your clients to ZonBase!
Sit back, relax, and re-outsource the headache of campaign management cause we'll do all the work for you through PageOne Launch and PPC Autopilot! More profits will come to your customers without you lifting any finger!
You see…
ZonBase has all the tools and services you need to build your full service Amazon agency and run your clients' Amazon stores.
And even if you don't have enough manpower to do all the tasks in keeping your clients' stores running, you can outsource some of them to ZonBase!
The best part?
You can find all of them in one place, making it easier to select the tool and services of your choice, based on your needs.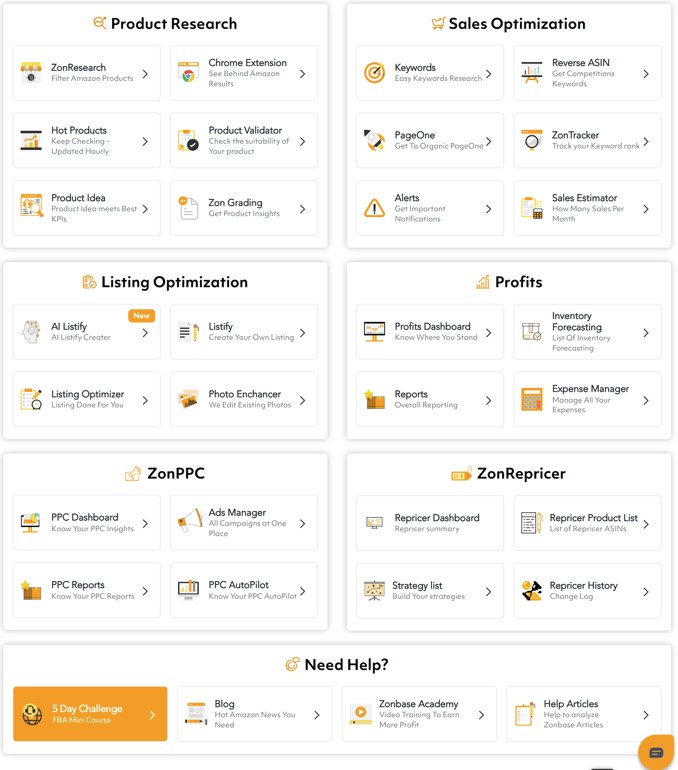 How To Find Your Paying Clients
Alright!
Now that we're done with the setting up of your Amazon marketing agency and choice of Amazon software, the next BIG question is.
How do you find your paying clients?
Phew! This is a tough (and very important) one. What good are your skills and experience if you can't find someone to apply them to?
Finding clients can be challenging, especially when you're first starting out, but we have listed two tips below to help you find paying clients.
Networking: One of the most effective ways to find clients is through networking and building relationships. Attend industry conferences and events, connect with other Amazon sellers and agencies on social media, and join online communities and forums where Amazon sellers gather to share knowledge and insights.
When networking, it's important to focus on building relationships rather than just selling your services. Take the time to understand the needs of potential clients and offer value and insights that demonstrate your expertise in the Amazon marketplace. Over time, as you build trust and credibility, you'll be more likely to win business and referrals.
Run targeted campaigns: Another effective strategy for finding clients is through targeted marketing campaigns. Use social media and email marketing to reach out to potential clients in your niche and offer free consultations or audits to demonstrate the value of your services.
When pitching your services to potential clients, it's important to clearly communicate the benefits and value of your services. Highlight your expertise in the Amazon marketplace and provide case studies or testimonials that demonstrate your ability to help clients achieve their goals.
As you acquire clients, it's important to provide high-quality services and exceed their expectations. Word of mouth and referrals can be powerful drivers of new business, so focus on building long-term relationships and delivering value that keeps clients coming back for more.
How to Scale Your Amazon Agency
Once you've established your Amazon agency and acquired a steady stream of clients, the next step is scaling your business. Scaling involves increasing your revenue and expanding your operations to take on more clients and offer more services.
One of the keys to scaling your agency is hiring the right team members. As your business grows, you'll need to delegate tasks and responsibilities to team members to free up your time and focus on strategic planning and business development.
When hiring team members, look for individuals with relevant experience and expertise in the Amazon marketplace. It's also important to hire individuals who share your values and vision for the business, and who are committed to delivering high-quality services to clients.
Another key to scaling your Amazon agency is developing streamlined processes and systems. Look for ways to automate repetitive tasks and create standardized procedures for client onboarding, service delivery, and reporting. Investing in software can also help streamline your operations and make it easier to manage your growing client base.

Final Thoughts
If you don't have the capital right now to kickstart your Amazon FBA store but you're knowledgeable enough to run one, you can go ahead and set up a full-service agency. There are many leading Amazon marketing agencies out there, and there's still room for a new top digital marketing agency—that could be yours.
Building an Amazon marketing agency is an alternative business model that will let you start your Amazon FBA business with a minimum investment and won't require you to sell goods from your own store.
You can build a marketing agency and offer your services to struggling Amazon sellers who need your help and expertise to keep their stores running profitably. And this, for sure, will help you earn the money you need to begin your own Amazon journey. Liberate yourself from the chains that hold you back from realizing your Amazon dream!
So if you're up for it…