Selling on Amazon is great, but the marketplace is highly competitive. If you already sell there, you already know; if you don't, you're in for a shocker. With over two million sellers, the fierce competition and the struggle for visibility is real. The most successful sellers are the ones who fight it out and get on the first page of search results.
Many sellers know this. Hence, most of them often worry about showing up on page one. We'll show you how to get your product on the first page of Amazon if you read to the end. But, first, why is showing up on page one so important?
Why is Showing Up on Page One Important?
Studies show that the average person makes at least three or four Google searches per day. Furthermore, first-page results get about 92% of traffic and the first five results get about 6.76% of clicks while the rest get about 3.73%.
Can you remember a time when you ran a search and got to page 5 of search results? Most likely not. The same thing applies to Amazon. Sellers whose listings appear in the first 3-5 results on page one make the most sales. This explains why every seller wants to show up on the first page of Amazon. Really, who wouldn't want to be well-positioned to get a huge piece of the pie?
Make no mistake, though, learning how to get your product on the first page of Amazon will not automatically make you show up there. You've got to take practical steps to make it happen. So, after your Amazon product launch, what else do you have to do to show up on page one?
Tips to Help Your Rank on Amazon First Page
Getting on the first page of search results is important, but there's so much work involved, and guesswork rarely works. So, when learning how to get your product on the first page of Amazon, you must be intentional about taking steps to get you closer to your goal. Here are a few tips to help you rank on Amazon's first page.
Get the Algorithm on Your Side
Amazon is a search engine just like Google, only that they are designed for different purposes. So, while Google has a general audience and is mostly for information, Amazon is built for shoppers. There are over 300 million active customers; as you've already guessed, they're all searching for different items. This is where the Amazon algorithm, also known as the A9 algorithm, comes to play.
The algorithm is responsible for filtering through millions of product listings to decide which listings rank high in search results. Every seller on AMZN is out to make a profit, but not every listing gets to show up on page one. There are certain factors that the algorithm considers before choosing certain listings over others.
Since the fierce competition, low-quality listings with low sales history won't get too far. What then does the algorithm work with? Two things top the list: performance and relevancy. The A9 algorithm uses these factors to calculate seller authority, it then ranks product listings based on this.
The A9 algorithm measures performance based on how well the product performed with customers in the past, tracking sales. So, the more sales you make, the higher your products rank; the higher your products rank, the more sales you make.
To show up on page one, your listings must make more sales than those currently on the first page of search results. An easy way to level up your sales and compete with the top listings is to run more giveaways and promotions.
Some sellers also pull this off by running managed PPC campaigns. But as fulfilling as PPC campaigns can be, they are also difficult to pull off. However, you can run fully automated, high-converting PPC campaigns without being directly involved when you sign up for ZonBase's PPC Autopilot and Page One services.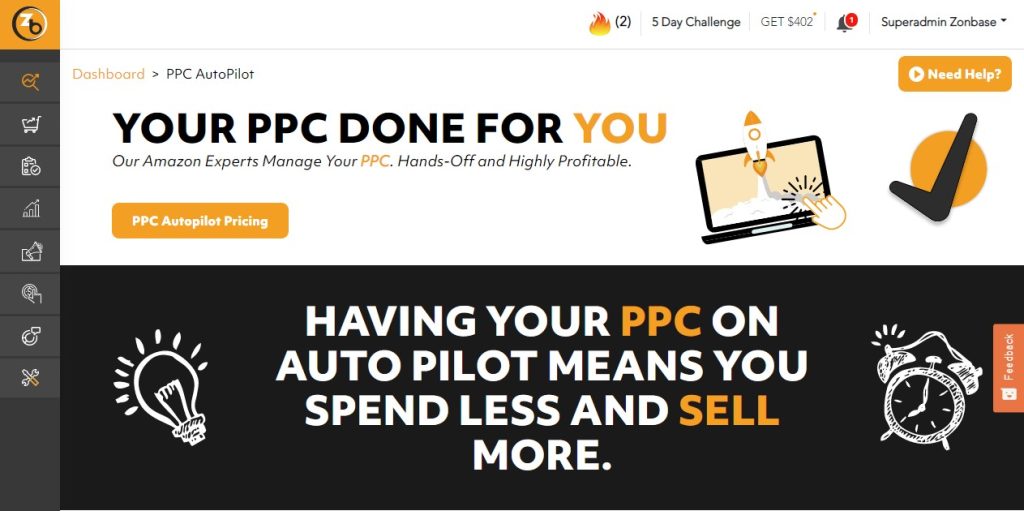 When you sign up for either of these services, you get to work with a professional team that will be in charge of optimizing your listings and PPC campaigns for conversions. Our expert team will handle your keyword research, optimize your listings, and manage your Amazon product launch from scratch to finish, so you don't have to worry about anything.
Your conversion rates also matter since they tell the algorithm how interested buyers are in your product. You can calculate your conversion rate by dividing the total number of visitors (sessions) by the total number of sales. Additionally, another important metric is "Unit sessions" that you must also pay attention to.
Unit sessions work just like conversion rates. But instead of dividing sessions into orders, it divides them into the actual number of units.
For instance, if 4 out of 12 customers check out your listing and make an order for one unit each, the conversion ends up being 33%, while the unit session percentage also ends up being 33%. What if 3 of those 4 buyers decide to order 2 units each? The conversion rate remains at 33%, but the unit session percentage will increase.

Thus, it is not surprising that Amazon favors unit session percentage over conversion rate. So, if you want to get the algorithm on your side, you should try to sell more units. Don't get carried away with your Amazon product launch; you should also put strategies in place for sales. Your price, coupons, and fulfillment methods also influence your conversion rates. Here are a few other things that the algorithm considers when ranking products:
Reviews: What are buyers saying about your products? Customer satisfaction is important to AMZN, so they listen to what customers think about your products. In other words, the more positive reviews you get, the higher your chances of showing up on the first page of search results.
Returns: How often do customers request returns and refunds? Again, customer satisfaction.
Product variety: A9 also favors sellers with more products in their catalog.
Getting the algorithm on your side is important. But it's only half the work when you're learning how to get your product on the first page of Amazon.
Related: Amazon PPC Best Practices
Choose the right keywords
We can't discuss how to get found on Amazon without mentioning keywords. Like Google, Amazon works with search terms (keywords). There are certain search terms that shoppers use to find products they're interested in. Using these keywords in your listings increases your chances of showing up on Amazon's first page. So, you should use keywords generously in your product listings.
Amazon's primary concern is a keyword's relevance; a solid match between the search terms and related products. Amazon's search results are customized to give relevant information that motivates customers to buy. You must choose the correct keywords for your products to appear in search engines. As mentioned earlier, keyword research is quite important for Amazon product ranking.
If you want to increase your chances of success with keywords, you should include them in the titles and descriptions. There are thousands of possible search terms, but not all are relevant to your products. How do you find the most relevant keyword set for your product listings? Your most reliable option would be to use Amazon software for keyword research.
You can find the best keywords for your listings using our set of keyword tools. And you can come up with a list of relevant keywords in very little time if you follow these steps:
First, open the ZonBase keyword tool, then enter your seed keyword into the search bar.
What you'll get is a long list of related, relevant keywords for your listings.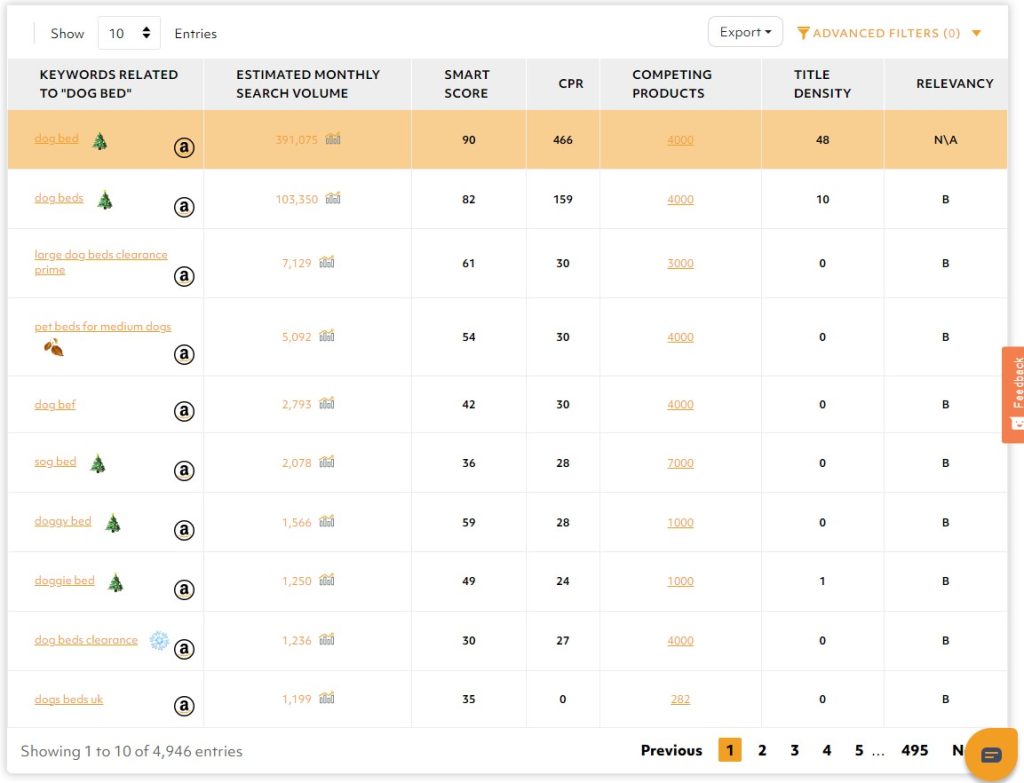 You'll also get access to a smart score that tells you about the keyword volume and competition.
After generating a list of keywords from the keywords tool, the next thing is to run an assessment of your competitors' keywords to see which ones they're ranking for. Here's how to use our Reverse ASIN tool for competitive analysis:
Open the Reverse ASIN tool and paste your product URL/ASIN into the search bar.
Next, enter three competitor product URLs/ASINs and click on 'Analyze'.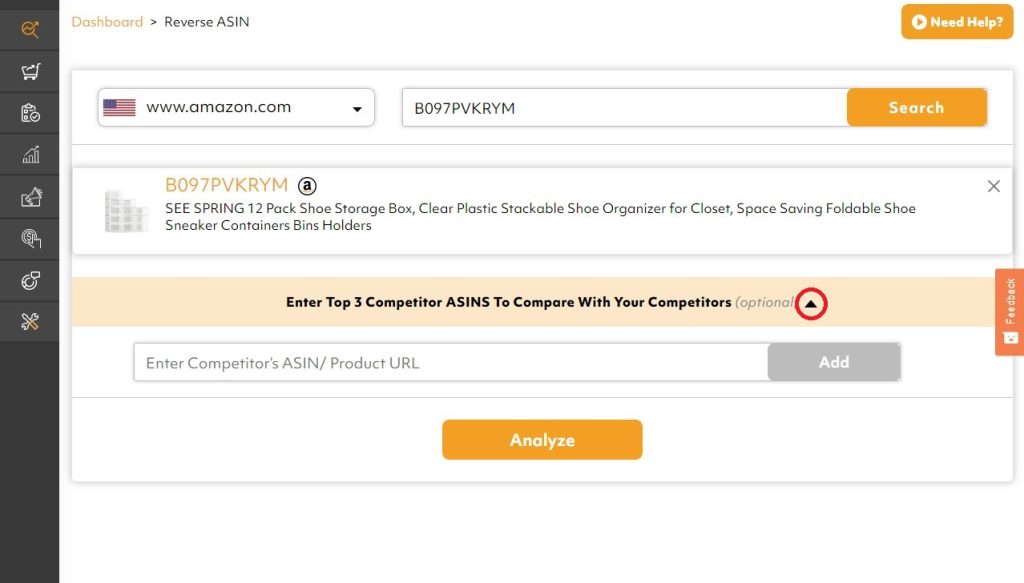 You'll get an extensive list of keywords that your competitors are ranking for. You also see the keyword search rank, search volume per month, and a smart score.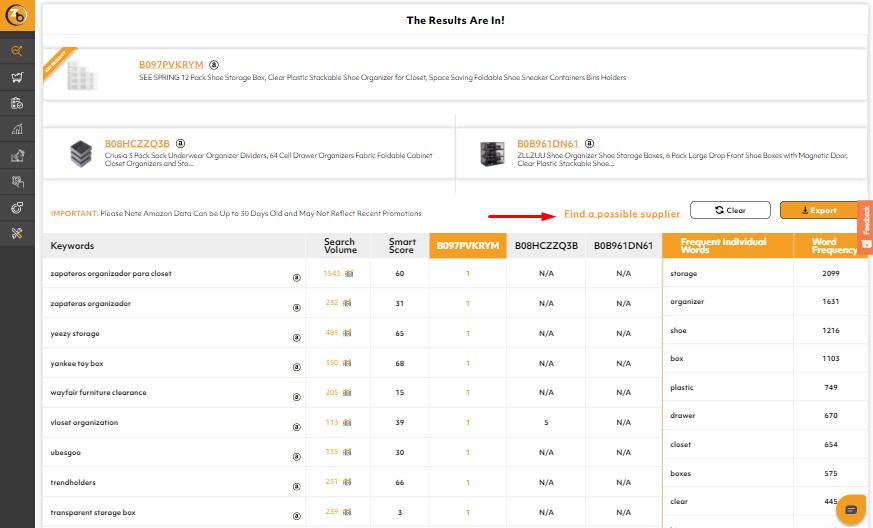 Now, that you have a list of keywords your competitors are ranking for, you can select the best performing keywords for your listings. It, however, doesn't end there, you'll also have to track the keywords you end up using to make sure they're converting. Of course, you can't do this without getting inside details from Amazon. So, it would help if you had an effective tool, and our ZonTracker tool is perfect.
ZonTracker is an easy-to-use keyword tracking tool. Don't underestimate its simplicity, just follow these steps to see your keyword ranking.
Open the ZonTracker tool in your ZonBase dashboard and enter your product ASIN in the search bar and click "Add new product."
Next, enter any product ASIN you want to track and enter the keywords you want to track.
Two simple steps and your keyword research process is complete!
Optimize your listings
Your product listings are your ticket to making sales; without them, you literally cannot reach your target audience. However, one thing to note when you're learning how to get your product to the first page of Amazon is that your listings matter. Well-optimized listings make it easier for you to get the algorithm on your side.
Keywords are essential to your listing, so if you've done your due diligence and gotten a good set of relevant keywords, you're halfway through. The rest of the work involves optimizing your listings on Amazon Seller Central for conversions. Here's a detailed breakdown of how to take your listings from 0 to 100 and improve your product ranking.
Titles
The product title is the most important part of your product listing because each word in your title is searchable. So, if you want to rank for multiple keywords, you should try including as many of them in your title. Amazon gives you up to 200 characters for your product title, try as much as possible to maximize this space. Also, keep in mind that your titles are not only meant to describe your products, but to also attract buyers and make them click on your listings.
Product Descriptions
Your product description is the next most important part of your listings; of course, your keywords should also show up here. You have up to 2,000 characters to describe your products; if you maximize it well, you can improve your sales significantly. Using a product description generator can help you create informative, accurate, and highly-converting descriptions that will make it clear to customers why it's worth purchasing a certain item. Provide unique details about your products and use keywords generously, but as naturally as possible, you don't want them in buyers' faces. Also, consider using call-to-actions as this can improve your conversion rates significantly.
Images
Your product images go a long way in converting potential visitors to buyers. Attractive product images may be all you need to get your sales and conversion rates through the roof. People pay more attention to pictures than they do to text. In other words, channel the same energy you use while writing your descriptions into your product images.
Product photography is a lot, and if you don't have photography or photo editing skills, it may be overwhelming. However, you can hire a professional or use software for editing. For instance, ZonBase offers a photo enhancement service for sellers who want to improve the quality of their product images.
All you'll have to do is sign up, then send in your product pictures, and a team of experts will edit them professionally on your behalf. You can trust our team to pay attention to every detail of your images, including the background and aesthetics.
Search Terms
If you're trying to make your listings relevant, you should include many search terms. Thankfully, Amazon provides five fields where you can enter up to five search terms on the back-end of your product listings. Some experts say that you can have up to 1,000 characters. But what holds is that anything more than 250 characters won't get your search terms indexed, and you don't want that. Focus on dropping variations of your main keyword in the search term fields.

Product Features
This is where you get to sell the benefits of your product to buyers. It sounds a lot like descriptions, but they're not the same. You'll have to show buyers why they need your products and why they shouldn't waste time before placing an order. Since you'll likely have a lot to say, it's best to use bullet points in your product features.
Bullet point fields can typically take up to 500 characters, but to be safe, stay within about 250 characters. Remember, too much text can discourage readers so keep it minimal and use bullet points to make it readable.
Reviews
Amazon is a customer-centric platform, and buyer opinion matters. So if the people say your products deserve to be on page one, the algorithm believes them. How do buyers express their approval or displeasure? Through reviews. Having more positive reviews on your listings takes your credibility to the top and makes the algorithm rank your products higher.
Related: How to get reviews on Amazon
Provide excellent customer service
Amazon is a customer-centric platform, so if you want their policies and even rankings to favor you, you must provide excellent customer service. If your service is great, customers are more likely to leave positive reviews, and these reviews will help you increase your conversions and sales. Negative reviews, however, will cause your conversions and sales to plummet.
Here are a few things you can do if you want to get your business engraved in customer's minds:
Reply buyer-seller messages quickly
Track all feedback metrics
Reply to negative reviews in a professional manner
Provide excellent service, get more reviews, and you'll be almost done learning how to get your products on the first page of Amazon.
Always have products in stock
Remember, the reason you want to show up on Amazon's first page is so you can make sales. But if you don't have products in stock, how do you get your sales up and get the algorithm to notice you? The A9 algorithm only recommends product listings that are currently available to shoppers. So, if you want to get your products on the first page, you should make sure you always have products in stock.
How to Get Your Products on the First Page of Amazon Using ZonBase
Improving your product ranking on Amazon is a lot of work but it offers great rewards. Researching keywords, optimizing listings, and getting the algorithm to favor you is not child's play and if you have other commitments, you may be unable to run these processes effectively. Most successful sellers use Amazon software to automate these business processes and fast-track their product rankings.
ZonBase is one of the best Amazon software available on the market right now. The software offers a collection of 20+ seller tools that can help you automate your entire business and push you to page one in no time. ZonBase's collection contains product research, keyword research, listing optimization, and PPC Automation tools. But that's not all, it also provides a photo enhancement and listing optimization service that helps to get some work off your shoulders.
The software offers two pocket-friendly plans, but if you would like to explore the toolset before making a financial investment, you should sign up for a free trial.
Conclusion
And that's it — everything you need to learn on how to get your product on the first page of Amazon! If you follow the tips we have provided in this post, you can get to the first page of search results in no time. When you do, don't forget to celebrate your win because getting to page one is a huge feat. Good luck!