To become a top seller on Amazon, using tools and software to help you in your business is essential. From product research to listing optimization, there is a myriad of tools that can help ease up your load. One of the most popular tools used in the platform is Amazon Chrome extensions for sellers. But how do these Google Chrome extensions impact your effectiveness as a third-party seller on the platform?
If you want to grow as a seller, Amazon Chrome extensions for Amazon sellers can help make the process not only easier but also faster. If you are wondering what an Amazon Assistant is, then these Chrome extensions are just some examples of them. To be competitive in a marketplace as big as Amazon, you have to think outside the box. You shouldn't limit yourself to the traditional "hard work and grind" mentality if the technology is already in place to make your life easier.
In this article, we'll talk about the best Amazon Chrome extensions for sellers. We'll tackle each tool and see the advantages and disadvantages that each one brings to the table. Finally, we'll also decide which Amazon Chrome extensions you can use for your Amazon business, whether they are paid or free.
Why Do You Need Amazon Seller Tools?
When it comes to running an Amazon business and managing your FBA fees, there is nothing more helpful than a third-party tool. An Amazon seller tool helps you execute some of your most important tasks so you can focus on selling your products on Amazon.
A good Amazon seller tool allows you to do product research, profit calculations, monthly sales estimates, and many more without having to do any manual work. Combined with your FBA calculator and Amazon FBA keyword research tool, these tools can simplify your tasks significantly and make your Amazon business more profitable.
Top 12 Amazon Chrome Extensions For Sellers
Here is the list of all the handy Amazon Chrome extensions for sellers in 2022. These tools perform several different functions that aren't only limited to AMZN, so they may come in handy for third-party sellers who run businesses on other marketplaces.
ZonBase Chome Extension
ZonBase Chrome extension is a must-have tool for sellers because it can provide important metrics that will help you determine which products to sell. One of the most important things about researching a product is knowing the sales history of the category and niche that you are interested in. By knowing the history and sales data, you'll have a better estimate to make an educated guess if your chosen product is going to succeed. This will save you a lot of time, money, and upfront capital in the long run.
These are just some of the Zonbase Chrome extension features that make it an integral tool for all third-party sellers:
ZonBase Chrome extension gives you estimates about how many units the product is selling and project data in a real-time process.
Product ranking with top keywords with sales history for 12-month sales.
Eliminate your product ideas that are not eligible for page one and meet the smart keyword criteria.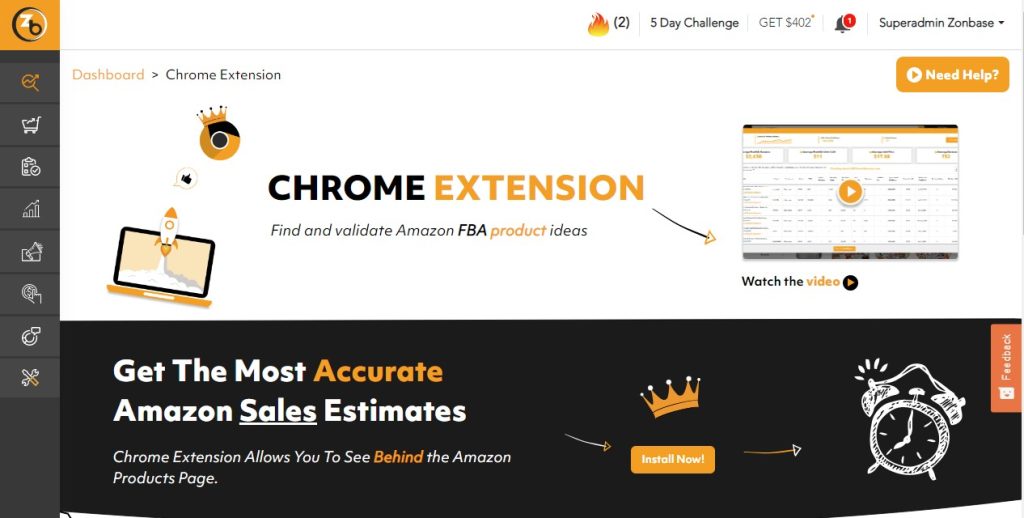 Amazon Assistant Chrome Extension
The Amazon Assistant Chrome Extension is a seller tool that is geared more toward buyers not Amazon sellers. Because this tool offers a comparison feature, buyers will find this tool very helpful when shopping for products. Using the detailed price history chart, you can readily compare the highest, lowest, and average prices based on the last 30 days' price data. Other functions include tracking orders and dealing with alerts whenever the price of a product you are watching suddenly drops.
Many people often ask what the Amazon Assistant is and what it can do to help buyers. Simply put, it makes product comparisons so much easier. So why did we include this in our list of the best Amazon Chrome extensions for sellers? Simple. Because it can be very handy if you require a product or a price comparison tool.
It also offers product recommendations that you can purchase on AMZ. Because of this, it is quite easy to carry out product research and find potential products that you can sell.
CamelCamelCamel
CamelCamelCamel, also known as Camelizer is an effective Chrome extension for tracking product prices and reviewing price history charts. Using this tool, you can set pricing alerts and receive notifications for product price drops and price fluctuations. This makes it easier for you to maintain competitive prices and outrank your competitors.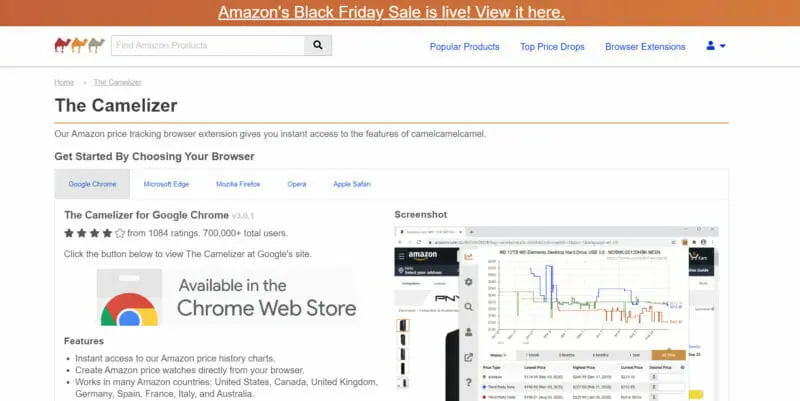 LastPass: Password Management Chrome Extension
LastPass Password Management Tool is a free password manager that helps generate secure passwords for all your Amazon accounts. This Chrome extension gives you secure access to every computer and mobile device by encrypting your passwords. This means that you don't have to carry a copy of your password whenever you log in outside of your personal computer or device.
LastPass saves all your user credentials, including your passwords, in a secure encrypted vault and automatically fills in your information when needed.
Because Amazon sellers can have a huge network of contractors, employees, and virtual assistants (VAs), having a password manager only makes sense. There may be times when you need to have multiple users access one single account. You can share your accounts with your co-worker without sharing your passwords.
Keepa
Keepa is a free Amazon extensions Chrome or web tool that allows you to get notifications on price drops and fluctuations. Like CamelCamelCamel, this tool gives you access to price history charts for hundreds of products. The only issue with this tool is that it does not track shipping expenses so you may have to track that manually alongside other business costs.
However, if what you need is a simple Amazon extensions Chrome tool, and you don't mind dealing with in-app purchases, then you can check out this tool.

Adblock Plus Chrome Extension
One of the most annoying things for sellers is having ads pop up every time you are trying to work. Also, being retargeted by ads can be quite irritating, especially if you are trying to work on your listings. Not only do these ads annoy people, but they can also leave dangerous malware and viruses on your computer if you aren't too careful.
If you are still not using one or you are not sure which one to use, Adblock Plus is the best Chrome extension for Amazon sellers. We highly recommend this tool because it can block display ads but also pop-ups that can be annoying. More importantly, it's free to use and will help a lot in saving your data from the ads that track your data. If you want more comprehensive protection, there is also a paid version that you can use.
Unicorn Smasher
Unicorn Smasher is another simple Chrome extension, but unlike Keepa and CamelCamelCamel, this tool allows you to uncover hidden sales data and revenue estimates for any product.
Using this tool, you can break down important data for different products and use the data as a basis for your product research. This makes it simpler for you to plan your inventory and eliminates the guesswork involved in deciding which products to offer.
This tool is free for the most part if you sign up for the basic version but if you want to access the pro version, you'll have to opt for one of three plans. The plans cost $49, $99, and $159 respectively.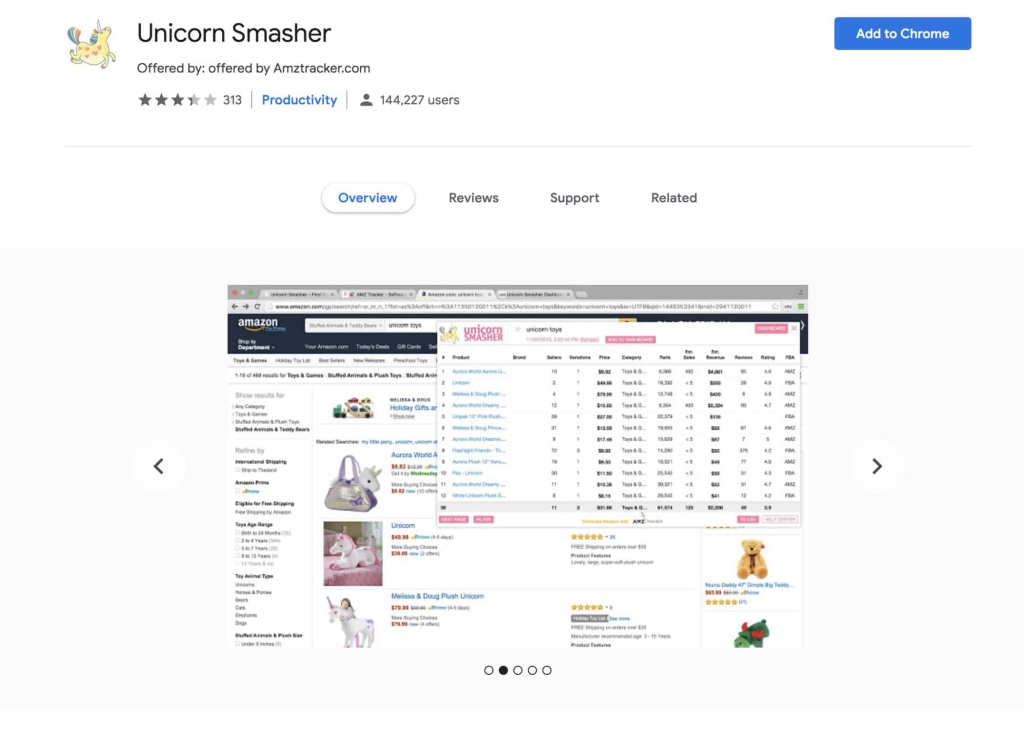 Scope
Scope by SellerLabs is one of the most popular Chrome extension tools on the market right now. As the name implies, this tool covers a wider scope because you can use it for a lot more compared to the other tools on this list.
This Chrome extension comes in handy for product research, keyword discovery, competitor research, and data analysis. If you need an Amazon extension Chrome or browser tool that helps to increase your chances of sales on Amazon, you should definitely check out this tool.
This tool is not exactly free but they offer a free trial and pay-as-you-go plans that begin from $49/month.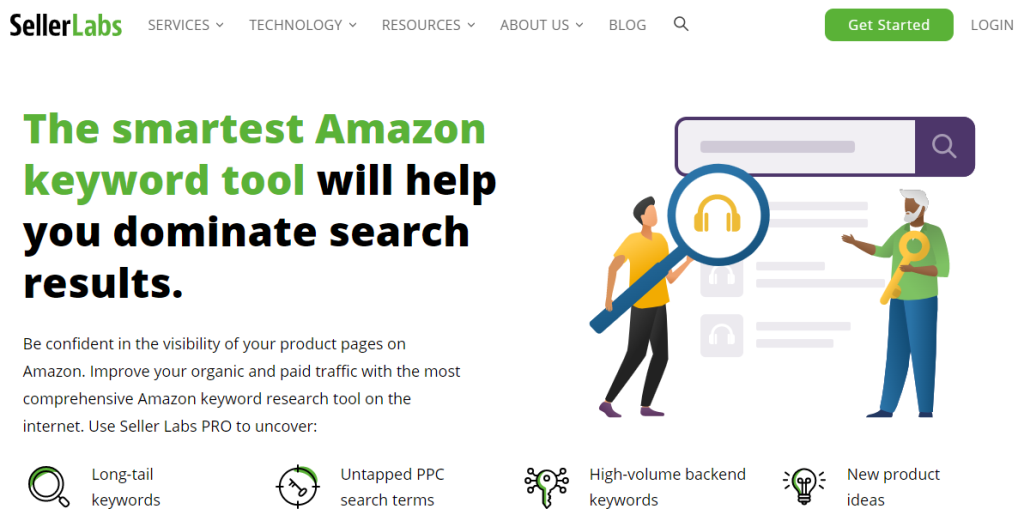 GoFullPage: Full-Page Screenshots Chrome Extension
GoFullPage is yet another simple Chrome extension that can be very helpful to sellers. It helps you save the screenshots of the product research you are doing. It can quickly crop and share the website, containing important information about your product listings. It can help capture images showing how to enhance your store and PPC campaigns. There are so many things that you can do using this tool, and it is also one of our most recommended tools for sellers.
GoFullPage can capture anything, from the full-page layout of any website to an entire Amazon product listing. From top to bottom or across the full page of product results, this tool can make cropping and capturing images easier.
AMZ Seller Browser
AMZ Seller Browser is the perfect tool for Amazon sellers looking to find the right products to sell. It provides quick views of essential listing information such as price and rank history, other products from similar brands, and whether or not Amazon is selling the product.
It also lists the number of FBA sellers on the listing and supports both amazon.co.uk and amazon.com. With AMZ Seller Browser, sellers can easily find the best products to increase their profit margins.
Viral Launch Market Intelligence
Viral Launch Market Intelligence is an essential Amazon Chrome Extension that doubles as an analytics tool for sellers. With this tool, you can identify the most profitable products on the platform and understand the market trends with the accurate monthly and yearly sales data and historical insights that it generates.
It also comes with an in-built calculator that allows sellers to calculate costs and profits easily. Viral Launch is not a free tool, but they offer a 14-day free trial and three paid plans that cost $69, $99, and $199 monthly.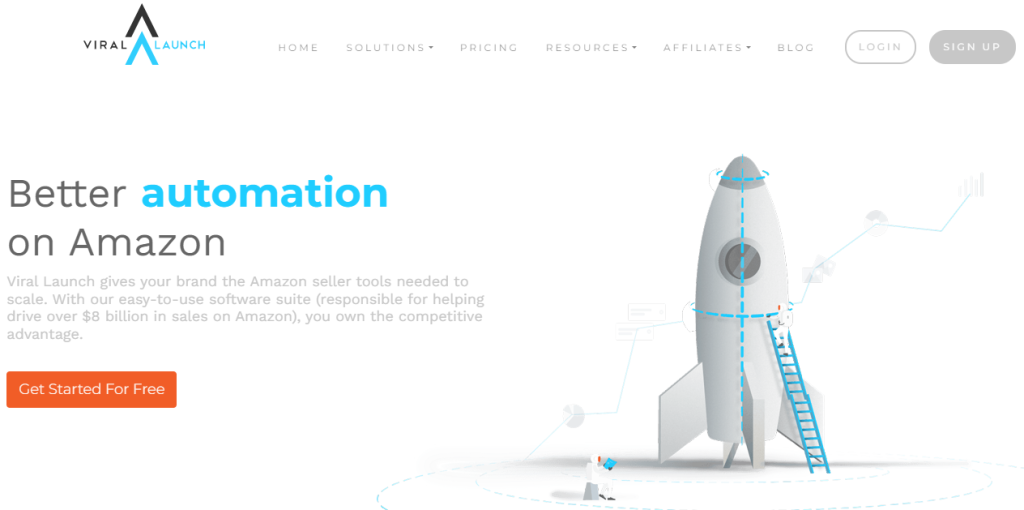 DS Amazon Quick View
DS Amazon Quick View is a free productivity Chrome extension tool that helps to keep your Amazon website activities organized. There are two versions of this Chrome extension for Amazon sellers—one is free, and the other is paid. It can be challenging to decide between the free edition of this extension and the paid version because the latter offers tech support while the former does not.
What is the Best Amazon Chrome Extension Tool?
Although all the above tools are important in their own way, Amazon sellers can still manage and run their businesses without using these tools. Yes, using those tools may ease the process. It makes the quality-of-life experience so much better, but not using them is also not going to be a deal-breaker.
However, this is where the all-powerful ZonBase Chrome extension trumps all the other tools we have mentioned above. Unlike those tools, Zonbase has a specific niche that focuses on Amazon sellers alone. With different tasks such as product research, keyword research, and price calculation, you can make the most of this powerful tool.
Apart from offering a chrome extension tool, ZonBase is one of the most accurate Amazon seller software tools at the moment. It offers a wide range of tools that cut across almost all areas of an Amazon business.
What the ZonBase Chrome extension does is penetrate and dive deep into AMZ's database. By crawling inside the database, it can see behind the product page to give you all the necessary information to verify if your product idea is plausible or not. With this informed decision, it can be easy to verify your choice instead of doing guesswork that can only waste your hard-earned initial capital.
Here are some of the information that you can scout and see when you use the Zonbase Chrome Extension tool for sellers.
Product Brand
Product Category
Product Price
Product BSR
Monthly Sales
Monthly Revenue
Star Rating
Reviews
Fulfilled partners
With Zonbase, you don't have to worry about using several tools from different websites. This all-in-one tool will get you loaded and covered in no time at all.
Conclusion:
There is no right or wrong answer when it comes to deciding the best Amazon Chrome extension tool for sellers. Depending on your needs and the tasks you need to accomplish, there is always a separate tool that perfectly suits the challenge.
Frankly speaking, the extensions that we discussed earlier aren't quite comparable to the ZonBase Chrome extension. The earlier tools may be important in certain aspects, but they aren't really specific to Amazon sellers.
The Zonbase Chrome extension is a one-size-fits-all, all-in-one solution that is meant to help make niche and product research easier. You can just sit back, relax, and let the tool do product research for you while you collate information.
What makes it even better is the fact that it can be used for free via its free trial offer. Ready to try and see how Zonbase can help your Amazon business?
See the power of this incredible tool today. This is one of the best Amazon Chrome Extensions for Sellers today. Make the right decision for your online business and start a free 7-day trial now.