"Do you want to be rich, make 6 digits a month selling on Amazon, and set yourself for life while your business is completely on autopilot?" Well, we have all heard a variation of this phrase before. In a business as big as Amazon, there are always people out there who are looking to swindle you out of your hard-earned money.
In today's article, we are going to discuss and see if Zonbase, voted as the number 1 most accurate and best value Amazon software in the world, is a scam. A lot of people are probably searching the phrase "Is Zonbase a scam?" right now. If you are one of them, this article will help you decide for yourself if this service is indeed a legitimate one or a fraud.
What is Zonbase?
Zonbase provides Amazon software tools as well as done-for-you services that aim to help Amazon sellers increase their profits. Founded by Kevin David and Lewis Civin in 2019, Zonbase has grown to be one of the most popular Amazon suite of tools today.
Zonbase has about 20+ tools and services that are designed to help Amazon sellers with product research, listing optimization, and sales optimization. Zonbase is cloud-based, which means you don't have to install any software on your computer too.

The power of Zonbase is its comprehensiveness; all of the tools that you need to run your Amazon business efficiently are in one place. You don't need to get separate Amazon software for product research, listing optimization, keyword research, and other tasks.
With Zonbase, you can access all these important Amazon tools you can think of, as well as have a personal done-for-you and mentoring service, at an affordable price. Because of this cheap yet bang-for-the-buck service, many people often ask "is Zonbase a scam?"
Before providing our honest Zonbase review, let's take a look at the tools in the Zonbase software suite.
Zonbase Software Suite
The Zonbase software suite is a collection of different Amazon seller software that is designed to perform a specific task for your Amazon business. These important tasks include keyword research, listing optimization, and product research, to name a few.
Here are the Amazon software tools offered by Zonbase:
Zonresearch
This is a product research tool that allows you to dig deep inside Amazon's database to find potential winning products that you can sell. You can set specific criteria for the kind of products you will like to uncover, using ZonResearch filters such as price, reviews, revenue, monthly units sold, and more.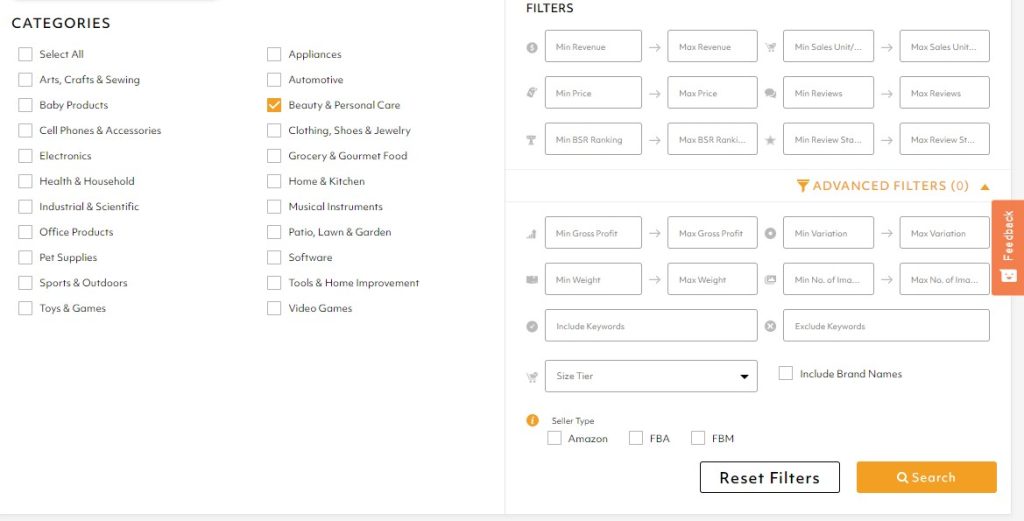 Zonbase Chrome Extension
The Zonbase Chrome Extension is used as a browser add-on. With this tool, you can go to Amazon, check out a product, and use this tool to find important information such as sales history, revenue estimates, potential income, and other data. This will allow you to easily scout out a product in a category where you might also be interested in selling.
Hot Products
This tool is a good starting place if you want to find the top 100 products on Amazon. The products are chosen based on these criteria: Top 100 most gifted, increasing sales trend, and less than 30 reviews. Using this data, you can find hot seasonal gifts that you can sell and make the most profits from.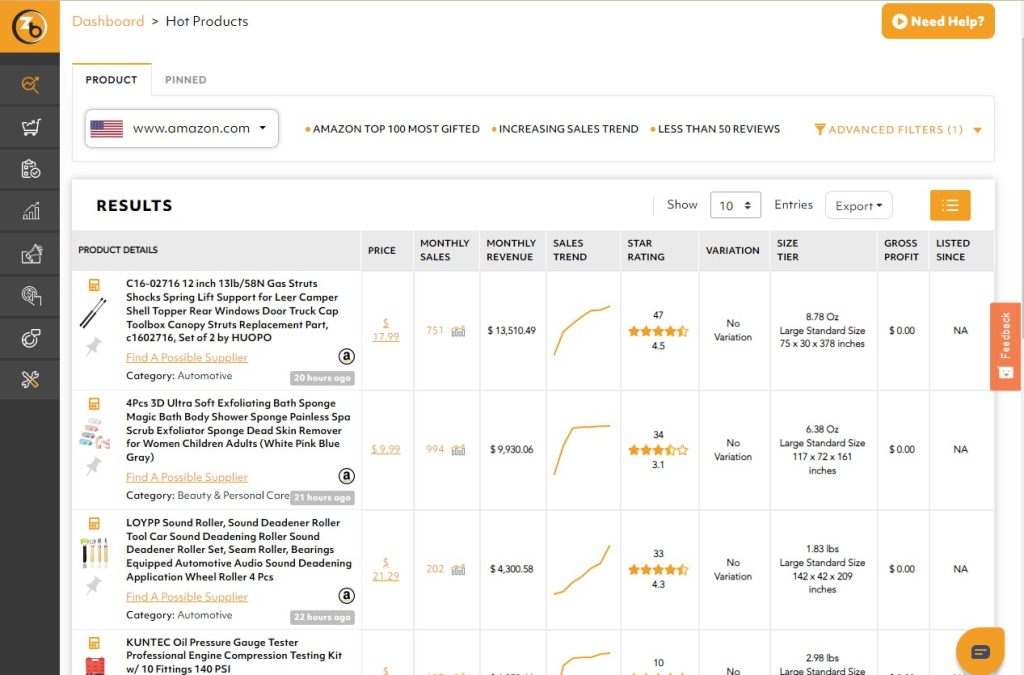 Sales Estimator
This tool creates a monthly sales report estimate for your chosen product. This is important if you want to gauge how much revenue you can make from selling a particular product. You can also track your competitors' earnings with this tool.
Keyword Research
Finding the right keywords for creating your product listings as well as running your PPC (pay-per-click) campaigns is crucial as an Amazon seller. With this tool, you can see estimated monthly searches for a certain keyword, arranged via a metric called "Smart Score". The higher the score, the better the keyword is.
Reverse ASIN Tool
The Reverse ASIN tool allows you to track your competitors' keyword strategy using their ASIN. You can discover the keywords they rank for and use those keywords to improve your listing and outrank your competition.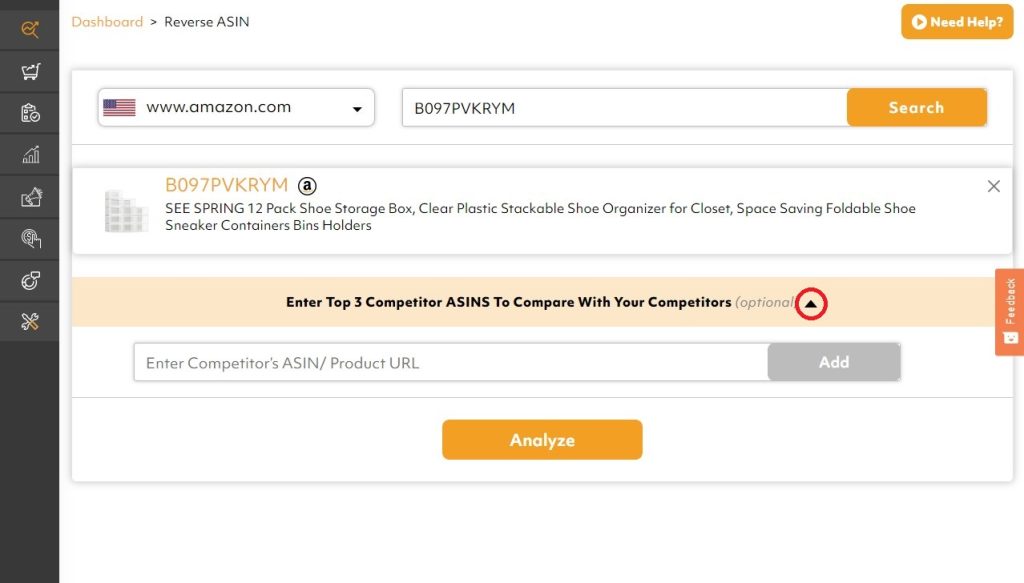 Zontracker
Want to know how well your keywords are performing? The Zonbase rank tracking tool, ZonTracker can help with that. Zontracker allows you to track your product's current rank for specific keywords so that you can have an idea about how much work is needed to get your products on top. You can also track your competitor's ranking with ZonTracker.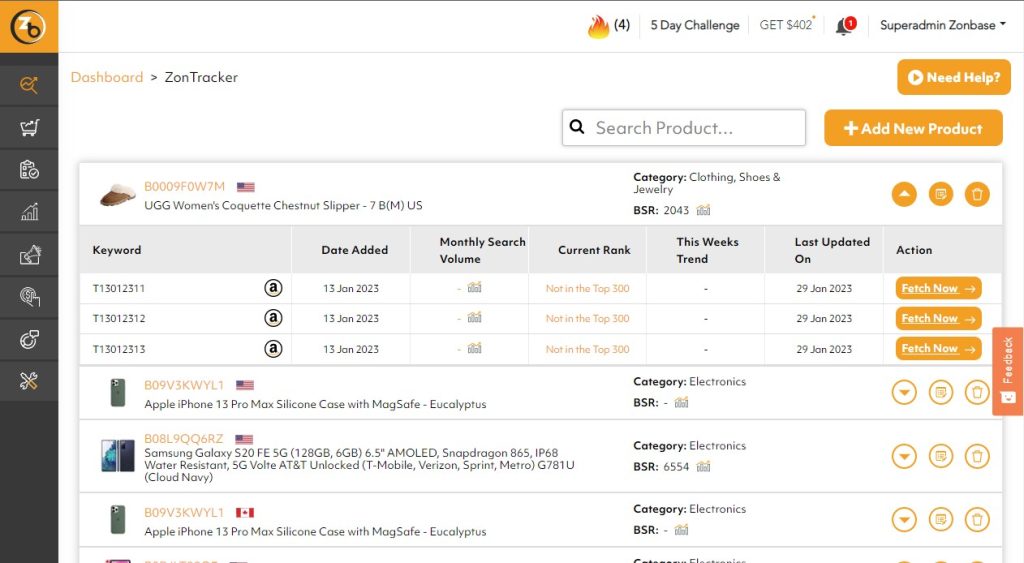 Listify
Listify creates unique and highly optimized products listings to help increase your conversion rates. Furthermore, it also helps increase your search engine organic traffic as well. Through the use of high-impact keywords, you can target potential customers who can increase your profits and revenue.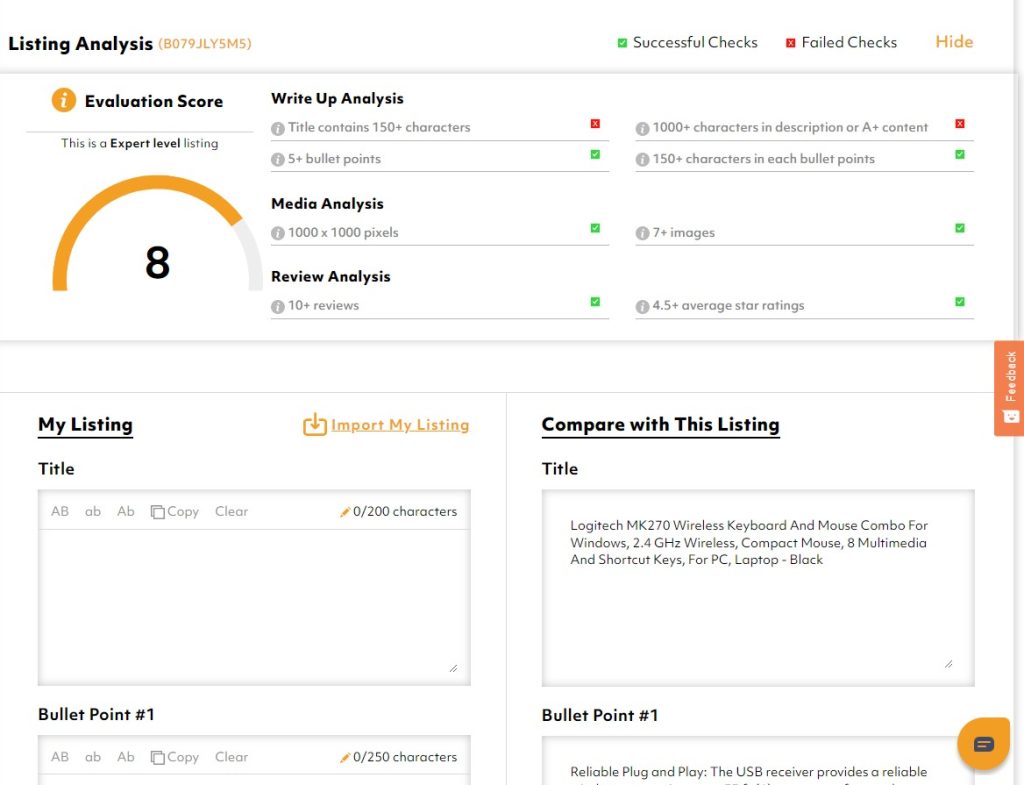 Zonbase Done-For-You Services
Aside from the software tool for Amazon sellers, Zonbase also offers personalized done-for-you services to help improve your brand, increase your conversion rates and reduce your overall costs. Listed below are some of them.
Product Validator
With this service, all you need to do is send a product to Zonbase's Amazon launch managers and let these experts assess if your product has good potential or not. With a detailed 20-point checklist, they will let you know the pros and cons of your product. This will help you decide if it is worth it to launch your chosen product or not.
PPC Autopilot
Managing a PPC (pay-per-click) campaign is not something that you can learn overnight. So why not let the Zonbase Amazon experts handle your campaigns for you? With their experience and expertise, you can let them create, manage and bid on your PPC campaigns on autopilot so you can focus on other essential parts of your business.
Listing Optimizer
A great listing improves conversion rates and increases sales. But what if you don't know how to write a copy that converts? Don't worry. With this service called Listing Optimizer, Zonbase experts will create a product listing for you. Using experience, expertise, and market research, these experts will fill your product listings with high-impact keywords that sell.
Why You Need Zonbase
The only way you can get ahead of your competition on Amazon is by making decisions based on accurate information. Because some people don't bother gathering information and its impact on their business, they end up wasting so much money. Aside from this, there are still so many reasons why you need Zonbase. Listed below are some of them:
Access to Essential Product Data: With Zonbase, access to essential data regarding hot products, sales trends, high-performing keywords, and other information is much easier. Not only does the Zonbase Amazon seller software help make selling on Amazon easier, but it also helps you cut down on costs by avoiding potential pitfalls even before launch.
Avoid Massive Risks: With Zonbase, you already have access to the experience and expertise of people who have already launched products successfully on Amazon. Because of this, you won't have to use yourself as the "guinea pig" anymore. By following the blueprints and advice of the Zonbase team, you can minimize risks and maximize your chances of success.
Personalized services: The services offered by Zonbase, along with the personal 1-on-1 coaching and mentoring, is one of the best parts of this experience. With this service, you can easily pick the brains of Zonbase's Amazon experts and even employ their help in building the most important blocks of your business.
So with all of this in mind, do you still think that Zonbase is a scam?
Is Zonbase A Scam?
You have all seen the software for Amazon that Zonbase has. You have also learned about the personal "done for you" and mentoring services that they offer. So is Zonbase a scam? Absolutely not!
Unlike other "get-rich" schemes that promise to make you rich in just a few months, Zonbase provides the platform, tools, and framework to give you an income-generating Amazon store. Some fraud schemes promise to make you rich quickly with some obscure method or plan that doesn't work. Why? Because they only want to sell you their "courses" and leave you with nothing to show for it.
With Zonbase, you have a plan. You learn from people who have already tread the path and are willing to share with you their wisdom and experience. You get access to tools and software that are tangible and real.
Yes, you still need to do a bit of legwork to succeed. But what business doesn't? If you are willing to put in the work, Zonbase will equip you with the easiest, smoothest way to get to your goal: accurate data.
Still in doubt? Then let's hear from customers who will show you that Zonbase works and is not a scam.

Real Zonbase Customer Testimonials
#1 Tarek
Getting support efficiently and quickly, especially when you are subscribed to an Amazon software service, is non-negotiable. Tarek knows this, which is why he is so happy with Zonbase's array of software tools and how Zonbase handles its customer service.
#2 Billy
New to Amazon and you don't know where to start? It can be intimidating at first. Thankfully, Billy used Zonbase to launch his products and was happy with how things ended up. He even maintained his organic ranking position even after the launch was finished. Now he is consistently gettings sales all year round.
#3 Minerva
Getting on page one of Amazon can be a challenging task, especially if you are in a very competitive niche and you don't have lots of reviews and sales yet. But Minerva took advantage of Zonbase's product launch service and was able to hit all her targets within her 3 product launches.
Conclusion
To close this article out, Zonbase is 100% legitimate and not a scam. Yes, a lot of you might have reached this article because you searched for the key phrase "is Zonbase a scam?", but after reading what Zonbase does, I am sure you have already realized that is not the case.